LG V40 ThinQ Review
64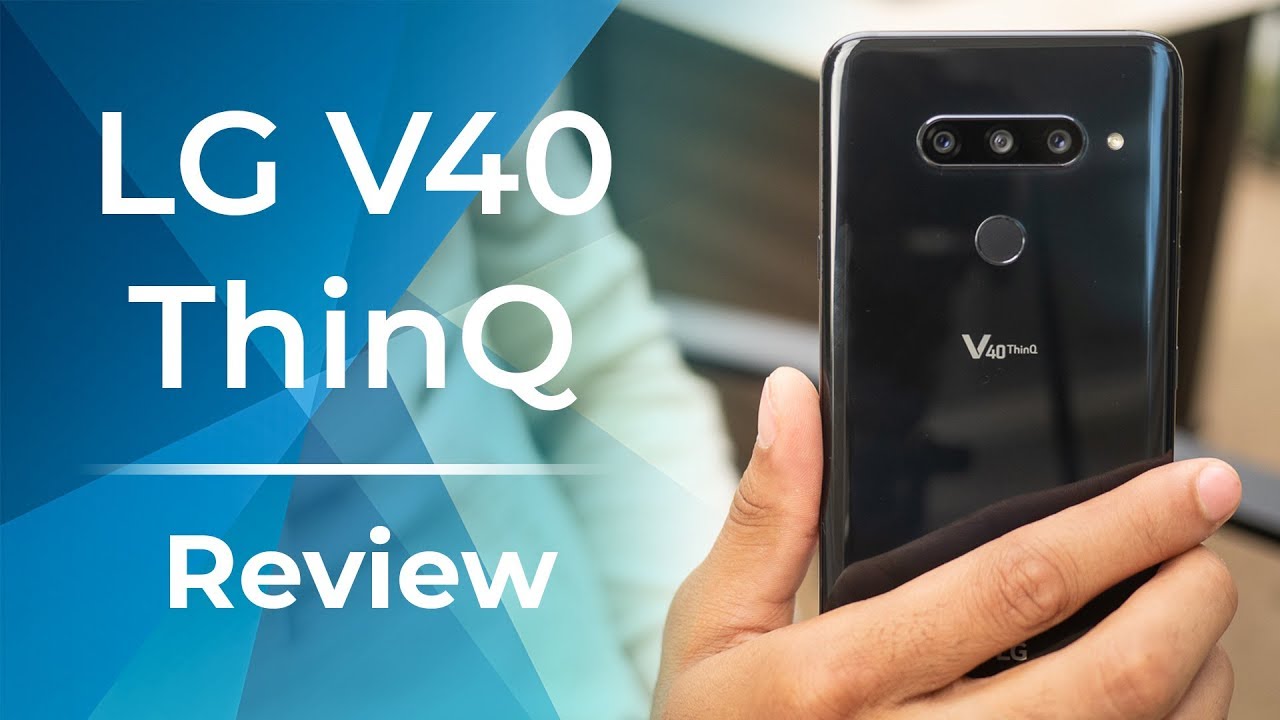 Update

: Read our LG V60 ThinQ review!
This week, LG finally announced a proper successor to the V30 – the
LG V40 ThinQ
. As one would expect, it is better in many ways: with a bigger screen, a better loudspeaker, and the most powerful processing hardware an Android phone can get right now.
But without a doubt, the most exciting aspect of this shiny new handset is its heavy camera arsenal. With three cameras at the back and two more at the front, the LG V40 aims to be the ultimate instrument for media creation.
Selling for between $900 and $980, depending on the carrier, the V40 ThinQ is again competing with the best in the smartphone market. So, can this triple-camera phone execute well enough to push LG over the hump and solidify the V40 ThinQ as one of the best smartphones money can buy? We used it for a week to find out.
In the box:
LG V40 ThinQ
USB-C Charging Cable and Wall Adapter
Earbuds with mic and 3.5mm jack
Warranty and Quick Start Booklets
Design
Looking back at its origins, it's clear that the LG V series has come a long way aesthetically. Last year's V30 was simple, practical, and sleek, not to mention that its display didn't have a notch. This notch-less design is no longer employed on the V40 ThinQ which now has an elongated screen (6 inches on the V30 to 6.4 on the V40) and two cameras and an earpiece housed within the medium-sized notch.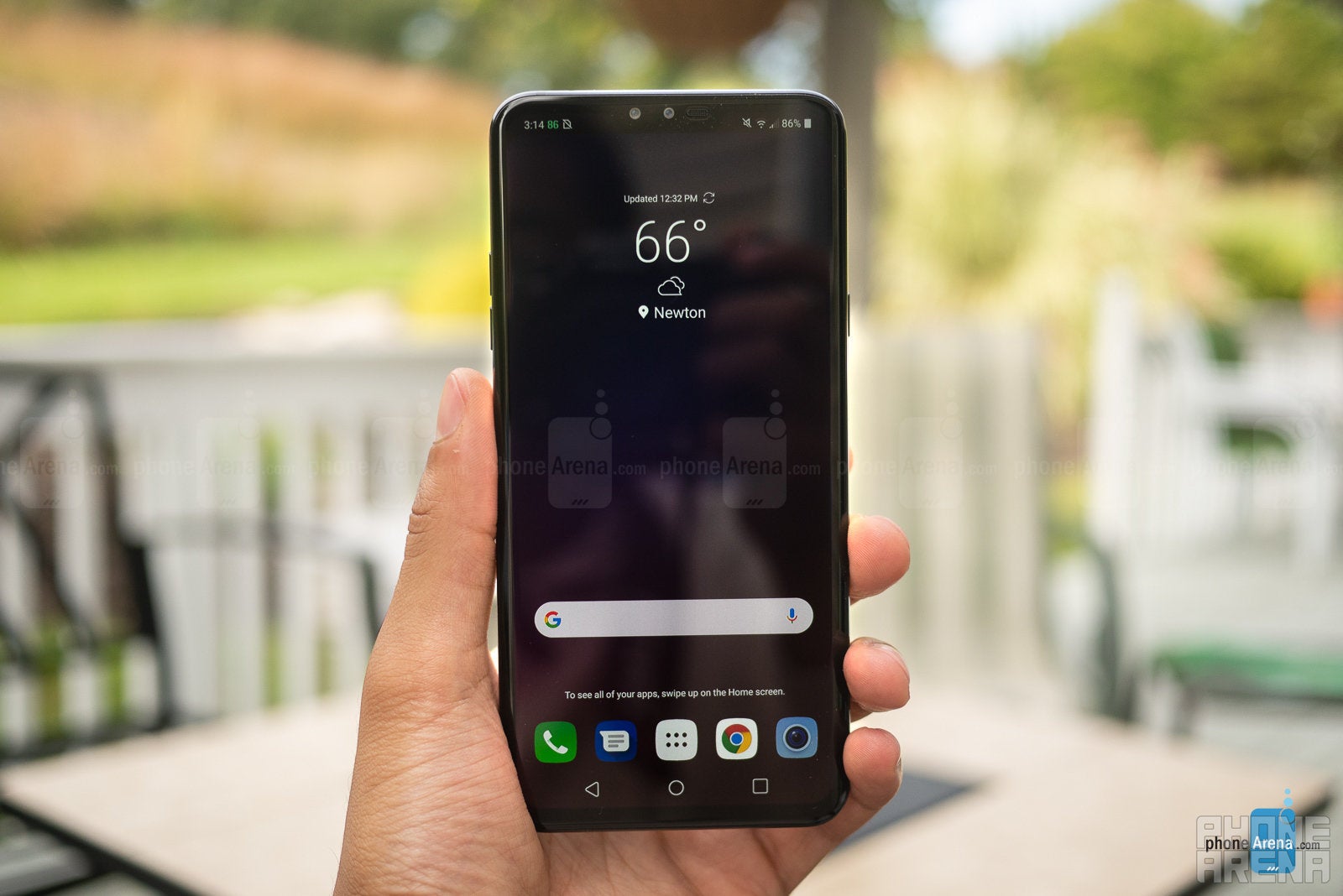 The V40 is still quite the looker, though, and turning it around to reveal its beefy three-camera setup creates a particularly futuristic aesthetic. Of course, more on that later. Other differences to note are the addition of a dedicated Google Assistant button on the left side and a power/lock button on the right side. The former is well-placed and stays out of the way of errant presses, while the latter is also ergonomically sound, nixing the power button functionality from the fingerprint scanner as was previously the setup on the V30. IP68 water and dust resistance round out the V40's design elements nicely.
Display
Utilizing the same P-OLED technology as the V30, the LG V40 ThinQ totes a 6.4-inch, Quad HD+ (1440 x 3120 px) screen. Colors are reasonably accurate, but a blue hue is evident upon closer examination of whites. Looking at this phone in direct sunlight proved a little tougher than expected, even though auto-brightness can reach as high as 504 nits. Minimum brightness was quite low, as anticipated, registering at 3 nits.
LG gives you some options on how to view, or not view, the notch. These include a setting where the notch is prominent and not hidden in any app, and two settings to hide the notch – one with rounded corners and the other without.
Display measurements and quality
Interface and Functionality
Loaded on the V40 ThinQ is LG's proprietary flavor of Android 8.1, LG UX. As always, this affords users a clean and straightforward interface with a few extra goodies. There's nothing new to report here, but we do have familiar extras like the Floating Bar, a floating icon which gives access to a carousel of customizable app shortcuts and actions; KnockON, which serves as an option to wake up or lock the phone via two quick taps on the screen; and Context Awareness, which adds a degree of automation to your phone experience by letting you create various automated functions like opening a specific music app when you plug in headphones or turning off Wi-Fi when you leave the house, for example.
All of these additions are easy to use and easy to find through the settings or search functionalities within the V40; LG does a fine job of offering extras without overcomplicating these features or the menus through which you'll find them.
Processor

, Memory, and Performance

The V40 ThinQ is LG's most potent device, and as most other high-end Android phones around, it packs Qualcomm's Snapdragon 845 flagship SoC. The chip is paired with 6 GB of RAM and 64 GB of storage (expandable with a microSD card). As can be expected, this setup produces great results in day-to-day use. Whatever your workflow might be, multitasking and jumping from app to app goes off without a hitch or stutter to speak of. You'll be hard-pressed to make the V40 break a sweat in regular usage, but gaming performance was a little disappointing as performance showed more dropped frames than we'd like to see at this level.



Connectivity
Dual-band Wi-Fi, NFC, and Bluetooth 5.0 are requisites we expected to find on the V40 ThinQ. Once it is released, the phone will be available on all major U.S. Networks: Verizon, AT&T, T-Mobile, Sprint, and U.S. Cellular.
Camera
The camera setup is the most significant stand-out feature of the LG V40 ThinQ. At the back we see a triple-camera arrangement that's unique in the industry right now and promises plenty of creative freedom. And two more cameras are found in the front! Here's what all this hardware breaks down to: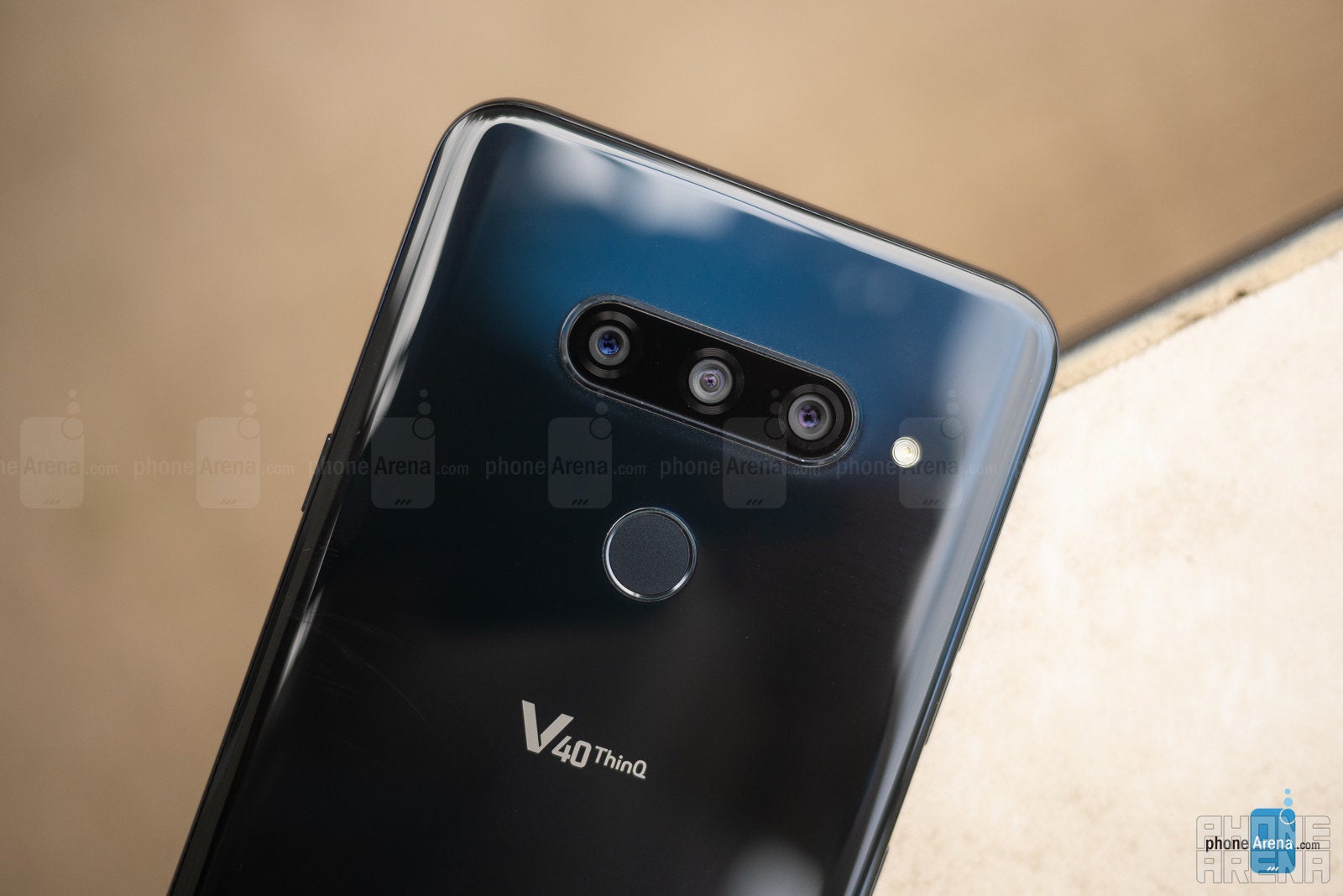 A 12 MP main camera with a standard lens for every-day photography. It has an F1.5 aperture, OIS, and dual phase -detection autofocus. Of note is that the sensor has less megapixels than the camera on the LG V30 or the LG G7, but it uses larger, 1.4-micron pixels, which should result in better image quality.
A 16 MP camera with a wide-angle lens with F1.9 aperture and 107-degree field of view. This cam appears to be similar, if not identical to what we had on the LG G7. In other words, this camera will come in to save the day when you just have too much you're trying to fit into the frame.
A 12 MP telephoto camera with F2.4 aperture for 2 times optical zoom, bringing your subject closer without you having to step forward.
8MP standard front-facing camera for fabulous self-portraits and a 5MP wide-angle selfie snapper for those epic group photos.
AI is also employed in the background and helps to decrease motion blur via multi-frame HDR on all three sensors, for example. AI CAM mode is still here with its ability to recognize what you're taking a photo of and applying the camera settings it sees fit – with the results still being a mixed bag.
Image Quality
Image quality on the V40's 12 MP main sensor is very good, holding its own well against top performers on the market. In ideal scenarios, the differences between the V40 and the best in class are negligible, if not entirely a matter of preference. Exposure is adept, colors are vibrant and accurate, and pictures, overall, are a pleasure to look at. However, details are notably softer than we expected, and we wonder if that's due to the wider, F1.5 aperture LG is using.
While exposure appears to have improved over last year's V30, LG could still do a bit more fine-tuning. In challenging, more dynamic sceneries, the V40 doesn't capture lighting quite as evenly as some of the best in the biz do – highlights can still become bright and blown out, and shadows can creep in and obscure finer details. At its worst, these maladies in exposure can sometimes create harsher, less realistic shots.
Low-light photography is quite good, maintaining well-represented colors. Detail capture takes a bigger downturn in such situations, though, and this could be due to some more aggressive noise filtering. Otherwise, the V40 ThinQ does well balancing exposure and finding enough light to illuminate shots, but as is the case with extremely bright dynamic scenes, very low-light pictures will not blow you away.
Triple Shot, Telephoto, and Wide-angle photos
One trick LG packs in this three-camera array is a feature called Triple Shot which, as you might've already guessed, takes three photos at once. The process does take a few seconds – a couple to snap the pics and another couple to save them – but it is a convenient shortcut when you want to capture more than one perspective on a shot. Unfortunately, results are significantly worse than taking the three shots on your own. For one, HDR can't be employed when snapping pics through Triple Shot which, especially in more dynamic scenes, is a particularly important consideration to take. Another common issue we found was that telephoto shots taken in these triple-shot bursts were often more susceptible to blurriness. The theoretical convenience of Triple Shot sounds nice, but in practice, swapping the lenses via the toggle buttons produces much better results.
Portrait Mode
Portrait mode on the LG V40 is quite adept and also now allows the user to adjust the strength of the bokeh effect during and after the picture is taken, helping to further hone the blur application. On top of that, you may apply various light effects to spice up the image even further.
Cine Shot
Lastly, LG's added one other shooting mode called Cine Shot which creates live photo GIFs by enabling the user to draw over portions of the photo they'd like to animate after the shot is taken. This works well and adds a bit more fun and artistic expression to the media capturing experience.
Selfies
The front facing camera setup is the V40's last party trick. Selfies look good on both of these snappers as they both take after their rear counterparts in clarity and color capture but also are more susceptible to the same ills of over/under exposure. Portrait mode is also available here, producing similarly pleasing results as what the rear cameras produce.
Video
Video shot on the V40 ThinQ can be captured in 4K up to 60 fps, or the more common 30 fps – both with HDR10 capability in ideal situations. Either selection will produce well-detailed, steady video with accurate color representation and pretty good exposure. Though the 60 fps option disables software stabilization, the results are still quite pleasing, but 4K at 30 fps, and all resolutions below this, will have a slight but noticeable edge in steadiness.
We're happy to see that we're able to switch between the regular lens and telephoto lens during filming – either through the zoom function or a toggle button between both – but only when there is sufficient lighting. Unfortunately, due to physical hardware limitations, only two of the cameras can be linked to work together, leaving the wide-angle camera out of this zooming party.
Cine Video is still on-board with the LG V40 ThinQ, offering a variety of film genre-inspired filters and the unique and cinematic Point Zoom feature, which zooms the camera in on a specific point of the screen.
Call Quality
Calls come through very well on the V40 be it for the caller or the receiver. Both the earpiece and microphone deliver enviable clarity, while the speakerphone gets plenty loud.
Media
Speaking of the loud speakerphone, the V40 ThinQ unfortunately still uses only one speaker to produce sound, but it does have the Boombox Speaker trick up its sleeve. This makes the phone sound louder when rested on a flat surface but has negligible, if any, effect when holding the phone.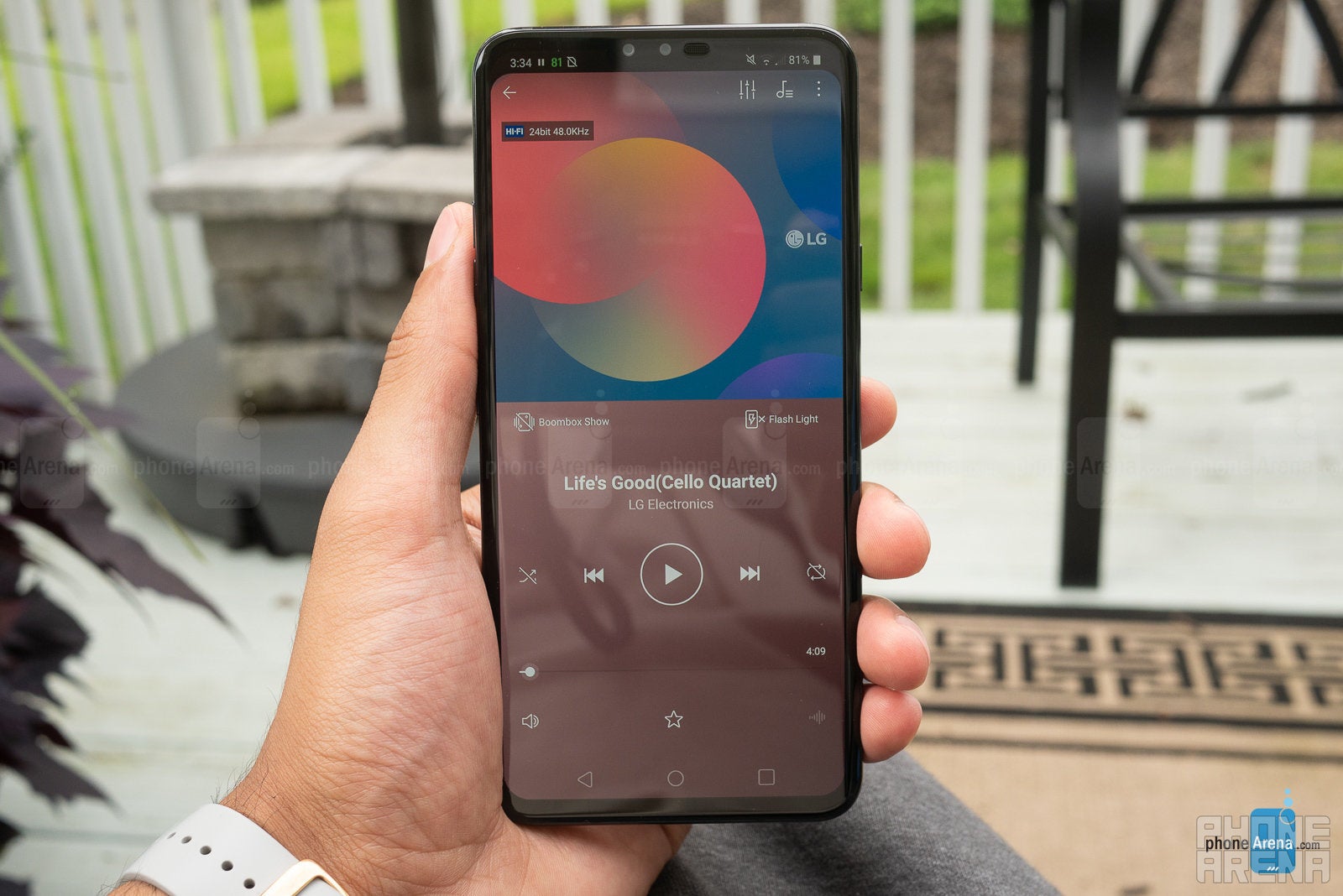 Plug in a set of high-impedance headphones into the V40's 3.5mm headphone jack and you'll be treated to an audiophile's dream thanks to the 32-bit Quad DAC. This allows the playback of higher-fidelity music files and comes with LG's usual manual controls to tweak the sound just to your liking, and tweak we did – the experience is straightforward and effective.
Battery Life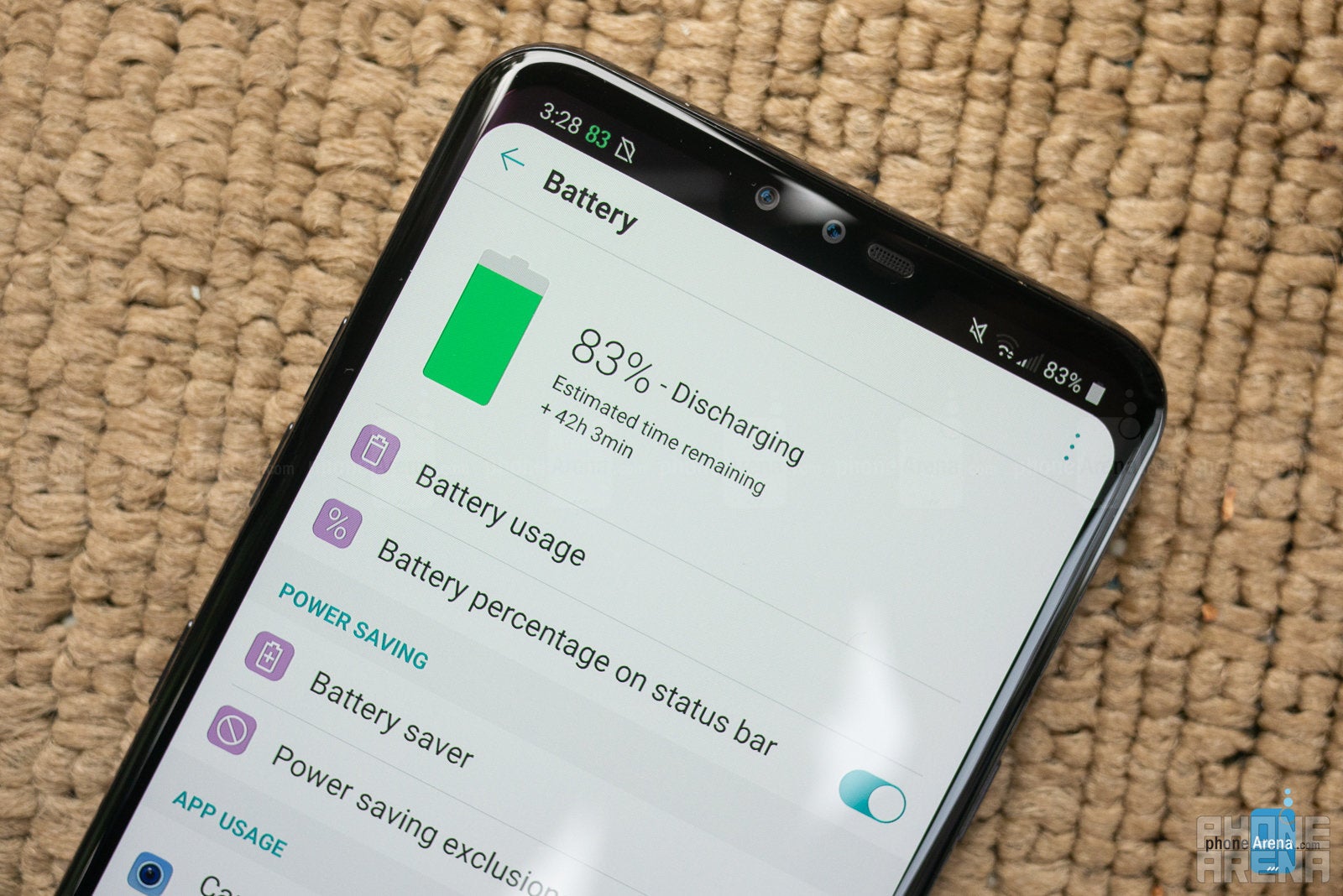 The V40 ThinQ comes with a 3,300 mAh battery with Qualcomm Quick Charge 3.0 and fast wireless charging. Battery life didn't blow us away, though. In fact, compared to last year's V30, the V40 ThinQ lasted a full three hours less in our custom battery drain test, clocking an underwhelming six and a half hours. This should be about good enough to get a day's use in most cases, but not much more. Recharge times were pleasing, though, juicing up from 0 to 100 in 109 minutes.
Conclusion
LG seems to have its heart in the right place with the LG V40 ThinQ, but even the best-laid plans of mice and men often go awry. Three capable cameras with lenses designed to capture three of the most fun and useful perspectives (wide-angle, regular, and 2X zoom) sounds like a dream, and in many respects, it is – we love the versatility. What we, and most consumers spending nearly $1000 on a phone might appreciate more, though, is a regular camera that is always up to the task, and unfortunately, we can't say that about the V40 ThinQ.
Day-to-day performance won't leave you wanting for much, but battery efficiency has taken a sharp downturn from the V30 of last year. All in all, it's hard to say that the V40 ThinQ is a much better buy than the 2017 V30 was, and the V30 didn't even best the competition then. One year later, the competition has improved, while the V40's added a camera.
Update

: Read our LG V60 ThinQ review!
Recommended Stories