Weekly Round-Up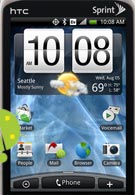 OK, this week was very, very tense because of Nokia World 2009 and IFA 2009. The leading phone manufacturer announced three new models and a bunch of services and changes. You can check our
Nokia World 2009 Live Report
if you want to know more. At the IFA 2009 event in Berlin, LG officially showed another new Chocolate, the BL20, and said that it will launch its first Windows phone, the GM750, next month. Well, HTC isn't participating at the show, but it announced the Touch's successor – the HTC Touch2, also a Windows phone. Sony Ericsson did the same thing and presented the XPERIA X2, plus the Xperia Pureness with its transparent screen, new slogan and improved logo.
Hold on… we're just beginning. Probably the most interesting news concerning U.S. carriers is that Sprint will launch its first Android-based phone, the HTC Hero, on October 11. And it's official! Add to this the official launch of HTC Touch Pro2 on September 8. Also, we published a document from Verizon's system, showing an unknown Android device – the HTC Desire 6200. And until the end of the month we hope the BlackBerry Storm 2 will be released, because there are leaked docs pointing a September 29 launch date for the business users… There are many other interesting stories that can be found through the ocean of links below so here's what made headlines this week, sorted by dates.
August 29:
August 30:
August 31:
September 1:
September 3:
September 4:
Coming next week…
Next week, AT&T will give the green light to the
Nokia Mural
's sales and the
HTC Touch Pro2
will try to conquer the Now Network, starting September 8. On the same day, Verizon is rumored to launch the
Samsung Rogue U960
and the
Samsung Intensity U450
, which already showed itself on the Big Red's site, but was later pulled down. Finally, T-Mobile may or (may not) release the
Samsung T659
on September 9. That's what we are expecting to happen next week, but you never know what's behind the corner.
Have a nice weekend!