Verizon said to also launch a BOGO deal on the Galaxy S7 and S7 edge
16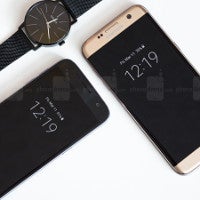 Earlier this month, both
AT&T
and
T-Mobile
announced BOGO deals for Samsung's new flagships – the
Galaxy S7
and
Galaxy S7 edge
. In both cases, users who wished to take advantage of the deal would have to purchase a Galaxy S7 / S7 edge on a new line or upon contract renewal. This would give them the opportunity to get another phone of the same model they bought for free, provided the user purchases a second line on contract for the second phone.
Quite a generous offer from the two carriers, which probably has got many users thinking about switching to them. Well, reports say Verizon is also ready to join the fray. Starting this Friday, any user that buys a new Galaxy S7 or S7 edge from the Big Red will get a pre-paid card for a second such device. Users that have already purchased one of Samsung's new flagships needn't worry, as they will also be eligible for the gift, Corporate Communications Manager Trevor Thomas reportedly confirmed. Of course, the second handset will also need to be tied to a new line.
If you recall, the Galaxy S7 pre-order units were offered with a gift of their own – early adopters were given
a free set of Gear VR goggles
($99 value) to go with their brand-new smartphone. The aggressive way that Samsung's new flagships are being marketed only goes to show how oversaturated the premium smartphone landscape is in the US. "Double digit market growth is over" and if manufacturers wish to grow, they need to convince users that they need the latest and greatest tech in smartphones,
analysts say
. Well, that, and some lucrative deals to attract users to your side also help.
Samsung Galaxy S7 and Galaxy S7 edge