Kantar: Apple still the most preferred smartphone brand in the US, but Samsung leads in the EU5
10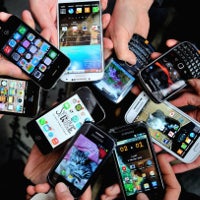 Kantar Worldpanel, a consumer knowledge and insights company, has posted an article discussing the saturated state of the smartphone market, and what manufacturers would need to do in order to continue growing and profiting. According to it, in 2016, smartphone makers would either have to find a way to convince feature phone users that upgrading has become a necessity, or market their newest models to current smartphone owners in a way that makes them believe they need the "next big thing".
"Double digit market growth is over", Kantar says, as it cites that 65% of Americans, 74% of Europeans, and 72% of urban Chinese consumers already have smartphones. US customers tend to buy the most high-end smartphones, with 48% of 2015 sales being of devices in the $500+ price bracket – that's a 9% growth over 2014. In the EU5 (France, Germany, Spain, Italy, UK), the high-end segment was only 27% of overall smartphone sales, marking a mere growth of 6% over 2014.
It's also interesting to note that Apple is still the preferred smartphone maker in the US – 40% of customers prefer an iPhone, 35% want a Samsung device. Motorola is 3rd in the list, but only has 6% of consumers' favor. In the EU5, Samsung is in the lead with 37% of consumers favoring the brand, while only 29% prefer an Apple device.
Kantar Worldpanel ComTech expert Carolina Milanesi notes that while the market is oversaturated, there still are plenty of opportunities for companies to monetize from it – one just needs the vision to seize them.