Stories you shouldn't have missed this week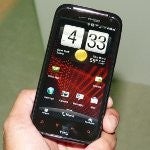 Hey, PhoneArena readers, it's (finally) Saturday again, and once again we're giving you a round-up of everything interesting that happened over the week. So, where do we begin? Interestingly, in contrast to previous weeks, it looks like this one actually did start on Monday! The reason for this is in AT&T's unveiling of its very first 4G LTE smartphones, the
HTC Vivid and Samsung Galaxy S II Skyrocket
. As you can expect from such key devices, both the Vivid and Galaxy S II Skyrocket seem to be pretty awesome, but of course, we won't be rushing any conclusions here until we actually get to review them.
Equally interesting is the situation with the
release dates
for Verizon's
Motorola DROID RAZR
and
Samsung Galaxy Nexus
. As you may guess, there isn't anything official yet, but at least leaks are in abundance. First, we heard that the DROID RAZR is to launch on November 10, due to a leaked internal document, but just a few days later, there was another leak, this time suggesting an 11.11 release date (starting at 11:11, to be precise). Could numerologists have just brought a few extra sales for Moto's upcoming flagship? As for the Galaxy Nexus, rumor has it we shouldn't be expecting it to hit the shelves any earlier than November 24.
Anyone looking to win a
Motorola DROID X2
? That's right, you still have a chance to enter our
Giveaway
contest, which only requires you to like
our Facebook page
and post a comment under
this picture
. Seriously, how easier could it be to get yourself a brand new DROID X2?
On a separate note, we have two new and, as always,
very interesting editorials
by our very own Michael H., titled "The shifting sands of integrated systems" and "Apple is building its own Maps, but will it matter?" - believe us, you don't want to miss them! Meanwhile, we also posted a very useful article about the state of the
expected Ice Cream Sandwich updates
. In other words, if you're wondering if your Android handset is to get an update to Android's latest major overhaul, this is the place to visit.
This was a good week as far as tablets go as well. While the original
Motorola XOOM
has never been a real success, it seems this isn't stopping Motorola in its quest to get some market share, as the manufacturer unveiled not one, but two new offerings - the
Motorola XOOM 2
and
XOOM 2 Media Edition
.
And, this brings us to Thursday's announcement of the impressive
HTC Rezound
for Verizon Wireless - the first Beats-enabled handset in the States. Finally, HTC decided to treat its U.S. customers to the improved audio goodness that has been available for a while in Europe thanks to the HTC Sensation XE. Here's our coverage of the event, and have a great weekend, everyone!