Samsung Galaxy S22 Ultra vs Apple iPhone 13 Pro Max
15
We may earn a commission if you make a purchase from the links on this page.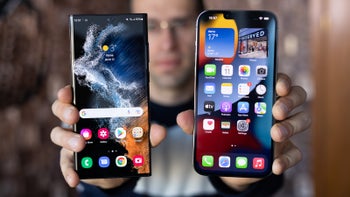 There's seemingly no escaping the Apple-Samsung duopoly in the US, which is why a clash between the 2022 flagship
Galaxy S22 Ultra
and the finest iPhone that came before it, the
13 Pro Max
, is also inevitable. These two phones are the best of the best, so the choice between them might be hard to make, but we are here to give you all the information you need before you pick one.
Considering Apple's nearly 50% market share in the US, what would make an iPhone user switch to a phone like the Galaxy S22 Ultra, or choose it from the start, instead of the 13 Pro Max? Well, plenty, as we are about to find out by comparing the two...
Galaxy S22 Ultra pros and cons


iPhone 13 Pro Max pros and cons


Samsung S22 Ultra vs iPhone 13 Pro Max price
$1199.99 (S22 Ultra) vs $1099 (iPhone 13 Pro Max) starting prices for the base 128GB models
Samsung is not upping the Galaxy S22 Ultra price from the $1199.99 starting level of its predecessor, so it again costs a Benjamin more than the iPhone 13 Pro Max. Admittedly, you are getting way more in terms of specs than the price difference, what with a 10x periscope camera zoom or the S Pen silo, not to mention the much faster charging speeds.
Samsung is playing Apple's clever game here, using more affordable Amperex battery cells and adding features to existing components in the S22 Ultra production mix to keep costs in check, so it would be hard for the 13 Pro Max to fight the phone on pricing basis alone. It will have to resort to the ubiquity and street cred of iOS devices in the U.S. to even things out.
Samsung S22 Ultra vs iPhone 13 Pro Max design colors and displays
Galaxy S22 Ultra: Black, White, Burgundy, Green, Red, Sky Blue, Graphite
The iPhone 13 Pro Max: Graphite, Gold, Silver, and Sierra Blue
First off, the design of the Galaxy S22 Ultra is pretty unorthodox when looked at from the rear, as each individual camera lens ring is protruding slightly from the surface of the phone, instead of having them all preserved like ancient insects in the amber of a huge camera island. Granted,
the iPhone 13 Pro Max has a pretty distinctive camera setup
of its own, but it's no match for the unique island-less camera kit design of the S22 Ultra.
The
colors that Samsung picked for the S22 Ultra
- Black, White, Burgundy, Green, Red, Sky Blue, and Graphite - are also very different from the
current iPhone 13 Pro Max color options
. Last but not least, the presence of a unique S Pen silo on the S22 Ultra and at the same time keeping the 5000mAh battery pack have necessitated a stockier aspect ratio - 19.3:9 instead of 20:9 - making it as wide as the 13 Pro Max.
Below are a few Samsung Galaxy S22 Ultra vs iPhone 13 Pro Max design shots that visualize the new S22 Ultra camera arrangement that couldn't exactly be called raindrop like what LG did with the Velvet first, but it's pretty close.
Even though the 13 Pro Max has the largest active screen area of any iPhone so far, smaller notch and everything, it is no match for the stubby S22 Ultra where Samsung's new Border Reduction Structure project shines with an even thinner bottom bezel. It, too, offers the biggest screen area on a top-shelf Galaxy, what with a 6.8" display diagonal longer than the 6.7" one on the 13 Pro Max, but with a wider aspect ratio.
S22 Ultra vs 13 Pro Max displays


While Apple boosted the peak iPhone 13 Pro Max display brightness to 1200 nits, the new LTPO OLED panel generation in the S22 Ultra smashes that value to the ground with 1750 nits of pure outdoor visibility joy, earning it a place in the
best phone displays
pantheon, as there are no unpleasant color presentation surprises in our testing.
Granted, such high brightness levels will only be possible on the 1440p panel of the Ultra when you are watching HDR content in high ambient light settings, yet the same goes for the iPhone, so the Galaxy has an upper hand here.
A more granular refresh rate control down to the single hertz hence more efficient display power consumption is also on board in the Galaxy S22 Ultra, while the iPhone 13 Pro Max can do a 10Hz-120Hz range. Its refresh rate control is a tad smarter, though, by adjusting the speed on the fly, including while you touch the display, so in terms of efficiency Apple's 120Hz implementation proved superior in our battery benchmark.
The S22 Ultra strikes back with an active digitizer layer that allows it to react to Samsung's S Pen stylus which is tucked in a silo on the phone itself for the first time since the Note 20 series, turning the Ultra into an all-powerful input machine.
Display measurements and quality
Samsung S22 Ultra vs iPhone 13 Pro Max camera quality


Compared to the triple 12MP camera set on the iPhone 13 Pro Max, the Galaxy S22 Ultra camera specs may sound as something out of this world - main 108MP camera, a 12MP ultrawide, and 10MP 3x telephoto or 10x periscope zoom sensors, but they are actually the same as on the S21 Ultra, save for the
slightly smaller 10MP sensors of the zoom cameras
.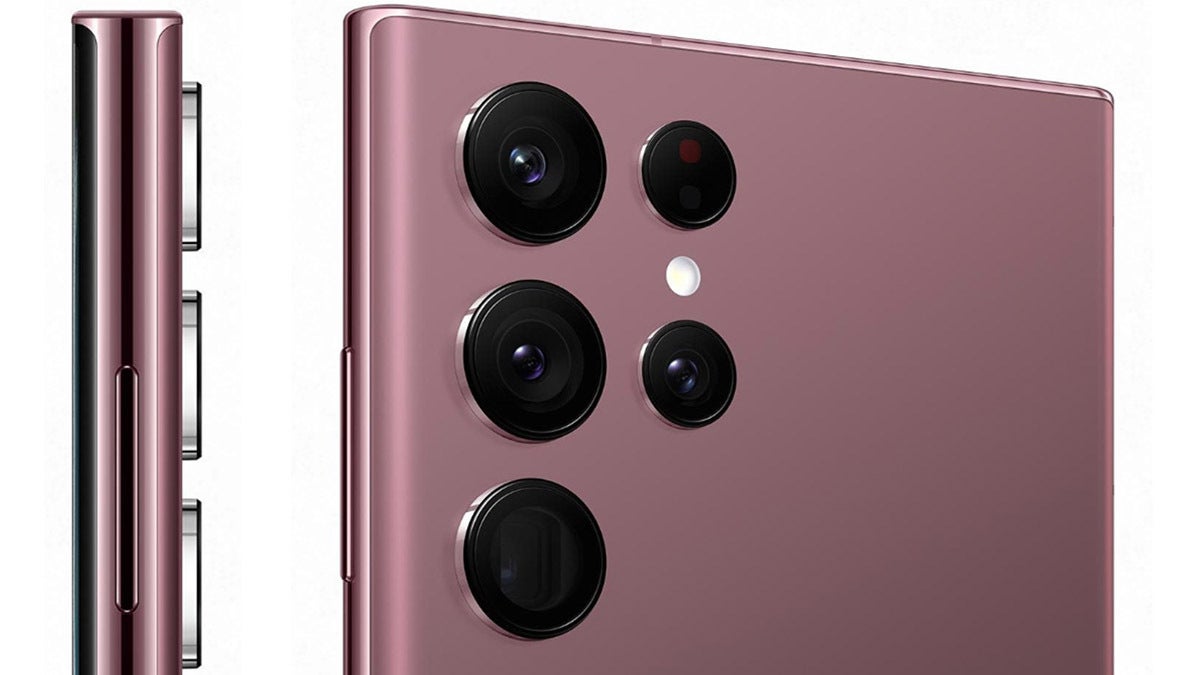 S22 Ultra camera kit - each sensor is an island
Galaxy S22 Ultra vs iPhone 13 Pro Max camera specs


Galaxy S22 Ultra
iPhone 13 Pro Max
Main (wide) camera
108MP, 23mm, f/1.8, OIS
1/1.33" sensor
12MP, 26mm, f/1.5, Sensor-shift stabilization
1/1.65" sensor
Ultra-wide camera
12MP, 13mm, f/2.2
1/2.55" sensor
12MP, 0.5X (13mm), f/1.8
1/3.4" sensor
Telephoto camera
10MP, 3X zoom, f/2.4, OIS
1/3.52" sensor
12MP, 3X zoom (77mm), f/2.8, OIS
Additional cameras
10MP, 10X periscope zoom, f/4.9, OIS
1/3.52" sensor
-
Front camera
40MP
12MP
Still, Samsung is placing a 108MP main camera with wider aperture to capture more light. The 13 Pro Max has the largest sensor ever put in an iPhone, though, and one of the largest on phones, period, so the added low-light prowess of the S22 Ultra main camera may be helping only a little against it, as you can see from the image samples below.
Samsung, however, uses a step or two higher exposure by default on the S22 Ultra, making the shots appear brighter, sharper, and details more discernible which people prefer more than truthful "night" photos.
The new algorithms managing the 108MP ISOCELL line in the S22 Ultra has allowed it to capture much more detail, too, and that's an area where the 13 Pro Max finds it hard to beat the Galaxy, even though it also offers ProRes video and photo mode with RAW imagery to edit on.
Samsung is also introducing a much more precise image stabilization that is reduces hand shakes and vibrations while walking by 48%, so expect sharper photos and smoother videos to take on the iPhone 13 Pro Max Sensor Shift stabilization tech. Did it succeed?
Largely yes, as you can see in our
Galaxy S22 Ultra vs iPhone 13 Pro Max camera comparison
, where the main takeaway is that Samsung went overboard with sharpening and uses an exposure that is a step or two above the iPhone 13 Pro Max. That approach is tolerable at night as it makes the photo brighter and details more visible, but in broad daylight the brighter areas of the photos can get overexposed.
Samsung also went with toned down colors that are reflecting more faithfully the scene before the lens in terms of hue reproduction, which makes its photos look a tad less appealing than the yellowish and saturated iPhone 13 Pro Max snaps, at least in the eyes of the general public. When it comes to zoom quality, though, the iPhone has nothing on the Galaxy S22 Ultra, even at the 3x level, let alone at 10x.
< S22 Ultra 3x zoom
13 Pro Max 3x zoom >
Samsung S22 Ultra vs iPhone 13 Pro Max specs and processor performance
| Specs | Samsung Galaxy S22 Ultra | iPhone 13 Pro Max |
| --- | --- | --- |
| Display | 6.8", 1440p, 19.3:9 aspect, 1Hz-120Hz, 1750 nits | 6.7", 1284p, 19.5:9 aspect, 10Hz-120Hz, 1200 nits |
| Processor | 4nm Snapdragon 8 Gen 1/Exynos 2200 | 5nm Apple A15 |
| Cameras | New 108MP, 12MP ultrawide, new 10MP periscope/telephoto zoom Sony sensors, 48% better image stabilization | 12MP main, 12MP ultrawide, 12MP telephoto zoom, Sensor Shift stabilization |
| Battery and charging | 5000mAh battery, 45W charging | 4352mAh battery, 20W charging |
The S22 Ultra is upgrading on the Snapdragon 888 processor that is found in the S21 Ultra with a
4nm Snapdragon 8 Gen 1 chipset
, but it's the Exynos 2200 version of the S22 Ultra with the AMD graphics that is the more interesting one for a change.
Snapdragon 8 Gen 1 vs Apple A15 vs Exynos 2200 benchmark scores
As has become customary, though, the Apple A15 processor in the iPhone 13 Pro Max wipes the floor with both the Exynos 2200 and Snapdragon 8 Gen 1, as you can see from the benchmark scores below. First, our Exynos 2200-powered S22 Ultra unit:
Processor
GeekBench 5
Single-core
GeekBench 5
Multi-core
Snapdragon 8 Gen1 - S22 Ultra

1,235
3,837
Apple A15 Bionic
(iPhone 13 series)
1,730
4,700
Google Tensor
(Pixel 6 and 6 Pro)
1,040
2,830
Synthetic benchmarks are not that indicative of real-world performance, as there is throttling under pressure to consider, too, and the Galaxy S22 Ultra AMD graphics subsystem performed admirably here, keeping cool under pressure, and lasting as much on a charge while gaming as the optimized A15 in the iPhone 13 Pro Max. It does achieve this stability with a lower average frame rate while gaming, though.
Galaxy S22 Ultra vs iPhone 13 Pro Max battery life and charging speeds


Both phones sport big batteries, and the Galaxy S21 Ultra already proved to be the
longest lasting Android flagship phone
in its top-shelf specs segment, so we expected nothing less from the S22 Ultra but we were wrong as it did score lower on the 120Hz browsing and YouTube video endurance tests. On the gaming battery benchmarks, though, it is on par with the iPhone 13 Pro Max that managed to occupy the top place in our
flagship phone battery life chart
.
While the S22 Ultra will have a hard time beating its efficient marriage of in-house hardware and software, even though it has about 10% smaller battery than the 5000mAh pack of the Ultra, our Exynos 2200 version with the AMD graphics certainly performed admirably as far as throttling is concerned given the more than 10 hours of gaming on a charge it was able to pull off.
The S22 Ultra is finally able to support fast 45W charging speeds, too. We would say it's high time considering that the Chinese competition is already at up to 120W, but Samsung is able to pull off charging wonders with just the 25W brick of the S21 Ultra, topping up its 5000mAh battery in an hour or so.
Moreover, Apple is known for slow charging, and the iPhone 13 Pro Max is no exception, as its 4352mAh pack gets to a full charge in the abominable 2+ hours. For comparison, the 45W charger for the S22 Ultra does the deed in an hour and two minutes, and gets its battery to 50% from a depleted state in a tad over 20 minutes.