Samsung Galaxy S21 Ultra vs Galaxy S21 Plus
4
We may earn a commission if you make a purchase from the links on this page.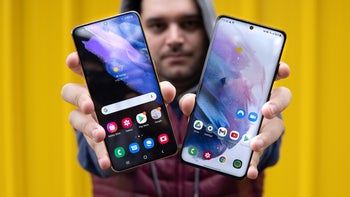 Samsung Galaxy S21+ vs Galaxy S21 Ultra price, colors and storage
Despite the eventual Galaxy S21 models price cut, Samsung has opted for a new and daring design that finally makes the camera island something more palatable to look at, as it simply fuses with the corner sides, making the S21+ and S21 Ultra look like they are cut from a whole piece of marble, neat.
The Ultra is only slightly larger than the S20+ yet they are both very big phones so you shouldn't look for compactness any way you choose. Besides larger and heftier, the Ultra is also a bit more sombre in its choice of colors as it doesn't have Samsung's violet color novelty of the 2021 S-line season, and is only available in silver and black at launch. The S21 Ultra, however, will be available in more colors in the spring, as is Samsung's tradition, with brown, blue, and even titanium finishes lined up for April release.
Galaxy S21+ vs Samsung Galaxy S21 Ultra specs and display size
In any case, the graphics performance over the 6.7" 1080p screen of the S21+ or the 6.8" 1440p display of the S21 Ultra is outstanding given the boosted Adreno or Mali-G78 GPUs in the two chipsets.
Samsung Galaxy S21+ vs Galaxy S21 Ultra camera
And when it comes to video recording quality, the difference is centered around the zoom capabilities of the Ultra that blow pretty much every other phone out of the water. Even in lower light, as you can see in the video below, the Ultra manages to stand out from the S21 and S21 Plus, just try zooming in 10 times or more on those phones and the footage comes out barely usable. For all else, however, the main camera, the ultra-wide and footage from those cameras the differences are few if any.
Galaxy S21+ vs Samsung Galaxy S21 Ultra battery life and charging speeds