Best Samsung Galaxy S21+ cases
0
We may earn a commission if you make a purchase from the links on this page.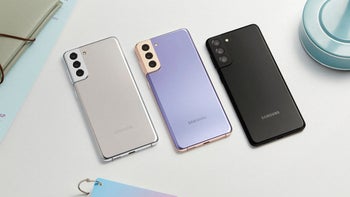 After an endless stream of leaks, the
Galaxy S21
series is now official, ready to take on the premium smartphone market.
The Galaxy S21 line consists of three models - the
Galaxy S21
, the
Galaxy S21+
, and the
Galaxy S21 Ultra
. The big news is that the top model will support Samsung's stylus - the S-Pen - normally a Galaxy Note exclusive. The design of the Galaxy S21 line has evolved quite a bit since the S20.
You'll love these:
The camera bump now flows seamlessly into the frame of the phone, creating a unique look but also posing some questions about durability and drop protection. That's where the cases come in but given the unique design, the Galaxy S21+ cases face a tough decision - to go the fashion route or to stay strong and cover this interesting feature.
Here are the best Samsung Galaxy S21+ cases: both from Samsung itself and from third-party providers.
Will Samsung Galaxy S21 cases fit the S21+?
Not a chance. Although the design of those two devices is practically the same, the size is different, which means that S21 and S21+ cases are NOT interchangeable. So, be extra careful if you want to order a case for your new Galaxy S21 or S21+. Meanwhile, sales for the Galaxy S21 is now open on all major carriers and Samsung.com:

Here are the official Samsung Galaxy S21+ cases, and although we had a pretty good idea of what they will look like thanks to leaks, there are some surprises.


By the way, you should definitely check our comparison articles to see what's what and have a better idea of how the Galaxy S21+ fares against the competition:
Samsung Galaxy S21+ S-View Flip Cover case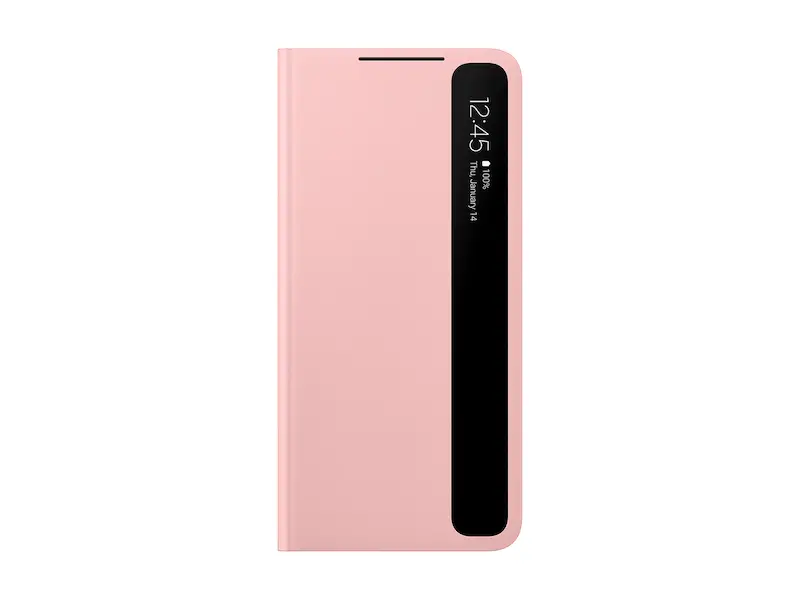 The S-View Flip Cover not only protects your display but has a window that shows you important information at a glance. It features 4 colors to match the Galaxy S21+'s color schemes: pink, violet, gray, and black. Additionally, this case has an antimicrobial coating that protects against certain bacteria, so it not only protects your screen, it keeps your S21+ clean.
Samsung Galaxy S21+ Leather Cover case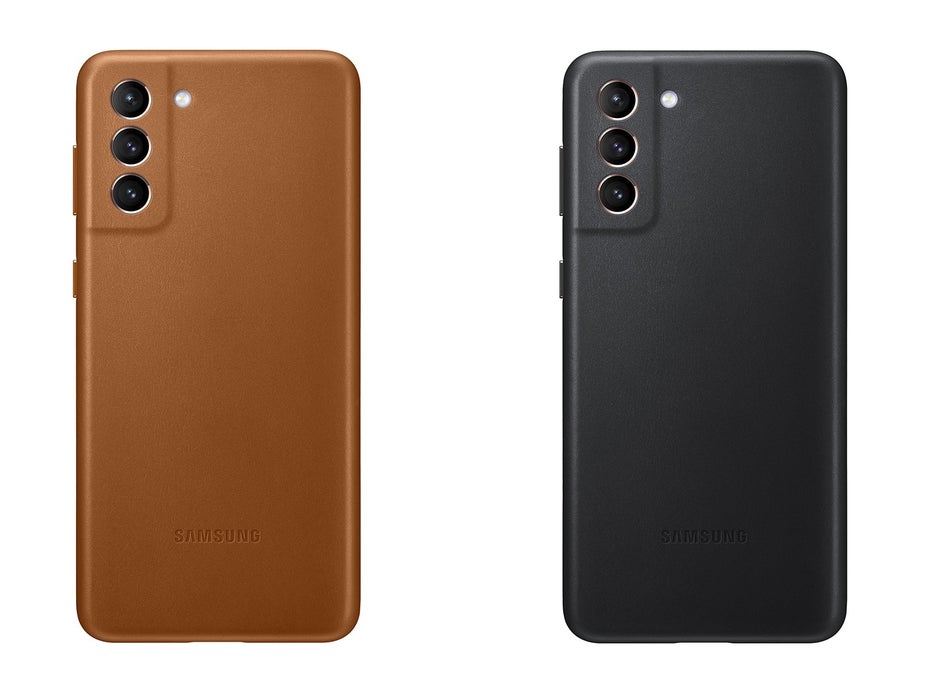 The Leather Cover case is an all-time favorite - it combines the stylish leather look and feel with a sleek and practical design. The S21+ Leather Cover cases seem to cover the camera bump, featuring only small circular cutouts for the camera and LED flash but unlike the S21 leather cover, this one sports a nice contour that emphasizes the new camera bump design. It's available in two colors: black and brown.
Samsung Galaxy S21+ Clear Protective case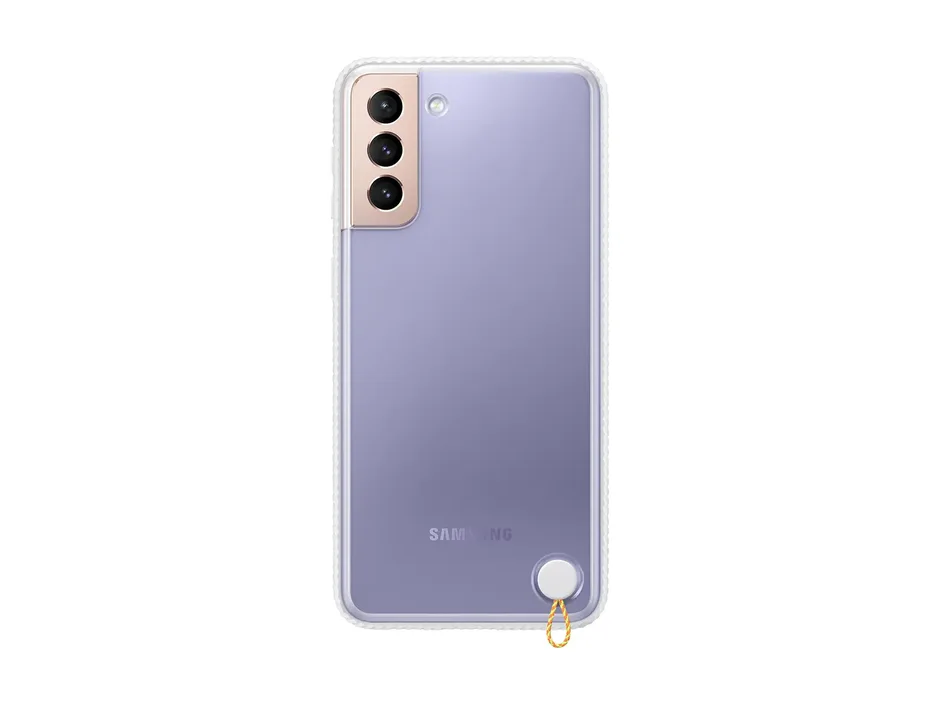 You may want your Galaxy S21+ impressive and unique design to stand out, and how to do that better than to just slap a clear case on it? However, this one is not your ordinary clear case: it has been tested against accidental drops and offers top-notch protection to your new phone. The back of the case is clear, and the frame comes in two color variants: white or black.
Samsung Galaxy S21+ LED Wallet cover case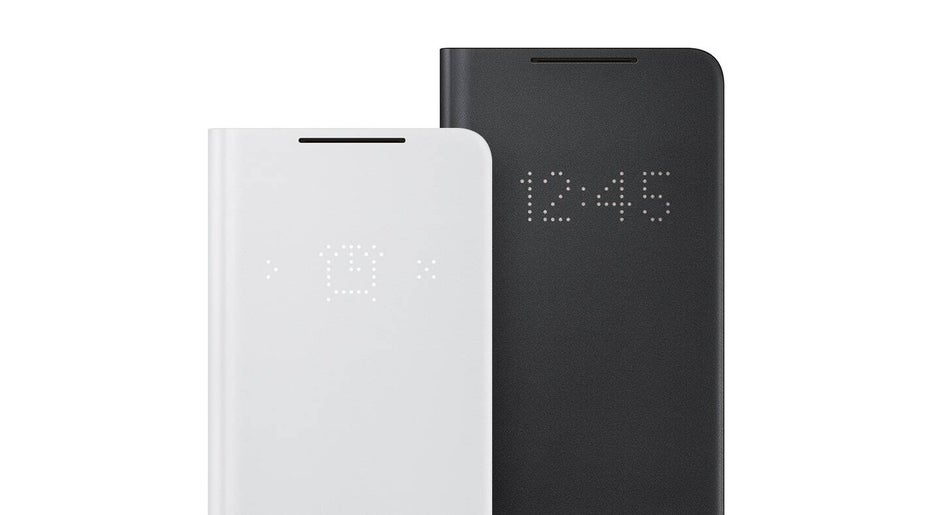 The LED Wallet cover for the Galaxy S21+ comes in four colors to match your new phone: Violet, Pink, Grey, and Black. It features antimicrobial coating to keep your phone clean from germs, and it allows you to pick up a phone call without even having to open the case to touch the screen. What's even more cool is that you can customize the front of the cover with custom icons.
Samsung Galaxy S21+ Silicone case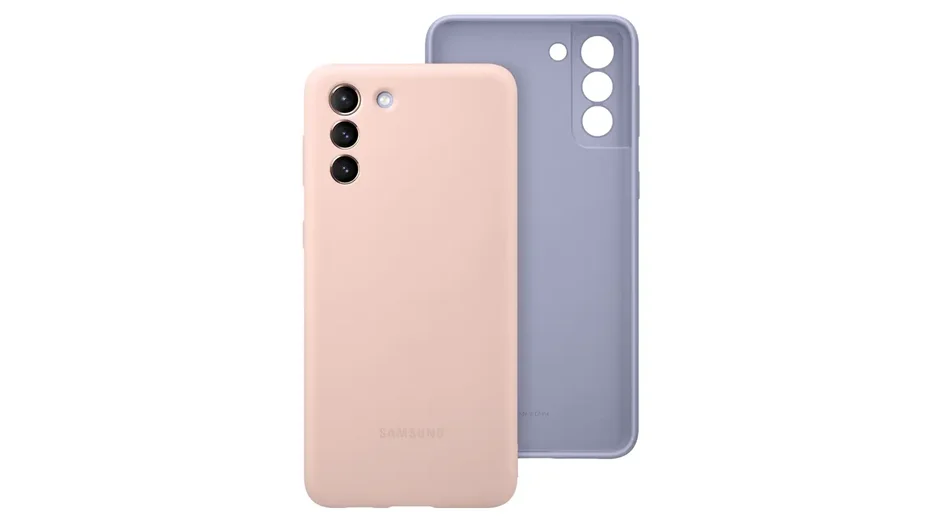 The silicone case for the Galaxy S21+ again comes in four colors: Violet, Pink, Gray, and Black, and looks simple and minimalistic. The case adds a soft feel to your Galaxy S21+, while at the same time its silky matte finish is grip-friendly.

Samsung Galaxy S21+ Kvadrat case
If plain silicone is too boring for you, or you don't want a big, bulky rugged case, there's a cool option from Denmark design studio Kvadrat. These cases are made from post-consumer recycled polyester (PET) that the company calls Revive. They're not only sturdy and stylish but also fully recyclable and good for the environment. The Kvadrat cover for the Galaxy S21+ comes in two colors: Violet and Gray.
Samsung Galaxy S21+ third-party cases
Third-party cases for the Galaxy S21+ are starting to appear left and right now, and there are some really cool alternatives to the official Samsung cases.
Samsung Galaxy S21+ Clear cases
Spigen Ultra Hybrid S for Galaxy S21 Plus case


The Spigen Ultra Hybrid S case for the Galaxy S21 Plus proudly displays the stunning design of your Galaxy S21 Plus, while offering protection to your Galaxy at an affordable price. The Spigen Ultra Hybrid S case also features an integrated metal stand when you want to binge-watch Netflix on your S21 Plus.




Insignia - Hard Shell Case for Samsung Galaxy S21+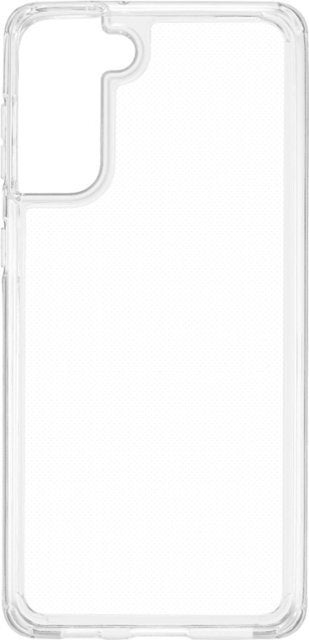 Here's another solid option if you want to keep your new Galaxy S21+ on display. This Insignia Hard Shell Case is made from a combination of polycarbonate (PC) and thermoplastic polyurethane (TPC). As a result, this case is impact- and scratch-resistant and will also withstand up to 6ft drops. It's slim and sleek, and offers the perfect blend of protection and style. It comes at a great price, too!
OtterBox - Symmetry Clear Series for Samsung Galaxy S21+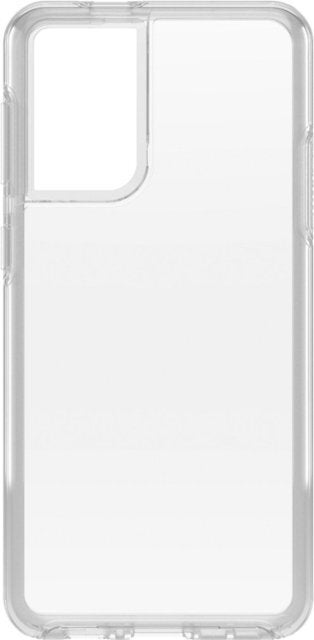 We're getting into the serious territory with this OtterBox clear case. Don't be fooled, it's crystal clear but at the same time it's very durable. It's rated to withstand 3X as many drops as military standard (MIL-STD-810G 516.6). There's also a silver-based antimicrobial protective coating that helps inhibit microbial growth and defends the case against common bacteria.
Tech21 - Evo Check Case for Samsung Galaxy S21+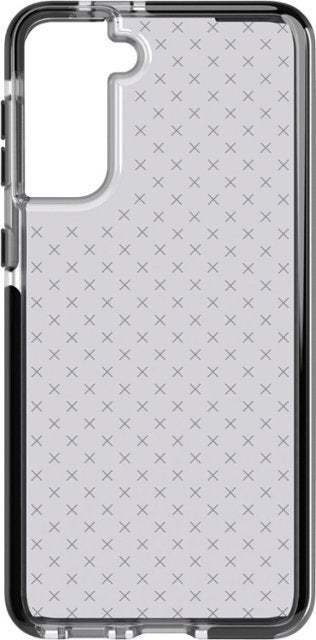 This case is not strictly transparent but you can still make out the color of your phone through the back. It offers impact protection from drops of up to 12ft. as well as microbe-reducing materials to keep it hygienically clean. The Tech21 Evo Check Galaxy S21+ case has a stylish pattern on the back and colourful, interchangeable buttons so you can mix up the colours for extra customization.
Samsung Galaxy S21+ Rugged cases
Spigen Tough Armor Designed for Galaxy S21 Plus Case
The Spigen Tough Armor case offers adequate protection at an affordable price. It features a dual-layer body design with the addition of a new foam for extra shock absorption. A polycarbonate shell covers the flexible TPU material, and the AirCusion technology coupled with the new protective foam ensures that your Galaxy S21 Plus will survive almost anything you throw at it.

OtterBox Defender Series Screenless edition case for Galaxy S21 Plus
Despite the quite strange name of this OttorBox case for the Galaxy S21 Plus, it offers multi-layer defense, and the port covers protect your Galaxy S21 Plus for dust or small particles that can damage it. Additionally, this case comes with OttorBox limited lifetime warranty.

Speck - Presidio2 Grip Case for Samsung Galaxy S21+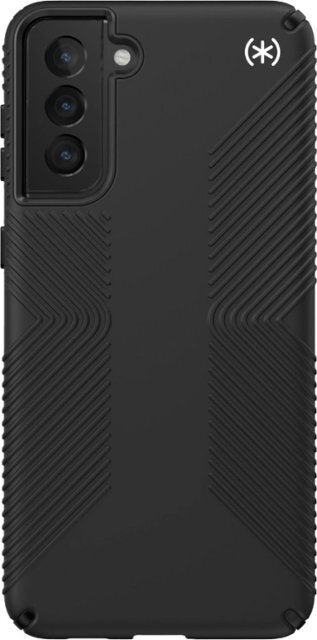 The Presidio2 Samsung Galaxy S21+ case from Speck is designed to withstand drops of up to 13 feet thanks to special air capsules (Armor Cloud), which compress on impact and suspend your Galaxy S21+ on a cushion of air, just like an airbag. This case also features an antimicrobial coating that delivers a 99% reduction bacteria growth on its surface. The raised bezels protect the screen and camera system and there are textured lines for better grip. A very solid all-round case.
UAG - Civilian Series Case for Samsung Galaxy S21+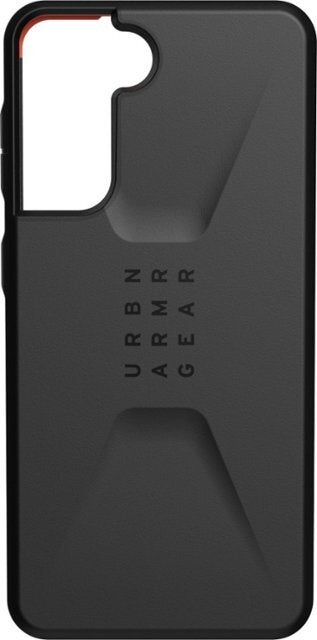 Urban Armor Gear is a well-known brand when it comes to protection. The company dishes out one of the sturdiest, most durable phone cases on the market, and the Civilian Series is no exception. This case is a bit more understated than the Monarch for example, but offers respectable protection for your Galaxy S21+. It meets 2X Military drop-test standards (MIL STD 810G 516.6), thanks to a hard, impact resistant exoskeleton, hex cushioning & shock absorbing panels. The clever design includes a web of hollow cells to minimizing size and weight, so you get a tough case that is lightweight at the same time.
UAG - Monarch Series Case for Samsung Galaxy S21+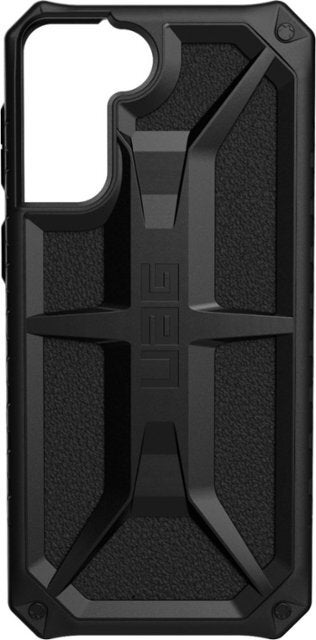 The Monarch Series is UAG's top of the line rugged case. It's reinforced with impact resistant rubber, armor frame, polycarbonate shear plate and 5-Alloy metal hardware. The result is 2x military drop-test standards (MIL STD 810G 516.6) compliance, so your Galaxy S21+ can survive any accidental drop. The Monarch Series features no-frills industrial design and will keep your phone safe. It's also very light, especially for the protection it offers.
Samsung Galaxy S21+ Leather cases
anccer Newborn Series Compatible with Samsung Galaxy S21 Plus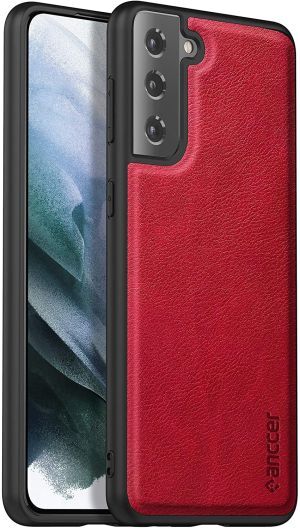 While you wait for Mujjo and other big names to put out their leather cases, there are some alternatives from far-east brands. Like this anccer Newborn Series Galaxy S21+ leather case. It's quite affordable and offers adequate protection too - there's an anti slip leather surface on the back that also offers fingerprint resistance, while the case itself uses a composite design that combines leather, TPU, and PC for all-round protection. Some cool colors are available with this case as well.
TORRO Samsung Galaxy S21+ Plus Genuine Quality Leather Flip Cover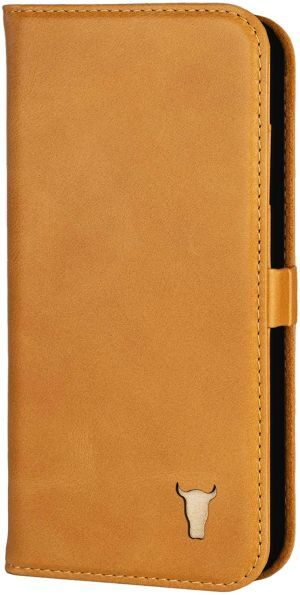 If you're not amused by Samsung's official leather cases, there are other options, although a bit limited at the moment. You can try a handcrafted leather case from TORRO. It screams luxury and is made of genuine cowhide leather on the outside, and a durable TPU inside frame to protect your Galaxy S21+. There are a bunch of side magnets to keep the case securely closed and also 3 card storage slots and compartment for notes. We're expecting MUJJO to update its cases to support the new Galaxy S21 phones any time now, so stay tuned.
Samsung Galaxy S21+ Stylish cases
Kate Spade New York - Protective Case for Samsung Galaxy S21+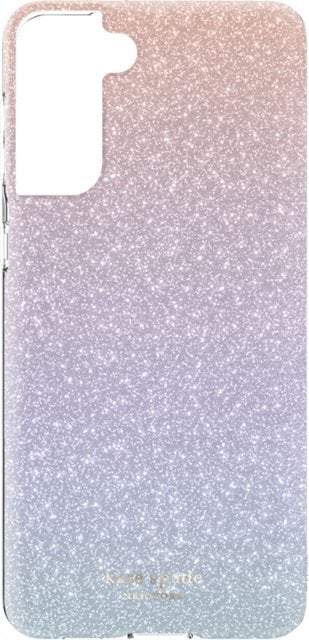 Add some sparkle to your life with this Kate Spade Samsung Galaxy S21+ protective case. It's slim, light and easy to hold, and it combines a co-molded urethane composition with shock-resistant bumpers to protect your Galaxy S21+ from drops (up to 6ft). As the name suggests, the Glitter Ombre case is as chic as it is protective.
Rifle Paper Co - Case for Samsung Galaxy S21 Plus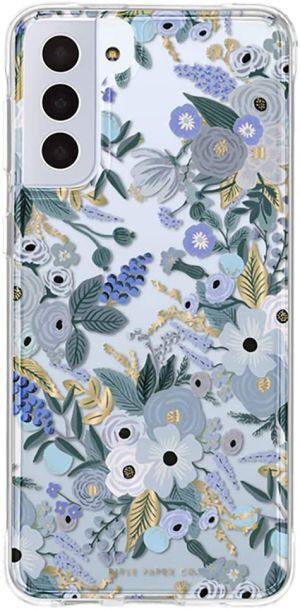 The Garden Party case from the renown design studio Rifle Paper Co will add some style to your Galaxy S21+. It features a floral design with gold foil accents but it also comes with up to 10ft drop protection. There are other options designwise in the Case-Mate store, including the glittery Omber Stardust or the hypnotizing Iridescent Swirl, so you can make your Galaxy S21+ as original as it can be. Prices are quite good as well.