Samsung Galaxy S21 Ultra vs Galaxy Note 20 Ultra
We may earn a commission if you make a purchase from the links on this page.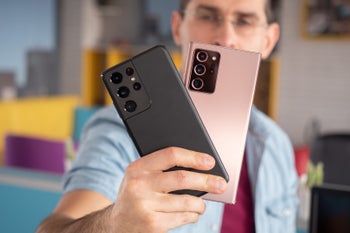 Samsung has
officially unveiled the Galaxy S21 Ultra
and for the first time on the Galaxy S series, it supports the S Pen, even if the S Pen itself won't be included inside the phone like it is on the Note series. Does this mean that you should now buy the
Galaxy S21 Ultra
instead of the
Note 20 Ultra
if you are looking for the very best of Samsung? And what other differences are there between the S21 Ultra and the Note 20 Ultra?
So... let's dive deeper and explore the advantages the Galaxy S21 Ultra offers over the Note 20 Ultra!
Display, Design and S Pen support
The S21 Ultra is a narrower, but thicker phone, while the Note has that signature sharp rectangle look
Both being big phones, the main difference between the Galaxy S21 Ultra and the Note 20 Ultra is the design. The Note comes in this easily recognizable rectangular shape with sharp corners that is unlike any other phone, and it's a bit wider than a typical phone too, while the Galaxy S21 Ultra features a slightly narrower shape with more traditional, rounded corners. On the other hand, the S21 Ultra has that new camera styling that kind of blends with the metal sides of the phone and looks very stylish. The S21 Ultra is also a bit thicker: not much, but enough for one to notice, and that thickness becomes even more noticeable if you use the phone with a case.
And of course, since for the first time an S series phone will support S Pen, creative people will now have one more reason to consider the S21 Ultra. The S Pen, however, will not reside inside the phone as on the Note, but it will be offered either separately or will insert into certain cases.
Neither phone has a headphone jack, as you would expect, and the S21 Ultra takes things further by NOT including a microSD card slot, a feature that Samsung was well known to include in the past.
The Note 20 Ultra also features a slightly larger screen size. On paper, the difference is just 0.1 inches, but the Note being wider, it actually has a noticeably bigger screen area. Here are the full display specs:
| | Galaxy S21 Ultra | Galaxy Note 20 Ultra |
| --- | --- | --- |
| Display size | 6.8", curved | 6.9", curved |
| Technology | OLED | OLED |
| Resolution, density | 1440 x 3200 pixels, 516ppi | 1440 x 3088 pixels, 496ppi |
| Frame rate | 1Hz - 120Hz Dynamic | 10Hz - 120Hz Dynamic |
| Additional features | HDR support | HDR support |
Still, the S21 Ultra is the newer phone and that means it benefits from a few technological breakthroughs: it comes with the highest peak brightness of any smartphone (it can go up to 1,500 nits when needed), so you can comfortably use it even under direct sunlight and its color output is expected to be a bit better as well.
Both phones support a QHD resolution for extra sharp detail, but interestingly, the Note cannot use the 120Hz Dynamic fast refresh rate at the maximum resolution, while the S21 Ultra offers that option. The 120Hz refresh rate adjustment is dynamic on both phones, meaning that it only kicks in when needed, while the rest of the time the phones run at a lower refresh rate to save battery.
Performance
The Galaxy S21 Ultra ships with the latest and most powerful chip by Qualcomm, the new Snapdragon 888, compared to an older generation Snapdragon 865+ used on the Note 20 Ultra.
The newer Snapdragon 888 chip takes a leap in performance thanks to the newer 5nm manufacturing process used that allows for more transistors and higher performance without much of an effect on power consumption. It's not like the Note 20 Ultra is slow, it definitely isn't, but if you want the most cutting-
edge
technology that is future proof, the S21 Ultra is the way to go.
Both phones will also start at a base storage of 128GB in the US, a reasonable amount, but only the Note will support a microSD card slot. The S21 Ultra is the first Samsung flagship we can think of that does NOT have a microSD card slot. To offset the lack of a microSD card slot on the S21 Ultra, Samsung will offer versions with 256GB and even 512GB of native storage, a strategy similar to what Apple does with its iPhones.
In terms of 5G connectivity, both support all of the 5G bands that are currently in use (including mmWave or UWB on Verizon), but here, the S21 Ultra has the advantage of a 5G modem built in the chip, which allows it to be more frugal in terms of power consumption.
Camera
Two telephoto zoom cameras on the S21 Ultra might make it the most versatile zoom camera
The Note 20 Ultra impressed everyone with the beautiful styling of the camera with those metal rings around each lens, a stylish look. But when it comes to actual cameras, it's the S21 Ultra that is pushing the boundaries. Last year, Samsung introduced 100X Space Zoom on the S20 Ultra, but many users complained that photos with 50X and further zoom are barely usable. Samsung took this into consideration and cut back on the zooming ability of the Note 20 Ultra which supports "only" up to 50X zoom.
Well, with the S21 Ultra, 100X zoom is making a come-back, but this time with better quality.
The S21 Ultra is able to bring this back thanks to a new, 10X zoom native periscope lens, the longest range zoom ever used on a Galaxy phone, and it uses this camera combined with intelligent digital zoom to go all the way up to 100X zoom. A 10X zoom lens, however, would mean a big gap in the zoom range from 1X to 10X, and that's why Samsung is also including a secondary, 3X zoom telephoto lens. Both telephoto cameras come with optical image stabilization, which is crucial to getting clear images at those longer zoom ranges. All of this together easily makes the S21 Ultra truly the ultimate zoom camera phone, bar none.
| | Galaxy S21 Ultra | Note 20 Ultra |
| --- | --- | --- |
| Main Camera | 108MP, 24mm f/1.8 lens with OIS | 108MP, 26mm lens with OIS |
| Secondary Camera | 12MP ultra-wide, 13mm, f/2.2 lens | 12MP ultra-wide, 13mm |
| Third Camera | 10MP, 3X zoom telephoto (72mm, f/2.4) with OIS | 12MP, 5X zoom periscope lens with OIS |
| Additional cameras or sensors | 10MP, 10X zoom periscope lens (240mm, f/4.9) with OIS | - |
Another interesting change is in the main camera which is much wider on the S21 Ultra: it shoots at 24mm rather than the standard across most phones 26mm length, and while this might seem like a small difference, it will make for a noticeably different perspective on photos captured with the main camera.
The S21 Ultra also brings some improvements to video recording: first, it will support a laser auto-focusing system to help relieve the focusing issues that the S20 Ultra used to have. And secondly, it enables 8K video recording at 24fps, with the ability to capture high quality screen grabs from that footage, so you don't have to wonder whether to film or snap a photo.
Battery Life and Charging speeds
5,000mAh (Galaxy S21 Ultra) vs 4,500mAh (Note 20 Ultra)
25W fast charging on both
Finally, the newer S21 Ultra also comes with a larger battery. It's projected to come with a 5,000mAh battery cell, compared to a 4,500mAh battery on the Note, more than 10% bigger in size. That is a considerable upgrade, and in our testing, the
Note 20 Ultra had just average battery life
, not quite as impressive as you would expect out of a phone of its size and stature.
As for charging, the Galaxy S21 Ultra supports 25W charging speeds, the same as the Note 20 Ultra. Interestingly, it is also said to be the first Samsung phone to ship without a charger in the box. There will be a standard USB-C cable included, but you would need to separately purchase the power adapter, just like you
do on the most recent iPhone 12 series
. We can't say we are excited about that, and the Note 20 Ultra still ships with at least a charger in the box.
Also, both phones support
wireless charging
at speeds of up to 15 watts with a compatible charger that you have to purchase separately. Both also have reverse wireless charging support, so you can place your headphones or smartwatch on the back of your Galaxy, which can act as a wireless power bank of sorts.
Prices
Last but not least, let's talk pricing. Market conditions have forced Samsung to lower its flagship phone prices in 2021. And while last year, Samsung launched its flagship S20 Ultra at an exorbitant $1,400, this year's Galaxy S21 Ultra prices start at a much more reasonable $1,200.
By removing the charger from the box, Samsung might anger many customers, but if this allows it to cut the price of the phone, it might be worth it.
As for the Note 20 Ultra, its starting price was $1,300 dollars, but a few months after the launch you can now find it for a much more reasonable $1,000 dollars at many retailers, so it definitely has the edge in terms of price.
Samsung Galaxy S21 Ultra 5G — $1,200 for 128GB model, $1,250 for 256GB, $1,380 for 512GB
Samsung Galaxy Note 20 Ultra 5G — $1,300 for 128GB (but current instant discounts of as much as $300)
Pre-orders for Galaxy S21 Ultra are open starting on January 14th, with a release date set for January 29th.