Best Samsung Galaxy S21 Ultra cases
7
We may earn a commission if you make a purchase from the links on this page.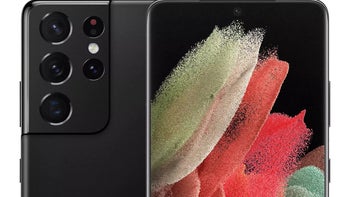 You have all the right to be excited about the next generation
Samsung
Galaxy phones. The
Galaxy Unpacked event
is ancient history already and this year it was dedicated solely to the Galaxy S21 series. We've got three devices as usual - the vanilla
Galaxy S21
, the plus variant, and the
Galaxy S21 Ultra
. What's unusual, though, is that for the first time there's an S-Pen support in a Galaxy S device. That's right - the Galaxy S21 Ultra supports this "Note-worthy" accessory.
You'll love these:
Regarding the S-Pen, though, there are some caveats. First, Samsung won't ship the Galaxy S21 Ultra with the S-Pen (and the same goes for the charging adapter). Second, the S Pen that Samsung sells specifically for the S21 Ultra is a bit different than the one on the Note series, it's thicker, so it might actually be a bit more comfortable to hold and use. And then there's the next one - there isn't any dedicated slot in the Galaxy S21 Ultra to accommodate the S-Pen.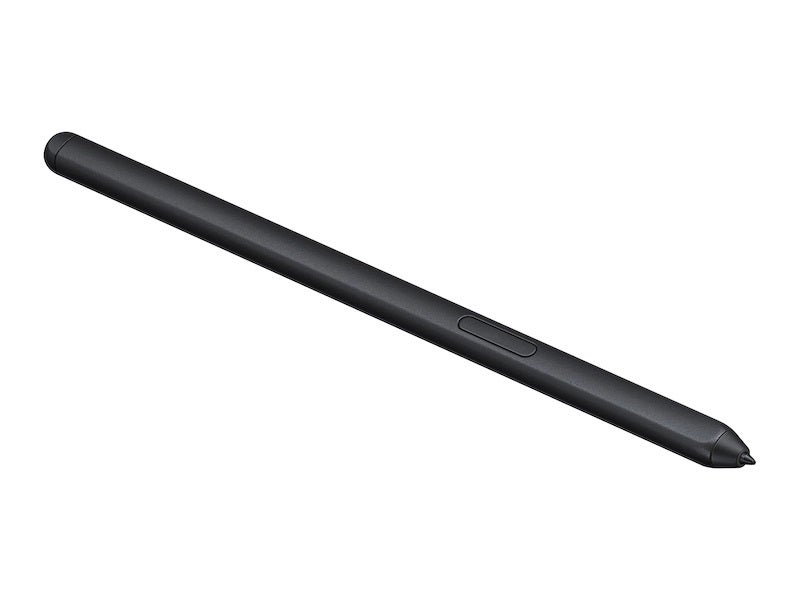 This leads us to the cases. Samsung has created a series of dedicated S-Pen cases - including a LED View Cover and a Silicone Case. Let's dive a little deeper and see all the available Galaxy S21 Ultra cases and how they deal with the S-Pen situation.
Contents:
Samsung Galaxy S21 Ultra official cases
All the official cases have been announced and they're more or less the usual stuff that Samsung puts out. The Galaxy S21 Utra gets two dedicated S-Pen cases, but apart from them there aren't any big surprises in the lineup.
Galaxy S21 Ultra 5G S-View Cover with S-Pen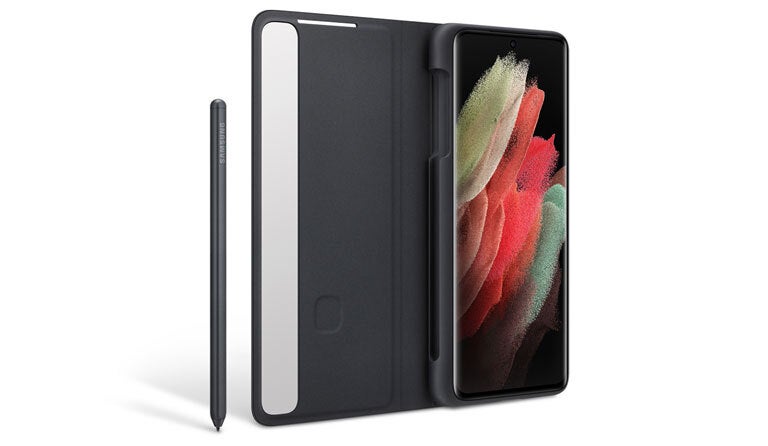 The Smart Clear View Cover has gotten an upgrade to accommodate the big addition to Galaxy S21 Ultra 5G — the S Pen. The S-Pen slides into the holder inside to keep the accessory at the ready for when you need it. Just like with other S-View cases, this one has a window that shows you important information at a glance.
Galaxy S21 Ultra 5G Silicone Cover with S-Pen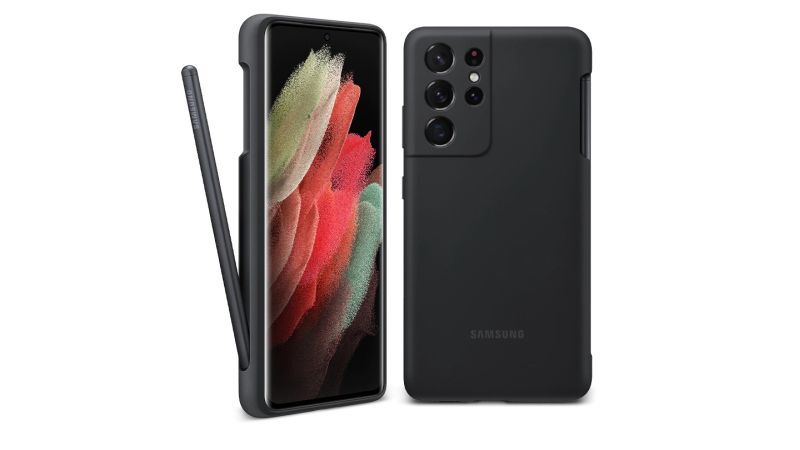 It appears that Samsung has decided to include S-Pen support only for certain models (two). The silicone case made from black TPU material is the second S-Pen case and it has gotten wider to accommodate the new accessory. This Galaxy S21 Ultra case will make the already big device feel even bigger, but at least you won't lose the S-Pen.
Galaxy S21 Ultra 5G S-View Cover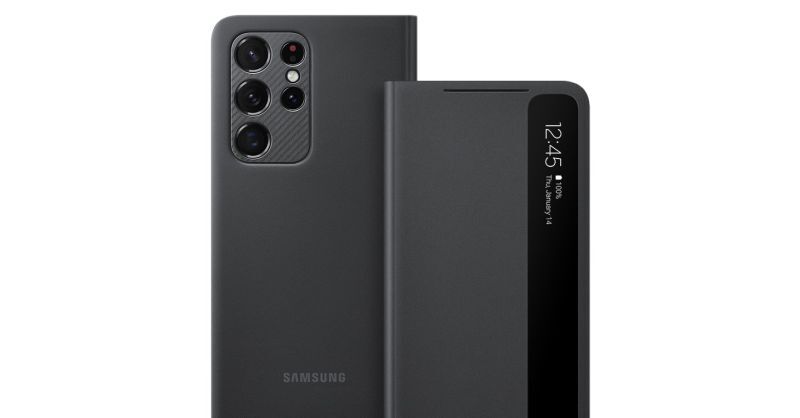 If you don't care about the S-Pen but like Samsung's S-View flip covers, fret not. There's a regular Galaxy S21 Ultra S-View cover without a slot for the S-Pen. It features the same cool notifications window plus an antimicrobial coating that blocks microbial growth to help protect against certain bacteria. And it's quite cheaper than its S-Pen capable counterpart.
Galaxy S21 Ultra 5G LED Wallet Cover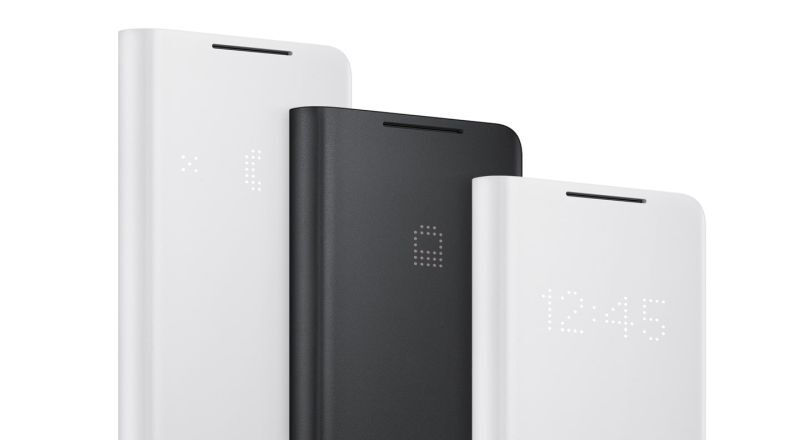 The cool LED Wallet Cover is back - it features a simple LED notification panel on the front that not only can display basic information, but can register touches. Even with the cover closed, you can use the Galaxy S21 Ultra. When you get a call, simply answer or reject it with a tap. There's a cool app that goes with this Samsung Galaxy S21 Ultra LED cover - when you put on the cover for the first time a pop-up will appear prompting you to install an intuitive app.
Galaxy S21 Ultra 5G Silicone Cover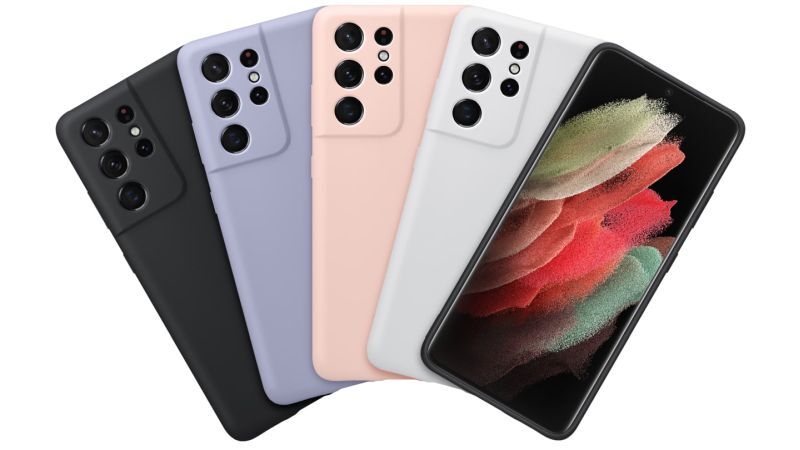 This classic silicone Galaxy S21 Ultra case is made of soft silicone, offering sleek protection from left to right, top to bottom. The slim form factor doesn't add bulk, so although it helps prevent damage, it still easily fits in your pocket or bag. There are some cool colors to choose from and the price is reasonable, too.
Galaxy S21 Ultra 5G Leather Cover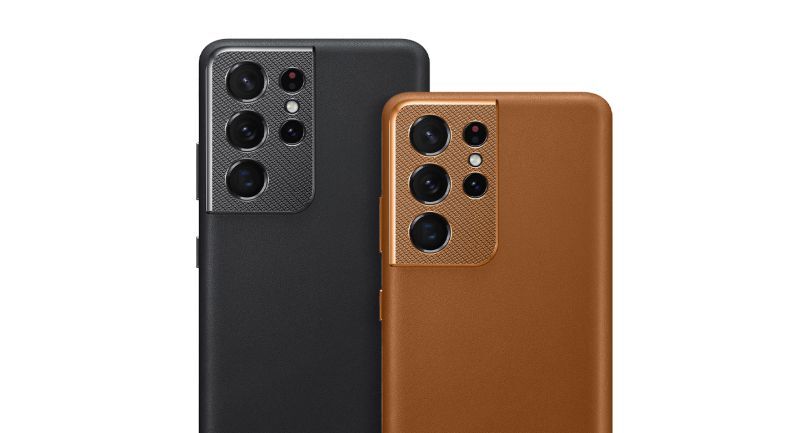 Leather is always in fashion. This Samsung Galaxy S21 Ultra leather cover will maintain the panage of your premium phone, rather than "covering" it. This case is made of genuine leather, of course, and offers some additional protection to the camera system. The leather wraps around the edges of the phone and it's really comfortable to hold.
Galaxy S21 Ultra 5G Rugged Protective Cover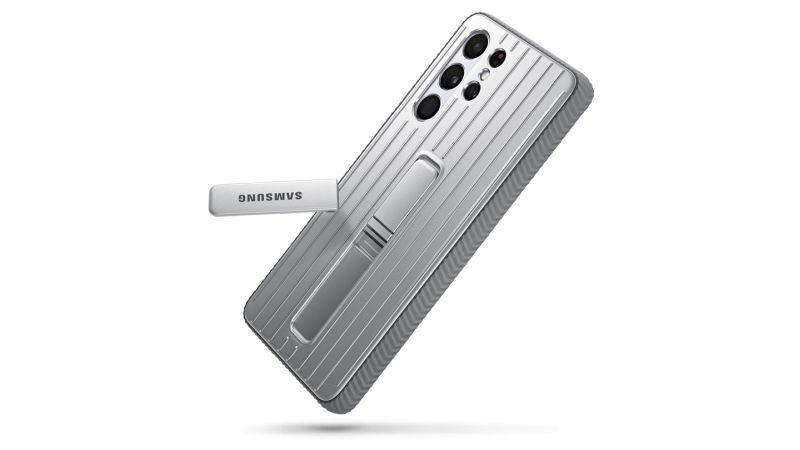 Sometimes protection comes before looks. This rugged Samsung Galaxy S21 Ultra cover has been drop-tested to military-grade standards, and will keep your phone safe from damage and drops. The added double kick-stand offers two comfortable viewing angles: 45 or 60 degrees.
Galaxy S21 Ultra 5G Clear Standing Cover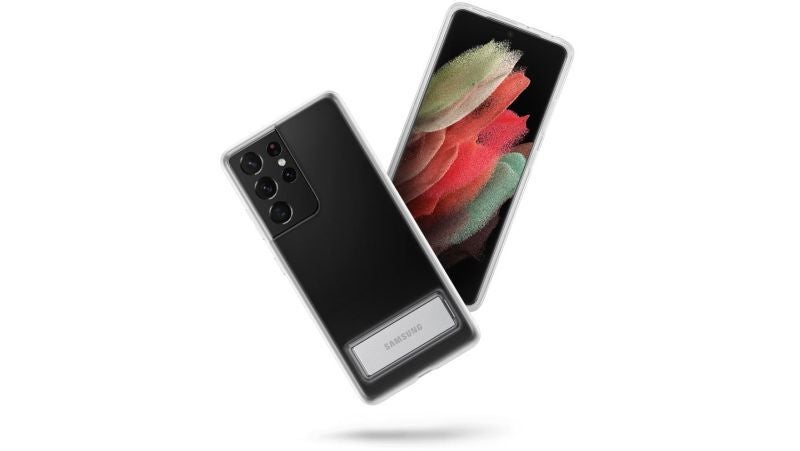 If you're happy with the color of your Samsung Galaxy S21 Ultra, why hide it? The Clear Standing Cover will keep your phone's design on display, while keep on protecting it. The corners are protected with a bouncy TPU bumper, while the solid PC back protects the rear of your phone. There's an integrated kickstand as a bonus, too.
Galaxy S21 Ultra 5G Clear Protective Cover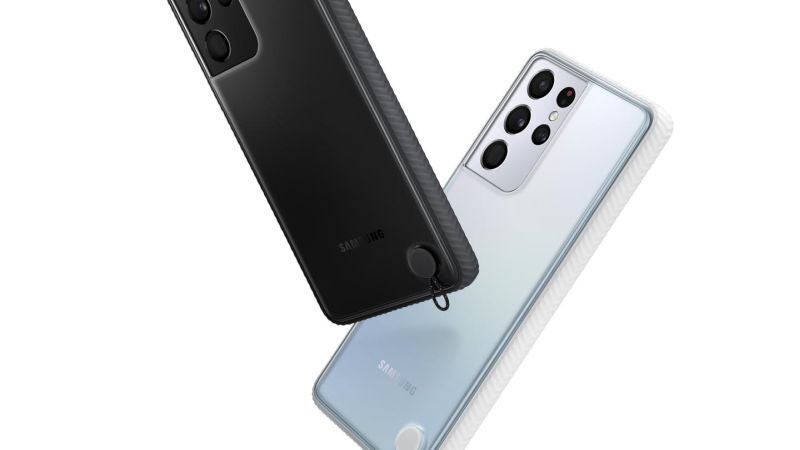 Who says you have to compromise style for protection or vice-versa? This Galaxy S21 Ultra Clear Protective Cover offers both. It puts your phone's color on display while the non-slip pattern along the border offers drop protection and better grip.
Galaxy S21 Ultra 5G Clear Cover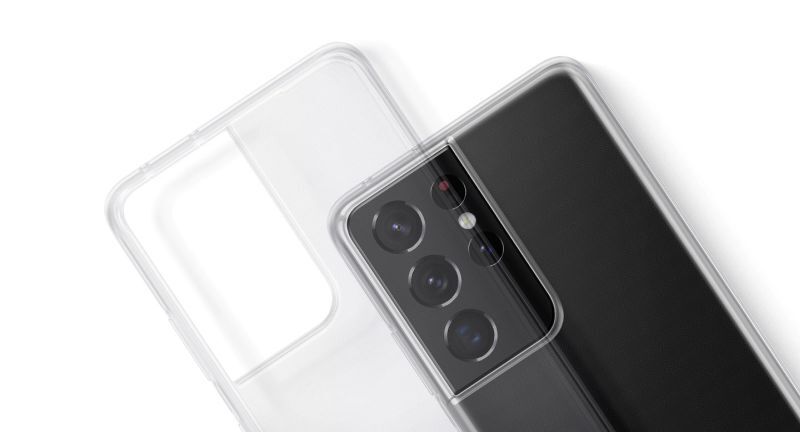 This is the most affordable and simple Galaxy S21 Ultra case. Slim yet durable, this case adds a layer of protection that doesn't thicken the phone and also lets its color shine. You simply won't notice it's there.
Samsung Galaxy S21 Ultra third-party cases
Samsung Galaxy S21 Ultra Clear cases
OtterBox Prefix Series Case for Galaxy S21 Ultra 5G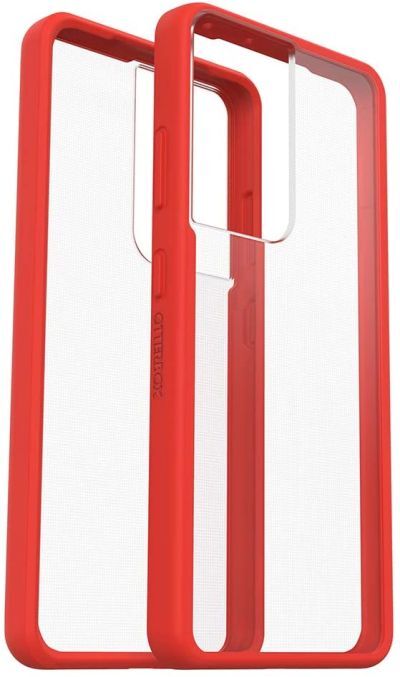 If you want something a bit more stylish but still sturdy and durable, there's another option from OtterBox. The Prefix Series Galaxy S21 Ultra case sports a one-piece design and it's ultra-slim. The case features a clear back with a soft-grip bumper that comes in different colors. It's a solid case that's also on the affordable side of things, price wise.
Spigen Ultra Hybrid Designed for Galaxy S21 Ultra Case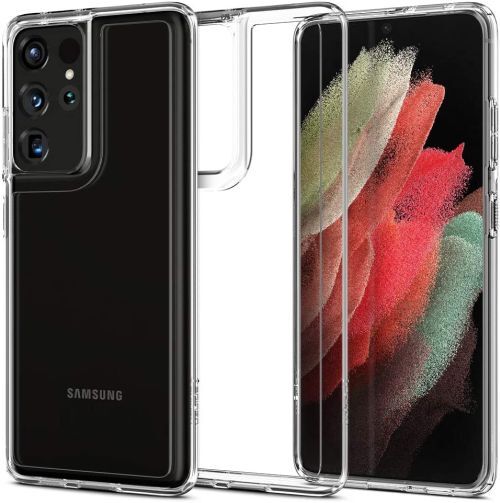 You can still get good protection without compromising style. And that's exactly what this Ultra Hybrid case from Spigen has to offer. It packs advanced drop protection in a single layer while keeping your Galaxy S21 Ultra on display. The shock-absorbing flexible bumper will take care of any accidental drops while the rigid back will resist scuffs and scratches. The crystal clear back is designed to preserve the original look of your phone without yellowing over time. And finally, the Air Cushion Technology mitigates the shock from everyday impacts. The price is quite attractive as well.
Mous Clarity Lite Galaxy S21 Ultra case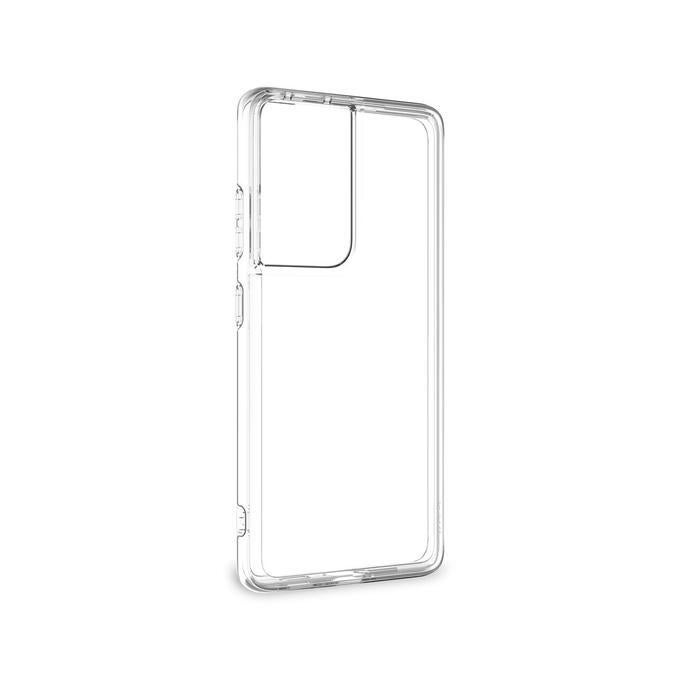 Mous started its business by dropping phones from 45ft cranes and out of helicopters and this speaks for itself. These guys offer cases that try to guarantee maximum protection while staying stylish and beautiful. The new Clarity Lite Galaxy S21 Ultra case is no exception. The back of this case is made from solid polycarbonate with a scratch-resistant coating on top. It's also has an anti-yellowing UV-resistance that ensures your Galaxy S21 Ultra will shine through the case for a long time. The case is only 2mm thick so it won't add bulk to your phone.
Tech21 Evo Check Case for Samsung Galaxy S21 Ultra 5G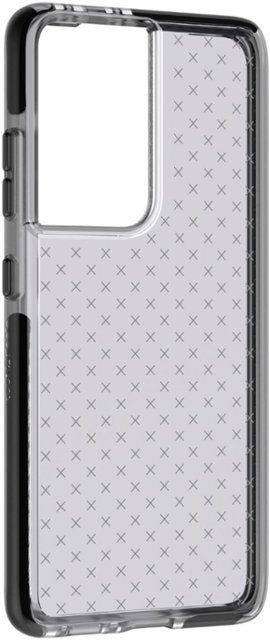 This one is semi-clear, so to speak. It's design is really cool, though - it features a stylish pattern and colourful, interchangeable buttons so you can mix up the colours.
The Tech21 Evo Check Case for Samsung Galaxy S21 Ultra is made of microbe-reducing materials to keep it hygienically clean, and durability isn't compromised either. There's impact protection from drops of up to 12ft.
Samsung Galaxy S21 Ultra Rugged cases
OtterBox Defender Series Galaxy S21 Ultra case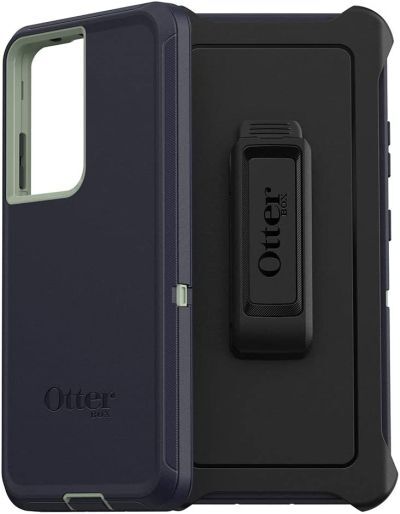 OtterBox is known for its wide range of robust and durable cases designed specifically with some of the world's most popular smartphones in mind. The Galaxy S21 Ultra cases are no exception. If you want top-notch protection, the OtterBox Defender case is just the right one for you. It offers a multi-layer defense: solid inner shell and soft outer cover, along with port covers to keep out dust and debris. To top things off, the OtterBox Defender series Galaxy S21 Ultra case comes with a belt-clip holster that doubles as a kickstand for hands-free media viewing. Quality comes at a price, though, and this one's not the cheapest Galaxy S21 Ultra case out there, but it sure is one of the best.


Spigen Tough Armor Designed for Galaxy S21 Ultra Case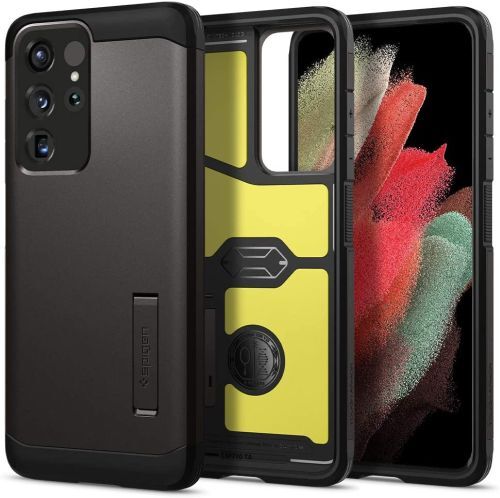 When you want adequate protection, but still need to keep things affordable, the Spigen Tough Armor case is a no-brainer. It features a dual-layer body design with the addition of a new extreme impact foam for extra shock absorption. A polycarbonate shell covers the flexible TPU material, and the AirCusion technology coupled with the new protective foam ensures that your Galaxy S21 Ultra will survive almost anything you throw at it. The price of these cases is amazing, and it doesn't compromise the quality.
UAG Monarch Series Galaxy S21 Ultra case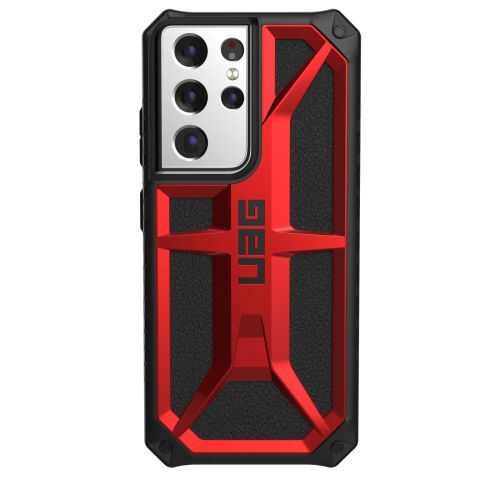 When it comes to protection, Urban Armor Gear is one of the top brands out there. The Monarch series features a thin design, handcrafted from premium materials, and is engineered to withstand abuse while giving your phone a premium aesthetic. The unique 5-layer construction is so tough that it surpasses military standards for an unrivaled level of protection. What's more, the case remains thin and light - it's the perfect choice if you want to keep your Galaxy S21 Ultra safe. Plus, it comes with a cool red exoskeleton design.
Speck - Presidio2 Grip Case for Samsung Galaxy S21 Ultra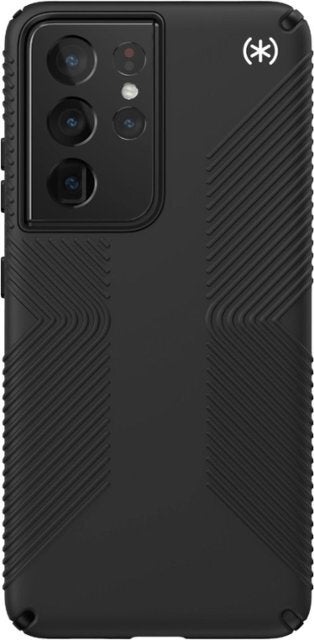 This Samsung Galaxy S21 Ultra case from Speck is a super protective and pocket-friendly at the same time. It comes with a soft-touch finish for ultimate comfort plus no-slip grips for better grip when texting, talking, or taking photos. The Armor Cloud technology makes this case really tough as well - air capsules are strategically placed around the corners and on impact, they compress and suspend your phone on a cushion of air, just like an airbag. This case can withstand drops of up to 13 feet, and also has a built-in antimicrobial treatment from Microban that delivers a 99% reduction in stain and odor-causing bacteria.
Samsung Galaxy S21 Ultra Leather cases
TORRO Galaxy S21 Ultra Leather Case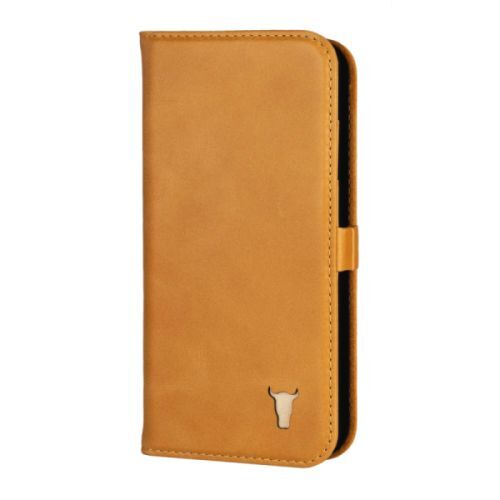 If you don't fancy Samsung's leather cases, there are other options, although at the moment they are a bit limited. You can opt for a handcrafted leather case by TORRO. It's made of genuine cowhide leather on the outside, while there's a durable TPU inside frame to protect your phone. This wallet case uses side magnets to keep the case securely closed and features 3 card storage slots and compartment for notes. Thing is, you must ship this case overseas to get it. We're expecting MUJJO to update its cases to support the new Galaxy S21 phones, so stay tuned.
anccer Newborn Series Galaxy S21 Ultra leather cover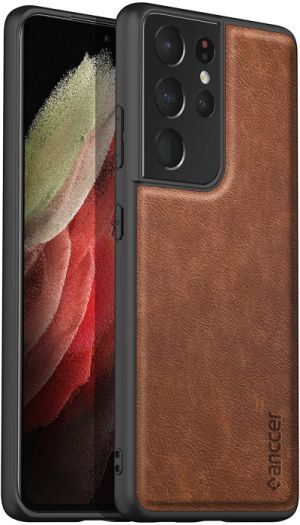 If you want something affordable, but still classy and leathery, this hybrid leather/TPU/PC case from anccer might be just for you. Its design withstands drop, bump and shock with cushioning and a combination of a soft TPU frame, hard polycarbonate frame, and a leather back. The case is only 1.2mm thick and one of the lightness design on the market, while maintaining a good level of protection. It's not genuine leather but looks stylish and won't cost you a fortune.
OtterBox Strada Series Galaxy S21 Leather Folio Case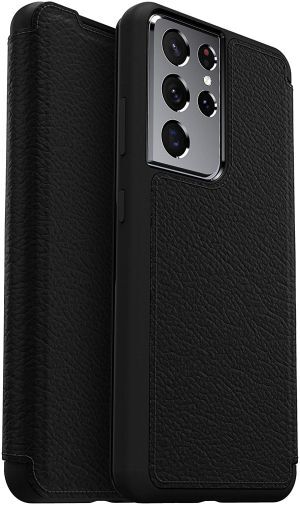 This OtterBox leather case combines soft touch, genuine leather folio on the outside, with an energy-absorbing inner shell. It not only looks good but it will protect your Galaxy S21, thanks to the OtterBox Drop+ certification - 24+ tests over 238+ hours, which certify that this slim, low-profile case performs when it matters most. You can check the full testing procedure here. It's not the cheapest case in the lot, but it's one of the most durable, while staying stylish at the same time.
Samsung Galaxy S21 Ultra stylish cases
Mous Limitless 3.0 Galaxy S21 Ultra bamboo case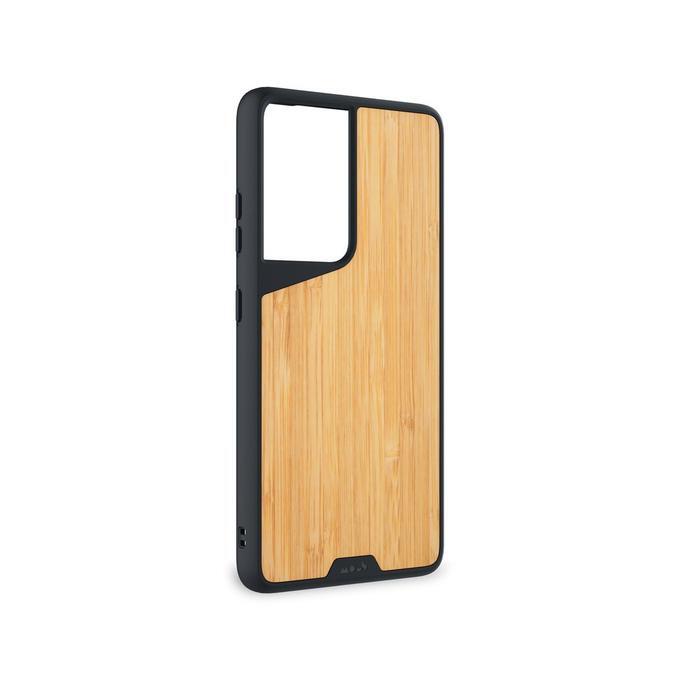 Exhibiting superior, first-class protection, the Limitless 3.0 range incorporates AiroShock technology to cushion your Galaxy S21 Ultra against drops. For Samsung users hoping to utilise magnetic technology, Limitless 3.0 also boasts the AutoAlignPlus function for seamless connectivity between the S21 Ultra and an ecosystem of accessories, including wireless chargers, mounts, and wallets. This case comes in various materials - walnut, bamboo, aramid fiber, leather and more.
Caseology Parallax Galaxy S21 Ultra Case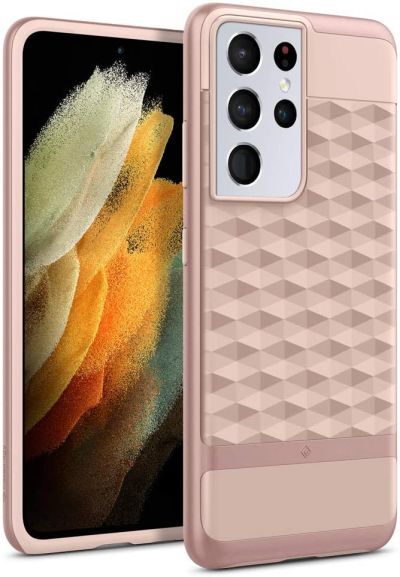 The Parallax series by Caseology offers style and protection for your Galaxy S21 Ultra. It's made in South Korea from quality materials and is backed by Caseology's 2 Year Limited Warranty. The case features a 3D pattern on the back that will add some mystery to the looks of your Galaxy S21 Ultra. Protection is not compromised, though - the Parallax case sports military grade protection that is drop-test certified. Four colors are available with Indi Pink being our favorite.
Case-Mate Rifle Paper Co - Case for Samsung Galaxy S21 Ultra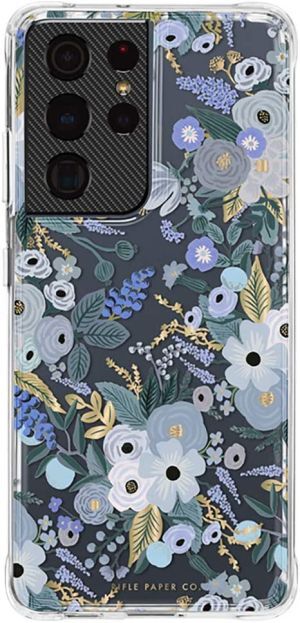 Another stylish choice for your Galaxy S21 Ultra. From Iridescent Swirl to Ombre Stardust these cases offer a unique look, coupled with great protection. Of course, the jewel in the crown is the Garden Party variant, made by the Rifle Paper design studio. You won't be unnoticed with this case, and your Galaxy S21 Ultra will be protected from up to 10ft drops.
Incipio Kate Spade New York Defensive Hardshell Case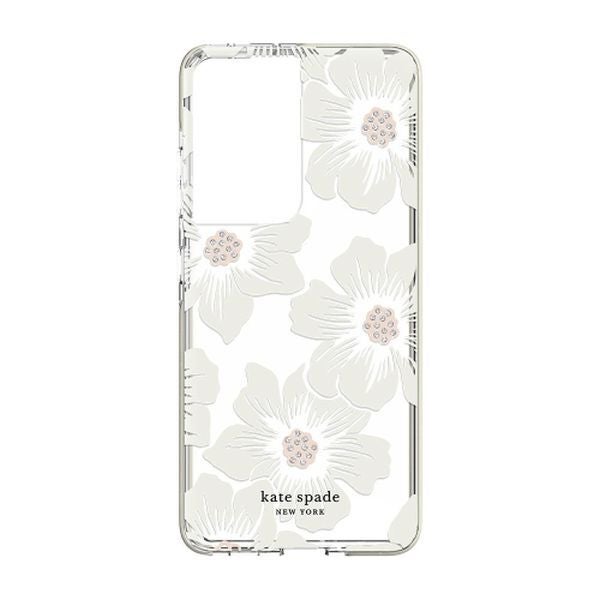 Style meets protection in this Incipio case, designed by the renowned New York luxury fashion design house. It features a shock-absorbing, cushioned bumper that provides additional layer of protection, protective button coverings and access to all ports, speakers, and controls. Protect your Samsung Galaxy S21 Ultra with style!
Recommended Stories