Samsung Galaxy S21+ review
19
We may earn a commission if you make a purchase from the links on this page.
At this point in
Samsung
's device strategy, the
Galaxy S21+
is certainly the one going through an identity crisis. The
Galaxy S21
has its compact size going for it, whereas the
Galaxy S21 Ultra
has all the fanciest and most advanced tech in Samsung's arsenal. Meanwhile, the Galaxy S21+ is... just an oversized Galaxy S21 with a larger battery. There's no signature feature that makes it stand out.
But after spending some time with the Galaxy S21+ in my pocket, I realized there's nothing inherently wrong with the $999 middle child. It's got more than decent performance thanks to its new lineup of 5nm chipsets, great battery life, a super-smooth display, and a capable camera, which coupled with the refreshed design make it a winner.
Galaxy S21+ display and design
Despite the refreshed looks, the Galaxy S21+ definitely has the core Galaxy DNA etched deep into its exterior design. Unmistakably a high-end Samsung phone, the Galaxy S21+ fuses glass and metal in a premium blend that looks oh-so posh. The matte frosted glass back feels good in the hands and holds no fingerprints, but its definitely slippery. Yet, the Galaxy S20+ somehow feels better in the hand as its curvier exterior carves less into the palm. The Galaxy S21 is also noticeably heavier than its predecessor, and this combined with the slippery build means that going caseless is extremely risky.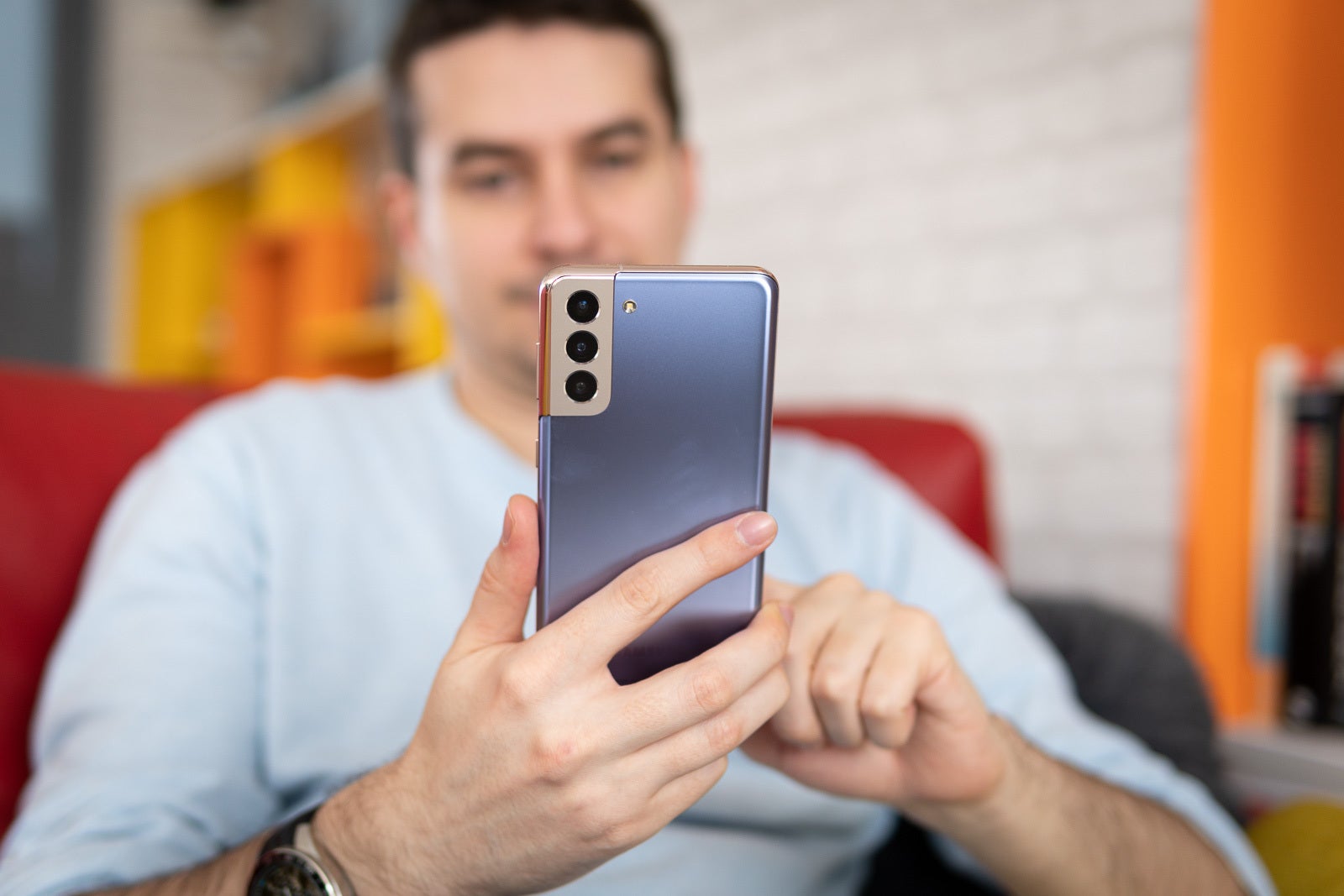 We can't really talk about design without mentioning the stand-out design element of the Galaxy S21+ : the camera bump which aesthetically fuses with the frame of the phone and makes for a seamless transition. It's true that camera bumps have almost always felt unnatural and breaking the seamless designs that the manufacturers have come up with, but Samsung has does a great job embracing the bump and incorporating it into the design of the S21+.

The fully flat display is another novelty here, which I applaud. Curved screens were cool for a while, but they got old fast, and while it's easier to use gestures with a curved display if you're rocking a case on, there's no much use in a sloped display. Ironically, Samsung was the first manufacturer to adopt and make way for curved screens with the Galaxy S6 edge, but has now decided to do away with its sloped invention.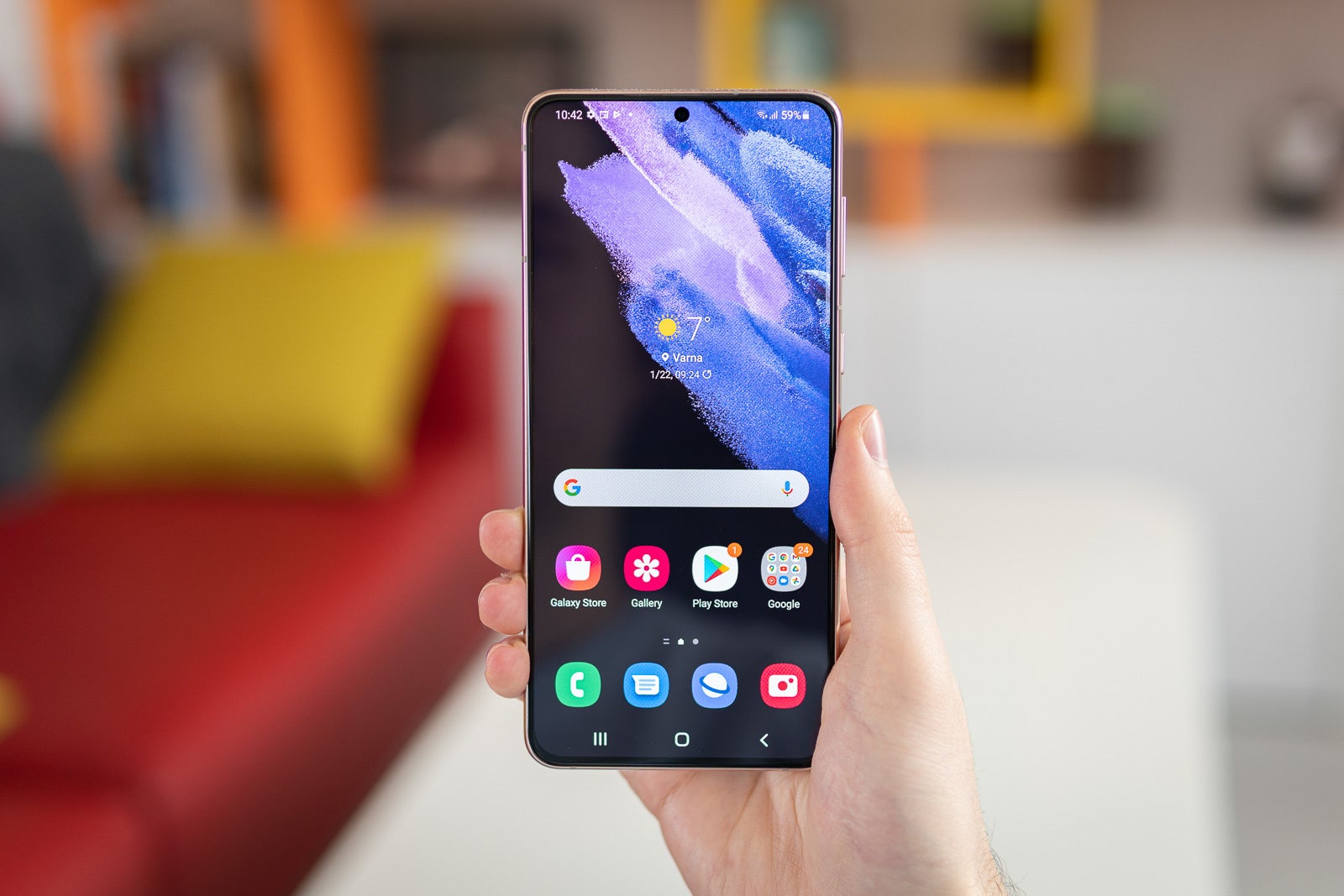 Speaking of the display, Samsung has finally come to its senses and realized that we don't need those QHD+ displays on every flagship phone and that a decent FHD+ screen is more than enough for the majority of folks. That's exactly what we have at the front of the S21+, a Dynamic AMOLED display with a resolution of 1080 by 2400 pixels. I have no 20/20 vision, but I doubt anyone will be able to tell the difference between this screen and the QHD+ one found on last year's Galaxy S20+ or even this year's S20 Ultra. The perceived sharpness is virtually the same, but the S21+ isn't as much of a gas guzzler. Otherwise, it's your typical high-quality Samsung display with excellent color reproduction, superb maximum and minimum brightness, great legibility under all lighting conditions, and good viewing angles. It's so good that it's boring, really.

Display measurements and quality
You know what's not boring? Samsung's LPTO display technology which allows for adaptive screen refresh rates and allows the Galaxy S21+ to intelligently switch between 48 and 120Hz refresh rates depending on the on-screen context. That's rad, as it greatly improves the power efficiency of the displays and always for all those smooth moves. Swiping through long feeds is as smooth as butter on the S21+ and belive you me, it's extremely rewarding to simply scroll through your social feeds on the Galaxy S21+. Anyone accustomed to displays with high refresh rates will feel right at home on the S21+.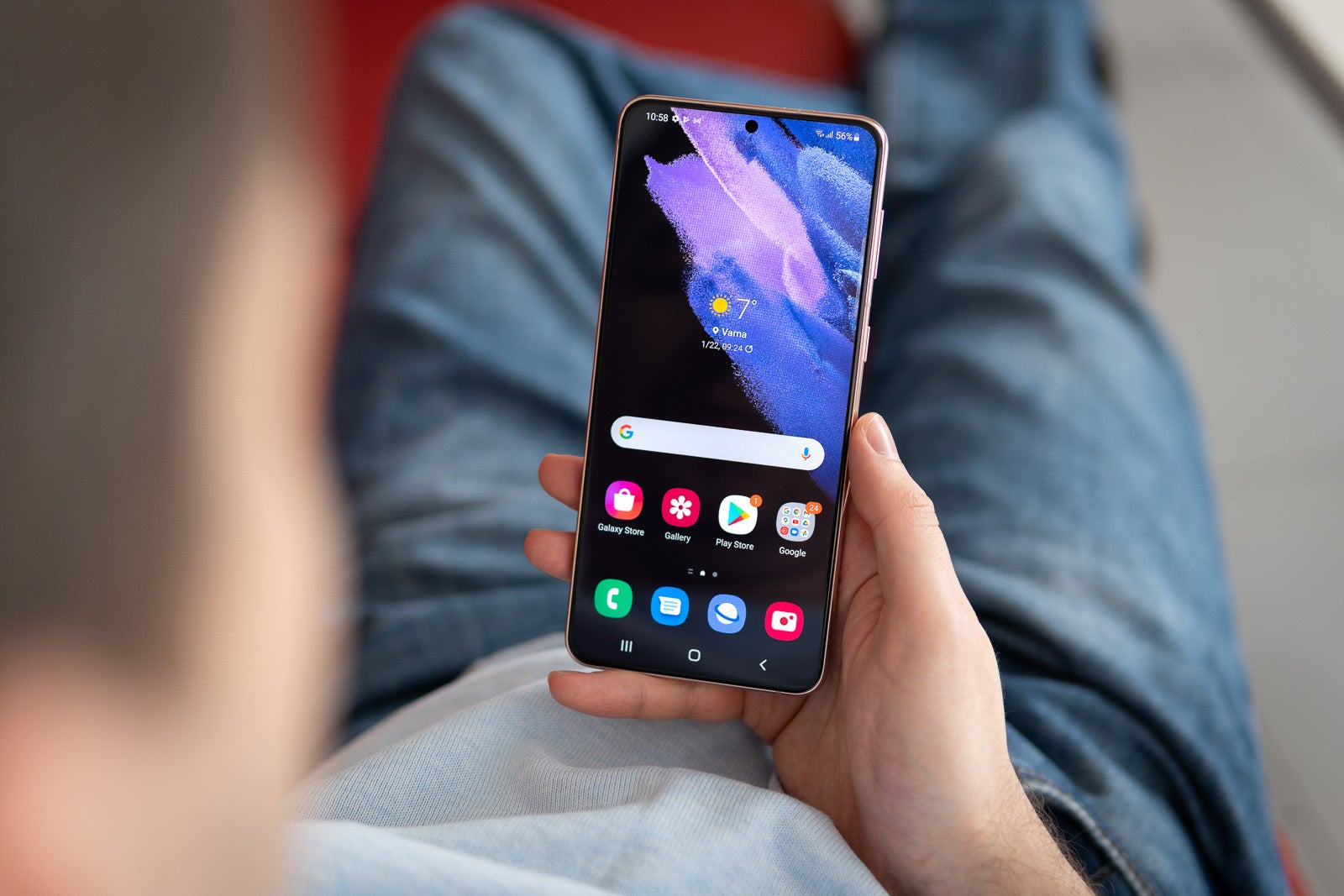 Aside from being an excellent display all around, the Galaxy S21+ finally has a good in-display fingerprint scanner. Supplied by Qualcomm, the S21+ has a 77% larger scanning area and works 50% faster in comparison with the in-display fingerprint scanners that Samsung had used up until that point. And these numbers don't lie - the fingerprint scanner on the Galaxy S21+ is much, much faster than any other Samsung I've used before and is now on par with pretty much any other big name in the Android game.
There's face unlock as well and it's fast enough, but it's most certainly not as secure as a fingerprint and merely there for convenience's sake.
Galaxy S21+ performance

As is tradition, Samsung has once again used two different chipsets for the different markets it will sell the phone in. In the US, the Galaxy S21+ comes with the Snapdragon 888 chipset, whereas the rest of the world gets the brand-spanking new Exynos 2100. Both of these chipsets are based on a 5nm manufacturing process, which theoretically means that there shouldn't be such a large performance gap between the two chipsets, which has been a recurring theme in previous years with preceding Snapdragon and Exynos chipsets. The unit I've been using has the Exynos chipset on deck, and in real-life usage, it's definitely the smoothest Exynos-powered Samsung flagship I've ever used. Games run great, apps fly, and performance is top notch all across the interface.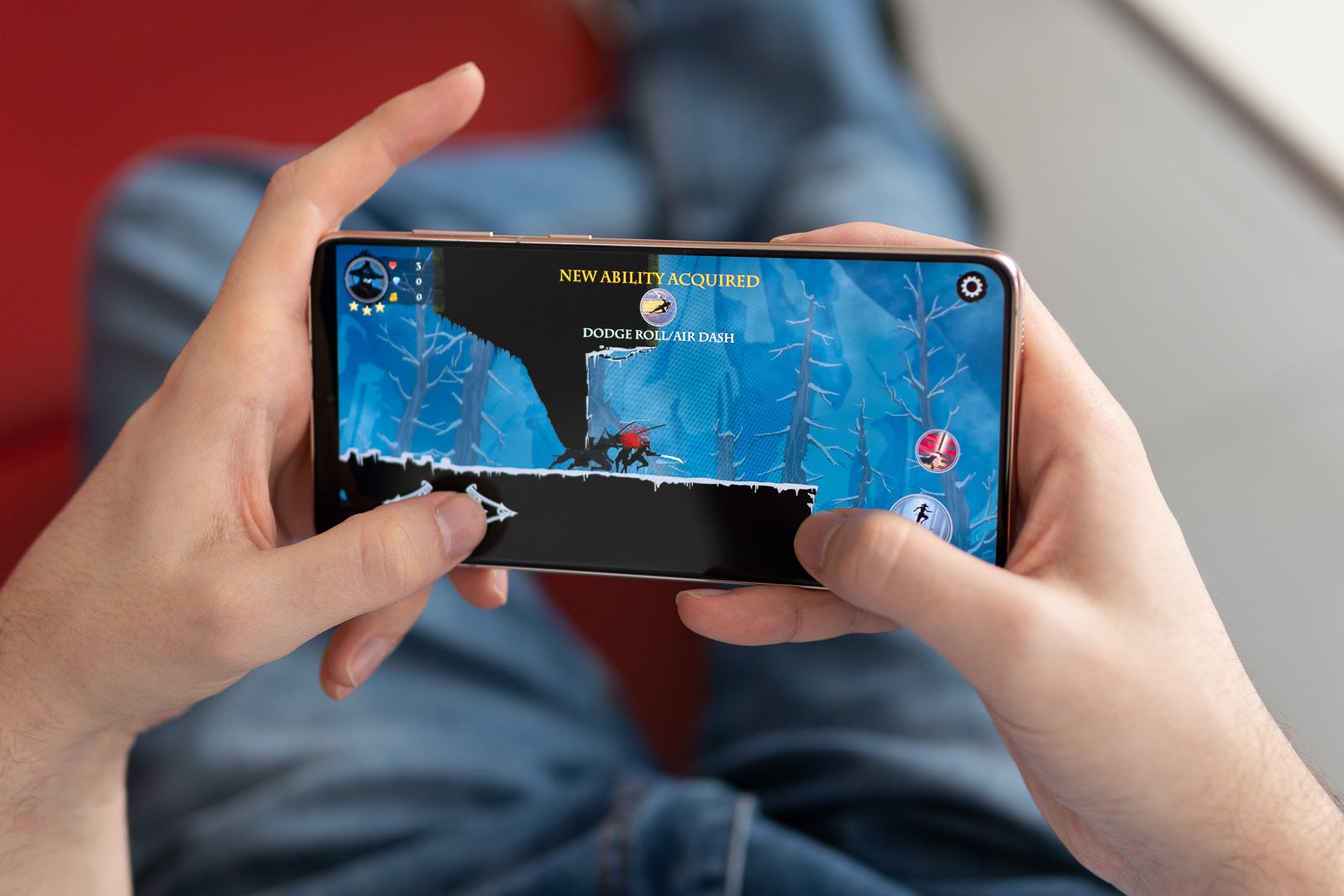 Micro-stutters and lag are virtually non-existent here: everything works smoothly and without much overthinking. However, be advised that the phone
might
get a bit hot under heavier loads: I played Minecraft for a half an hour or so and while the phone wasn't unpleasant to the touch, it felt noticeably hotter than similar devices I've used to traverse mine shafts and raid villages.
In terms of storage, the Galaxy S21+ comes with either 128GB or 256GB of non-expandable storage, which should be enough for just about anybody. That's right, there's no microSD card slot on board, which has been a staple on all Samsung flagships except one, and that's okay: by now, most of us have moved to cloud storage, and if you're still a microSD card slot holdout, it's high time you moved on.
Galaxy S21+ camera
When it comes to the camera of the Galaxy S21+, hardware has been left largely unchanged from what we got on the Galaxy S20+. Is that bad? Yes... and no. The Galaxy S20+ was an adept camera system for early 2020, but it's 2021 now and the bar has been raised.


We get the same 12MP wide and ultra-wide cameras and a 64MP 3X telephoto snapper with a 10MP selfie shooter to boot but with some minor alterations here and there. For example, the ultra-wide angle camera has scored a wider F1.8 aperture as well as phase-detection autofocus, which is a good thing, but apart from that, the telephoto still relies on cropping a large sensor instead of regular optics for zooming, and Samsung has also ditched the ToF sensor at the back, so things even out.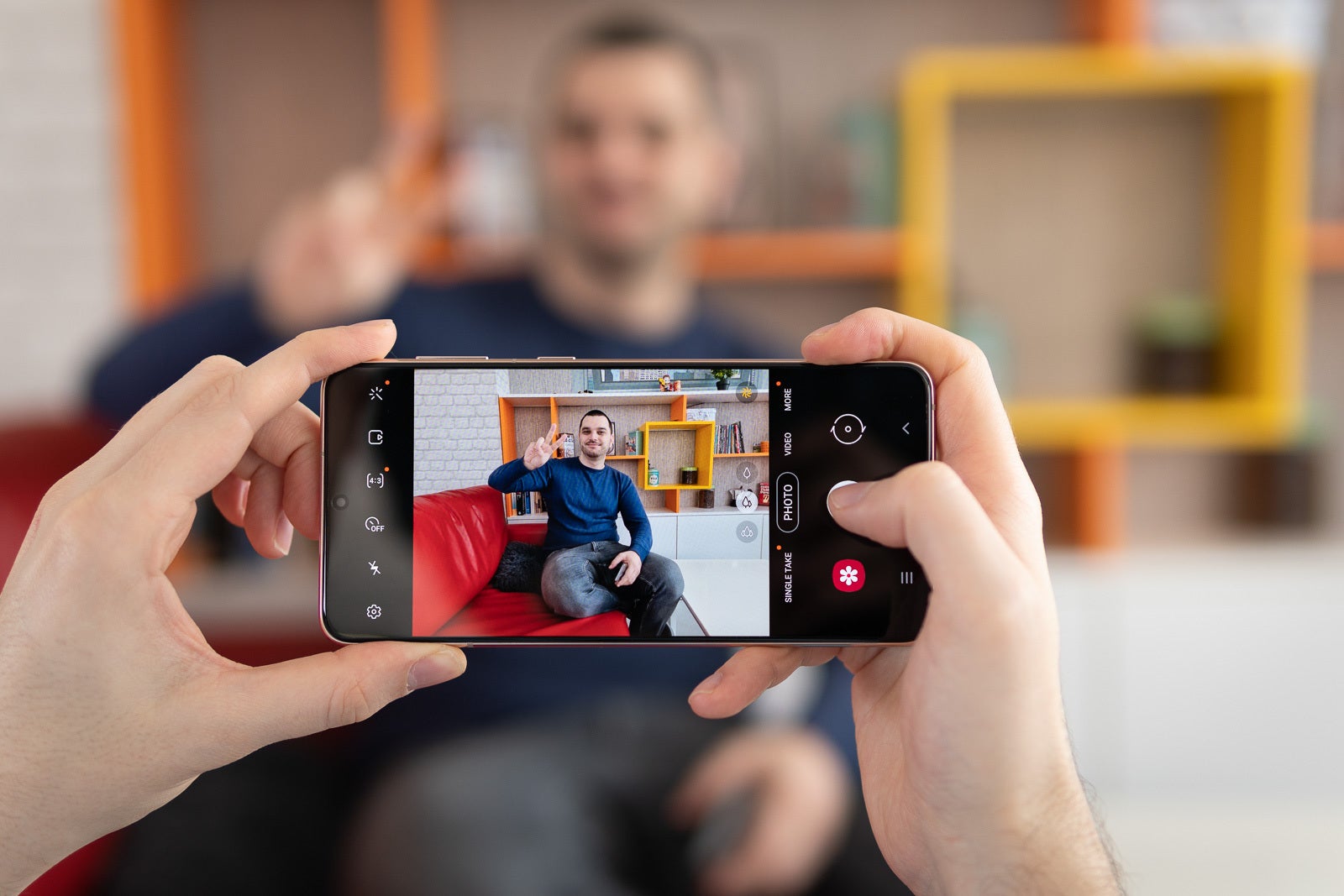 There are a bunch of new camera features like Enhanced Single Take, Vlogger View, Live Thumbnails, Improved Super Steady, better portrait lighting, Cinematic 8K Snap and Multi-Mic Recording. Let's be honest, some of these are definitely gimmicks you'll try once and forget, but others, like the smooth Super Steady one, are features that you're very likely to want to use in your everyday life.
Onto the most important question: is the image quality good?
For the most part, the Galaxy S21+ copes very well with capturing lovely photos in all kinds of scenarios, be it harshly lit landscapes or neon-illuminated buildings at midnight. Details are great on almost all photos I took, and the colors are, for the most part lovely, albeit still on the colder side on some instances. Contrast is slightly more overstated in comparison with the Galaxy S20+, but that's not necessarily a bad thing as it adds character to the pictures. Dynamic range is definitely better resolved on the Galaxy S21+ than on the Galaxy S20+. Despite the loss of a ToF sensor, the Galaxy S21+ is capable of capturing great portraits with very good subject separation and few if any artifacts.

The ultra-wide and telephoto cameras capture great photos, but have a free piece of advice on me: don't go beyond 10X, it's useless. Otherwise, zooming at 3X delivers decent amount of details and no loss of overall image quality, whereas 10X is borderline usable.

Night shots turn our great. I love that Samsung's Scene Optimizer now automatically enables Night Mode when it detects that the light is too dim, and in my experience, it would err on the side of caution and rather enable Night Mode than take a regular picture.

Selfies are lovely and very detailed, but the portrait feature of the front camera is prone to blurring out things it shouldn't, like sunglasses resting atop your head or other.

All in all, don't be left with the impression that there's something inherently bad with the way Galaxy S21+ camera. It's good, but it fails to really impress with anything in particular.
When it comes to video recording, the S21+ captures footage looking very similar to the more expensive S21 Ultra, except for the zoom quality where the Ultra has the clear lead, especially at 10X zoom and further. There is no difference we could in terms of mic quality or video stabilization, but take a look yourself at some footage we captured with the S21 Plus and S21 Ultra side by side:
Galaxy S21+ battery life
The Galaxy S21+ is a battery champ. It can easily withstand a full day of heavy usage, which is commendable for an Exynos-powered Samsung phone, and I'm pleasantly surprised of the endurance of this one. Refresh rate has some say in what battery life you should expect, but genuinely speaking, the difference is not large enough to offset the benefit of the super-smooth display. By default, the display is set at Adaptive refresh rate mode and I wouldn't bother changing it if I were you.
Speaking of charging, as you've heard the news, there's no charger in the box. Samsung has once again followed Apple in this instance, but you know what they say,
"first you mock them, then you join them".
We've used Samsung's 25W charger to measure how quickly it juices up from 0% to 100%, and it does in 70 minutes. Quick enough for the most part, though other Android devices definitely zoom past that with way faster charging speeds.