Google Pixel 7 Pro vs iPhone 14 Pro Max: main differences
29
We may earn a commission if you make a purchase from the links on this page.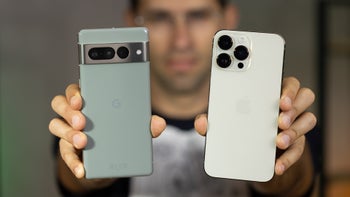 Intro
After a few uncertain years for the Pixel series, Google has come back strong with the Pixel 7 Pro, but is its best effort enough?
In this comparison, we pit two of the best big phones around: the Pixel 7 Pro and the iPhone 14 Pro Max. Both of them come with large screens, big batteries, and are known for their industry-leading cameras.
Google has also started building an ecosystem with its own Pixel Watch and other gadgets, so let's see if it gives users enough reasons to switch from Apple's latest iPhone.
Pixel 7 Pro vs iPhone 14 Pro Max in a nutshell:

6.7-inch screen size on both
Fingerprint on Pixel vs Face ID on iPhone
Google Tensor G2 chip vs Apple A16 Bionic
12GB RAM vs 6GB RAM
128GB base storage on both, no microSD card support
Triple camera on both, but Pixel has 5X tele lens, while iPhone has 3X
Bigger battery on Pixel, but iPhone lasts longer
iPhone costs a lot more
Design and Display Quality
Big phones, no-compromise screen quality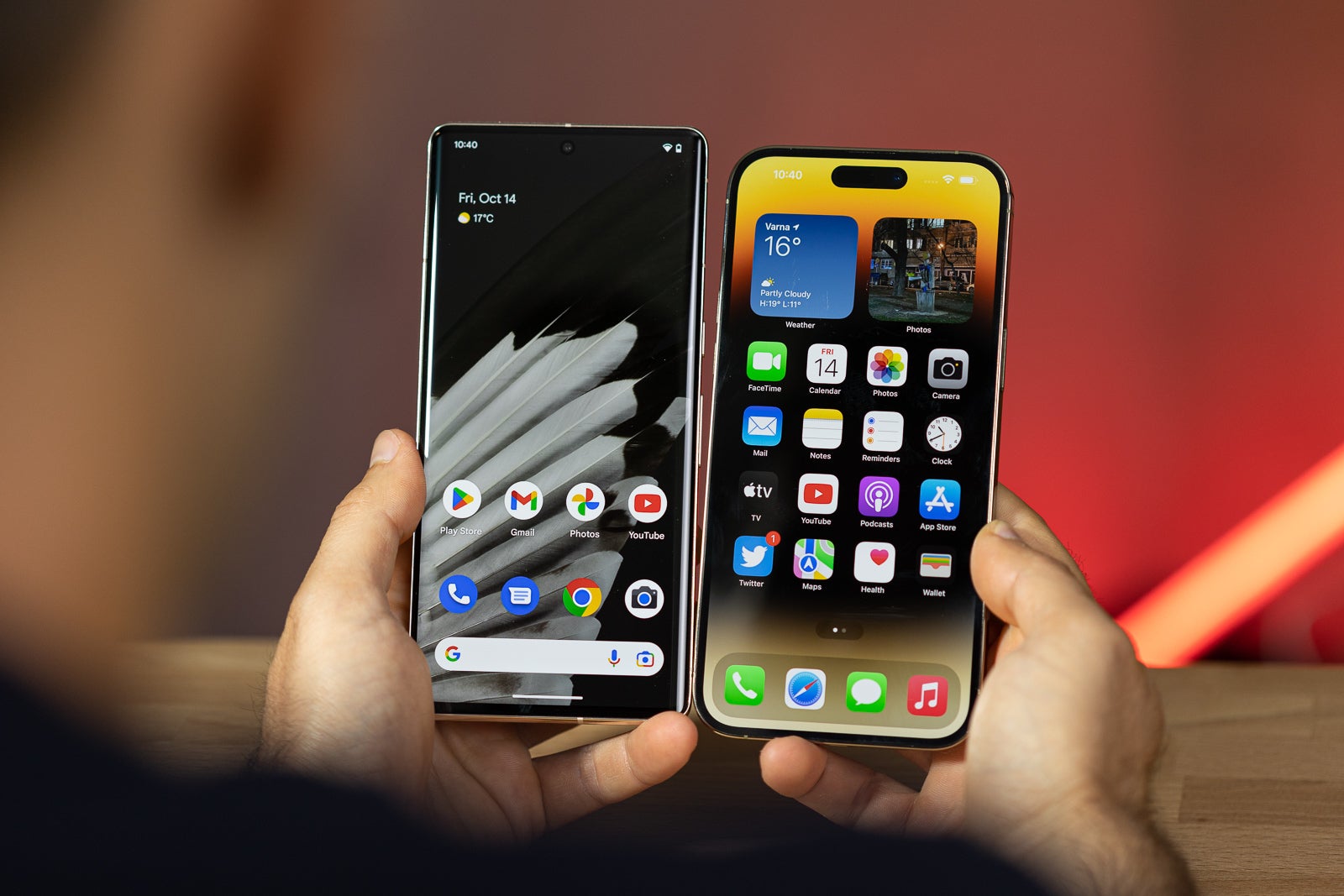 (Image Credit - PhoneArena)
First thing you need to know about these phones is that they are large!
Made out of glass and metal, the Pixel uses an aluminum frame, while the iPhone goes for shinier stainless steel, a more premium, but also heavier material. The Pixel definitely feels lighter because of that.
Both the Pixel and the iPhone feature dust and water protection in the form of an official IP68 water resistance rating, a feature that has become the standard for top-end phones.
The Pixel comes in three color options: the classic Obsidian (a black shade) and Snow (white), as well as a new Hazel colorway which is a deep gray tone with copper metal accents. The iPhone 14 Pro Max, on the other hand, offers a bit more variety with four colorways: Space Black (a deeper color than previous Graphite colorways), Silver, Gold, and a new Deep Purple hue. Interestingly, the Pixel has a glossy back finish, while the iPhone comes with a matte finish on the back.
Also, be warned that there is no charger included in the box with these phones, so you do need to purchase that separately.
Display Quality
Both come with a 6.7-inch screen size and support for up to 120Hz dynamic refresh rate.
The iPhone fully embraces that with a new Always-On display (essentially, just a slightly dimmed regular lock screen) that runs at just 1Hz, while the Pixel can only drop to 10Hz refresh rate at the lowest and goes with a simpler, all-black background for the Always-on function.
The big new iPhone display feature, however, has got to be the new pill cutout which Apple calls the Dynamic Island. It bubbles and expands as a kind of an active status bar for your current iPhone active events. Such a clever idea! The Pixel, on the other hand, uses a traditional punch hole design.
Display Measurements:
As for the actual screen quality, the iPhone gets as bright as 2,000 nits out in the sun compared to 1,500 nits on the Pixel. Both are plenty bright, but the iPhone is a bit easier to use outdoors. In our display measurements, we use a different test for brightness, so our numbers differ, but you can clearly see the iPhone has the advantage. In terms of color accuracy, both pass the tests with flying colors, and appear very similar.
Biometrics
The Pixel 7 Pro uses an in-display fingerprint scanner, and it is only slightly faster than the previous model, which was definitely quite sluggish. Finally, the Pixel now also has Face Unlock, but since it's using a 2D image, it's not quite as secure as the Face ID on the iPhone, and it won't work in dim light or at night.
Face ID, on the other hand, has not changed much from before, and works quite well. It also works with masks now, a welcome feature in these times.
Performance and Software
Google Tensor Gen2 vs Apple A16 Bionic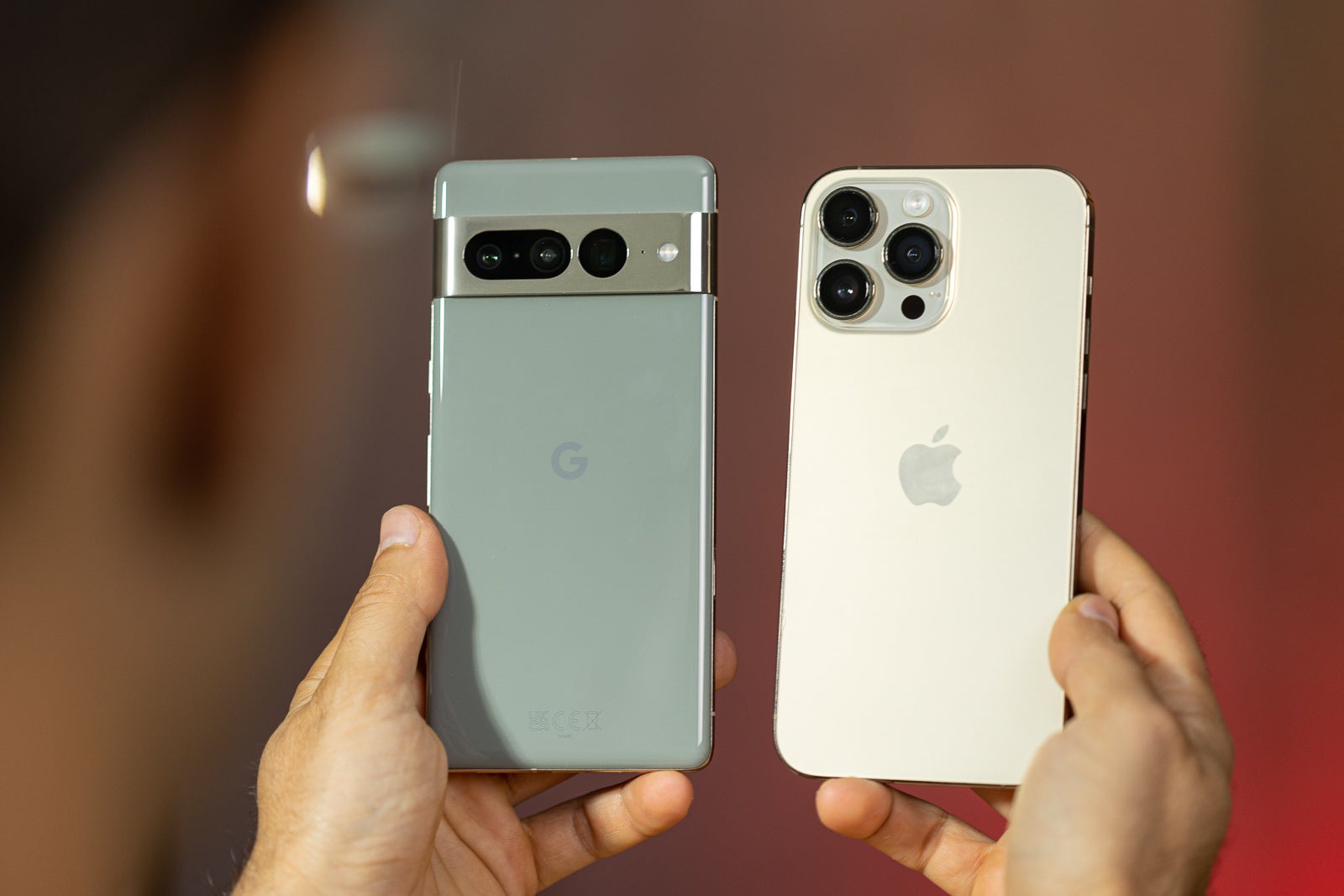 (Image Credit - PhoneArena)
Google says it started working on its first Tensor chip nearly 3 years before the release of the Pixel 6, and the Pixel 7 Pro brings a more refined, second-gen version of the processor. Tensor G2 delivers improvements across the board, but with a focus on machine learning (ML).
Apple's A16 Bionic chip, on the other hand, brings slight improvements to CPU performance, it has faster graphics memory bandwidth and most importantly is more power efficient.
Performance Benchmarks:
The real difference between the Pixel 7 Pro and the iPhone 14 Pro Max might not be at all about the performance. It may just be about the software and the ecosystem. Those used to iOS will probably not want to switch to Android, and vice versa.
The Apple ecosystem has got the Apple Watch, tight integration via AirDrop and AirPlay, AirPods, AirTags, and it all just works together seamlessly. Google is on track to build something similar, but it's not quite there yet.
In terms of software, the Pixel 7 Pro launches with the newest Android 13 version. Google traditionally provides 3 years of major software updates and now offers 5 years of security upgrades, while Apple has a longer software support of around 5 to 6 years of major updates.
Camera
A battle of algorithms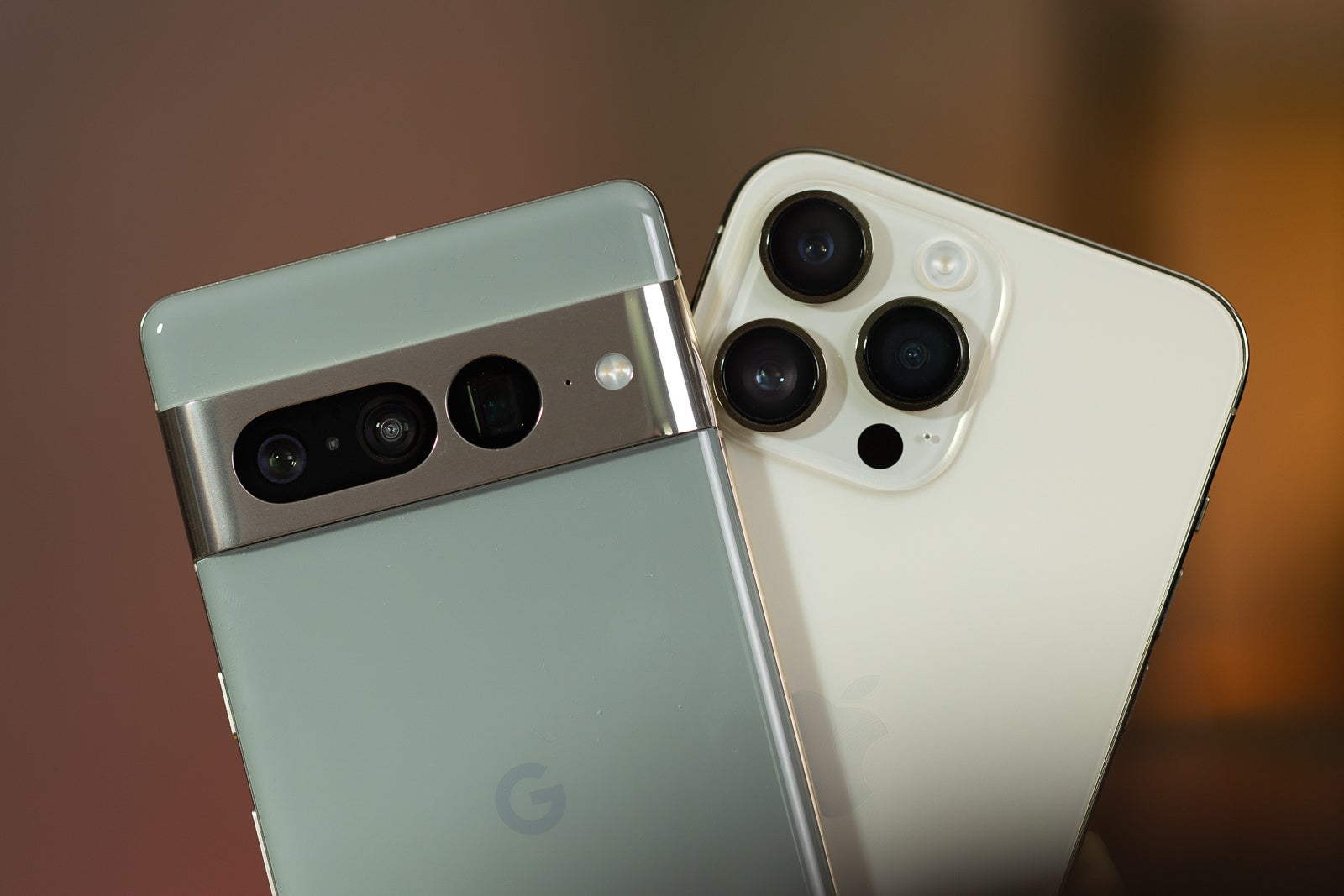 (Image Credit - PhoneArena)
It's super easy to recognize these phones in a crowd: the iPhone with that stove-top camera look, and the Pixel with its camera bar, they both look so unique!
But despite the different styling, the camera hardware is actually quite similar: a 1X wide camera, a 0.5X ultra-wide camera, and then a telephoto lens at 3X zoom on the iPhone vs 5X zoom on the Pixel. Dig deeper in the specs and you will find both sport larger-than-usual camera sensors compared to the rest of the industry, but most importantly they both have the software to make it all come to life.
The longer zoom range on the Pixel is definitely an advantage, it can go up to 30X and the quality surpasses expectations, while iPhone zoom quality is not quite on par.
Thanks to their high resolution main camera sensors, both phones use the middle section of this sensors to achieve optical-grade 2X zoom, which is particularly useful for portraits. It's our favorite new camera feature on both!
In low light, the Pixel fixes the one issue from previous models and now shoots much faster, while retaining the familiar quality you expect out of it at night. Night time photos from the Pixel have cleaner detail and usually look better than snaps from the iPhone.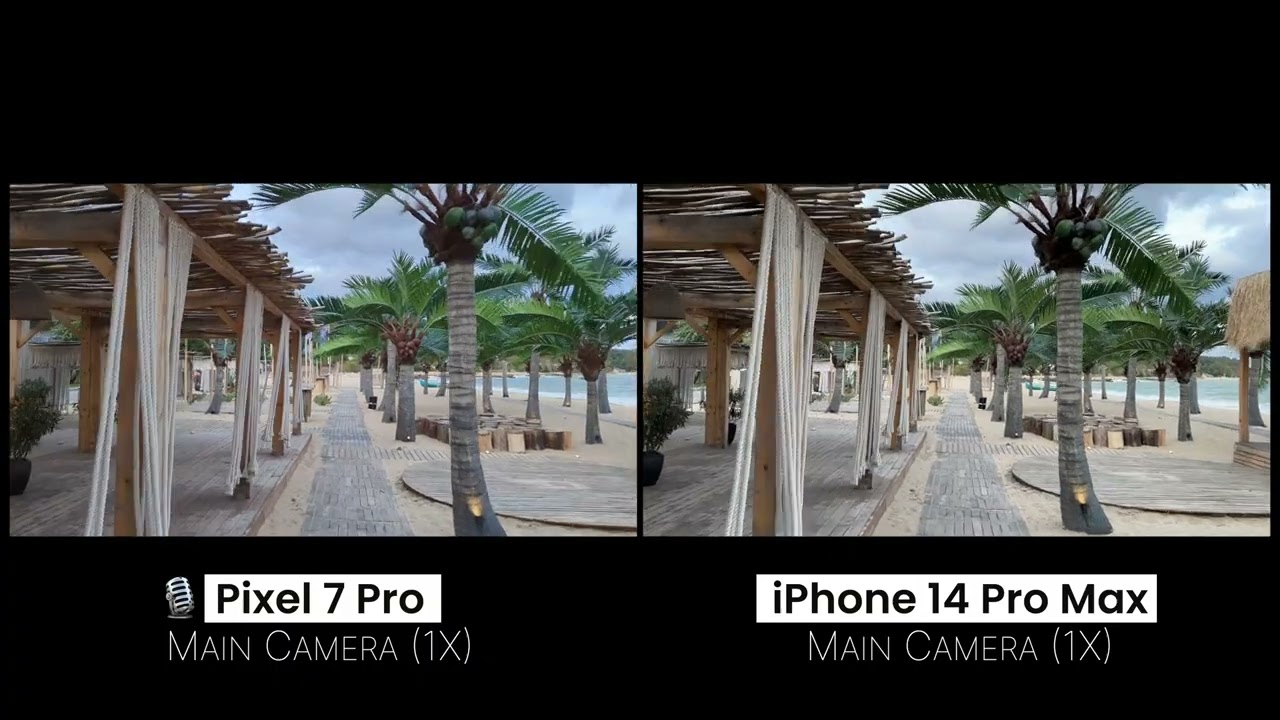 In videos, Cinematic Mode on the iPhone has only gotten better with 4K support and availability to record at 24fps and 30fps, while the Pixel simply lacks a comparable shooting mode.
The iPhone is also getting a new Action Mode toggle for gimbal-like stabilization for those action/adventure shots, and claims to have the world's best video recording quality.
Audio Quality and Haptics
Neither of these phones has a 3.5mm headphone jack, and honestly, it's clear that the jack is gone for good on mainstream flagships.
Last year, the iPhone 13 made a big leap in audio quality with loudspeakers that were just BANGING, they got loud, the had bass and depth, doing audio better than most phones. The iPhone 14 Pro Max quality is similarly good.
As for the Pixel, the previous model also had very good audio quality, but not quite on par with the iPhone, so it has more catching up to do in this department.
Battery Life and Charging
iOS remains the decisive factor for battery life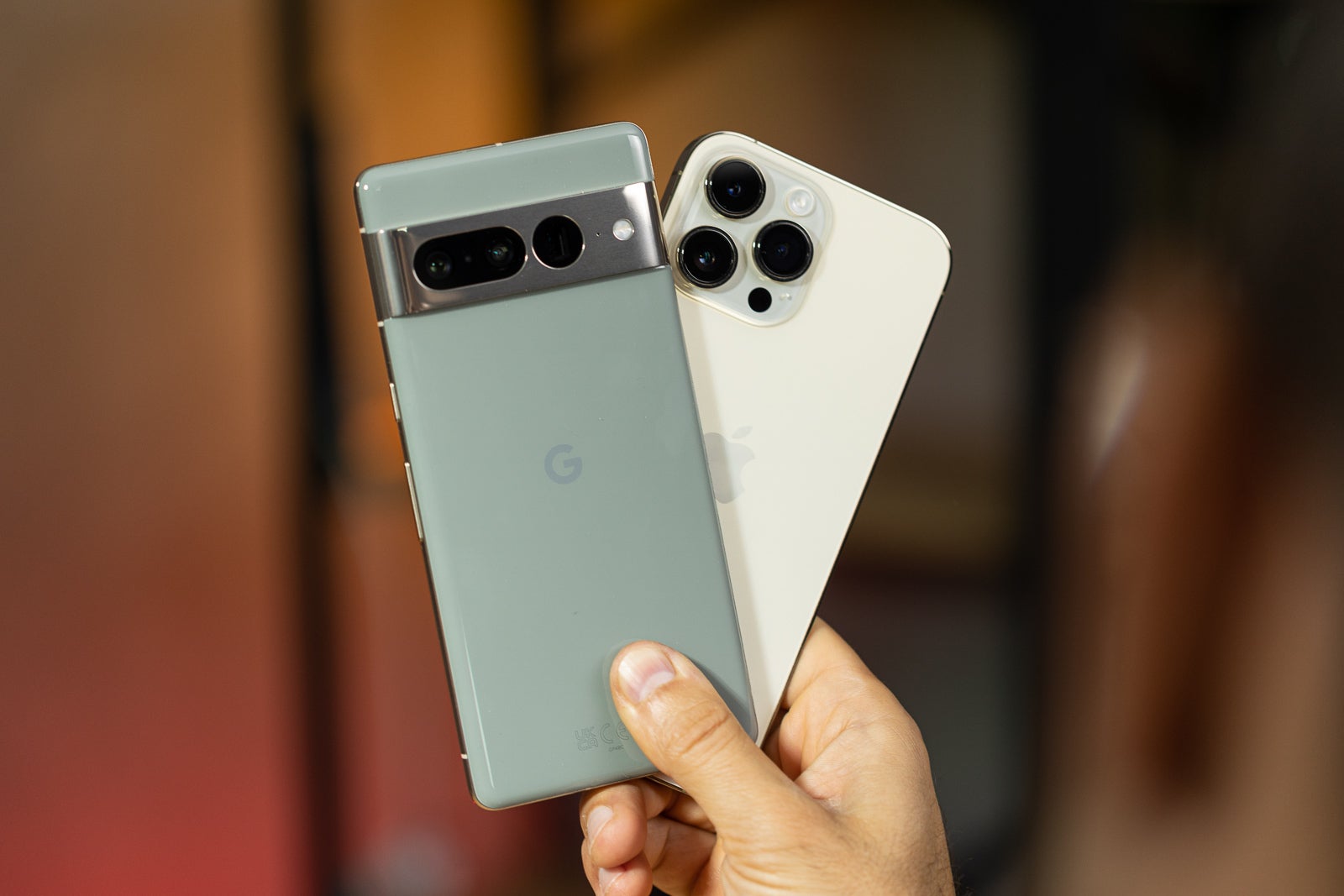 (Image Credit - PhoneArena)
Apple is traditionally using smaller battery sizes in its iPhones, and that is also the case with the iPhone 14 Pro Max. It comes with a 4,323mAh battery compared to a 5,000mAh battery size on the Pixel 7 Pro.
However, that does not mean that the Pixel with the larger battery actually has longer battery life.
PhoneArena Battery Test Results:
Indeed, our independent battery tests confirm that the iPhone outlasts the Pixel. While streaming YouTube videos over a Wi-Fi connection, the iPhone lasted for 11 hours compared to 9 hours and 39 minutes on the Pixel, while on our web browsing test, the iPhone scored a bit more than 19 hours compared to 14 hours and 19 minutes on the Pixel.
Interestingly, for 3D gaming, the Pixel heated up significantly in our tests and its battery drained faster than most other phones, in a mere 4 hours.
Charging rates on these two also don't change this year. The iPhone 14 Pro Max tops up at a maximum speed of 27W, while the Pixel 7 Pro maxes out at 23W.
Our real-world charging test shows the Pixel actually topping up faster, with a 0 to 100% charge taking 1 hours and 37 minutes compared to nearly two hours on the iPhone.
Don't forget that there is no charger in the box, and if you still haven't gotten a proper fast charger, make sure to shop for a
good fast charger
here.
Both the Pixel and the iPhone also support wireless charging, but it's the iPhone that stands out with its MagSafe fancy magnetic charging where it snaps tightly to compatible chargers. The iPhone can wirelessly charge at 15W tops, while the Pixel supports 23W cordless charging, but only with a Google Stand 2nd gen wireless charger.
Specs Comparison
And in case all of that text wasn't enough, here is a quick look at the specs highlights for the Pixel 7 Pro and iPhone 14 Pro Max side by side:
Specs
Pixel 7 Pro
iPhone 14 Pro Max
Dimensions
162.9 x 76.6 x 8.9 mm
160.7 x 77.6 x 7.85 mm
Weight

212g
240g
Screen
6.7" OLED 10-120Hz
Punch hole
6.7" OLED 1-120Hz ProMotion
Dynamic Island

Processor
Google Tensor G2
A16 Bionic
RAM
12GB LPDDR5X
6GB LPDDR5
Cameras
50MP Main (1X), 26mm f/1.9
12MP Ultra (0.5X), 13mm f/2.2
48MP Tele (5X), f/3.5
48MP Main (1X), 24mm f/1.78
12MP Ultra (0.5X), 13mm f/2.2
12MP Tele (3X), 77mm f/2.8

Battery Size
5,000mAh
4,323mAh
Charging speeds
23W wired charging
23W wireless charging
27W wired charging
15W MagSafe wireless
Price
from $900 for 128GB
from $1,100 for 128GB
Also, don't forget that we have a super in-depth specs database where you can easily compare phones in much more detail, like this Pixel 7 Pro vs iPhone 14 Pro Max specs comparison.
Summary and Final Verdict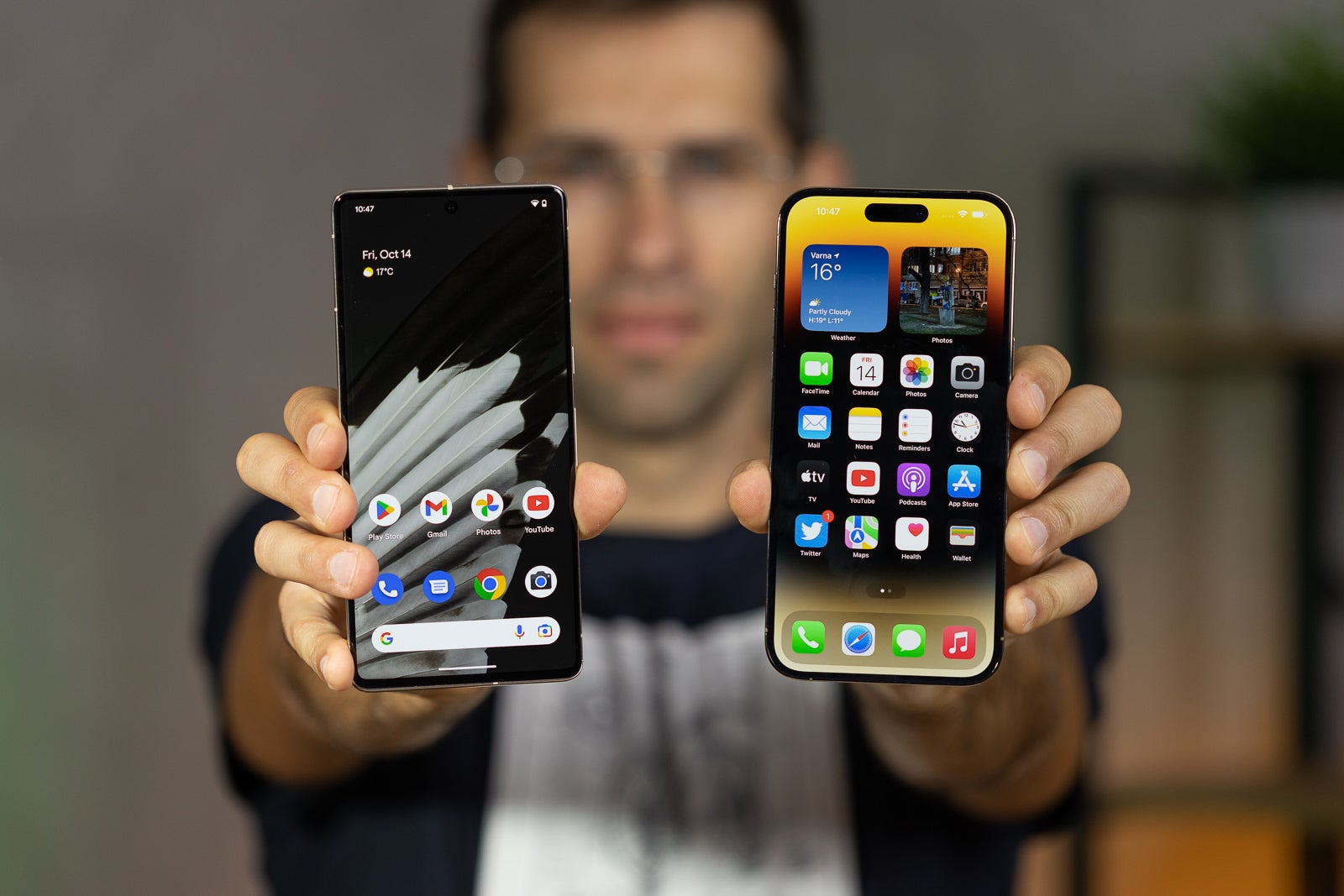 (Image Credit - PhoneArena)
At the end of the day, the Pixel 7 Pro and iPhone 14 Pro Max are in many ways evolutionary rather than revolutionary devices.
The iPhone has more of the cool factor with the new Dynamic Island, the faster processor and improvements to both photo and video recording. Google, on the other hand, has the power of Android, with true multitasking, as well as new machine learning features and a camera with longer zoom range.
We should also not forget about the price difference: the Pixel costs a way more palatable $900, while the iPhone starts at $1,100. And that price difference is even further amplified in favor of the Pixel in other countries outside the US.
Anyway, which of these two would you pick? And what do you think are the strengths and weaknesses of each one?
Recommended Stories