Apple iPhone SE (2020) Review
92
We may earn a commission if you make a purchase from the links on this page.
Summary
The
Apple
iPhone SE (2020)
is a $400 compact phone with the same chip and performance that you get on $1,000+ flagship phones and one of the best cameras in that price range.
In many ways, it's a little revolution in budget phones that just don't come with such great performance and the reliability of iOS, yet at the very same time, its battery life ranges from average to downright bad, it has a dated design with big bezels and it features an LCD display with colors that look bleaker than AMOLED screens.
At the end of the day, the iPhone SE is a beautiful little bag of controversies that we have now been using for a while. Below you will find all that you should know about it.
Design
There are two ways to describe the design of the iPhone SE: from one point of view, it's a classic as it features the very same design as the iPhone 8, and it's almost the same as the iPhone 7 and iPhone 6 for that matter, and the last phone in that list was launched in 2014. So from a slightly different perspective, it's simply a dated design: up front the bezels are big and you don't have that edge-to-edge screen look of current phones. And yes, most iPhone 8 and iPhone 7 cases will fit the iPhone SE (2020) just fine.
What we can say objectively is that the iPhone SE is built out of premium materials and if you dare use it without a case, it's a thin and compact phone that feels fabulous in the hand. The frame is aluminum, the buttons are clicky and have a good amount of travel, the back is glass and it all blends nicely together.
iPhone SE (2020) box contents:
iPhone SE
5W charger
USB-C to Lightning cable
EarPods with Lightning cable
SIM tool
Apple decals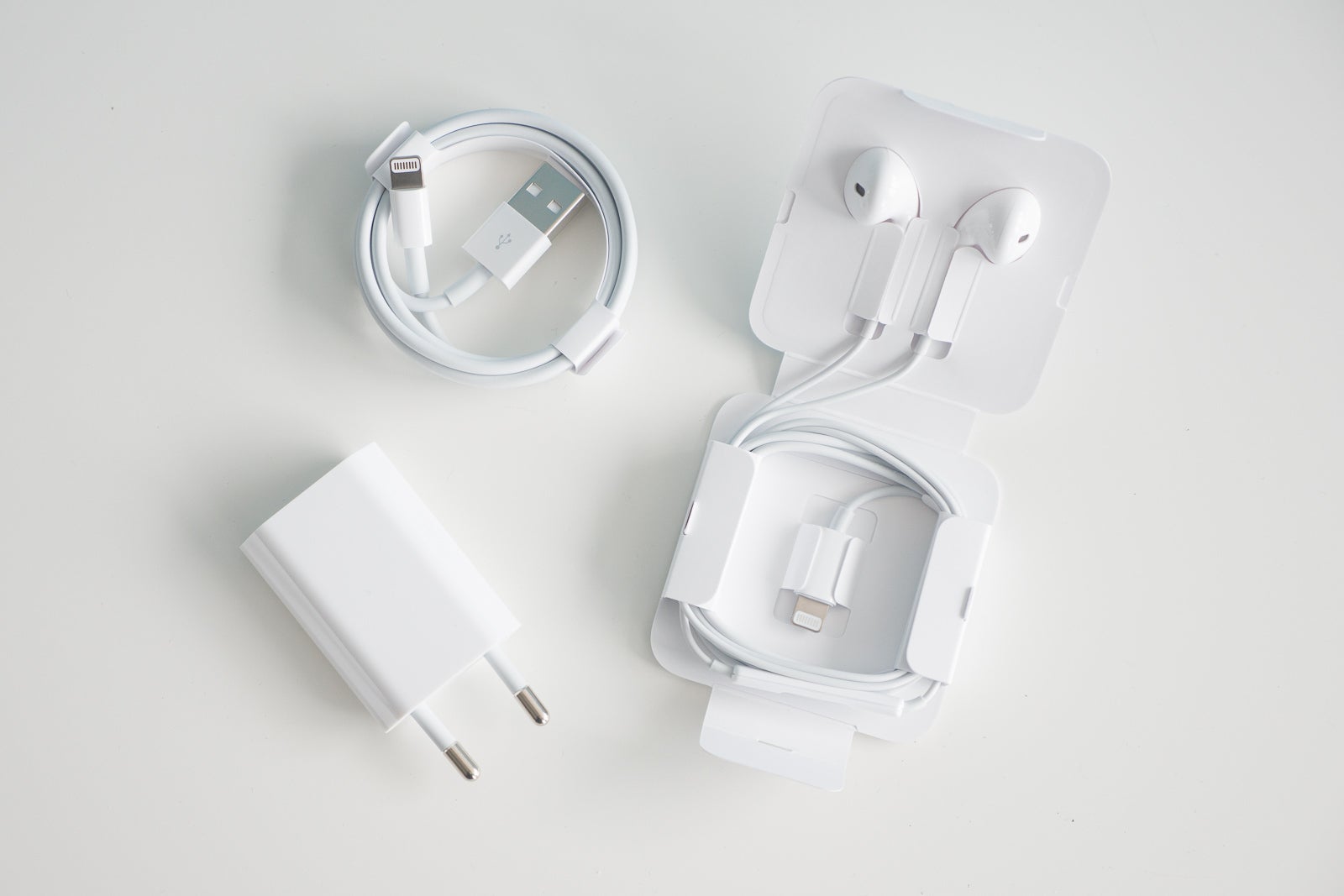 And that's it. As you would expect on recent iPhones, there is no headphone jack. We can't say that we are perfectly happy with that, but many people have gotten used to that already.
And did we mention the new iPhone SE is also fully water protected? This is another rarity on $400 phones, yet the SE does support an IP68 water and dust protection certification, meaning that you can submerge it in water for a while without the phone suffering any damage. Perfect for those summer pool parties for the happy times when the coronavirus fades away and for solitary bathroom singers.
ALSO READ:
Display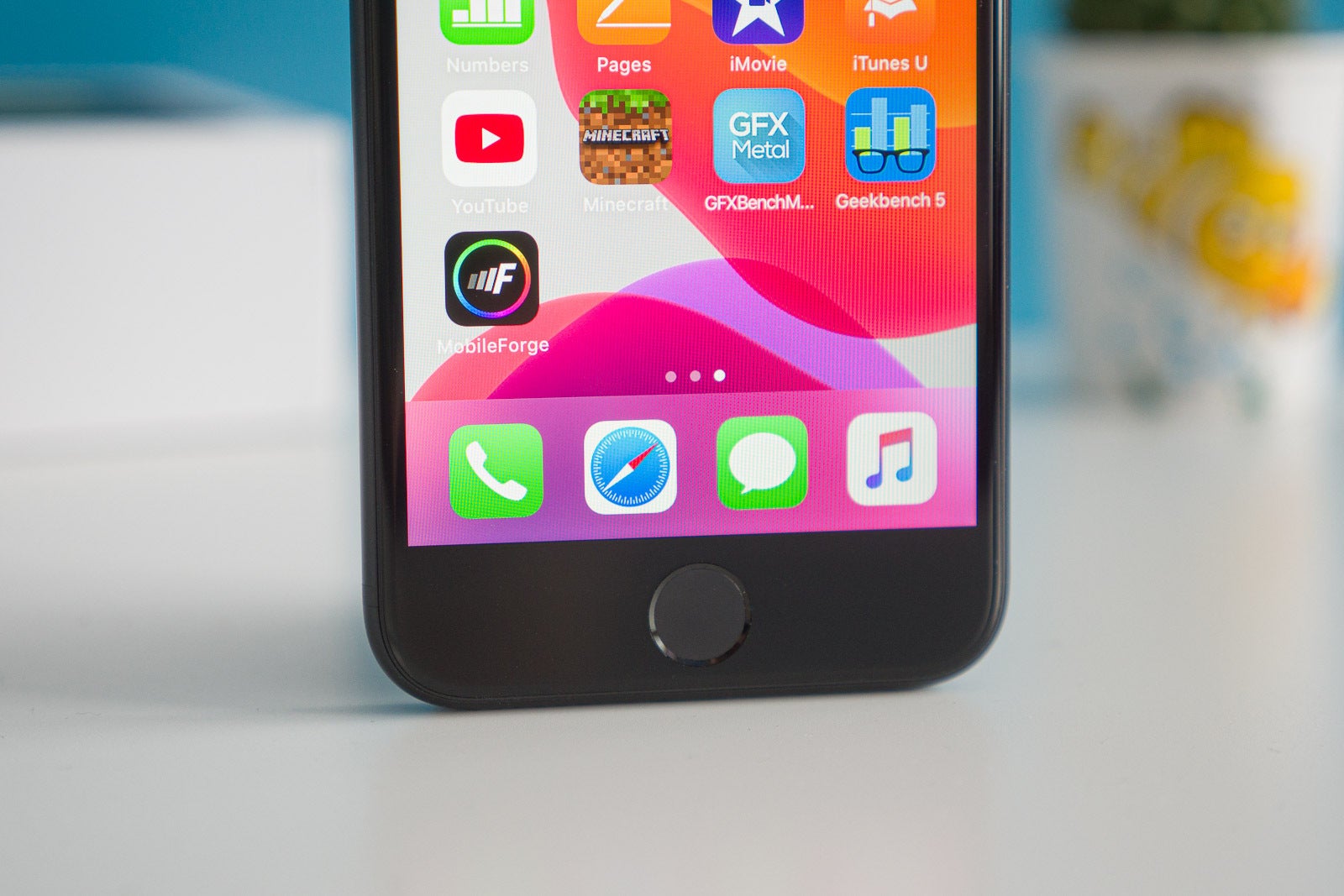 And this brings us to the display on the iPhone SE. The display is more or less the same one as on the iPhone 8: that is to say it's a 4.7" LCD screen with a resolution of 750 x 1334 pixels.
It's an okay screen, but we're not sure okay makes the cut in 2020.
The competition has stepped up its game and the Google Pixel phones and Samsung Galaxy A series in this price range both come with AMOLED screens that feature screens with much more vibrant colors, a higher resolution and deeper contrast. They do look better than the iPhone SE.
There is something else about the iPhone SE screen: the size. People who love tiny phones will be perfectly okay and even happy with this 4.7-inch screen size, but for most people and especially those who use their phones a lot, this screen will feel cramped and way too tiny. Apple is not offering a Plus-sized model of the iPhone SE, so this leaves users wanting a budget iPhone with a large screen with no good modern option and that's unfortunate.
Display measurements and quality
Touch ID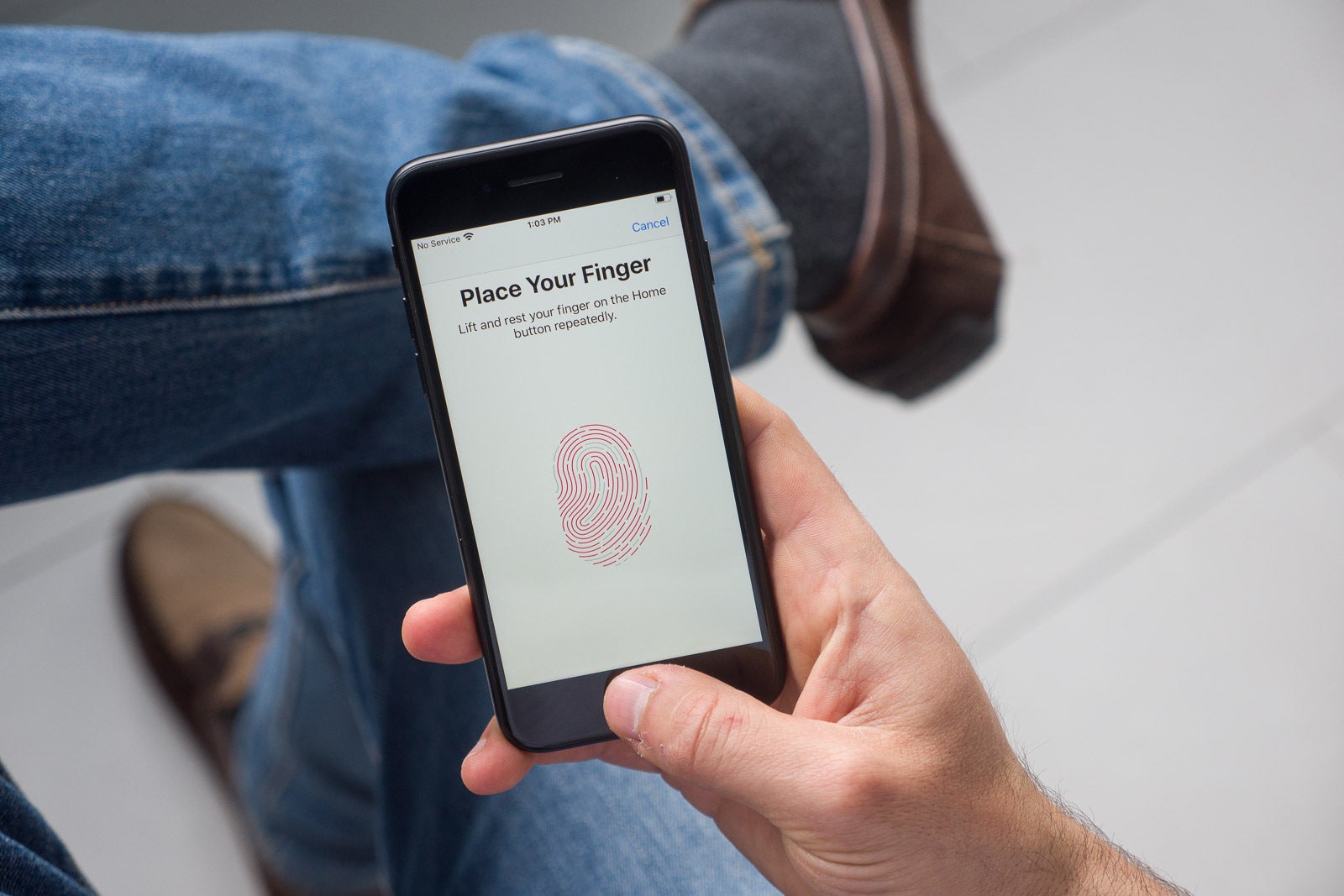 Face ID might be the future, but the iPhone SE doesn't use the complex face recognition system of premium iPhones and instead relies on the good old fingerprint scanner located right at the front, within easy reach for your thumb.
We have not used such a traditional fingerprint scanner for quite a while now and we had forgotten just how fast and convenient it is. Especially right now, with the coronavirus pandemic that has many people wearing masks so often, we really can appreciate that Touch ID on the iPhone SE works without you needing to take off the mask and it's just fast and convenient.
We also ought to say that even though edge-to-edge screens are the future, on the Android side of things they come with the fingerprints embedded in the screen. Even the fastest in-screen fingerprint scanners are not as fast and convenient as this good old traditional one. Good job, Apple!
Camera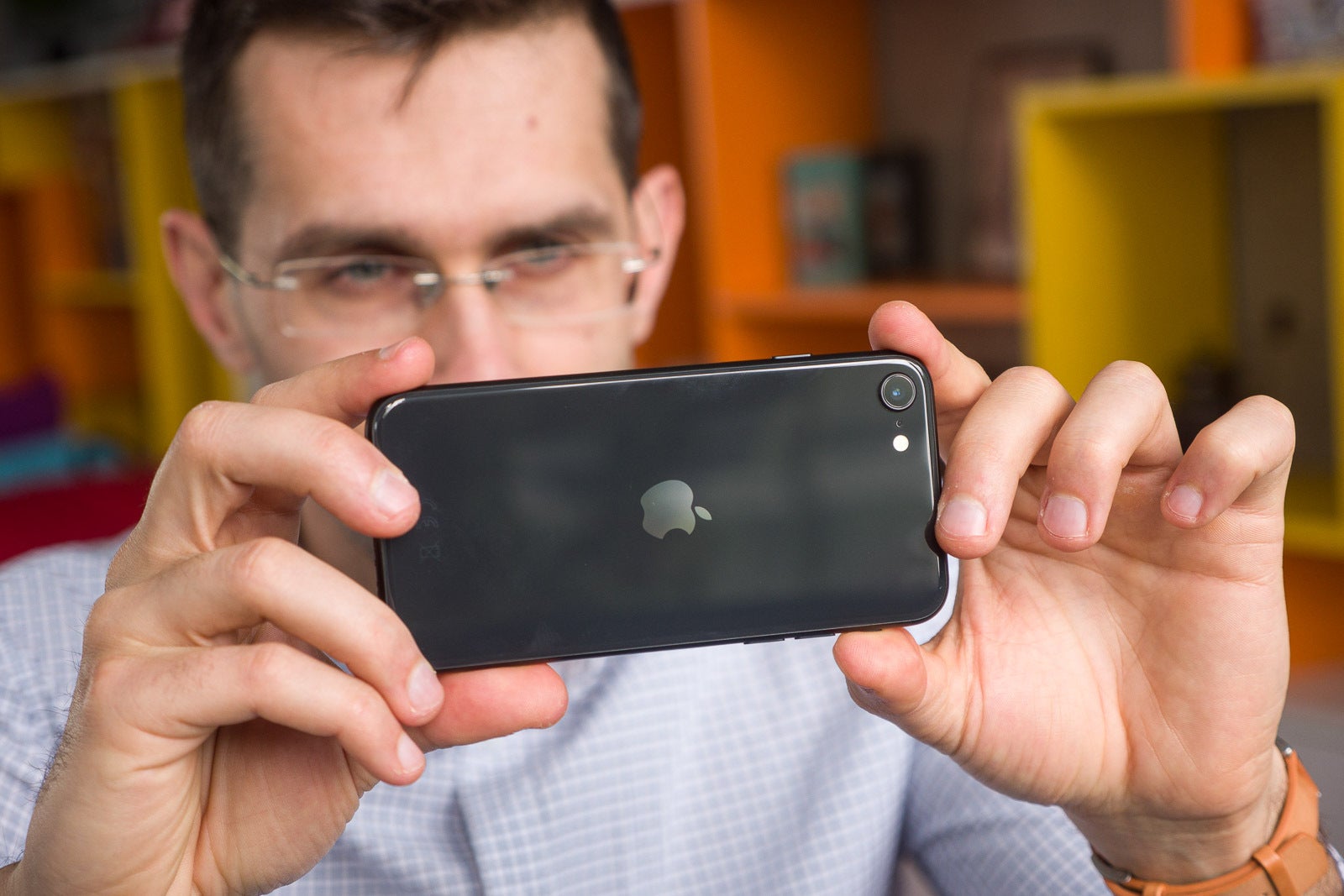 The iPhone SE comes with what Apple calls "best single-camera system ever in an iPhone", meaning that the company considers this camera better than the one on the iPhone XR.
To recap the specs, you have a 12MP main camera on the back of the phone and it features optical image stabilization, while on the software side it supports the new Smart HDR option for rich colors in photos. On the front, you have a 7MP camera.
Photos out of the main camera look great. The SE might not have flashy features like a night mode or the ability to zoom far away, yet still it captures beautiful images with very pleasing colors that will almost always look good.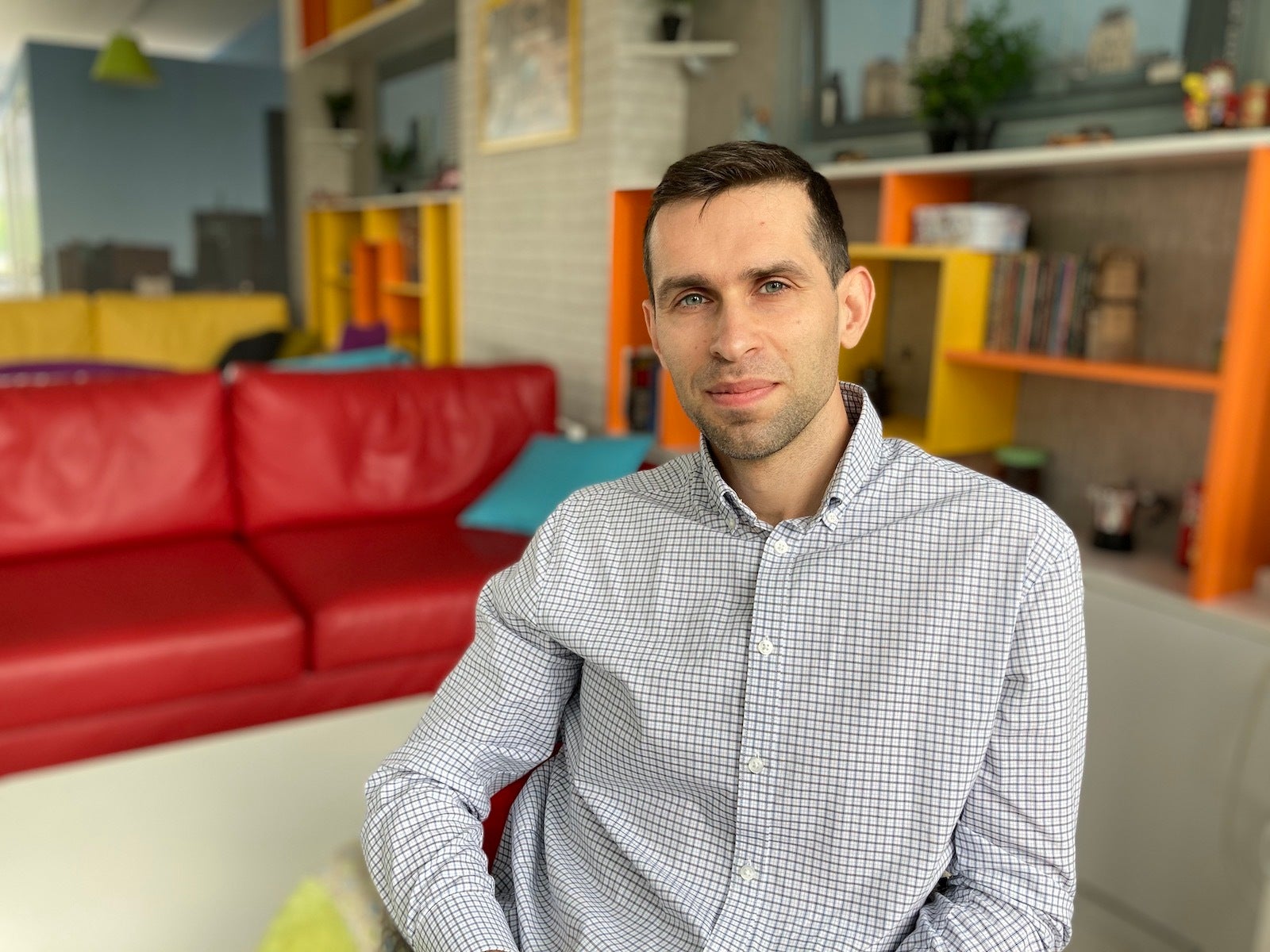 It also supports Portrait mode, which blurs the background and leaves the person in focus. Interestingly, it doesn't work with pets and animals, it's only set up to work with people. Apple uses just machine learning to create a depth map for the portrait shots and most of the time it does a very good job, but the lack of a secondary camera means the depth map is not as accurate as on dual-camera phones that use the tiny difference in perspective between the two cameras to perceive depth better (much like we have two eyes that we use to judge the depth in real life).
Selfies also turn out quite good and you have a good amount of dynamic range and brighter spots in photos don't get burned out as on many affordable phones. You also have support for Portrait mode while using the front camera.
When light gets scarce, the iPhone SE is still able to capture good looking photos. It is only in complete darkness when other phones with a dedicated Night Mode really stand out and the SE is just not able to capture a usable photo.
iPhones have long been the gold standard for video recording on smartphones, and the iPhone SE takes those powers to a budget price that most people can afford. Video quality out of it looks incredibly good (you can record at up to 4K60), especially when you compare it against other phones in its price range. Video stabilization, dynamic range, detail, no limitations in 4K video capture time, fast and reliable auto-focusing, and last but not least strong apps on iOS that allow you to capture RAW footage for the true enthusiasts make this tiny iPhone the best budget camcorder you can buy.
There is one caveat, though, and it's battery life. We'll talk more on that later, but recording 4K video tends to drain the battery like crazy, and the phone doesn't last long.
Audio and Call Quality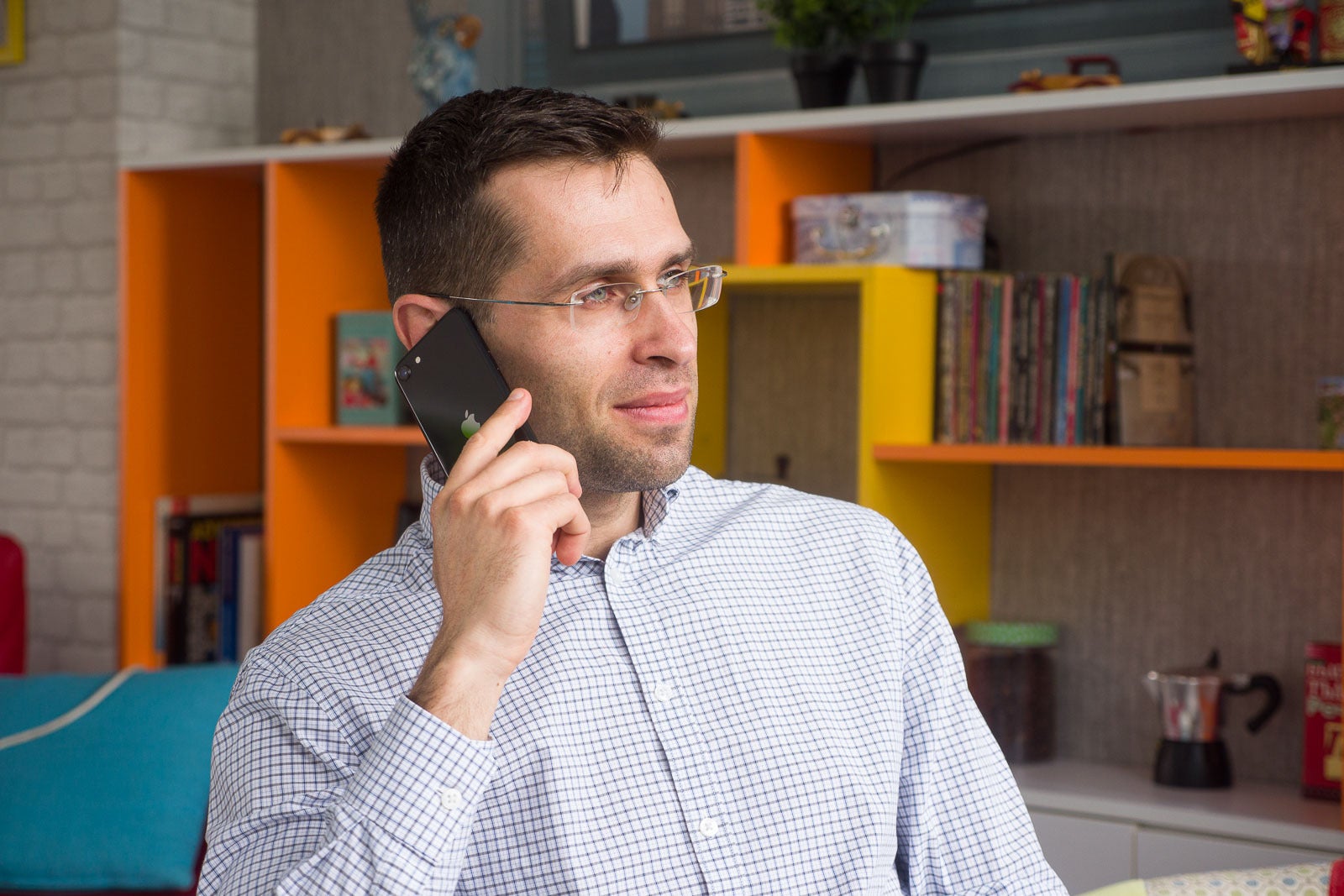 On the audio side, you have a dual loudspeaker setup with the main speaker on the bottom of the phone and another speaker located in the earpiece. The two combined deliver decent sound, but are not particularly loud and that is our biggest complaint.
The bundled EarPods headphones are the type that don't go in your ear canal, but instead "sit" on your ear. This has the advantage that they don't disturb your ear comfort and you can easily wear them for hours on end. The downsides of such a design is that you don't get a tight seal which means that outside noise gets through and for some people, the EarPods just don't quite fit right and tend to slip out of the ear (yours truly is one of them). Sound quality from them is quite decent, though, and you have an in-line mic so you can use them for video conferencing too.
We've also had zero issues with call quality. You get a good amount of volume in the earpiece and callers on the other end of the line reported hearing us clearly without any issues.
Software & Performance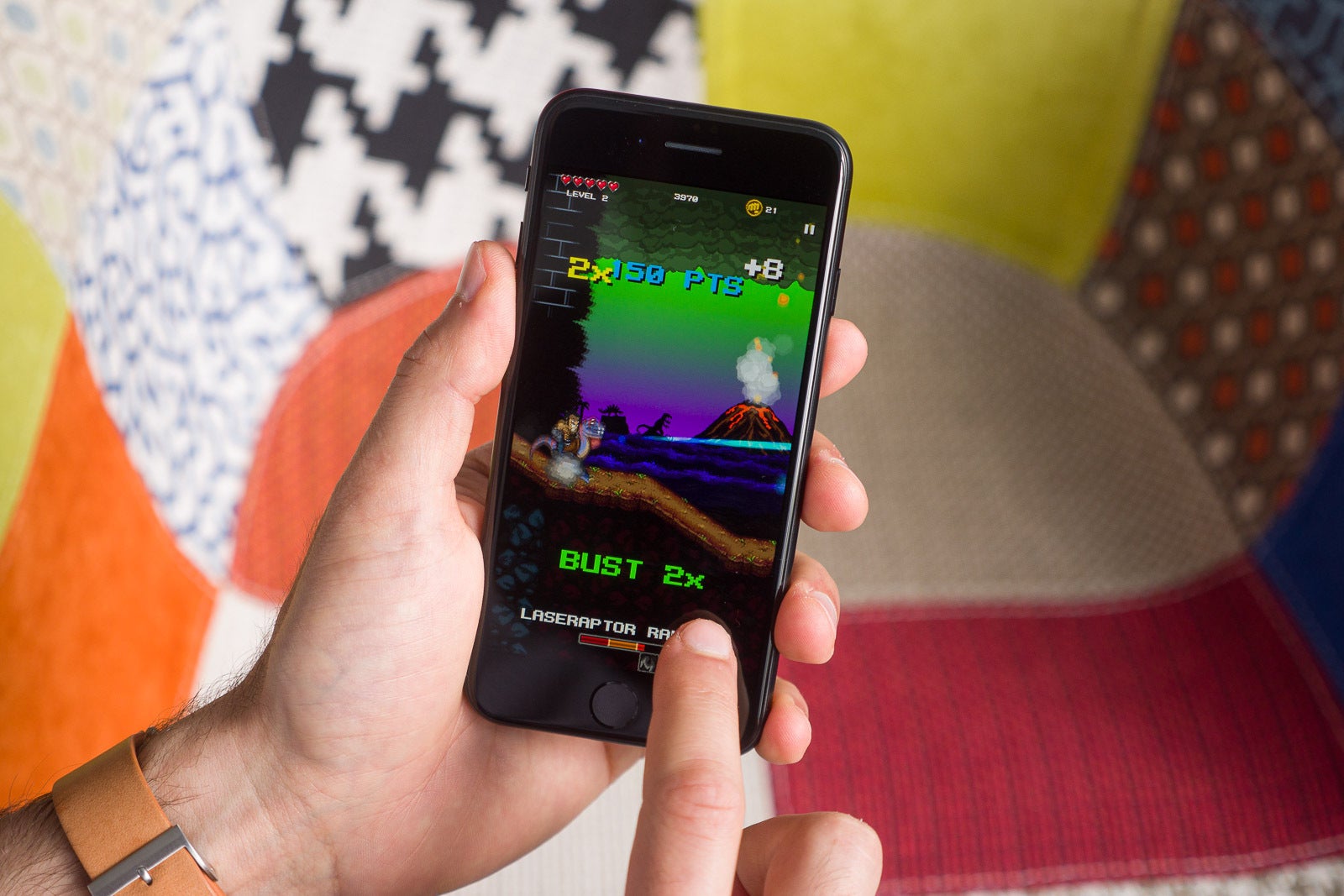 If there is one area where the new iPhone SE crushes the competition that has got to be the performance. The Apple A13 Bionic chip inside it is the world's fastest processor not only in the context of $400 phones. It's the world's fastest chip, period. Having such an incredible amount of power in a $400 package is unheard of. Apple could have easily used the older Apple A12 chip and still sell millions of the new SE, but packing it with the A13 means that the phone will get even longer software support and is likely to stay up-to-date for about 5 years. That comes in stark contrast with Android phones in that price range that usually get one or two major updates, and quickly lose their value.
When it comes to storage options, the base iPhone SE has 64GB of storage and costs $399. 128GB and 256GB variants are also available for $449 and $549, respectively.
So what about the speed of that A13 chip? We have run our set of performance benchmarks below and you would notice that the chip is particularly fast for games simply because the iPhone SE has less pixels to push and games just fly on it.
Of course, you have the newest iOS version here, iOS 13. We actually find parts of the iOS experience better on this iPhone SE. For example instead of awkwardly reaching for the top right corner on bigger phones to bring up the Control Center, here you just swipe from the bottom, a much more convenient gesture. The iPhone SE 2020 will be updated to iOS 14 later in 2020.
3D Touch is gone
One thing that is missing, though, is 3D Touch. The technology that made its debut on the iPhone 6s way back in 2015 did not catch up and the iPhone XS series were the last one to include it. 3D Touch was basically an additional layer in the screen that gave iPhones the ability to distinguish between a regular press on the screen and a press with additional force. You would use it for example on the keyboard, hard pressing it transforms it into a touchpad for accurate selection. With it gone, the same interactions now happen with what Apple calls Haptic Touch, or simply a long press on the screen.
If you have been using iOS for a while, you will also notice that one typical iOS interaction, the long press on a notification to expand it, weirdly doesn't work on the iPhone SE. It's just one strange inconsistency for this phone, and of course, it's not a deal breaker, but still worth knowing.
Battery life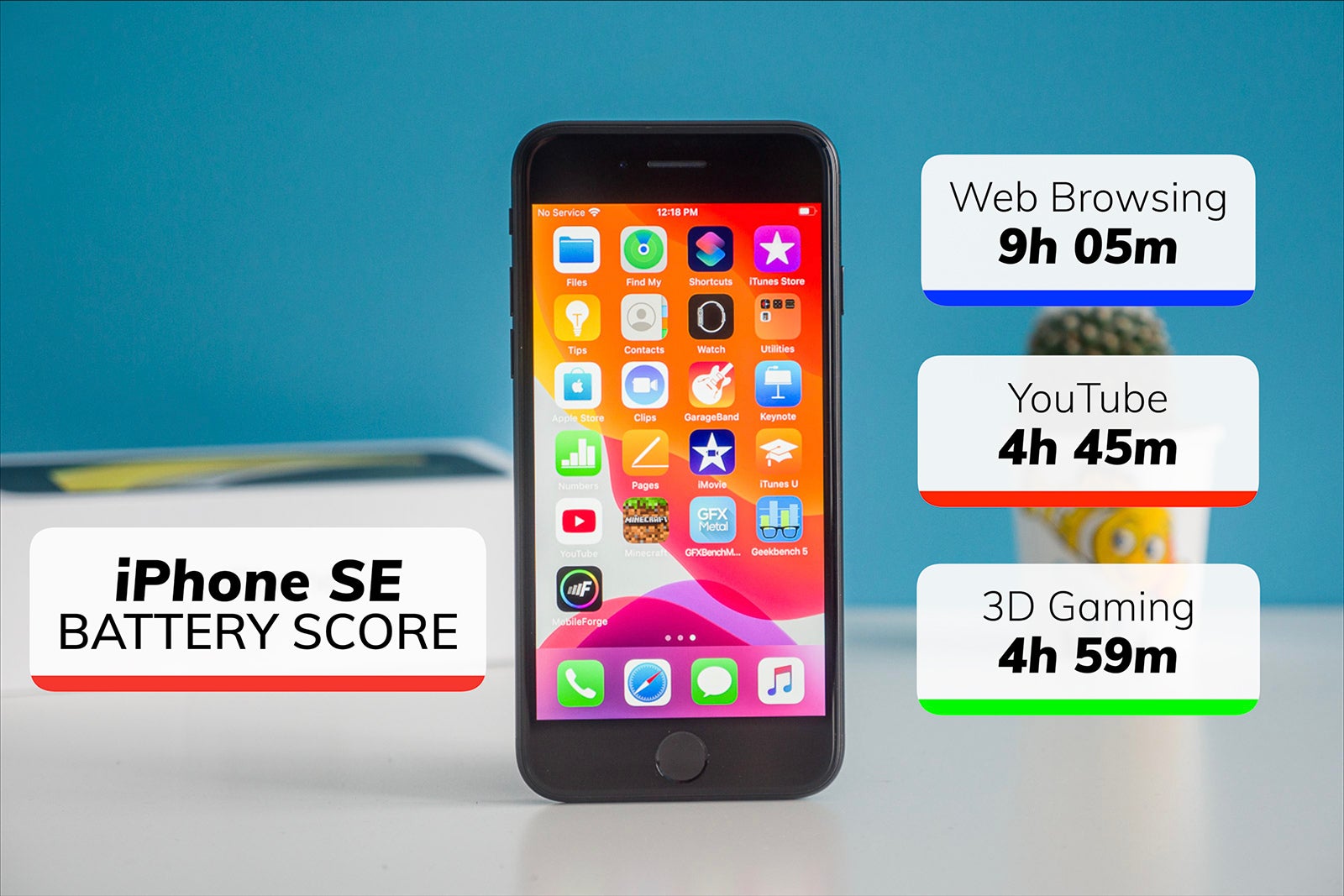 The iPhone SE comes with an 1,821mAh battery, the same size as on the iPhone 8.
In our daily use, the iPhone SE battery life has ranged from kind of okay to just bad. Here is what we think makes the difference in experience: if you don't use it heavily, and just browse the web, social media and text a bit, no worries, it will get you through the average day. Not great but workable. If you, however, watch a bit more video or play games, then you are in for a nasty surprise: you will see the battery draining in no time and you would have to run looking for a power outlet or a battery bank.
Our new PhoneArena battery test does a great job providing the numbers so you can easily compare the SE against its rivals. We measure three different components: browsing, YouTube video streaming, and 3D gaming, so let's go through the iPhone SE battery performance in each of these tests.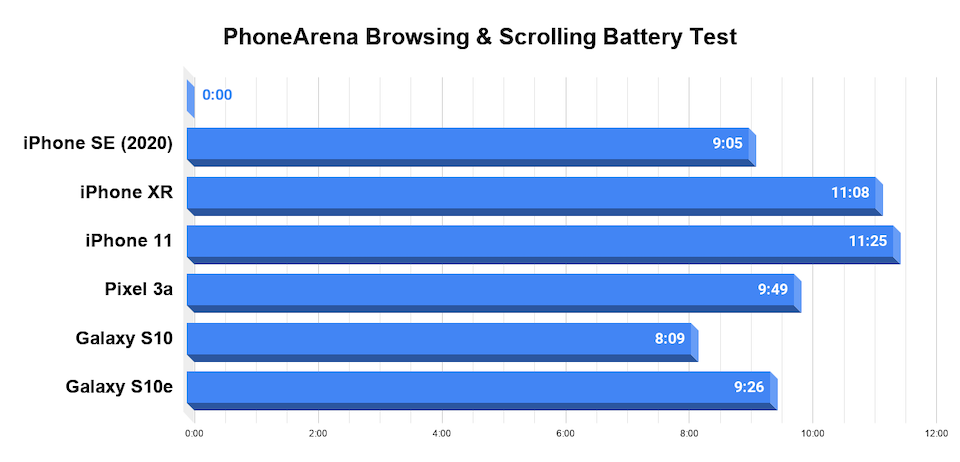 On our first and lightest test, the browsing one, the iPhone SE scored below the average but not terrible. This shows that you can work around that smaller battery if you don't use it intensively.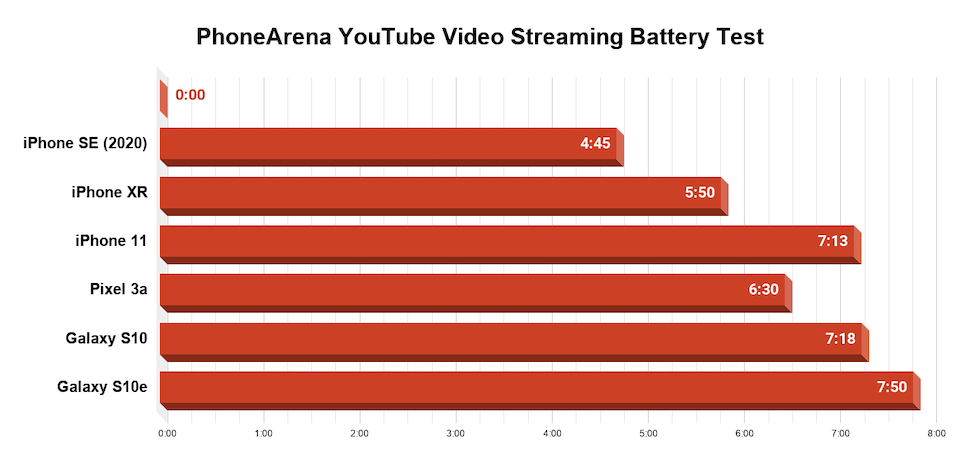 Start streaming videos on YouTube, however, and the battery gets demolished in no time. This is really a shame: the SE is the worst phone that we have tested in the past couple of years when it comes to YouTube video playback.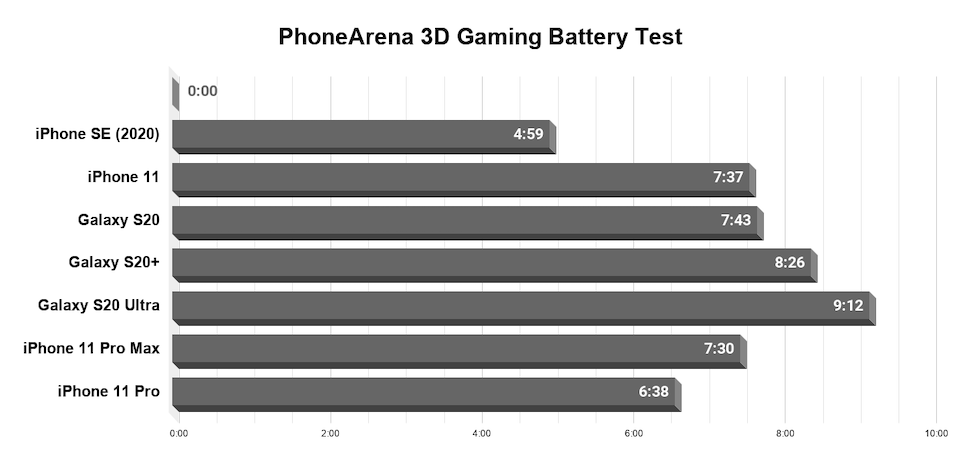 And while the SE scores incredibly high on our performance gaming tests and it's a super fast phone that allows you to play games like PubG, Fortnite and Call of Duty at maximum settings, you probably wouldn't be able to play for a long time. The problem is that 3D gaming also drains battery like crazy, just take a look at those results in the chart.
The SE ships with a 5W charger in the box, the same one that we have had on iPhones for years. Not a surprise considering that even the $700 iPhone 11 comes with the same slow charger, but it's nonetheless a big contrast to much faster charging bricks included in even much cheaper Android phones.
Charging the SE with that 5W charger takes an eternity or to be exact 2 hours and 30 minutes.
Thankfully, the iPhone SE does support fast charging too at speeds of up to 18 watts. To make use of that, you need to spend extra and buy a USB Power Delivery compliant fast charger. We used the 18W Apple charger and it made a big difference, especially for the charge until about 70% to 80%. Towards the very end of the charge cycle the optimized charging option turned on and this slowed it down to nearly two hours for the full 100% charge. This option is there to protect the health of the battery in the long term, but you can also turn it off and in that case you would get a 0 to 100% charger in about an hour and a half.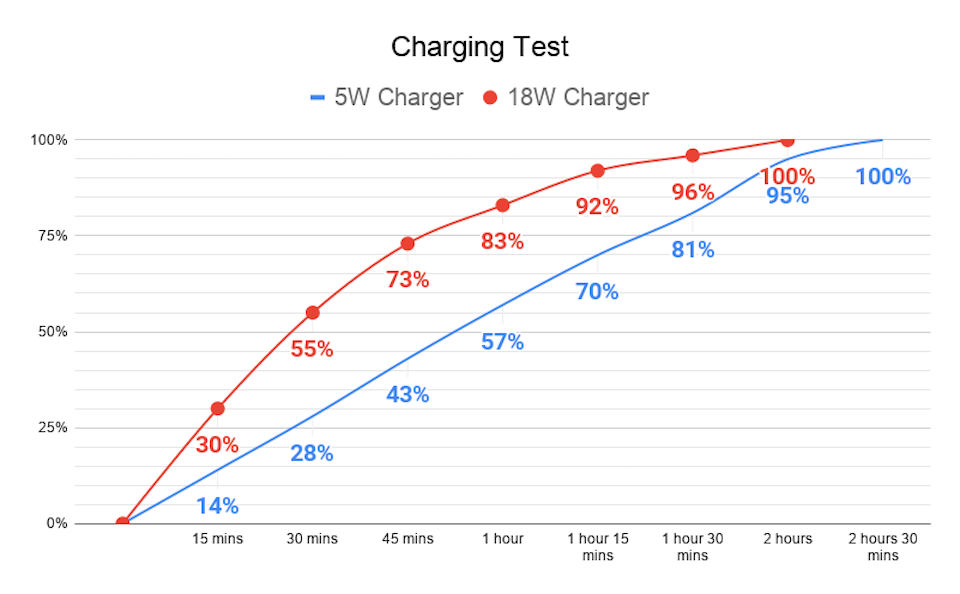 Not only that, but it also supports wireless charging which is a nice extra for a budget phone. Little if any $400 phones support wireless charging, so the iPhone SE is ahead of the pack in this regard.
Best iPhone SE alternatives
While the iPhone SE ranks below average for battery life and its screen is just not quite as impressive as on some other phones, it's clear that with a flagship-grade performance and a great camera on board, it will sell in the millions and for a good reason.
But if you are looking for the best alternatives, there are a couple of phones worth considering.
Best iPhone SE alternatives: