Google Pixel 3a & 3a XL Review
35
There was a time when Google challenged the status quo and defied it, ushering in a short renaissance in the mobile space that eventually made us rethink what it is that makes up a flagship smartphone. The days of the low-cost Google Nexus 4 and 5 are long behind us, and rather than that trend continuing, we've seen nothing but the opposite with manufacturers pushing out more and more expensive smartphones.
This applies to Google as well, whose line of Pixel phones has always been sold at premium prices. With the smartphone space being so busy with $1000 phones these days, it finally seems like it's time for the mid-range category to receive some much-needed love. And guess what, it's Google again that is doing that with the new Pixel 3a and 3a XL phones – for the first time, the Pixel brand is expanding to a more affordable market segment!
The Pixel 3a and 3a XL are an off-shoot of the company's flagship smartphones (3 and 3 XL) that are touted to deliver similar experiences at the fraction of the cost. Their prices are without question astounding (starting at $399 for the 3a and $479 for the 3a XL), which makes them far more obtainable by more people. By going with this strategy, Google is looking to get the Pixel brand more exposure – and potentially prove that we can, indeed, have a great phone experience at an affordable price.
In the box:
Google Pixel 3a or Pixel 3a XL
SIM removal tool
Wall Charger
USB Type-C Cable
Quick Start Guide
Pixel decals
Design
The plastic body doesn't take away from the look and feel

Toning it down in all the appropriate areas, the Pixel 3a and Pixel 3a XL for the most part embody the design language we've seen previously with the Pixel 3 and Pixel 3 XL. Obviously, the most apparent change with this new line is the plastic bodies they boast, which makes perfect sense in classifying them as mid-rangers. The two-toned finishes continue to make them distinctly Pixels, but even with their polycarbonate builds, they still look and feel solidly constructed! Between them, the smaller size of the Pixel 3a makes it so much easier to handle.
Sure, we've seen other phones in this price range sporting designs that are arguably more premium, but Google's intent here instead is to maintain an identity. And you know what? It works out because you can easily tell it's a Pixel! From the camera lenses protruding out to the fingerprint sensors on the back, the button placements, and Google logos, these new Pixels could easily be mistaken for their flagship counterparts – and that's not a bad thing!
What's rather odd, though, is that Google opted to bring back the headphone jack with these phones. This addition should please many people, offering the convenience of being able to enjoy their favorite pair of headphones without the need of an adapter or dongle. They also feature a dual speaker system, as the one on the bottom edge combines with the one from the earpiece to deliver a stereo output. And lastly, it's worth pointing out that neither phone offers any sort of water resistance or wireless charging, which shouldn't come as a shock because these features are still typically reserved for higher-end devices.
What is missing, though, is an LED notification light. You can choose to use the Always-on display to see if you have missed notifications, but that will use extra battery.
Display
Three color modes to find the right tone for you
The Pixel 3a comes with a 5.6-inch 1080 x 2220 AMOLED display, while the Pixel 3a XL maximizes things with a 6-inch 1080 x 2160 AMOLED panel. Both displays have almost identical resolution, meaning that the XL model has a slightly lower pixel density (because of the larger diagonal), but that's not a big deal in our opinion, as it still has more than enough resolution to make things look great on screen. In all honesty, both screens look really good, coughing up all the lovable aspects of any good OLED panel – like their wide viewing angles, deep blacks, and punchy colors. Even though they're not as iridescent as the Super AMOLEDs in Samsung's flagships, they still deliver some appealing qualities!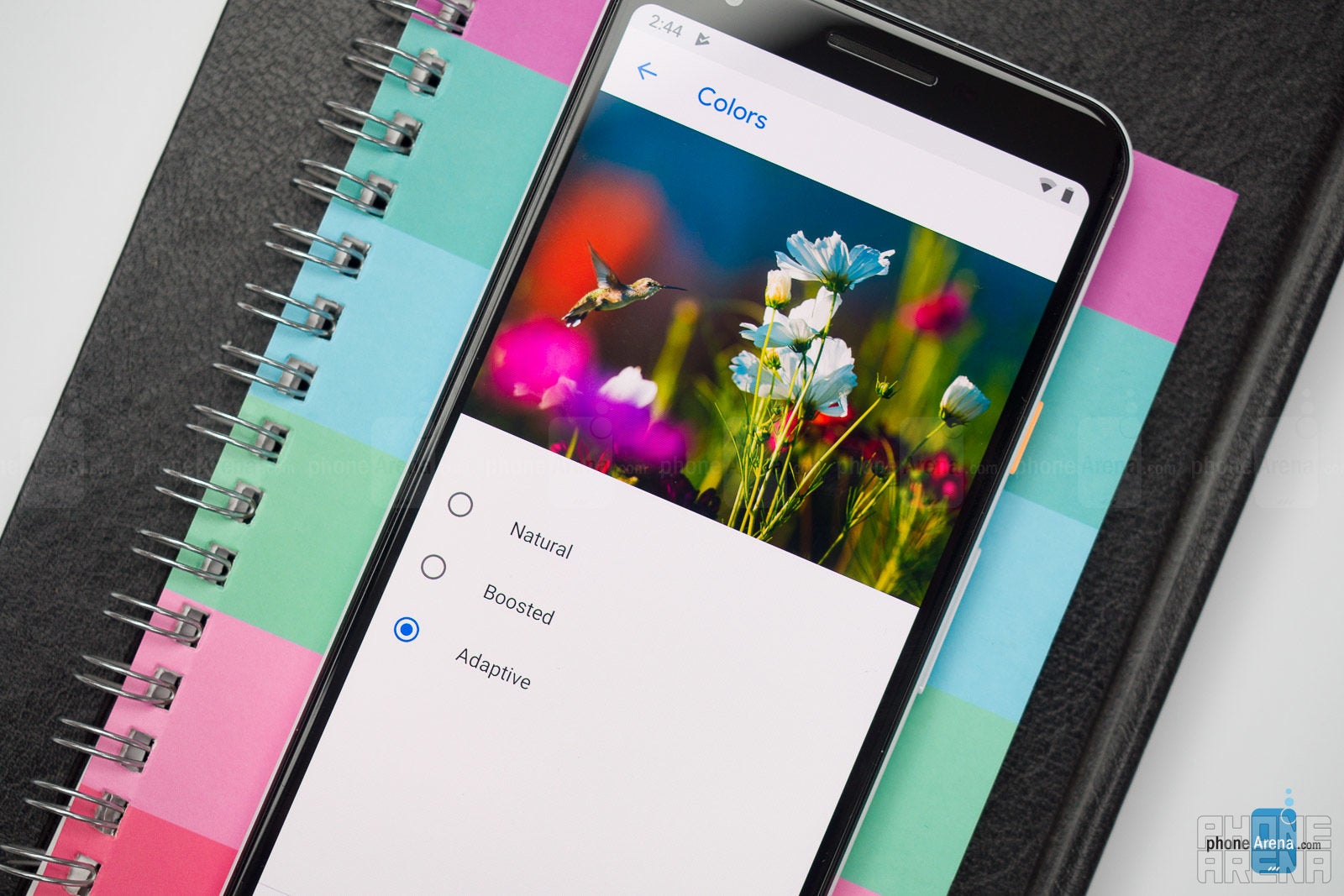 Looking at some of their benchmark results, the color temperatures are pretty good at ~6800K – so they're very close to that ideal value of 6500K (meaning the color balance is quite natural). Peak brightness output for the Pixel 3a XL reaches 416 nits, which is lower than the majority of phones put out in the last few months, so it can be problematic trying to use outdoors in the gaze of the sun. And lastly, we're not too perturbed by the bezels around the displays, seeing that it's kind of what we expect out of mid-range devices.
Display measurements and quality
Interface and functionality
Just Android 9 Pie, hopefully to soon be replaced by Android 10 Q
Uniformity, that's the fundamental strategy at the heart of the experience with Google's Pixel line. There's no difference in what we see and get with the new Pixel 3a/3a XL and with the Pixel 3/3 XL. Running stock Android 9 Pie, they feature all the trimmings we've come to expect and love about the platform. From its gesture-based interface to the clean looks of the UI and the power of Google Assistant driving the experiences, it's absolutely wonderful that the experiences here don't differ at all!
In fact, we even get other features like Google Assistant's Call Screen feature, as well as Active Edge that summons up Google Assistant in an instance when we squeeze on the sides of the phone. But above all, it's the fact that these mid-rangers, much like their flagship counterparts, will be among the first phones to get the next, iterative update for Android. And there's not going to be a long wait for that either, which is something that many phones can't claim.

Processor and performance
System navigation is fine, but the Snapdragon 670 is no number-cruncher
On the outside, it's quickly perceptible that these are low-tier devices due to their polycarbonate frames, but it's also evident when looking at what's on the inside. These new Pixels are powered by Qualcomm's Snapdragon 670 SoC and coupled with 4GB of RAM. Superficially, this package delivers the tight responsiveness we've come to expect from any Pixel-branded device – evident in how they're very fluid looking when navigating around the interface or switching between apps. However, the most apparent difference is going to be experienced when playing games. Frame rates aren't as smooth, so hardcore gamers may not find them suitable. For the casual gamer, however, they should more than suffice!
Another major thing worth mulling over when making a buying decision is that these new Pixels are offered in one single storage capacity, 64GB. With no expansion at your disposal, it means that you're really going to need to rely on Google's cloud services to ensure unnecessary content isn't taking up space locally. We're talking about things like leveraging unlimited storage with Google Photos or saving your documents in Google Drive. It's a shame that there are no other storage options available, which means that you'll need to monitor your usage – so you may want to refrain from shooting video in 4K resolution religiously!
Camera
The critically acclaimed Pixel 3 camera at half the price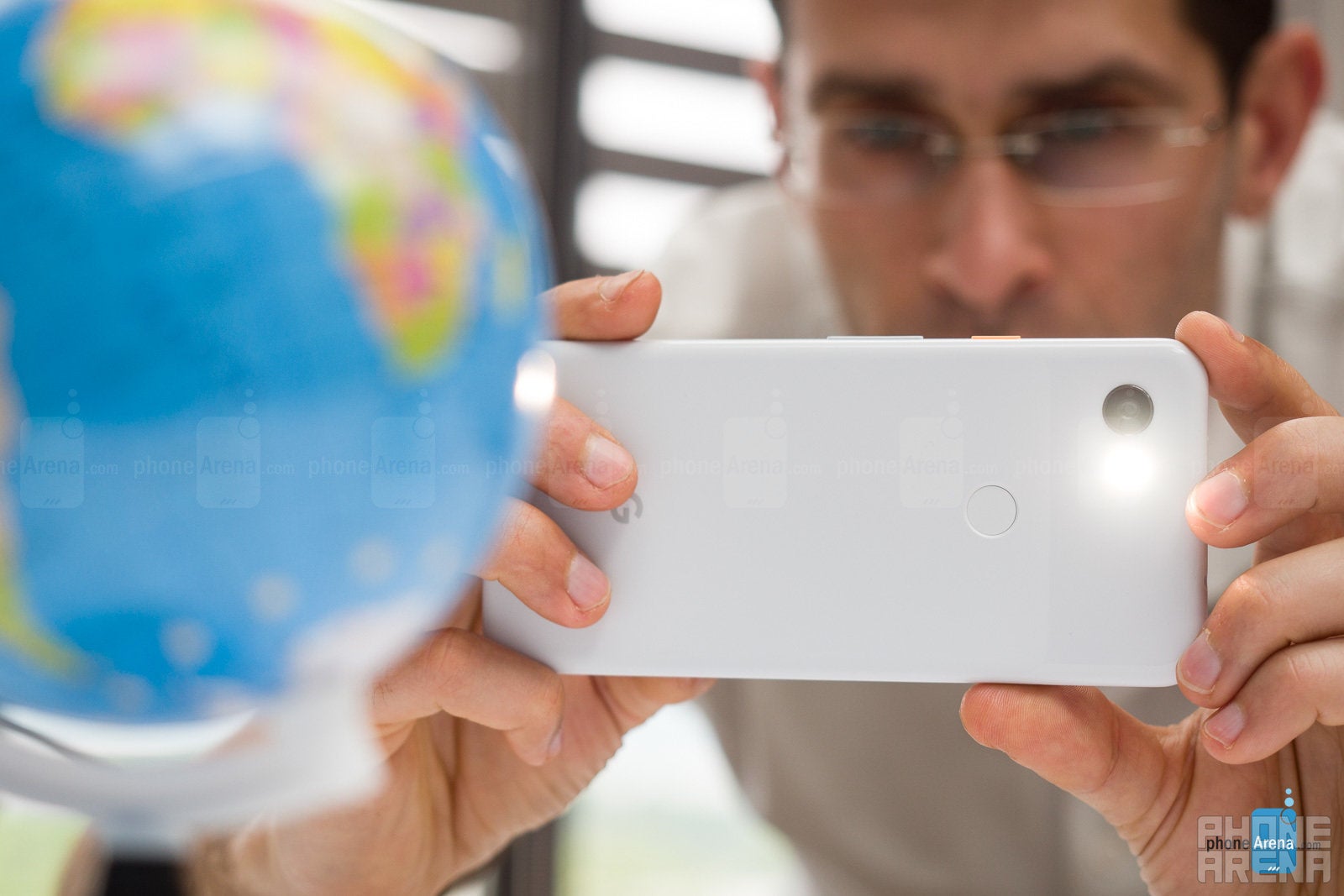 Pixel 3a
You'd think that a mid-range phone would be given a less formidable camera, but if you're to look at the specs of both phones, you may be intrigued by the reality that they're identical to the flagship Pixels! We're talking about a SINGLE 12.2MP camera paired with an f/1.8 lens. Around the front of both phones, however, we have an 8MP selfie camera with an f/2.0 lens, not the dual cameras of the Pixel 3 series.
Most of today's phones, mid-range devices included, tend to offer at least dual cameras – with flagships getting treated to triple camera systems! Google's confidence in its image processing and AI enhancements is apparent with this gesture, trying to show the masses that the single camera setup in these phones are equally capable! Best of all, the same features in the flagship Pixel line are here as well – consisting of portrait effects, HDR+, Night Sight for superior low-light performance, and Google Lens integration.
Image Quality
The only qualm we have with the experience of taking snapshots with these new Pixels is the image processing delay you get when you start shooting photos in succession. That's a compromise one has to live with, of course, but we'll gladly accept it given the excellent overall performance out of their cameras! There's no shortage of details or punchy-looking colors under ideal lighting. Saturation may be a bit more aggressive under artificial lighting, but the end result still reels us in. Whatever magic is happening behind the scenes, we can't complain because the results are pretty strong.
Even low-lit situations don't faze these cameras, as they conjure up nicely lit compositions in an otherwise dark scene. Night Sight brings out some of the details that are sometimes lost in low-light scenes. Shadows are boosted to draw those details out, but it's nice to see that the details in the shots aren't softened to a larger degree. We're even impressed by how Night Sight can bring out the colors too! Take for instance the red-colored bench and green grass behind it in one of the photos we snapped at night. In the standard shot, you can barely see the colors, but Night Sight bumps up the exposure – while also adding in a bit of saturation to enhance the overall look!
Selfies

We're fans of the front-facing cameras, seeing that they deliver top-notch results as well! When the lighting is good, the selfies come out amazing. They're accompanied by good details with a little bit of sharpening applied. Add to that some punchy-looking color tones, and what we get here with these new Pixels are selfies worth taking over and over again. In low-light situations, they're underexposed to the point that details are lost. Thankfully, Night Sight comes to the rescue once again by increasing the exposure and adding some much-needed color tones to the composition.



Video Quality
Equally impressive is the video recording performance! Topping out at 4K 3840 x 2160 pixels, these new Pixels continue to show us that they're full of surprises. Similar to their still-shot performance, videos are presented in glory with their rich details and accurate colors. More importantly, though, there's an option in the settings for video stabilization that smoothens out the footage to give it that 'walking on air' look.
If there's one sore spot in their performance, the only area of opportunity that we can see is with video recording under low light. In extreme conditions, videos appear very noisy and soft. Fine details are almost non-existent, appearing more like gobs than anything else – while noise becomes a nagging factor in the shadows.
Call Quality
Being mid-rangers, it's comforting to know that these Pixels don't have too many compromises when it comes to making phone calls. For the most part, voices sound fine through the earpiece, while the speakerphone is pretty clear and strong. Our callers were also able to discern our voices on their end, with minimal distortion too.
Battery life
Respectable longevity
As long as its larger size isn't an issue, if you're out for the longer battery life, it's a logical decision to pick up the Pixel 3a XL. That's because its 3700 mAh battery is simply a beast, lasting well over a day of normal usage. By the end of the night, we're typically around the 35% to 40% range. The Pixel 3a XL is a top contender in our battery benchmark test too, nearly lasting 11 hours of continuous on-screen time. In comparison, the Galaxy S10+ tapped out at 8 hours.
Additionally, these Pixels have some fast times clocked in for recharging. With the Pixel 3a XL, it's able to get back to full capacity after 99 minutes of charging. That's super-fast and it all happens using the included charger, so we're not too bummed by the fact that wireless charging isn't here.
Conclusion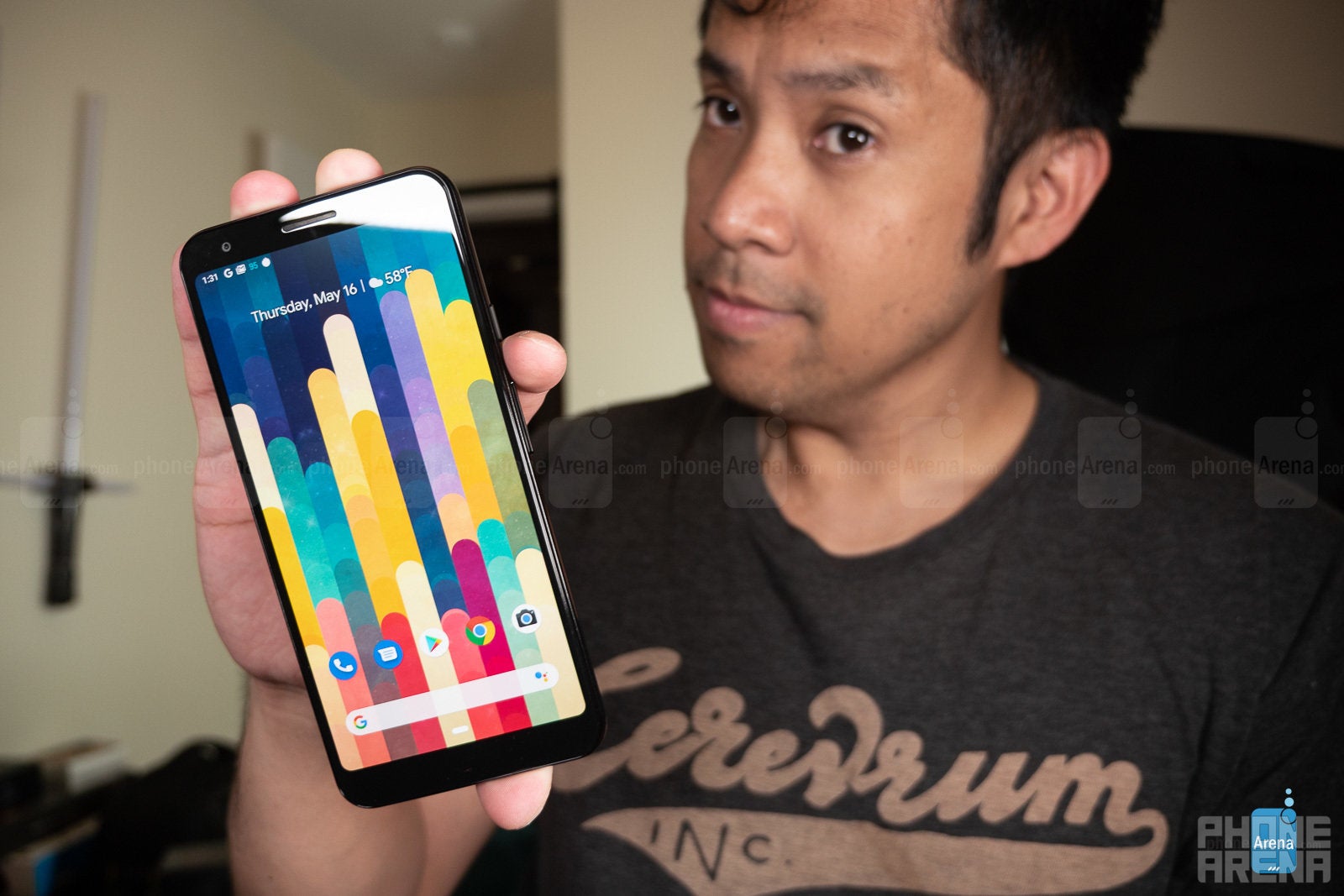 Pixel 3a XL
Google has delivered superb mid-range phones! Looking at the overall picture, we can adamantly say that the only area where they scaled back is in their performance, as the Snapdragon 670 is a notable step down from the Snapdragon 845. Other than that, we don't think the plastic designs are bad; the phones may not feature wireless charging, but in terms of look and feel, there doesn't seem to be that much of a difference compared with the Pixel 3 and 3 XL.
With starting prices of $399 and $479 for the Pixel 3a and Pixel 3a XL, respectively, they show to all of us that you don't need to spend a fortune to get a great phone experience. They excel in all the important areas like taking photos, offering long battery life, and fluid responses navigating around the software.
The Pixel 3a and 3a XL are not here to replace our beloved $800 – 1000 flagships; they are not even competitors to the OnePlus phones. But they are, indeed, great options if you're on the lookout for a more affordable smartphone with great camera performance and clean Android.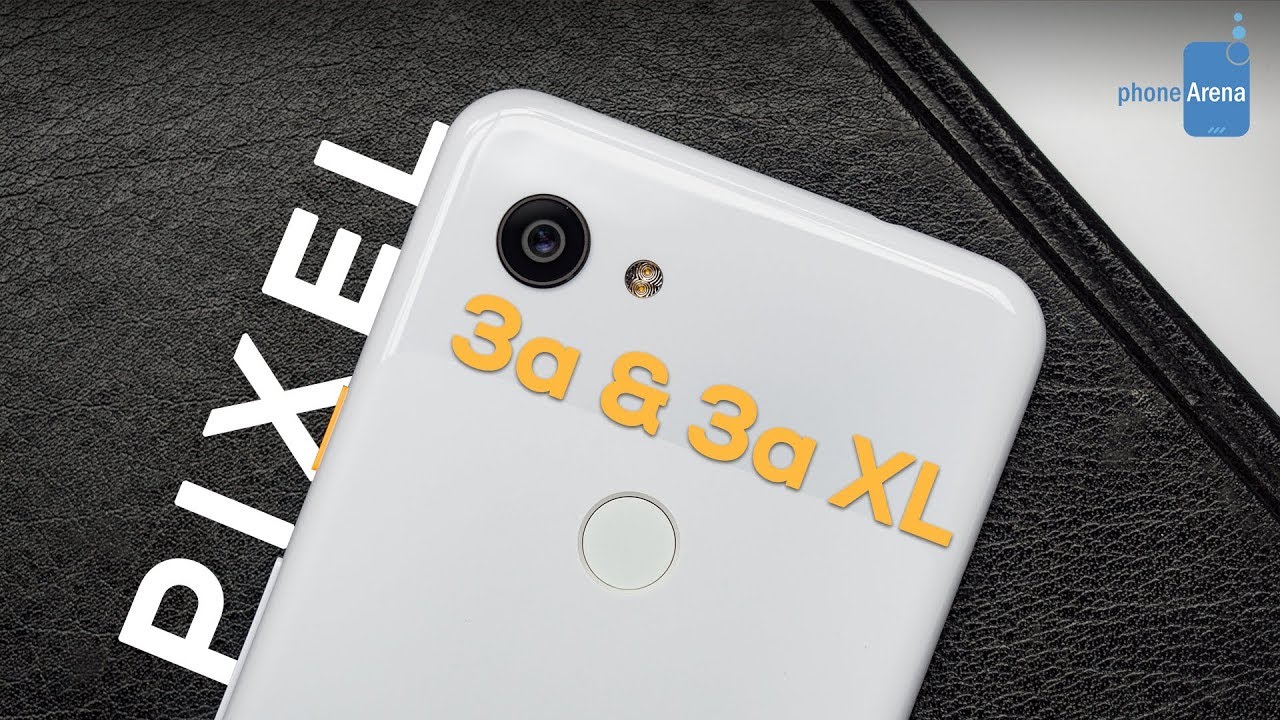 Recommended Stories