The best Apple iPhone SE screen protectors - updated 2021
3
We may earn a commission if you make a purchase from the links on this page.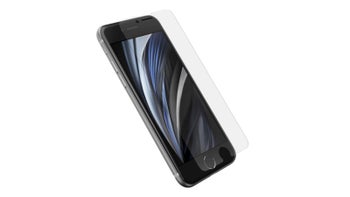 Apple refreshed its SE line with a second generation iPhone SE model last year, and to nobody's surprise, it was a successful move. As it turns out, many people are still in love with the old school iPhone 7/8 design but want something modern in terms of performance.
While you might not consider the 4.7" iPhone SE display worthy of protection, scratches are ugly, and with a proper protector the resale value is kept. But what is the best iPhone SE screen protector? Some offer great tactile feel, while others come equipped with an antimicrobial coating. Fret not, we're here to help - this is our list of best screen protectors for you iPhone SE 2020!
Moshi iVisor AG iPhone SE screen protector

If you need something basic and affordable, check out this iPhone SE screen protector from Moshi. It offers edge-to-edge protection for your iPhone SE, and the patented iVisor technology allows you to wash the protector and reapply it if you feel the need to do so.
The Moshi iVisor AG iPhone SE screen protector is easy to install and the anti-glare coating will let you enjoy your phone's display without artifacts and other eyesore. Last but not least, you can get it in black and white color variants to match the front of your iPhone SE.
InvisibleShield Glass Elite VisionGuard
If you aren't a fan of ultraviolet baking (or wait times), you can't do much better than InvisibleShield's new GlassElite VisionGuard series, as these combine extreme clarity and durability with a blue light filter to protect your eyes.
In addition, this one-of-a-kind screen protector is with anti-microbial coating and ClearPrint technology that offers a new oil-dispersing treatment to break up fingerprint oil, allowing light to pass through, making even the nastiest fingerprints and smudges barely visible.
Belkin InvisiGlass Ultra

Belkin supplies the official iPhone SE screen protectors at the Apple Store, and is thinner - 0.33 vs 0.29mm - and stronger than your usual tempered glass ones. The so-called InvisiGlass Ultra model here is strengthened with an ion-exchange process, and tested against key, coin, and other everyday objects' scratching.

The highest-level 9H hardness is complemented by superior touch sensitivity and clearer visibility due to the thinner glass stack. Last but not least, if you can't have it applied in an Apple Store, the EasyAlign sticker will help you install it at home with a relative ease.
OtterBox - Amplify Glass iPhone SE Screen Protector
If you want to add a pinch of antimicrobial technology to your iPhone SE screen protector, OtterBox is the way to go. The Amplify iPhone SE screen protector is the first antimicrobial glass registered by the EPA, and is also co-developed with Corning for scientifically superior scratch resistance and durability.
This iPhone SE screen protector also features reinforced edges - one of the most vulnerable spots on a phone. The protector covers the whole front of your iPhone SE and it's completely clear - you won't notice it's there!
Recommended Stories