Deezer support officially arrives on Garmin Vivoactive 3 Music, Forerunner 645 Music, and Fenix 5 Plus series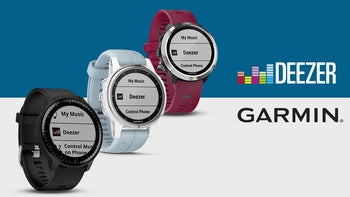 Just like arch-rival Fitbit, Kansas-based GPS tech pioneer turned wearable device specialist Garmin has been able to
make progress
in an overall stagnating market mostly on the fitness-tracking strengths of its wrist-worn gadgets.
But although the company has yet to release a direct Apple Watch rival, its product portfolio is more diverse than ever, including entry-level smart bands like the
Vivofit 4
, luxury GPS "multisport" watches like the Fenix Chronos, as well as mainstream-oriented multitaskers like the Vivoactive 3 Music or
Forerunner 645 Music
.
The latter two, alongside the "premium multisport"
Fenix 5 Plus
series, stand out from Garmin's pack with music storage and playback capabilities, but until now, users have been limited to subscribing to iHeartRadio All Access for an unlimited streaming experience.
That's not exactly the world's most popular such service, and even though Deezer can't compete with
Spotify
or
Apple Music
either, the Europe-born app is significantly more successful.
Launched in France way back in 2007, Deezer became hugely popular across the old continent by 2012, finally
expanding to the US a couple of years ago
. As of April 2018, the music streaming platform boasts 6 million paid subscribers worldwide, a number that the French company hopes to grow with the help of both
Fitbit
and Garmin.

The $800 and up Garmin Fenix 5 Plus, $450 Forerunner 645 Music, and $300 Vivoactive 3 Music can now store more than 100 Deezer tracks you can easily access right on your wrist, as well as sync your favorite playlists, and offer a "daily refresh of songs" with the Deezer Flow feature.

You'll obviously need a $10 a month Deezer Premium subscription first and foremost, although if you're a new member, you can enjoy all those benefits and much more for a full 90 days without paying a penny.