Garmin Forerunner 645 Music hands-on
Say hello to Garmin's first fitness device capable of storing music – the Garmin Forerunner 645 Music. With the ability to store about 500 songs, the Forerunner 645 takes a smart, albeit late step in the direction toward mainstream wearable success.
Garmin's well-known in the serious running community as a reliable brand for GPS watches. But only recently has the company made meaningful strides towards accessing the more casual wearable/fitness enthusiasts. While watches like the touchscreen-equipped Vivoactive 3 offered a more appealing, sub-$300 price, with a stylish look to match, the Vivoactive 3 lacked the ability to stream or store music.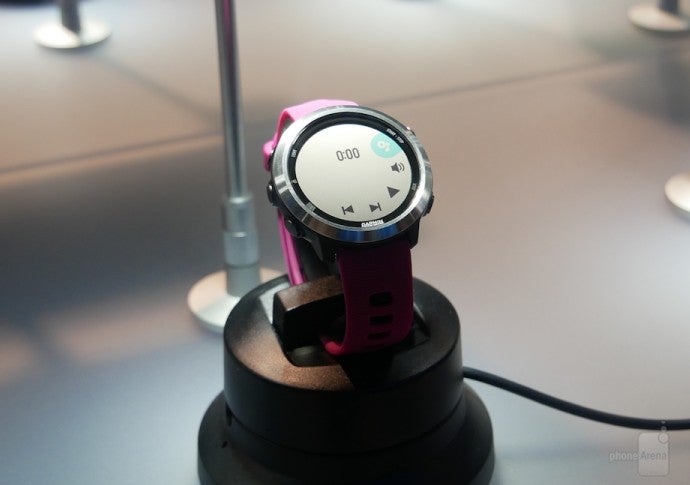 The Forerunner 645 Music takes elements of the Vivoactive, such as its casual design and support for Garmin Pay – the companies contactless payment solution – but unfortunately subtracts the touchscreen and adds almost $200 to the price.
Although buttons are a runner's, and especially a swimmer's, best friend, so are quick and intuitive actions. The Garmin 645 Music isn't the most complex device to use, but scrolling, selecting, going forward, and back – all with only a few buttons – can be a bit cumbersome, it seems. Of course, more hands-on time will be needed to determine the efficiency of such a system, but the $450 price of the Garmin Forerunner 645 Music may be a tough pill to swallow for some considering the "smarter" and less-expensive/equally priced alternatives.
For those dedicated to running, though, the arrival of a Garmin watch capable of storing music from their library or downloading playlists from iHeartRadio, and potentially other services, may be exactly what they needed to kick their fitness regimen into high-gear. Pair a set of Bluetooth headphones with the 645 Music, and enjoy 5 hours of GPS-tracking with music on your runs, swims, cycles, and more. Or enjoy 7 days of smartwatch mode standby time. Either way, you can receive notifications from apps like Uber and AccuWeather, but also phone calls and messages.
The Garmin Forerunner 645 Music is available for purchase now, as well as the Garmin Forerunner 645 (no music) for $50 less, at $399.