Apple's Beats Powerbeats Pro are on sale at a rare $50 discount in all colors
1
We may earn a commission if you make a purchase from the links on this page.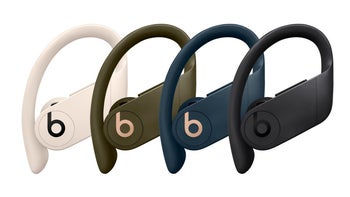 Faced with growing competition from major market newcomers like
Amazon
and
Microsoft
, the world's
most popular true wireless earbuds
recently received a pretty hefty discount (by Apple's standards)
at a trusted third-party retailer
in a
refreshed variant sold alongside a wireless charging case
. Unsurprisingly, the Beats-branded Powerbeats Pro are now following the AirPods' suit with a $50 price cut of their own at none other than Amazon.
As you're probably well aware, Beats is a company owned by Apple (since 2014), and the Cupertino-based tech giant certainly took the industry by surprise with the
announcement of these sporty headphones
shortly after the
commercial debut of the second-gen AirPods
. Of course, the Beats Powerbeats Pro have several things going for them in comparison with their "cousins", including a design focused primarily on comfort and stability, a colossal battery life of up to 9 hours between charges (not even taking the obligatory charging case into consideration), and a water-resistant build.
But if it perhaps felt excessive to spend $250 on a pair of totally wireless earphones with a standard wired charging case included when the AirPods are typically available for 50 bucks less with a fancy wireless charging case, now you can save precisely that $50 on the Powerbeats Pro. This is technically
not a first-of-its-kind deal
, but this time around it's Amazon we're talking about, there are no coupon codes involved, and perhaps most importantly, all four color options can be purchased for 50 bucks less than usual.
Keep in mind that the Ivory, Moss, and Navy flavors were actually released a while
after the black version
, so it's definitely nice (and a little unexpected) to see the entire quartet simultaneously on sale at a very reasonable price already.
Just like the second-gen AirPods, Apple's Beats Powerbeats Pro come with an in-house H1 chip, state-of-the-art Bluetooth connectivity, Siri support, and fast charging capabilities. All in all, the earbuds can exceed an autonomy of 24 hours when adding the battery life figures of its charging case to the aforementioned 9-hour starting endurance. Those are some hard to beat numbers, especially in this new price range that Amazon's discount brings the Powerbeats Pro to.
Recommended Stories