Microsoft's Surface Earbuds are a little too pricey and goofy to take on Apple's AirPods
26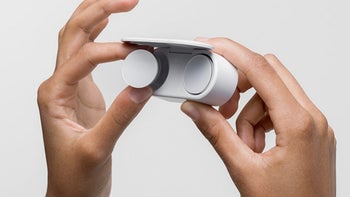 Well, this is (somewhat) unexpected. While Microsoft was tipped to unveil an
upgraded new version of its Surface Pro hybrid tablet
with the same old design and a cheaper ARM-powered 2-in-1 product today, we didn't hear much about the company's rookie wireless earbuds effort from the usual trusted tipsters and insiders.
Of course, Microsoft didn't design these sleek bad boys with professional athletes in mind, aiming for the perfect combination of style and comfort. We'll obviously need to wait and check out the hot new headphones in action to see exactly how comfortable they are to use "all day", but in terms of style, the Surface Earbuds don't make a great first impression. While we can certainly appreciate the company's intention to do its own thing, the circular shape and overall design seem a little goofy at first glance.
On the decidedly bright side of things, Microsoft says the Surface Earbuds are capable of producing "amazing sound", which is naturally something you expect to hear when gadgets of this sort are announced, while delivering up to 24 hours of battery life (charging case numbers included). Compatible with "any platform", from Android to iOS and Windows Mobile (just kidding), the true wireless earbuds also have dedicated filters for top-notch noise reduction and two microphones each promising to keep the focus on your voice during calls.
No words on water resistance and something tells us Microsoft's "noise reduction" will not be able to rival the state-of-the-art noise cancelling technology built into the likes of the
$230 Sony WF-1000XM3
either, making it pretty hard to sell a lot of these at 250 bucks a pop. In other words, the company appears to be repeating its
Surface Headphones
mistake.