Apple's AirPods are by far the world's most popular 'hearables', followed by Samsung's Galaxy Buds
15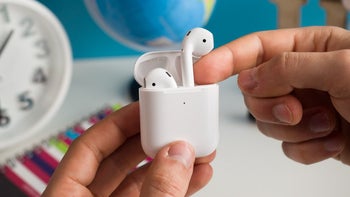 Apple might be struggling to keep up with
Samsung and Huawei's global smartphone volumes
, even as the latter begins to feel the impact of Trump's trade war with China, but at the same time, the Cupertino-based tech giant is at the top of the sales charts in no less than three other industries. iPads, Apple Watches, and AirPods are clearly dominating
the world's tablet
,
smartwatch
, and hearable markets respectively, according to the latest reports compiled by research firms such as the International Data Corporation.
Of course, smartwatches and so-called "hearables" are often included in the larger wearable device industry, along with activity trackers, and unsurprisingly, Apple was found to tower above the likes of Xiaomi and Huawei during
Q1 2019 in that market as well
. To be clear, the IDC also defines hearables as earworn devices, aka headphones that can do more than just play music.
We're talking the likes of Apple's
AirPods
and Samsung's
Galaxy Buds
, which means devices must operate wirelessly and perform advanced tasks like interact with a voice assistant or monitor the wearer's health to be considered hearables. That said, you shouldn't be too surprised to see Apple command this market with an astounding
50.2 percent share of worldwide Q2 2019 sales
.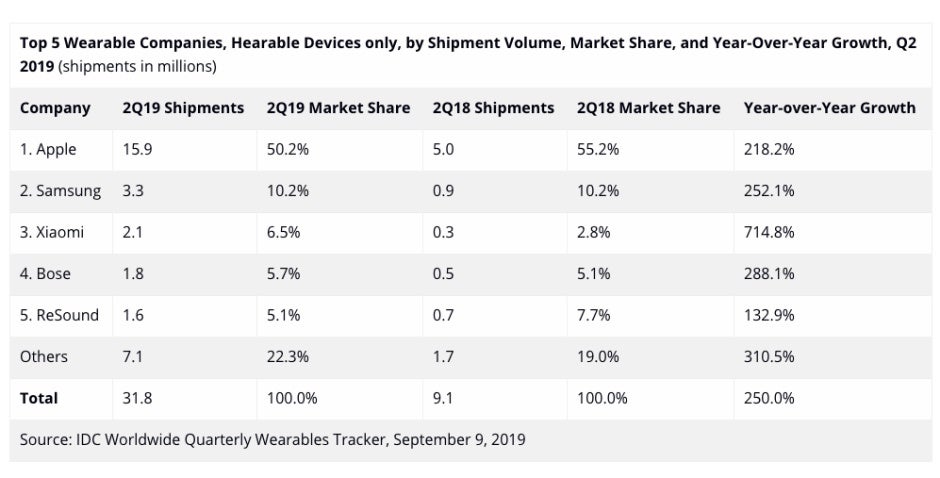 Incredibly enough, the company's slice of the pie was even larger back between April and June 2018, although its actual shipment figures have more than tripled since then, surging from 5 to 15.9 million units. In addition to this year's refreshed AirPods, the
latest Beats-branded wireless earbuds
also contributed to this staggering growth.
In second place, Samsung held on to its 10.2 percent market share while boosting sales from under a million units during Q2 2018 to 3.3 mil now. Of course, "sales" can be considered a figure of speech in the case of the Galaxy Buds, which proved popular mostly as
a gift for Galaxy S10 buyers
. Then again, Samsung also owns JBL, which makes a number of attractive and often affordable hearables.
In third place, Xiaomi relied pretty much exclusively on domestic sales of products like the
AirDots
to exceed 2 million units in total, while Bose and Jabra improved their numbers to rank fourth and fifth respectively thanks to the likes of the
SoundSport Free
and
Elite Active 65t
.
All in all, a whopping 31.8 million hearables were shipped around the world in the April - June 2019 timeframe, accounting for almost half of the wearables market and thus beating both smartwatches and fitness bands.