Jony Ive was worth billions to Apple according to one measurement
6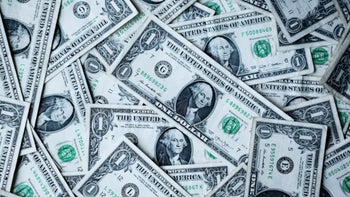 The departure of Apple design chief Sir Jony Ive,
announced by the company yesterday
, probably won't result in any immediate design changes to Apple's current product lineup. Certainly the men replacing him on Apple's depth charts (Evans Hankey, vice president of Industrial Design, and Alan Dye, vice president of Human Interface Design) will continue on the road that Ive paved at Apple over the years.
They say that you can't put a price on a man, but there is a way to see how much Ive was worth to Apple in dollars and cents.
According to Bloomberg
, that amount is $9 billion. This is how much Apple's valuation declined in after-hours trading on Thursday following the announcement that Ive was leaving. While that certainly is a lot of money, it represents approximately just 1% of Apple's valuation. After dropping as low as $197 in extended trading yesterday, Apple's shares are currently changing hands at $198.79.
Ive was responsible for designing Apple's most iconic products including the iMac G3, iMac G4, the iPod's various incarnations, the iPhone, iPad and the
Apple Watch
to name a few. He also lent his distinctive voice (and serious British accent) to Apple's new product videos. He is leaving Apple to start his own design firm, which will count Apple as a paying customer. Wedbush analyst Daniel Ives says that the 27 year Apple veteran was "one of the most important figures at Apple" from 1992 to 2019. Not only is he known for his hardware designs, but
he also took on the added responsibility of designing iOS 7 back in 2013
after the company let software head Scott Forstall go. Forstall, you see, oversaw the initial release of Apple Maps
which was a huge debacle at the time
.
Ive most likely continued to play a role in designing the 2019 iPhone models

So now that we know how much Wall Street valued Ive's worth to Apple, let's check out some other major events in Apple's past for comparative purposes. For example,
on January 9th, 2007 Steve Jobs introduced the first iPhone
. The next day, the stock rose by $3.81 billion or 4.8%. On January 27th, 2010 Jobs took the wraps off of the iPad. There had been so much hype about the product that the day after the unveiling, Apple's shares dropped by $7.8 billion, or by 4.1%. October 5th, 2011, was a sad day as
Apple co-founder and CEO Steve Jobs succumbed to pancreatic cancer
. Jobs' passing saw Apple lose $820 million in valuation or 0.2%. Investors obviously felt that the company was in good hands under Tim Cook. And
the introduction of the Apple Watch
on September 9th, 2014, resulted in Apple adding slightly more than $18 billion or 3% to its value.
While Ive no doubt had input in the design of the upcoming 2019 iPhone models, we really don't expect much of a difference except for the controversial square camera module that will be found on the back of the phone in the upper left corner. In addition, case renders appear to show that the mute switch will move up and down instead of the side to side action that this switch has had since the very first iPhone was launched 12 years ago tomorrow.

The
next big redesign for the iPhone is expected in 2020
and Ive most likely has been working on their preliminary designs as well. There already is speculation that Apple will offer three models next year, all sporting OLED panels. The rumored screen sizes are 5.42-inches (iPhone 11s), 6.06-inches (iPhone 11Rs) and 6.67-inches (iPhone 11s Max). At least one, and possibly all three models, will support 5G connectivity. If we had to venture a guess, we'd expect all 5G iPhones to sport a Qualcomm modem chip while any 4G LTE units could be equipped with an Intel chip.