Jony Ive is leaving Apple
64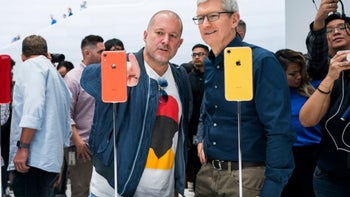 It is absolutely the end of an era at Apple.
The company announced today
that it's chief design officer, Sir Jony Ive, is leaving the company. The man responsible for the design of many iconic devices including the iPhone and the iPad is forming an independent design company. And yes, Apple will be one of its major clients. In addition to creating the look and finish of many Apple products, Ive's distinctive British accent could be heard narrating most of Apple's new product videos during the iPhone era.
Ive first came to Apple in 1992, working as a member of the company's industrial design group. One of his first assignments was to work on the design of the second generation Newton personal digital assistant (PDA) and the MessagePad. In 1997, Apple co-founder Steve Jobs returned to Apple and Ive was promoted to senior vice president of industrial design. He and Jobs combined on an amazing run of successful new products that might never be topped. It started with the all-in-one Apple iMac G3 released in 1998. With a brightly colored translucent case, the design stood out in a sea of dull desktop PCs. In 2002, a whole new design was used on the iMac G4. Keeping with the all-in-one theme, the screen was attached to an adjustable arm with the motherboard and hard drive placed inside the dome-shaped base. The success of these two products helped revive Apple.
Ive had a big role in the design of iOS 7

Ive also had a big hand in the design of the Apple iPod, which was first released in 2001. Apple's mp3 player was a massive success and combined with the iTunes platform, Apple sold hundreds of millions of units. And then came the iPhone, followed by the iPad and the Apple Watch. By the time Apple's tablet was released, Ive had more power than anyone at Apple outside of Steve Jobs. With that power came a huge paycheck estimated to be as high as $30 million by 2011, with an additional $25 million stock bonus.
The company is not immediately planning on naming a new chief design officer. Instead, Apple said that design team leaders Evans Hankey, vice president of Industrial Design, and Alan Dye, vice president of Human Interface Design, will report to Chief Operating Officer Jeff Williams.
"Jony is a singular figure in the design world and his role in Apple's revival cannot be overstated, from 1998's groundbreaking iMac to the iPhone and the unprecedented ambition of Apple Park, where recently he has been putting so much of his energy and care. Apple will continue to benefit from Jony's talents by working directly with him on exclusive projects, and through the ongoing work of the brilliant and passionate design team, he has built. After so many years working closely together, I'm happy that our relationship continues to evolve and I look forward to working with Jony long into the future."-Tim Cook, CEO, Apple
"After nearly 30 years and countless projects, I am most proud of the lasting work we have done to create a design team, process and culture at Apple that is without peer. Today it is stronger, more vibrant and more talented than at any point in Apple's history. The team will certainly thrive under the excellent leadership of Evans, Alan, and Jeff, who have been among my closest collaborators. I have the utmost confidence in my designer colleagues at Apple, who remain my closest friends, and I look forward to working with them for many years to come."-Jony Ive