Apple Watch breaks cover: the new category
99+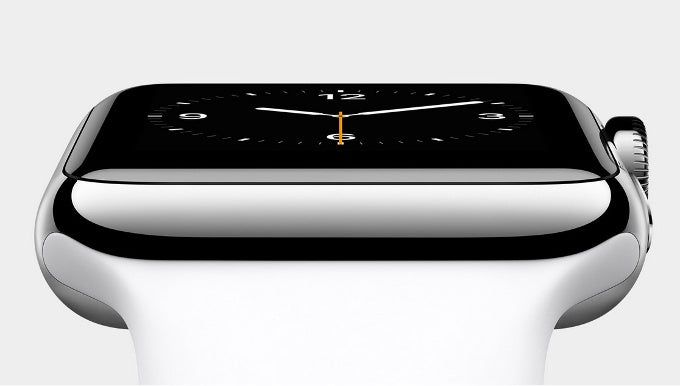 The Apple Watch is real: after months of endless leaks and speculations about an 'iWatch', Apple unveiled the new Apple Watch to a crowd of tech and fashion journalists. The Apple Watch is a tech gadget with silicon humming under the hood, but it's not one made for geeks - it has the stylish and fashionable looks that will appeal to ordinary people.
Apple chief executive Tim Cook made it abundantly clear that the Apple Watch is "
an entirely new product ... We believe this product will redefine what people expect from its category."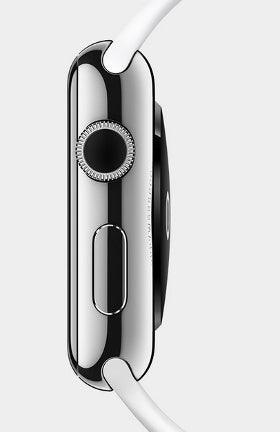 First, let's break down the essential characteristics of the Apple Watch:
Rectangular display (with no round option) uses a bendable AMOLED panel
Comes in two sizes: 42mm and 38mm (diagonal)
Three editions: stainless steel, anodized aluminum, and 18-karat gold
"Digital Crown" jog dial on the side allows easy navigation
Brand new Watch OS with user interface tailored to the smaller screen size
Siri is on board
Sensors: infra-red and visible-light LEDs, along with photosensors, capable of detecting your pulse rate
A wide selection of bands
Touchscreen and navigation
The Apple Watch features a touchscreen that can also sense force via a new 'Taptic Engine', so it knows how hard you touch it and reacts differently. Apple calls the harder touch Force Touch and it basically acts as a right mouse click, showing otherwise hidden options.
A lot of the navigation also happens via the new Digital Crown that is particularly useful for quick zooming in and out. It also acts as a button - press it and you go back to the main menu.
Functionality
While we are used to smartphones and the benefit they bring to our daily lives, smartwatches are a brand new category that actually first has to convince us in all the added value it brings over a classic watch. Here is what the Apple Watch can do, and it's up to you to decide whether this is enough of a reason to make you switch to a smartwatch.
First, you have plentiful watchfaces that are hugely customizable and can be animated, you have quick access to your contacts that you can text with customizable emoji, plus if a contact of yours has and with gestures (but there is no on-screen keyboard), there's even a photos app with your latest pictures (and you zoom in and out using the crown). Next, you've got maps with navigation, so you can find your way around just by using the timepiece. Mapping and navigation are actually an area where Apple brings a lot of value with the taptic engine that vibrates differently to alert you discreetly when you need to turn left or right, so you know the correct direction without having to even look at a screen.
Apple is opening up access to the Watch via an SDK it calls 'WatchKit', so by the time the timepiece arrives, chances are that it will have some great third-party apps. Developers have already made use of it, and the major apps from services like Facebook and Twitter will come built right in the watch. Others have also jumped in: you have American Airlines, for instance, City Mapper, BMW, and many more.
We've actually summarized all the new functionalities of the Apple Watch right below, take a look.
Design
The Apple Watch has been received with a very positive reaction in the community of watch enthusiasts. It's clear that Apple has done an outstanding job with the design of the timepiece, paying meticulous attention to the smallest of detail. Starting with the fairly universal rounded form that would appeal equally to men and women (some competitors even accuse it of being 'too feminine'), and finishing with the easy mechanism for the bands. Snapping different bands is easy and happens with just a click, not requiring any special tools.
The bands alone can be a topic of a separate discussion. Apple has done an outstanding job with covering for all tastes, and even bringing retro styles of bands like the Milanese loop that was fashionable in the middle of last century. A look at the classic link bracelet alone reveals the attention to detail that went into this - each link is engineered to fit with the other, and you can pop pieces out to adjust to wrist size. Apple has also specifically polished the style, and the upper chains differ in size, going larger as the watch connects with the chain links. You have leather, sports polyurethane bands, and so much more.
Apple Watch will work with Apple Pay
The Apple Watch "can be worn all day, in any occassion," according to Apple CEO Tim Cook. We take this as a hint that the battery will last a day.
Fitness and Workout
There are two apps on the Watch in particular that will try to push you into leading a healthier life. Both of them will integrate with the new HealthKit app and will give you health stats.
Unlike other simpler smartwatches that only measure step count, the Apple Watch actually breaks down activity in three types of exercises: Move, Exercise, and Stand. Each of these three category breaks down in a ring that your goal is to fill up by staying physically active. The goal is to motivate you to sit less and move more, arguably, the most important factor for a healthy living.
"It's also a comprehensive health and fitness device."
The killer feature for 9 to 5 office workers, however, might be the fact that the Watch detects whether you have been stationary in the last hour and urges you to stand up for at least a minute every hour. A little something that can have a huge impact on your health.
Apple Watch price and release date
The Apple Watch is only getting officially announced today, but will arrive on the market in early 2015.
There will be three variants coming: the Apple Watch (made of stainless steel), Apple Watch Sport (using anodized aluminum), Apple Watch Edition (with 18-karat gold). The price is set at $349 for the basic model, but we are hearing that this starting price might actually differ hugely from the price of the other, more premium Apple Watch models. The 18-karat gold watch for instance, is said to be made of solid gold, and estimations are that it might carry a price tag of over $5,000. This is an unheard of price when we speak about smartwatches, but Apple never even mentions the word smartwatch, and clearly positions the Apple Watch as a rival to classical timpieces where equivalent materials carry tens of thousands of dollars in price.