Latest OnePlus 2 specs leak claims a 5.5" 1080p panel, and a hefty body
21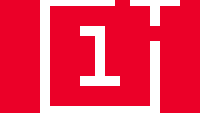 The
OnePlus 2
announcement is fast approaching, pegged for the end of the month, and by now we know most of the handset's specs from various leaks and tips. The OnePlus 2 is said to come with a Snapdragon 810 chipset, a USB Type-C port, an
eventual metallic body
, and there will be models with 4 GB of RAM, as
the company itself teased
.
The handset is expected
to cost in the vicinity of $450
, presumably for the most decked-out A2003/05 models with 4 GB of DDR4 RAM, but one very important aspect of the specs sheet was sorely missing so far - the screen diagonal. Granted, it was pegged as
being between 5.5"-5.7" by a prominent leakster
not long ago, and now the same tipping account posted the full specs sheet of the basic A2001 version with 3 GB of RAM, indicating that the OnePlus 2 will have a 5.5" 1080p panel.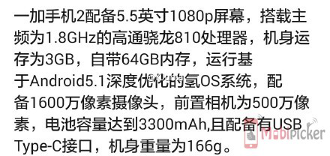 We can't say that we are unhappy with that decision, if it indeed materializes, as long as the phone's price is kept in check, and there is more availability at that price than
what happened with its predecessor
. The rest of the sheet shows a 16 MP rear camera, 5 MP selfie snapper, 64 GB of storage, and a 3300 mAh battery. A metal body is all the more likely, looking at these specs, given that the weight of the phone is shown at the hefty 166g mark. That's a far cry from
the best achievements with all-metal Android handsets
, though.
All in all, a fine list, save for the weight and the 810 chipset, so we can't wait to see the final design, given that almost everybody went premium this year, using upscale materials for their flagship and even midrange chassis.