New OnePlus 2 sketches reveal features of the sequel, including a duo camera set up
10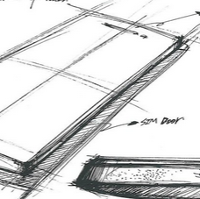 With the OnePlus 2 unveiling coming near the end of this month, a new set of sketches show off some of the features of the upcoming handset. For example, the OnePlus 2 will apparently feature an 8MP front-facing camera which means that you will be able to take spectacular looking selfies, and more. The phone will feature a Type-C USB port, with stainless steel used on the bottom of the handset near the port.
More interesting is the sketch showing the back of the phone. There, we see what appears to be a duo camera set up with a fingerprint scanner underneath. By the way, the fingerprint scanner is said to be more accurate than Apple's Touch ID. Don't forget to take these sketches with a grain of salt. Use your cynical eye when looking over the images. Nonetheless, the drawings do keep with the general idea that the new model will resemble the original "One" with design changes here and there.
The
OnePlus 2 will be unwrapped on July 27th
via a VR presentation. Cardboard VR viewers, yours for the asking from OnePlus, will be shipped starting on July 3rd. The sequel to the OnePlus One
will reportedly feature a 5.5-inch to 5.7-inch screen
,
powered by the Snapdragon 810 SoC
with 3GB of RAM inside. But as we told you earlier today,
three different model numbers for the OnePlus 2 were discovered
on the Bluetooth SIG, A2001, A2003, and A2005. That means we could end up with an entry level version, a mid-range model, and a high-end variant of the OnePlus 2. Stay tuned!
source:
BusinessInsider