Looking for a premium Android design? Here are the lightest all-metal phones (2015)
19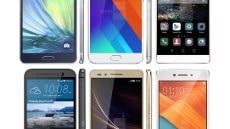 Brace yourselves, 'tis the year of the metal Androids! Metal doesn't have to be heavy metal, though, as many manufacturers that switched to the premium material for their flagship and midrange chassis did prove. Even before Samsung ditched the plastic paradigm for metal-and-glass chassis with the
Galaxy S6
blockbuster, there were numerous makers this year that announced metal-clad warriors to die for, and we've rounded the best and the lightest of them below.
Looking at the list, we can say that the name synonymous with stylish metal exterior - the HTC One line - somewhat dropped the ball in that respect, while the Chinese makers blew the roof this year, introducing really light, thin and good-looking premium Androids that won't break the bank for you. Still, on top of them all is this year's representative of Samsung's A-series, the undisputable champ when it comes to the lightest and one of the most compact metal chassis, relative to the screen size. Which one would you pick?
It would be crazy not to start with the Galaxy A7, as Samsung did an amazing job with this one. No body issues for the aluminum-clad phone, as, at 4.97 oz (141 g), it is the lightest metal warrior for its generous display size. The Galaxy A7 is Samsung's thinnest smartphone announced to date, measuring 151 x 76.2 x 6.3 mm. The handset sports a 5.5-inch display with 1080 x 1920 pixels, and has an octa-core Exynos 5430 processor inside, being the larger and more powerful brother of the Galaxy A5 and Galaxy A3. Other features: 5 MP front-facing camera, 13 MP rear camera, 2 GB of RAM, 16 GB of expandable internal memory, and a 2600 mAh battery.
Lenovo now makes not only the longest-lasting Android handsets with its 4000 mAh battery P-series, but is also the home of funky designs, just like this VIBE X2 Pro proves. Vivid as a cut cake, its chassis is made out of tri-color aluminum "layers", and is just 4.94 oz (140 g) light, which makes it the lightest metal phone in our rank here, despite the well-sized 5.3" 1080p display. The VIBE X2 Pro is also a member of the sub-7mm thickness club, which sadly means that the battery is 2410 mAh only, so don't expect it to last more than a day of heavy work. The slim Jim is equipped with a Snapdragon 615 chipset, 2 GB of RAM/32 GB storage, and a 13 MP rear camera - not shabby at all.
Meizu touted the MX5 as being one of the lightest metal phones out there, and it truly delivers. The CNC-machined aluminum unibody comes at just 7.6mm thin, and with 149 grams of weight, which is a pretty stellar achievement for a metal-clad 5.5-incher. The handset runs on a new Helio X10 Turbo chipset with eight Cortex-A53 cores at 2.2 GHz, and a PowerVR G6200 graphics processor. It is coupled with 3 GB of RAM, and the phone comes with 16, 32, or 64 GB of storage. The rear camera is a generous 20 MP unit, with a 5 MP front shooter, while a 3150 mAh battery rounds up this fine offering.
Deserving of its place amongst the lightest metal phones this year, the Huawei P8 flaunts a sealed all-metal chassis that is only 6.4mm thin, and comes at just 5.08 oz (144 g) of weight. That didn't prevent Huawei from including a powerful hardware inside, like an octa-core Kirin 930 chip and 3GB of RAM inside. The 16 GB native storage may seem small, but a microSD slot for expansion gets thrown in. There is 13 megapixels camera with OIS on the back, as well as 8 megapixels front shooter. The phone is powered by a very decent for its thickness 2680 mAh battery capacity, and runs Android Lollipop out of the box.
What, another Lenovo? Yep, at 5.11 oz (145 g), not only is the VIBE Shot one of the lightest metal-clad phones of the year so far, but it is also a specialized one, with an emphasis on the camera prowess. The phone is amazingly stylish, highly affordable, and, from the looks of it, truly capable camera-centric Android phone. If a 16 MP BSI sensor with optical image stabilization, tricolor LED flash, and six-element lens with sapphire coating doesn't make a camera-oriented handset, we don't know what does, but the kicker is that Lenovo managed to stuff all that jazz in a premium 7.3mm thin chassis that is built of aluminum, with Gorilla Glass 3 front and rear surface. Kudos to Lenovo for pulling the style off, but that's not all -the Vibe Shot is equipped with a fine 5" 1080p display that offers 400+ ppi density, a 64-bit Snapdragon 615 chipset that is just a step below Qualcomm's finest, 3 GB of RAM, and the generous 32 GB of storage to save all the media you are going to create with the phone, plus a microSD slot if you need more space.
At 5.19 oz (147 g), the Oppo R7 might be a bit heavy for a 5-incher in our particular ranking of the lightest, but it is the thinnest of them all metal warriors, along with the largish Galaxy A7. The display is with a resolution of 1080 x 1920 pixels, the phone runs on the Snapdragon 615 system chip, and we get the generous 3 GB of RAM here, which you don't see every day in midrangers. On the camera side, the handset sports a 13 megapixels main camera, and 8 megapixels front one. The 2320 mAh battery might not seem much, but let's not forget the 5.63 x 2.80 x 0.25 (143 x 71 x 6.3 mm) dimensions of the chassis it is stuffed in, making Oppo R7 the most compact metal phone of the year.
The 5.54 oz (157 g) heavy Honor 7 has a stylish aluminum alloy exterior, and a 5.2" 1080p displays with 423ppi. It is run by the company's own 64-bit Kirin 935 chipset, clocked at 2.2 GHz maximums, with 3 GB RAM and 16-64 GB internal memory, plus a microSD slot for expansion. Here we come to the impressive parts about the affordable Honor 7 - it will ship with a 20 MP rear camera, which will sport Phase Detection Auto Focus to boot.
Due to its front-facing BoomSound stereo speakers, the One M9 is one of the heaviest and least compact for its 5" screen size metal phones for the year. At 5.54 oz (157 g), it weighs more than the 5.5" Meizu M9, for instance, which also has a 20 MP, camera, not to mention how much heavier it is than the Galaxy A7 5.5-incher. It is one of the most powerful of them all heavy metals, though, with a (literally) scorching Snapdragon 810 chipset, 3 GB of DDR4 RAM, and 32 GB of storage out of the box.