Best water-resistant smartphones
32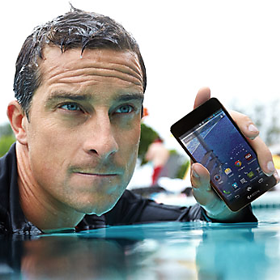 Most smartphone users seem to agree that
water-resistance
is a very important feature, or at least a nice extra capability. This probably explains the fact that we now have more water-resistant handsets than ever, including expensive, flagship models.
Sure enough, for folks wanting a phone that can withstand more than just submersion in water,
truly rugged devices
have been available for quite some time. But we're not going to talk about them right now, because not many customers would buy one of those to be their everyday phone.
What we are going to present you is a list of
normal smartphones
that are water-resistant. They're not extra-bulky or extra-ugly, and don't cost more than other devices in their price category. And we think they're the best choices you have if you're in need of a new smartphone that isn't afraid of water.
In no particular order:
Sony was the first major company to launch water-resistant flagship smartphones, starting with the Xperia Z from early 2013. The Z1 sequel was released not long after that, and now we have a second sequel: Xperia Z2, which is available in lots of markets since the first quarter of the year. The large, yet thin Xperia Z2 is IP58-certified, so water will never damage it - unless you submerge it at depths lower than several meters. With a 5.2-inch 1080p display, a powerful Snapdragon 801 processor, 3GB of RAM, and a good 20.7MP rear camera, the Xperia Z2 is seen by many as Sony's best smartphone thus far. The handset is available in the US unlocked, for $699.
Sony Xperia Z2 Review
.
Yep, Samsung's 2014 flagship smartphone is on the list, too - and you probably aren't surprised to see it here. The Galaxy S5 is IP67-certified, meaning it's better protected against dust than the Xperia Z2, but it can be submerged only in up to 1 meter of water, for no more than 30 minutes. The advantage of the Galaxy S5 is that it's widely available, and most US mobile carriers are offering it (for prices from $199 on contract to $$649 without any agreement). Like Sony's flagship, the Samsung Galaxy S5 offers a wide array of high-end features, plus some extras like fingerprint scanner, and heart rate monitor.
Samsung Galaxy S5 Review
.
Sony Xperia Z1 Compact
We know: both the Galaxy S5 and Xperia Z2 may be too large for some users. But the Sony Xperia Z1 Compact is probably just perfect, size-wise, as it sports a 4.3-inch 720p display. Other than the smaller screen (and smaller overall dimensions), the Xperia Z1 Compact is a very capable handset. Its features include IP58-certification, a quad-core Snapdragon 800 processor, 2GB of RAM, and a 20.7MP rear camera. The smartphone is sold unlocked in the US for $549.99.
Sony Xperia Z1 Compact Review
.
Samsung Galaxy S5 Active
The Galaxy S5 Active ditches the fingerprint scanner of the original S5, but adds a sturdier case around its internals. Thus, the handset is shock-proof, in addition to being water-resistant (IP67-certified). Behind its rugged appearance, the Galaxy S5 Active is still an S5, so it costs $199 on contract, or $659.99 sans agreement. The smartphone is available exclusively at AT&T.
Samsung Galaxy S5 Active Review
.
Kyocera Hydro Vibe / Hydro Icon
Kyocera's been making water-resistant smartphones for years. The Hydro Vibe is one of its latest offerings, being available in the US via Sprint and Virgin Mobile. It's certainly not a high-end device, but that's why it's offered for free with a 2-yr Sprint contract, or for $149.99 off-contract at Virgin Mobile. The handset is IP57-certified, and runs Android 4.3 Jelly Bean. Other features: LTE, a 4.5-inch qHD display, 8MP rear camera, quad-core 1.2GHz Snapdragon 400 processor, 1.5GB of RAM, 8GB of internal memory, and microSD card support. A different-looking version of the Hydro Vibe, called Hydro Icon, is available at Boost Mobile.
Kyocera Hydro Elite
Released by Verizon last year, the Kyocera Hydro Elite was (and still is) promoted by Bear Grylls - that's him in the first photo of this article, carrying a Hydro Elite. The smartphone runs Android Jelly Bean, and is IPX7-cetified. That aside, it offers a 4.3-inch 720p display, LTE, dual-core Snapdragon S4 Plus processor, 1.5GB of RAM, and 16GB of expandable internal memory. The Hydro Elite is free with a 2-yr Verizon contract agreement, but costs $349.99 off-contract.
Kyocera Hydro Elite Review
.