iPhone 13 mini review: the small phone that's actually good
28
We may earn a commission if you make a purchase from the links on this page.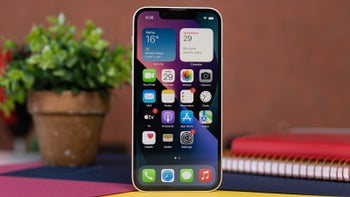 There is a small subset of customers out there who still prefer their smartphones to be on the smaller size. And, while our definition of what a "small smartphone" is has definitely changed over the years, the consensus is this — it needs to be easily pocketable, light in weight, and easy to use with just one hand.
Typically, if there ever is a "smaller" smartphone out there, it will have slow hardware. Very few offer top-line features in a tiny packet. And the iPhone 13 mini happened to be among those few — the same powerful processor and camera as the regular iPhone 13 in a much more compact casing. It's functional and cute!
In 2022, it seems that Apple chose to kill the "mini" line, presumably due to a lack of customer interest. The good news is that the iPhone 13 mini still has the same chip that the iPhone 14 comes with, so you can still consider it to be an upper-tier device that will be supported for quite some years to come. The bad news is that if you were hoping for some sort of upgrade to the mini line — it may not come.
We have a theory that the iPhone mini form factor will make a return as the next generation of
iPhone SE
. However, that may happen some time in 2024, so — for the time being — your best chance at nabbing a tiny iPhone will be the iPhone 13 mini. Well, there's also the
12 mini
, but we find the battery life on the 13 to be much, much better, so go for this one.
iPhone 13 mini pros and cons

iPhone 13 mini review index
iPhone 13 mini everything that's new: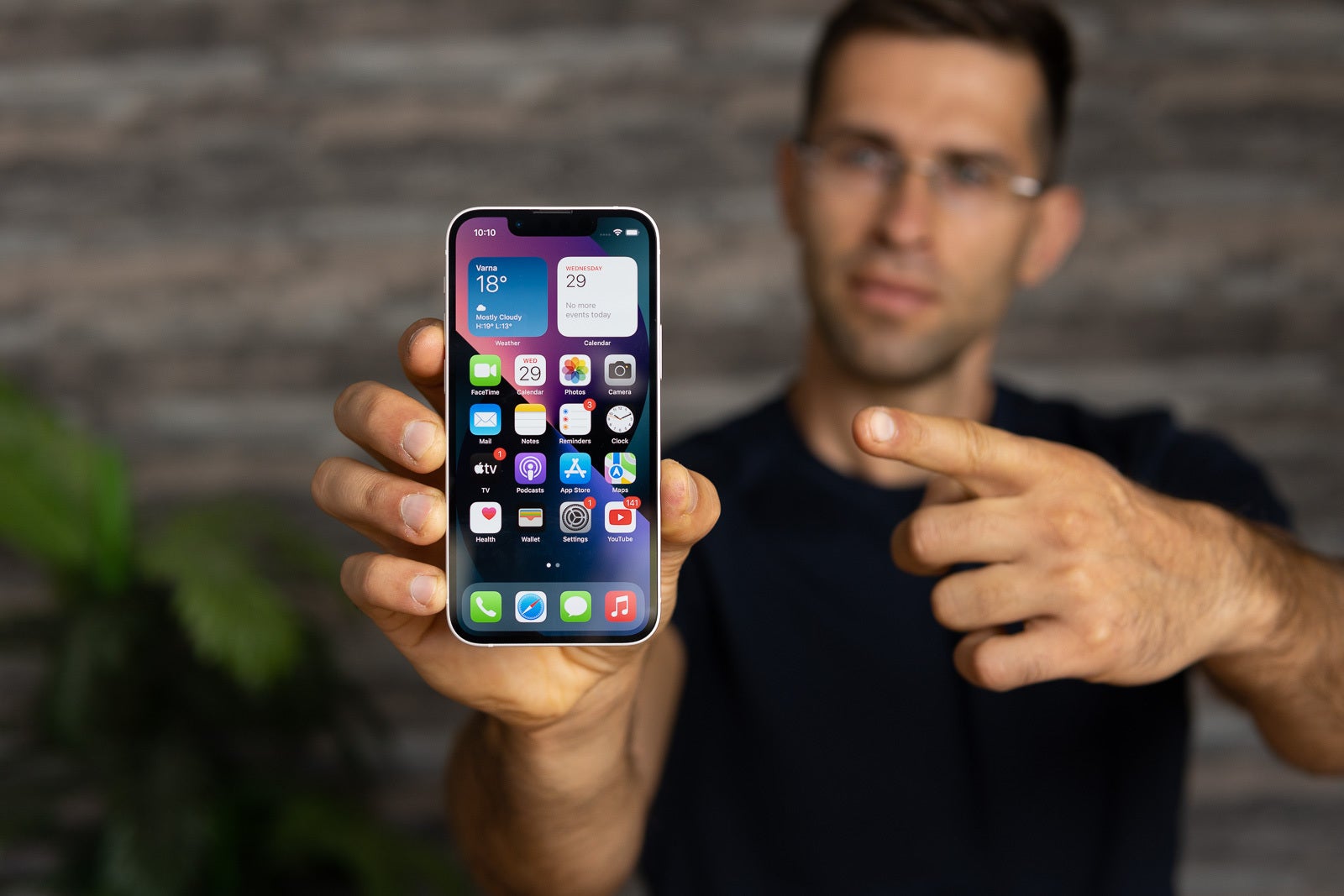 Image Credit - Phone Arena
Don't fix what's not broken is Apple's mantra here and the iPhone 13 mini feels instantly familiar to anyone who's handled the iPhone 12 mini in the past. There are a few new improvements and a couple of things have been shuffled around, but it's mostly the same winning formula from last year.
TL;DR iPhone 13 mini new features
Slightly thicker body, camera lenses now in diagonal layout
Slightly bigger battery than last year, results in longer battery life
Smaller notch on the screen — narrower, but slightly deeper
Brighter display
Larger sensor on the main camera
New photo styles to customize camera output
New Cinematic Mode for video
Base storage is now 128 GB
New Apple A15 Bionic processor
Quick overview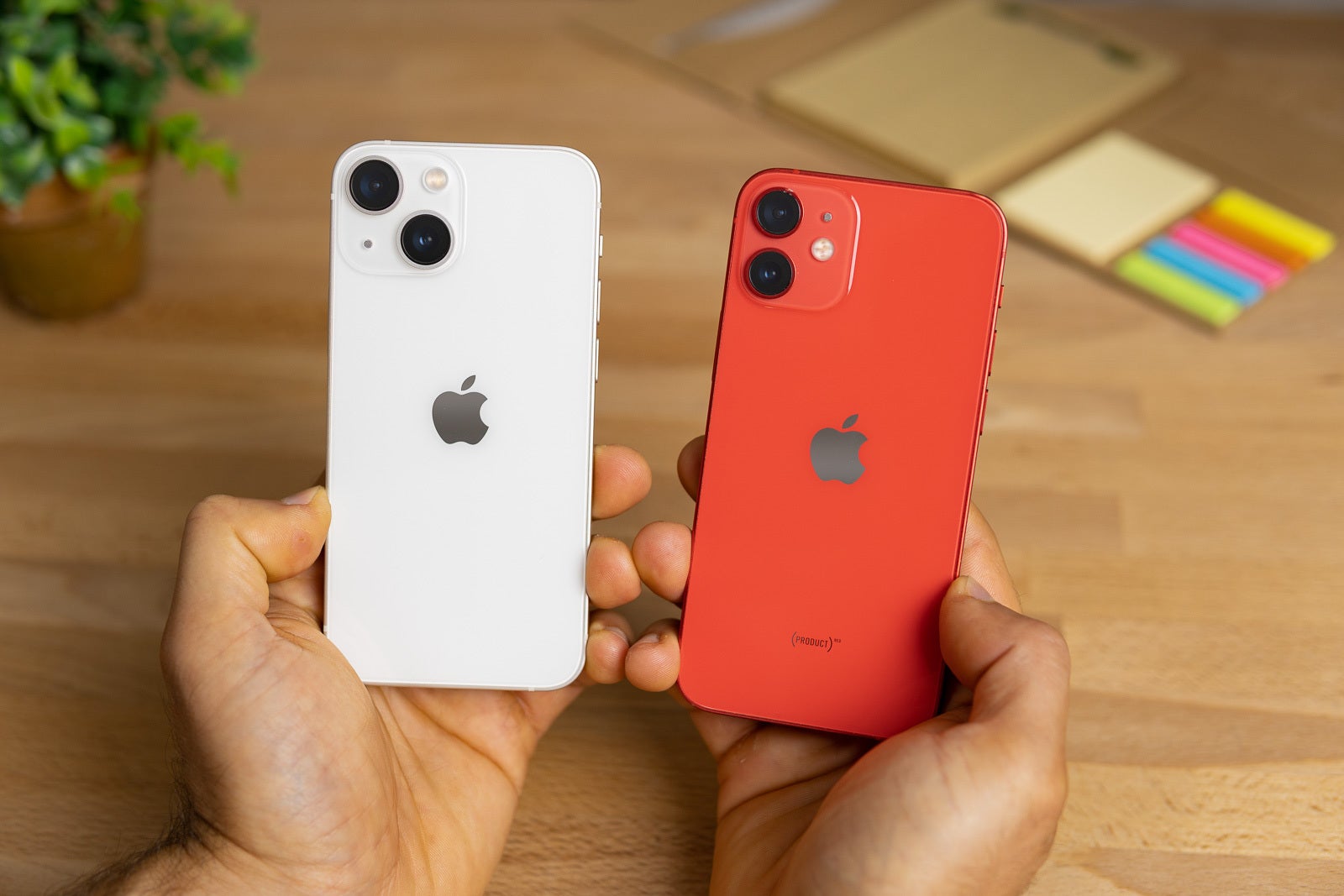 13 mini on the left, 12 mini on the right (Image Credit - Phone Arena)
The iPhone 13 mini is basically the same shape and size as the iPhone 12 mini. The slightly added thickness is barely noticeable considering the tiny size of the device, but the added battery life is definitely there. The new Apple A15 Bionic chip is powerful — no surprise there.
You won't notice any difference in performance, as the A14 was a champ itself, but — again — battery efficiency is definitely improved here.
The OLED screen is 28% brighter than before, and the iPhone 13 mini screen is surprisingly easy to view under direct sunlight — be it for messages, viewfinder use, or video playback.
The glass is still the Ceramic Shield that was introduced last year — great branding, not really scratch-proof. A random speck of sand can still ruin your day.
Apple getting generous with storage?
The base storage has been increased to 128 GB, which is a huge deal. The iPhone 13 mini still costs $729 (starting price of $699 if you buy a carrier model), but now comes with double the storage, which is very appreciated. Especially since Apple is pushing the new camera modes and video recording so hard.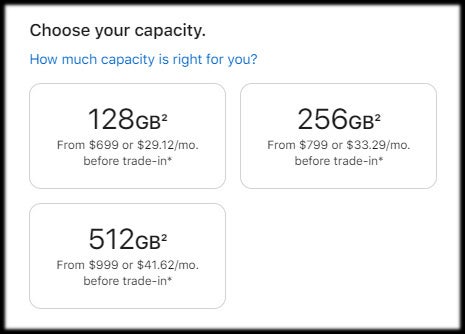 As for camera, yes — it's slightly improved from last year's model. The iPhone 13 mini is a solid camera phone that does well in both well-lit and nighttime scenarios. You don't get the telephoto lens of the iPhone 13 Pro and Pro Max, so no super zooming or fancy portraits (you can still do Portrait Mode with the wide-angle lens). But you still get to play with the (somewhat iffy) Cinematic Mode for video recording and the new Photographic Styles for photo post-processing, which completely change the camera's color and contrast calibration.
Yeah, Cinematic Mode was shown off for the iPhone 13 Pro, but the iPhone 13 mini also has some chops with its duo of rear cameras.
Lightning port: the return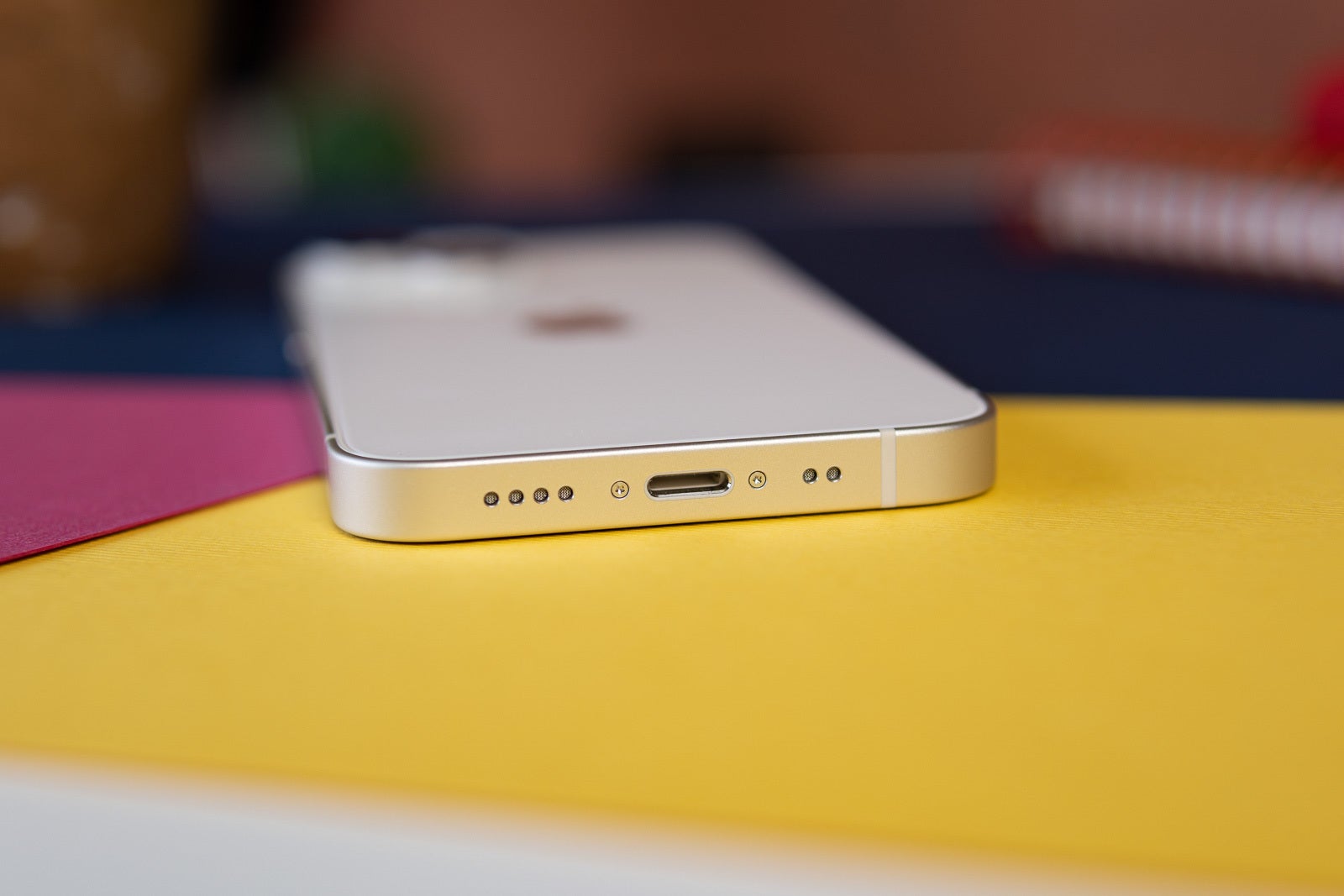 Image Credit - Phone Arena
No surprise here, the iPhone 13 mini still has a Lightning data port, instead of moving to USB C. And no, there's no charger in the box, but thankfully we still get the Lightning cable.
Is the iPhone 13 mini worth buying?
If you are rocking an iPhone 12 mini from last year — hold on to it, unless you are really craving an upgrade in battery life. In all other aspects, the Apple iPhone 13 mini is a "slightly better 12 mini".
If you are coming from an older model, looking for a new phone that is a compact, reliable package — the iPhone 13 mini is a definite buy. It checks all the right boxes, minus one — a high refresh rate screen. This one is still a pain point as the non-Pro models are stuck to 60 Hz. Come on, we could've gotten at least 90 Hz on the "cheaper" models, Apple. No? No.
And no, springing for something like "Cinematic Mode" isn't really worth it at this point. Maybe a few updates down the line.
Don't get a mini just because it's cheaper
If you are looking at the iPhone 13 mini solely for its price, consider whether that small screen might be a hindrance for you. Most people seem to prefer a larger iPhone — sales stats for the iPhone 12 mini weren't that great and there are even rumors that Apple intends to drop the mini line after this one.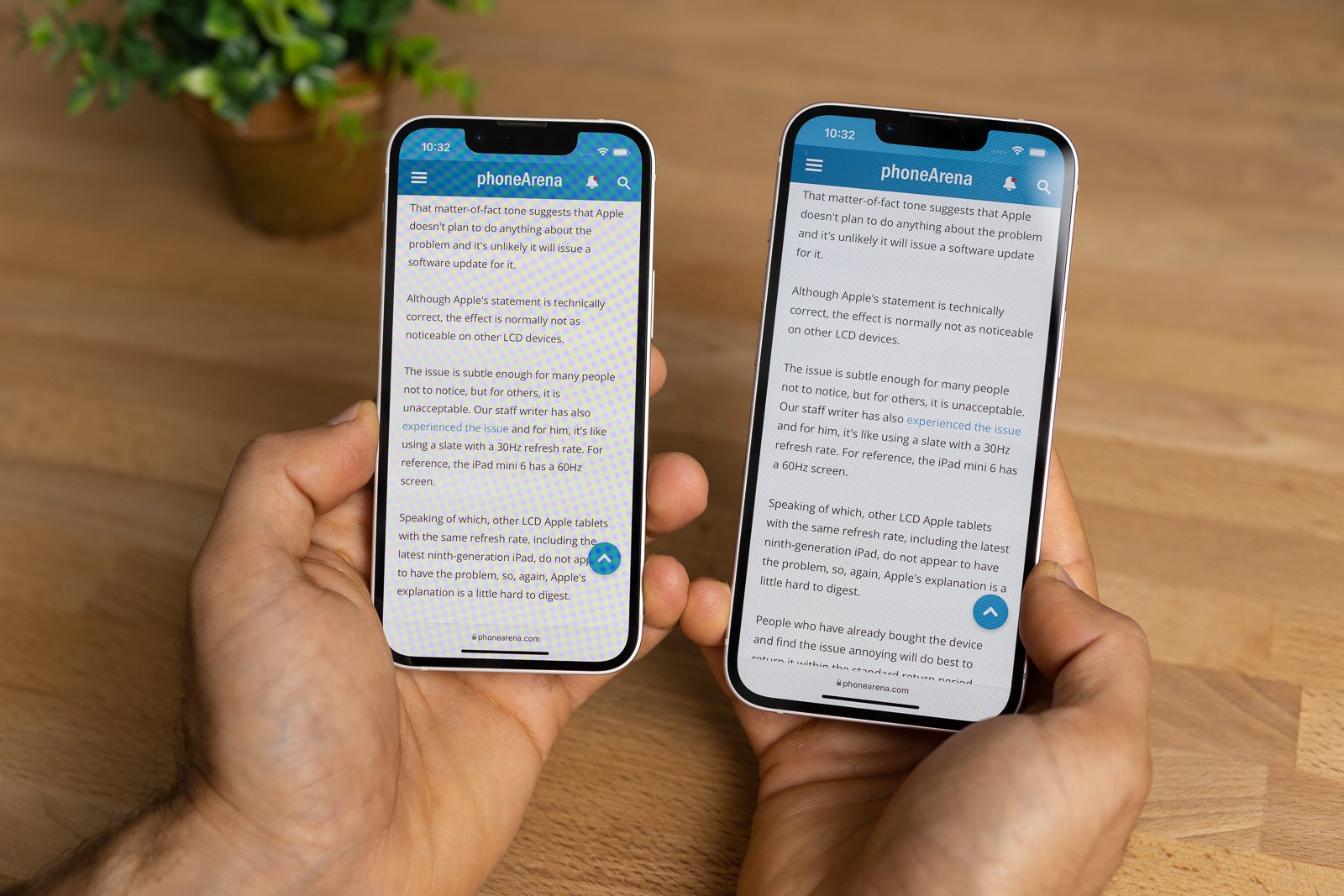 13 mini on the left, 13 on the right (Image Credit - Phone Arena)
So, with that in mind — if you think that you will ultimately prefer having a bigger screen, do consider dropping that $100 extra for the regular iPhone 13 or just go for last year's iPhone 12 — it's still pretty good.
iPhone 13 mini release date
The iPhone 13 mini was announced on the 14th of September, 2021, and began shipping on the 24th of September. Provided there are no shortage issues, you should be able to walk into a store and try the new phone out right now.
iPhone 13 mini price
Just like last year, the iPhone 13 mini starts at $699 if you buy a carrier model. If you prefer to buy unlocked, add $30 to that for a price of $729. Not sure why Apple insists on that extra $30, but that has been the pricing strategy since 2020.
| iPhone 13 mini | Price |
| --- | --- |
| 128 GB | $699 ($729 unlocked) |
| 256 GB | $799 ($829 unlocked) |
| 512 GB | $999 ($1,029 unlocked) |
iPhone 13 mini or iPhone 13?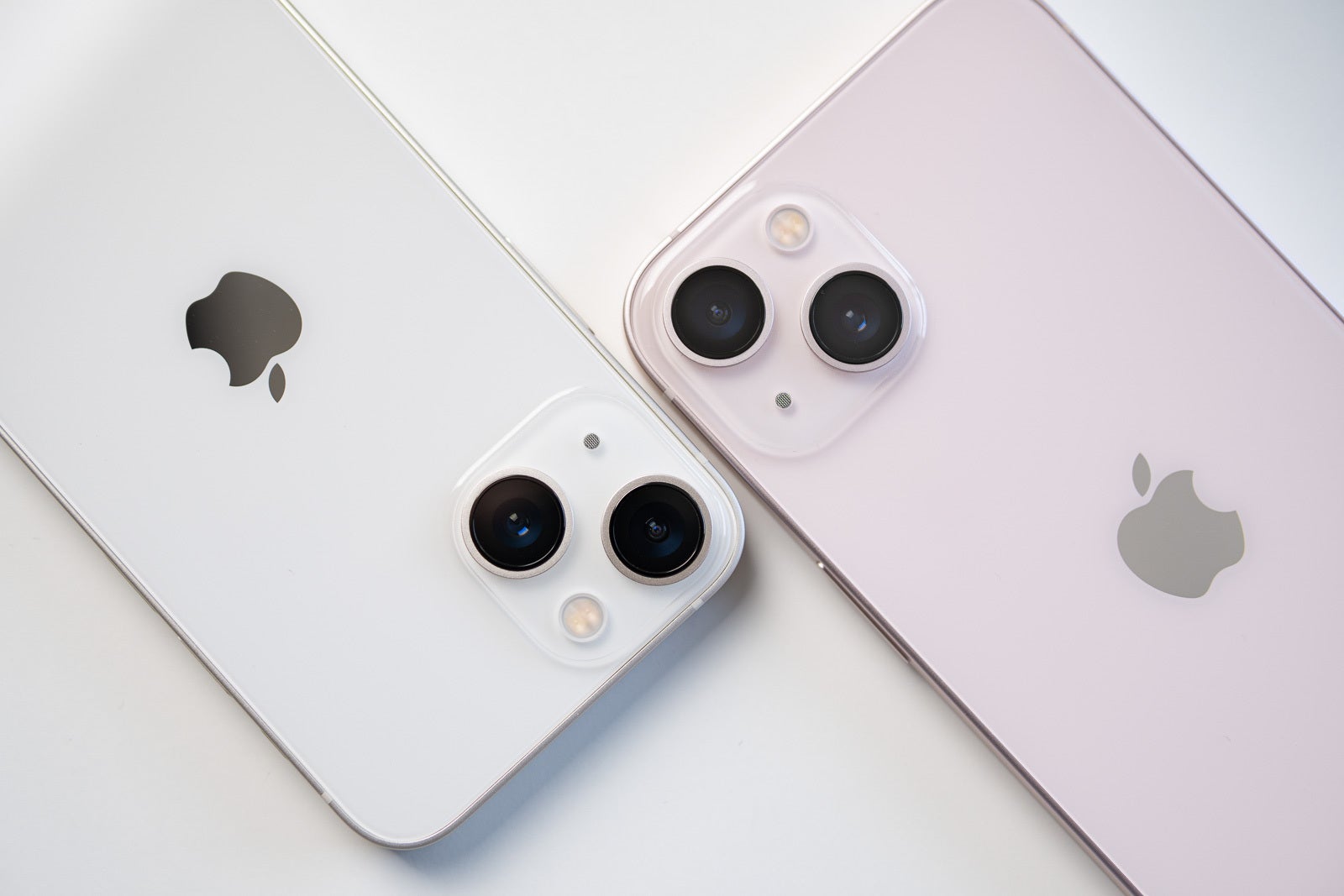 iPhone 13 mini on the left, iPhone 13 on the right (Image Credit - Phone Arena)
Is it worth spending an extra $100 on the iPhone 13 when the iPhone 13 mini is already so good? Well, yes, mainly for the screen size. I've said it multiple times up until now — the iPhone 13 mini is fantastic but has a tiny, tiny screen. This will be awesome for people that want the most portable experience, for sure.
But if that's not you; if you want to game, binge-watch YouTube videos, chat a ton, and do stuff like video edits on your phone — you will find that an iPhone mini is pretty hard to double-thumb on and will have you squinting a lot. For the screen size alone, the iPhone 13 is worth it here. Or hey — trick the system — get an iPhone 12 instead.
iPhone 13 mini alternatives
For what it offers, there are not many alternatives for the tiny munchkin. It just happens to be the most powerful small phone.
The Sony Xperia 5 III is kind of, sort of a compact flagship on the Android side, but it's still very noticeably taller than an iPhone mini.
Then, there's the Pixel 5, which sports midrange hardware and is a year-old model. That about does it for compact Android phones presently.
Of course, you can always just go for last year's iPhone 12 mini and save yourself some cash. You won't be missing out much on performance and display quality. Though, the camera upgrade and battery life improvements of the iPhone 13 mini are something to be missed.
iPhone 13 mini display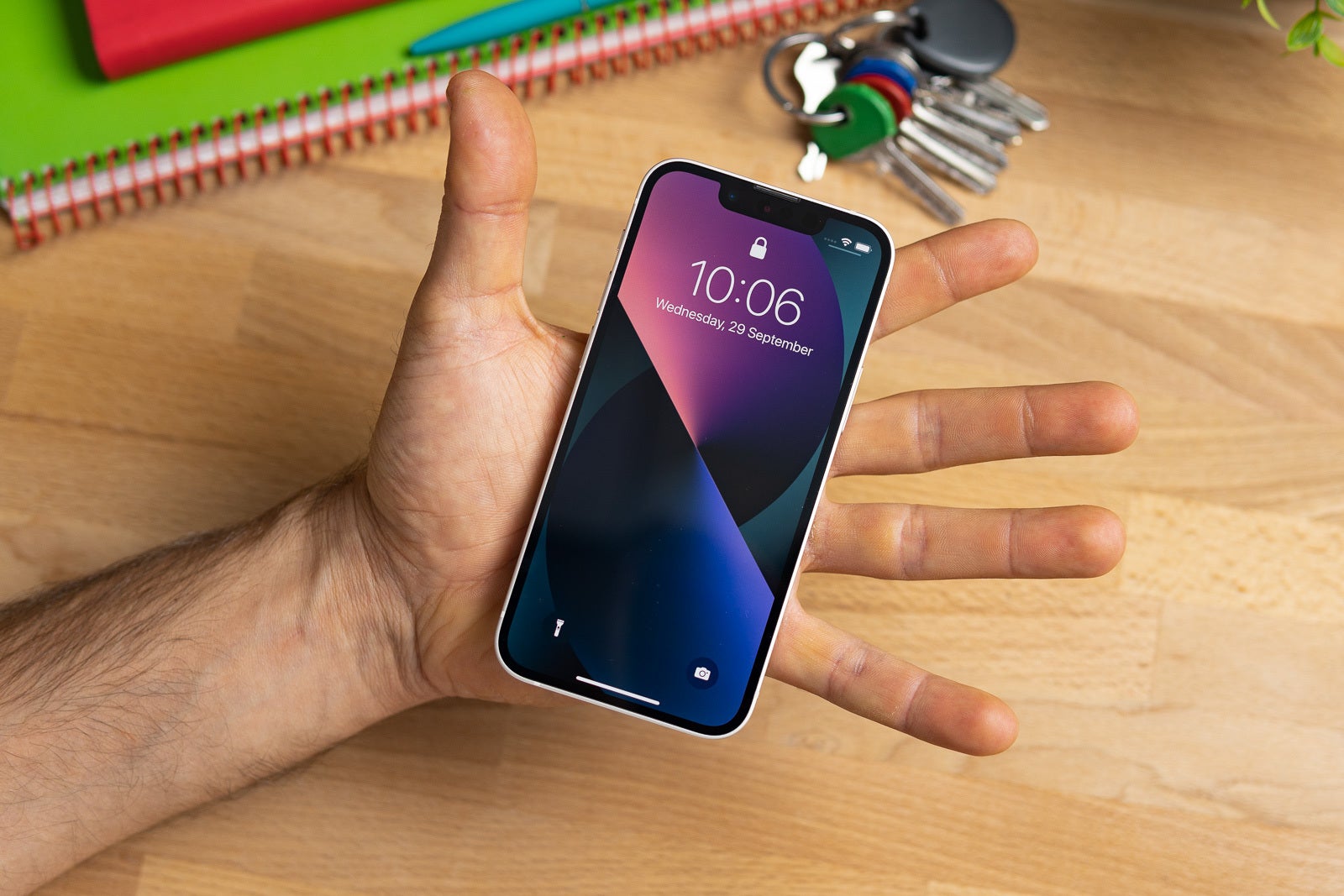 Image Credit - Phone Arena
The iPhone 13 mini has an OLED screen with a 5.4-inch diagonal and a 1080 x 2340 pixel resolution. This results in a pixel density of 477 PPI. It's quite sharp and pleasing to the eye — especially at that size, you won't be noticing individual pixels.
Now, 5.4 inches may sound huge by old standards, but know that the iPhone 13 mini has an aspect ratio of 19.5:9, which makes the screen much narrower than it would've been in the classic 16:9 days. In shape, the iPhone 13 mini is not much bigger than a classic iPhone 5 or a 1st generation iPhone SE.
Notch-inch is perfect
The Face ID-enabling notch over the top of the screen has been slightly redesigned — it's now narrower, but a hair deeper than before. It does look slightly cleaner than before, but it's still very present. I've never been bothered by the notch, but if you are one of the people that are — this redesign won't do much for you.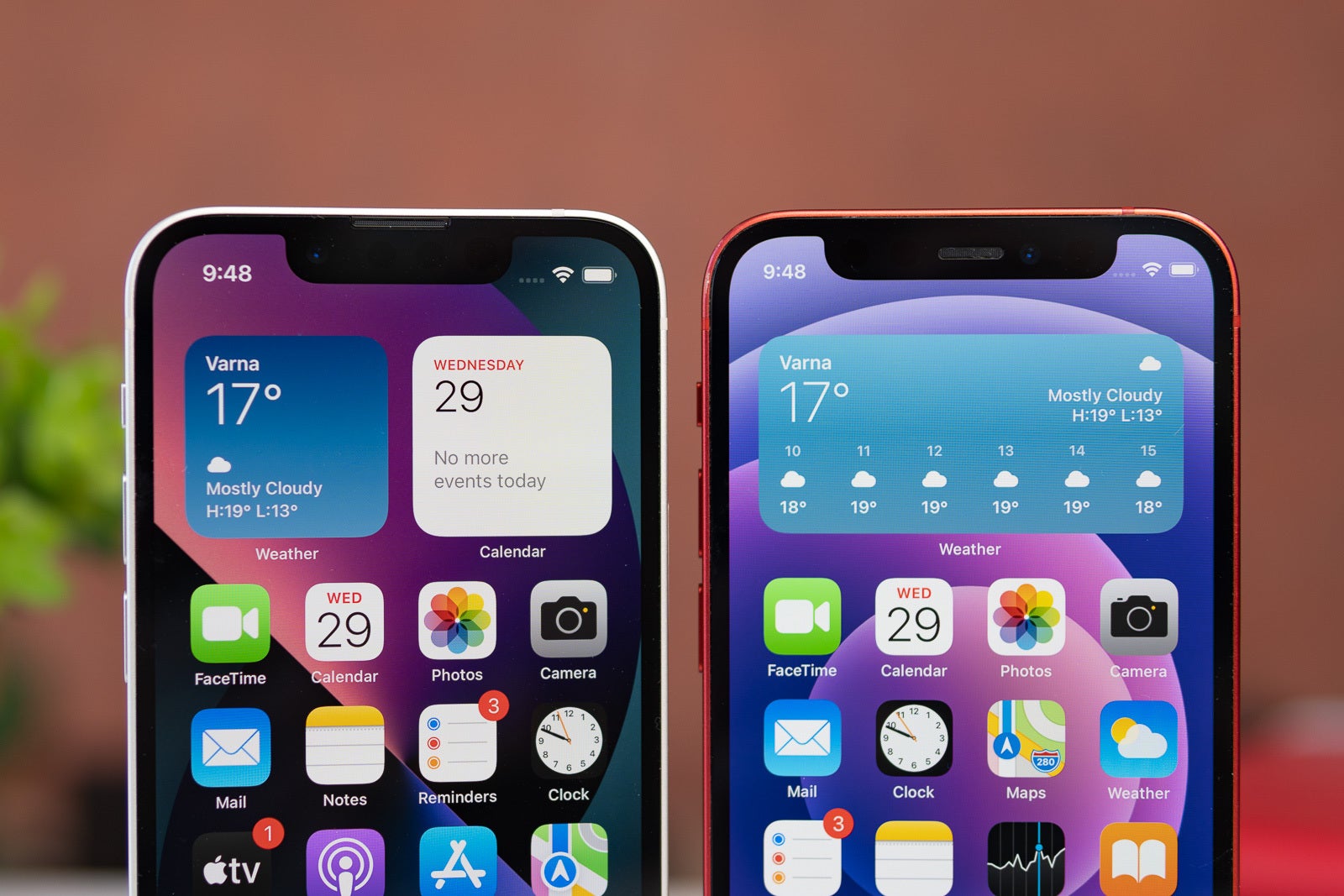 13 mini on the left, 12 mini on the right (Image Credit - Phone Arena)
Is a smaller notch better than no notch at all? I think it's the same deal, not sure why this redesign was needed, especially since it doesn't open up any room for more notifications and stats on the top of the screen. I have a feeling the tighter notch was made to open up more room for the main camera's sensor, which is bigger this year. It doesn't look like much was changed in the size of the Face ID array, it was just... reshuffled.
60 Hz screen, again
The other main gripe I have with the screen is the 60 Hz screen refresh ratio. 120 Hz is reserved for the iPhone 13 Pro line, naturally. One might have hoped that the "cheap" iPhone 13 units would at least get 90 Hz, which is still much better than 60 Hz. But nope, Apple stuck to the old refresh rate.
Is the refresh rate a big deal? Once you've gotten used to 120 Hz, it kind of us. If you have an iPad Pro and an iPhone 13 mini, you will definitely notice it every time when switching between devices. Hey, on the upside, at least this will make your iPad Pro look super smooth and responsive all over again, every time you switch to it after using the iPhone 13 mini for a prolonged time.
Display measurements and quality
Apple claimed the iPhone 13 mini now has a 28% brighter screen. This helps for both daytime operation and for viewing Dolby Vision HDR content with rich contrast on your iPhone 13 mini. And, since the iPhone cameras have been able to record Dolby Vision HDR since last year, it only makes sense that you will want a screen that can view it.
Does it make a difference for the casual user? Not really. And considering the iPhone 13 mini is kind of aimed at the casual users, maybe there isn't much benefit to be had here. But hey, the screen still looks great under direct sunlight, so that's there for everybody!
iPhone 13 mini design
Other than the slightly changed notch on the screen, the design is the same cute box we got last year. Well, the camera system has also been shuffled around a bit. Since the main camera now has a larger sensor, Apple had to change that horizontal camera placement to a diagonal.
It does look a bit weird, doesn't it? I assume we will only get used to it, but it's kind of an odd placement.
However, thanks to that rear cameras redesign, the bump has grown by just a bit, which means your old iPhone 12 mini cases won't fit the iPhone 13 mini. As for MagSafe accessories — they still work and fit as before — wallets, stands, chargers, and clamps should be all good unless otherwise noted by the seller.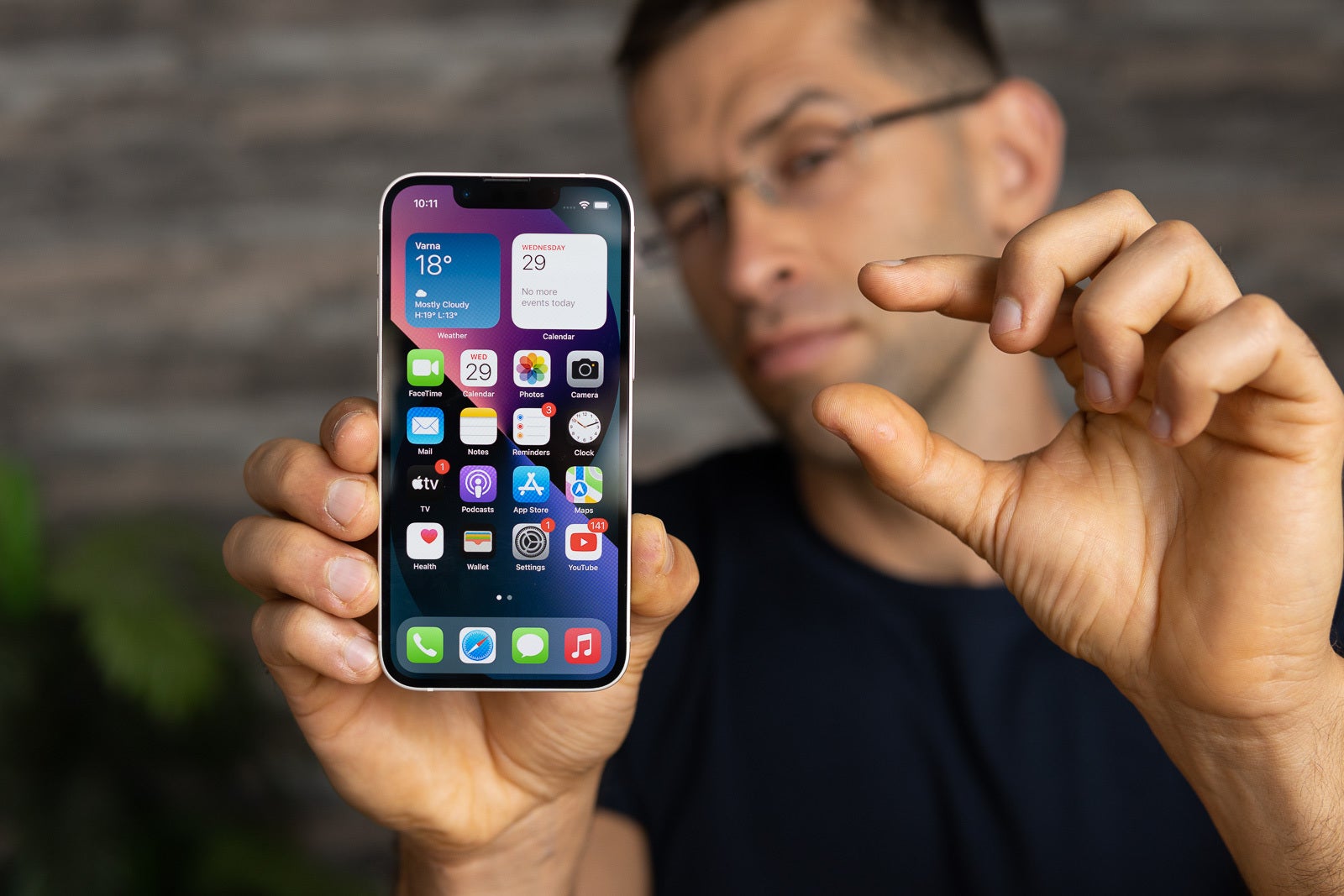 Image Credit - Phone Arena
The boxy design really works for the iPhone 13 mini — it has that "iPhone 5 but modern" feel to it. The buttons are clicky, with nice tactile feedback for every press. And that signature mute switch is still there — I have to admit, I play around with it like it's a satisfying fidget toy and it never gets old (I have seen some that were broken after long use, so I guess I am not the only one).
iPhone 13 mini camera
The iPhone 13 mini gets some new camera features, which were only available on the iPhone 12 Pro Max last year. This includes the bigger sensor and the sensor-shift stabilization.
Main sensor is bigger
For one, the sensor's pixels are now sized at 1.7 µm, bigger than last year's 1.4 µm. A bigger sensor with bigger pixels means that the iPhone is able to gather more light as you press the shutter button, which allows it to work at faster speeds (reducing blur) and capturing better low-light photos.
The iPhone 13 mini is a really, really impressive little camera phone. Fantastic dynamic range, great details and natural colors — we're used to seeing that, but it's now even… better.
While the true camera improvements have been reserved for the Pro line — they get even bigger, 1.9 µm, pixels — the base iPhone 13 and the mini are quite good in their own right.
Photographic styles change the game
We have to talk about the new Photographic Styles. You know how, when we critique phone cameras, we will often explain how one phone's post-processing makes images colder, another one has rich contrast? Then we make decisions based on personal preference and/or how close one phone's camera was to reality? Well, Apple kind of flips the concept of camera comparisons on its head with the 13 series.
The new Photographic Styles option lets you fine-tune the way the iPhone 13 actually processes photos after the snap is taken. Want to get rid of that typical Apple yellow hue? You can do that now. Want rich contrast? OK. Want more warmth? Yeah, you got it.
This is more than applying a filter, this actually changes the phone's photo post-processing, and your settings are preserved. So, you can set it and forget it once and just have the same Style every time you open the camera app.
Now that is kind of changing the game on how camera comparisons will be done going forward. Will Apple's competitors respond with a similar setting in their camera apps?
In any case, if you leave everything at default, you will be greeted by those warm, slightly yellow-ish pictures that iPhones usually produce — they even seem slightly warmer than previous models. But then again, now that you can tune this, this point may be moot.
Sensor-shift stabilization for everybody
Secondly, the main camera now uses sensor-shift stabilization — an optical image stabilization, which doesn't move the lens around, but instead moves the sensor. This was also available on the iPhone 12 Pro Max last year and is now on all of the iPhone 13 series. We tried it and tested it against classic OIS solutions and we couldn't really notice much of an improvement.
That's not to say that iPhone 13 mini videos aren't stable — on the contrary. It's just that they were good with the classic OIS before, too. I wonder if the switch to sensor-shift stabilization isn't made for another reason — maybe in preparation for periscope lenses in the future.
It would be much easier to make a stabilized super zoom camera if the stabilization came from the sensor itself. And, Apple has been rumored to be dabbling in tech that would rival the 50x zoom and 100x zoom of competitors like Samsung and Huawei.
So, my theory is that sensor-shift is currently being installed in these iPhones so Apple has time to take care of any production or software kinks that need to be ironed out before the periscope lenses hit. When would that be? iPhone 14? Fingers crossed...
Ultra-wide camera is mostly the same
The ultra-wide camera seems to be very much like last year's mini model, at least on the specs sheet. The non-Pro line has skipped camera upgrades to the ultra-wide snapper this year, it seems like.
When looking at daytime photos, it seems they are pretty much similar to what we used to get with the old mini — warm, detailed, with corrected distortion. Not bad ultra-wide shots. Certainly not as crazy on the new Pro models, but still on the top end.
There's a noticeable difference when shooting ultra-wide at night, though — more on that below. The new iPhone 13 mini seems to be much more contrast-y, producing deeper shadows, but it's also sharper. Last year's mini gave us brighter nighttime photos, but with noticeably softer details.
Cinematic Mode won't take your breath away
About the new Cinematic Mode — I can't say I am hugely impressed. Aside from doing "Portrait Mode, but in video", this mode also tries to smartly rack focus, which sometimes works well, sure. But a lot of the process is automated, which kind of takes agency away from the creator. Never a good thing, I don't think.
Cinematic Mode is very hit and miss — the faux bokeh bleeds in over the edges of subjects, the focus racking isn't always on point, and it's limited to 1080p at 30 FPS. Not very cinematic there. It feels a bit like a beta, and it's kind of surprising that Apple rolled it out now. Maybe in a hurry to get ahead of a competitor working on the same feature?
In any case, it's a fun thing that you will probably fire up to play with now and again. But I don't expect any influencers to be popping off with crazy Cinematic Mode videos soon.
Night Mode on every camera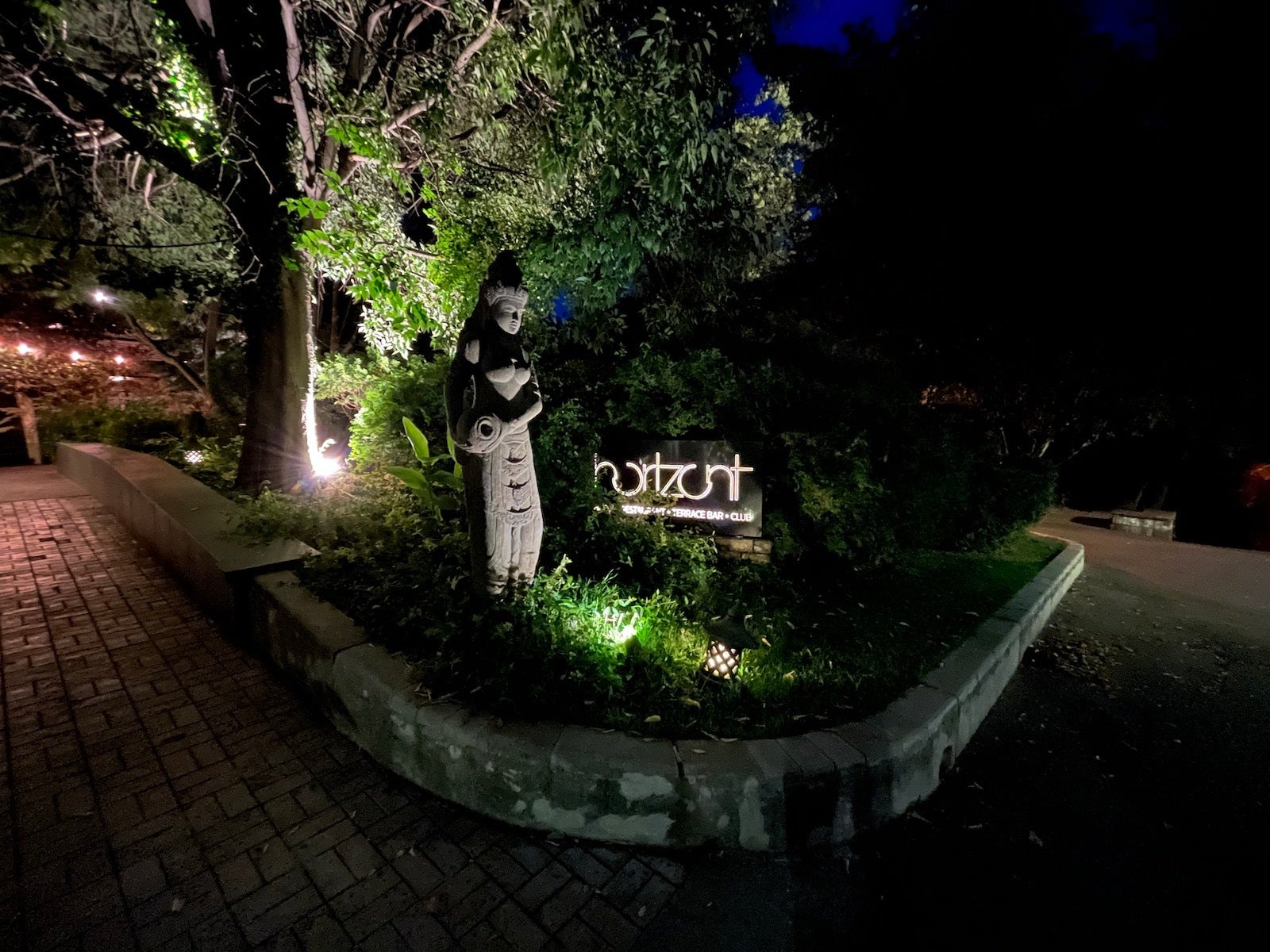 Night Mode makes a return — the slow shutter mode, which automatically activates when it's dark. It can take long exposure from 1 to up to 3 seconds, then stitch all the frames together and make a nice, sharp image. It's sharper and clearer than last year's model and definitely among the best Night Mode solutions out there. Then, there's a real big difference in the ultra-wide camera — the iPhone 13 mini's ultra-wide shots are noticeably darker (but also contrastier and sharper, which I happened to like better).
iPhone 13 mini speakers
Just as before, we have a stereo speaker setup — a bottom-firing driver and an earpiece that can be amped up to work as the second channel.
It gets a good volume out and sounds quite clear — compression has been cleaned up and more instruments come out, even at max volume.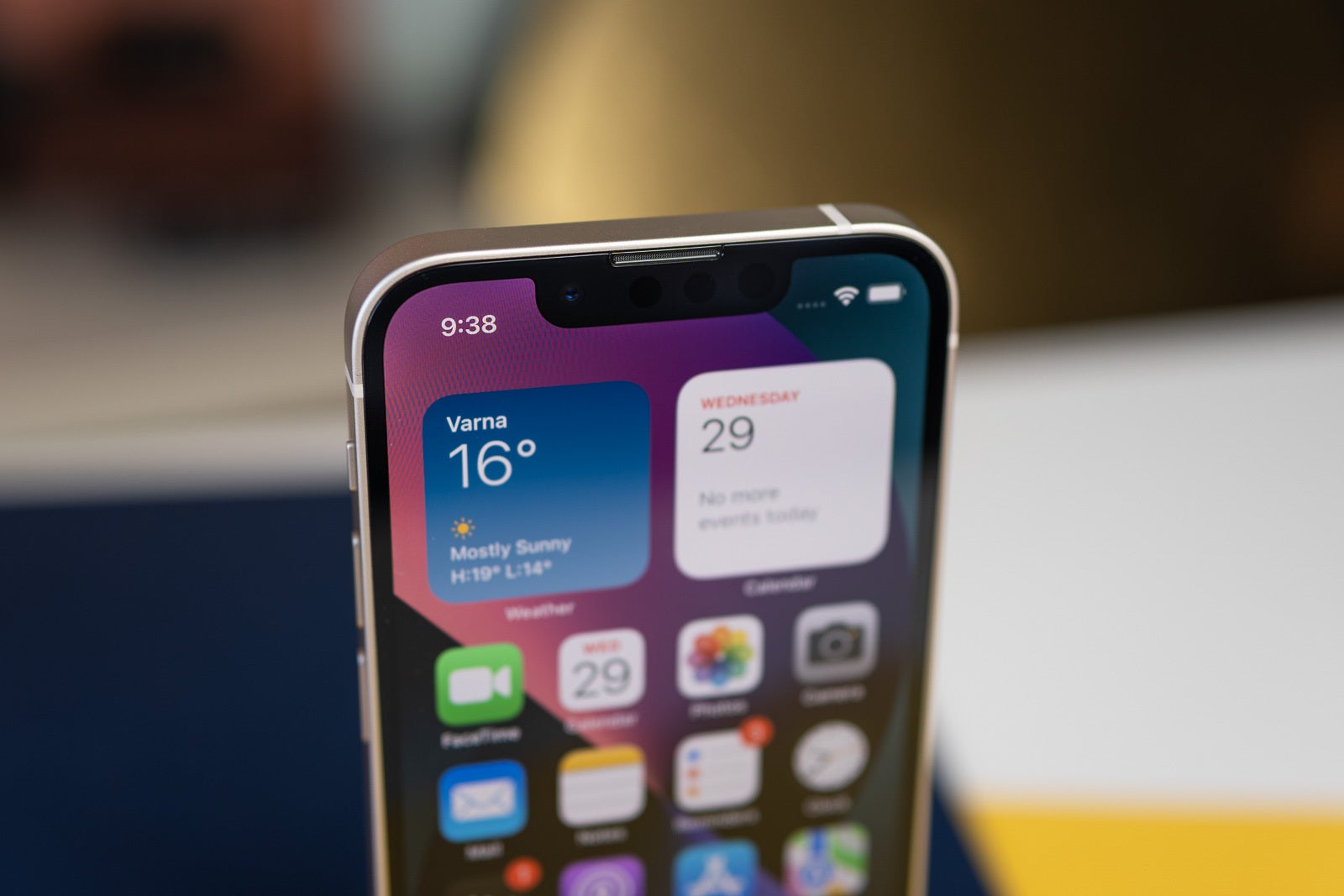 Image Credit - Phone Arena
Don't expect miracles, though — tiny phone, tiny acoustic space, tiny speakers. It doesn't have a massive amount of mids or a good bass. It sounds a bit nasally and can be harsh, depending on the song.
Unlike the Pro Max, which sounds quite massive, the 13 mini's speakers are best used for ringtones and alarms.
It can sound OK for YouTube videos and some light, non-exacting song listening (while washing the dishes, for example).
iPhone 13 mini performance and software
Consistently solid — there's just no other way to say it. The Apple A15 Bionic is, no surprise there, a powerhouse of a chip. But so was the A14 Bionic. The truly impressive part here is the improved energy-efficiency, as the iPhone 13 mini's has better battery life than last year's model.
As for performance in heavy tasks — the iPhone 13 mini has the chops, but when we ran it through a true stress test, it throttled faster than its bigger siblings in the line. Probably due to heat dissipation constraints introduced by the tiny body.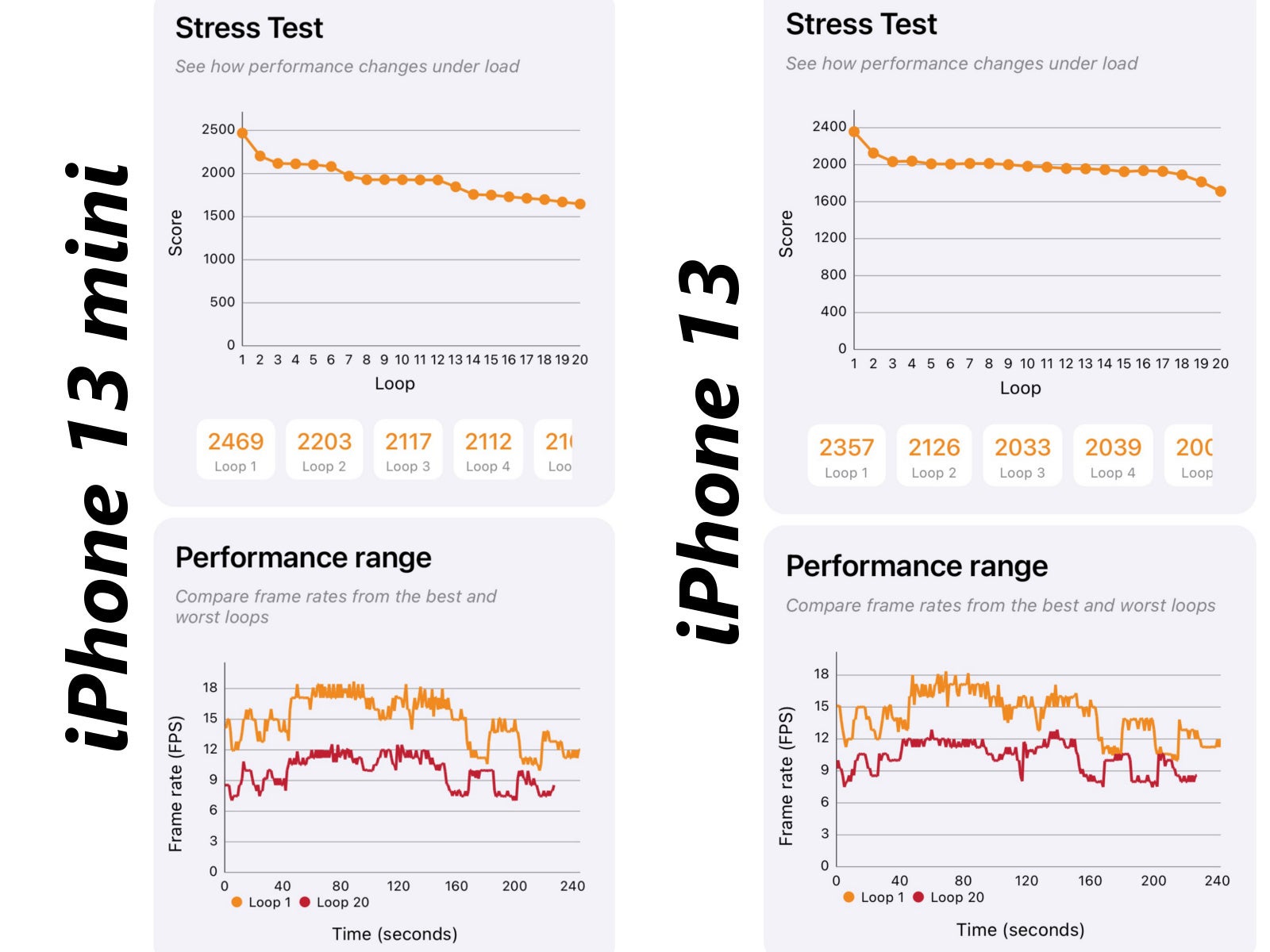 In real life, though, I wouldn't say I felt a drop while running a video editor like Enlight Videoleap or gaming on CoD: Mobile.
There's also the consideration that small phones are usually not marketed towards (or sought by) power users. And I have to admit — I only did video editing and gaming on the small screen because I had to, not because I was enticed to. I'd much rather grab a bigger phone or even a tablet for that task.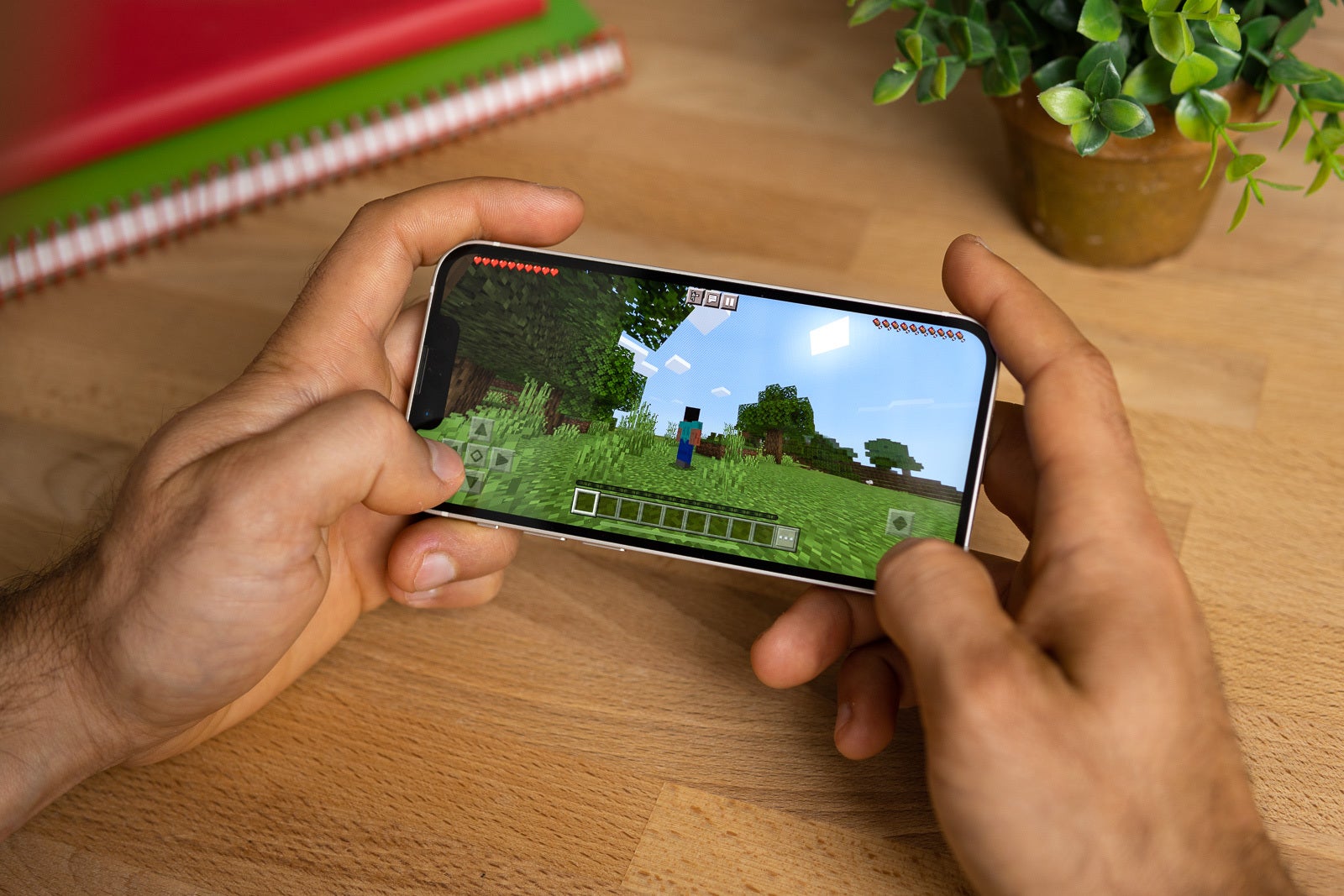 Image Credit - Phone Arena
Still, the throttling poses the question of how future-proof the iPhone 13 mini and its chipset are. All I can say for now is that the 12 mini has lasted a year so far and had no issues.
As can be expected, it ships with iOS 15 on board — though you can get that update to any model from the iPhone 6s and up.
It brings new privacy features with iCloud+ — Private Relay, which is basically a VPN, and Hide My Email, which lets you sign up to any website with a spoofed email, so you can divert spam and not reveal your real address.
FaceTime improvements like Portrait Mode, which blurs your background, and the new
voice isolation mode
for the microphone. The latter is absolute dark magic in how super-effective it is and is a new feature for any Apple iPhone that gets iOS 15, not just the 13 series.
There's the new "Risk of falling" analyzer, which measures the user's gait without the need of an Apple Watch, which is pretty cool.
There's a system-wide translator now, which lets you grab text from any picture and copy or translate it. Basically, an Apple version of system-wide Google Translate.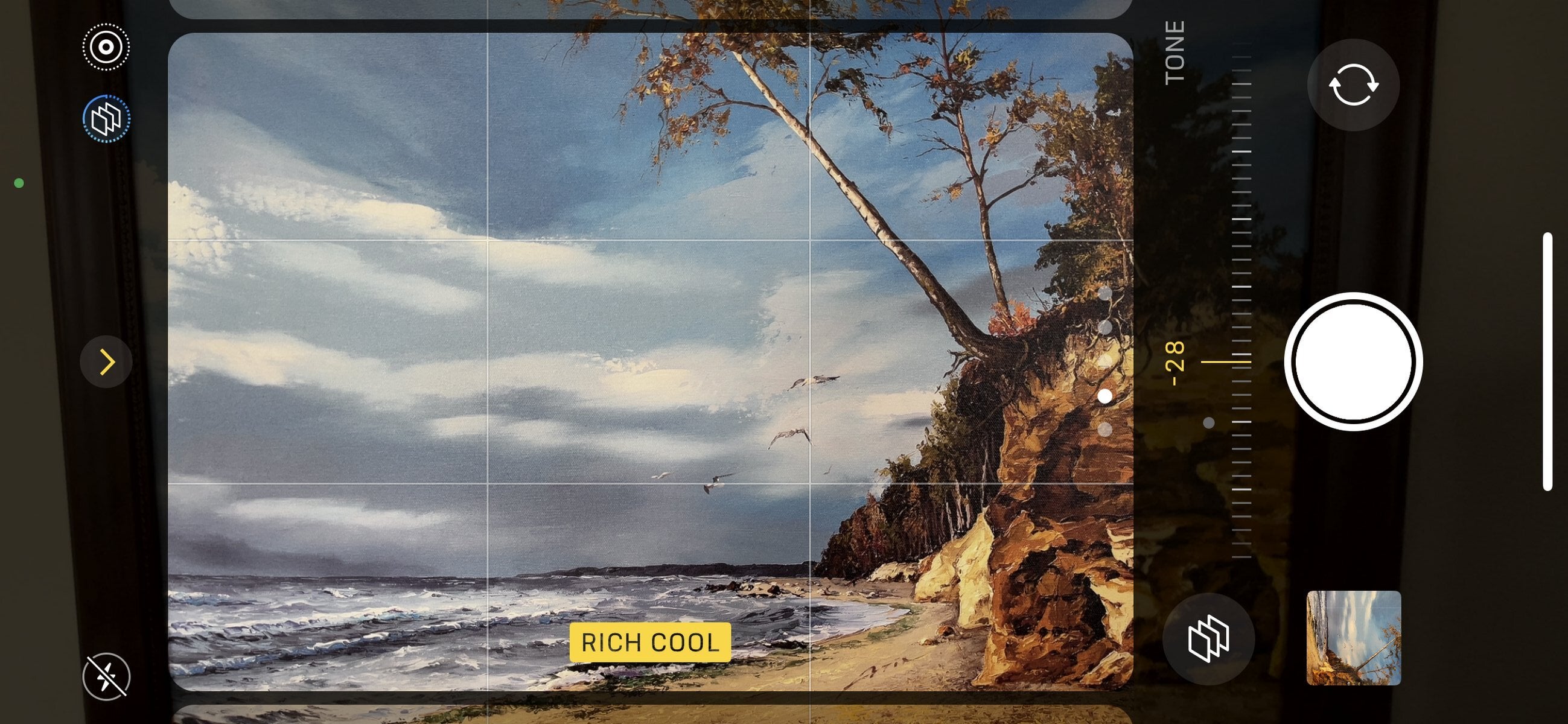 Photographic Styles
A new system for Do Not Disturb, now called Focus Mode, which lets you really get in there, customize, and automate how your Do Not Disturb works — from time of day to location to actual activities, it's quite granular.
And we haven't even touched on the new Safari, which now supports extensions on the mobile iOS and iPadOS. There's tons to dive in, and iOS 15 feels like a really fleshed-out build of the Apple mobile operating system. Now if it would only allow me to arrange the homescreen icons to a custom grid, that would be great.
Lastly, Face ID performs much the same. It has really grown since the days of the Apple iPhone X. But for the iPhone 13 line specifically, Apple didn't make any additional improvements to its viewing angle. Though, to be fair, I don't remember when the last time when Face ID gave me any trouble unlocking was.
There haven't been any major issues with software on the iPhone 13 mini. Since the release, we have seen regular updates too: iOS 15.1 added SharePlay for FaceTime (plus it unlocked the ProRes video recording feature on the iPhone 13 Pro series). Shortly after, iOS 15.1.1 fixed call drop issues, and most recently, iOS 15.2 added an App Privacy Report feature where you can see how often apps access your location, camera and other possibly sensitive features.
iPhone 13 mini battery life
On stage, Apple touted a 1.5 hour increase in battery life of the iPhone 13 mini over the iPhone 12 mini. Now, the 12 mini did need improvement in that area, but what does that 1.5 hour mark mean and how does it translate to our real life usage? Do we actually get better battery life on the iPhone 13 mini?
Pretty well, actually. Let's run it through the tests first.

First, we have a browsing test — basically opening websites at even intervals with both phones at equal brightness, scrolling through, and moving on to the next site. In this test, the iPhone 13 mini lasted for about 1 hour and 37 minutes more than the iPhone 13 mini.

For YouTube streaming, we just ran an endless binge and watched which phone will die first. Again, the iPhone 13 mini outlasted its predecessor by 1 hour and 10 minutes.

Lastly, for gaming, we had a really impressive result — the iPhone 13 mini scored 1 hour and 34 minutes over the iPhone 12 mini, fulfilling the promise Apple made.

And in real life? Yeah, I wouldn't say the iPhone 13 mini is a battery champ by any means. But I definitely found myself hitting the Low Power mode much later in the evening. Of course, that is if I spent the day with no wireless charger in my vicinity. Nowadays, a lot of us just have a charging puck on our work desk.

So, for the size and power — I have to give kudos to the iPhone 13 mini. It won't get you that 2-day battery life, but it definitely can be reliable throughout a regular day.