Best alternatives to the Google Nexus 5X
16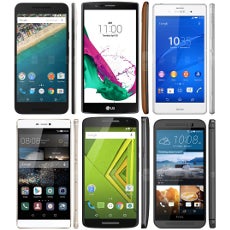 With the
Nexus 5X
, Google stays true to the original concept of its phones to be affordable, near-cost showcases of the newest Android version. Unlike the premium metal
Nexus 6P
, the Nexus 5X's comforting polycarbonate and somewhat weaker specs sheet, have ensured a lower starting price of $379, and $429 for the 32-gigger.
While that might sound a bit steep for the Nexus line standards of late, especially in its LG-made versions, let's not forget that Google didn't spare much when it comes to its new phones, which are supposed to be the posted kids of the latest Android 6.0 Marshmallow. A 1080p display, hexa-core chipset, and a 12.3 MP camera sensor with largish 1.55 micron pixels are nothing to sniff at within this price range, not to mention the finger scanner on the back.
Anyways, there is alваъс something else to aspire to when looking around, that's why we are presenting you with some of the best alternatives to the Nexus 5X out there in the wild, to help you choose if the new Google Nexus by LG is the right one for you.
With a hexa-core chipset and laser autofocus of its own, the LG G4 is a worthy competitor to the 32 GB version of the Nexus 5X, and not only because it is made by LG, too. Its price now rivals the $429 for the 5X, yet it comes with a 5.5" Quad HD display, optically stabilized camera, and a removable back cover that gives access to the swappable 3000 mAh battery, and expandable storage.
The new Xperia Z5 is much more expensive than the Nexus 5X, but the Xperia Z3 can now be had for about the same price as the 32 GB Nexus 5X, and it offers the same 5.2" 1080p display specs, 20 MP camera, stereo speakers, and a waterproof chassis, not to mention it has a microSD slot for storage expansion, too, and veritable two-day battery life.
If you can live with a more premium, glass-and-metal chassis than the Nexus 5X, the Huawei P8 is worth considering as an alternative, as it has a 5.2" 1080p screen, too, an optically-stabilized 13 MP camera on the back, 3 GB of RAM, and expandable storage, too. The downside is that it is still more expensive than the 5X, believe it or not.
For a Benjamin more than the Nexus 5X, you can have an excquisite metal HTC One M9+ with a 5.2" QHD display, 32 GB storage, and a dual camera setup on the back, to say nothing of the front-facing BoomSound stereo speakers.
While having a larger, 5.5" 1080p screen, the Moto X Play is actually as tall as the Google Nexus 5X, and only a tad wider. It costs the same, and is equipped with a 20 MP camera that has phase-detection AF, plus a large 3630 mAh battery to keep you away from the charger longer.