Moto G 5G Stylus (2022) review: Good phone with a 'competition' problem
5
We may earn a commission if you make a purchase from the links on this page.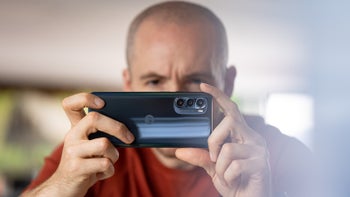 Moto G Stylus 5G (2022) Intro
If you want a relatively new phone with a stylus in 2022, you have a few options before you: the exceptional
Galaxy S22 Ultra
, the slightly aged
Galaxy Note 20 Ultra
, or the foldable
Z Fold 3
(which requires you to buy the S Pen separately), but if you're really on a tight budget, then you have another option ahead of you: a phone with a large, 6.8-inch 120Hz display, battery that just lasts, a triple camera setup, and a rather comfortable stylus... All starting at just $449.99! Sounds fairly good, but is it actually so?
Yes, that's exactly what the Motorola Moto G Stylus 5G (2022) has in tow for us, along with a true tongue-twister of a name. It's a phone that trots along with tons of features missing from most of its mid-range competitors. What's more, it addresses some of the weak points of its predecessor, making for an excellent follow-up to last year's Moto G Stylus.
However, the price has also increased, bringing it very close to phones that can give it a serious run for the money. Phones like the
Galaxy A53
, the upcoming
Pixel 6a
, and the
iPhone SE (2022)
definitely have a lot going for them as well, making the Moto G Stylus' pricing an ill-fated move.
Moto G Stylus 5G (2022) pros and cons
What's new on the Moto G Stylus 5G (2022)
120Hz high refresh-rate display
NFC
Triple camera setup
Snapdragon 695
Qualcomm Quick Charge 3.0
Moto G Stylus 5G (2022) Unboxing
Inside the box of the Moto G Stylus 5G (2022), you'll find:
Moto G Stylus 5G (2022)
USB Type-C cable
10W charger
SIM ejector tool
Manuals and leaflets
Moto G Stylus 5G (2022) Specs
Key improvements in core areas
So, what are the full Moto G Stylus 5G (2022) specs? Let's explore!
Specs
iPhone 13 Pro Max
Size and Weight
6.65 x 2.98 x 0.37 inches (168.9 x 75.8 x 9.3 mm), 7.58 oz (215.0 g)
Display
6.8" IPS LCD, 120Hz, 2460 x 1080 pixels, 395PPI
Processor
Qualcomm Snapdragon 695 SM6375 (6 nm)
RAM
4GB, 6GB, 8GB
Storage
128GB / 256GB, microSD expandable storage up to 1TB
Software
Android 12
Cameras
Wide 50MP, F1.9, 26 mm, 0.64 μm
Ultra-wide 8MP, F2.2
Depth 2MP, F2.4
Front 16MP, F2.2
Battery Size
5,000 mAh
Charging Speeds
Qualcomm Quick Charge 3.0, 10W charging brick included
Price
starting from $449
Moto G Stylus 5G (2022) Design & Colors
Plastic fantastic
In this price range, plastic phones are still a common sight, with just a few glass and metal juggernauts breaking the trend. And yes, while plastic isn't regarded that highly by most consumers and reviewers alike, it should generally be expected in the sub $500 range.
That said, the Moto G Stylus 5G is made of plastic, and while it doesn't stand out with anything particular in its build, it's simply a good-looking and well-made phone. It feels solid and robust, with a reassuring but not overwhelming heft and a design language that combines the aesthetics of industrial flat edges with the comfort of a slightly curved backplate that fits so nicely in one's palm. There's also a 3.5mm audio jack at the bottom, as well as expandable storage, two very big blasts from the past.
Sure, the bezels are asymmetrical and on the thick side, but that's to be expected in this price range. One downside of the specific plastic used on the Moto G Stylus is that it's a smudge magnet and easily gets dirty. You might want to invest in a case, not just for protection reasons, but also to minimize oily fingerprint smudges.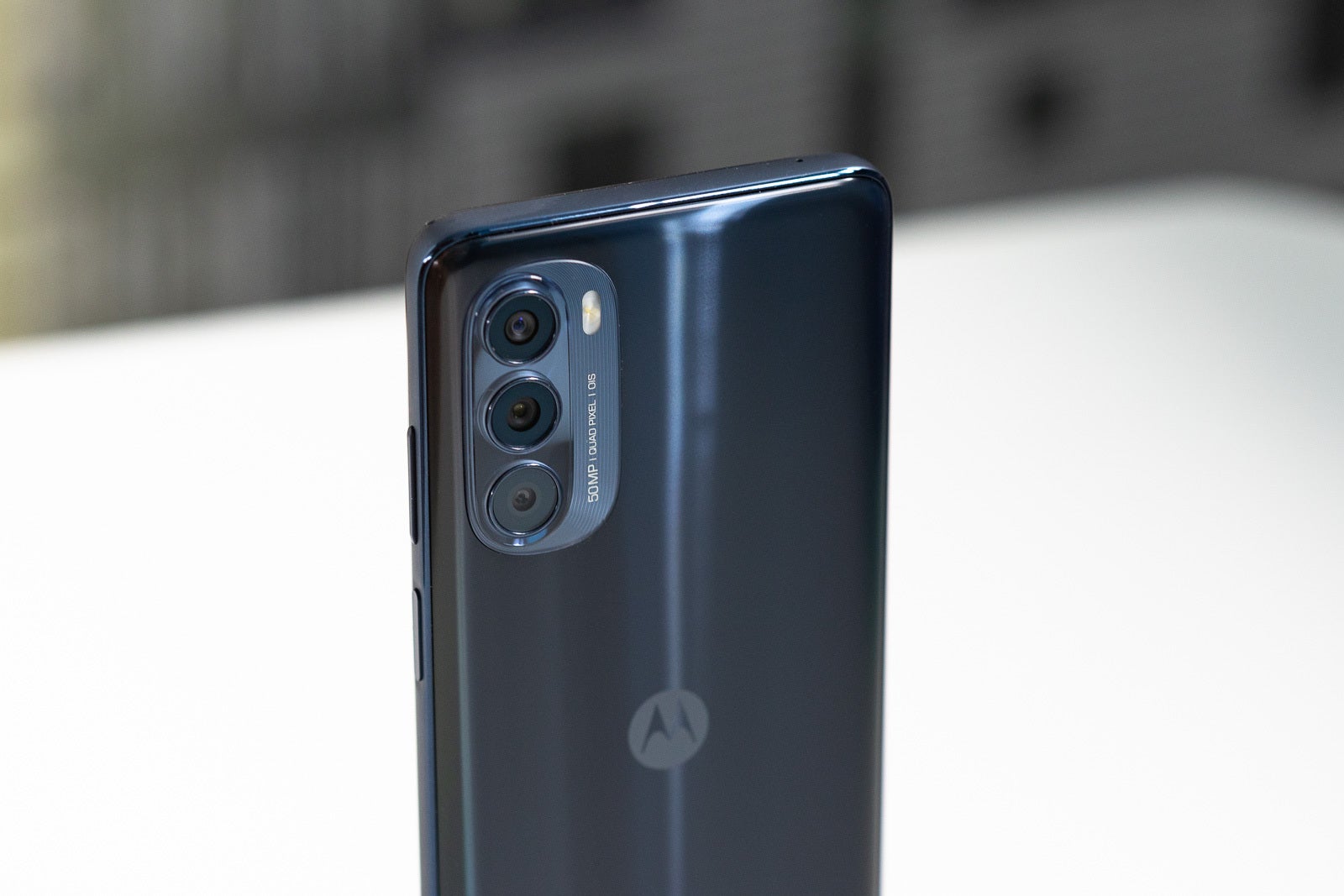 The phone feels nice to use, and although the sheer size of it makes it cumbersome to use with a single hand, we had no issues with its overall handling in our day-to-day usage.
There's a fingerprint sensor on the Moto G Stylus, and it's not embedded in the screen but on the power button to the side. Overall, we are perfectly happy with its placement and overall responsiveness, as is super-quick to react and unlock the phone. Usually, unlocking the phone and authenticating was done in one smooth motion. No, we didn't miss an in-display fingerprint sensor one bit.
Steel Blue and Seafoam Green are the two colors in which the Moto G Stylus is available, and we had our hands on the blue variant. The actual color hue is quite dark in real-life, but definitely suits the phone and gives it a sophisticated vibe.
Stylus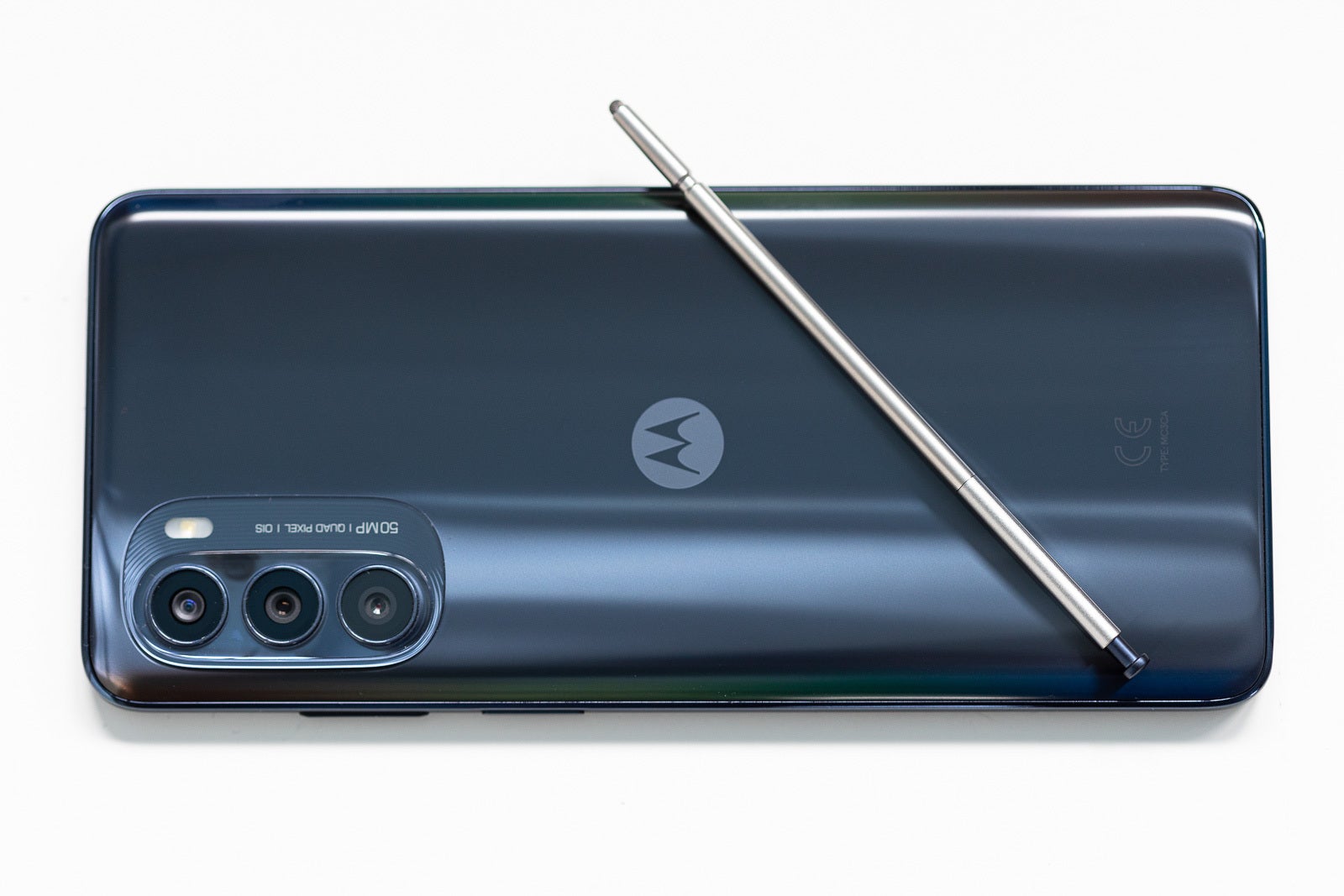 As we already mentioned, one of the intriguing aspects of the Moto G Stylus is, well, its stylus, which rests snuggly in its dedicated silo on the bottom right side of the device. It's a regular stylus, without any functional buttons or an included capacitor on board; just a plain completely round pen that can be inserted in any orientation.
Just like on Samsung's S Pen phones, you take this one out by clicking its top button and taking it out with your fingertips quickly and easily. The stylus itself is quite comfortable to use despite its super thin profile. Have in mind that pressure sensitivity like on Samsung's stylus-wielding phones isn't available on this phone.
The downside of the accessory is its tip. Unlike Samsung's S Pen styluses, which closely resemble a pencil and have sharp tips, the Moto G Stylus pen has a semi-circular tip, resembling the mesh of a microphone's windscreen. It's not very accurate and writing with the stylus feels weird. Even after a week or so, it's hard to get used to it, but for the occasional quick note or a quick photo edit, it's good enough.
Moto G Stylus 5G (2022) Display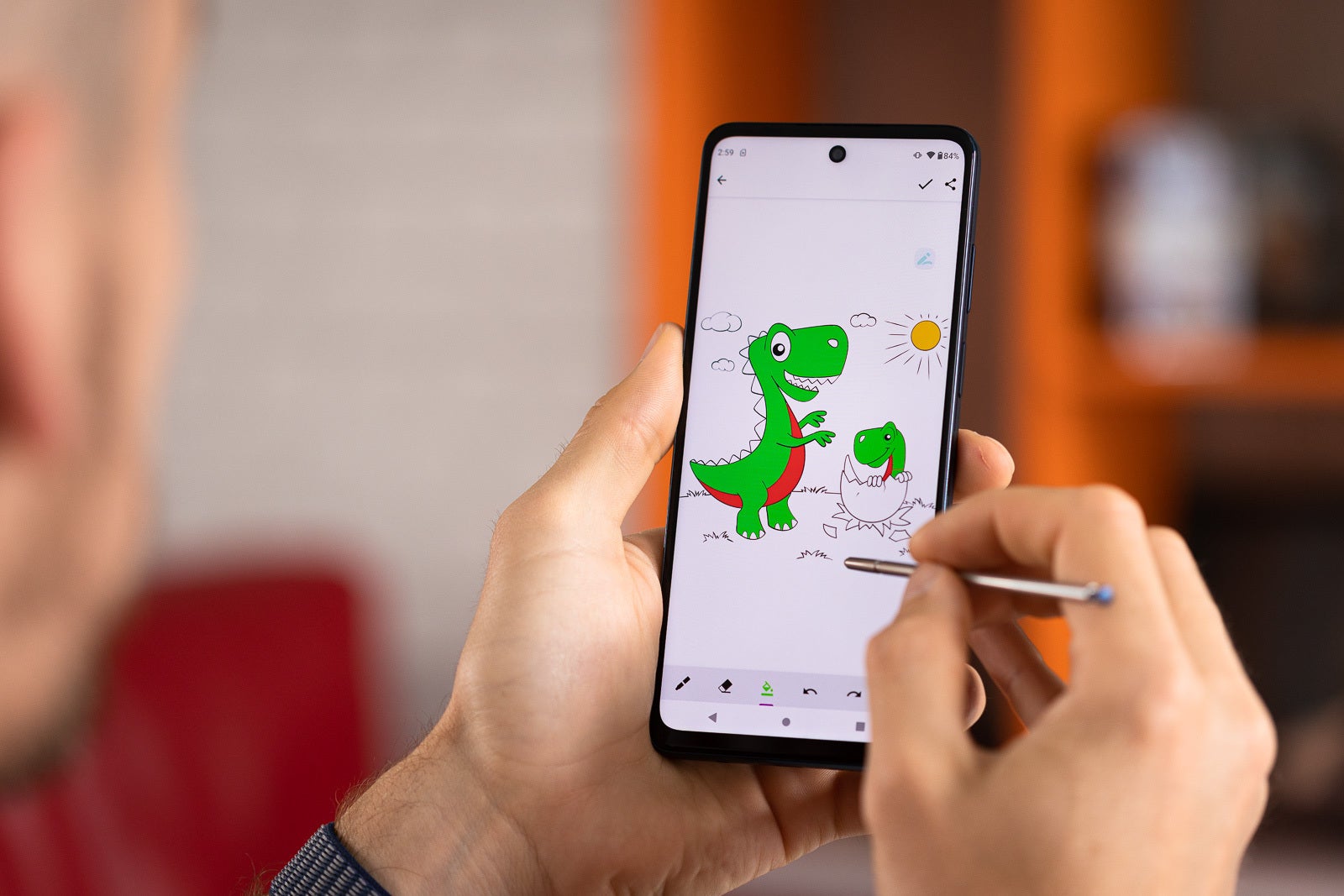 The Moto G Stylus 5G (2022) is outfitted with a large 6.8-inch IPS LCD display with a FHD+ resolution of 2460 by 1080 pixels, making out a decent sharpness of 395PPI. The display can get decently bright: we measured over 550 nits of maximum brightness with our professional equipment. Even under direct sunlight, the display has very good legibility. Meanwhile, the minimum brightness can go as low as 0.8 nits, which is superb and means you can comfortably use the phone in complete darkness without any eye discomfort.
For an LCD display, it's fairly decent, with good contrast and vivid colors. You can also fine-tune the color temperature to your liking, though the default setting is perfectly good. Overall, the display is fairly decent, but it simply can't match the vividness, contrast, and viewing angles of an OLED display. The latter especially - simply tilting the phone in either the vertical or horizontal plane leads to immediate loss of contrast.
One of the major improvements in comparison with the previous generation of the Moto G Stylus is the inclusion of a 120Hz screen, a solid improvement over the 60Hz screen of the Moto G Stylus 5G (2021). There's an Auto setting that reportedly uses AI to switch the refresh rate depending on the on-screen content, but if you wish, you can manually lock the phone in either 60 or 120Hz. We didn't bother with that but left the phone in its default Auto setting and were perfectly happy with how refresh rates were handled.
Here's how the Moto G Stylus fares against its competitors in the price range:
Display Measurements:
Aside from a fingerprint scanner in the power button, we also have the option to use face unlock on the Moto G Stylus 5G (2022). It's a picture-based unlocking method, making it super snappy but generally not recommended if tight security is required. Overall, the regular fingerprint was fast enough, so that was our go-to option.
Moto G Stylus 5G (2022) Camera
Decent performance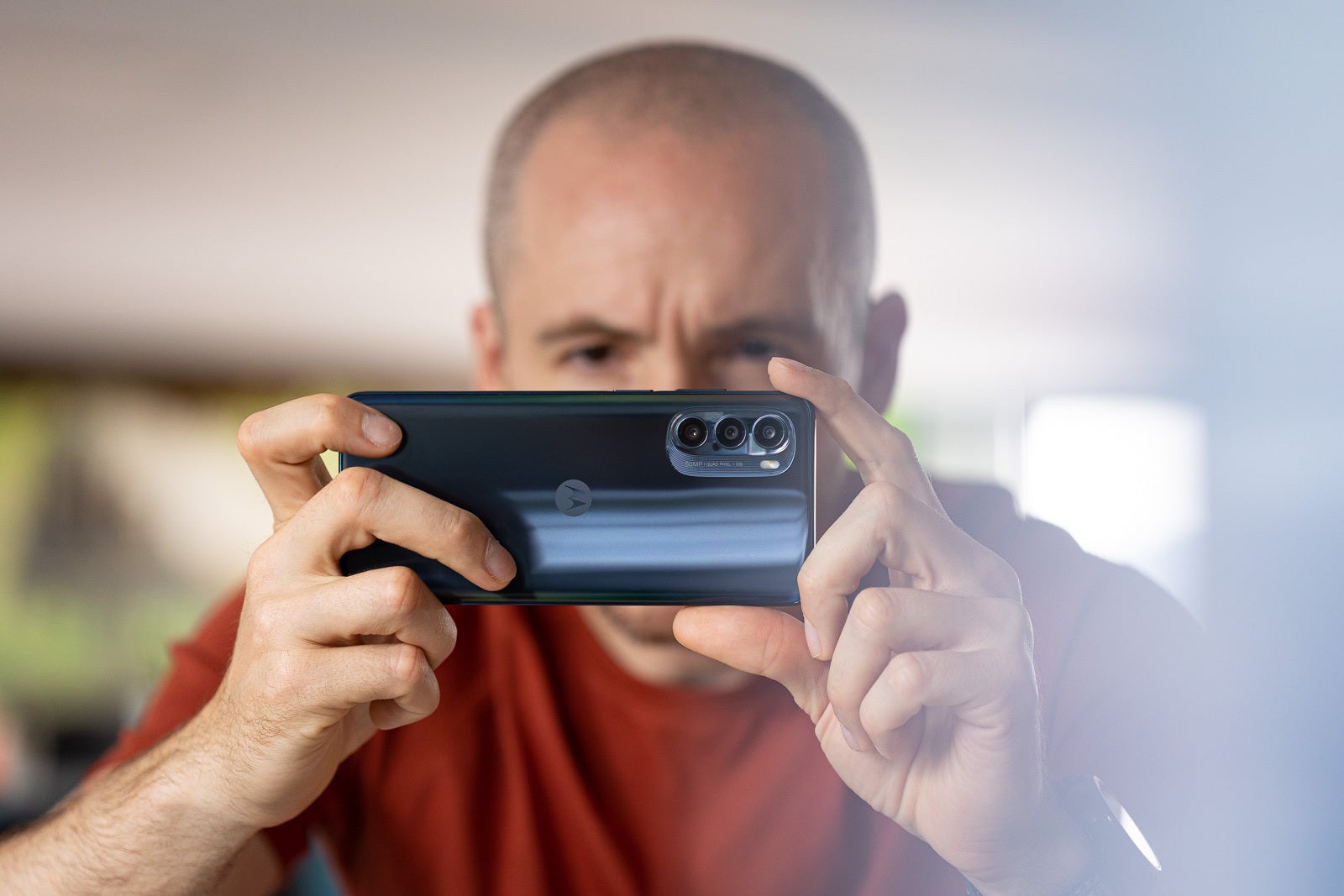 There's a 50MP main camera on this stylus-wielding
Motorola phone
, and it uses quad-binning to merge four sensor pixels into one, and therefore outputs 12.5MP images by default. The main camera has an aperture of F1.9 and 0.64 μm pixels. There's also an 8MP ultra-wide camera and a 2MP depth sensor that should theoretically help with portraits. Up front, there's a pretty decent 16MP selfie camera. The big omission in comparison with last year's Moto G Stylus 5G is the lack of a macro camera. Good riddance.
The camera is pretty decent, all things considered. Surely, it's not flagship grade and will hardly wow you, but it's consistently taking photos with realistic and rich colors, good dynamics (though highlights can certainly be blown in certain conditions), and an okay sharpness. Overall, the latest Moto G Stylus is quite consistent with what we'd expect out of a $449 phone when it comes to camera performance.
Low-light images are a bit noisy, and Moto's Night Vision tends to add a bit too much oversharpening.
One of the main concerns with the current camera setup is the consistency gap between the main and the ultra-wide camera. Whereas the main camera happily outputs photos with pretty realistic colors and good dynamic range, the ultra-wide camera has almost garish colors in comparison, and often tends to be too lax with its Auto HDR, often leading to burnt highlights.
< Main camera
Ultra-wide camera >
Portraits utilize the dedicated depth camera sensor to differentiate the subject from the background, and for the most part, does a good job. Portraits, however, turn out to be a bit too soft either. Selfies, on the opposite contrary, are a bit oversharpened.
Moto G Stylus 5G (2022) Performance & Benchmarks
A most decent performer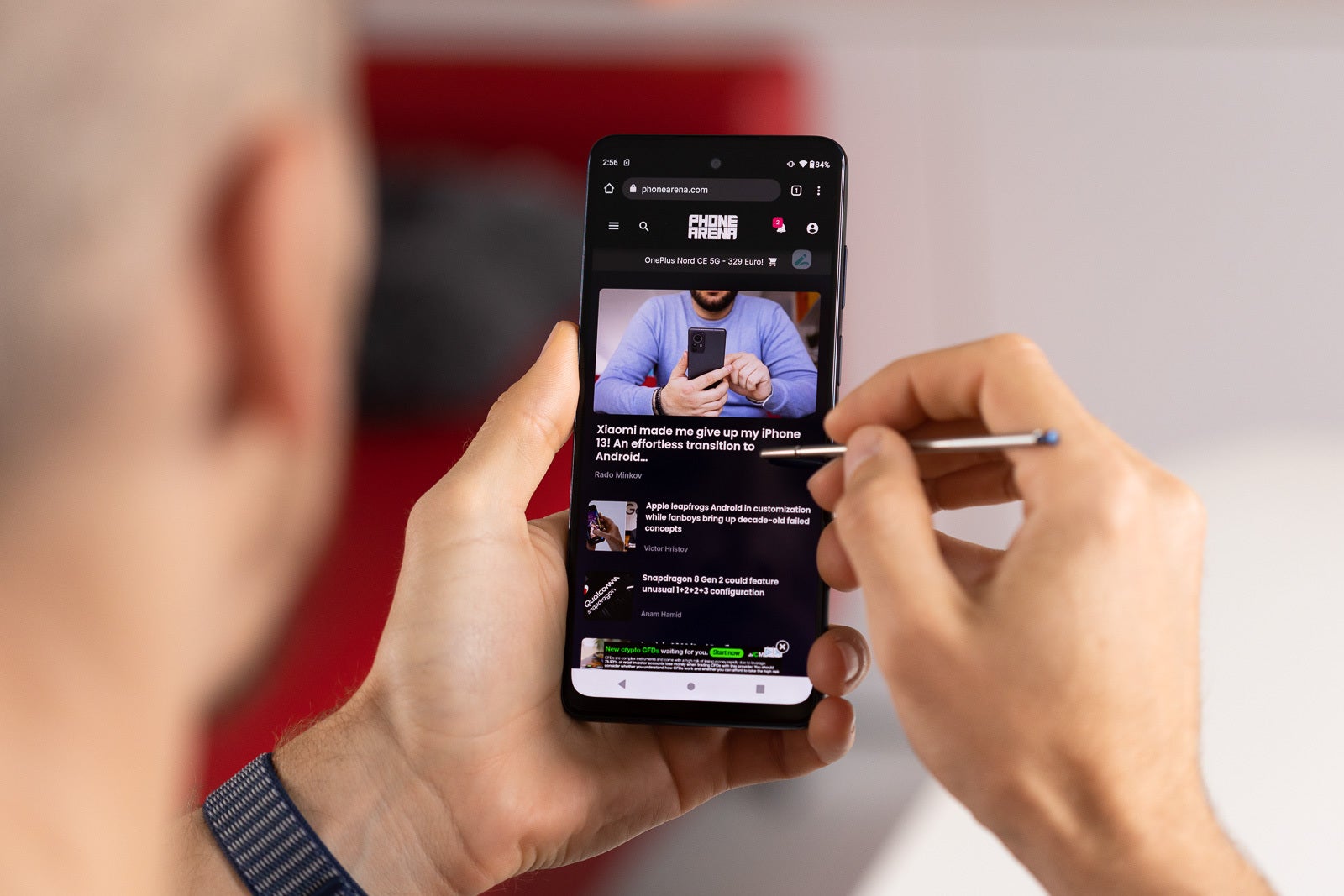 The Moto G Stylus 5G (2022) comes along with a Snapdragon 695 5G chipset, a 6nm endeavor consisting of two Kryo 660 Gold P-cores (ARM Cortex-A78 based) running at 2.2GHz, and six 1.7GHz Kryo 660 Silver E-cores, with the Adreno 619 GPU on deck. Right from the bat, the new chipset is a very big improvement over last year's Moto G Stylus, which was powered by the Snapdragon 480 chipset, which consists of eight Kryo 460 cores clocked at 2GHz.
The chipset in the new Moto G Stylus is much faster and way more efficient, making performance one of the addressed aspects of the Moto G Stylus (2021). However, at this price point, it seems as if you can have better. Here's how the Moto G Stylus performs against its predecessor and some similarly-priced.
Performance Benchmarks:
The synthetic benchmark do paint a picture, but it's not the complete one. In real life usage, the Snapdragon 695 inside the Moto performs well and feels perfectly capable. The only relative slowdowns we experienced are usually during the generation of a fresh Minecraft world, and when rapidly switching between apps.
Our review unit came with 8GB of RAM and 256GB of on-board storage, which is the top-tier variant of the Moto G Stylus. A pleasant surprise was the RAM Boost feature, hidden inside the settings menus, which effectively bumps the amount of RAM up to 10GB. There's also tons of available space, and let's not forget the microSD card extension slot.
Moto G Stylus 5G (2022) Connectivity
We have NFC on the Moto G Stylus 5G (2022), and that's a big deal since it addresses one of our main concerns with last year's Moto G Stylus. Surely, having NFC on board enables contactless payments and introduces easy communication with eligible devices and NFC tags, so definitely a nice thing to have.
In terms of 5G connectivity, the phone supports bands N1/2/5/12/14/24/26/29/30/41/48/66/70/71/77/78 and N2/5/48/66/77/78 on Verizon.


Moto G Stylus 5G (2022) OS / Android version
Android 12 is running on the Moto G Stylus 5G (2022), and just like most
Motorola phones
, it comes with a fairly vanilla version of Android, with just a handful of Motorola-specific features and functionalities that are actually improving the core Android formula.
For example, there's a much deeper customization menu, and we're all familiar with Motorola's custom gestures that are available on almost all their phones, allowing you to launch the camera, quickly open apps in split-screen mode, and so on.
Moto G Stylus 5G (2022) Battery
Truly a battery champ
With a 5,000mAh battery on deck, this
Motorola phone
certainly had the hardware portfolio needed to inspire me with confidence that we might have yet another battery endurance champ with the Moto logo on board. And fortunately, my expectations were met - this is easily a two-day phone. With fairly average usage throughout my day, involving lots of scrolling on Reddit, social media, and media streaming, the Moto G Stylus just lasts and lasts and lasts. I regularly went to bed with more than 40% of battery still available, which on the average has only rarely happened to me before with a couple of phones.
On the PhoneArena browsing battery test, which involves automated web surfing and scrolling over a Wi-Fi network at 200 nits of pre-set screen brightness, the Moto G Stylus 5G (2022) endured for 16 hours and 35 minutes with the refresh rate set at Auto, which is more than a commendable result. Meanwhile, the phone lasted for 6 hours and 38 minutes in our custom 3D gaming test at 200 nits of brightness, which is also an awe-inspiring result.
PhoneArena Battery Test Results:
Moto G Stylus 5G (2022) Charging Speeds
As we mentioned, Motorola's actually nice enough to include a 10W charging brick with the phone, which is kind of expected in the price range, but we might not be long before we see these disappear as well. And... the good news end here.
How long does a full charge take? Our straightforward charging test from 0 to 100% took a whopping 176 minutes, or 2 hours and 56 minutes, which is quite a long time. Other phones in the same class charge much faster, and even the
iPhone SE (2022)
tops up fully in 1 hour and 30 minutes, or twice as fast.
Moto G Stylus 5G (2022) Audio Quality and Haptics
There's just one speaker on the Moto G Stylus, a bottom-firing one situated between the stylus silo and the charging port. It's adequately loud and crisp, but base isn't deep at all. Watching media or listening to music on this device isn't particularly enjoyable, mostly due to the single speaker. At least you get a 3.5mm audio jack and even an FM radio, so using wired or wireless headphones will give you a much better experience right off the bat.
The haptic feedback isn't great either. The vibrator motor feels slow and clunky, lacking the pleasant and crisp operation of more sophisticated taptic engines. And yet, that's to be expected.
Moto G Stylus 5G (2022) Competitors
If you're not generally looking for a phone with a stylus, then the
Samsung Galaxy A53 5G
could be a very neat alternative in the price range, outfitted with a nicer display and better cameras.
Finally, there's also an
iPhone SE (2022)
that sells for nearly the same amount of money depending on what storage you pick. Great competition overall.
Moto G Stylus 5G (2022) Summary and final verdict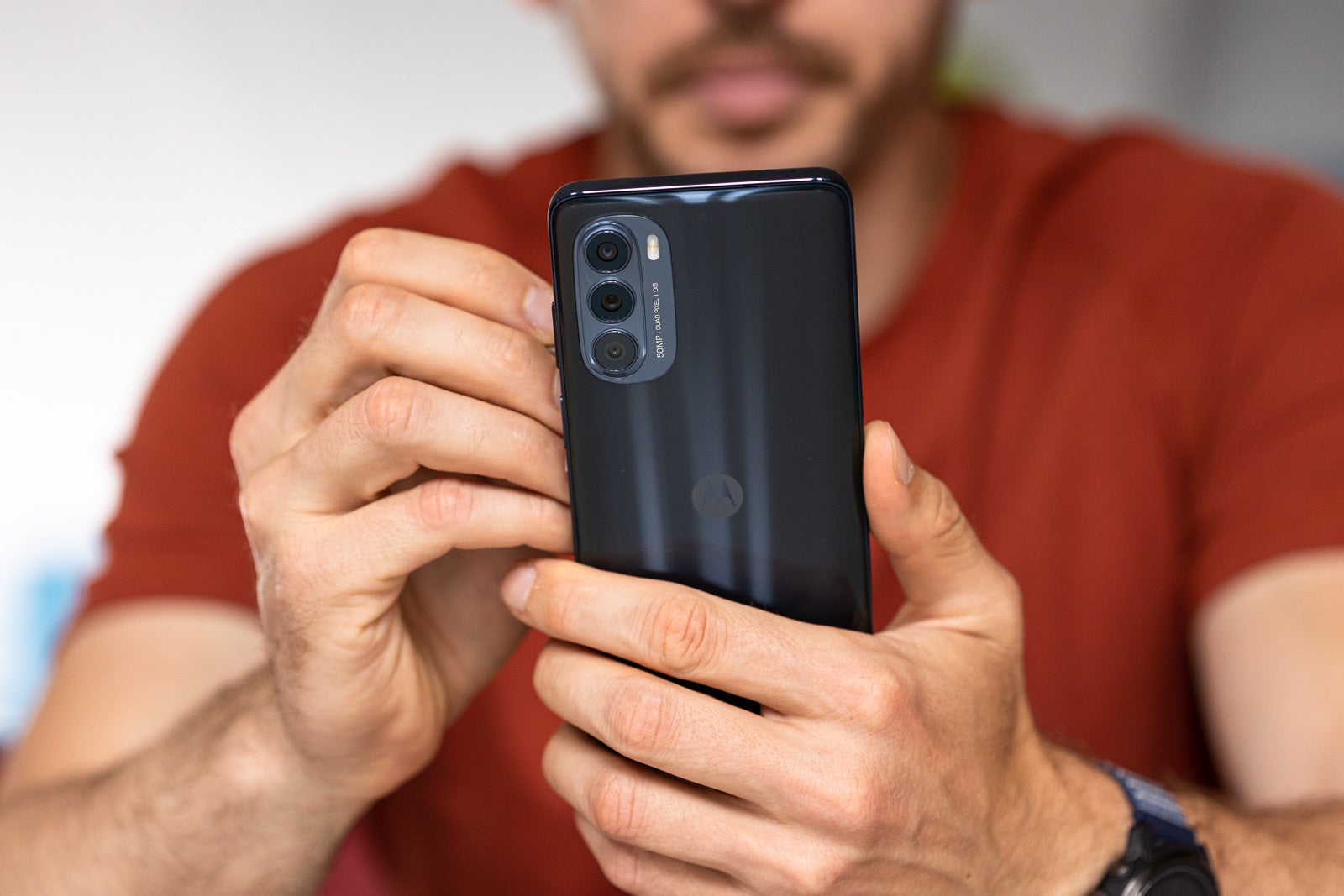 Overall, the Moto G Stylus 5G (2022) addresses most of our complaints with the previous model. It's got a faster new chipset, streamlined cameras, an NFC chip, and a 120Hz display. My personal experience with the phone has been great as well: there were no issues and it happily fulfilled all my needs without much overthinking. Surely, the camera experience hasn't been excellent, and I'd have loved to see an OLED display, but it is what it is.
There are downsides, however: the stylus hasn't become more useful than before, and the price has grown by $50, placing it dangerously close to competitors that might certainly give it a run for the money. Provided that you don't necessarily need a stylus, you might generally be happier with a Samsung or a Google phone, of which there are at least a few in the same price range.
Recommended Stories