Galaxy A53 5G review: top features
20
We may earn a commission if you make a purchase from the links on this page.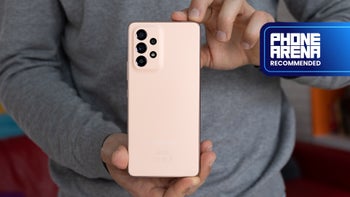 Intro
Samsung's Galaxy A53 is the latest mid-ranger offer from the tech giant. Last year the Galaxy A52 5G was a great all round phone — one of the better ones in its segment. So, can we say the same for the successor?
Well, to put it simply, the A53 5G seems like a solid upgrade over the A52 5G and is a great phone for its price range. However, it does not introduce enough upgrades to justify purchasing it if you already have an A52 5G or another good mid range phone.
Samsung
just sprinkled upgrades here and there, like a larger battery, higher screen refresh rate, and changed the design. That being said, the new chip seems to help a lot with improvements in the camera system.
The Galaxy A53 (lets leave out the "5G" part from now on to make things simpler) is priced at $449 in the U.S. and comes in only one version—128GB of internal storage with 6GB RAM. Now that's not a bad combo at all, but don't worry, there is expandable storage if you need it.
Reserve your Galaxy S23 now from Samsung and get a great bonus:
Galaxy A53 5G Design and Display

The A53 5G has a plastic back with a matte finish that is resistant to fingerprints. It comes in the same colors, including the two new blue and peach colors besides the white and black ones.

In terms of size, it is slightly bigger than the A33, measuring 6.2 x 2.9 x 0.3 inches (159.7 x 74 x 8.1mm). The volume rocker and power button are situated on the right side of the A53's frame and are easy to reach. Both feel sturdy when clicked, giving a sense of good build quality.



On the bottom side, you will find the SIM card/microSD slot, a microphone, USB-C port, and a speaker grill. The left side is left without any buttons, while the top has one more microphone added. A super thin speaker grill can also be seen at the top bezel of the screen if you squint your eyes enough.

You might have already noticed that there is no mention of a headphone jack anywhere. Yes, sadly it is now gone from the Galaxy A5x and A3x series, which is always a bit of a bummer to see.

In terms of protection, the Galaxy A53 5G comes with an IP67 rating for dust and waterproofing, as well as Gorilla Glass 5 to protect its display.
What you get in the box
When you open the Galaxy A53's tiny box, you are first presented with the phone itself, and an even smaller cardboard box that contains all the documentation, the SIM ejector tool, and a USB-C to USB-C cable. That's pretty much it, no charger or anything "fancy" like that.
Galaxy A53 5G Display

The Galaxy A53 5G comes with an Infinity-O (what Samsung calls its punch-hole style screens) Super AMOLED display, with a 120Hz refresh rate, 2400 x 1080 resolution, and 800 nits of maximum brightness. It is the same size as the A52 5G—6.5 inches.

The 120Hz mode on the A53 5G is as great as you would expect it to be. It makes the phone feel very snappy no matter what you are doing on it and animations look extra buttery-smooth. There are no issues with viewing the display at an angle and colors look amazing in both the Vivid and Natural modes, which is not always the case with other mid-range phones.

Integrated into the A53 5G's screen lies the optical fingerprint scanner, which unfortunately is not Samsung's famous ultrasonic sensor. This is one of my major gripes with the A53. Not that there is no ultrasonic sensor, but how slow the optical one is. It takes a good long time to unlock the phone this way.

Thankfully, the face recognition has improved over the previous generation thanks to the Exynos 1280 and the faster AI processing it brings. That makes it good enough for me to choose over the fingerprint alternative. Of course, in this case, you lose a bit of security reassurance, but I would take that any day instead of delayed unlocking.




Display measurements and quality



Galaxy A53 5G Performance and Software
Compared to the A52 5G, which had a Qualcomm Snapdragon chipset inside, the Galaxy A53 5G is equipped with Samsung's own Exynos 1280 SoC that's built on the 5nm process. It features a total of eight cores with 2 x Cortex-A78 2.4GHz performance cores and 6 x Cortex-A55 2.0GHz efficiency cores. As for the GPU and APU, Samsung claims both have 2.1 increased performance for both when compared to the A52 5G from 2021.
However, the benchmark scores show a different picture. It's not only the numbers that are speaking here. I also found that specifically while gaming on the Galaxy A53 5G, there were some hiccups here and there. For example, in Minecraft, I could notice frame drops quite often during gameplay.
That being said, other tasks like web browsing, watching videos, and navigating the UI were perfectly smooth, void of any issues.
Software
The Galaxy A53 comes with Samsung's One UI 4.1—the latest stable version—on top of Android 12. The software runs flawlessly on this phone. It's easy to find your way around the menus and different features, as the UI is intuitive and well-organized.

When it comes to updates, Samsung guarantees 4 years of major software updates, so there is no need to worry in that regard.
Galaxy A53 5G Camera
The A53 5G features a 64 MP F1.8 main camera with optical image stabilization (OIS). Besides the main, there is also a 12MP F2.2 ultra-wide, 5 MP F2.4 depth, and 5 MP F2.4 macro snappers.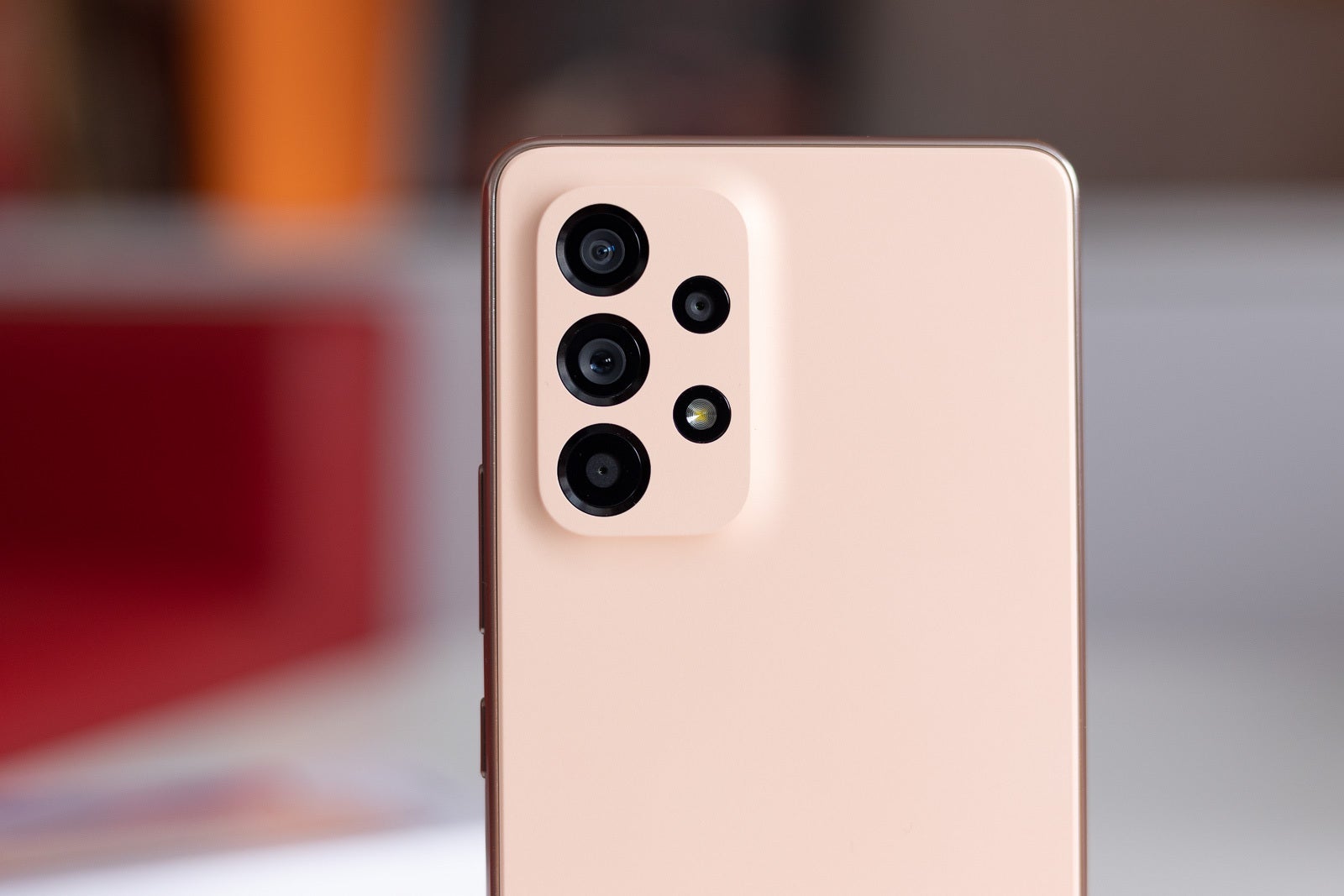 Now, admittedly, these are the same specs on paper as the ones for the Galaxy A52 5G camera system but don't be quick to judge. There is one big difference that makes the camera system on the A53 5G more capable than its predecessor and that is the Exynos 1280.
Thanks to the increased AI performance, portrait mode on both the front and back cameras is improved, including the ability to adjust the blur during that mode. Another feature that is possible thanks to the new chipset is the addition of portrait lighting while in portrait mode.
While there is no telephoto camera on the Galaxy A53 5G, the Exynos 1280 enables a feature that Samsung is calling AI zoom. We got to test out this AI zoom/improved digital zoom on the A53 5G, and we indeed noticed improvement, mostly in the amount of detail in the shot.
More important than the AI zoom and better portrait mode, however, is the greatly improved dynamic range both while shooting stills and video. Samsung has readjusted the color science, bringing more vivid and saturated colors. Whether you prefer a more natural look or a processed one is a matter of personal preference.
One thing that you cannot deny, though, is that increase in detail is a good thing to see and it seems the new chipset is helping with exactly that when shooting with the A53's ultra-wide camera.
The same benefits that the Exynos 1280 brings while shooting photos can be seen while taking video. The image stabilization is still very decent, just like on the A52 5G. The microphones seem to be doing an awesome job too, with the recorded audio sounding clear.
Galaxy A53 5G Audio Quality
The stereo speakers on the A53 5G are now louder than before. They have impressive clarity and sound stage. Treble and mids sound rich and clean, making the A53 5G a great phone to watch videos on and listen to your favorite podcast. Bass, on the other hand, is barely there, although the little that is not muffled even at max volume, so that's something.
A small thing to keep in mind, though, is that at 100% volume some ever so slight distortion starts to creep in. Anything from 90% and lower is A-OK.
If you prefer using headphones instead of speakers, then you will have to get your hands on some Bluetooth ones, as the A53 has lost the 3.5mm audio jack that used to be on the Galaxy A52 5G. Samsung might have opted to go this route to make way inside the phone for new components. That being said, it is a slight disappointment that it is not there.
Haptics
Just like the Galaxy A52 5G and many other affordable phones on the market, the A53 5G has disappointing haptics. Each time the phone vibrates after you've touched the screen just feels weird. The vibrations themselves are weak and loose.

The one good thing I can say is that there is no delay between tapping on the display and the vibration, at least none that I can tell.
Galaxy A53 5G Battery Life and Charging

The battery on the Galaxy A53 5G is 5000mAh in capacity and can handle up to 25W of fast charging. It is without a doubt a beefy battery which this showed in my daily usage of the device. The A53 5G easily lasted me a whole day of heavy use, and that's with the 120Hz refresh rate turned on.

If you don't mind the drop in display refresh rate from 120Hz to a less smooth 60Hz and if you are more of a light user, this phone could likely last you a day and a half or even two.



The 25W fast charging is rather disappointing here, though, especially knowing there are competitors out there like Xiaomi that are manufacturing phones with 40W and upwards. Don't expect to find any wireless charging here either, although that's to be expected at this price point.

If you are looking to find a decent fast charger for this or any other phone, you can check out

our pick for the best ones

out there.
Competitors
The
Pixel 6a
is probably one of the best alternatives for the Galaxy A53. It might not come with a super-impressive display — even though it has equal brightness and color accuracy to the Pixel 6 — but it comes with Tensor, the same flagship chipset Google puts on its pricier models. That makes it future proof and much more capable than most of its competitors in the mid-ranger market.
With the Pixel 6a you also get awesome software support, but the thing to beware is the regular bugs that seem to plague Google phones in the last few years.
The
Redmi Note 11 Pro 5G
and Pro Plus 5G by Xiaomi are also great alternative options. Both have larger AMOLED 120hz displays and some pretty great stereo speakers. Not to mention that the 11 Pro 5G can be charged at 67W and the 11 Pro Plus 5G at 120W, allowing for some super-short charging times.
One of the biggest trade offs with the Redmi phones, however, is the camera systems. Besides taking quite good photos with the main camera, both are pretty bad at pretty much anything else camera-related.
Summary and Final Verdict
Initially, I thought that the Galaxy A53 5G would be too small of an upgrade over the A52 5G, however, when I put all the improvements that Samsung has managed to muster up, I can't say that's the case.

More battery life is always a good thing to have, and the A53 5G has a better one than the already good A52 5G from last year. The display and audio quality are an impressive wombo combo, adding a lot to the phone's value and making it a great device for enjoying lots of media.

Downsides like the bad haptics can easily be overlooked, but when it comes to the A52's gaming performance, now that's a different story. Maybe with a few updates, Samsung will be able to utilize the Exynos 1280 in a better way, but as it stands right now, it is a bit of a letdown, and playing games is just okay.

The camera system, on the other hand, seems to have benefited a lot from the new chip and both photos and video seem more polished in more ways than one, despite the camera-specific hardware remaining the same.

Long story short, the Galaxy A53 5G is a solid all-rounder, even more than its predecessor. If you like the design and Samsung's One UI software, you can't go wrong with this mid-ranger.