Google Pixel 5a Review: Boring looks hide an outstanding budget phone
38
After a pivot to budget phones last year, in 2021, Google seems to have all its focus on a new premium duo of Pixel phones: the Pixel 6 and 6 Pro. But in the meanwhile, Google has very quietly released another phone, the Pixel 5a, that we have here for review.
This one is not a flagship, but a great budget phone. Priced at $450, it brings 5G connectivity at a $50 cheaper cost than last year's Pixel 4a 5G and it delivers one huge improvement: the biggest battery ever in the budget Pixel A series! It has also grown a bit in size to 6.3-inches, so the new phone is taller and thicker than the predecessor.
In the US, the Pixel 5a is sold on Google's online store, as well as on the Google Fi wireless carrier. In other words, what this means is that the Pixel 5a is
not
available through traditional carriers like Verizon, AT&T and T-Mobile. That is a change of strategy from Google, which used to sell the Pixel 4a 5G across all three major carriers. Keep in mind that even though the new Pixel 5a will not be sold through carriers, you can still buy the phone unlocked at the Google Store and bring it to a carrier, as the phone will support the necessary bands for all three major carriers.
So what is this quietly launched Pixel 5a all about? I've been using it for a while now, and here's what you should know.
You may also find interesting:
Design and Display
Boring looks, but sturdy metal build, IP67 water resistance and a nice and bright OLED screen
The thing that's immediately noticeable about the Pixel 5a is that it's larger now. With a 6.34" screen, it's definitely not as compact as the Pixel 5 (6.0") or Pixel 4a 5G (6.2"), but it's not quite gigantic either. The larger battery has resulted in a heavier device too: the 5a weighs 183 grams, a bit more than the 168g weight of the 4a 5G edition.
One thing that hasn't change much is the design… or lack there of. It's a black phone with a matte finish. Boring! At least this is no plastic phone. The Pixel 5a is made of good old aluminum, but you might not notice in the beginning because the metal is actually covered in a thick layer of so called bioresin that takes away a bit of the cold feel of the metal, but still the phone remains incredibly durable. The edges are nicely curved for a comfortable grip, and I like that the power button is ridged so you can easily find it with your finger.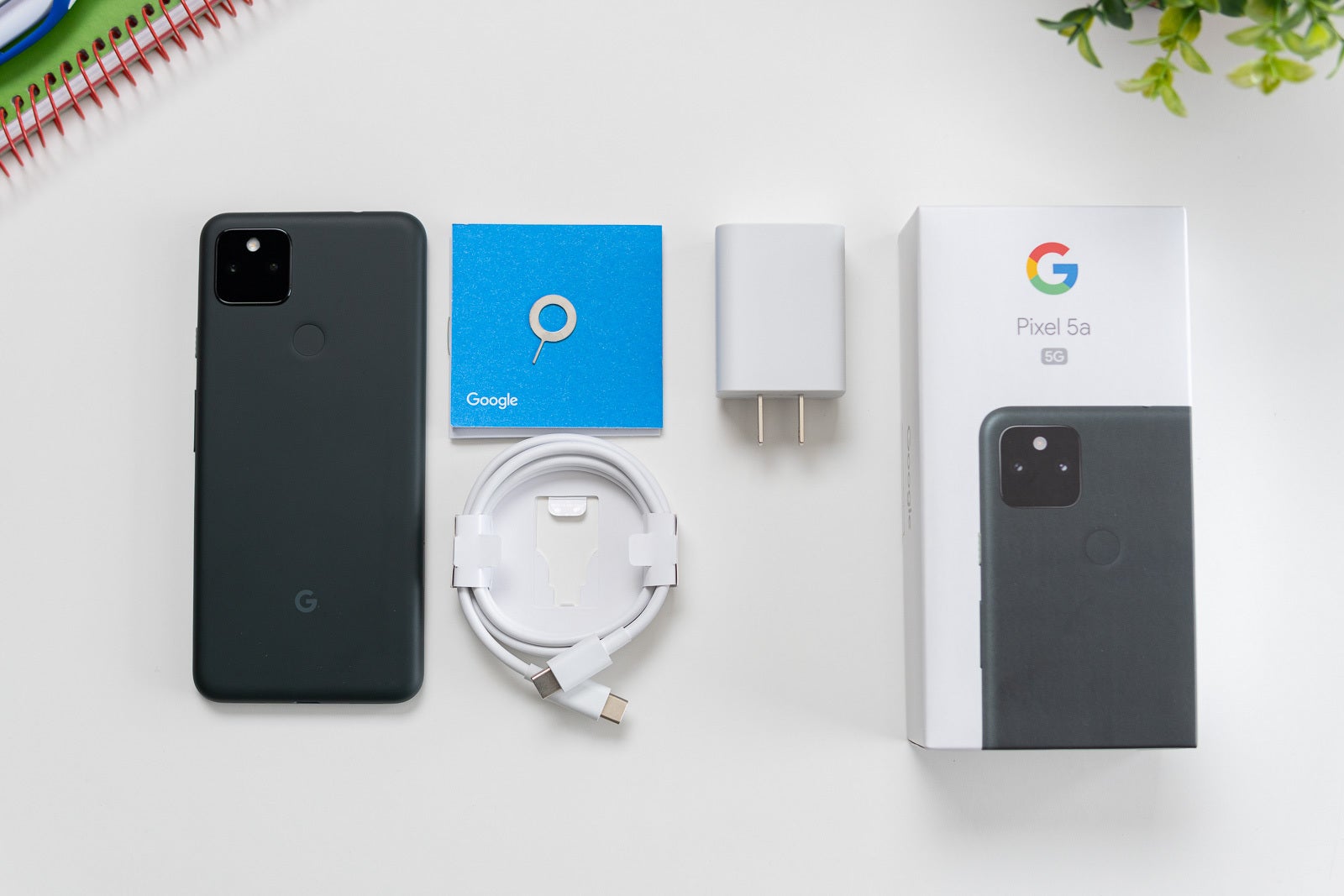 You'll find a charger and a type C cable in the box. You also get a type C to standard USB adapter, and a SIM tool (but there is no case included)
One super neat new feature for the budget a series here is IP67 certification for water and dust protection. Technically, this means the phone will survive staying under 3ft of water for up to 30 minutes, and at this price point, this is a feature you don't usually find, so it's definitely appreciated.
Also, check out the top of the phone! Yup, that's our old pal the 3.5mm headphone jack, making a comeback! Compared to flagships, it's also nice to have a charger included in the box. Less money seems to buy you more features these days.
The screen as we mentioned is a 6.34" one of the OLED kind with a 1080p resolution. It has these vibrant colors and deep blacks that are the standard nowadays, and it gets sufficiently bright (without breaking any records) for outdoor use. Honestly, it's hard to find much difference between this screen and the ones in $1,000 premium phones, they look similarly great.

One feature missing on the Pixel 5a, however, is a fast refresh rate. While other phones in this price bucket like the Galaxy A52 and OnePlus Nord 2 ship with 90Hz or 120Hz screens, the Pixel 5a only runs at 60Hz, so you don't quite get the extra smooth scrolling experience.
We also did notice the janky automatic brightness adjustments that are definitely an annoyance, especially when you accidentally cover the light sensor with your palm, while other more premium phones usually have very gradual brightness adjustments to ambient light. Not a huge deal, but definitely something we wish was better.
Camera and Audio
Still, probably the best in this price class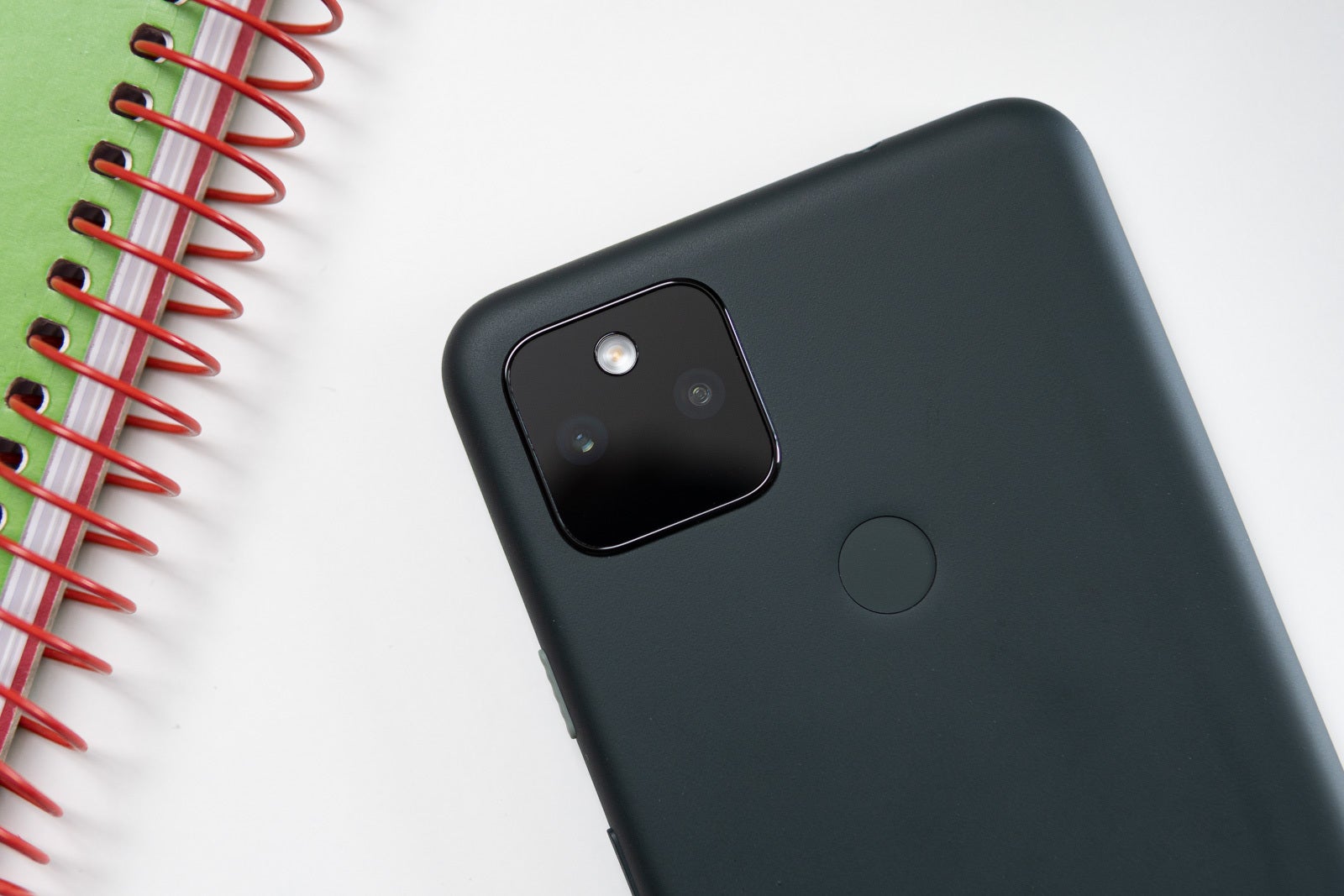 As we all probably know, Pixel phones are really good at taking photos and that's a lot thanks to Google's exceptional image processing software.
The Pixel 5a is no exception. It has the same camera system seen in the Pixel 4a 5G and the Pixel 5, which means there are two cameras on the back: a 12.2MP main camera and a 16MP ultra-wide camera. No telephoto zoom lens here means that you can only get up to 7X digital magnification and the quality is far from great for zoomed-in shots. As for selfies, it rocks the usual 8MP selfie cam that Google phones have been featuring recently. Those are the specs, but what about the actual photos?
Pixel 5a camera samples


Dynamic range is excellent and far above the average for this class, plus you get rich and saturated colors. We couldn't really find much of a difference between this camera and the camera on the Pixel 5, so you are more or less getting the same excellent quality.



Night Sight turns on automatically when the light gets dim and gives you those clean and sharp night shots that remain best in this price class. This phone truly captures a ton of light in even the darkest places, and while others have been catching up, it's still ahead.
Portrait Mode
You get a dedicated Portrait mode that uses the main camera and gives you the choice between a 1X and 1.3X view. There is not a huge difference between those two as you can imagine, but if you want a bit of magnification, it's a neat option to have. Also, 1X is actually a misnomer when it comes to portrait mode as the camera crops in and you lose out on some detail, and even further more at 1.3X.
Video Recording Quality
The Pixel 5a video quality is fine, but not quite amazing. The most noticeable limitation is that it crops in significantly and with this crop you get more visible noise in the frame and detail is not as plentiful as on more expensive phones.
You can record video in either 4K (up to 4K60) or 1080p resolutions. There is one thing remarkable about Pixels and the 5a in particular and that is video stabilization. You have 4 different stabilization modes, which may sound overcomplicated, but it can really be a lifesaver if you insist on stable video. The standard stabilization is great for just walking shots, then you have the locked mode which makes it feel that you've put your phone on a tripod and is great for zooms, then you have an active stabilization for things like mountain biking, and finally you have Cinematic Pan for slow and smooth panning shots.
Camera bugs
We can also confirm reports that the Pixel 5a overheats easily while recording 4K60 video. After about 2 or 3 minutes of 4K60 video recording, we would get a pop-up message saying the device overheated, asking to close the camera app until the device cools off and the recording cuts off. Yes, 4K60 is a bit of a tall order for a budget phone, but you'd expect it to work properly if you have that option in the camera. Switching to 4K30 made a difference and we could easily record more than 10 minutes of video with no sign of overheating, so in our experience 4K30 works fine. We did not try recording in a hotter climate, but that could definitely affect the capricious Pixel.
We also noticed another persistent bug with the camera: it would simply take way too long to open. Double clicking the power button usually instantly opens the camera, but on the Pixel 5a we got a black screen and the camera was often stuck loading for around half a minute. If you're in a rush to capture that precious moment, this bug can be super frustrating.
Not exactly in the bugs category, but still worth mentioning is that the weaker processor makes editing videos quite the arduous task as even the simplest operation take way too long to complete. Will an update fix all of those issues? We hope so, but we can only judge the device on what it currently offers.
Audio Quality and Vibration
We have already celebrated the presence of a 3.5mm headphone jack on the Pixel 5a (it's located on the top of the phone), but what about the loudspeaker quality?
You have a 2-speaker configuration here, with one speaker embedded in the earpiece and another at the bottom of the phone. And these two speakers can get surprisingly loud! Last year's more expensive Pixel 5 model featured an under-display speaker which was a big disappointment. This new budget one sounds better, with a richer sound and while it does get muddy when cranked up to the max, it's still a step up. Voices in phone calls also sound good and clear.
The vibrations, or the so-called haptic feedback, on the Pixel 5a is super strong, so you won't miss a call or a notification. It may even be a bit too strong if your phone is buzzing all day. Thankfully, you can go to the settings app and tone that down for more gentle vibrations.
Pixel 5a Performance
Still okay-ish, but no upgrades from last year's model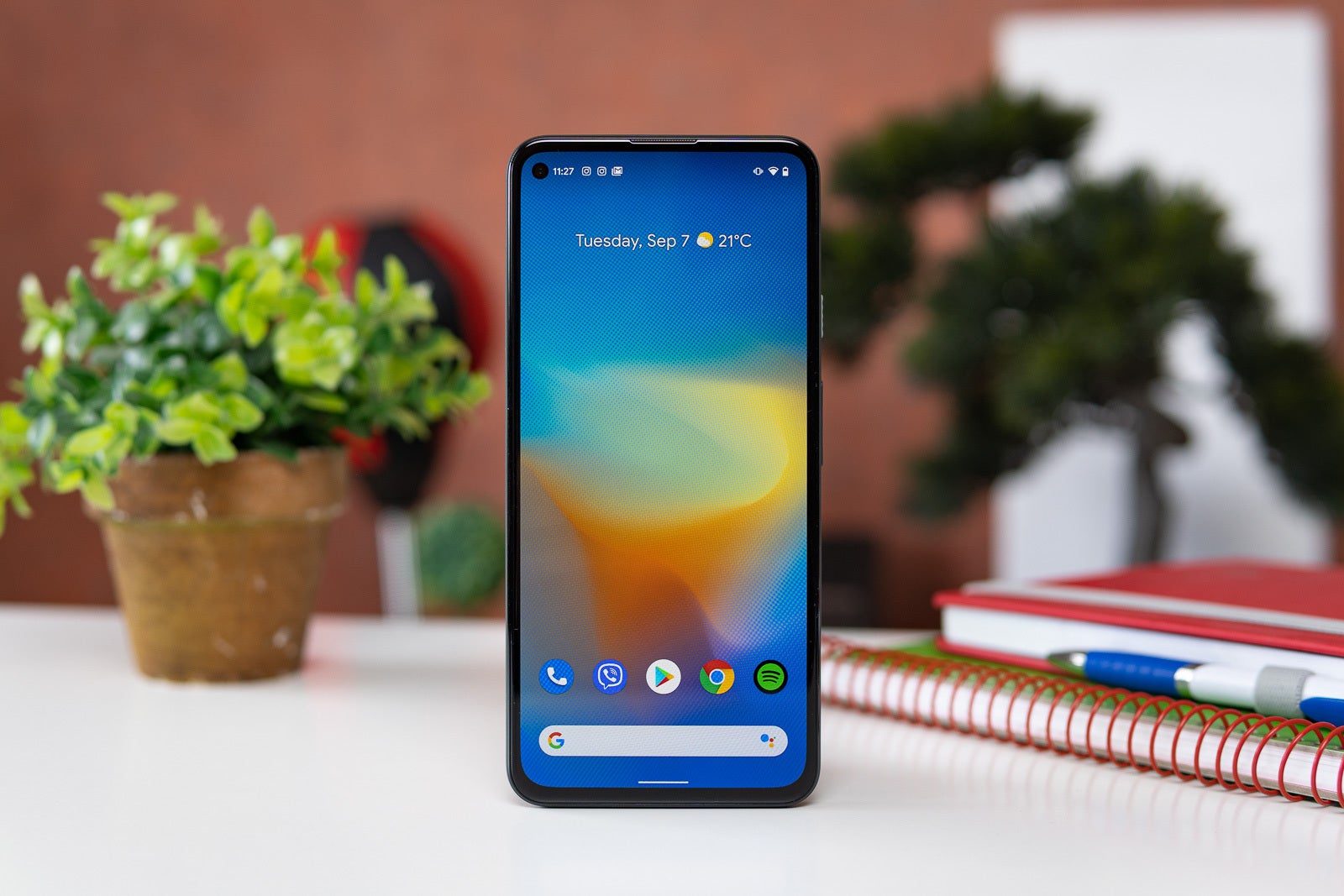 While the Pixel 5a brings big improvements to the battery, it remains practically unchanged when it comes to the processor. Same Snapdragon 765G, same 6GB of RAM, same 128GB of storage as last year's model. Still no microSD card slot for expandable storage.
This was a disappointment for me personally. The Pixel 5a does not feel slow per se and it gets through daily tasks mostly fine. But if you push it a bit harder, you can notice a bit of stutter that was eradicated on the OnePlus Nord 2, another budget phone I tested recently, but one equipped with a newer processor, the MediaTek 1200.
The lack of firepower on the Pixel 5a should concern gamers a bit more. Now, casual games don't need to be worried about that, but if you want to run something like Genshin Impact at higher settings and a stable frame rate, the Pixel 5a might disappoint.
In terms of storage, you get 128GB on board with NO microSD card slot, so no option to expand that. The storage is of the UFS 2.1 type, which again is a bit slower than on some rival devices like the Nord 2 that use UFS 3.1.
One quick word about biometrics: the Pixel 5a uses a traditional fingerprint scanner placed on the back of the phone, and it's fast and reliable, no issues whatsoever.
Connectivity (Pixel 5a 5G bands)
The Pixel 5a supports 5G networks, but it won't work on the fancy mmWave frequencies. That probably shouldn't worry you too much — mmWave is supported mostly by Verizon and only in a few tiny spots in the big cities, so chances are that most of the time you won't have access to it. If you do happen to live in such a place, though, know that the Pixel 5a can only connect to sub6 5G networks.
Battery life
One big battery that can last you easily through even longer days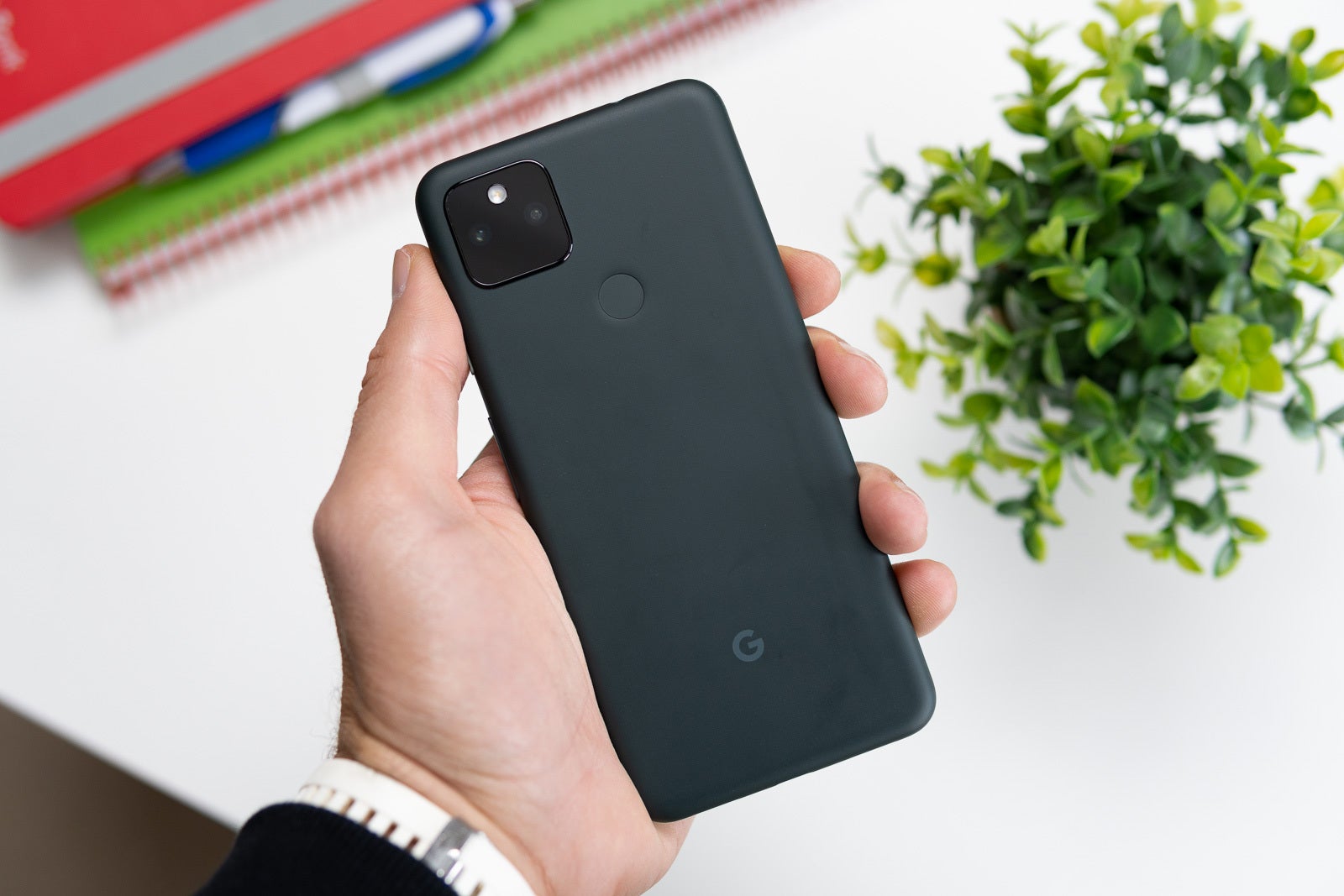 The biggest upgrade with the Pixel 5a has got to be the bigger battery size: you now have a 4,680mAh battery inside, up from the 3,885mAh cell on the Pixel 4a 5G. We did the maths and that's a change of nearly 800mAh, a massive 20% boost in battery capacity!
After using the phone for a few months, we are very impressed with the real-world battery life. Starting the day at 7-8am at a full charge, we often get around 40% battery level by bedtime at 10-11pm. With scarce use, this phone can last two days, but while that would be a bit of a stretch, we can definitely get through even a very long day with a lot of use with juice left in the tank. Nice job, Google!
PhoneArena Battery Test Results
And in our independent battery tests, we witness that this huge battery deliver too. The Pixel 5a is close to the top of our rankings in all three of our tests. In web browsing, it lasts more than 15 hours, far above most flagships, and in YouTube video streaming it is among the longest lasting phones we have ever tested with a score of nearly 11 hours of non-stop playback. It also stays cool while gaming and scores nearly 11 hours in 3D gaming as well. A 60Hz screen might result in a slightly choppier scrolling, but it helps max out the battery life and this is truly a 2-day phone on an average day.
We also appreciate having a charger included in the box. The Pixel 5a supports 18W charging speeds and you get an 18W charger with a type C to type C cable.
What's missing on the Pixel 5a is wireless charging. That's one feature commonly missing on budget phones, though, and we cannot complaint too much.
Conclusion
The Pixel 5a might not look exciting on the outside and this combined with what looks like Google trying to hide this phone from the world, it can almost fly under the radar. But it shouldn't be this way: this phone excels in the fundamentals in an outstanding way. It is built like a tank with a metal body, a rarity these days, it features a massive battery and we can call this a 2-day phone, another achievement that most others cannot match, and topping it all is an excellent camera system that performs during the day and shines above rivals at night.
Sure, the lack of a fast refresh rate is a bit of a disappointment and Google using the same chip instead of a slightly faster one is lamentable, but even with those compromises the Pixel 5a is definitely in the race for one of the
best budget phones
around.
Now, if only Google could release it to more than 2 countries...