Samsung Galaxy Z Fold 3 review: key features
36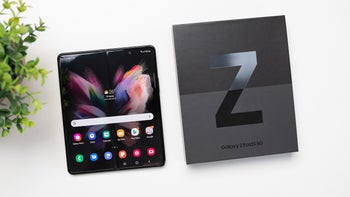 Galaxy Z Fold 3 Intro
Well, the Samsung Galaxy Z Fold 3 is here and it brings a few upgrades to the formula that made the Z Fold 2 quite cool. It has a very similar design and hinge, but we now have water resistance, slightly better screens, a new processor, S Pen support, and a new software experience that really makes use of the foldable form factor. Hopefully, the same software will trickle down to previous Folds via an update (and sooner would be better). This phone is Samsung's best take at a foldable yet.
It's a number of small improvements — as a whole, the jump from Z Fold 2 to Z Fold 3 is nowhere near as huge as the one between the original Fold and the Fold 2. So, if you have last year's edition, don't feel too pressured to upgrade (unless you can make use of one of those lucrative trade-in offers).
Update July 2022
: The Galaxy Z Fold 3 held gracefully, but was ultimately succeeded by the Samsung Galaxy Z Fold 4, which was released in August 2022. With improvements in core areas like performance, software functionality, and so on. You can read our full
Galaxy Z Fold 4 review
here.
Galaxy Z Fold 3 specs
Here are the full Galaxy Z Fold 3 specs:
Specs
Galaxy Z Fold 3
Size and Weight
Unfolded: 6.23 x 5.04 x 0.25 inches (158.2 x 128.1 x 6.4 mm), 9.56 oz (271 gr)
Folded: (158.2 x 67.1 x 14.4 mm)
Display
Internal: 7.6" Super AMOLED, 2208 x 1768 pixels, 372PPI, 120Hz
External: 6.2" Super AMOLED 2268 x 832 pixels, 120Hz
Processor
Qualcomm Snapdragon 888 SM8350 (5 nm), Octa-core, 1x 2.84GHz Kryo 680 + 3x 2.42GHz Kryo 680 + 4x 1.80GHz Kryo 680, 64-bit
RAM
12GB
Storage
256GB, non-expandable
Software
Android 11, One UI 3
Cameras
12MP wide camera, F1.8 aperture
12MP ultra-wide camera, F2.2 aperture
12MP 2X telephoto camera, F2.4 aperture
Battery Size
4,400mAh
Charging Speeds
25W wired, 11W wireless charging
Price
starting from $1,100
Galaxy Z Fold 3 design and display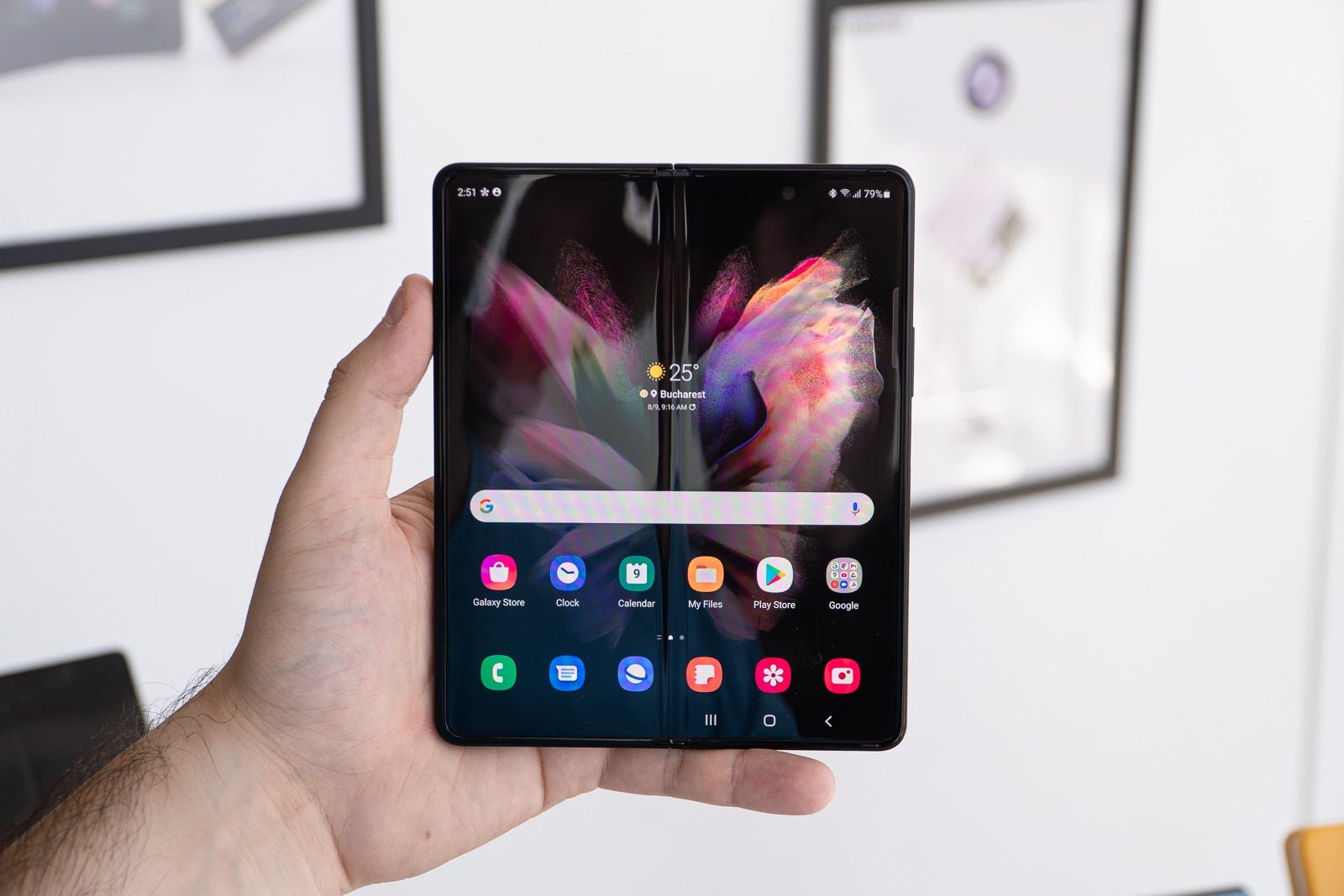 The Samsung Galaxy Z Fold 3 repeats the formula of the Galaxy Z Fold 2 — it looks and feels mostly the same. If you look at the raw numbers, the Z Fold 3 is very slightly smaller, thinner, and lighter, but in real-life use — the difference is negligible.

The camera on the back has gotten a redesign — it feels less bulky than last year's model. That's not to say it doesn't protrude with its own camera hump, but it looks better and more elegant to my eyes. The back of the phone is covered in matte glass, which feels great and looks sleek. The black model we have here is overall very elegant and stealthy and I love the look.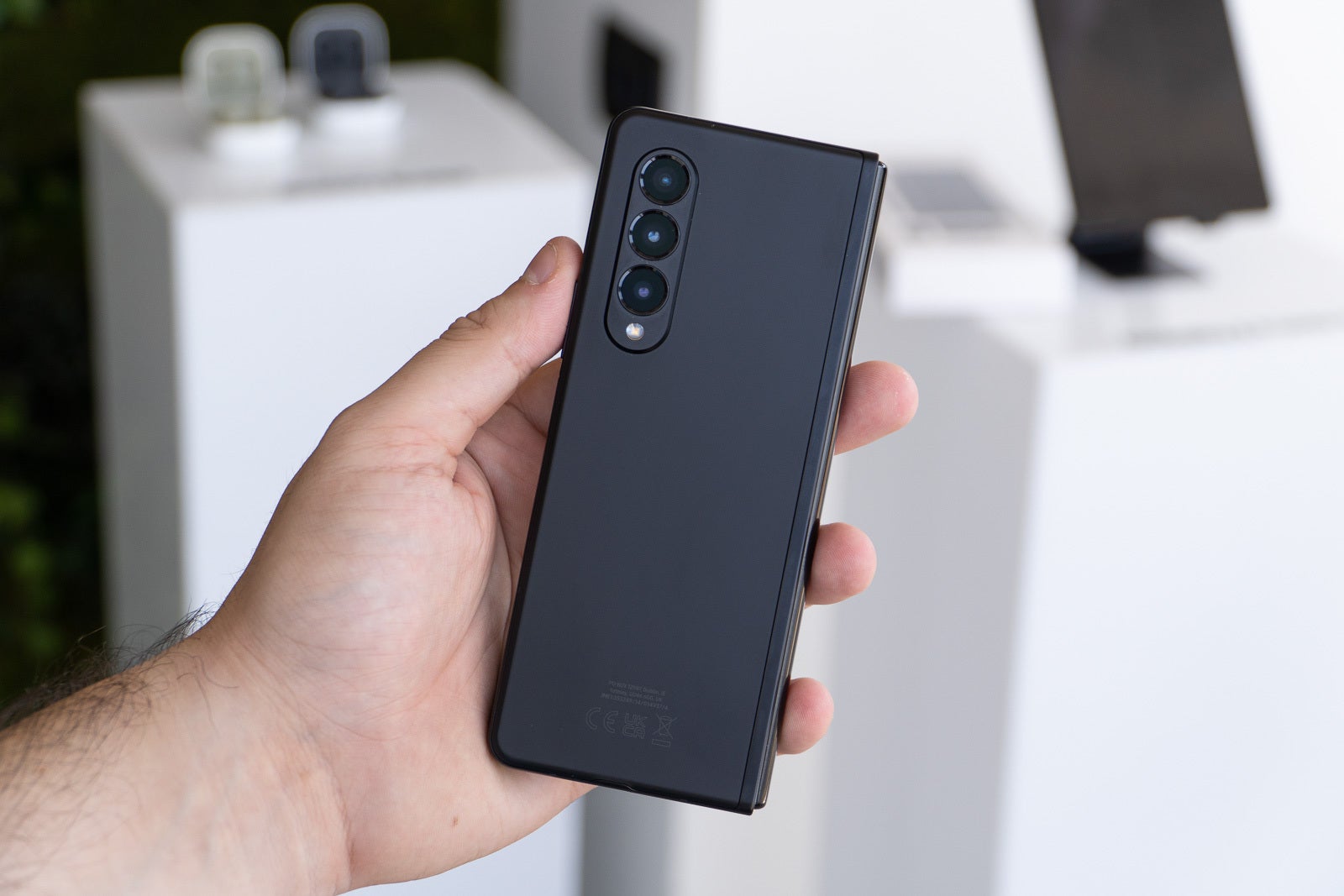 There's a narrow screen on the outside — a 2268 x 832 pixel display with a 6.2-inch diagonal but an aspect ratio of 2.73:1. It's a brilliant AMOLED panel that's colorful, bright, and sharp. And now, it also supports a 120 Hz refresh rate.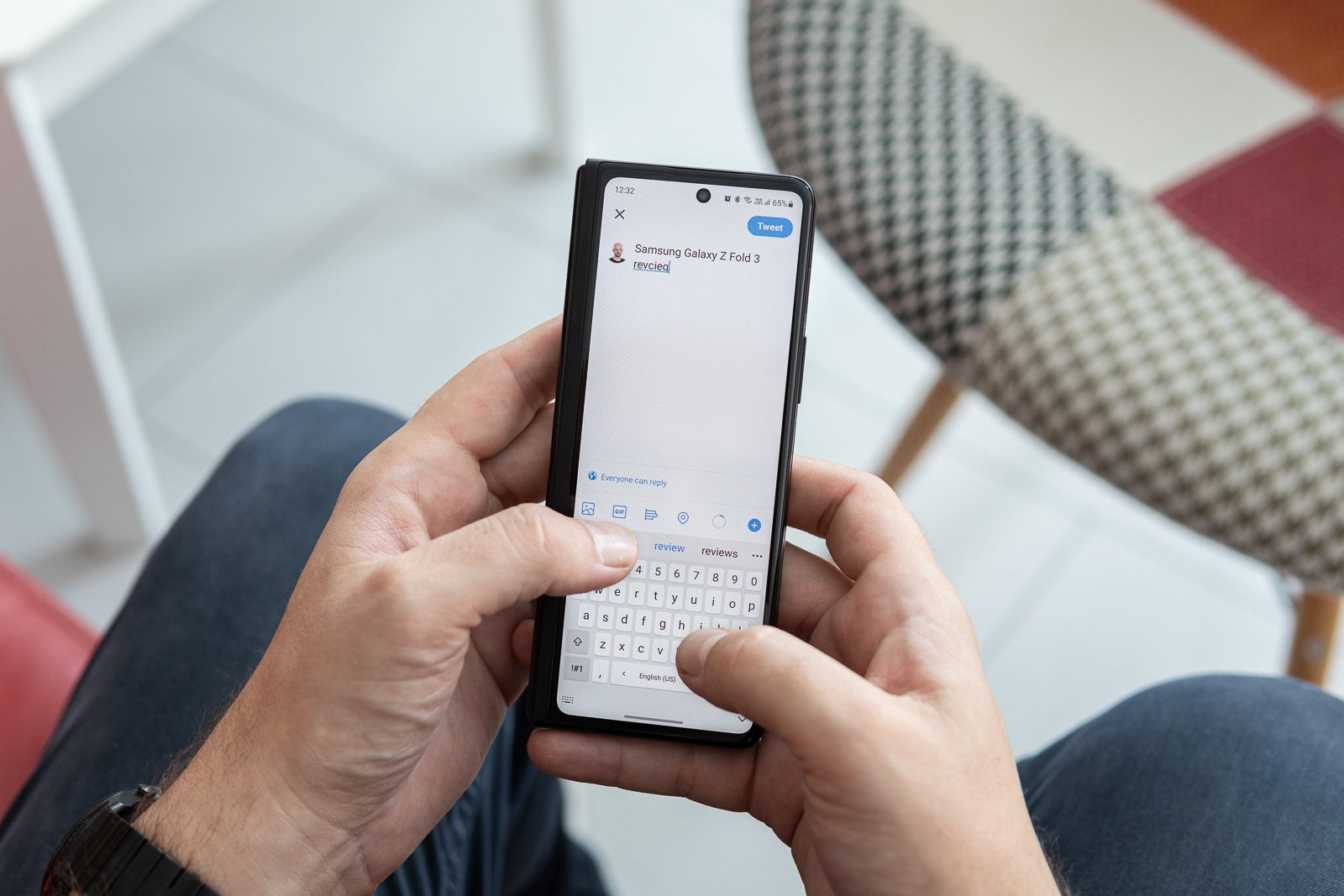 Thank goodness for autocorrect
Too bad the shell screen is so thin — it's pretty tough, and even annoying, to thumb-type on it. Otherwise, the screen is good as a camera viewfinder, and it works for browsing social posts on Twitter and Facebook, checking your messages, calendar, using a calculator, et cetera. Any activity where you need to look up a bit of info quickly — it can do just fine.
Galaxy Z Fold 3 Display


Of course, you will probably be using the main screen of your Z Fold 3 more often than the one on the shell.
This is where the experience of the hinge mechanism comes into play. It feels solid and tight and can confidently snaps into place when you unfold or close the Galaxy Z Fold 3. You can also choose to keep it into a half-open state and some apps will even respond to that by splitting the screen accordingly.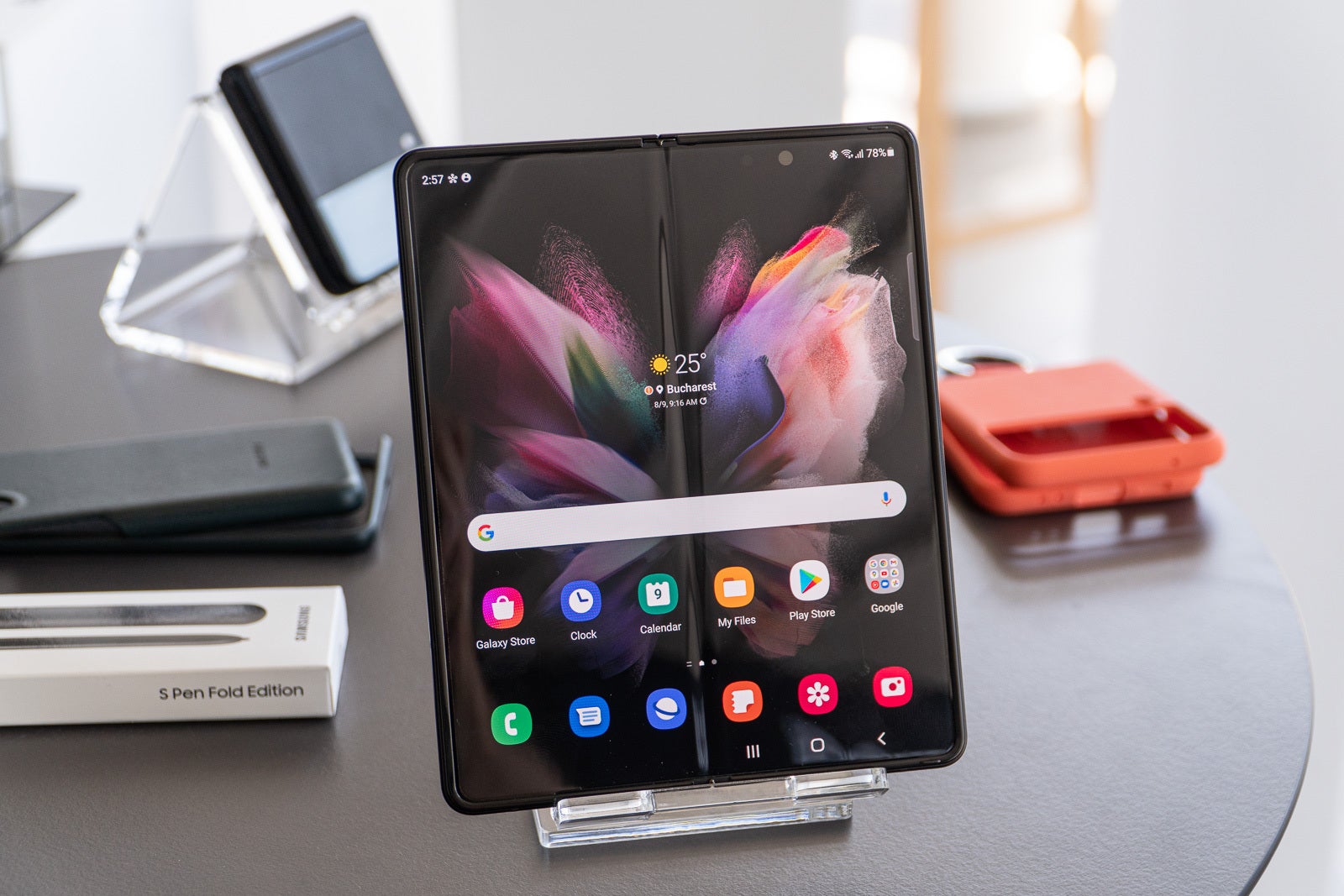 On to the inside screen — first pleasant surprise, the pre-installed screen protector feels great!
Small history lesson — the original Galaxy Z Fold had a screen protector, which was not supposed to be removed, because that litteraly broke the phone. The Galaxy Z Fold 2 had a removable protector, which had a very rubbery feel to it. Makes sense, a protector that's laid on top of a screen that literally folds needs to be flexible, yeah? Though, the feel of that Z Fold 2 protector prompted a lot of users to remove it — it was sticky, nasty, and annoying.
The Galaxy Z Fold 3's protector is a new flexible material that's super-thin and has a pleasant, glossy feel — just what we are used to.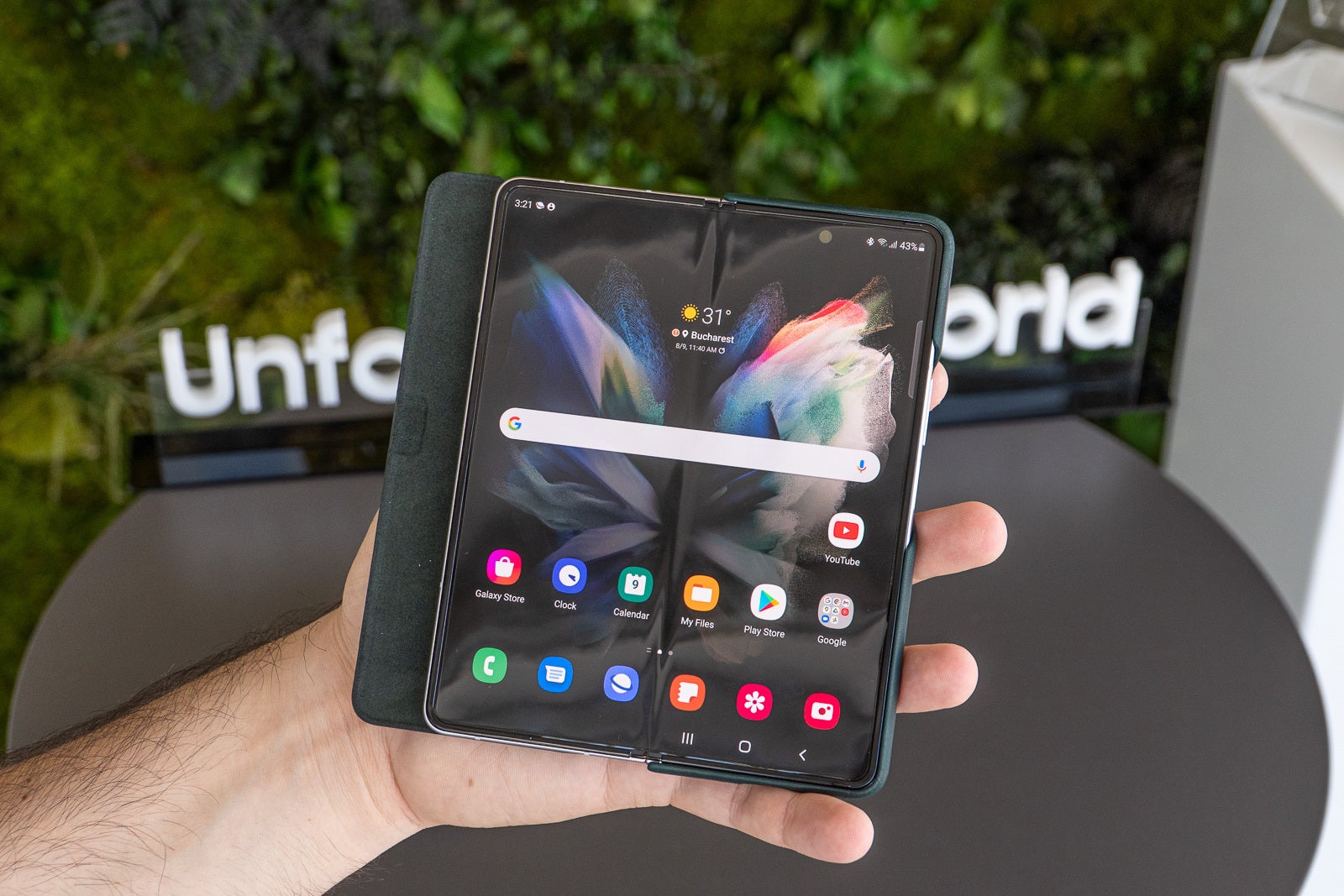 The main screen has a 7.6-inch diagonal and an almost-square (1.25:1) aspect ratio with a resolution of 2208 x 1768 pixels. Its overall screen area is about half of an iPad Pro 11 screen. In other words — it looks, feels, and functions as a mini tablet.
It's a new type of Super AMOLED panel — Samsung calls this one
Eco2 OLED
. Essentially, it's brighter and more energy-efficient than before. And it shows, I had no trouble viewing content under the bright sunlight on both the shell screen and inside display. The colors and sharpness are absolutely on point — Samsung has perfected its OLED game years ago and, by this point, it's just showing off.
But it still comes with the visible flaw — the crease down the middle. It's kind of disappointing that so much effort went into covering up the tiny selfie camera, but the crease remained the same. There's still a visible line running down the center of the screen — you can see it, your finger can feel it. It's a necessary evil, I get it, a flaw that is still technically hard to iron out completely. But it's there.
Display measurements and quality
It goes without saying that the inside screen also supports a 120 Hz refresh rate — last year's model did it, so does this one. You know it — 120 Hz feels buttery smooth and responsive, it's very hard to go back to 60 Hz screens after that.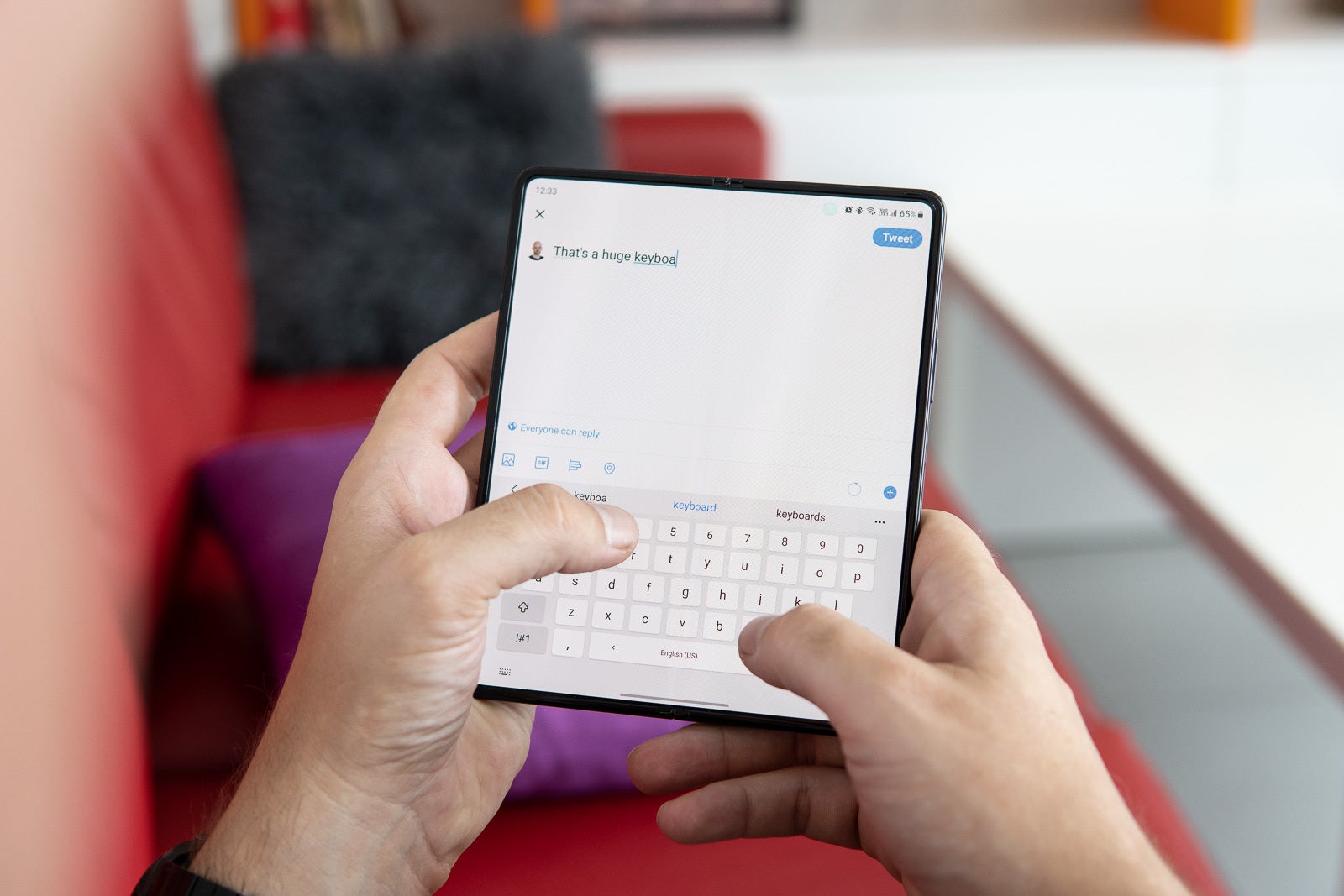 Finger gymnastics
Using the main screen to type longer messages is definitely easier than on the narrow outer one, but it's still an acquired taste, or a skill that needs to be developed. There's just no happy medium on this phone — you are either working with a super-small or extra-large keyboard. But I have a feeling I will get used to it the longer I actually use it.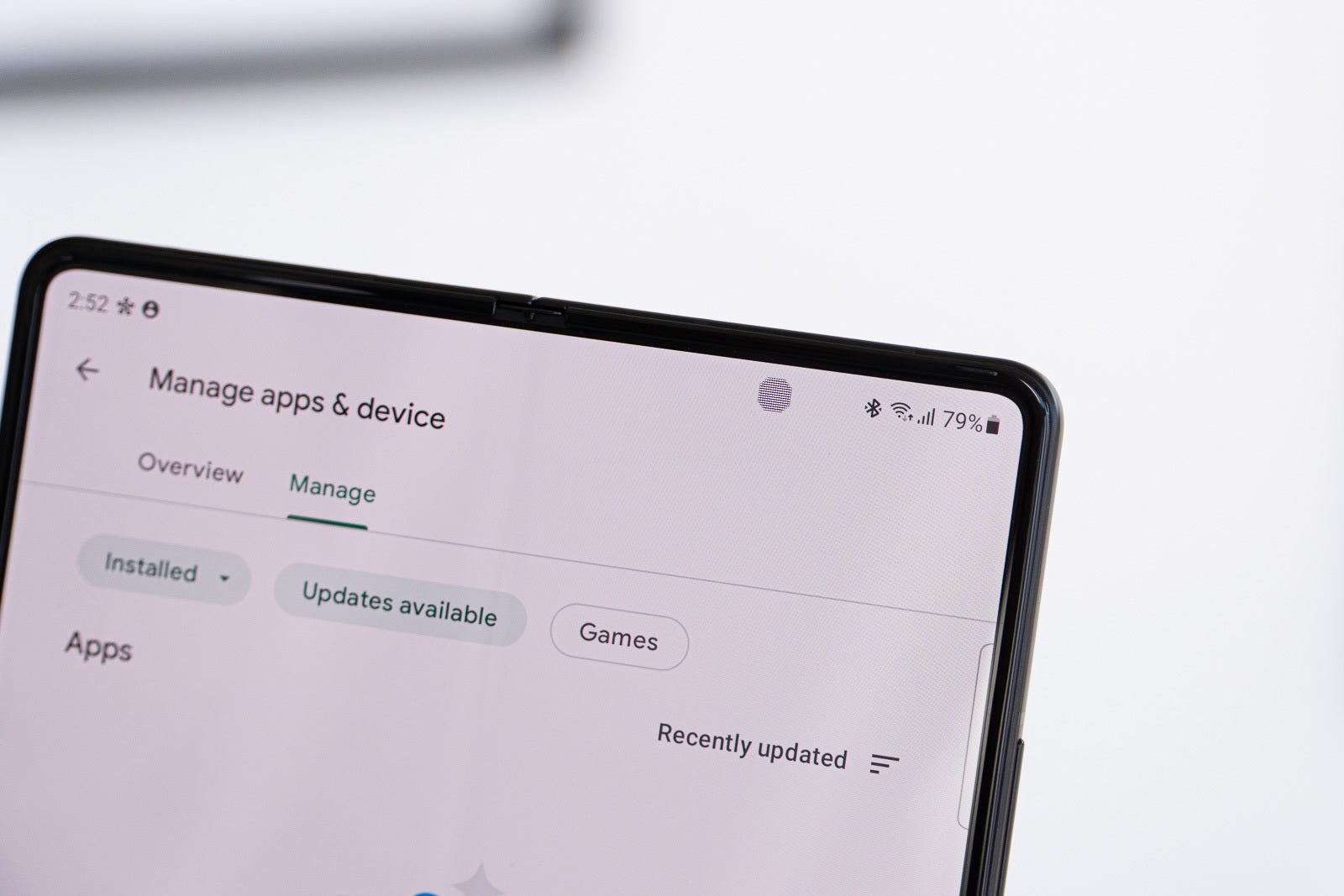 On to the other big deal — the Galaxy Z Fold 3 is the first Samsung smartphone (and among the first smartphones in general) to have an under-screen selfie camera. A.K.A. under-panel camera or UPC. Specifically, it's on the internal display. Instead of having a "punch-hole" opening for the selfie camera under the inner display, it's now covered by active pixels. When the camera is not in use, the pixels will light up and try to "mask" the hole.
Is the UPC of the Z Fold 3 a good solution? In my opinion — not really. The area above the camera is covered by very few pixels, which also glow slightly brighter than the image on the rest of the display. Some have said it doesn't look as bad in person as it does on camera. I dare argue this — it looks exactly like it does on camera.
So, it ends up being this brightly-lit grate shape when you are watching bright content. To be honest, I found it more distracting than simply having a hole there, which I've gotten more or less used to over the past few years.

But since everyone is busy ranting and raving about notches and punch-holes — there you have it. A half-done non-solution to a non-issue that now looks kind of dorky on an otherwise brilliant phone. Great.
Galaxy Z Fold 3 water resistance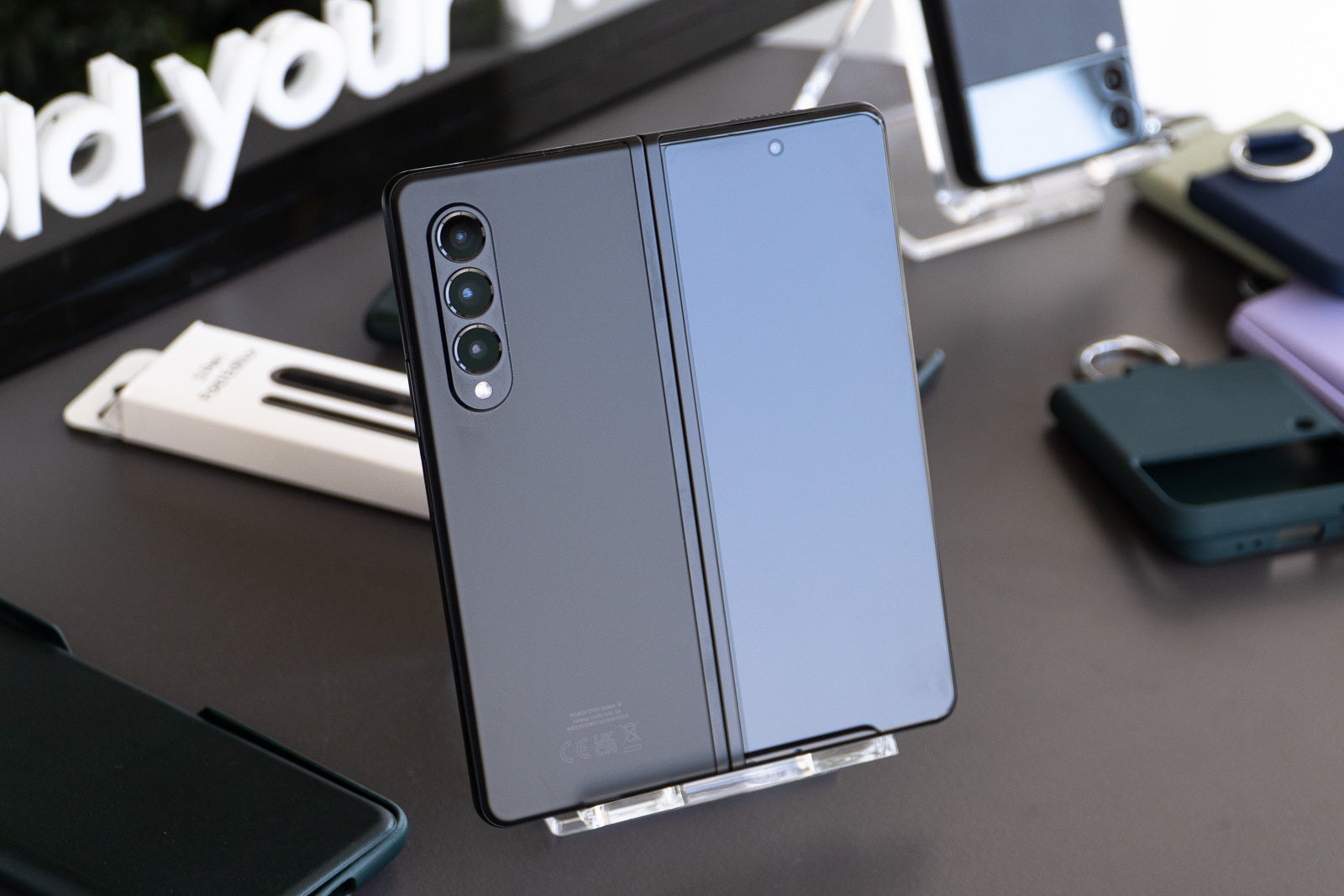 One very big "first" debuting alongside with the Z Fold 3 is its water resistance. Yes, a foldable phone that's not afraid of a little water is definitely something noteworthy. Have in mind that the phone is merely IPX8-rated, which means that it's water-resistant, but not dust-resistant.

How has Samsung achieved this feat? Well, the company is pretty laconic for now, attributing the deed to its R&D team. I'll take that as a clear win though, but then again, deliebrately dunking the phone in water is never advised.
Galaxy Z Fold 3 camera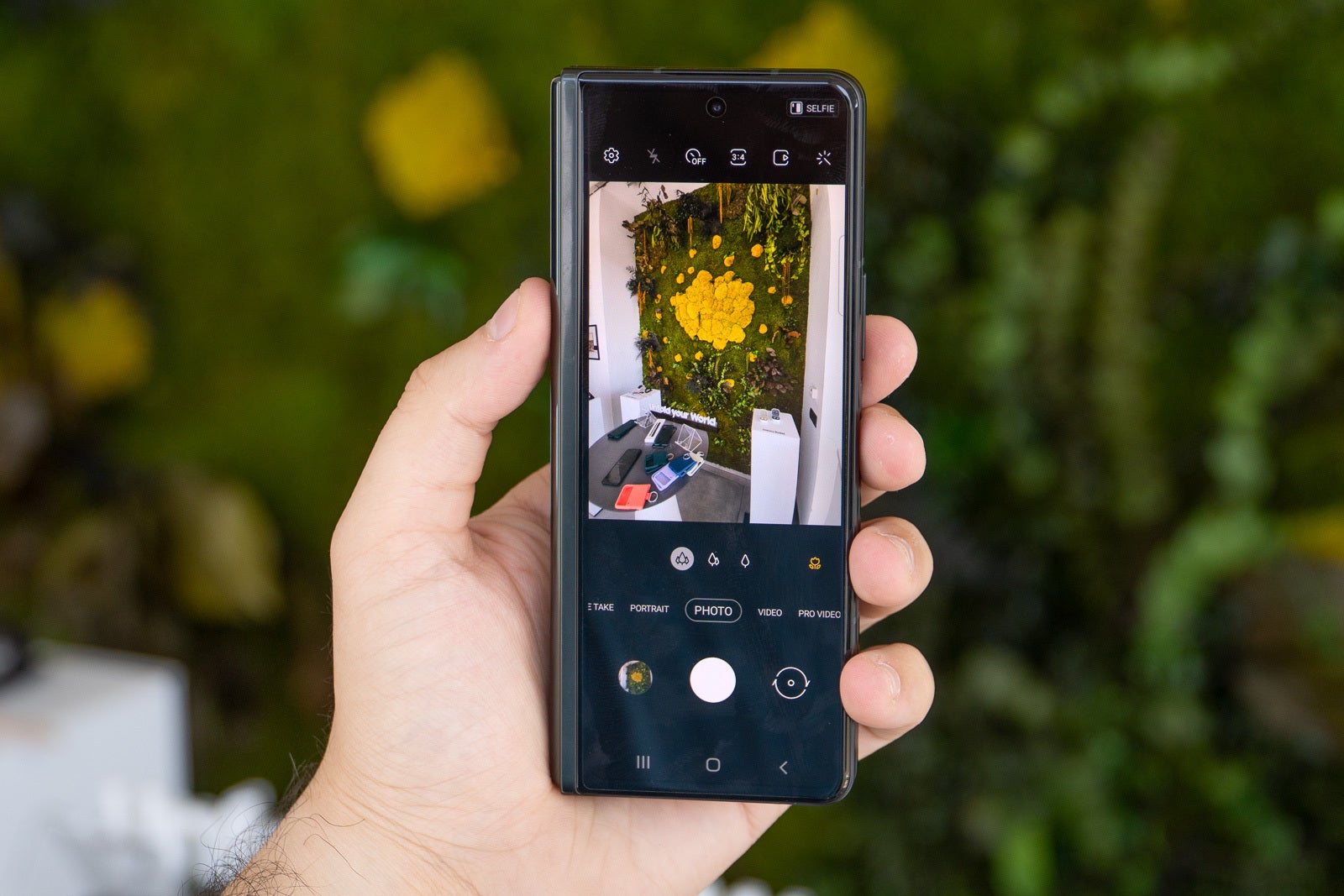 The Samsung Galaxy Z Fold 3 does not aim to be the top dog in the camera department — Samsung has the Galaxy S21 Ultra for that. The Z Fold 3 does not have a crazy resolution sensor and it doesn't have insanely over-the-top zooming.
I assume this choice was made for two reasons — first, to cut costs on a phone that's already pretty expensive, and secondly to make sure that the camera is not super bulky. Can you imagine the Galaxy S21 Ultra's camera module on the Z Fold? Yeah, a weight-lifter's dream.
So, the Galaxy Z Fold 3 has a 12 MP main camera, 12 MP ultra-wide camera, and 12 MP telephoto camera that zooms 2x compared to the main one. The maximum zoom level you can get via digital crop is 10x.
Does this make the Z Fold 3's cameras bad? No, not really. They are quite good. Not the best, but really good. Most of that is thanks to Samsung's post-processing expertise, of course, as the phone does a lot of the heavy lifting once the sensor has captured the image.
Let's look at some samples!
As you can see, we have the typical Samsung look to them. They are bright and colorful and instantly grab the viewer's attention. If we are to take a deep dive and nit-pick — there's a certain amount of sharpening that goes over the edge (ha-ha) in a few places. Some colors, like the green in the plants and the blue in the sky, are a tad more vibrant than they should be if you are looking for realism.
But other than that, the Galaxy Z Fold 3's camera has a consistently good handle on dynamics — super-bright spots don't burn out, dark spots get the exposure treatment they deserve. Even if it's not the best camera Samsung has, the Z Fold 3's shooter still behaves and performs like a flagship camera.
As for selfies, well — take your pick. You can use the 10 MP camera above the outer display to take a conventional selfie. It's not super-good — it has a wide lens, so if you are not shooting in "group selfie" mode, the phone crops in digitally, and sharpness takes an instant hit.
Its dynamics are also not great, but at least skintone and color balance don't look too out there.
If you prefer — you can take selfies with the main camera module on the back. Just unfold the phone and use the cover screen as a viewfinder. It goes without saying that this results in the best, most unflatteringly detailed selfies you can make. It also gives you more options as you can use any of the 3 lenses on the back to take the selfie.
Lastly, there's the under-panel camera on the inside of the phone. It's a 4 MP sensor hidden behind a display — it wasn't really designed for selfies. Samsung said so itself — users use the inside camera mostly for video calls, and take selfies with the outside cameras. Of course, I tested the inside camera — it's absolutely not great for any type of pictures, as expected. It works fine for Skype chats, though.
As for video, we get the same deal from the main camera — bright, vibrant, sharp imagery with a very good handle on dynamics. One thing we noticed — when zooming in and using the telephoto camera while recording, the phone has a bit of an issue auto-focusing right. It's not a huge problem, but definitely something to be mindful of. User input may be required — tapping on your subject to prompt the camera to re-focus will help.
The resolution goes up to 4K at 60 FPS and the standard stabilizer does a good job at negating shaky hand effects. If you want to turn on Super-stable mode, you will be limited to FHD (1080p) at 30 FPS, so that's a tradeoff.
Galaxy Z Fold 3 speakers
The Samsung Galaxy Z Fold 3 comes with two speakers on both sides of the phone (located on top and bottom when folded). They sound almost great — obviously, their size is still a limit that can't be easily overcome. Compared to the Z Fold 2 of last year, the sound of the Z Fold 3 is slightly more scooped with less meat in the mids. It can also sound harsh in the 4k-8k area.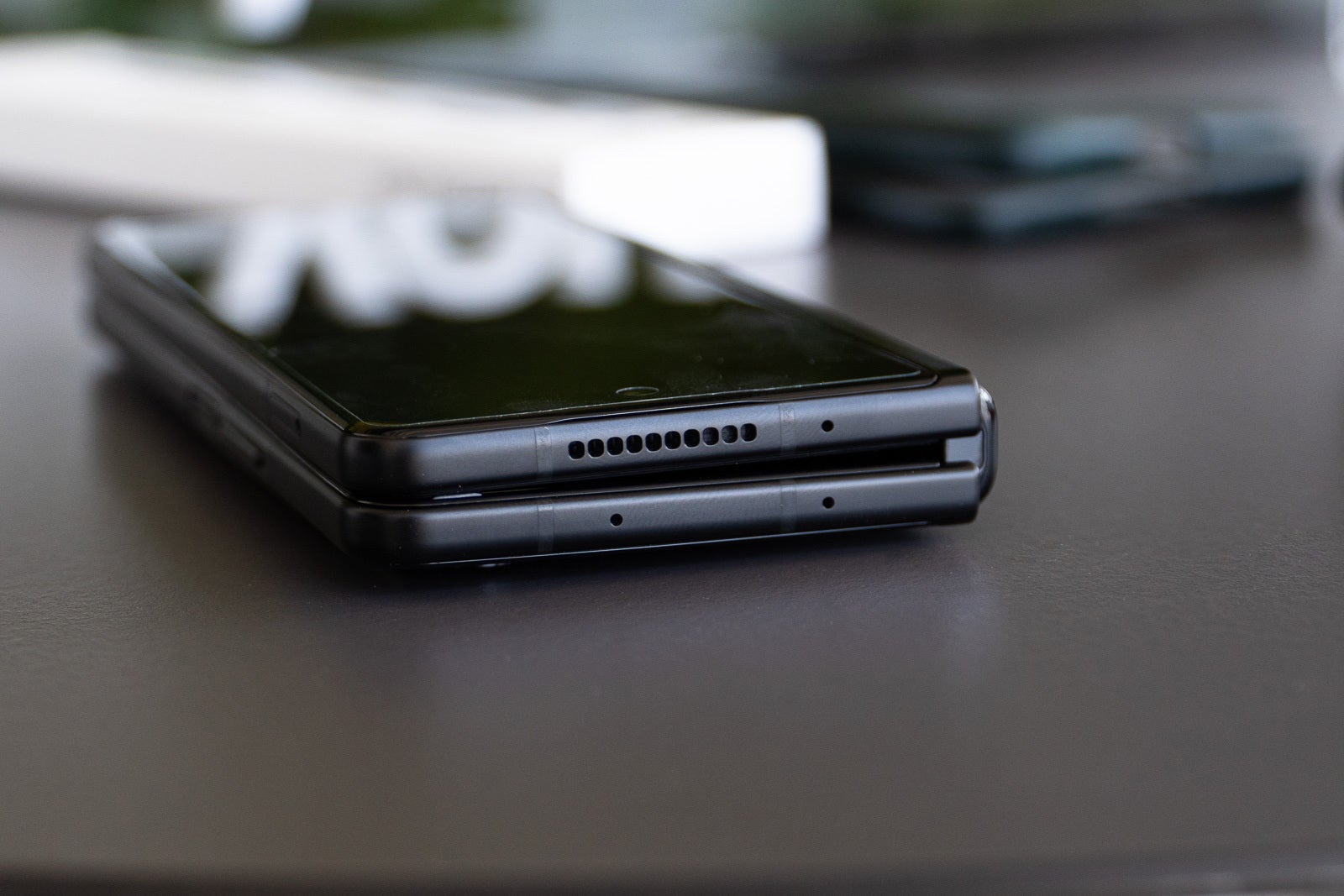 I used the built-in equalizer to fine-tune them a bit — Samsung's EQ still does that weird thing where boosting one frequency will lower all the others. So, I recommend using the EQ to cut frequencies only and if boosting — boost very slightly. In the end — I am happy with the sound I got.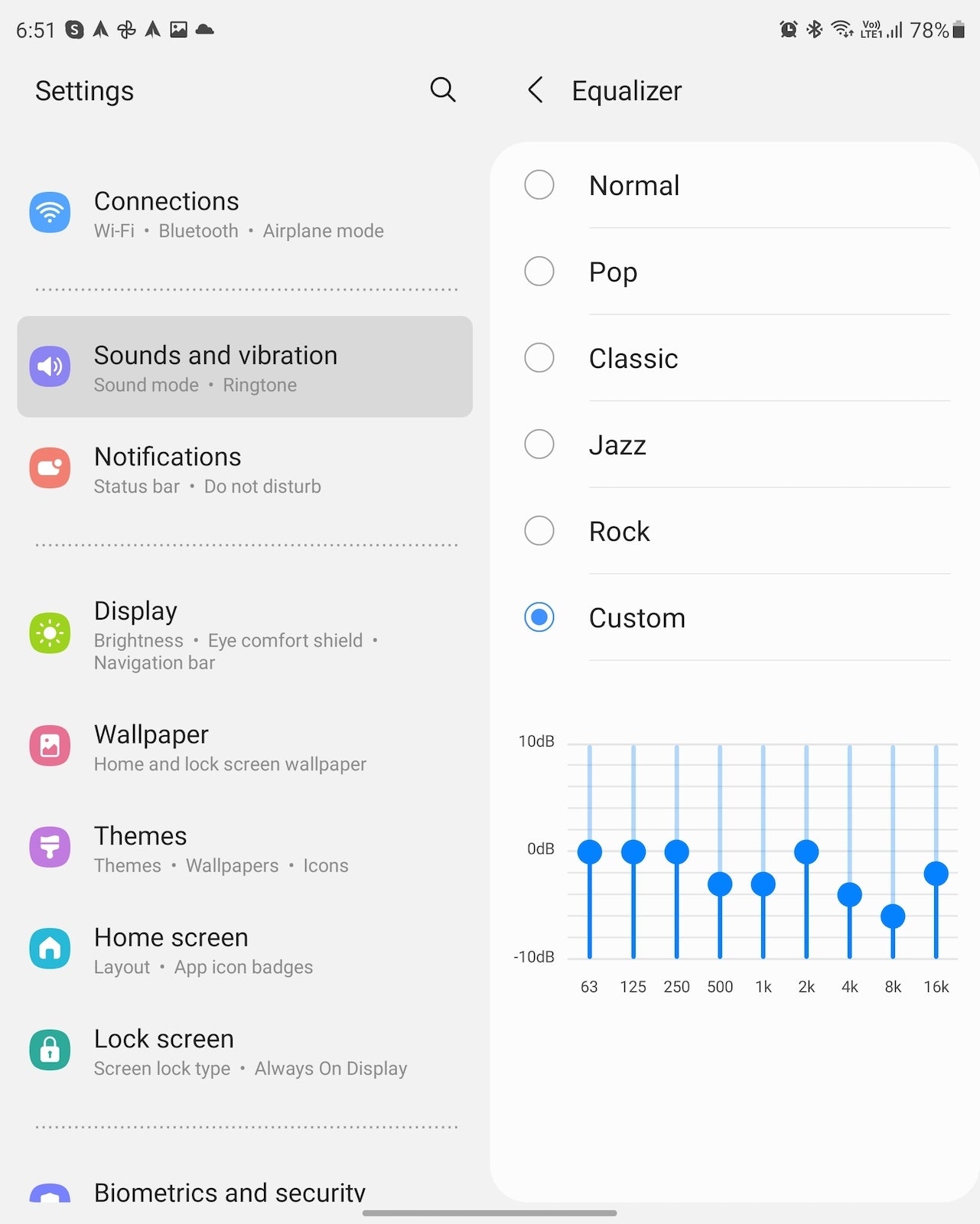 Galaxy Z Fold 3 S Pen
There's also S Pen support, which should bode well with Galaxy Note fans which got the short end of the stick this year. The foldable phone supports the S Pen Fold edition, as well as the Bluetooth-enabled S Pen Pro, both of which are sold separately. There's a nifty case for the phone that allows you to conveniently carry the stylus around, as there's no way to store it inside the Galaxy Z Fold 3 itself.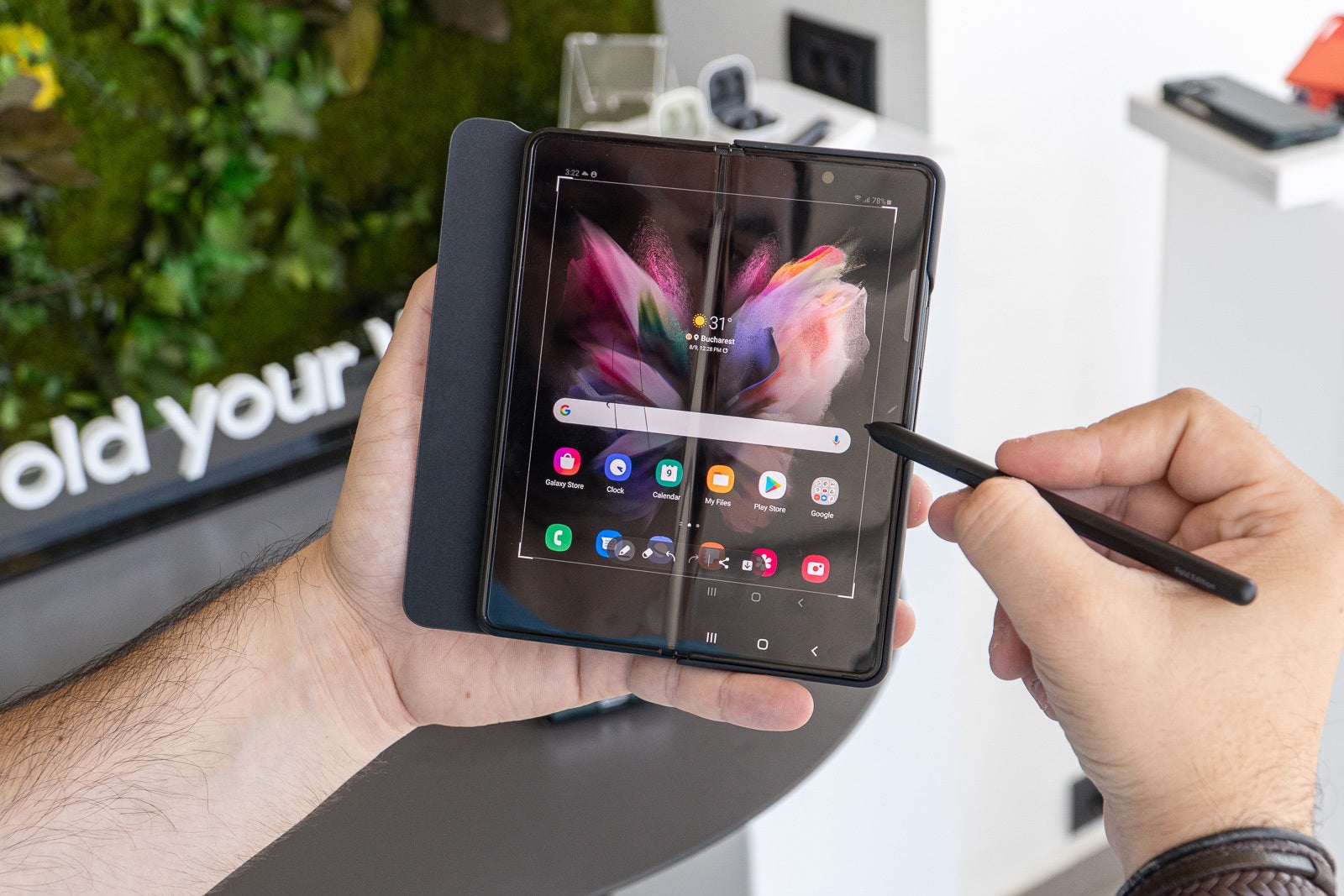 Galaxy Z Fold 3 software and multitasking
The Samsung Galaxy Z Fold 3 comes with One UI 3.1.1 on top of Android 11. The interface has a lot of enhancements specifically developed to make use of the big, square-ish screen on the inside.
For one, we now have a "Multi view" layout, which has compatible apps make more effective use of all that real estate. For example, the Settings menu has all the sub-menus listed on the left and their content on the right; the Calendar app has your accounts and options on the left, the actual calendar on the right; YouTube adopts the tablet look with the video window on the left and the recommended list and comments on the right.
So on and so forth — most of Samsung's proprietary apps are optimized for Multi view and 3rd party apps can be. Even if the developers don't do anything about them — the Z Fold 3 does a good job of "tricking" 3rd party apps into thinking they are actually displayed on a tablet, so their UI gets expanded over the display instead of staying in the middle and awkwardly wasting real estate.
The Edge panels are back — you swipe in from a "handle" on the right of the screen and you get various useful panels. The star of the show is the Apps edge panel — it's essentially a favorites app drawer that you can pull in at any time, without leaving the app that's currently active on screen.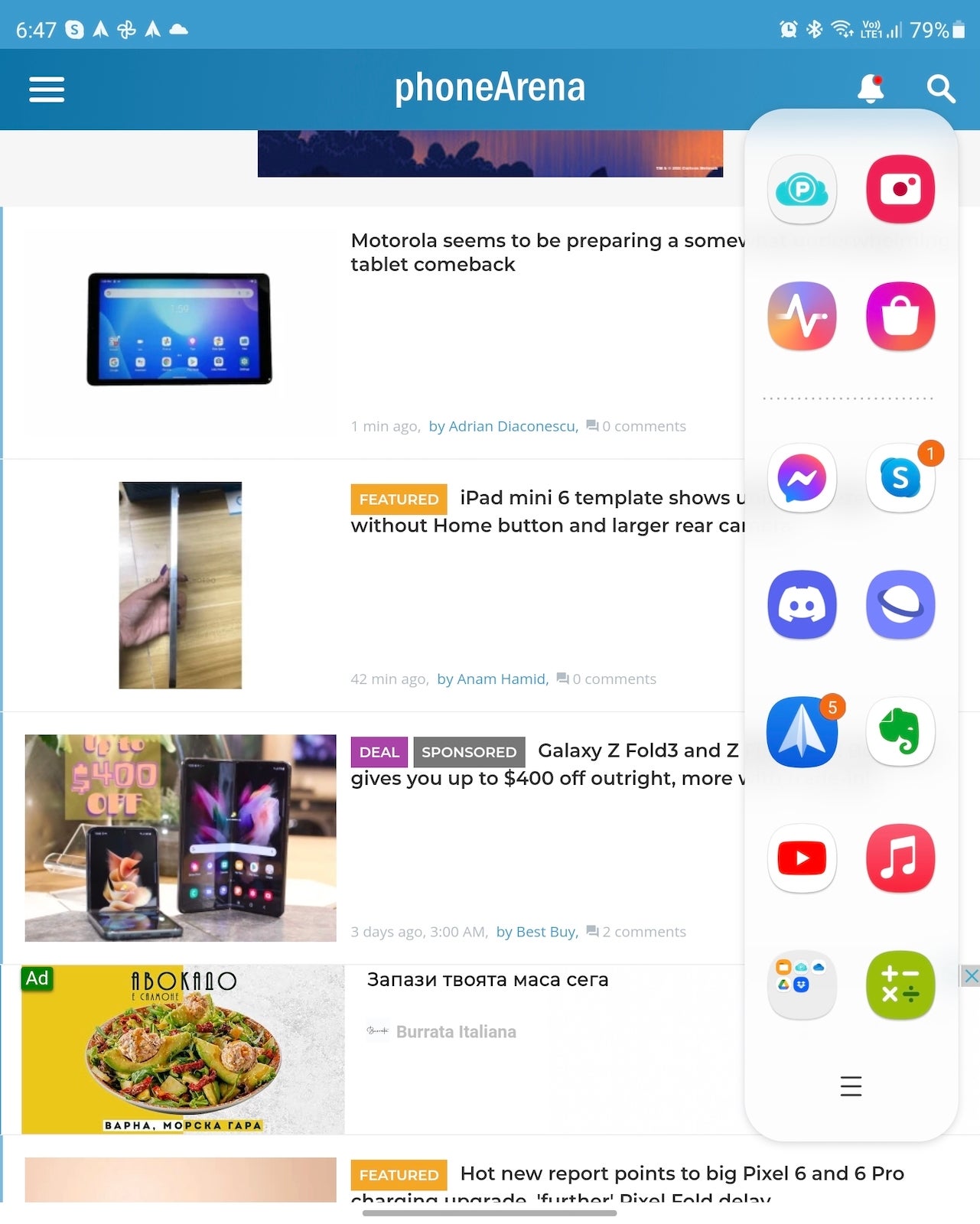 The Apps edge panel on the Z Fold 3 can now be permanently pinned on the right of the screen — it transforms into a taskbar-like apps strip, which is ever-present and invites you to multi-task on the phone like it's a mini laptop.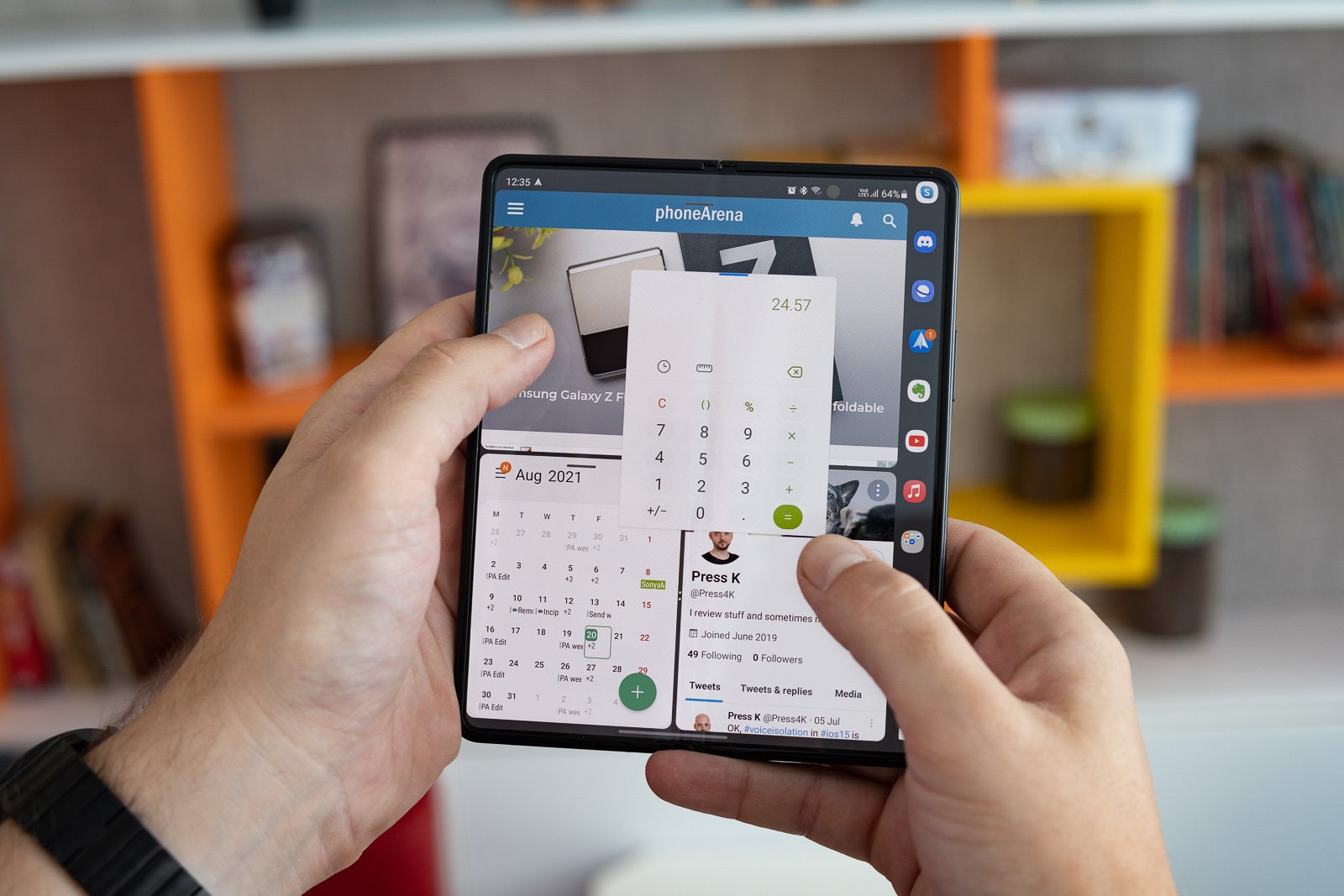 Grab an app from the Apps edge and drag it on the screen for split-screen view. You can have up to four apps active on-screen — three dragged in for split-screen view, and a fourth one opened in a floating window above all of them.
Am I going to find myself using 4 apps on the Z Fold 3 often? Probably not. Most probably never. 3 is my limit on this screen, I think. Is it nice to have the option and the headroom? Yep!
I do hope that the Galaxy Z Fold 2 gets a proper software update to adopt all these new developments — they really open up the Fold and make it into the productive machine it was meant to be. Well… as far as a smartphone can be productive, you know.
There are also the previous features that lift the Samsung experience above other mobile devices — DeX, which can turn the phone into an actual desktop-like device, provided you connect it to an external monitor, wireless TV, or PC. As well as the option to have different apps play sounds through different connected devices. I mean, it's a niche feature, even for desktop hardware users… which makes it even more mind-boggling and special that a smartphone can do it, too.
Galaxy Z Fold 3 hardware and performance
There isn't much to be said about the Z Fold 3's performance — it's as good as you'd expect. It's powered by the Qualcomm Snapdragon 888 — the flagship Android's processor — and it has 12 GB of RAM. Getting the Z Fold 3 to hiccup is a difficult task — it runs smooth and satisfying, whether you've got 3 apps open in split-screen, or playing the latest, most demanding games.
The Fold 3 comes with 256 GB base storage, which is a good thing to see on a phone that's already expensive. There's also a 512 GB storage tier to buy, but most people will probably feel plenty comfy with 256.
Galaxy Z Fold 3 battery life
Z Fold 3 left, Z Fold 2 right
The Samsung Galaxy Z Fold 3 has a 4,400 mAh battery — it's big, but not really gargantuan by today's standards. It's also 100 mAh smaller than the Z Fold 2 and that had us a bit worried. So, how does it perform?
Just as we expected, while the Galaxy Z Fold 3's battery is definitely not a marathon runner, it is perfectly capable of lasting us a day. And this is our "honeymoon period" with the phone, when we are busy installing apps, running tests, taking pictures, and generally putting it through its paces more vigorously than we would once we've settled into a daily routine with it.
The Galaxy Z Fold 3 takes it like a champ and still has some juice left in the evening to make it to a charger. Oh, somebody else's charger, I mean — it doesn't come with one in the box.
It does support quick charging — up to 25 W power. That's nowhere near the record-setting fast chargers of competitors that hit 40 W or even 60 W, but it should be better for the phone's health in the long run.
Also, yes, the Galaxy Z Fold 3 supports wireless charging (up to 11 W), so you can set it down on a mat whenever you are not using it.
Galaxy Z Fold 3 summary and final thoughts
If you haven't had the pleasure of owning a book-type foldable so far, I'd say the Z Fold 3 is a good place to jump in. It feels like a fleshed-out experience that Samsung put a lot of thought into, all the while being the cheapest Z Fold at launch so far.
I can't wholeheartedly say it's a fit for everyone. You really need to be the kind of user after that mini tablet experience who doesn't mind carrying a phone that feels like a mini brick when folded.
The MSRP of $1,800 also makes it a bit hard to recommend — for that kind of money, you can buy an iPad Pro and still have plenty left over for a very good smartphone. But, to be real, the Z Fold 3's street price doesn't go near that $1,800. At the time of writing this review, the Z Fold 3 is in its pre-order stage and you can still score deals where it's $400 off outright, or more with trade-ins. Carrier leasing makes it even easier to stomach.
So, am I recommending the Galaxy Z Fold 3 or not? Let me put it this way — if you want a book-type foldable phone, you will be happy with it. If you are merely wondering whether such a form factor is a fit for you — you probably should pass.