Galaxy Z Fold 4 review: key advantages
59
We may earn a commission if you make a purchase from the links on this page.
For its starting price of $1800, the Samsung Galaxy Z Fold 4 doesn't offer anything too big or fresh over its predecessor, but regardless, it's still arguably the most incredible smartphone for tech enthusiasts and Android power users, to date.


With its many empowering multitasking features, stylus support, big and beautiful folding display, and respectable battery life, the Z Fold 4 can not only be a phone in your pocket and a tablet in your hands, but even your PC replacement.
Update: The Galaxy Z Fold 5 is now on the horizon, read more about that one if interested:
What's new about the Galaxy Z Fold 4
Smaller hinge
Smaller bezels around the front display
Slightly different screen aspect ratio
New camera system from the Galaxy S22 line
Improved multitasking features
Galaxy Z Fold 4 specs
Specs
Galaxy Z Fold 4
Galaxy Z Fold 3
Display
7.6" Dynamic AMOLED Infinity Flex Display (2176 x 1812 pixels, 21.6:18)
1-120Hz refresh rate
7.6" Super AMOLED (2208 x 1768 pixels, 22.5:18)
60/120Hz refresh rate
Cover display
6.2" Dynamic AMOLED, (2316 x 904 pixels, 23.1:9), 48-120Hz refresh rate
6.2" Super AMOLED (2268 x 832 pixels, 24.5:9)
60/120Hz refresh rate
Dimensions
Folded: 67.1 x 155.1 x 15.8mm (Hinge) ~ 14.2mm (sagging)
Unfolded: 130.1 x 155.1 x 6.3mm
Weight: 263gr
Folded: 67.1 x 158.2 x 14.4 mm
Unfolded: 128.1 x 158.2 x 6.4 mm
Weight: 271gr
Processor
Qualcomm Snapdragon 8+ Gen 1 4nm octa-core
Qualcomm Snapdragon 888 SM8350 5 nm octa-core
RAM
12GB LPDDR5
12GB LPDDR5
Storage
256GB | 512GB | 1TB UFS3.1

256GB | 512GB UFS3.1
Rear cameras
12MP Ultra Wide Camera
F2.2, Pixel size: 1.12μm, FOV: 123˚

50MP Wide-angle Camera
Dual Pixel AF, OIS, F1.8, Pixel size: 1.0μm, FOV: 85˚

10MP Telephoto Camera
3.0X Optical, PDAF, F2.4, OIS, Pixel size: 1.0μm, FOV: 36˚
12MP Ultra Wide Camera
F2.2, Pixel size: 1.12μm

12MP Wide-angle Camera
PDAF, OIS, F1.8, Pixel size, 1.8μm

12MP Telephoto Camera
2.0X Optical, PDAF, F2.4, OIS, Pixel size: 1.0μm
Under-display camera
4MP F1.8 Pixel size: 2.0μm
4MP F1.8 Pixel size: 1.0μm
Front camera
10MP Selfie Camera

F2.2, Pixel size: 1.22μm
10MP Selfie camera

F2.2, Pixel size: 1.22μm
Battery Size
4400mAh, 25W wired charging (50% charge in 30 min with 25W Samsung charging adapter)
10W Wireless charging
4400mAh, 25W wired charging
10W Wireless charging
Software
Android 12L, One UI 4.1.1
Android 11w/ One UI 3.1.1 - Android 12 w/ One UI 4
Colors
Graygreen, Phantom Black, Beige, Burgundy (Samsung.com exclusive)
Phantom Black, Phantom Green, and Phantom Silver
Price
$1799.99 (256GB), $1919.99 (512GB), $2159.99 (1TB)
$1799 (256GB), $1899 (512GB)
Although the Z Fold 4 keeps the same 12GB of LPDDR5 RAM as its predecessor, we now have the new, flagship Qualcomm Snapdragon 8+ Gen 1 processor on board.
The camera situation has changed a bit too, as the Z Fold 4 now basically rocks the Samsung Galaxy S22's camera set-up, which features higher specs for the wide and ultra wide cameras, plus a telephoto shooter with 3X optical zoom instead of 2X.
The battery stays at 4400 mAh, which might not seem like a lot for such a large phone, but we'll get to that later.
And last but not least, although it's not obvious by looking at the specs, the folding display's aspect ratio has been changed a tiny bit, making it shorter and a tad wider than before.
Galaxy Z Fold 4 Design & Colors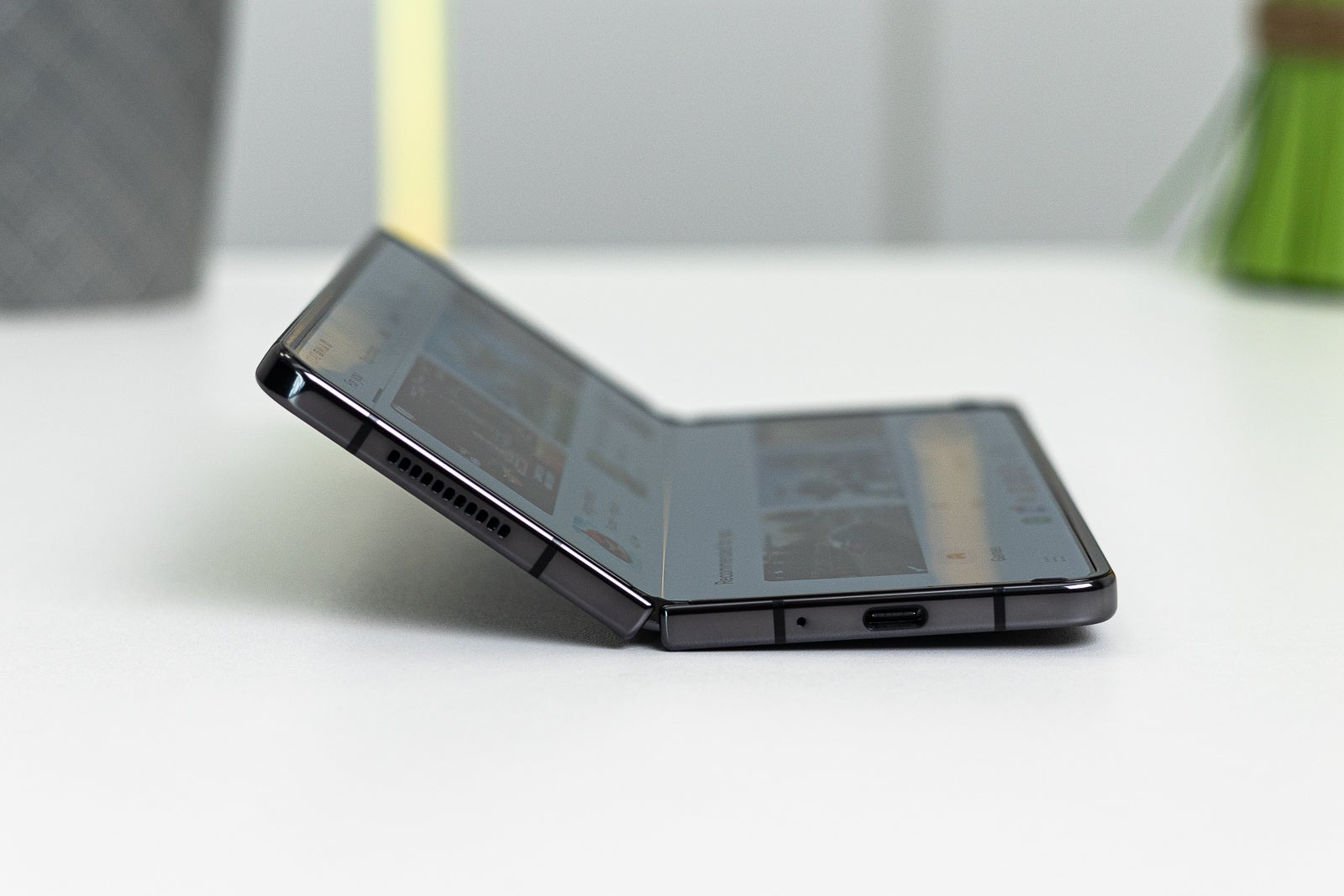 (Image credit - PhoneArena) Galaxy Z Fold 4 - hinge
When folded, the Galaxy Z Fold 4 is a candy bar-shaped phone that, as my niece commented when she first saw it, "looks like two phones glued together." It's not notably thinner than its predecessors, although it is technically the lightest Z Fold to date, at just 263 grams (9.28 oz).
It feels very premium and substantial in the hand, and since
Samsung
has managed to reduce its hinge bulge and the outer display's bezels, it looks better than ever.
We have a familiar premium glass and metal design, with the back having a nice, smooth matte finish, which resists fingerprints better than your average glossy phone back would.
As the Z Fold 4's name suggests, and surely you know – you can fold and unfold this phone, and, well, it takes a bit of effort to unfold it. You don't really have a spot to stick your finger in and start pulling the two halves apart, so you better have some nails, and you better not be sweaty, as the Z Fold's frames can get a bit slippery. At least in the insane heat that I'm currently living in. Also, there can be a slight creaking sound when unfolding it still, although that's rare. You get used to all that, but surely it's not the peak of what a foldable experience can be.
On a more positive note, closing the phone after using it unfolded is smooth and easy, and feels quite satisfying, as it ends with a reassuring magnetic snap.
We have dual stereo speaker grills, one on the Z Fold 4's top and bottom sides, plus a USB Type-C charging port on the latter. On the sides we have the volume keys, and a power key with an embedded fingerprint scanner. No in-display fingerprint scanner here.
For those who were hoping – unfortunately there's no slot for the S Pen stylus either, nor do you get one out the box. But Samsung does sell a Z Fold 4 case with an S Pen stylus slot, which might come in handy, should you plan on using the stylus daily.

The color options for the Z Fold 4 are called Graygreen, Phantom Black, Beige, and Burgundy, with the latter being exclusive to Samsung.com. The new colors look really nice in person, the green one in particular stands out as really classy, and Samsung mentioned that cases in the same colors will be available for purchase as well.
Galaxy Z Fold 4 Displays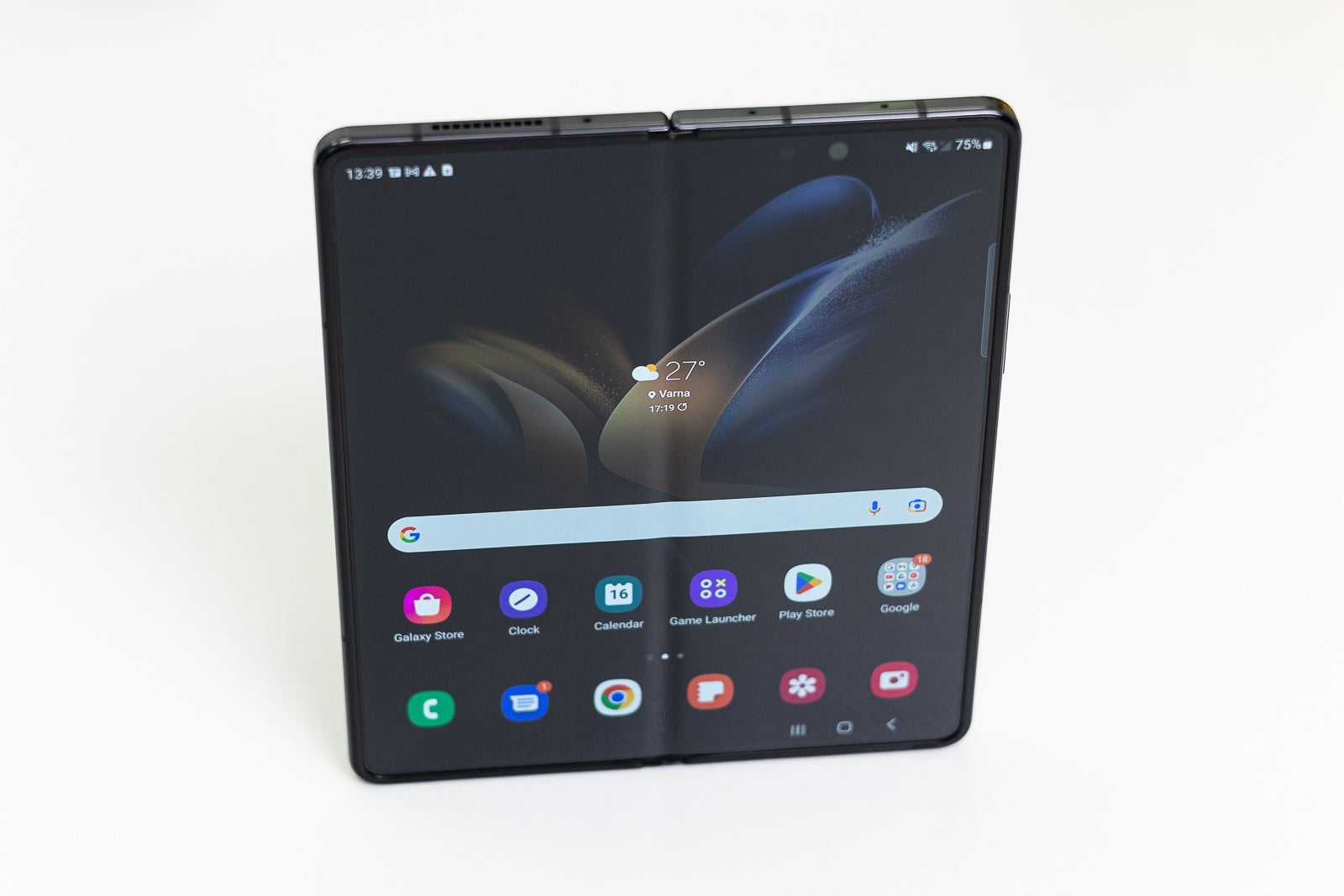 (Image credit - PhoneArena) Galaxy Z Fold 4 display
Let's start with the smaller outer display (a.k.a. "cover display"), before we unfold this beast. We have a tall 6.2-inch dynamic AMOLED screen capable of up to 120Hz refresh rate. What does all that mean? It means Samsung didn't skimp on the outer display – it's super-smooth, and the fact that its AMOLED means solid blacks, vibrant colors, and a generally beautiful experience when using it.
And what can you use the cover display for? Basically anything – answering calls, replying to texts, browsing social media apps – anything you wouldn't bother unfolding the phone for. Sure, it's still a rather tall and not-very-wide display, but I wouldn't call it crammed. Using the on-screen keyboard is not a problem, and again – it's big enough for most tasks you may want to do without actually unfolding the Z Fold 4.
But now let's do exactly that and unfold it, revealing its gorgeous, big 7.6-inch flexible display. Again dynamic AMOLED, again 120Hz-capable, again very beautiful. Watching YouTube videos and movies, playing games, scrolling through social media apps or browsing the web on this display is an absolute joy. I can't oversell how cool it is to take a phone out of your pocket and go-go-gadget it into a square-ish tablet with a big display.
Which, by the way, is very comfortable to hold, especially compared to a tablet, thanks to its smaller size and weight, and square-ish aspect ratio.
But let's talk about display feel. The Z Fold 4's flexible display still feels a tad softer than an average glass screen, as we could've expected, but it's worth noting it nonetheless. It does support two S Pen styluses (the S Pen Fold edition and the S Pen Pro), so obviously it won't scratch easily, say, from your fingernails. You can press it and poke it pretty hard with zero issues.
There is a visible "screen protector" applied to the display, with corners that don't fully reach the display's edges (it's not even perfectly centered), and as we've learned from prior experiences – you shouldn't remove it. So that's just a part of the display.
Now, all those are minor details you should be aware of, but not something that affects the experience whatsoever, as you get used to them and won't even notice them after a while.
What I do still notice is that crease in the middle of the folding screen, though. It's visible when light hits the display, and it's definitely feelable.
Again – is this a big deal, or just a small price to pay (aside from the actual price) for using a cutting-edge folding phone? Honestly, I don't mind the crease, but I can't help but notice that some Samsung competitors, notably Oppo with its
Find N foldable
, have managed to completely remove the crease.
Speaking of the Find N, we went ahead and compared the Z Fold 4's display against some competitors, so let's see how it measured up… Below are our display benchmark results:
Galaxy Z Fold 4 Camera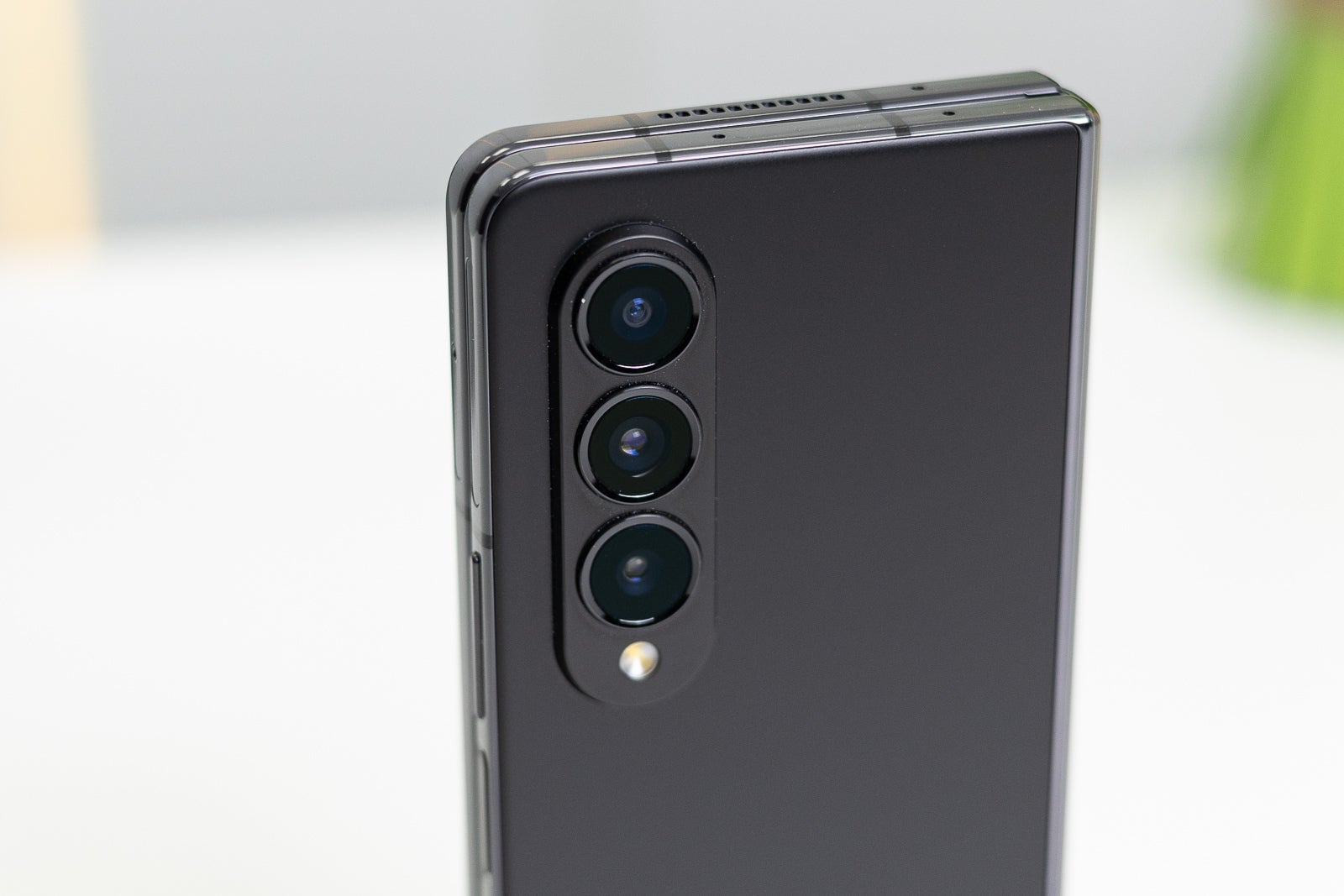 (Image credit - PhoneArena) Galaxy Z Fold 4 camera
The main camera module of the Z Fold 4 is virtually identical to its predecessor's module – it's a vertical, pill-shaped one, holding three cameras and a flash. But what has changed are those said cameras, which are now almost identical to what the
Galaxy S22
packs.
There's a main 50-megapixel wide camera with optical image stabilization (OIS), a 12-megapixel ultra wide, and a 10-megapixel telephoto with OIS and 3X optical zoom. Combined with digital zoom, the zoom game on the Z Fold 4 raises up to 30X (12X in video mode), and the results are actually pretty good. Let's check those out:
So the big, current trend of flagship phones getting lots of camera zoom is covered here – there's no quality loss at 3X zoom since that's optical, and while there obviously is at up to 30X digital zoom, image details are still plenty distinct.
Now let's have a look at how portrait mode photos look on the Z Fold 4 – the feature that aims to blur the subject's background, so that only the subject – you, or whoever you're taking a photo of – is in focus. Below are our Z Fold 4 camera samples, with and without portrait mode enabled:
On to how main and ultra wide camera shots look in general – and as you can see from the samples below – pretty good.
We took the Z Fold 4 for a few spins on beautiful, sunny days, taking camera shots in perfect lighting, and the results are more than apt. The bright skies look great, clouds are detailed and color-correct, no overexposure. Details in the people, buildings and vegetation we captured are sharp and clear, colors are accurate. In some rare cases, some more difficult shots did result in overexposure, but it's nothing deal-breaking.
So as mentioned earlier, the Galaxy Z Fold 4 has two displays, and thus – two selfie cameras, one for each. The cover screen's selfie camera is a standard holepunch one, 10 megapixels.
The folding screen's camera, though, is a 4-megapixel under-display one, which you can definitely spot if you're looking for it, as over it is an array of less-dense pixels that it shoots through. But does it see well through those pixels, or not?
Well, sometimes, in bright scenes there is a visible color banding-like effect on selfies taken from it, so it's not seeing perfectly well through the pixels just yet, but check the results for yourself and let us know what you think. Following are our selfie camera samples, taken with both of the Z Fold 4 selfie cameras:
So I don't know how many of you would be snapping selfies with the under-display camera, but you'll definitely be better off using the more traditional (in form and results) cover selfie camera.
By the way, note that although the array of less-dense pixels over under-display camera is noticeable if you look for it, in normal use your brain completely forgets about it, just like with the crease. I personally would've preferred if Samsung just removed that second selfie camera altogether, but these days I might be a minority in needing less cameras. Objectively, for something at least I would never use – it seems a bit unnecessary, obstructs the main display a bit, and raises the phone's cost too.
Before we move onto video, let's see how the Z Fold 4's main and selfie cameras perform in low-light conditions, namely at night.
Basically, night shots are about on par with what you'd get from a modern base flagship, particularly the S22. Even when taking pics in near pitch-black, you'll get reasonable detail and colors, and for selfies – the screen lights your face up as a flash would, so those will be clear enough too, albeit a bit soft.
Time to move on to video quality. The Z Fold 4's one of many features is the fact that you can half-unfold it, pointing the camera half at your face, and essentially getting a hands-free video calling experience. This phone is technically its own camera stand. And obviously you have two sets of selfie cameras to choose from, or you can aim the main cameras at yourself for the best video calling quality.
But since the under-display selfie camera is most interesting and unusual here, let's start by showing you how that one would look during your video calls:

Last but far from least, here's a more in-depth video sample from the Galaxy Z Fold 4's main and ultra wide cameras, also showcasing zooming and video stabilization:


As you can see from this 4K, 30FPS video sample, not only is the Z Fold 4's microphone great, but the video quality is generally pretty respectable, although far from the best you can get on a flagship phone.
There is a bit of visible oversharpening and occasional overexposing, but for social media – things are looking good. And that zoom is actually quite impressive, even if it's only optical at up to 3X. Speaking of impressive, so is the video stabilization – if you've got shaky hands, you needn't worry about it.
Lastly, you can indeed switch from one camera to the other on the fly, as we've showcased in the video sample above, which is always welcome.
Galaxy Z Fold 4 Performance & Benchmarks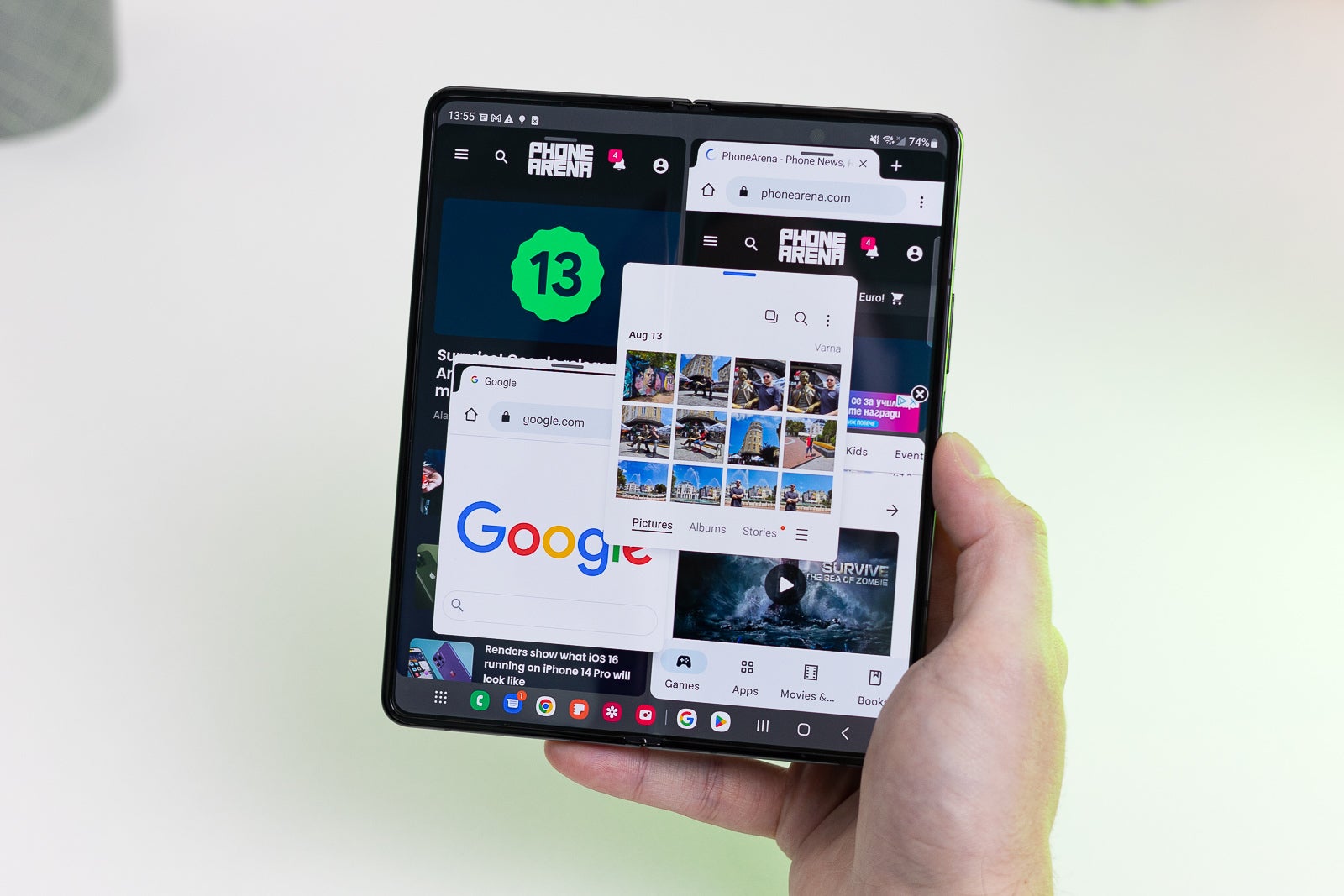 (Image credit - PhoneArena) Galaxy Z Fold 4 multitasking
The Z Fold 4 is as smooth of a performer as its flagship specs suggest. Again, we have the Snapdragon 8+ Gen 1 processor inside, along with 12GB of RAM, which seem to be enough for stutter-free multitasking.

If you're a gamer, which by the way this phone is perfect for, you'll be happy to know that even heavy 3D games run fine at their highest settings, and since we have a 120Hz AMOLED display and dual stereo speakers – those games will look big and beautiful, and sound big too.

Here's how the Z Fold 4 fares against what little competition it has, as well as against some of the current mainstream flagships:
Galaxy Z Fold 4 OS / Android version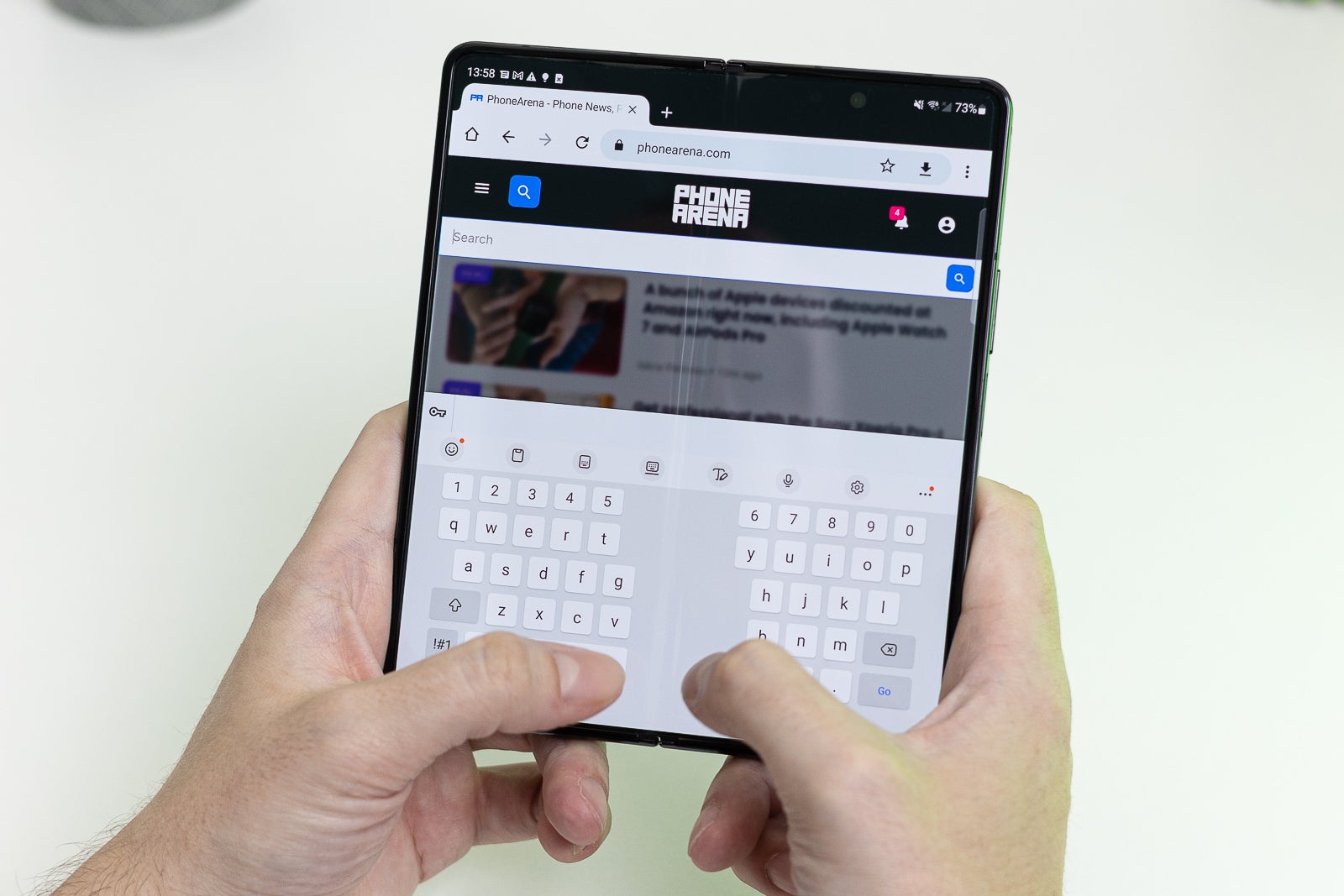 (Image credit - PhoneArena) Galaxy Z Fold 4 touch keyboard
This is where things get fun. To me the Galaxy Z Fold 4 is a power user phone above all else, for heavy multitaskers and tech enthusiasts who wish to make the most out of just one device. And Samsung thought of that, giving us all the features we might need.
The Z Fold 4 comes with Android 12L and OneUI 4.1.1 on top, and at first glance – you get a pretty normal Android / OneUI phone experience. We have a familiar homescreen with app icons and widgets, but open an app like Chrome and you'll notice that a fixed taskbar appears now.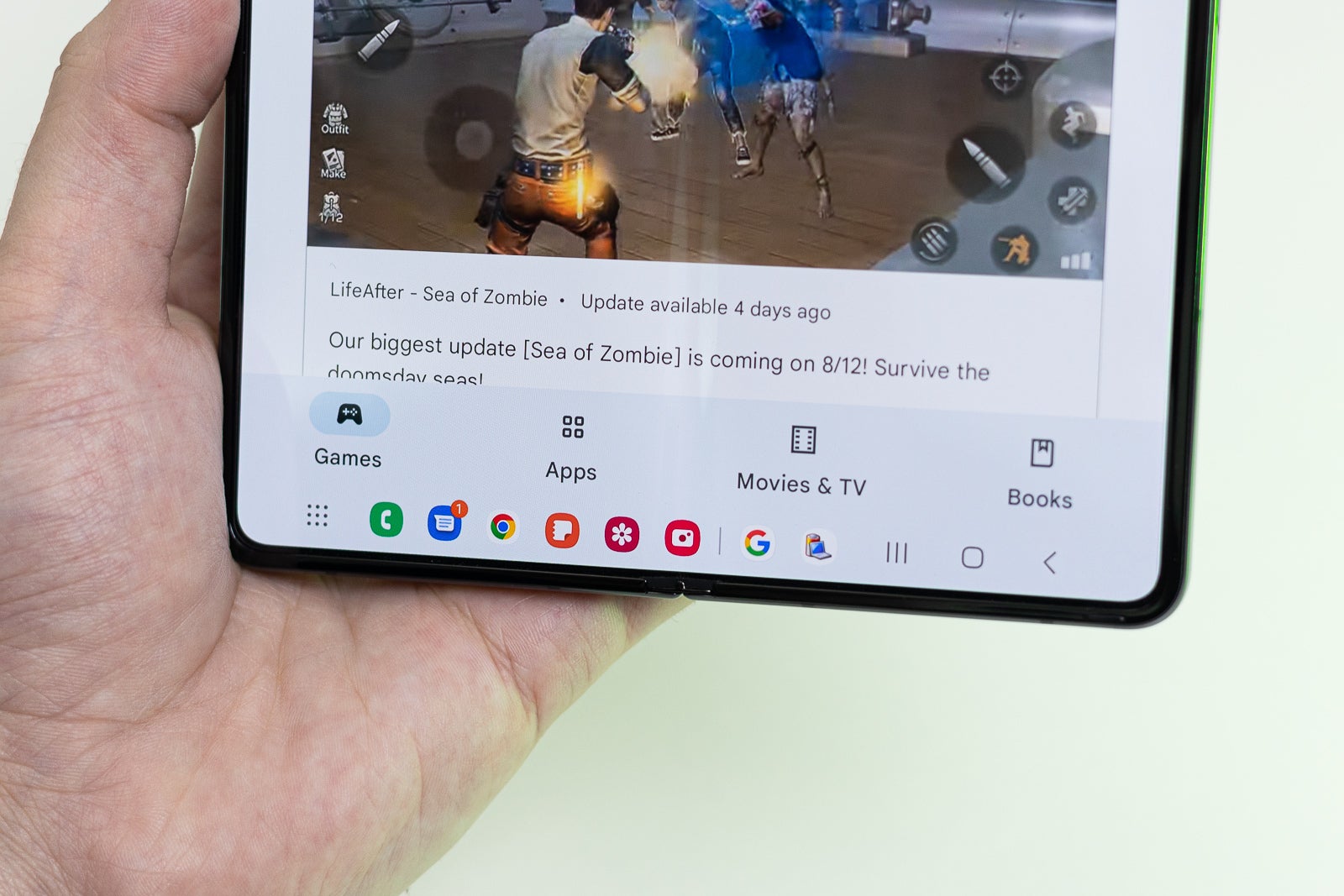 (Image credit - PhoneArena) Galaxy Z Fold 4 taskbar
That handy little taskbar has a Windows-like start button for accessing all of your apps at any time. It also holds your favorite and recently-used apps, plus the navigation keys (home, back, recent apps).
It's so useful to have this fixed taskbar on a big phone, for quickly switching between apps or dragging some from it over your current app, opening both at the same time in split screen. You can even drag over a third app for running three across the screen.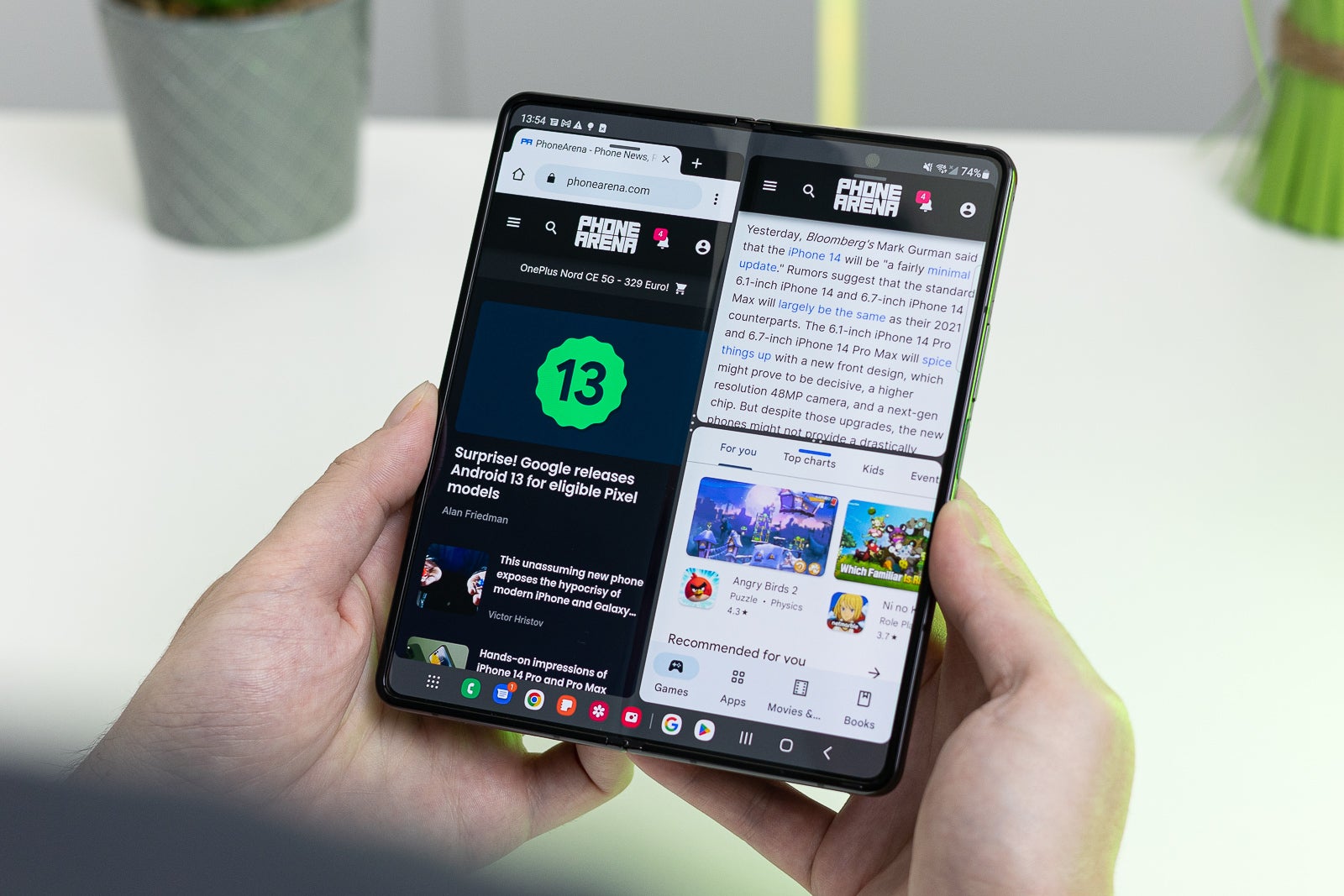 (Image credit - PhoneArena) Galaxy Z Fold 4 multitasking
Or if you get greedy, you can even drag more apps over those three, which will start opening in popup windows! The multitasking experience on the Galaxy Z Fold 4 is absolutely top tier, and basically puts most other phones, and even tablets like the iPad Pro to shame. Samsung did not skimp on the power user features.
But you don't have to stop there. Your Galaxy Z Fold 4 isn't just your phone and your tablet in one; it can even be your PC, kind of. You can connect it wirelessly to your Windows PC or an external display by enabling the Samsung DeX feature, which is just a tap away… And you'll get a full-blown Android desktop mode!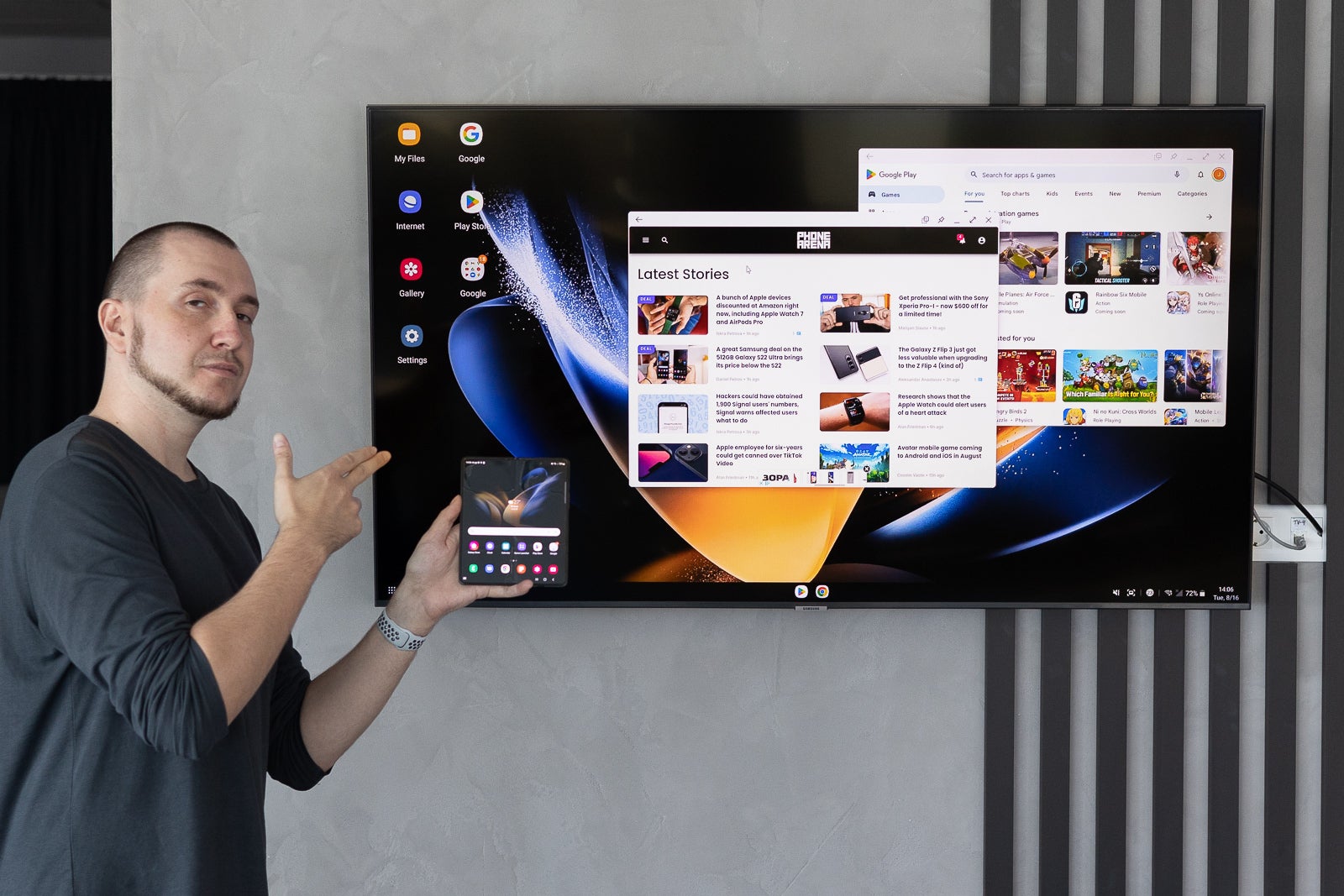 (Image credit - PhoneArena) Samsung DeX on the Galaxy Z Fold 4, streaming to a TV
Your Z Fold 4's interface would completely change from the standard Android one to something akin to MacOS, ChromeOS or Windows – with its own desktop, app icons, and a taskbar. Apps will start opening in fully resizable windows. That's not all, those windows can be snapped to the screen corners for quick and easy multitasking, just like on Windows 11.
Again, I'm very impressed with all of the amazing power user features Samsung delivers with the Z Fold 4, and would argue that it's the best power user phone to date, by far. No feature seems like an afterthought, everything is intuitive and polished.
And lest we forget, should you want to use a stylus with your Z Fold 4, you'll get specific features for that too, such as S Pen-specific shortcuts and, if you have the S Pen Pro – Air Gestures. Just remember to buy either that S Pen or the S Pen Fold edition, because I tried – other S Pens won't work here, as their tips are harder, and Samsung fears they may scratch the display.
In any case, Samsung's powerful, feature-rich Android experience is just as impressive and a reason to get this phone, as its unique foldable design. The software features are what make the Z Fold 4 truly a king of the foldables.
And me being a hardcore iPad user who's been wishing for features like this since forever for that device, I'm almost overwhelmed by what Samsung has delivered on the software side here. Kudos!
Galaxy Z Fold 4 Battery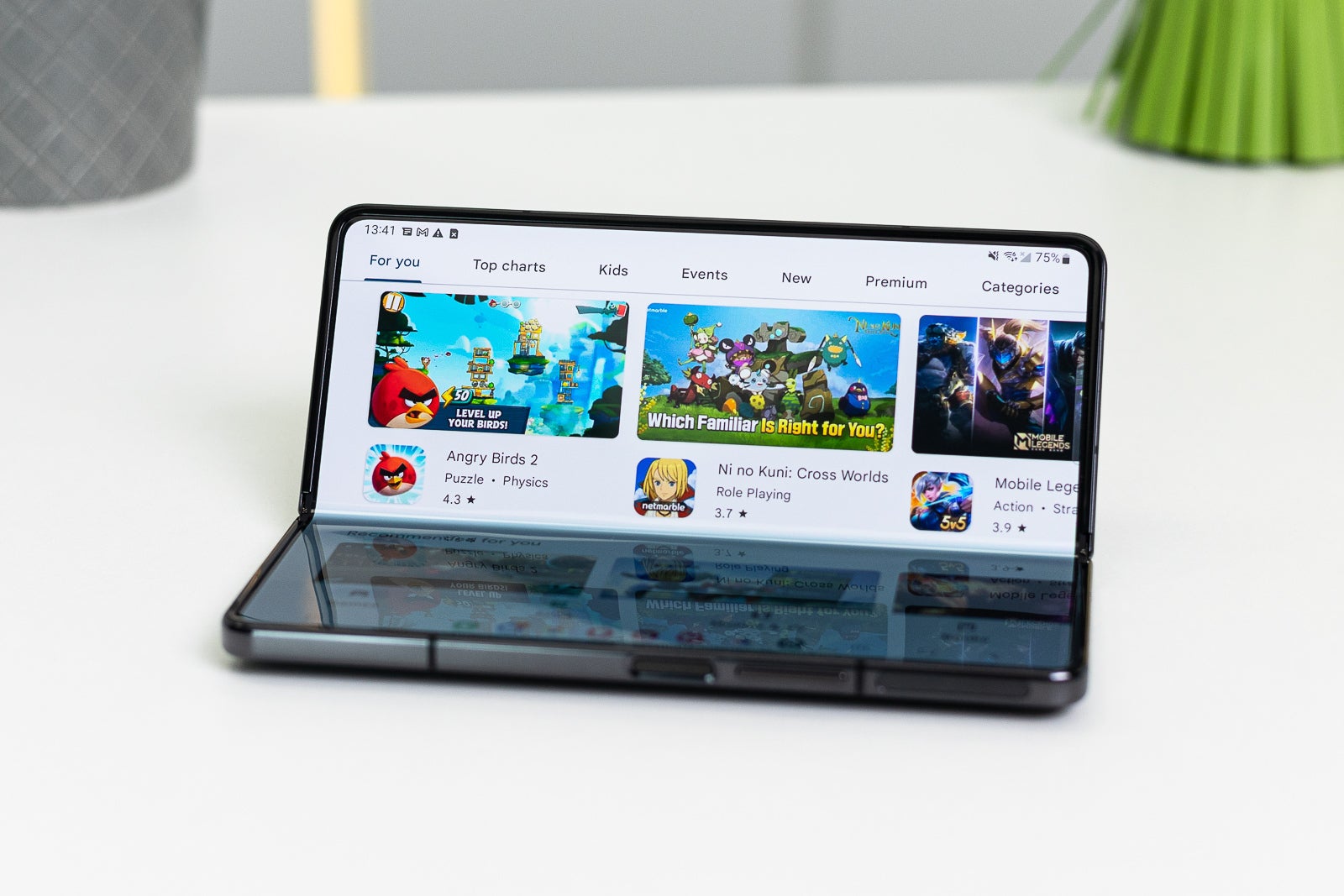 (Image credit - PhoneArena) Galaxy Z Fold 4
As we mentioned earlier, for its size the Galaxy Z Fold 4 has a seemingly rather small 4400 mAh battery, split between two cells, one on each side of the phone.

But don't let that fool you – this phone is no slouch when it comes to the battery life. For example, in our YouTube playback battery benchmark, where we basically stream YouTube videos until the battery dies, the Z Fold 4 lasted nearly 9 hours. Check out all of our battery benchmarks below to see what you can expect for different use cases:
Galaxy Z Fold 4 Charging Speeds
In terms of charging, the Z Fold 4 comes with 25W wired charging support, which can deliver 50% charge in roughly 30 minutes, with a compatible 25W Samsung adapter. Samsung doesn't give you a charger out the box, by the way, so you'll have to get one separately.
In our testing, it takes just over an hour to fully change the phone from zero to 100% – 73 minutes to be precise.

We also have 10W wireless charging, which is convenient, and nice to see on a foldable in general.
Galaxy Z Fold 4 Audio Quality and Haptics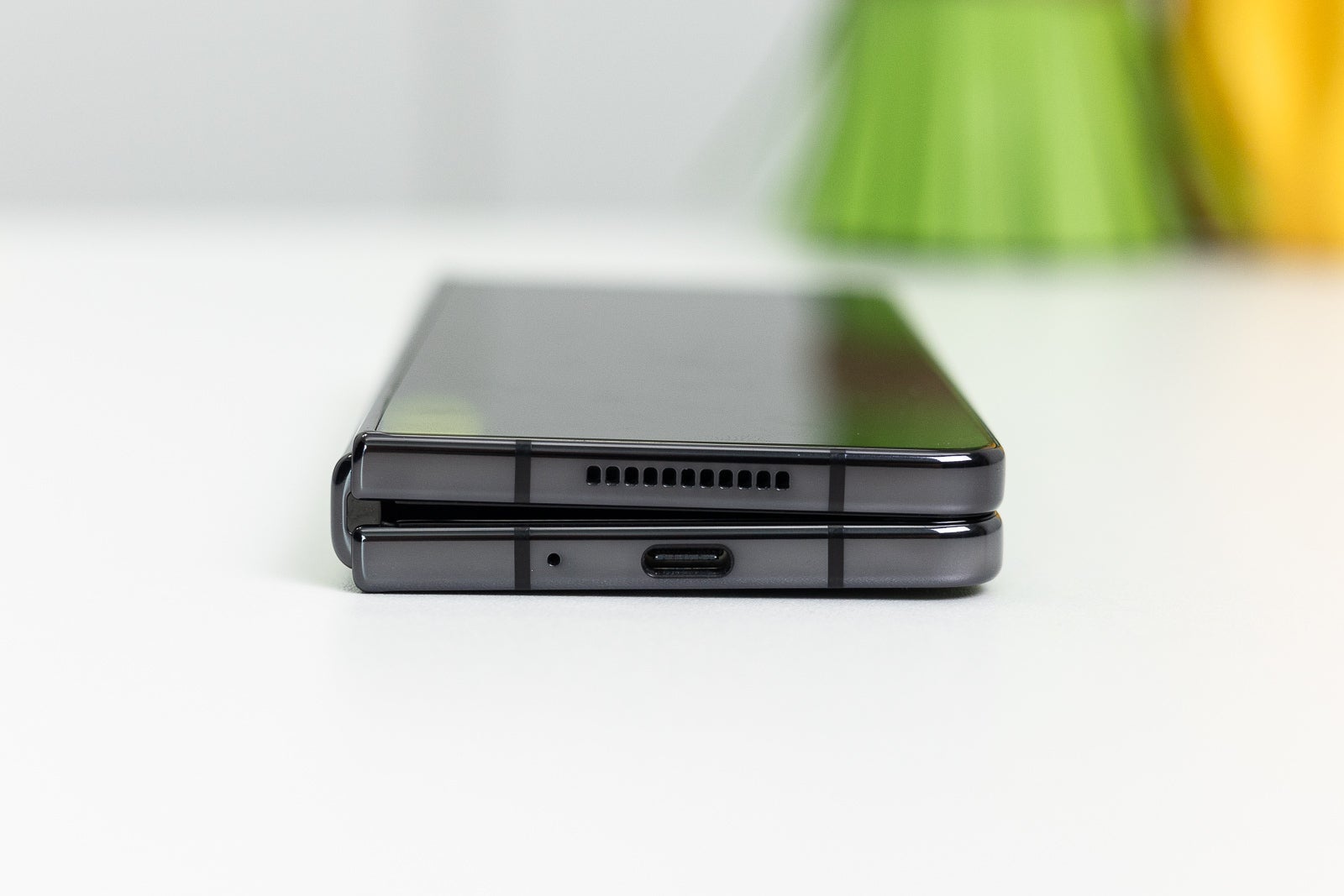 (Image credit - PhoneArena) Galaxy Z Fold 4 speaker grill and USB Type-C port
With that big, beautiful display, you'd definitely want good audio too. After all, watching movies or gaming would be way less impactful without some solid stereo speakers.
And I'm happy to say that Samsung has delivered a good audio experience, although it hasn't been noticeably improved over last year.
We have two stereo speakers, one on each side of the phone (when held in landscape). Sounds and music can get reasonably loud and remain clear even at max volume, and, of course, there's a wide, true stereo effect thanks to the speaker placement.
Unfortunately, we don't get punchy iPhone-like bass, but the speakers do produce satisfactory lows nonetheless. So your YouTube videos and movies will sound at least as good as on a flagship
Android tablet
, if not better.
As for the haptics, despite the Galaxy Z Fold 4 being a big phone, you do feel good, reassuring taps when typing on the virtual keyboard. The haptic feedback does not feel hollow like on some phones, it's not unbalanced (e.g. just coming from one half of the phone), and it's not weak either, so no complaints there.
Galaxy Z Fold 4 Competitors
The Oppo Find N is perhaps the Z Fold 4's main competitor, although its limited availability can be a problem. While it does have a different aspect ratio that some might find better than the Z Fold 4, no screen crease, and is smaller in general, it lacks all of the OneUI power user features we mentioned earlier. It also does not have stylus support.
Check out our
Oppo Find N review
to learn more about this foldable phone.
Well, this is an 8.3-inch Apple tablet, and trying to fold it, although possible if you're tough enough, would end in disaster. But hey, the Z Fold 4 has hardly any "real" competition, so looking into a small flagship tablet like this iPad is well worth it if you want a cheaper, similarly-sized experience. The iPad mini has Apple Pencil support, and it has basic multitasking, such as running two apps in split-screen and more in tall popup windows (Slide Over), although there's nothing even close to Samsung DeX.
See our
iPad mini 6 review
for more details on this Apple tablet.
Galaxy Z Fold 4 Summary and final verdict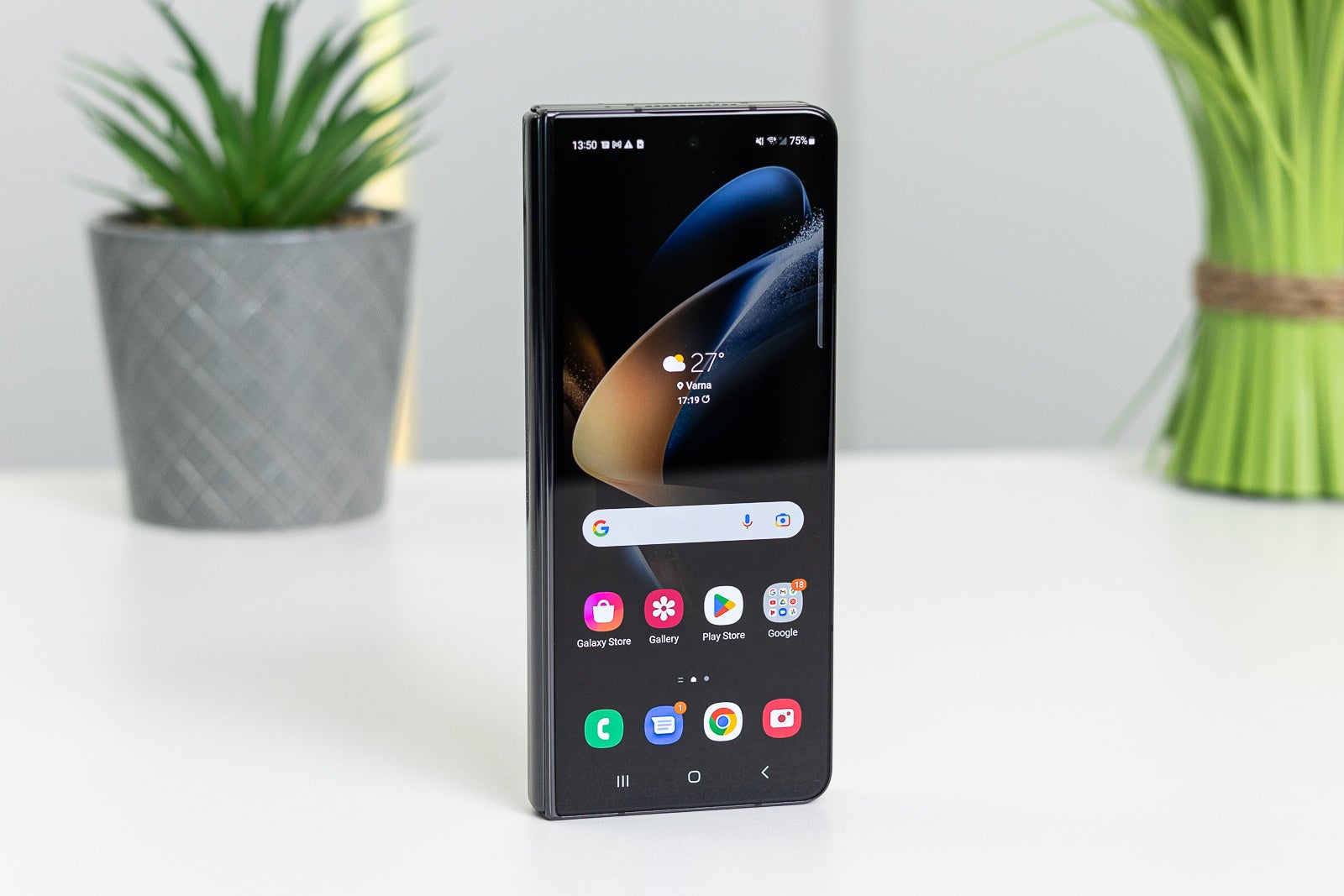 (Image credit - PhoneArena) Galaxy Z Fold 4, closed
While it's not a major upgrade over its predecessor, the Galaxy Z Fold 4 is arguably the best smartphone for the tech enthusiast, who wants to do everything with just one device. It's a phone, it's a tablet, and can even act similarly to a desktop PC!
With many amazing and polished power user features, such as split screen and windowed multitasking, a fixed taskbar, Samsung DeX, and stylus support, the Z Fold 4 fully empowers you to do everything you've ever wanted with Android.
And even if you just want to watch videos and movies, or game on something that's big, yet more comfortable in the hands than a tablet – the Z Fold 4 is still a great option to consider.
However, if you're not a die-hard tech enthusiast, or you already have a Z Fold 3, spending $1800 or more on this phone might not be worth it. Before you pull the trigger on this purchase, make sure that you'll really take advantage of everything this phone has to offer. Otherwise – just get a small tablet, which would certainly be much lighter on the wallet.