Apple iPhone 14 Pro vs iPhone 14: one is new, the other is not
2
We may earn a commission if you make a purchase from the links on this page.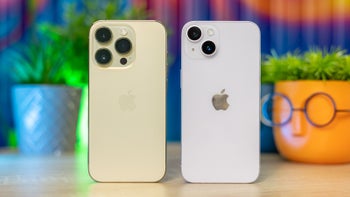 Intro
Now that the
iPhone 15 series
is out, it completely changes the context on how we look at the
iPhone 14 family
. Mostly because new units of the
iPhone 14 Pro
will begin to disappear — Apple discontinues the Pro models each year, but continues to sell the non-Pros as midrange options.
So, you might be a savvy shopper that always buys last year's phone. Which ones should be aiming for?
With the
iPhone 14
models, we did get a lot of difference between the two classes of devices. The non-Pro editions stuck with the Apple A15 processor from 2021 and the old 12 MP cameras, while the more expensive models got the A16 and the excellent 48 MP camera upgrade. To extend that divide further, the Pro series also continues to hold the 120 Hz ProMotion display hostage. And there's that design facelift where the Pro gets a Dynamic Island, whereas the cheaper models still have the good old notch.
If you find a good discount from
iPhone 14 Pro
clearance deals, it's probably better to go for that one. A more recent processor, a much-needed camera upgrade, and a 120 Hz screen will ensure you have the more modern device for years to come. But, hey, if you don't care that much about those specs, here's a more thorough comparison of these two phones:
iPhone 14

vs

iPhone 14 Pro

in a nutshell:

Same shape and size

iPhone 14

comes in vibrant, fun colors, Pro models are more muted and classy

iPhone 14

is lighter, Pro has a heavier stainless steel frame
60 Hz on

iPhone 14

, 120 Hz on

iPhone 14 Pro

iPhone 14

staying with A15 Bionic,

iPhone 14 Pro

upgrading to A16 Bionic

iPhone 14 Pro

has 2x crop zoom and 3x telephoto lens

iPhone 14 Pro

has LiDAR sensor for Augmented Reality and measurements

iPhone 14 Pro

has new 48 MP camera, non-Pro retains 12 MP
Battery life should be about the same
Design and Display Quality
Same screens, but one is smoother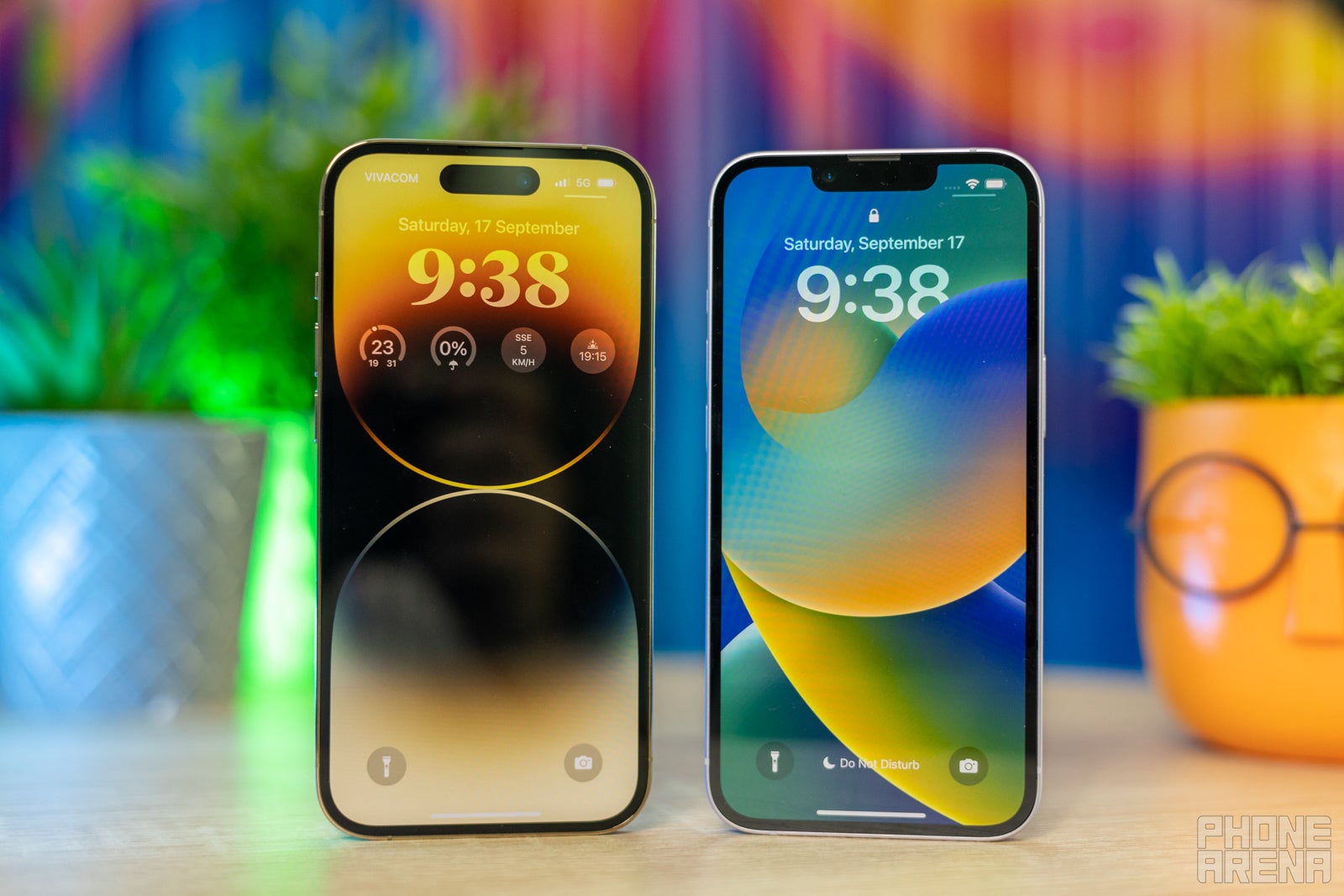 (Image Credit - PhoneArena) iPhone 14 Pro vs iPhone 14
Both the
iPhone 14
and
iPhone 14 Pro
have similar dimensions, and both have the same 6.1-inch screen size. They are OLED panels, built to Apple's spec, but — as we know — the Pro has a 120 Hz refresh rate for super-smooth animations, whereas the non-Pro sticks to 60 Hz. The latter is kind of a low-ball, considering that — in 2022 — even midrange smartphones ship with at least 90 Hz.
One big thing here is that the
iPhone 14 Pro
has gotten rid of the dreaded Notch. Well, kind of — it now has a pill-shaped cutout or "punch hole" for the Face ID array. But Apple has cleverly built a new interface element around that hole. It's called the "Dynamic Island" and basically sticks persistent widgets and other informative panels around the "Island", so it looks like an intentional part of the software.
Does it improve the experience over the classic Notch? Eh... kind of, maybe, in the sense that you get some extra widgets for multitasking. But there's still a camera cutout in the top-middle of the screen to eat into your content. Naturally, we expect to see the same divide between tech fans as before — some will hate it, other's won't mind it.
The
iPhone 14
sticks with the slimmed down notch, the same shape we saw on the
iPhone 13
.
Another difference is the inclusion of always-on display — the
iPhone 14
Pro's LTPO screen can go all the way down to a 1 Hz refresh rate. Apple included always-on functionality within iOS, which will show you a dimmed variant of your wallpaper, the clock, notifications, and even active widgets on that. Non-Pro iPhones still don't have that feature and they probably won't for quite a while.
Again, since the
iPhone 14
is using the old OLED panels, it doesn't have the physical capability of lowering the refresh rate, thus there's no Always-on display. Otherwise, its battery would melt really fast.
Display Measurements: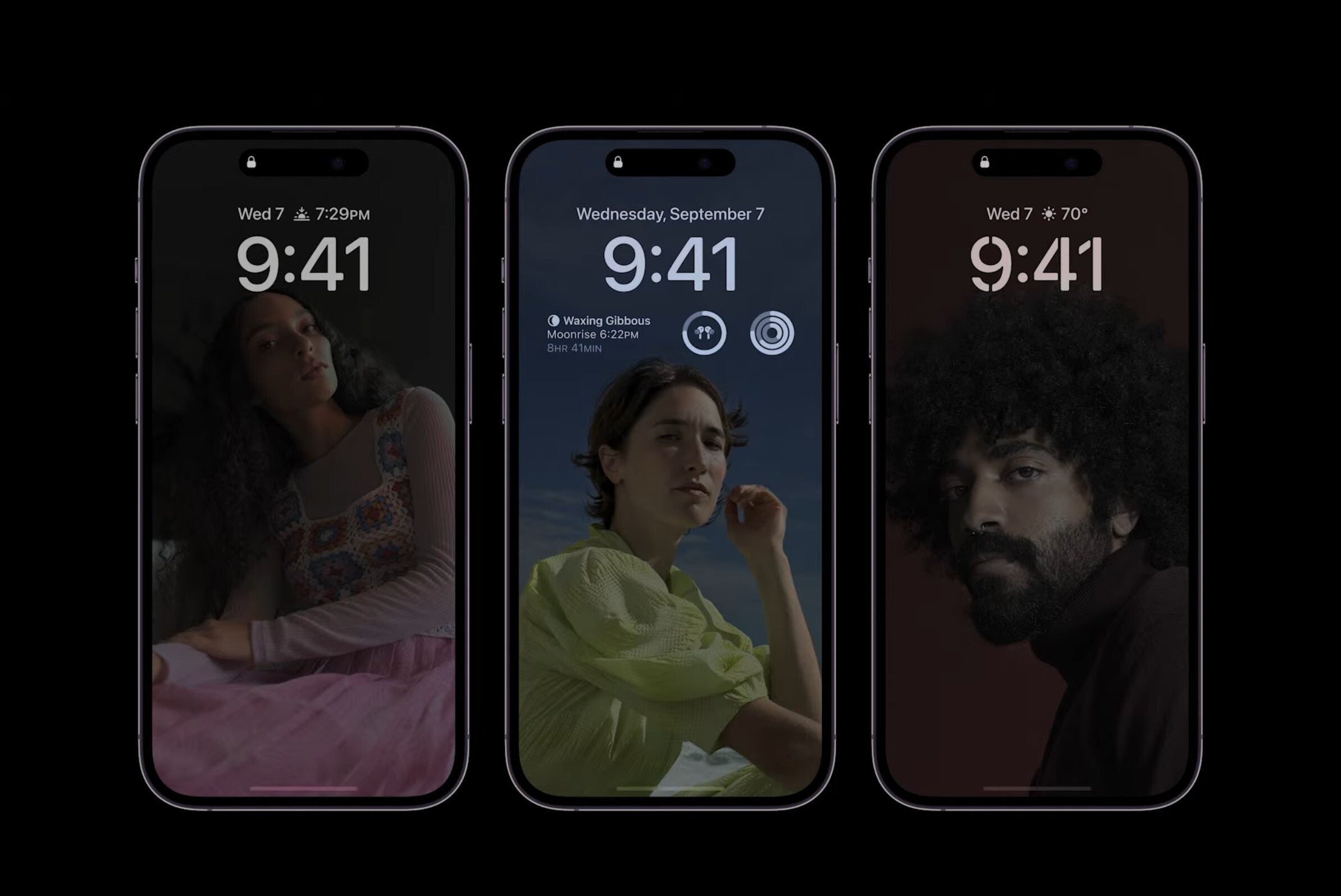 Always On display on iPhone 14 Pro
Both the
iPhone 14
and 14 Pro have the flat sides, as before, and glass backs — obviously. Again, the difference here is that the
iPhone 14
has a matte-finished aluminum frame and a glossy back, while the Pro has a shiny stainless steel frame and a frosted glass back. What this translates to is — a sticky grip on the
iPhone 14
, but more fingerprints and a more slippery 14 Pro that doesn't show as much grease on its back panel (the stainless steel does, though).
Both models are IP68 water- and dust-resistant, as is customary, and have the Lightning port for charging and data transfer —
possibly for the last time
.
On the back, we see the square-shaped camera module on both phones. Obviously, the
iPhone 14
only has two lenses there, while the Pro has its stove-like trio and a black LiDAR camera to boot. The Pro's module is noticeably larger than before (for another year in a row) and it definitely makes a striking impression at first sight.
But, for all intents and purposes, both phones look and feel unmistakably iPhone. It's up to you to decide whether you want a lighter and brightly-colored, fun
iPhone 14
, or a more serious
iPhone 14 Pro
, with a heavier build and more muted, mature colors. Even the exciting Deep Purple color for the Pro line turned out to be kind of dark and subtle.
As for contents in the boxes, we have an iPhone and a USB C to Lightning cable, plus the obligatory booklets. No SIM tray tool in the US, as the
iPhone 14
has gone fully eSIM for that market.
Performance and Software
Different chips, for the first time?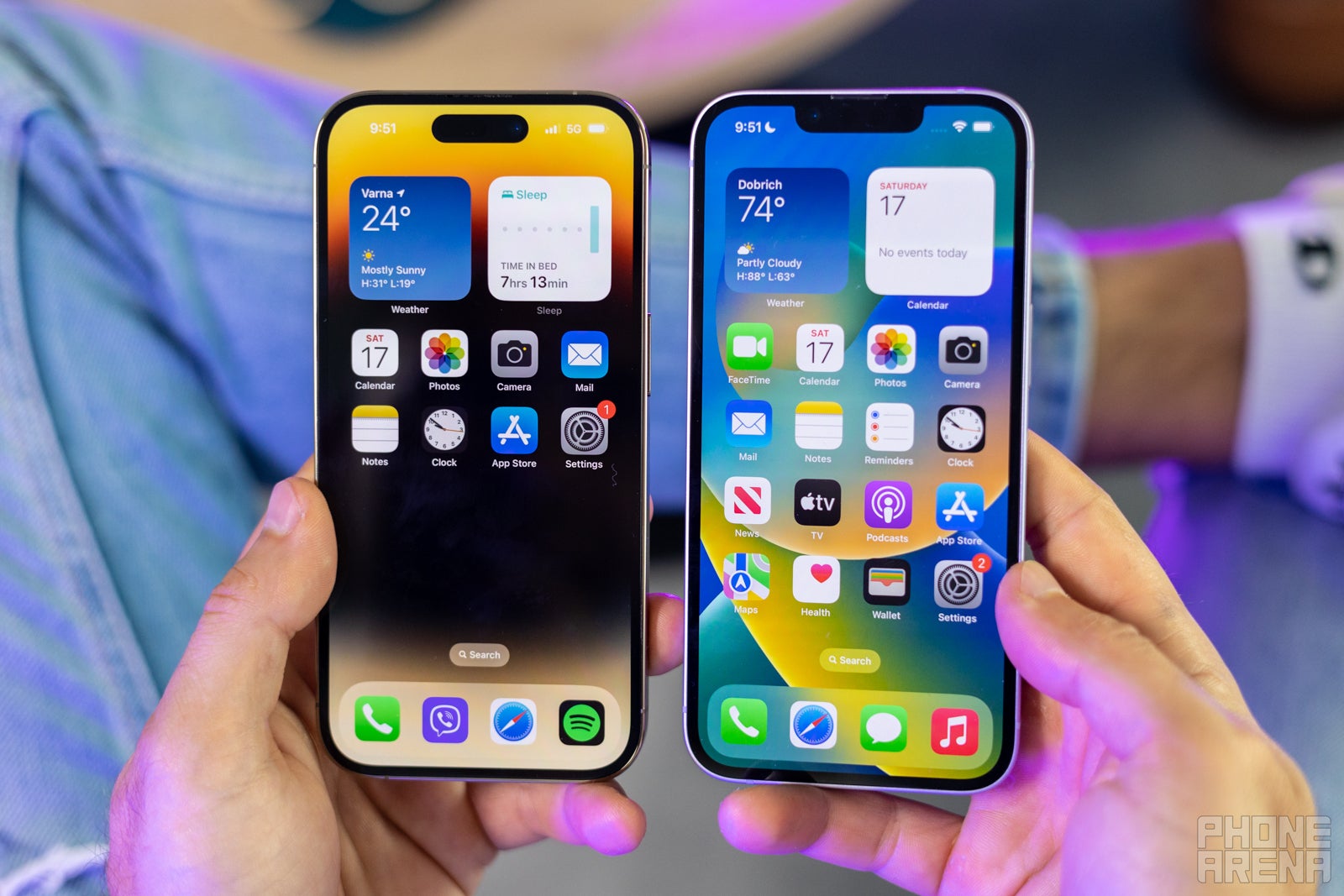 (Image Credit - PhoneArena) iPhone 14 Pro vs iPhone 14
Thus far, main iPhone models that launched together always had the same chipset inside — Apple priding itself in giving Pro performance value to lower-priced models. However, for the first time ever, the
iPhone 14
stuck with the old Apple A15 Bionic (the 2021 chip), with a slight upgrade — it has an extra GPU core.
The
iPhone 14 Pro
got the real update — the new Apple A16 Bionic, built on a 4 nm process with a nice hump in performance and energy-efficiency.
Benchmark Results:
To be clear, the A15 Bionic is still an excellent chip that has plenty of juice left in it. But we are kind of scratching our heads at why one would buy the
iPhone 14
instead of going for the cheaper, and very similar,
iPhone 13
. Or hey — even the
iPhone 12
, which still trucks along just great. The 14 Pro — now that's a purchase that's better justified, with the added performance and camera upgrades (coming up next).
Camera
A small step for the Pro, no leaps for the non-Pro
(Image Credit - PhoneArena) iPhone 14 Pro vs iPhone 14
Another place where the two differ is the camera module. Apple has a shiny new 48 MP sensor to fit under the main wide-angle lens of the
iPhone 14 Pro
. By default, it bins pixels in groups of 4 to produce 12 MP photos just like before, but with much better light sensitivity and less noise. When shooting ProRAW, you get to take 48 MP photos for extra-fine detail, which do look fantastic but you will need some know-how to actually edit them in post.
The
iPhone 14
sticks to the same old 12 MP sensor we are so familiar with. While it's definitely good, it is generally falling behind the competition in 2022. But does the Pro wield that 48 MP sensor proficiently? Let's take a look at some samples:
We can see a good amount of sharpening being done by both phones. With the
iPhone 14
, it's apparent that the phone didn't have a lot of data to work with — at least when we compare its photos right next to the 14 Pro's. The latter has much more definition in the textures of finer shapes and stripes (look at the umbrella in sample 2, or the disco ball in sample 3). However, with pixel-peeping set aside, we can say that the photos do look very, very similar in terms of colors and dynamics.
The
iPhone 14 Pro
does shine if you shoot in ProRAW, which captures excellent details. But you do need to know how to edit RAW, and dealing with high dynamic scenes is no easy task. In any case, here's what the
iPhone 14 Pro
can do in auto and in ProRAW (scenes cropped in for better visibility of details):
< Cropped 12MP JPEG
Cropped 48MP ProRAW file >
< Cropped 12MP JPEG
Cropped 48MP ProRAW file >
Of course, the
iPhone 14 Pro
also has a telephoto lens with a 3x relative zoom, making for a great portrait camera. But we also get access to a new 2x zoom option — Apple uses that 48 MP sensor to crop in and give you a 2x step with improved quality. The
iPhone 14
only does zoom by digitally cropping into an image. And, of course, the results are obvious — the Pro has a much higher-quality zoom:
The ultra-wide camera on the
iPhone 14 Pro
is also slightly better, with a slightly wider aperture (F2.2 vs F2.4) and what appears to be a slightly better lens construction. Plus, it doubles as a
high-res macro camera
thanks to autofocus. In any case, Apple cited huge improvements for the Pro's ultra-wide, especially in night time. Shall we?
The very first scene doesn't show us a difference in the handling of dynamics — the underside of the umbrella is dark for both cameras. But, the 14 Pro's ultra-wide has sharper detail there. Also, the sky in the 14 Pro shot is a much more natural shade of blue. The second scene shows us more noise seeping into the
iPhone 14
's ultra-wide, and also more blooming and unnatural lighting around the colored bulbs and neons. The third shot is more challenging and both ultra-wide cameras are getting softer and darker, but the 14 Pro held on a bit better. So, yeah, the
iPhone 14 Pro
has a slightly better ultra-wide camera than the
iPhone 14
.
And, of course, the
iPhone 14 Pro
will have that LiDAR sensor, which helps for virtual measurements of the real world. The Ruler app is more accurate, AR apps can take advantage of it et cetera. It has been on iPhones since the 12 series, but we still haven't seen a major breakthrough with them, so we can't say it's a strong selling point.
Audio Quality and Haptics
Apple has been on the top of their game with audio and haptics on iPhones for years now. Usually, the Max models get the best sound, which is easily explained by the fact that they provide more acoustic space for the speakers. But the
iPhone 14
and
iPhone 14 Pro
definitely have a great sound coming out of them, especially considering their size. They are sufficiently loud and offer crystal-clear listening, be it for talking head videos or soundtracks.
As for haptics, the Taptic engine on iPhones is doing a fantastic job as it is, and yes — these phones click, clack, and vibrate with satisfying precision.
Battery Life and Charging
Consistency is key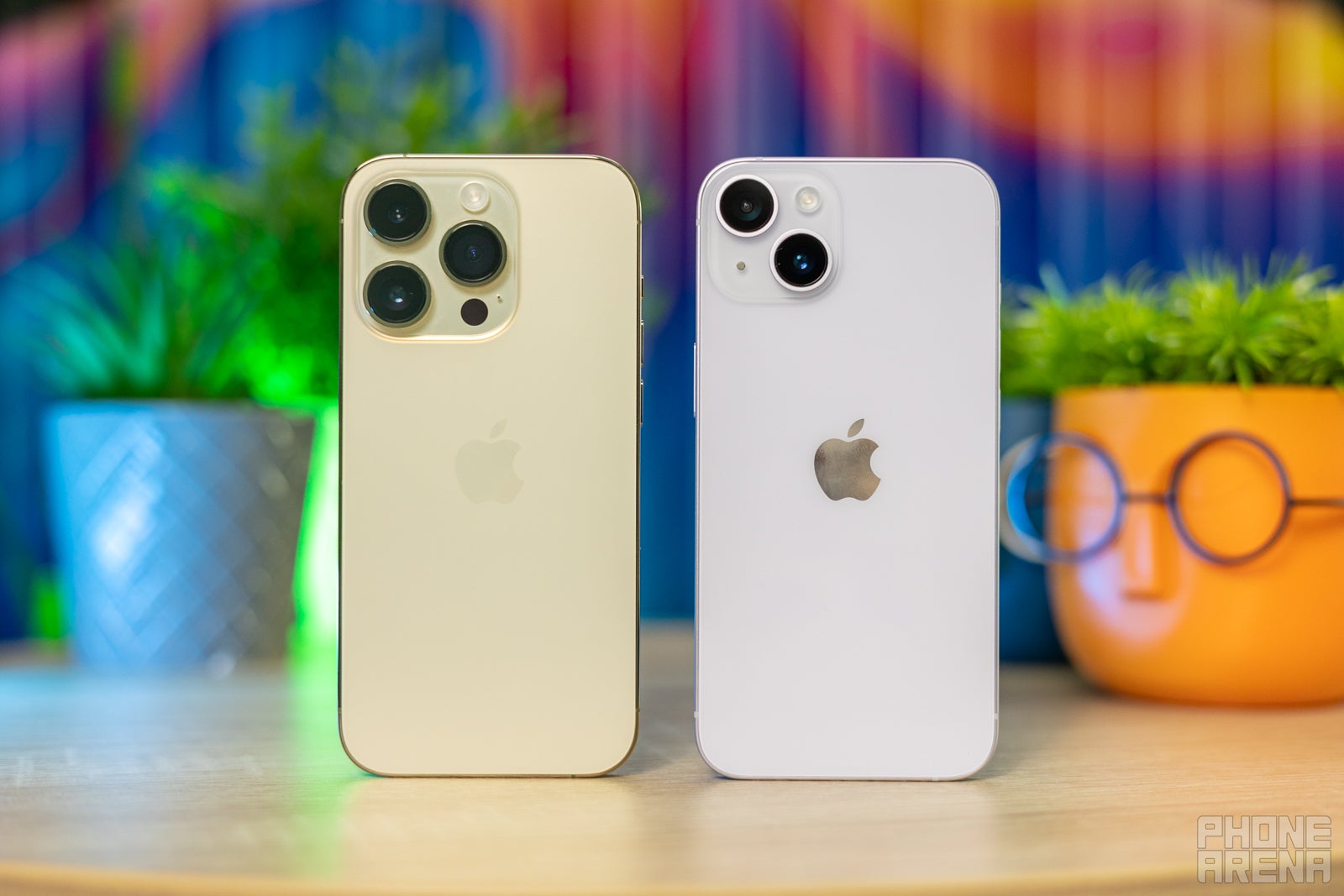 (Image Credit - PhoneArena) iPhone 14 Pro vs iPhone 14
Apple always aims for that "All day battery life" statement — about 10 hours of mixed usage and tons of standby stamina is what you get from an iPhone. And we expected nothing less from the
iPhone 14
series.
As per Apple's numbers, the
iPhone 14
can play streamed video for 16 hours straight, while the
iPhone 14 Pro
does the same for 20 hours, which is quite the gap in performance. Interestingly, the
iPhone 14
has a 3,279 mAh battery, while the
iPhone 14 Pro
has a 3,700 mAh one. Needless to say, we ran them through our tests:
PhoneArena Battery Test Results:
So, we see a much smaller difference here. Indeed, when it comes to browsing or video, the
iPhone 14 Pro
can last for a bit longer, probably thanks to the efficiency of the 4 nm A16 Bionic. However, when it comes to gaming, that 120 Hz screen sure takes its toll, dropping the Pro's stamina well below what the
iPhone 14
is capable of.
Both the
iPhone 14
and
iPhone 14 Pro
support 20 W fast charging, which should charge from 0% to 50% in about 30 minutes, as per official numbers.
Specs Comparison
You can get a full view of the
iPhone 14
vs
iPhone 14 Pro
specs and features in our comparison page.
Specs
iPhone 14
iPhone 14 Pro
Dimensions
5.78 x 2.82 x 0.31 inches (146.7 x 71.5 x 7.80 mm)
5.81 x 2.81 x 0.31 inches (147.5 x 71.5 x 7.85 mm)
Weight
6.07 oz (172 g)
7.27 oz (206 g)
Screen
6.1" OLED, 60 Hz, HDR, 1200 nits peak
6.1" OLED, 120 HZ, HDR, 2000 nits peak
Processor
Apple A15 Bionic, 5 nm
Apple A16 Bionic, 4 nm
RAM
x
x
Rear Cameras
12 MP wide, F1.5
12 MP ultra-wide, F2.4
48 MP wide. F1.78
12 MP ultra-wide, F2.2, macro
12 MP telephoto 3x, F2.8
Front Camera
12 MP F1.9, Autofocus
12 MP F1.9, Autofocus
Battery Size
x
x
Charging Speeds
20 W wired
15 W MagSafe
7.5 W Qi wireless
20 W wired
15 W MagSafe
7.5 W Qi wireless
Price
$829
$999
Summary and Final Verdict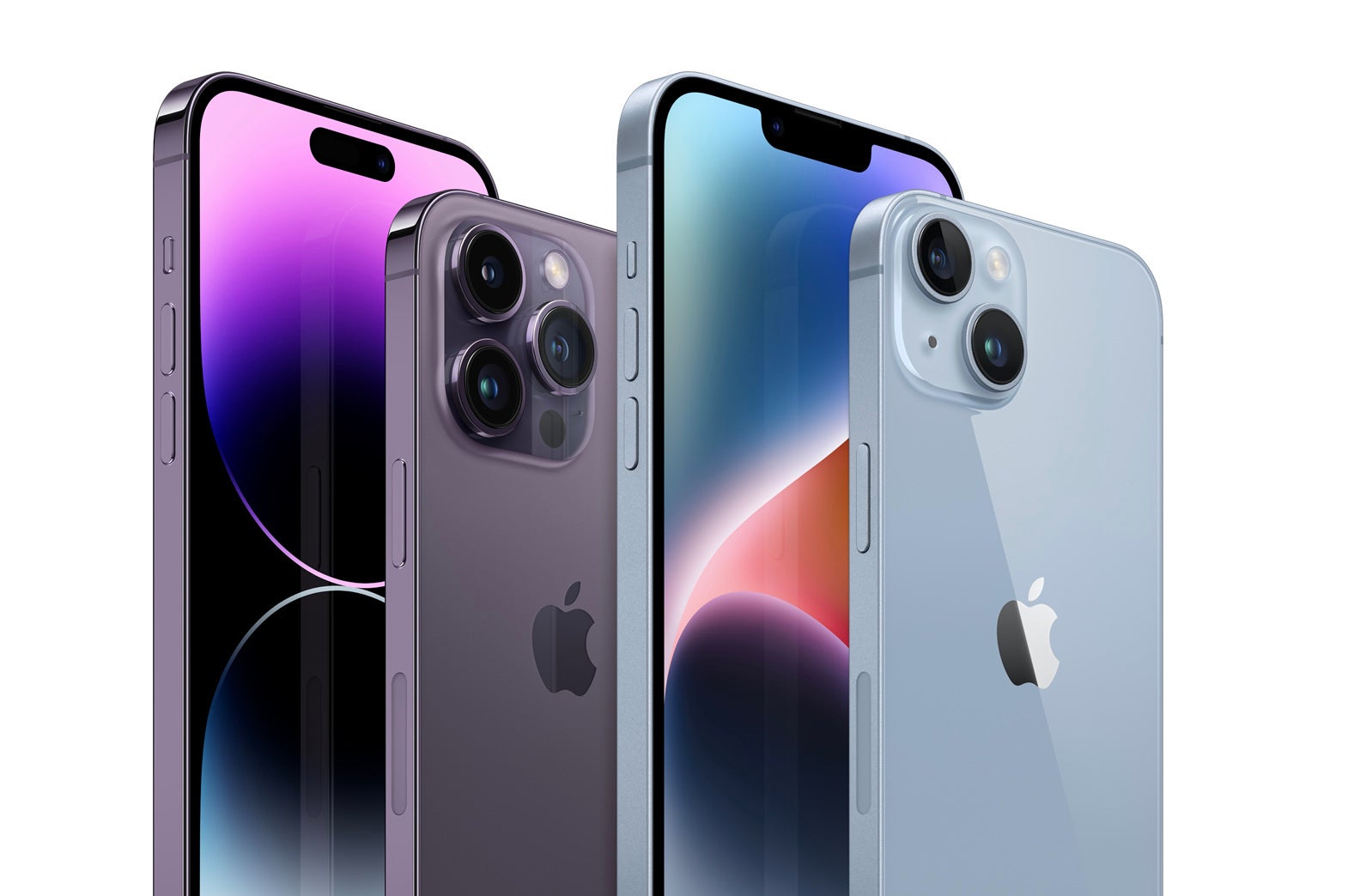 So, no surprise here, the
iPhone 14 Pro
is the clear winner — it's more powerful, it has more new features to get excited about, and it feels like the actual new phone. Anyone pining for an
iPhone 14
can just save a few bucks and go for a cheaper
iPhone 13
instead. The
iPhone 14
is more a retreading of old ground, while the Pro actually adds some new features, a much needed camera upgrade (and impressive ProRAW performance), and a new user experience, with the Dynamic Island.
Are these new features worth an extra $200? Maybe, maybe not, but then we also have the other features that are exclusive to the Pro line — 120 Hz screens, a telephoto camera for great portraits, 4K ProRes video recording — the gap between the Pro iPhones and the non-Pros has widened. And for the first time in a while — that price uptick seems to be worth it. Or is that simply because the regular
iPhone 14
didn't bring much to the table?
Recommended Stories