iPhone 14 Pro Max vs iPhone 12 Pro Max: main differences
15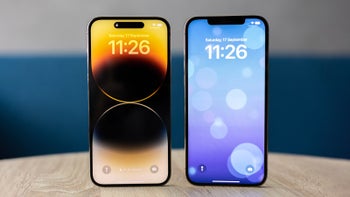 Intro
What are the new features in the iPhone 14 Pro Max and does it bring enough to convince users to upgrade from the two year old iPhone 12 Pro Max?
It all starts with the new Dynamic Island on the 14 Pro Max, which replaces the notch with a pill-shaped cutout that feels alive as it acts like a status bar of sorts. Other new features include a new A16 Bionic chip, a big leap in speed, plus you also get the first high-res camera on an iPhone, along with a bunch of new photo and video features.
iPhone 14 Pro Max vs iPhone 12 Pro Max differences in a nutshell:

Similar design, but thinner screen borders on newer iPhone
Dynamic Island vs notch
Faster A16 Bionic chip
Higher res 48MP main camera, upgrades across all cameras
4K Cinematic Mode video, Action Mode stabilization
New emergency features, satellite connectivity on new iPhone
Same battery life, same charging speeds
Design and Display Quality
Brighter display with thinner borders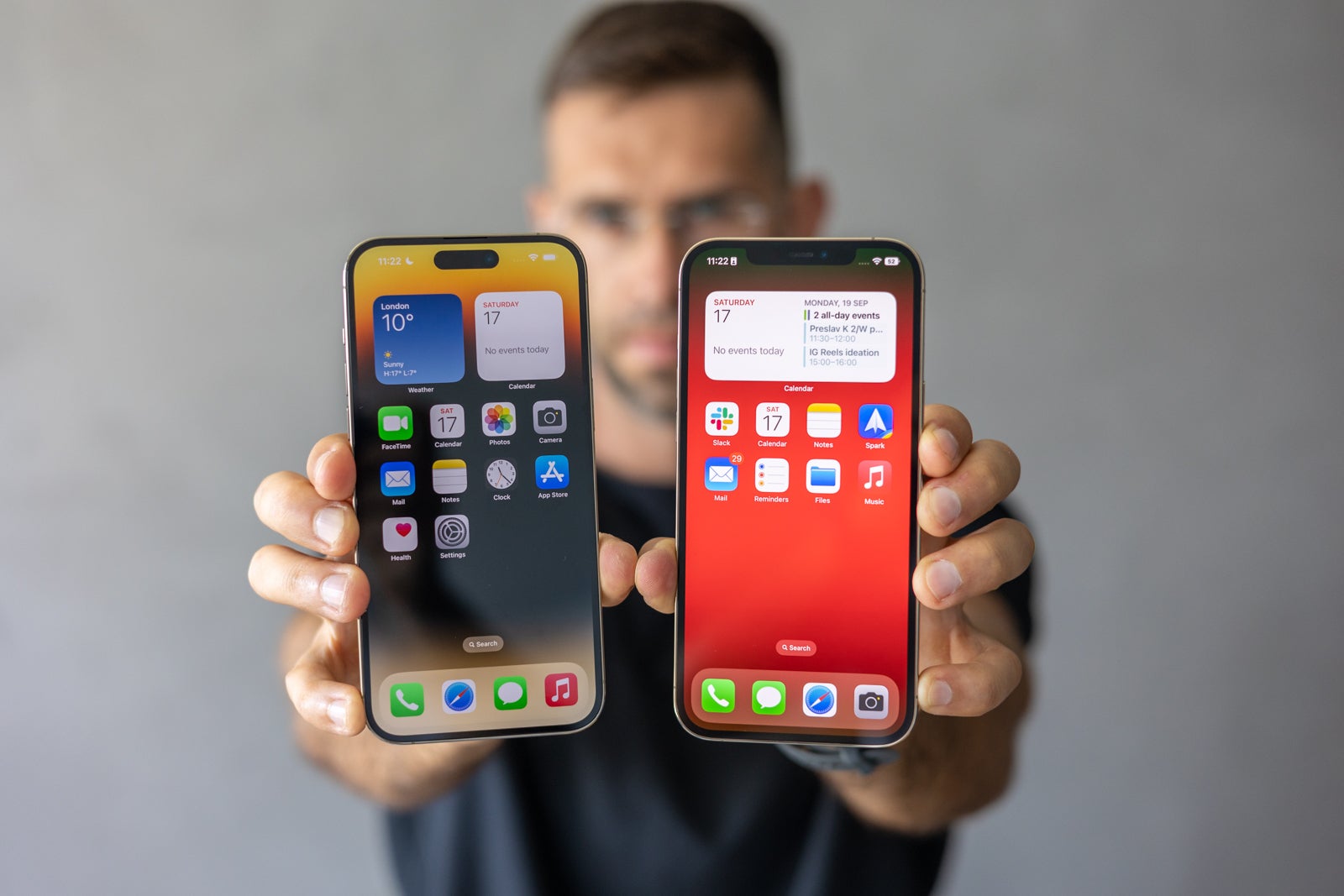 (Image Credit - PhoneArena) iPhone 14 Pro Max in gold vs 12 Pro Max in gold
The iPhone 14 Pro Max keeps the design that the iPhone 12 Pro Max championed into the world with flat sides, a shiny stainless steel frame and a matte glass back.
There are some slight changes, though, with the new iPhone weighing more, and it's also a bit thicker. And of course, just look at the sheer size of that camera unit on the new phone, it's massive!
Another detail that has changed is that borders around the screen are now smaller for a more elegant look. And yes, the Dynamic Island takes up less space than the notch and is fully interactive: you can tap it to open the app that it's showing and long-press to get quick controls for things like music playback.
For all the rest, the 14 Pro Max has the same IP68 water and dust protection as the 12 Pro Max, and the same old Lightning port for charging. And just in case you are wondering, neither has a 3.5mm headphone jack.
In terms of colors, Apple sticks with four colorways on both models. Both have the classic Space Black (Graphite on 12 Pro Max), Silver and Gold versions, but the new 14 Pro Max gets a new Deep Purple shade, which looks very nice.
There is also not much of a difference when you open the box: just a Lightning cable in the box, no charger included.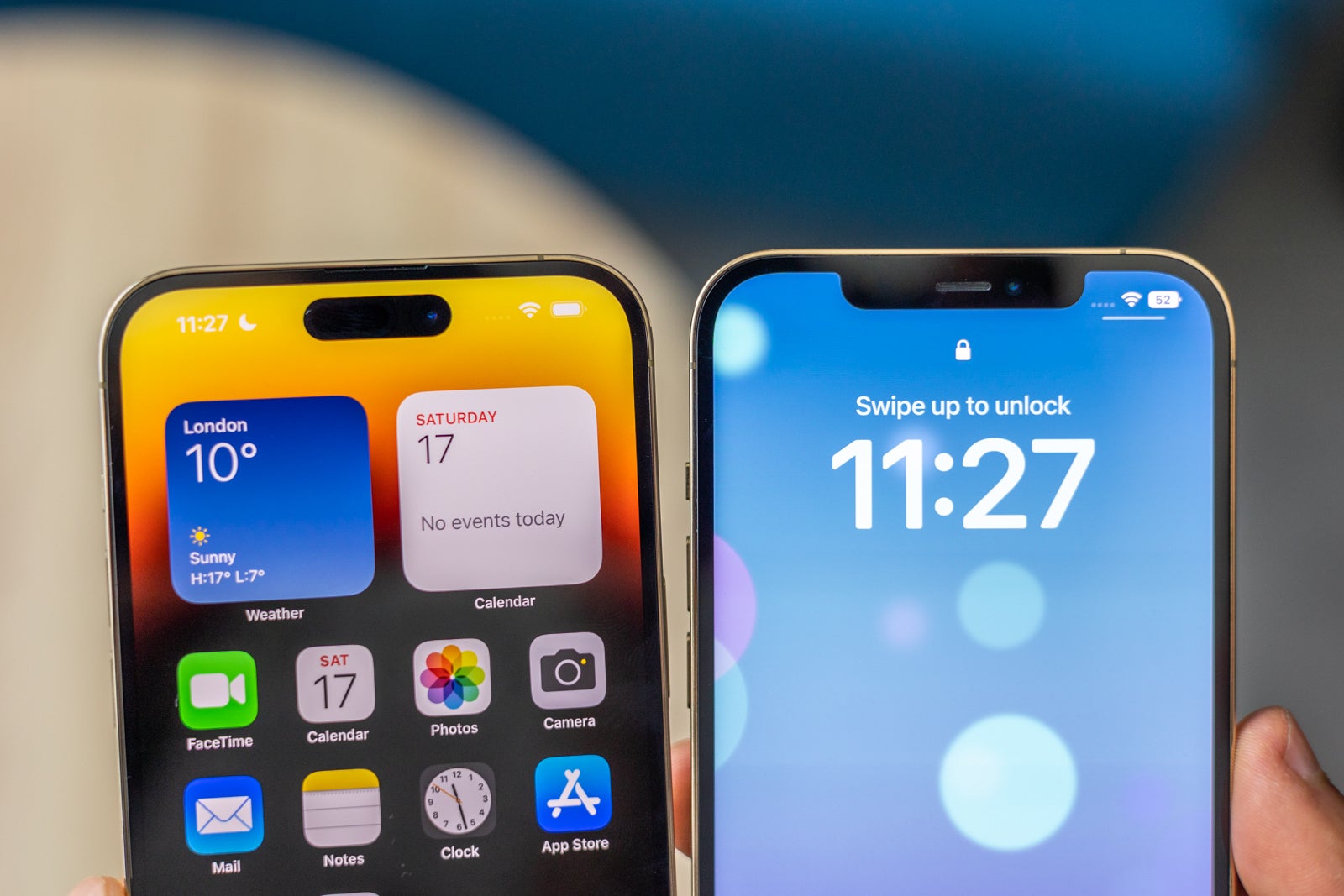 (Image Credit - PhoneArena) iPhone 14 Pro Max vs 12 Pro Max display differences
Face ID remains the biometric security solution of choice for Apple, and despite the new shape of the cutout, it works just the same on the iPhone 14 Pro Max.
But what about the screens? The size is the same: 6.7-inch OLED display with beautiful colors, but the 12 Pro Max lacks one key feature: 120Hz ProMotion, so scrolling doesn't look nearly as smooth.
Not only that, the 14 Pro Max gets 1-120Hz refresh rate, and the ability to drop down to 1Hz allows for the new Always-on lock screen feature.
Display Measurements:
The newer model can also get way brighter at up to 1,600 nits (even 2,000 nits if you take it outdoors), while the 12 Pro Max goes up to 1,200 nits. Keep in mind that in the chart above, the brightness numbers we measured are different because we use an all-white screen for testing, while those official numbers are tested at just 1% white levels.
Performance and Software
Faster speed on the newer model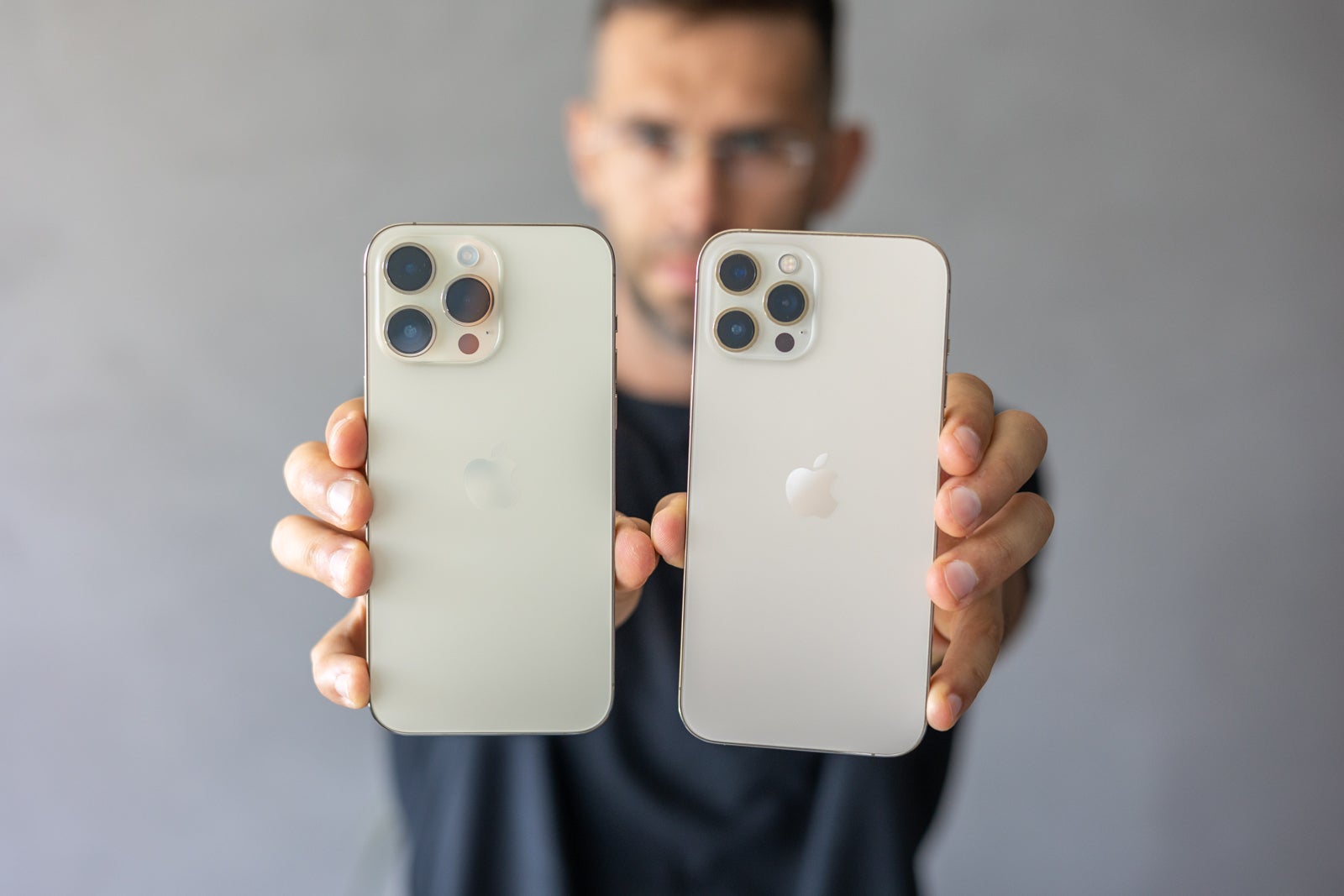 (Image Credit - PhoneArena) iPhone 14 Pro Max vs 12 Pro Max
Under the hood, you have the Apple A16 Bionic chip on the new model vs the A14 Bionic on the older one. The newer chip is manufactured using the more efficient 4nm process and delivers not only faster speeds, but also improved power efficiency.
Benchmark Results:
Benchmarks show a nearly 17% improvement in single-core CPU speeds and a nearly 30% boost in multi-core speeds. This new iPhone is the fastest phone in the industry and this not only ensures smooth performance, but also makes it perfectly future-proof.
On the 3D Mark Wildlife stress test, we see an improvement of 36% in the initial GPU burst, and a nearly 30% improvement after the thermal throttling kicks in, so gamers will definitely appreciate these faster graphics.
In terms of software, both run on iOS 16, but the newer iPhone scores a few exclusives. One is SOS via satellite, which allows you to beam an SOS signal even in remote areas with no signal. The other is Crash Detection, which uses an upgraded accelerometer and is just what it sounds like and should automatically call emergency services in case of a severe car crash.
With 5 or 6 years of software support, both devices are also perfectly future-proof, but do consider that two of those years have already passed on the 12 Pro Max.
Camera
A new 48MP sensor coupled with Photonic Engine for improved quality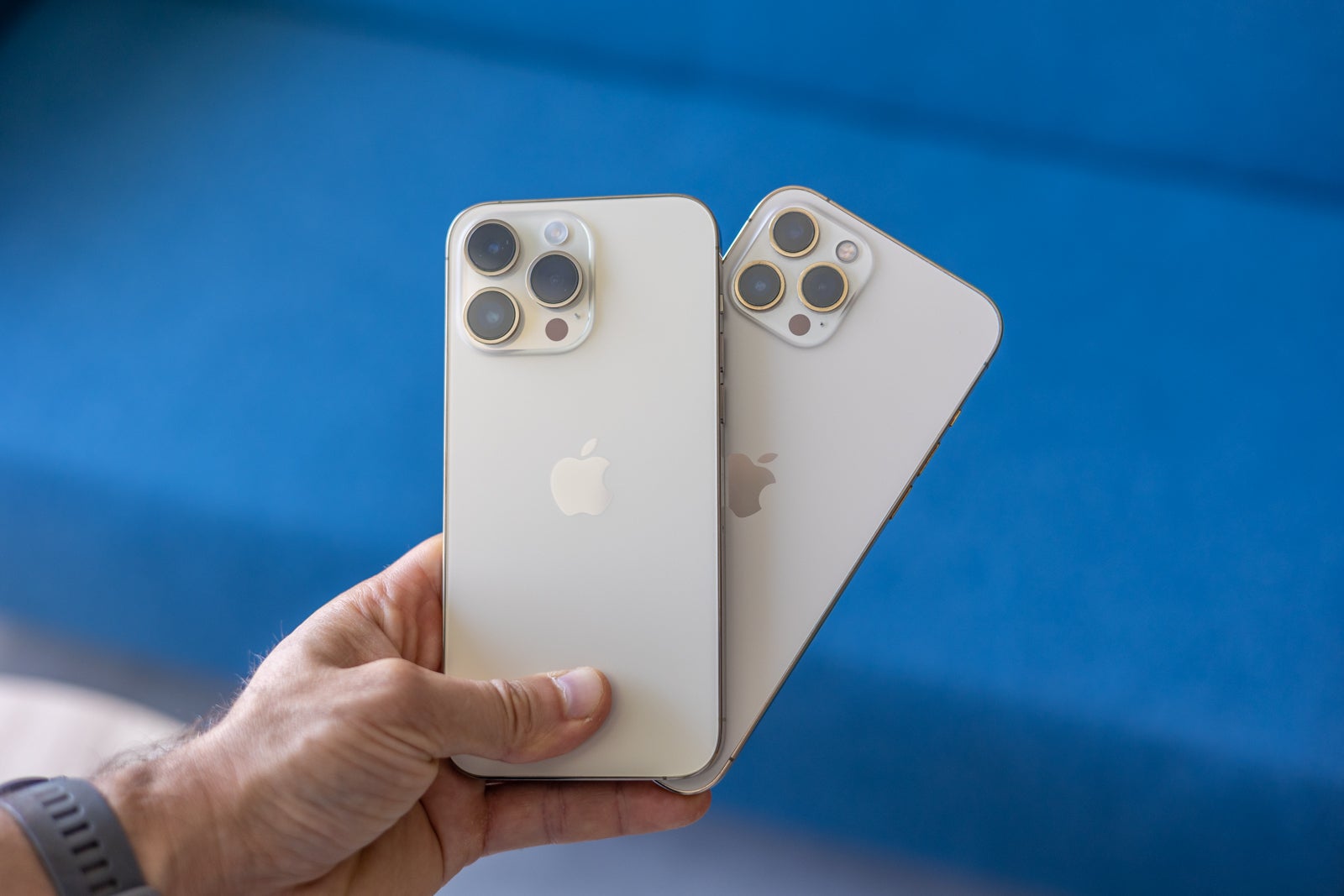 (Image Credit - PhoneArena) iPhone 14 Pro Max vs 12 Pro Max triple rear cameras
Both phones come with a triple camera system on their backs, but the iPhone 14 Pro Max takes it to the next level with a much larger main camera sensor. Not only that, but there is a new Photonic Engine that runs a bunch of tweaks to photos captured with all the cameras, so they end up looking better.
iPhone 14 Pro Max vs 12 Pro Max camera specs:
Wide camera: 48MP, f/1.78, 24mm on 14 Pro Max vs 12MP, 26mm on 12 Pro Max
Ultra-wide camera: 12MP on both
Telephoto camera: 3X zoom vs 2.5X zoom
The ability to capture full-res 48MP photos sounds great for landscape shots with ample detail, and Apple also uses this large sensor for practically lossless 2X zoom capture. Having optical-quality 2X zoom is great for portraits, and we love having it back on the 14 Pro Max.
Keep in mind that the new phone does NOT capture 48MP photos by default. Instead, it uses quad pixel, which means it combines four pixels into one, and you still get 12MP photos.
< iPhone 14 Pro Max 1X
iPhone 12 Pro Max 1X >
You can notice the wider field of view on the new iPhone, but with the new sensor we also feel like Apple went ballistic with the sharpness.
< iPhone 14 Pro Max 1X
iPhone 12 Pro Max 1X >
In this night photo, you can see similar colors, but once again the sharpness on the iPhone 14 Pro Max is dialled up to the extreme, and we actually prefer the softer look out of the previous iPhone.
< iPhone 14 Pro Max 0.5X
iPhone 12 Pro Max 0.5X >
You can see quite a bit of a difference in the color processing, and we really appreciate how the new iPhone is better able to process the image, the face of Nick is well exposed on the newer phone. But once again, it is that sharpening that really stands out like a sore thumb.
< iPhone 14 Pro Max 0.5X
iPhone 12 Pro Max 0.5X >
In low light, the new iPhone can resolve more detail with the ultra-wide camera.
< iPhone 14 Pro Max Portrait Mode
iPhone 12 Pro Max Portrait Mode >
There is a pretty noticeable difference in the colors on these two portrait mode shots, unfortunately both of them were affected by a bit of sun flare.
But it's not just about the hardware, of course. A number of features are only available on the newer 14 Pro Max:
Cinematic Mode — blurs the background like Portrait mode, but for video.
Action Mode — gimbal-like stabilization, perfect for those adventurous/action moments with a ton of movement: bike rides, runs, etc.
Photographic Styles — a custom look that is automatically applied to each photo you capture.
Audio Quality and Haptics
While the iPhone 12 Pro Max has loudspeakers that deliver good-quality sound, the 14 Pro Max makes a big leap in both volume levels and richness. Those who value great audio quality on their phone will appreciate the newer model.
We do not see any changes to the Taptic Engine that drives the haptics, or the vibration feedback, but it has been excellent from the start, so that's no reason for concern.
Battery Life and Charging
Big boost in battery life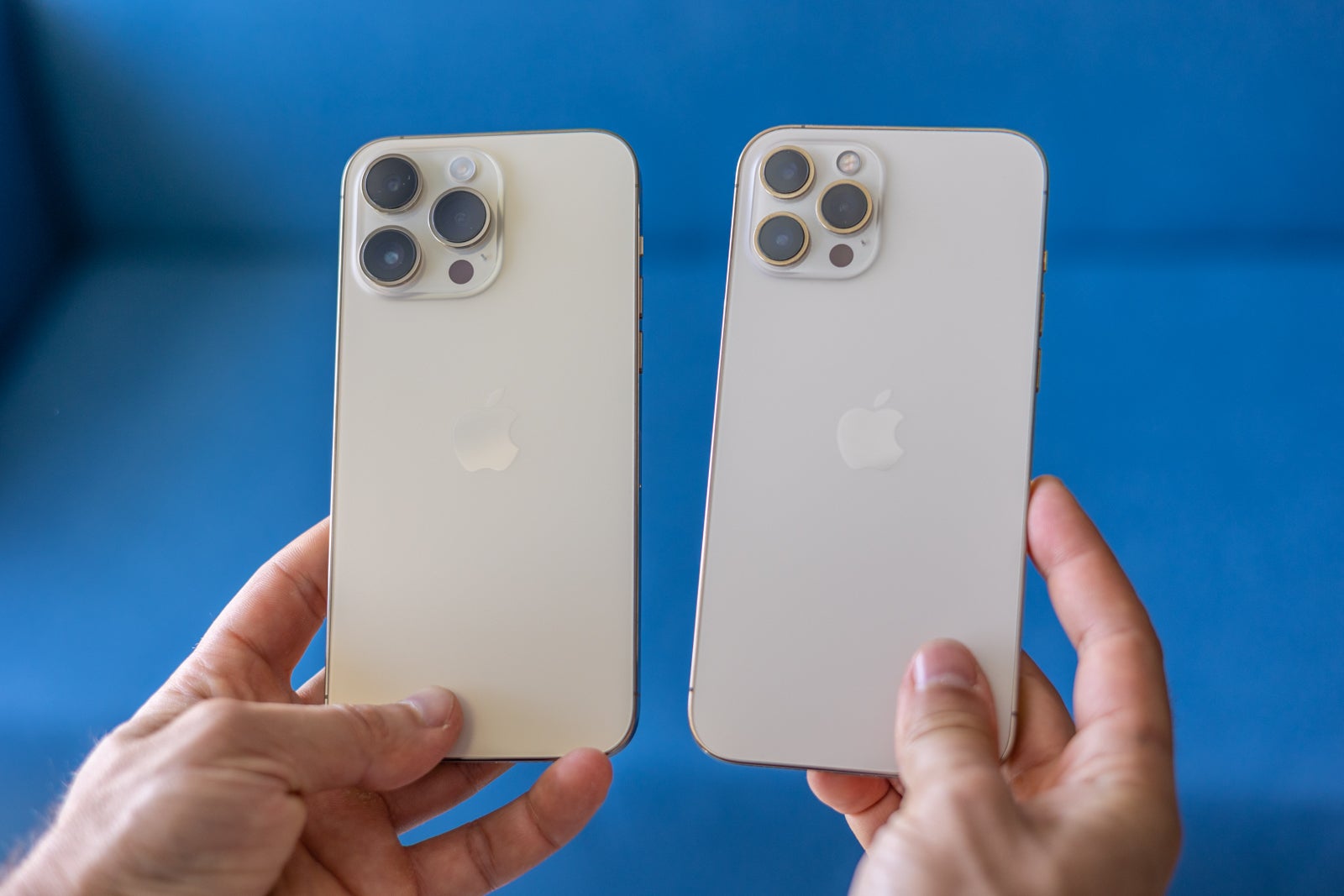 (Image Credit - PhoneArena) iPhone 14 Pro Max vs 12 Pro Max
The iPhone 14 Pro Max has the same sized battery as its predecessor, but compared to the two-year old 12 Pro Max, it's a massive leap.
So those who value great battery life are in for a treat with the 14 Pro Max, and this alone might be a good reason to upgrade.
iPhone 12 Pro Max: 3,687mAh
iPhone 14 Pro Max: 4,323mAh or more (+20%)
This results in 25 hours of video streaming on the new model vs only 12 hours on the same test for the older one, and audio streaming time has improved from 80 hours on the 12 Pro Max to 95 hours on the 14 Pro Max.
PhoneArena Battery Test Results:
In our independent tests, we found the 14 Pro Max to last nearly 2 hours and a half more for video streaming and nearly 5 hours more for browsing the web, which is a massive difference.
On the charging front, both use the Lightning connector with slight differences in the charging speed. The 12 Pro Max can charge at up to 20 watts, while the 14 Pro Max can go as fast as 27W.
Both also support MagSafe wireless charging at 15W speeds.
Specs Comparison
Below, you can find a quick summary of the specs and the key differences. Also, don't forget that we have a much more details iPhone 14 Pro Max vs 12 Pro Max specs comparison available here.
Specs
iPhone 14 Pro Max
iPhone 12 Pro Max
Dimensions
160.7 x 77.6 x 7.85 mm
160.8 x 78.1 x 7.65 mm
Weight

240g
228g
Screen
6.7" OLED 1-120Hz ProMotion
Dynamic Island

6.7" OLED 60Hz
Notch

Processor
A16 Bionic, 4nm
A14 Bionic, 5nm
RAM
6GB LPDDR5
6GB LPDDR4
Rear Cameras
48MP Main (1X), 24mm f/1.78
12MP Ultra (0.5X), 13mm f/2.2
12MP Tele (3X), 77mm f/2.8

12MP Main (1X), 26mm f/1.6
12MP Ultra (0.5X), 13mm f/2.4
12MP Tele (2.5X), 65mm f/2.2
Front Camera
12MP Front with AF, f/1.9
12MP Front with FF
Battery Size
4,323 mAh

3,687 mAh
Charging speeds
27W wired charging
15W MagSafe wireless
20W wired charging
15W MagSafe wireless
Price
from $1,100 for 128GB
MSRP from $1,100, can be found much cheaper currently
Summary and Final Verdict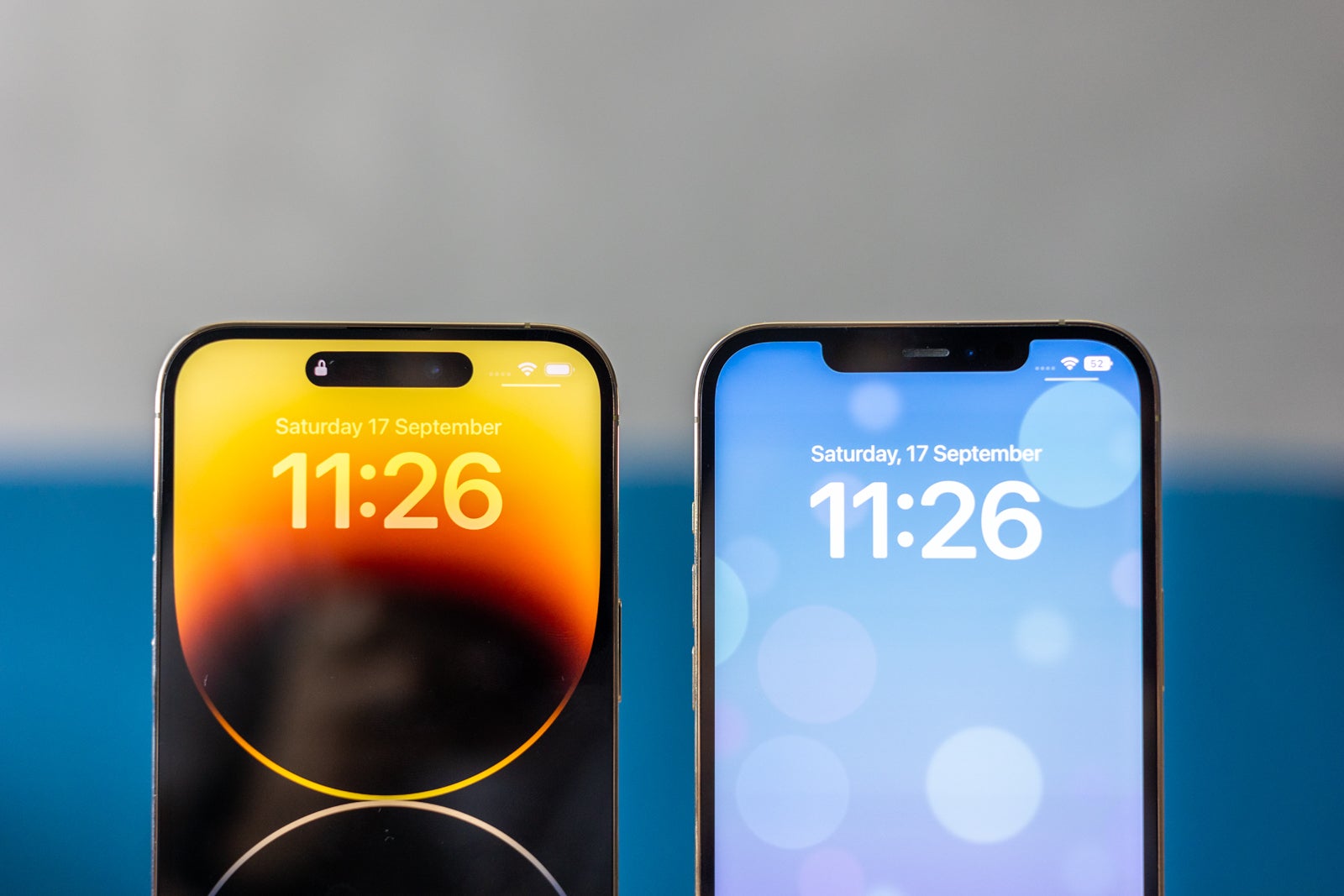 (Image Credit - PhoneArena) iPhone 14 Pro Max vs 12 Pro Max
So, is it worth upgrading from the 12 Pro Max to the newer 14 Pro Max?
The boost in battery life is the most significant improvement in our view, but so is the smooth 120Hz ProMotion screen. And camera lovers will also appreciate the larger, 48MP sensor and Cinematic Mode video. Other welcome features are the satellite connectivity and crash detection, which might save your life one day.
So... do you think Apple has done enough with the 14 Pro Max, and would you upgrade from the 12 Pro Max to the 14 Pro Max?