iPhone 14 Plus review: Finally, a big iPhone without the Pro Max tax
27
We may earn a commission if you make a purchase from the links on this page.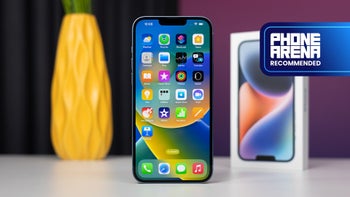 Although it doesn't have the Dynamic Island of the Pro models to entice you with, the
iPhone 14 Plus
is a perfect new addition to Apple's iPhone line-up, for several good reasons. The main one: no longer do we have to pay Pro Max prices just to get a large display – a basic feature many of us want and need on our smartphones these days.
So if you're an Apple fan who wants a bigger screen, but doesn't need all of the
iPhone 14 Pro Max
bells and whistles, which do jack up its price quite significantly – the
iPhone 14 Plus
is the one and only iPhone for you.
However, don't expect any surprises – if we look past its size and battery life, from the design and feature standpoints this is a rather boring new model that could've been a bit more exciting than it is. A Dynamic Island and always-on display would've been nice to get here, but alas, the
iPhone 14 Plus
keeps things simple, and very, very familiar.
The
iPhone 14 Plus
has been through our new in-depth camera testing where we score each individual camera, and the camera system as a whole, all of which you will find in the 'Camera' section of this review. You can find out more about how we carry out our own camera tests by going to our
PhoneArena Camera Score benchmark
page.
iPhone 14 Plus

Unboxing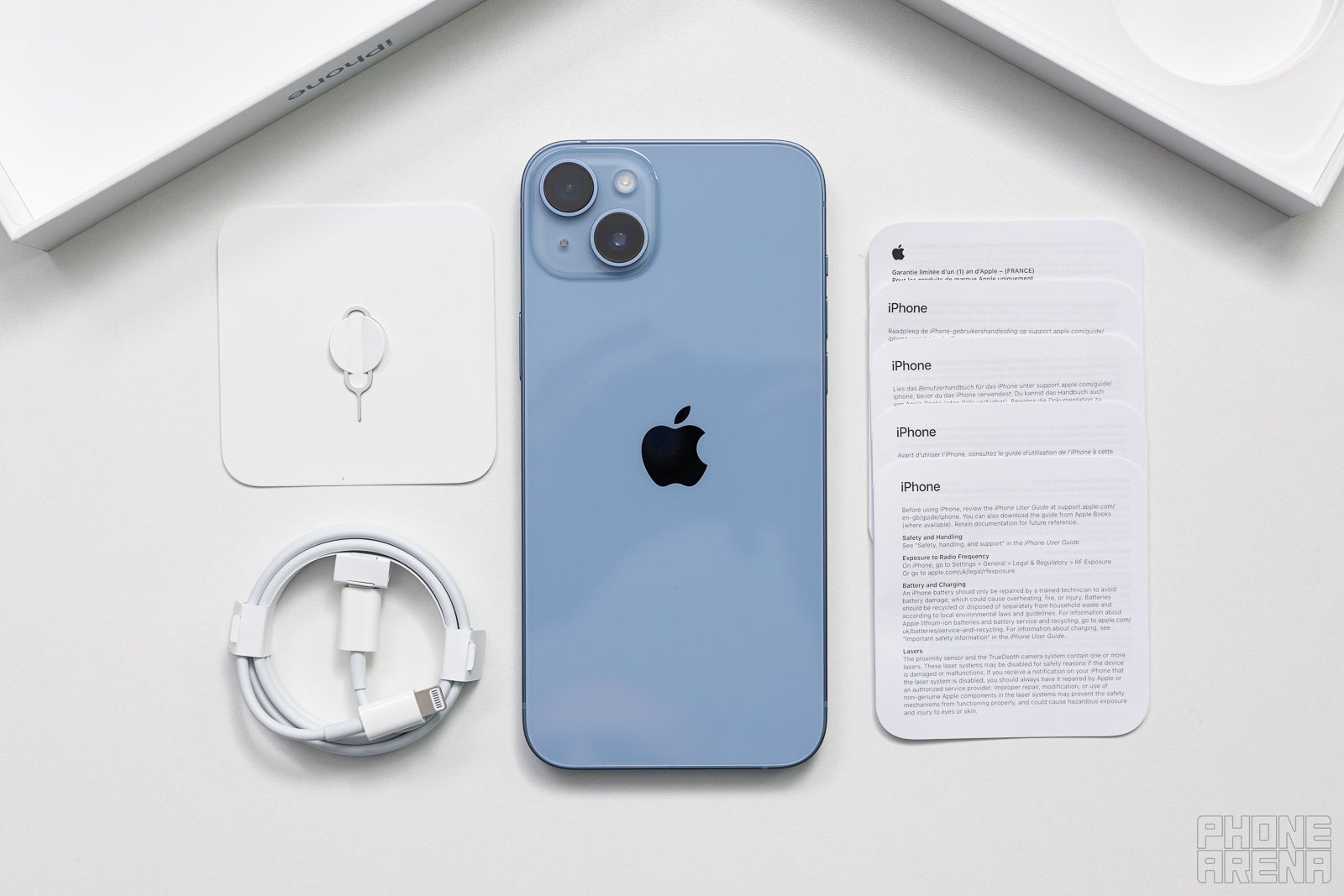 (Image credit - PhoneArena) iPhone 14 Plus box contents
The unboxing experience is the usual Apple ordeal – we have a very tiny, compact, and minimalist retail box, which you need to hold by the sides as its bottom slides out slowly, to reveal your new tech toy. Savor the moment if you will; that's the whole point of the whole slidey mechanism after all! And there it is – your new
iPhone 14 Plus
.
Inside the box is also some paperwork, a white Apple sticker, plus a USB Type-C to Lightning cable. There's no charger included, and if you're in the US – there's no SIM ejector tool either, as the new iPhones only use eSIM now in that region.
But we have an EU variant of the
iPhone 14 Plus
here, so the good old SIM ejector is included, and the phone does have a physical SIM card slot in our case.
Back to that missing charger for a quick tangent. A lot of brands tend to not give us chargers "for free" anymore, at least with flagship phones, and the excuse is protecting the environment. You're encouraged to reuse any old chargers you may have lying around, but keep in mind that those will have to be at least 20W, if you wish to take optimal advantage of the
iPhone 14 Plus
' fast charging.
iPhone 14 Plus

Specs
Basically - it's bigger than an
iPhone 14
, with a bigger screen and battery, yet lesser than an
iPhone 14 Pro
and Pro Max. Below we have for you the official
iPhone 14 Plus
specs from Apple.
Specs
iPhone 14 Plus
Size and Weight
6.33 x 3.07 x 0.31 inches, 7.16 ounces (203 grams)
Display
6.7" OLED, 60Hz, 2778‑by‑1284-pixel resolution, 458 PPI (pixels per inch), HDR, Wide color (P3)
Processor
Apple A15 Bionic
RAM
6GB
Storage
128GB / 256GB / 512GB, no expandable storage
Software
iOS 16 (comes with features like customizable lock screens)
Cameras
12MP Main: 26 mm, ƒ/1.5 aperture, sensor‑shift optical image stabilization, seven‑element lens, 100% Focus Pixels
12MP Ultra Wide: 13 mm, ƒ/2.4 aperture and 120° field of view, five‑element lens
(2x optical zoom; digital zoom up to 5x)
Battery Size
4,325 mAh
Charging Speeds
20W wired charging, up to 15W MagSafe wireless charging
Price

$899 (128GB), $999 (256GB), $1199 (512GB)
Perhaps most notable is the fact that the
iPhone 14 Plus
keeps the older A15 Bionic processor, while the Pro models got upgraded to A16, but to be fair – the A15 is still a great performer in 2022.
iPhone 14 Plus

Design & Colors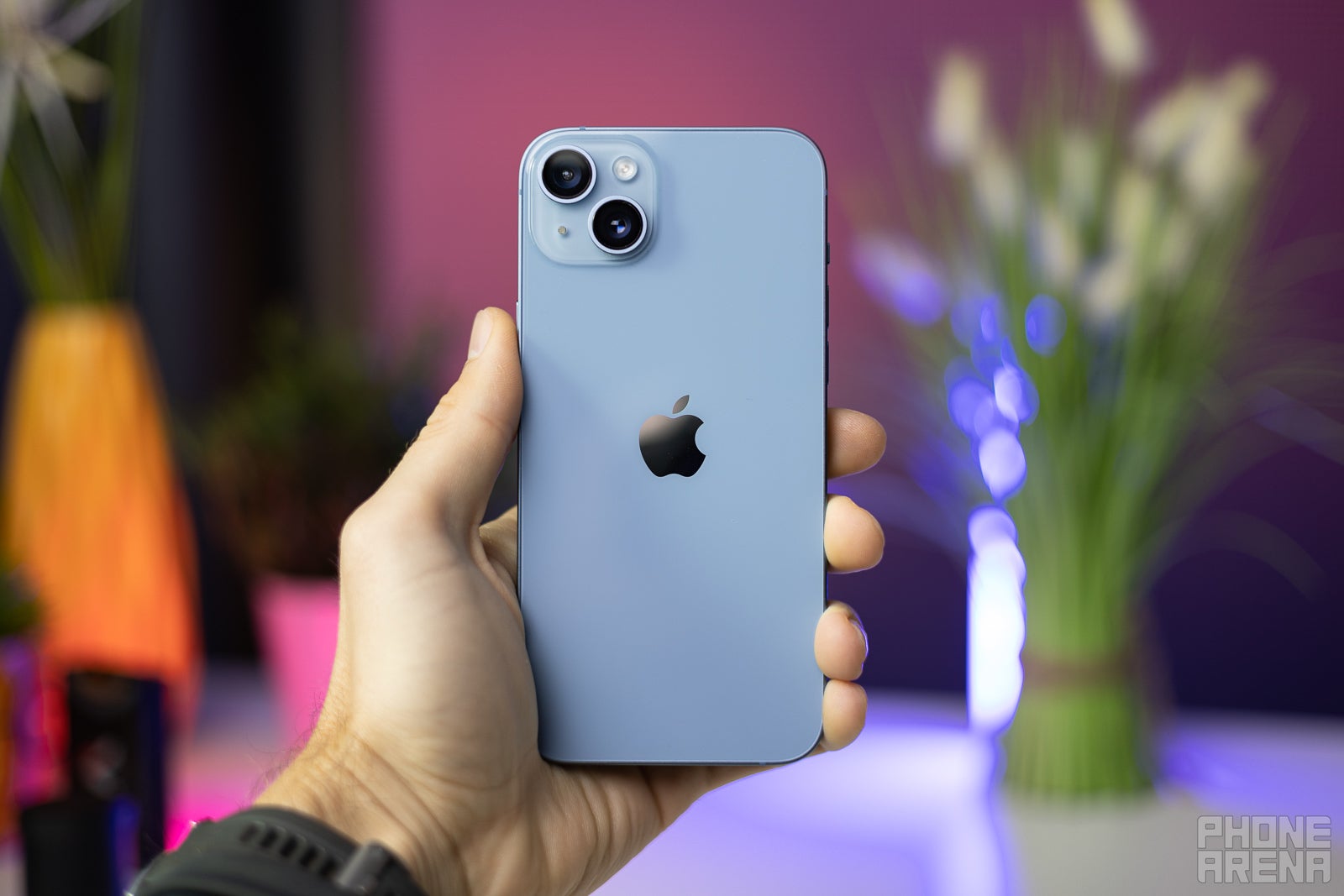 (Image credit - PhoneArena) iPhone 14 Plus back design
Unlike the more expensive
iPhone 14 Pro
and Pro Max, the
iPhone 14 Plus
still has the notch we've become so familiar with.
We basically have a last-gen design here, nearly identical to the 2021
iPhone 13 Pro Max
visually, except that the new Plus has a dual-camera on the back, as opposed to three cameras. And, the bezels around the display here are ever so slightly thicker.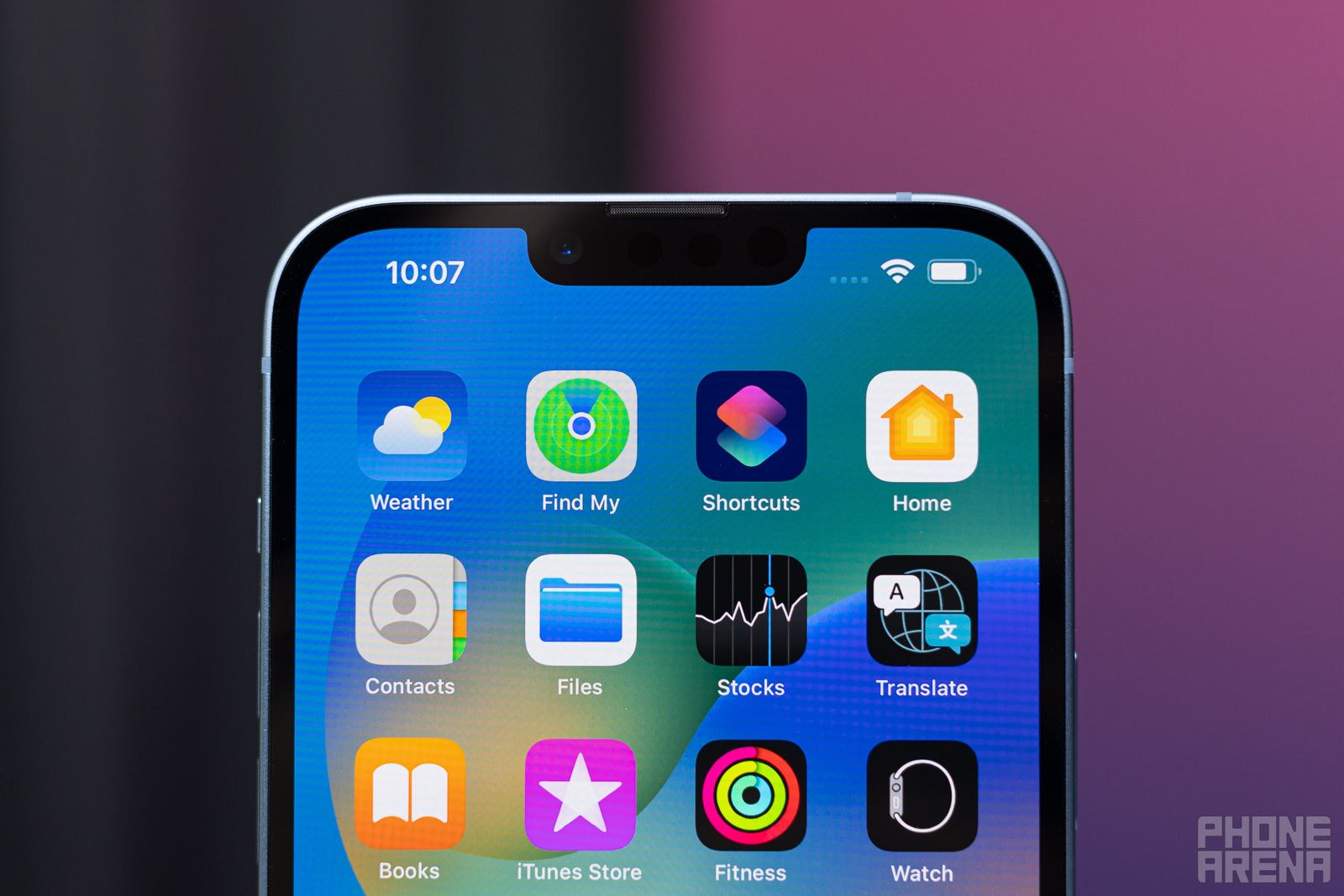 (Image credit - PhoneArena) iPhone 14 Plus notch
The
iPhone 14 Plus
has one, main, defining feature over the base
iPhone 14
, and that's its larger size. Regardless, and despite being cheaper than the Pro models, the
iPhone 14 Plus
still sports a premium Ceramic Shield front, a glass back, aluminum sides, beautiful flat edges, and a slight camera bump on the back. On the bottom, the Lightning port returns yet again, for charging and data transfer.
On the front, around its nearly-7-inch display are some small black bezels, and again – the good old notch, unchanged from last year.
The
iPhone 14 Plus
is rated IP68, meaning it has been tested to survive submersion in water at up to 6 meters, for up to 30 minutes, so using it during a light rain shouldn't be an issue.
Perhaps the biggest surprise for me initially was that for its size and weight of 203 grams, the
iPhone 14 Plus
feels pretty light, and again – nicely premium in the hand. Just do keep in mind you'll definitely need some larger hands to hold and use it easily. It's main selling point is the fact that it is big, and… Well, it sure is. You'll need large hands and large pockets for this beast.
As for the color options, here's what we get...
Midnight
Purple
Starlight
Blue
Product Red
iPhone 14 Plus

Display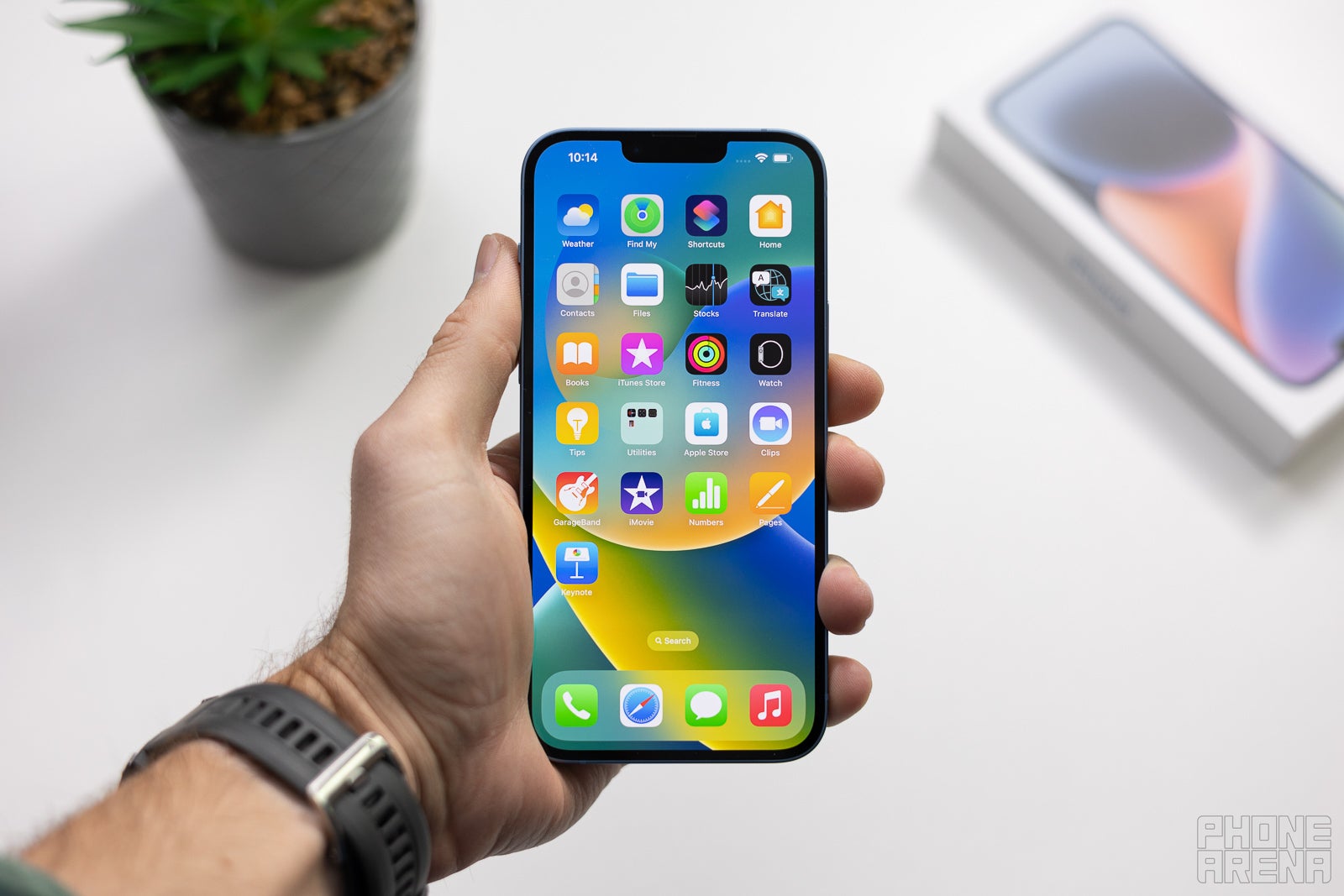 (Image credit - PhoneArena) iPhone 14 Plus display
So as we mentioned, the
iPhone 14 Plus
is essentially just like the 14 Pro Max and the 13 Pro Max in terms of size, but its specs are nerfed to match its lower price. We're getting a 6.7-inch OLED display clocked at the traditional 60Hz refresh rate. It's a Super Retina XDR display, with a 2778‑by‑1284 pixel resolution, and pixel density of 458 PPI (pixels per inch). What does all that mean in plain English? The display is sharp. Big and beautiful, with pitch blacks and vibrant colors, as can be expected from OLED screen technology.
This phone getting the always-on display feature was speculated by some, but as we could've seen a mile away – that came only to the
iPhone 14 Pro
and Pro Max. So no always-on display for the
iPhone 14 Plus
. Nonetheless, True Tone returns, as well as HDR support.
According to Apple we have 800 nits max brightness (1200 nits HDR peak brightness), which is also below, say, the Pro Max, but regardless, more than bright enough for most users. Realistically, the
iPhone 14 Plus
' display is well visible even outside on a sunny day, so unless you're planning for a summer trip to the desert, you'll find the brightness more than apt.
So, real life usage – the
iPhone 14 Plus
is fantastic for browsing the web, watching movies, and doing pretty much anything, thanks to that big, beautiful display that it's packing.
I compared it side-by-side with the
iPhone 14 Pro Max
to see if the phones' bodies are exactly the same in size, and they appear to be. However, we do have bigger bezels around the display of the
iPhone 14 Plus
. So as we should've expected, Apple found a way to extra-nerf it, even if only a tiny bit. And with those screen bezels in mind, the Plus has an ever so slightly smaller display than the Pro Max, even if its body is about the same size.
Note:

Pixel 7 Pro

benchmark results will be available soon for comparison
iPhone 14 Plus

Camera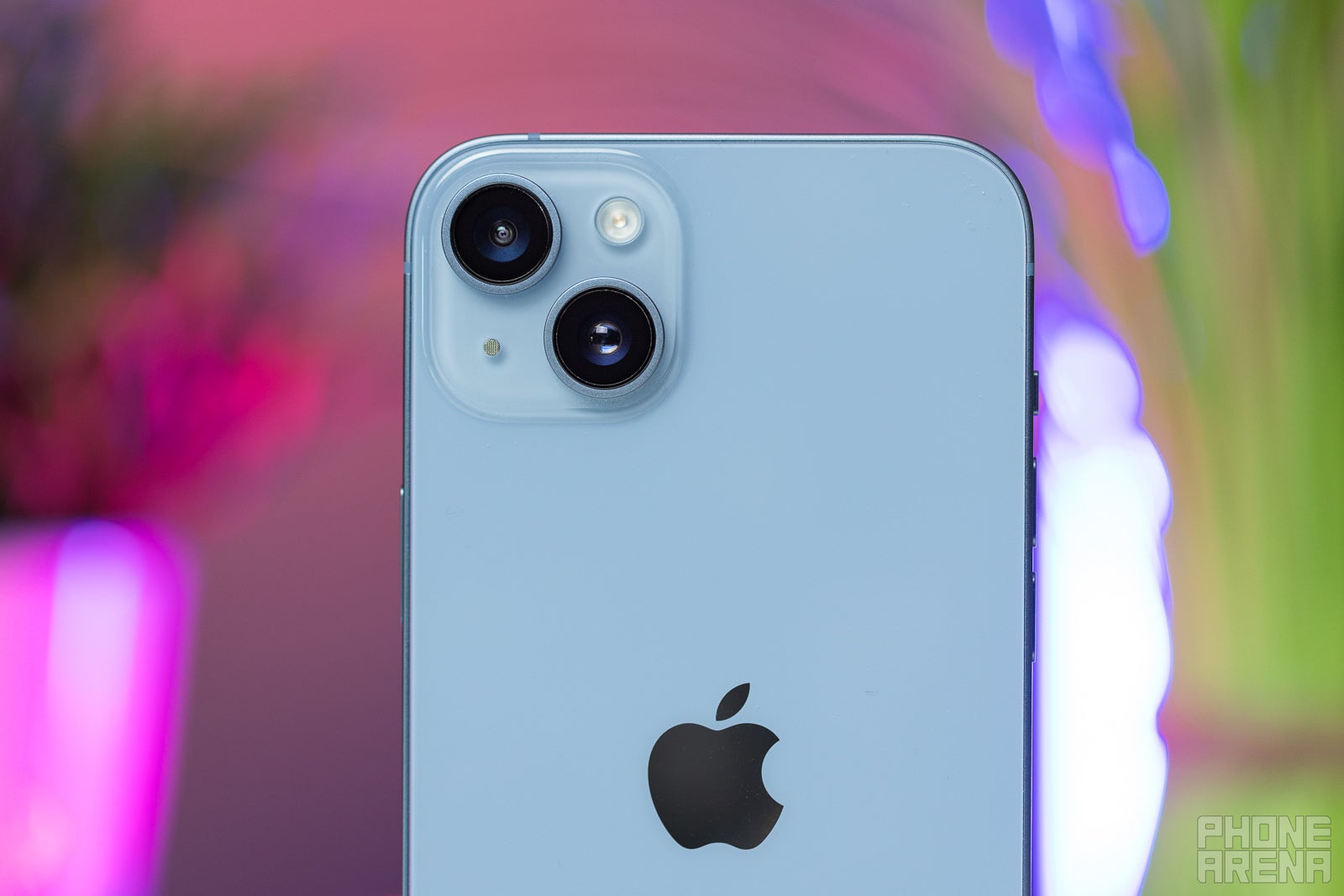 (Image credit - PhoneArena) iPhone 14 Plus camera
As we can see from our main, ultra wide and night / low light samples below, the
iPhone 14 Plus
has a pair of very competent dual cameras. Those are a 12 megapixel main one with sensor‑shift optical image stabilization, and a 12 megapixel wide one with 120° field of view.
Although daylight shots tend to exhibit a bit of over-sharpening, when the bokeh effect kicks in, it does a fantastic job blurring background elements and letting whatever's in focus pop. Even in night photos! Which, by the way, do look respectably bright, clear and detailed.
Turning the phone around, we have a selfie camera inside that notch, which is also 12 megapixels. Like the back camera, this one supports Portrait mode, Night mode and 4K, 60FPS video recording.
< Selfie sample
Selfie with Portrait mode on >
Portrait mode in selfies is better than ever, and even manages to deal with challenging shots like the one above. Many phones that have a Portrait feature would've struggled to detect the little spots between the frames of the glasses and the subject's head, likely either blurring the glasses, or not blurring the background properly. But the
iPhone 14 Plus
handled it like a champ.
On the video side of things, that optical image stabilization (OIS) we mentioned earlier does come in handy. It's better than electronic image stabilization (EIS), as with OIS the camera sensor physically moves while you're shooting a video, in order to stabilize it. Meanwhile EIS normally crops the video and uses software tricks to stabilize it, resulting in some image loss. No such problem here.
The
iPhone 14 Plus
can record videos at up to 4K, 60 frames-per-second (FPS). 8K recording didn't come to any of the new
iPhone 14
models, including the Pros, so it's no surprise that it's not here either. Even so, 4K footage like our sample video below looks very impressive. The stabilization is indeed solid, colors are true to life, and the mic handled the very loud environment perfectly too, keeping my voice clear despite it.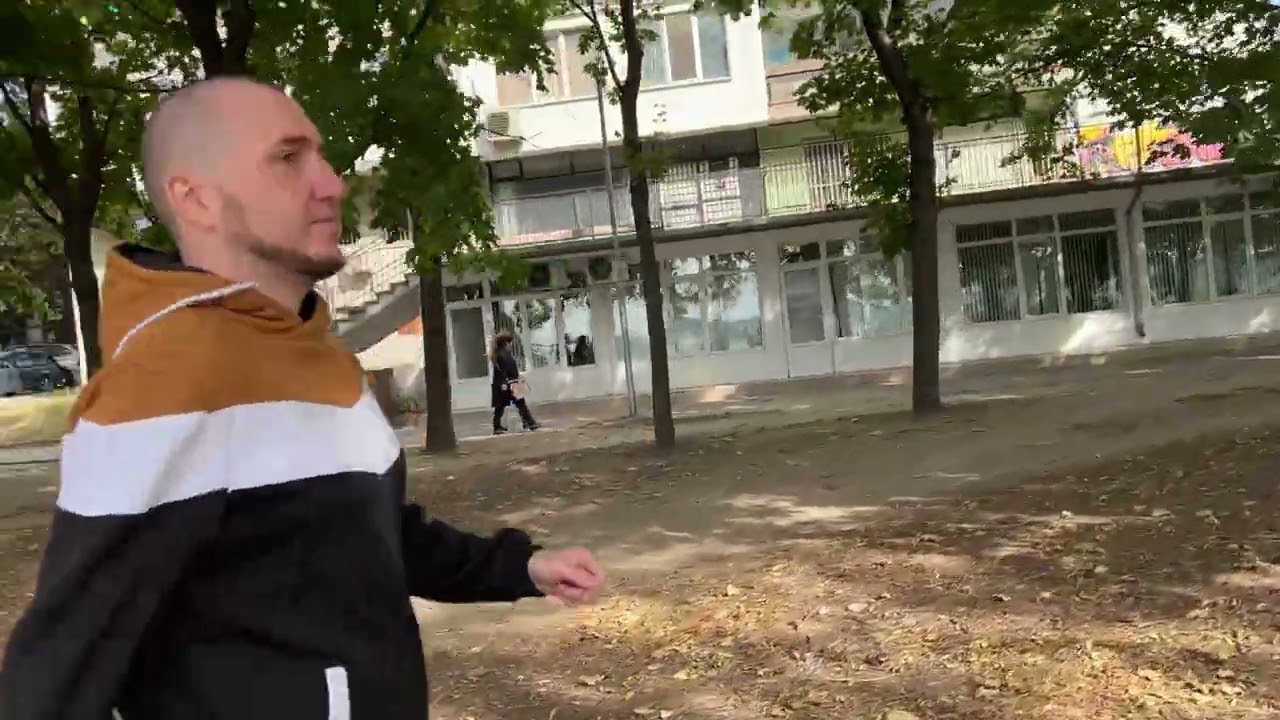 iPhone 14 Plus

Performance & Benchmarks
Powering the
iPhone 14 Plus
is the 2021 A15 Bionic chip, unlike the 14 Pro models which got a new A16. But despite the fact that Apple is clearly cutting corners here again, A15 is still quite a beast today.
Whether you're pushing it with intensive 3D gaming or even video editing, you likely won't see it stutter, ever. This is still one of the best performing smartphones right now.
We also get 6GB of RAM, which too is more than enough for smooth switching between apps, without the phone running out of memory and forcing them to reset.
iPhone 14 Plus

iOS version
Update
:
iPhone 14 Plus
will be getting updated to
iOS 17
this September, and the latest version of the OS was
announced at the Apple WWDC'23 keynote
. It introduces lots of changes to Messages, FaceTime, and many other essential iOS experiences and functionalities.
The new
iPhone 14 Plus
comes with the also new
iOS 16
, so aside from the familiar smooth and reliable phone experience we all know and love, there are also some nice new features to talk about.
Perhaps most notably – the lock screen is now customizable – you can add Apple Watch-like widgets to it (battery percentages, reminders, etc.), you can change the font of your lock screen date and time, or even browse a whole lock screen gallery and pick something premade, to freshen things up.
Other notable
iOS 16
features include web push notifications in Safari (coming soon), Passkeys, which aims to replace your many web passwords with something simpler, unified and easier to manage, plus there are a bunch of smaller app, privacy and security updates. Check out our
iOS 16 review
for all the details.
A notable new security feature in
iOS 16
is Lockdown Mode, which is pretty much as cool as it sounds. It's meant to be used by "the very small number of users who face grave, targeted threats to their digital security," as it further hardens your iPhone's defenses and "strictly limits certain functions" that may or may not be theoretically exploitable by hackers. Think Edward Snowden-type of people, not so much the rest of us. But the mere fact that this is available is more than welcome for those who value their privacy and security above all else.
New features aside,
iOS 16
is indeed running like a breeze on the
iPhone 14 Plus
, without any stutters or lags. Sure, having a 120Hz display would've made things feel even smoother, but alas – we get the more traditional 60. To be fair, this saves on battery, so many may consider 60Hz preferable. Speaking of battery…
iPhone 14 Plus

Battery
Apple is boldly marketing the
iPhone 14 Plus
as having the "longest battery life ever" on an iPhone. Now, in theory, this makes a lot of sense – as we have a big 4,325 mAh battery, an older, yet very power efficient processor, and a 60Hz screen with no always-on display. Some of those things sound like negatives, some are clear positives, but all of them bode well for that battery life endurance.
And Apple's promise of long battery life is true – the
iPhone 14 Plus
' battery can easily last two days of normal usage, or even longer with sparse usage. Apple's claims are for up to 20 hours of video streaming on a single charge, but as always – we did our own battery tests. And, as you can see below, the results aren't quite as impressive.
Surprisingly, at least considering Apple's claims, while the
iPhone 14 Plus
does deliver great battery life, it's not exactly miles ahead of the competition, or even ahead, in some cases.
iPhone 14 Plus

Charging Speeds
For charging via that Lightning port on the bottom of the phone, we get up to 20W wired fast-charge, that tops the phone from 0 to 50% in just about 30 minutes. Of course, you don't get a 20W charger out of the box, and will have to buy it separately.
When it comes to wireless charging, the
iPhone 14 Plus
supports up to 15W MagSafe charging, which goes down to about 7.5W if you use a generic Qi wireless charger. So although you get the full convenience of fast charging without being limited to just Apple's MagSafe, using that over Qi would deliver twice as fast wireless charging speeds.
iPhone 14 Plus

Audio Quality and Haptics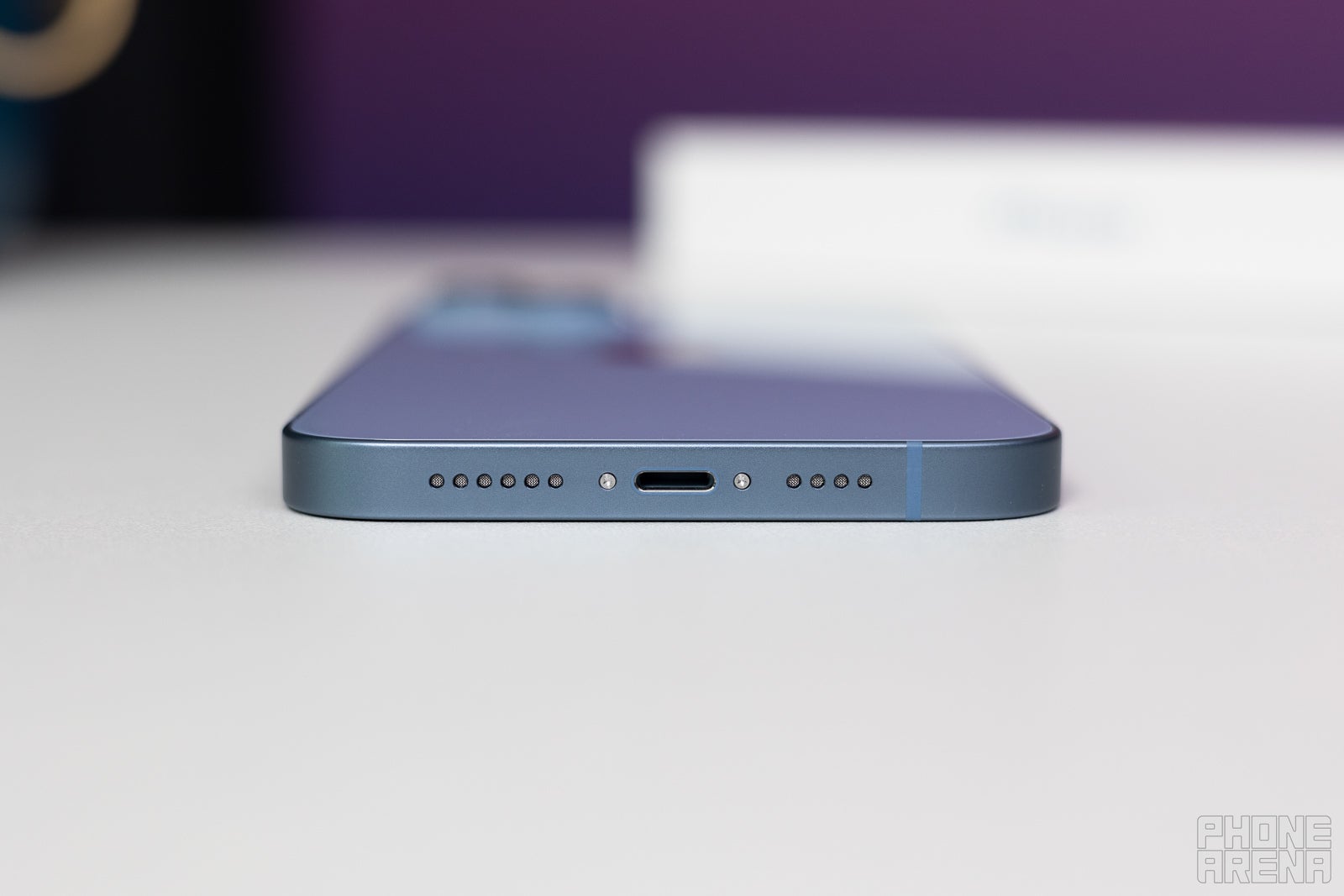 (Image credit - PhoneArena) iPhone 14 Plus speaker grill and Lightning port
As always, Apple surprises pleasantly with the quality of the speaker that it's packed into this iPhone. It's loud, punchy, and even a tad bassy, which is way more than we usually get even from some competitor flagships.
So we have this down-firing speaker, plus the earpiece, which doubles as a second speaker, creating a reasonable stereo effect when watching movies or listening to music in landscape orientation. Not that the earpiece matches the speaker in terms of volume and fullness, but again – for the sake of a stereo effect, it gets the job done.
While we're on the subject of audio, needless to say we don't have a headphone jack, but the
iPhone 14 Plus
does employ Bluetooth 5.3 for connecting with all of your favorite wireless headphones and speakers.
As for the haptics – iOS does finally offer haptic feedback when typing with the on-screen keyboard. Although this is off by default, I obviously tend to enable it, and the haptics are pretty reassuring and nice-feeling, as opposed to the hollow and nasty vibrations I've occasionally felt from some other phones. No complaints here.
iPhone 14 Plus

Competitors
On the iPhone front, the
iPhone 14 Plus
really has no competitors, since it's a brand new model. Previous iPhones as big as this were always the more expensive Pro Max models, so we can't consider them equal competitors at all.
However, if you're willing to switch to Android, there are certain smartphones you may want to take into consideration, before pulling the trigger on a new
iPhone 14
Plus…
Like the
iPhone 14 Plus
, the
Pixel 7 Pro
starts at $899, and also features a 6.7-inch display. However, unlike the iPhone, the
Pixel 7 Pro
's display is twice as smooth (120Hz), the phone has a triple camera system on the back (the extra one being a 5x telephoto lens), and for those who value security – Google gives you a free VPN service out the box.
Check out our
Pixel 7 Pro review
for more details on this recently-released competitor from Google.
Check out our
iPhone 14 Plus vs Galaxy S22 Plus comparison
for the details, but in short – this iPhone we're looking at here may actually be Apple's response to that exact
Samsung phone
.
Both smartphones have similar screen sizes – 6.7 inches on the
iPhone 14 Plus
, 6.6 on the Galaxy S22 Plus, but the latter also has 120Hz refresh rate, while Apple still reserves that only for its Pro models. If we look at things like performance, speaker quality and long-term software support, the
iPhone 14 Plus
does have the upper hand, though.
iPhone 14 Plus

Summary and final verdict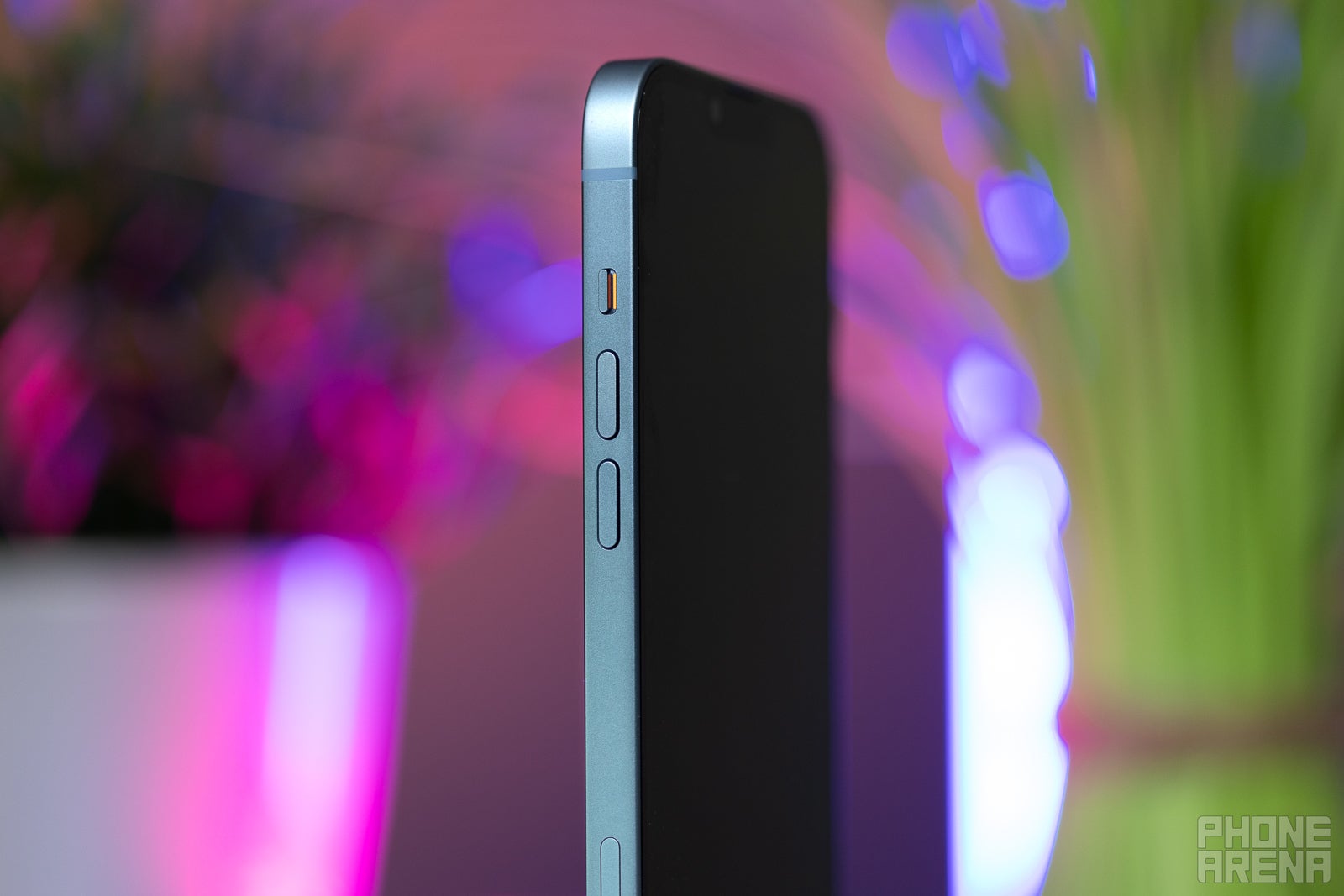 For its starting price of $899, the
iPhone 14 Plus
is a great new addition to Apple's smartphone line-up. It offers a big display and a big battery, without forcing you to pay Pro Max prices. With that in mind, it does lack Pro features like a 120Hz always-on display, a newer processor, a telephoto camera, and Apple ProRAW video recording.
It's also a phone you'd hardly recognize as a 2022 model, since it's virtually identical to the older iPhones, right down to the notch. No Dynamic Island here.
But ultimately, if you want a big iPhone for watching your content comfortably, with fantastic battery life, and you don't need any Pro bells and whistles, this is the phone for you. You no longer have to pay the Pro Max tax for that big screen.
Recommended Stories