Apple Watch Series 8 review: copy-paste?
5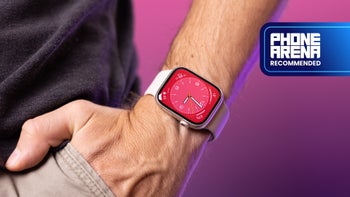 Apple Watch Series 8 Intro
For another year in a row, Apple announced a new Apple Watch alongside its newest iPhones in September. And, for another year in a row, we kind of feel like the Apple Watch doesn't need to be an annual refresh.
Don't get us wrong — we find the Apple Watch Series 8 to be an excellent smartwatch, at the top of its game, full of useful sensors and unrivaled functionality. There's a good reason why Apple's timepieces are outselling not only other smartwatches, but actual established classic watch brands.
But, at the same time, the Apple Watch Series 8 adds very little in the way of new features, and it kind of feels like it only exists because Apple wanted to have a watch with a temperature sensor in the same year when Samsung introduced one. It does also come in a slew of new color options, so if Apple introduced just the right paintjob for you — there's no shame in wanting it.
The good news is that retailers will be looking to clear the stock of
Series 7
units and this year's Black Friday may have a bunch of awesome deals on 2021 Apple Watches. And we do recommend you jump on one, if it pops up. The MSRP for an Apple Watch Series 8, 45 mm, GPS is $429, in line with previous years' pricing. If you can find a Series 7 for well below that — great!
That said, let's not be too negative — as we said, the Apple Watch Series 8 is a great smartwatch, and we will dive into details below!
Apple Watch Series 8 what's new
Temperature sensor (limited to ovulation tracking)
Crash detection
New S8 SiP (System in Package) has the same CPU as the Watch Series 6
Apple Watch Series 8 unboxing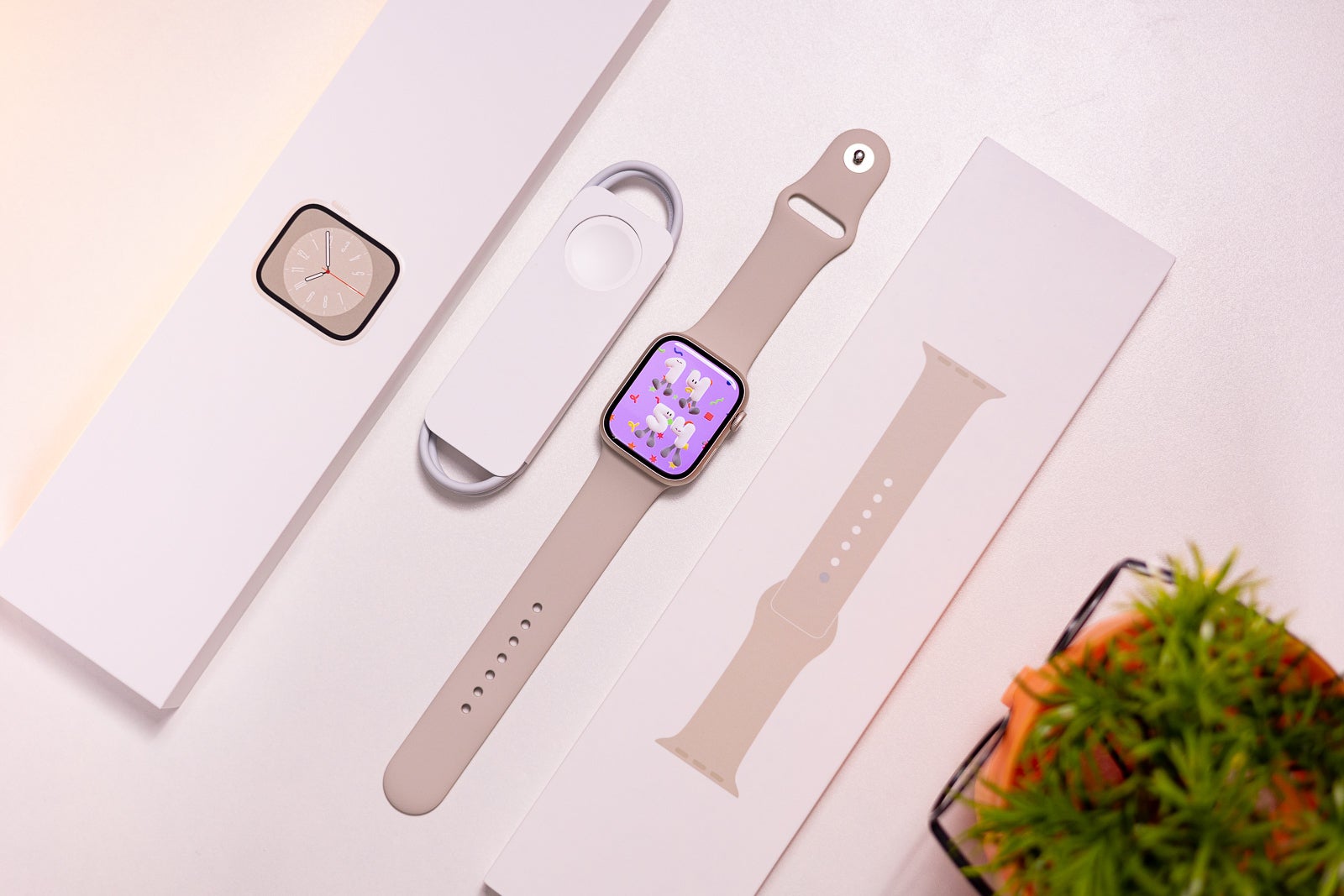 Apple Watch Series 8 unboxed (Image credit - PhoneArena
Just like the Watches before, the Series 8 comes in a pretty-looking, long box, which holds the Apple Watch, the band you ordered it with, the magnetic charging puck (with USB C cable), and some booklets.
Apple Watch Series 8 Specs
In terms of physical shape and size, the Series 8 is very much like the Series 7. Thankfully, this also means all your old watch bands will be instantly compatible. But what about the specs underneath?
Specs
Apple Watch Series 8
Models (Size, Weight, Prices)
41mm / 45mm, both in GPS or GPS + Cellular versions

Processor, RAM, Storage
S8 chip
Software
watchOS 9
Battery and Charging
18-hour battery life
36 hours on Low Power
Magnetic charger, 80% in 60 mins
Sensors
HR, blood oxygen, altimeter, ECG, temperature
New features
New temperature sensor
Crash detection with 3-axis gyroscope

Hardware-wise, not much has changed compared to the Series 7 and even the Series 6. The new Apple Watch adds a new gyroscope, which enables the Crash Detection feature to work — it can sense a car crash and call emergency services for you, if you are incapacitated and can't do that yourself. The temperature sensor tracks basal body temperature for women's health reading — more accurate cycle tracking and ovulation reports.
Any of the other new watchOS 9 features (listed further down) are available to any Apple Watch model that supports the new operating system.
The Apple Watch has basically had the same design since inception — the rounded side square, which mirrors the look of iPhones from the iPhone X to the iPhone 11. In 2021, rumors were adamant that the Apple Watch will adopt the flat-sided look of the post-iPhone 12 models, but this has still not happened.
We did get bigger screens, though — since the Apple Watch Series 7, the timepiece has evolved to have super-slim bezels with an almost all-screen front. The Series 7 and, now, the Watch Series 8 come in two sizes — 41 mm and 45 mm cases.
These two options cover most needs just fine. We find the 45 mm to be just the right size even for bigger wrists — it's not too bulky, not too tiny. And with a wide range of wristbands available, you can get it to fit your style just fine. The 41 mm is a great option for more delicate wrists, while it still has ample of screen real estate to show you the full watchOS 9 interface.
The screen is, yet again, a 1.9" LTPO OLED panel that can blast you with 1,000 nits of brightness, in case you are trying to check the time while under direct sunlight. It retains the Always-On functionality we've had since the Series 4, naturally.
Apple sticks with the Retina Display branding here, meaning the Watch Series 8 has a resolution of 396 x 484 for a density of around 326 pixels per inch.
It's a pleasure to view and use, as ever, though its construction is kind of a double-edged sword. With the slim bezels and the screen almost curving into the sides of the Watch, it is incredibly hard to keep this gadget pristine, with no accidental scratches. It's even harder to find a screen protector for it, but many users opt for some form of case that has a lip.
Apple Watch Series 8 Software & Features
watchOS 9 has evolved
Apple's watchOS works great in your Apple ecosystem, naturally, by providing all sorts of notifications straight on your wrist. You can unlock an iPhone or Mac by just being near it with your Apple Watch (don't worry, you get a vibration on your wrist when that happens), you can send and receive iMessages or 3rd party chats, you can even take phone calls through it, thanks to the integrated mic and speaker.
You can even set up an Apple Watch for a family member — they don't need an iPhone, as the data from their Watch will be beamed into a separate section on your iPhone. Of course, this feature is there for caretakers of children or elderly parents.
Still, there are more things to be desired and
watchOS 9
is a pretty good evolution of the wearable platform. It does bring about some welcome new features, and finally catches up with the competition by enhancing old features that should've been this way from the get-go.
Sleep Tracking
Namely, Sleep Tracking. Finally! We now actually have Sleep Stages info in the native Sleep section of Health. Apple was already late to the party when it added Sleep Tracking in 2020, with watchOS 7. And even then, it was a very basic feature, only showing you time in bed. A lot of users have downloaded or even subscribed to external apps that track their sleep more accurately.
Now, with watchOS 9, we get full reports for Core and Deep sleep, REM periods, and times awake.
Women's health
Additionally, the new temperature tracking sensor will measure body temperature for female users, which will allow the Watch to report ovulation periods (post factum, with a very helpful "It's likely you ovulated on x date") and more accurate cycle tracking. Unfortunately, this is the only feature that the temperature sensor is used for, at least at the moment.
Crash detection
Crash detection is a feature exclusive to the new Apple Watch Series 8, Apple Watch Ultra, and Watch SE. The reason is hardware — Apple needed to fit the timepieces with a new 3-axis gyroscope in order to take the accurate readings needed for the data crunching. The Apple Watch Series 8 should be able to detect 4 types of impact — front, back, side, and rollover. Forgive us, we didn't really test this.
Low power
Low Power mode — a new feature for all Apple Watches supporting watchOS 9. This will automatically disable the Always-On screen, as well as limit Wi-Fi connections and background sensor readings. It's a welcome addition, since while the Apple Watch has made some strides in battery life over the past 3 years, it's still no champ. We only wish there was a quick toggle for Low Power in the pull-up menu, instead of having to navigate all the way into Settings -> Battery to be able to toggle it.
Fitness improvements
The Fitness app also gets some welcome improvements to tracking — we get heart rate zones and custom workout edits. So, for example, if you are looking to build a jogging workout, you can set your running and recovery times and have your Apple Watch notify you when to switch, instead of using a 3rd party running app with workout programs.
Apple Watch Series 8 Battery and Charging
Day and a half, quick to charge up
The Apple Watch Series 8, like the Series 7, should get up to 18 hours of battery life on a single charge. The new Low Power mode can double that to up to 36 hours, by Apple's measurements.
While we don't have a set battery test for wearables, we definitely spent plenty of time with the Watch Series 8 in day-to-day activities. It does, indeed, require a charge in a day-and-a-half cycle. But, in reality, since it supports fast charging (0%-80% in 1 hour), we usually just plopped it down on its charger whenever we had some downtime and picked it up ready to go right after.
So we had no low-power-phobia with this wearable while living our normal, everyday lives. Just know that you need a 20 W wallplug if you want to make use of the fast charging feature.
Apple Watch Series 8 Processor & Storage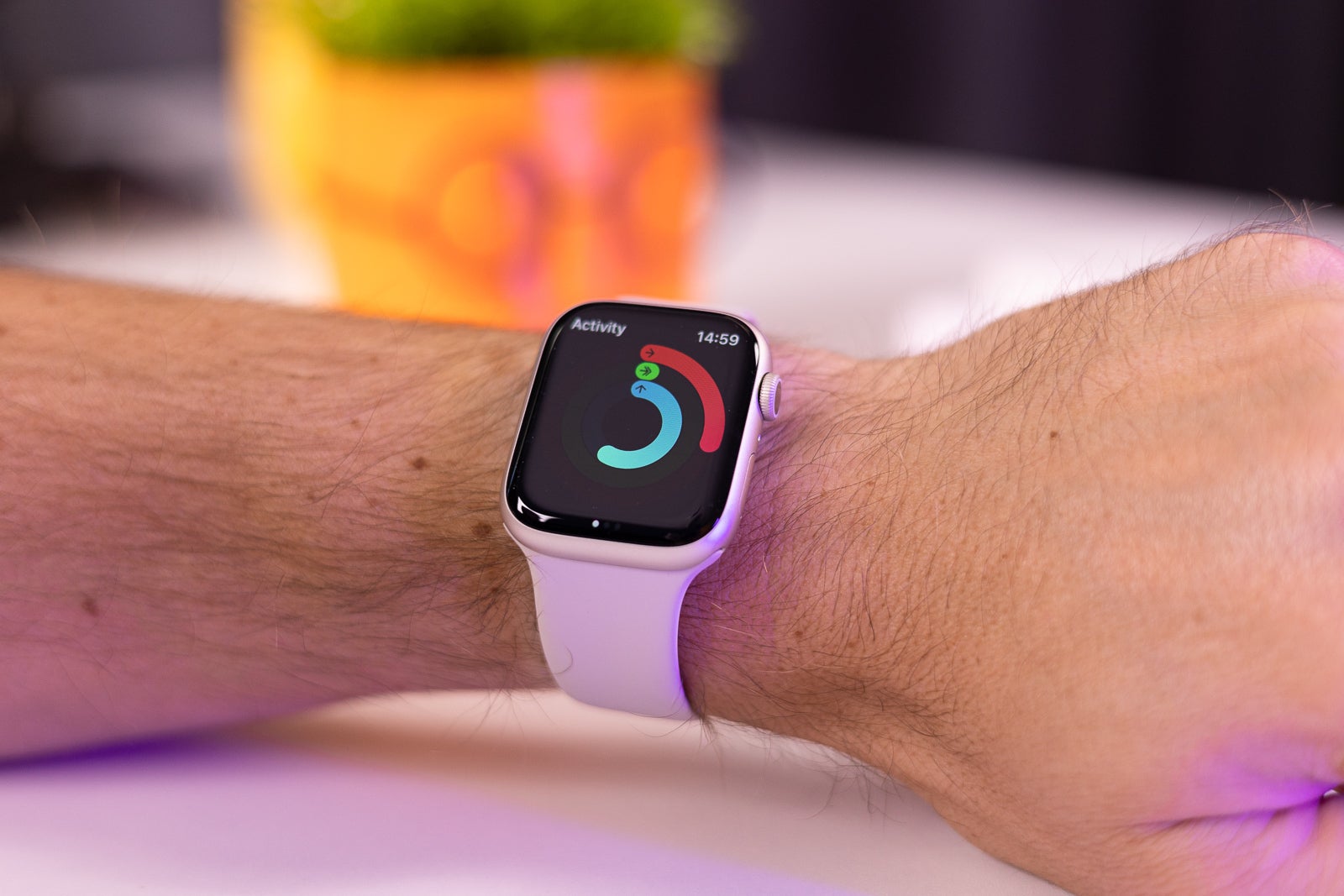 The Apple Watch Series 8 has a new, 8th gen SiP (System in Package). However, the new number probably denotes the use of new sensors (like the 3-axis gyroscope and temperature sensor), as the processor underneath is the very same "t8301" that powers the Series 7 and Series 6.

It's a 64-bit, dual-core CPU that does the job just fine — apps launch sufficiently fast, readings are quick, and the smooth graphics on the Apple Watch interface are as pleasing as ever. In fact, we also use an Apple Watch Series 6, which still holds up to this day perfectly. Which is kind of why we started the review the way that we did — if you have an older Apple Watch 6 (or if you can find one at a heavy discount), you should be perfectly fine in this day and age.

The Watch Series 8 still comes with 32 GB for some limited file storage — favorite songs, or photos from your iPhone's gallery. It should be plenty enough to have a few playlists for workouts or studying without needing to lug your iPhone around every time.
Apple Watch Series 8 Connectivity
The Apple Watch Series 8 comes in variants with GPS only or GPS + Cellular. The latter uses the eSIM technology, so it's only available for use in countries where the operators can register an eSIM. With watchOS 9, you will even have roaming unlocked for your Apple Watch (feature not yet released).
The Watch also has a Wi-Fi antenna and it will download the Wi-Fi access point information from your iCloud account. So it won't always piggyback on your iPhone's connection — the Watch is perfectly capable of receiving Facebook messages over Wi-Fi instead of relying on sync at all times. For example, if we take an Android phone to the office today, but still wear the Apple Watch, it will still connect to the office Wi-Fi on its own and be capable of sending and receiving relevant data.
Apple Watch Series 8 Audio Quality and Haptics
The Watch does have an internal microphone and speaker, so you can take calls from your wrist. It's not super-loud, but the speaker is clear enough to actually understand your call partner. The microphone also does a good job of relaying your voice and we didn't get many complaints, provided we were in a voice call friendly environment.

As for haptics — Apple's Taptic engine made its debut in the original Apple Watch and is still as excellent as ever. Be it for wake-up alarms, notifications, or calls, it taps, vibrates, and clicks with just the right force and precision.
Apple Watch Series 8 Competitors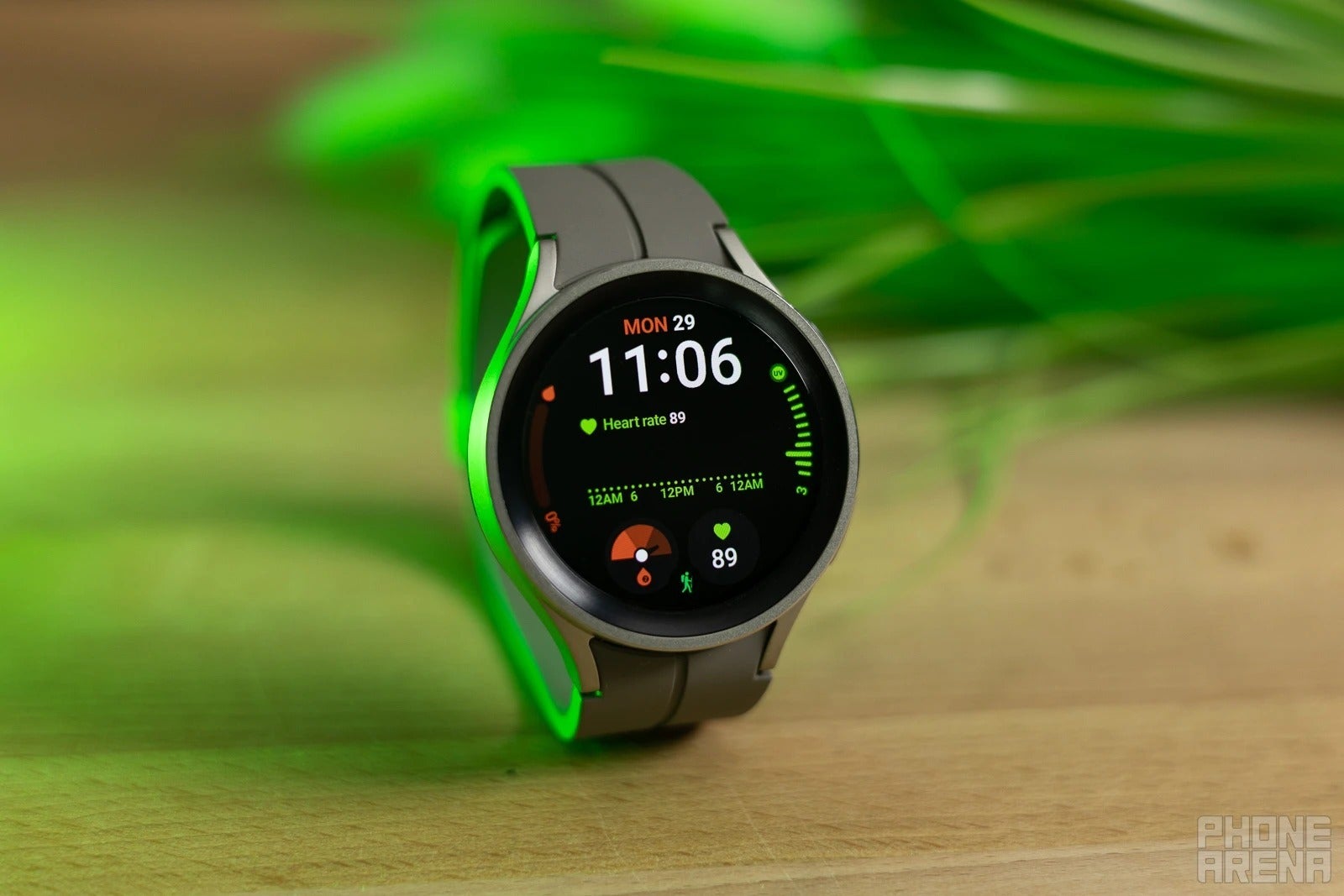 Galaxy Watch 5 Pro (Image credit - PhoneArena)
The biggest competitor to the Apple Watch right now is Samsung's Galaxy Watch series. Sammy just released its own
Galaxy Watch 5
and
Galaxy Watch 5 Pro
this past August. They are usually the go-to devices for people who want a watch that doesn't lock them into an ecosystem — Samsung's watches work with every Android phone and they are round, for the fans of the classic timepiece shape.
The Galaxy Watches have been around for quite a while and have had the time to evolve their software and functions as well. They are no slouch when it comes to battery life and Samsung's sleep tracking has always been magically accurate. Plus, they also have very pretty AMOLED screens, since Samsung is kind of the king of AMOLED tech.
Google's also rumored to have a
Pixel Watch
in the works for us. If this is true, we are about to see it drop on the 7th of October, and we will naturally upgrade the section here, once we know if it's a viable competitor to the Apple Watch.
But, in reality, the true competitors to the Apple Watch Series 8 are going to be the older Series 7 and even Series 6 (despite having a slightly smaller screen). If you can find a new-old-stock unit at a bargain that is. A quick scan at the time of writing this review showed us that retailers that have Series 6 in stock still have the audacity of selling it at its original MSRP of $429. If that's the case, there's no reason not to spring for a Series 8.
Apple Watch Series 8 Summary and final verdict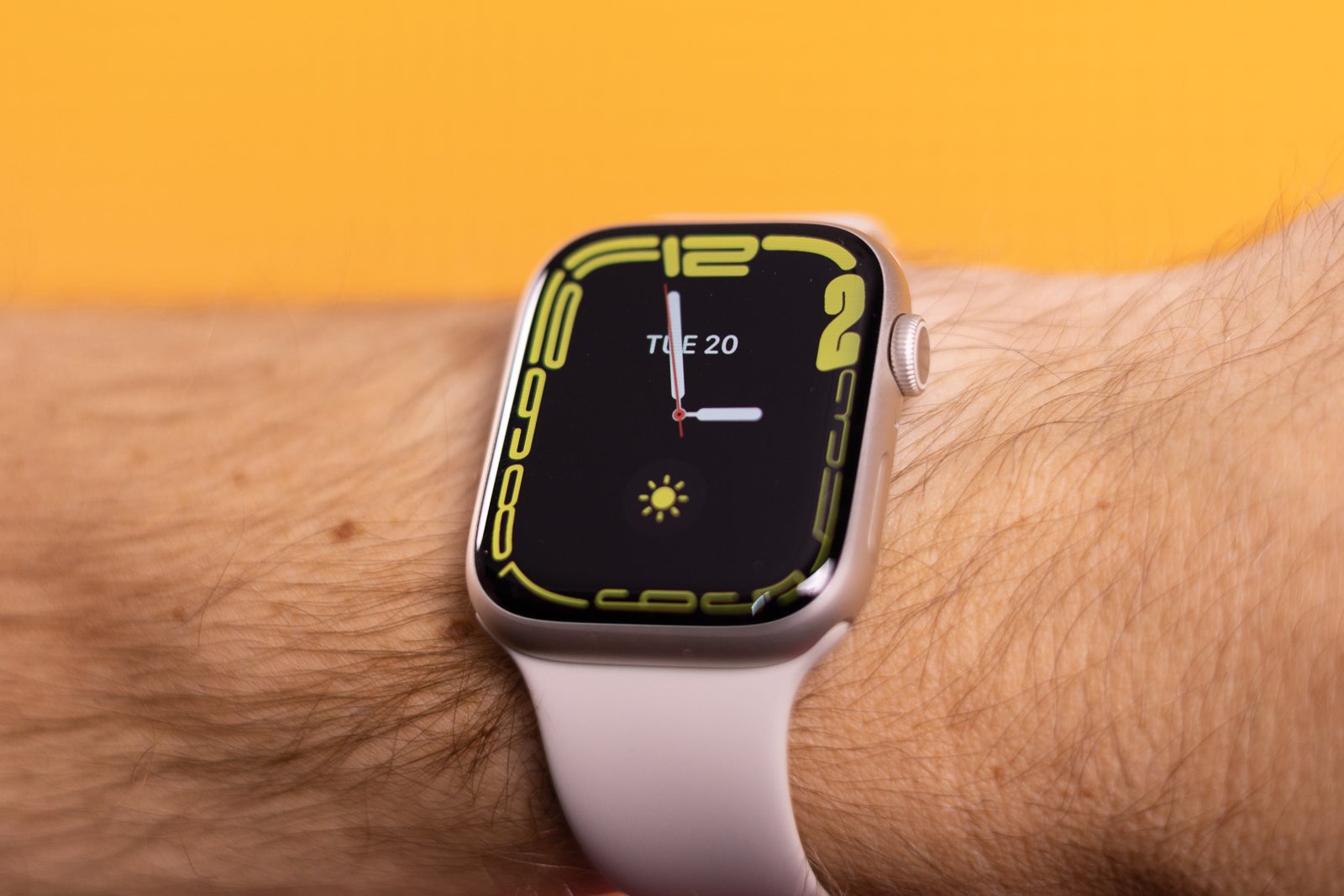 Déjà vu? (Image credit - PhoneArena)
And there you have it — while the updates to watchOS 9 are welcome, some long-awaited, and exciting — the actual hardware of the Watch Series 8 is kind of… a tiny upgrade. An Apple Watch Series 7s, if you will.

It has the new crash-detection, which is good and we hope you never need it. And it has a temperature sensor for a single, very specific use case.

If you don't own a recent Apple Watch, the Series 8 is a fantastic jump-in point, absolutely. It runs as good as ever, watchOS 9 is fleshed-out and reduces the need to fiddle with 3rd party solutions, and the sensors the Watch series already has (blood oxygen, heart sensor) are already doing a great job at keeping you informed about your health and helping you improve your lifestyle.

Bottom line? Anyone with a Series 6 or Series 7 can skip this one. But we guess that's kind of the point — we are well beyond the period when mobile tech was to be upgraded on an annual cycle. Apple claims it strives for sustainability. Making products that last should absolutely be a part of that goal. So, maybe we are not being harsh on the Series 8. Maybe we are praising the Series 6 instead!