iPhone 14 Pro Max vs Pixel 6 Pro
17
We may earn a commission if you make a purchase from the links on this page.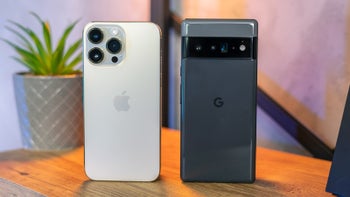 Intro
Apple released its latest iPhone lineup on September 16, the
iPhone 14
series. Of course, as with previous years, the most high-end model is the
iPhone 14 Pro Max
. Now, the
Pixel 7 Pro
is already out as Google's best phone, but we thought it would be interesting to pit the new iPhone Pro Max with Google's previous Pro model.
Of course, there is an obvious disadvantage on Google's side here, as the
Pixel 6 Pro
is more than 1 year older by this point, so you might also want to check out our
iPhone 14 Pro Max vs the Pixel 7 Pro
article.
Nevertheless, if you want to check out the differences between the Pixel 6 Pro and iPhone 14 Pro Max, we have it all laid out for you here, so continue reading further. From their overall design and displays to the battery life and camera performance, you will find everything these two major-league phones have and don't have in common.
iPhone 14 Pro Max vs Pixel 6 Pro in a nutshell:
Pixel 6 Pro has a higher resolution display
iPhone 14 Pro Max has a longer battery life
Pixel 6 Pro has better AI capabilities
iPhone 14 Pro Max has better selfie camera
Pixel 6 Pro comes with more optical zoom
iPhone 14 Pro Max has a brighter display
iPhone 14 Pro Max shoots better video
iPhone 14 Pro Max has a more powerful chipset
Table of Contents:
Design and display quality
The iPhone finally looses the notch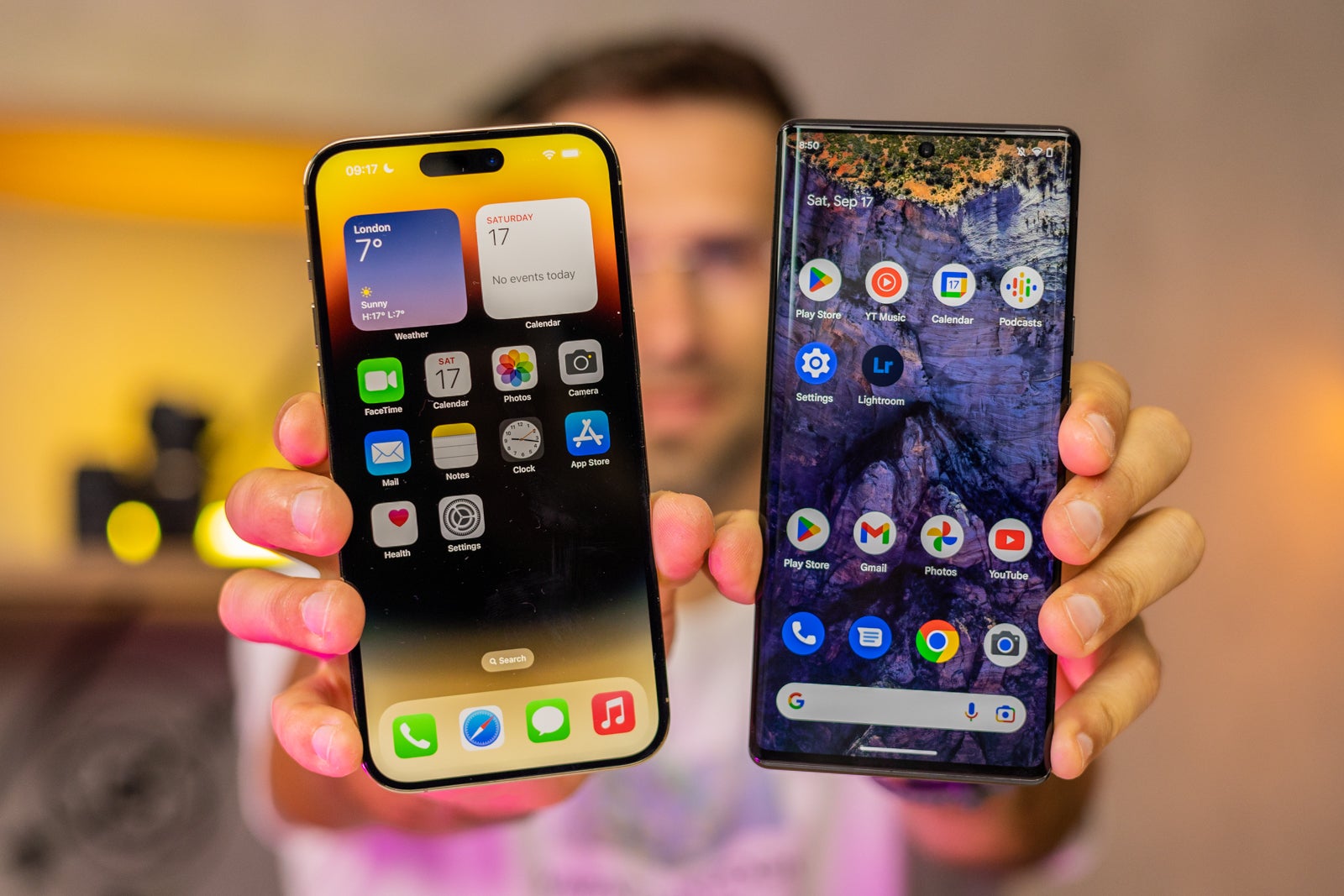 (Image Credit - PhoneArena) iPhone 14 Pro Max vs Pixel 6 Pro design differences
Design-wise,
Google
brought something fresh to the table when it introduced the
Pixel 6
and 6 Pro. Some loved it, some hated it, but its looks were what made it stand out the most.
Apple
, however, likes to play it a bit safer when it comes to changing the way its products look. The iPhone 14 Pro Max is somewhat uninspired, with one exception — the new pill-shaped cutout that replaces the notch. Now, this is hardly a new look on a phone, but Apple has made this screen intrusion into a feature, calling it "Dynamic Island".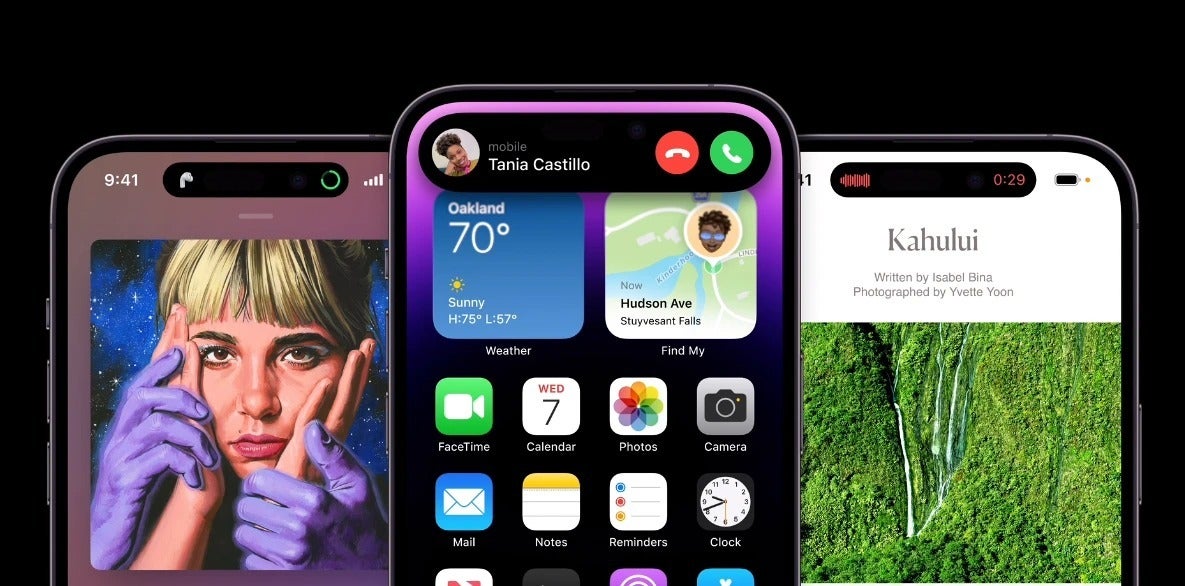 iPhone 14 Pro Max Dynamic Island in action.
When it comes to size, the two phones are more similar than different, with the iPhone 14 Pro Max being slightly shorter than the Pixel 6 Pro, a bit wider, and less thick. The screen-to-body ratio on both is also very similar. In terms of weight, the two have a 30g difference, with the iPhone being the heavier phone.


Display Measurements:



Water and dust resistance are usually a given when we enter the flagship realm. The Pixel 6 Pro has an IP 68 rating, and the same goes for the iPhone 14 Pro Max. Biometrics are also worth mentioning here, as the ones on the Pixel 6 Pro have a bad reputation of being buggy, while despite not having any fingerprint scanning, iPhones Face ID system tends to work quite well.
Performance and Software
Awesome power or AI and smart features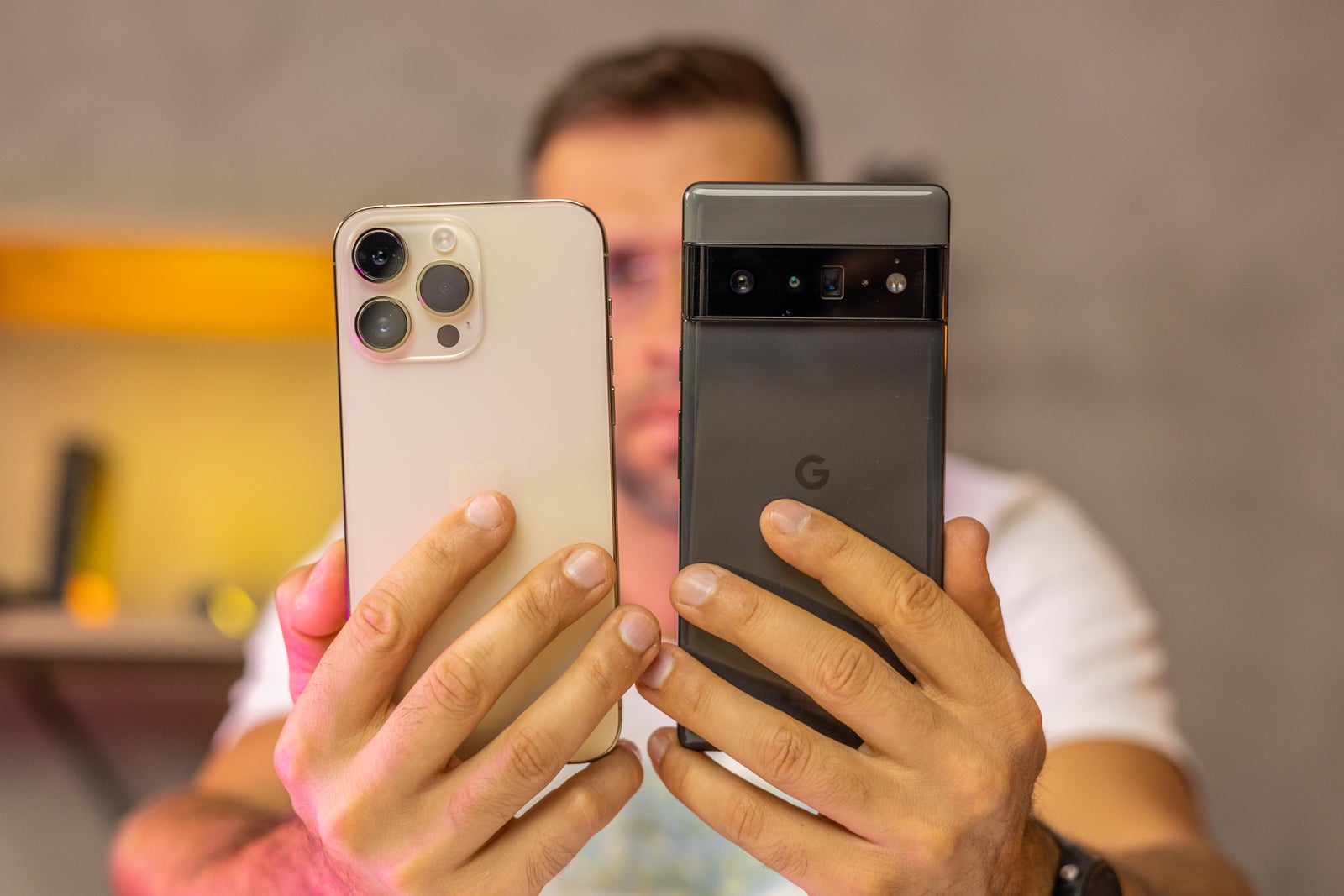 (Image Credit - PhoneArena) iPhone 14 Pro Max vs Pixel 6 Pro
Google debuted its first-ever in-house chip with the Pixel 6 and 6 Pro called Tensor. Tensor is not exactly known for being the fastest chipset in terms of raw CPU and GPU power so it might seem like a disappointment at first for some.
You see, Google knows what it is best at — AI. That is why when it made its first chipset, the search engine giant decided to focus its resources on AI computing, with one of the best examples being the Google Assistant and photo processing.
Benchmark Results:
Things look way different on Apple's side, though. With iPhones, it is all about power and efficiency. The iPhone 14 Pro Max comes with the A16 Bionic, which offers tremendous horsepower for intensive tasks like shooting high resolution HDR video, or playing graphic-intensive games.
Camera
New camera = Pixel left in the dust?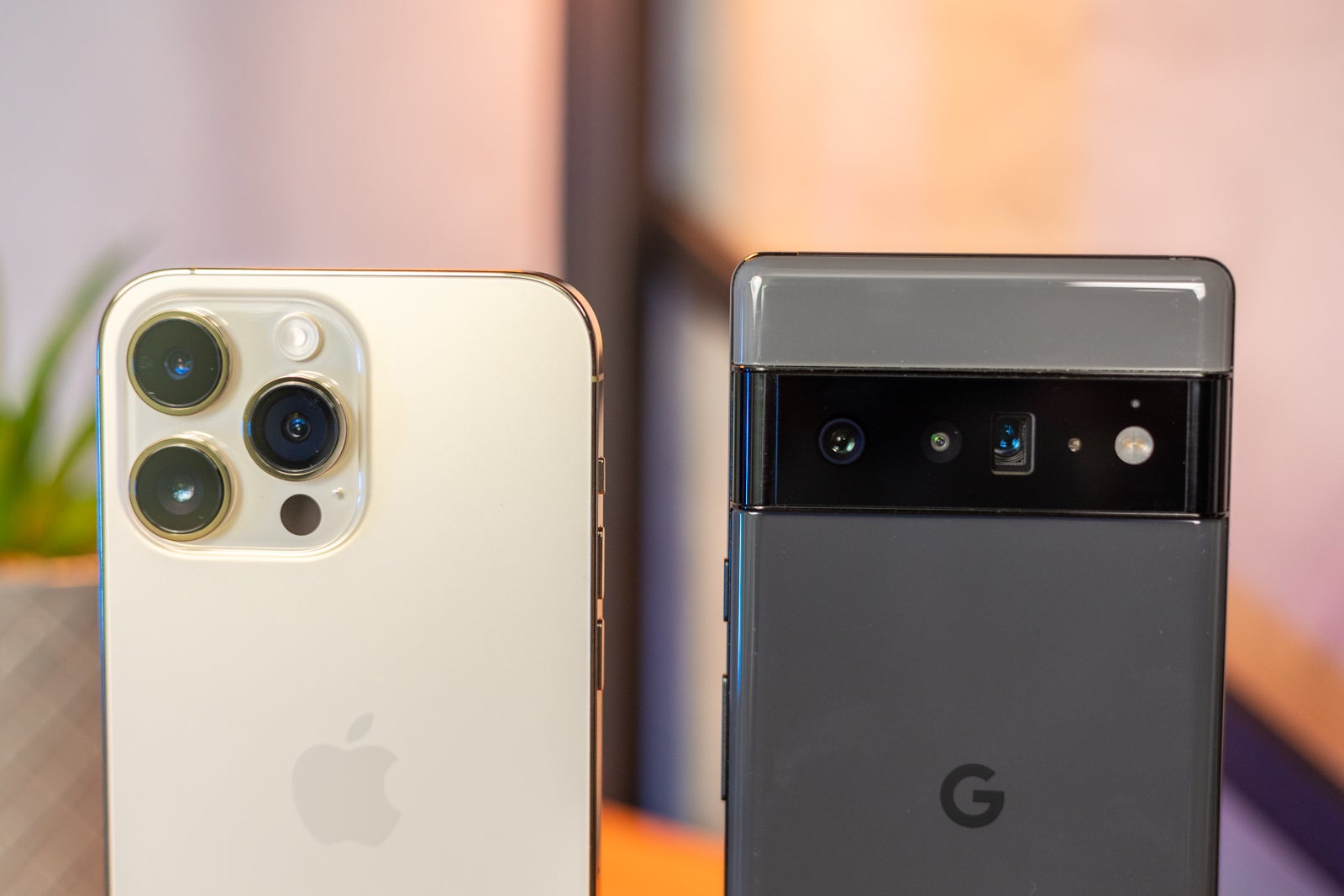 (Image Credit - PhoneArena) iPhone 14 Pro Max vs Pixel 6 Pro cameras
When we talk about camera systems on the absolute best flagships, things can get a little subjective. The Pixel phone became popular thanks to its main selling point of having an awesome camera powered by AI that is capable of taking some of the best images with a phone.
Now, when it comes to taking snapshots the Pixel is still one of the best phones out there. But the iPhone 14 Pro Max is comes with a brand new 48MP sensor powering the main camera.
Main Camera
< iPhone 14 Pro Max 1X
Pixel 6 Pro 1X >
With a similar, 24mm focal distance, shots from the main cameras of the iPhone and the Pixel look similar, yet when you take a closer look, you notice some very clear differences in the processing. The iPhone lets the highlights blow up and the wall of the building in the left half of the picture is burned on the iPhone. The Pixel produces a much more HDR-y look, controlling tightly both the highlights from burning out and the shadows from being way too crushed, and you get this flatter looking image, but one with clearly better dynamic range.
This wider dynamic range on the Pixel also helps it look like the more detailed shot, as it's hard to make out detail in the burned out highlights out of the iPhone, even if they may technically be there.
Ultra-wide
< iPhone 14 Pro Max 0.5
Pixel 6 Pro 0.7X >
Switching to the ultra-wide camera, the iPhone offers a 13mm field of view, much wider than the 17mm one on the Pixel.
But thanks to that wider perspective, in challenging conditions with bright sunlight, we see the issues with burned highlights even more pronounced on the iPhone's ultra-wide camera, while the Pixel once again delivers an image with tightly controlled highlights and shadows, and in our view, is the clear winner here.
Zoom
With some clever processing, the iPhone is able to deliver a slightly cleaner image at 2X zoom, but a 2X picture from the Pixel is really close in terms of quality, and that is without Google ever bragging about it.
Then, it's up to you to decide which lens you find more useful: the 3X zoom one on the iPhone doubles as a portrait mode lens, while the 4X zoom lens on the Pixel is not used for portraits, but is just perfect for pictures of pets, where the 3X focusing distance is usually not quite enough. And anything further than 4X the Pixel wins easily.
Portrait Mode
The one area where the Pixel 6 Pro fails miserably in comparison with the iPhone 14 Pro Max (and pretty much any other flagship phone out there) is portrait mode. You cannot actually preview portrait mode shots in the Pixel 6 viewfinder, but since it uses digital crop, there is a huge loss in detail.
The wider portrait setting on the Pixel is nearly equivalent to the 2X mode on the iPhone (the Pixel cannot go any wider for portraits), but if you switch to the zoomed-in portrait mode view is where photos from the Pixel just look terrible. Clear win for the iPhone!
Front Camera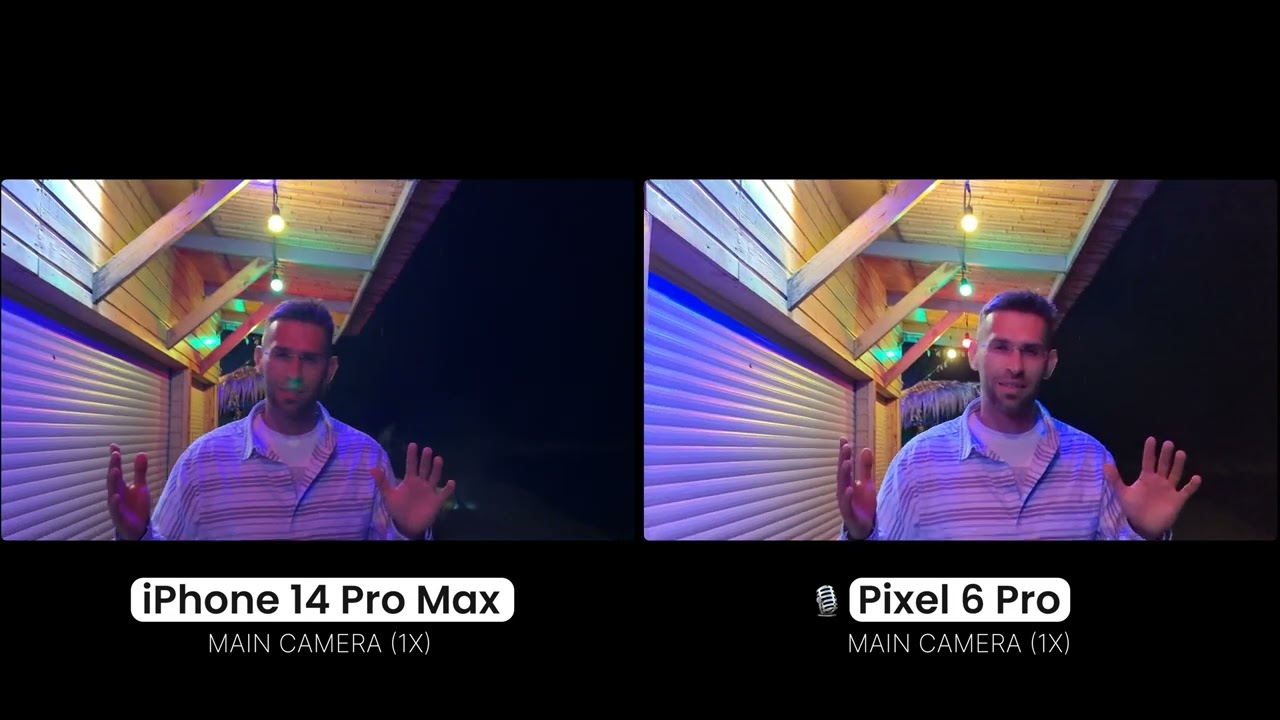 Video-wise, the two phones are not that far apart from each other. As you can see from our sample video, the image looks sharp both on the iPhone 14 Pro Max and the Pixel 6 Pro during the day. The main difference here is that the Pixel has much more contrast, so dark areas start to loose detail. The iPhone, on the other hand produces a more flat image where the highlights and shadows are more evenly exposed—or said in simple English—visible.
What the Pixel 6 Pro has going for it here, are better audio recording via its microphones. The audio, to us at least, sounds clearer in comparison to that on the iPhone 14 Pro Max. Also, there is the higher zoom on the Pixel's telephoto lens, which is 4X, compared to the iPhone's 3X. However, when we go to the ultra-wide cameras, the iPhone then has the upper hand as it captures a much wider image.
Now, when we get to low-light/night video shooting, there is more than one point to point out. The iPhone 14 Pro Max seems to be doing a much better job at capturing more light and delivering better dynamic range. However, it also seems to introduce more noise to the image, which might be contributing to a less sharp image compared to the Pixel 6 Pro.
What's more, there are those all-familiar light flares on the iPhone that appear when the camera is pointed at a light source during the night. On the other hand, the Pixel does a much better job at avoiding this issue.
Last but not least, we have an upgraded front-facing camera living inside that new oval-shaped punch hole on the iPhone 14 Pro Max, which now comes with auto focus and can capture better low-light performance. Unfortunately, the Pixel doesn't have autofocus on its selfie-camera.
Audio Quality and Haptics
A win-win situation
The dual speakers on the Pixel 6 Pro are quite loud, producing a rich sound that's pleasing to the ears. As for the iPhone 14 Pro Max, it comes with the same set from its predecessor, so top notch quality there as well.
As for haptics, the iPhone usually has no trouble in that department. However, that also stands true for the Pixel, at least in more recent years, so we can expect the two to perform similarly here too.
Battery Life and Charging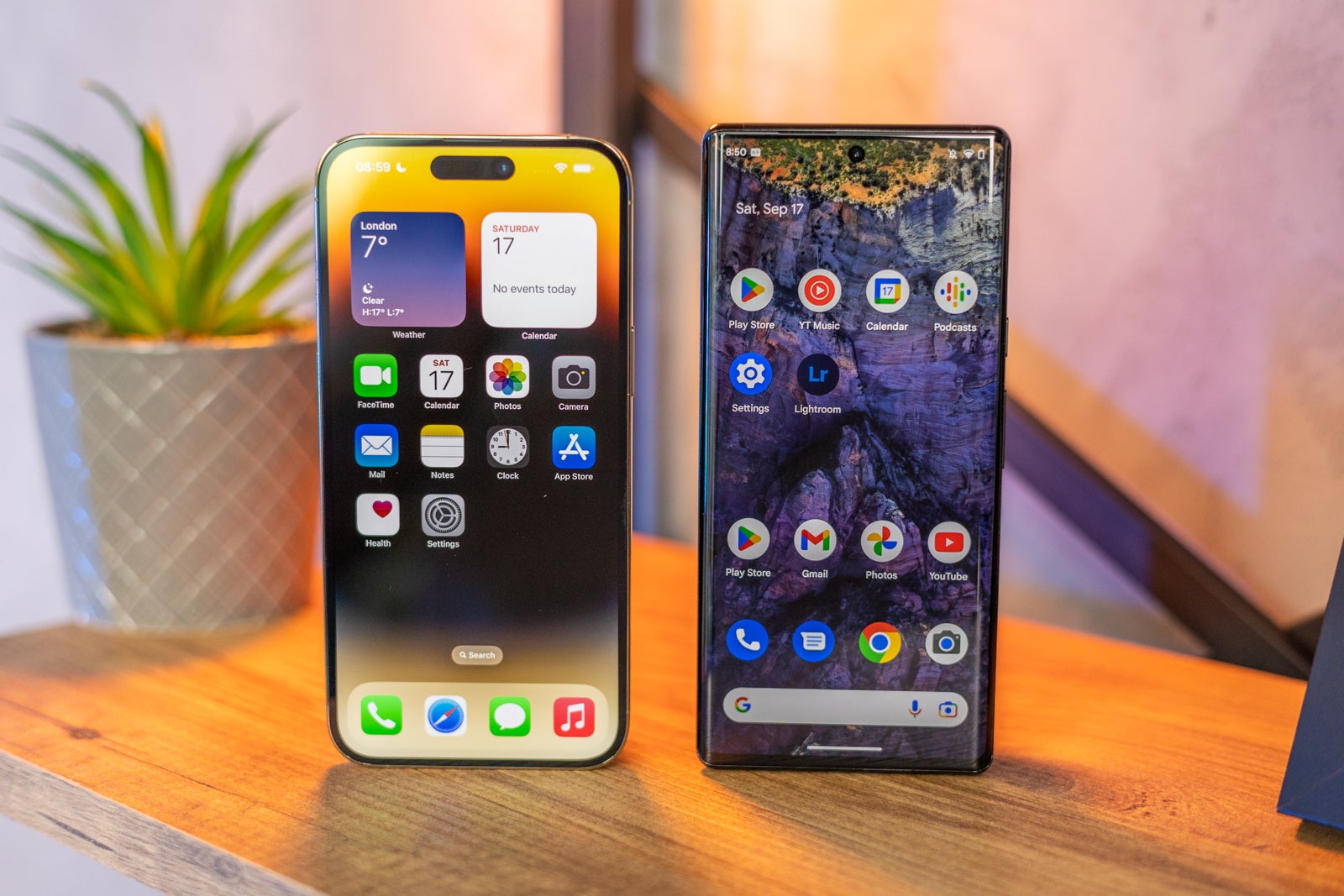 (Image Credit - PhoneArena) iPhone 14 Pro Max vs Pixel 6 Pro
In terms of battery size, the iPhone comes with 4323mAh while the Pixel with 5003mAh. The larger battery might lead you to thinking the latter has a much better battery life, but there are many factors at play here. Even if we look at the benchmark results from the iPhone 13 Pro Max vs Google Pixel 6 Pro comparison, it quickly becomes clear who is the winner:
PhoneArena Battery Test Results:
Even though the Pixel 6 Pro comes with a larger 5,000mAh battery, compared to the iPhone 14 Pro Max's 4,323mAh one, the latter did much better in our battery life tests. Ever since the iPhone 13 series, one of the biggest pros about Apple's phones has been their battery life, and the iPhone 14 series has even raised that bar, albeit incrementally. If you prefer longer battery life, the iPhone will be a better pick.
On the topic of charging, both Apple and Google advertise their top flagships as being able to charge up to 50% in 30 minutes. Both also have wireless charging, however, only the Pixel supports reverse wireless charging.
iPhone 14 Pro Max vs Pixel 6 Pro Specs Comparison
You can check out and compare the full list of specs and features for the Pixel 6 Pro and iPhone 14 Pro Max in our comparison page.
| Specs | iPhone 14 Pro Max | Pixel 6 Pro |
| --- | --- | --- |
| Dimensions | 6.33 x 3.05 x 0.31 inches (160.7 x 77.6 x 7.85 mm) | 6.45 x 2.99 x 0.35 inches (163.9 x 75.9 x 8.9 mm) |
| Weight | 8.47 oz (240.0 g) | 7.41 oz (210.0 g) |
| Screen | 6.7 inches, OLED, 120Hz, HDR | 6.7 inches, P-OLED, 120Hz, HDR |
| Processor | Apple 16 Bionic | Tensor |
| RAM | 6GB | 12GB |
| Rear Cameras | 48 MP main, 12 MP ultra-wide, 12 MP 3x telephoto | 50 MP main, 48 MP 4x telephoto, 12 MP ultra-wide |
| Front Camera | 12 MP (Autofocus, HDR) | 11.1 MP |
| Battery Size | 4,323mAh | 5003 mAh |
| Charging Speeds | Wired: 27.0W; Wireless: 15.0W | Wired: 30.0W; Wireless: 23.0W |
| Price | $1,099 | $899 |
Summary and Final Verdict
So, is making the transfer from one camp to the other worth it for the iPhone 14 Pro Max? Well, that depends on whether you see yourself as belonging to one camp or not. If you have not pledged allegiance to either manufacturer, then the question becomes more easily debatable.
The iPhone 14 Pro Max is 1-year newer than the Pixel 6 Pro, but also $200 more expensive. Improvements in performance, the camera, longer battery life, etc., are all advantages worth considering when deciding which one to pick. It's also worth mentioning that iPhones get longer software support compared to Google's Pixels.
But then you have the Pixel 7 and 7 Pro as options, and now we even have the
Pixel 7a
, which offers much of the ultimate Google phone experience for a lot less money. Suffice to say, The Pixel 6 Pro is somewhat irrelevant at this point.
Recommended Stories