iPhone 14 vs Samsung Galaxy Z Flip 4
11
We may earn a commission if you make a purchase from the links on this page.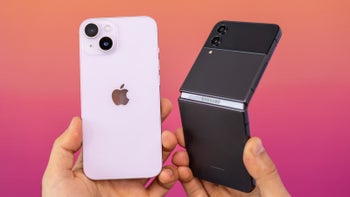 Intro
Samsung has been at the forefront of foldable phones — from the big and expensive Fold series to the more "normal" style Flip phones. Bringing a foldable to the masses, the company introduced the modern clamshell that folds to become more compact. The
Galaxy Z Flip 4
can be viewed as the more affordable type of a foldable phone. Admittedly, it can't give you the almost-tablet experience of a
Galaxy Z Fold 4
, but it does let you touch the flexible screens of tomorrow.
Apple, on the other hand, gives you the base
iPhone 14
and then... just more iPhone — Plus, Pro, Pro Max. They all serve the same basic purposes, but have added bells and whistles. Some may call them boring, others may feel comfortable with their familiarity and predictability.
In any case, is your smartphone self more adventurous or more mundane? Still trying to figure it out? Let's see if the Galaxy Z Fold 4 has what it takes to pull you away from an iPhone 14!
iPhone 14 vs Galaxy Flip 4 in a nutshell:

Foldable clamshell vs classic candybar

120 Hz Samsung screen, 60 Hz iPhone screen

Similar camera setups on both phones

Cases and screen protectors will be more widely available for iPhone

Galaxy Z Flip 4 offers more customization — physical shell and software
Design and Display Quality
Can you do this?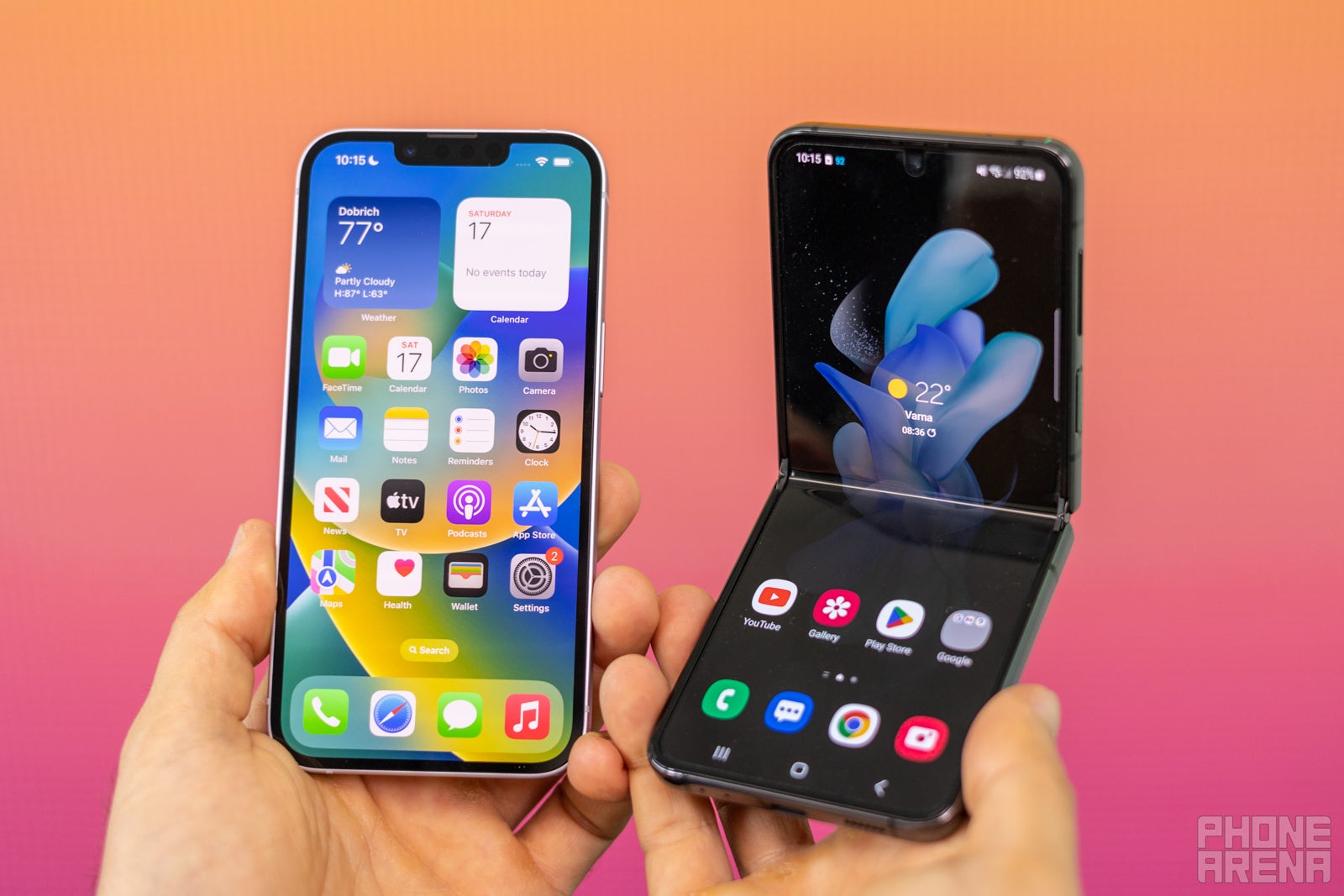 (Image Credit - PhoneArena) iPhone 14 vs Galaxy Z Flip 4
We can't really go on without noting that one of these phones folds — with no extra pressure needed. However, the Galaxy Z Flip's clamshell form factor only assures that it can get in a more compact shape to fit more types of pockets. Once its unfolded — it's pretty much a regular smartphone, and a tall one at that.
Still, this comes with some pros and cons. The good thing? You can slap the phone shut to end calls, you can keep it half-folded so it props itself up for video calls or selfies (or... *shudder* TikTok videos), and you still have a tiny screen on the outside to get your notifications and even perform quick replies with simple swipes and taps.
The bad — your choice in cases will be a bit more limited, as manufacturers are trying to figure out what exactly to wrap around a phone that's basically two halves. And if you want a screen protector, you can only go for the extra-thin plastic ones.
But hey, at least the Galaxy Z Flip 4 is available in a plethora of different color combinations — you can use Samsung's Bespoke Studio to customize your purchase and choose separate colors for the shells and the exposed hinge element of the phone.
The iPhone 14 is... well, obviously an iPhone — a soft rectangle with flat sides, glass back, and vibrant paintjob options. You are free to pick from 5 different
iPhone 14 colors
, which you can match up with different cases for added effect. Obviously, being the most popular phone brand on the planet — it does have a plethora of cases and protectors to pick from, plus MagSafe accessories that can be pretty cool and useful.
In terms of screens, we have an OLED panel on the iPhone 14, which is still capped at 60 Hz refresh rate. That's kind of a low blow in 2022, even for a "non-Pro" phone at the $800 mark. The Galaxy Z Flip 4 has the Samsung Dynamic AMOLED 2X, which hits 120 Hz — a much smoother and pleasing experience. And yes, Samsung is on top of its screen game, and this display is bright and vibrant.
Display Measurements: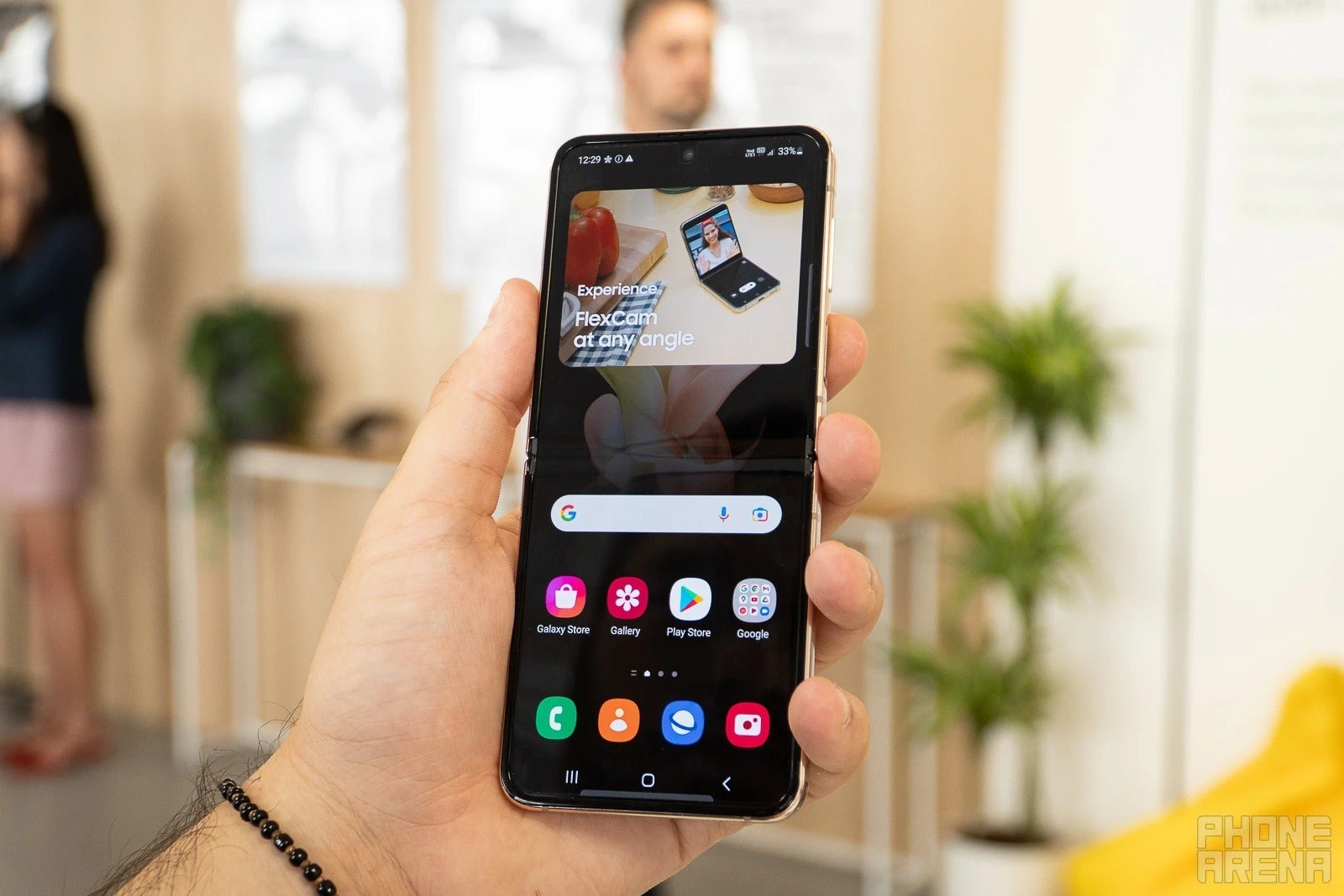 (Image Credit - PhoneArena) Dynamic AMOLED x2 is pretty
Now, both screens have their own cons. Most obviously, the iPhone still has "the Notch" that houses its Face ID array. Let's be fair, most iPhone users have either learned to live with it or never saw it as an issue in the first place. The Z Flip 4 still has a shallow crease across the middle, you know — due to having a fold there —, and it still is a soft material, which Samsung may call "super-thin glass", but it's easy to dig into it with a fingernail or something hard-ish. So, while the foldable is novel, it still has its disadvantages.
And since we are on the topic of durability, the iPhone 14 is fully dust- and water- protected with a high IP68 rating. The Galaxy Z Flip 4 has IPX8, which is extremely impressive for a
foldable phone
with a hinge. It means it can survive splashes and submersion of up to 1.5 meters, but there's no particle or dust-resistance guarantee, so only keep it around fresh water.
The iPhone 14, again, comes with a Lightning port —
hopefully for the last time
— but it also has the MagSafe magnetic connector on the back. MagSafe for iPhones has been around for a couple of years now and a lot of manufacturers have made some cool accessories for it — wallets, magnetic stands, and even HiFi DAC interfaces. It's safe to say that once you find the right accessory for you, it's hard to switch to a non-MagSafe phone.
The Galaxy Z Flip 4 has a USB Type-C port, which is more widely used and supports faster data transfer speeds and you know... more devices.
When it comes to biometric scanners, the iPhone 14 has Apple's signature Face ID, which unlocks the phone with a look and has become very reliable and effective at multiple angles (or even while wearing a mask). The Z Flip 4 uses a classic fingerprint scanner, nested in the power button on the side.
Performance and Software
Bionic versus Dragon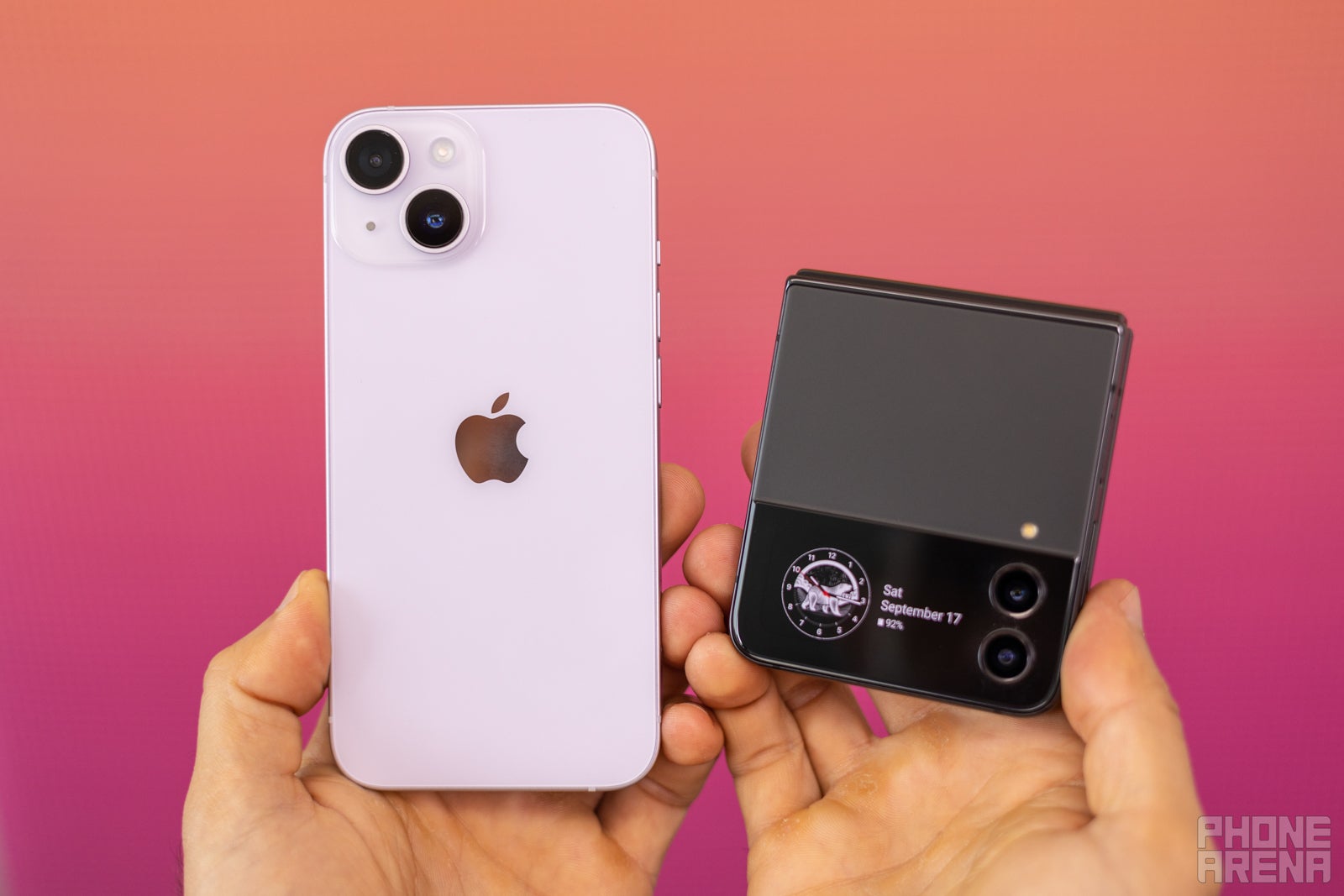 (Image Credit - PhoneArena) iPhone 14 vs Galaxy Z Flip 4
Obviously, the iPhone 14 is powered by an Apple chip on the inside — Cupertino has become quite the silicon slinger recently. However, the iPhone 14 is running on last year's platform, meaning a redo of the Apple A15 Bionic chip. It only has an extra GPU core added, supposedly for Apple's new photo processing pipeline. But performance is generally the same (note: the A15 is
still a beast of a chip
, even in 2023, so we wouldn't say the iPhone 14's performance is bad or lagging behind the competition at all).

But yeah, the Galaxy Z Flip 4 is powered by the latest and greatest from Qualcomm — the Snapdragon 8+ Gen 1 — which happens to be the fastest processor you can get on an Android phone right now. Qualcomm recently announced the Snapdragon 8 Gen 2, but we have yet to see the first device with the newest chip.
Benchmark Results:
The iPhone 14 ships with iOS 16 — Apple's latest iteration of its mobile operating system. This year around, we get some magical features like being able to lift objects from photos, with iOS automatically cropping them from the background (they don't even need to be Portrait Mode photos), plus the new customizable lockscreens that look like Apple Watch faces, only bigger. Full list of
new iOS 16 features here
.
Samsung's Galaxy Z Flip 4 runs OneUI 4.1.1 on top of Android 12. Aside from being a bright and vivid Android reskin, it has tons of extra features and customization options, which allow you to really dig into how the phone looks and operates. Samsung also has the Object Eraser tool (now
available in vanilla Android 12
, too), which can erase objects from photos with some
pretty convincing results
, providing it's a small enough spot.
Camera
Dual camera module on both phones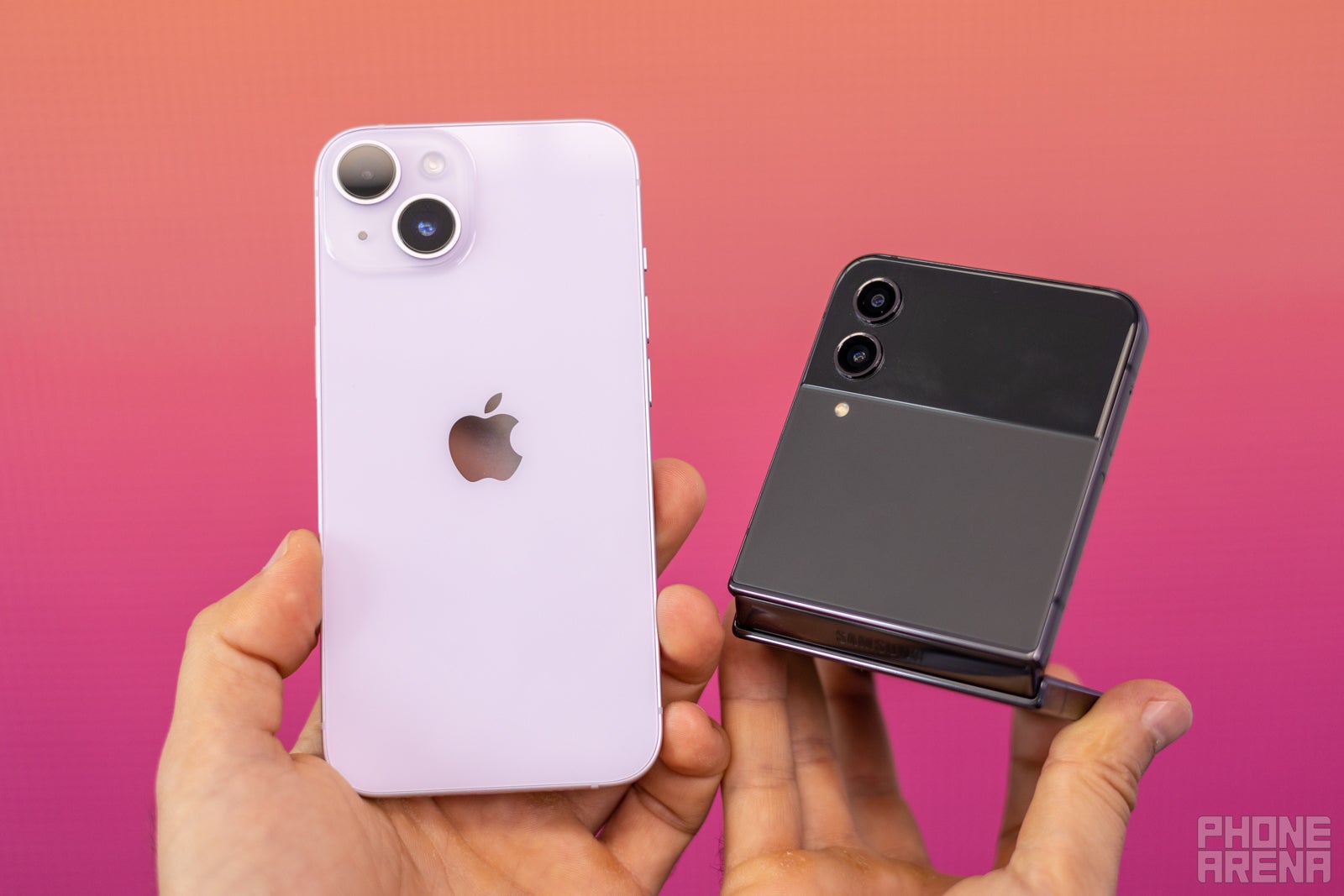 (Image Credit - PhoneArena) iPhone 14 vs Galaxy Z Flip 4
Apple likes to keep things basic on its non-Pro iPhones. The iPhone 14 has a regular wide-angle camera and an ultra-wide camera. The same setup can be found on the Galaxy Z Flip 4 — no telephoto for optical zoom for natural portraits.
But that's fine, as long as all you want from your phone is a dependable wide-angle, you should be happy with either one of these. Though, we do feel like the iPhone 14's 12 MP sensor is kind of showing its age and letting the competition shine (or maybe the point is to let the iPhone 14 Pro shine?).
Samsung's cameras consistently like to take bright, colorful photos. These are great for instantly sharing to your socials, but can quickly begin to look unnatural or too boosted when compared to another camera. The iPhone 14 definitely keeps colors and exposure in check, but fine details in the background (like leaves and branches) can look jagged or oversharpened. Skin tones seem to be better on the iPhone photos, as the Z Flip 4 washes them out and makes our models look gray-yellow-ish. Otherwise, both phones do a great job at handling dynamics.
We do have Portrait Modes on these phones, though, only with their wide-angle lenses. A wide portrait often distorts the subject, so it's not ideal for most scenarios. Here are a few samples:
Both do decently good at subject separation, though the iPhone 14 was better at mixing in the faux bokeh in the background, realistically detecting which objects are on the same plane as the model.
With the ultra-wide cameras, the Galaxy Z Flip 4 seems to be better at handling high dynamic shots. It also boosts colors here, but that can end up looking quite epic, depending on the scene. The iPhone keeps things tame and can add some more drama to a picture with its deeper blacks.
On the selfie front, we have very shareable pictures from both phones. The iPhone does show a bit more details in the face, like those unflattering wrinkles. The Galaxy can make skintones a bit too pale, depending on lighting conditions.
And, as for video, here's a quick sample: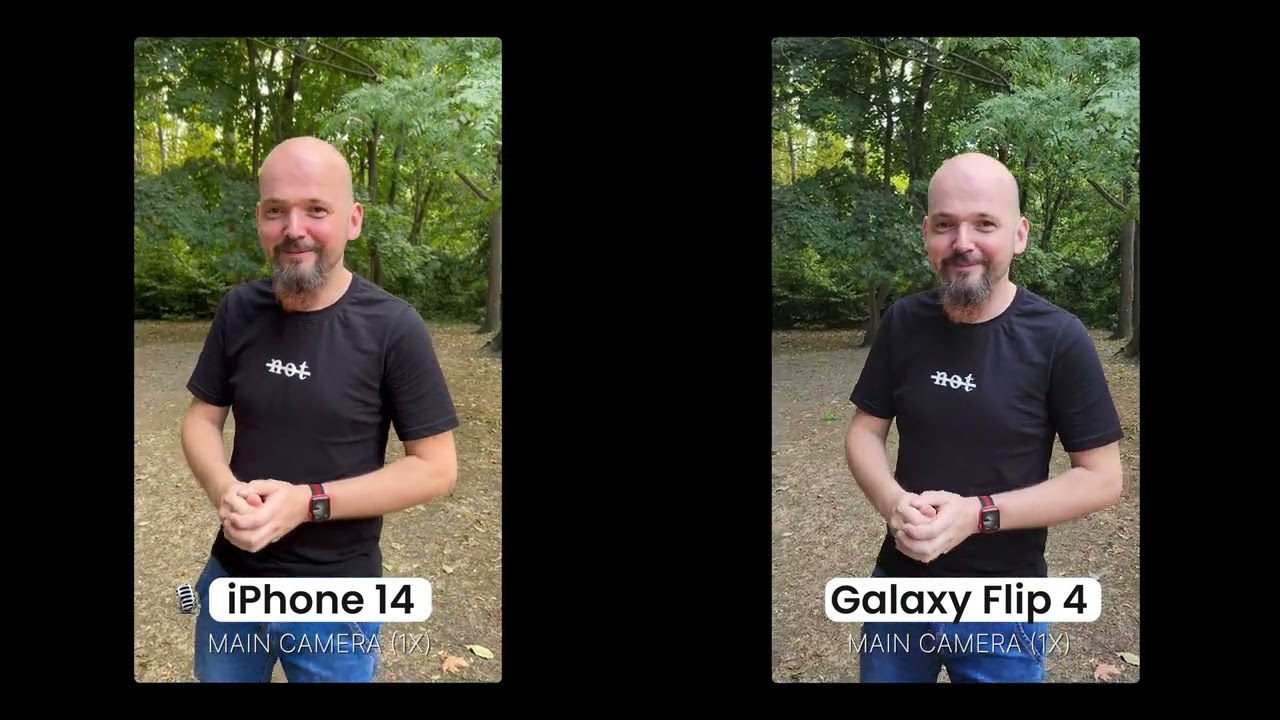 Audio Quality and Haptics
The Galaxy Z Flip 4 speakers sound OK — not fantastic, but also not tinny. Obviously, it's not easy to fit meaty drivers and have good acoustics in a phone that also needs to fold in half, but we appreciate that they are at least OK.
The iPhone 14 has speakers very similar to the 13 — with deeper bass and more details in the mids than the Z Flip 4.
As for haptics — Apple's Taptic engine is sweet, clicky, and responsive. But Samsung's vibration motors have also been on point in the past few years, and such is the case with the Flip 4 as well.
Battery Life and Charging
Power the day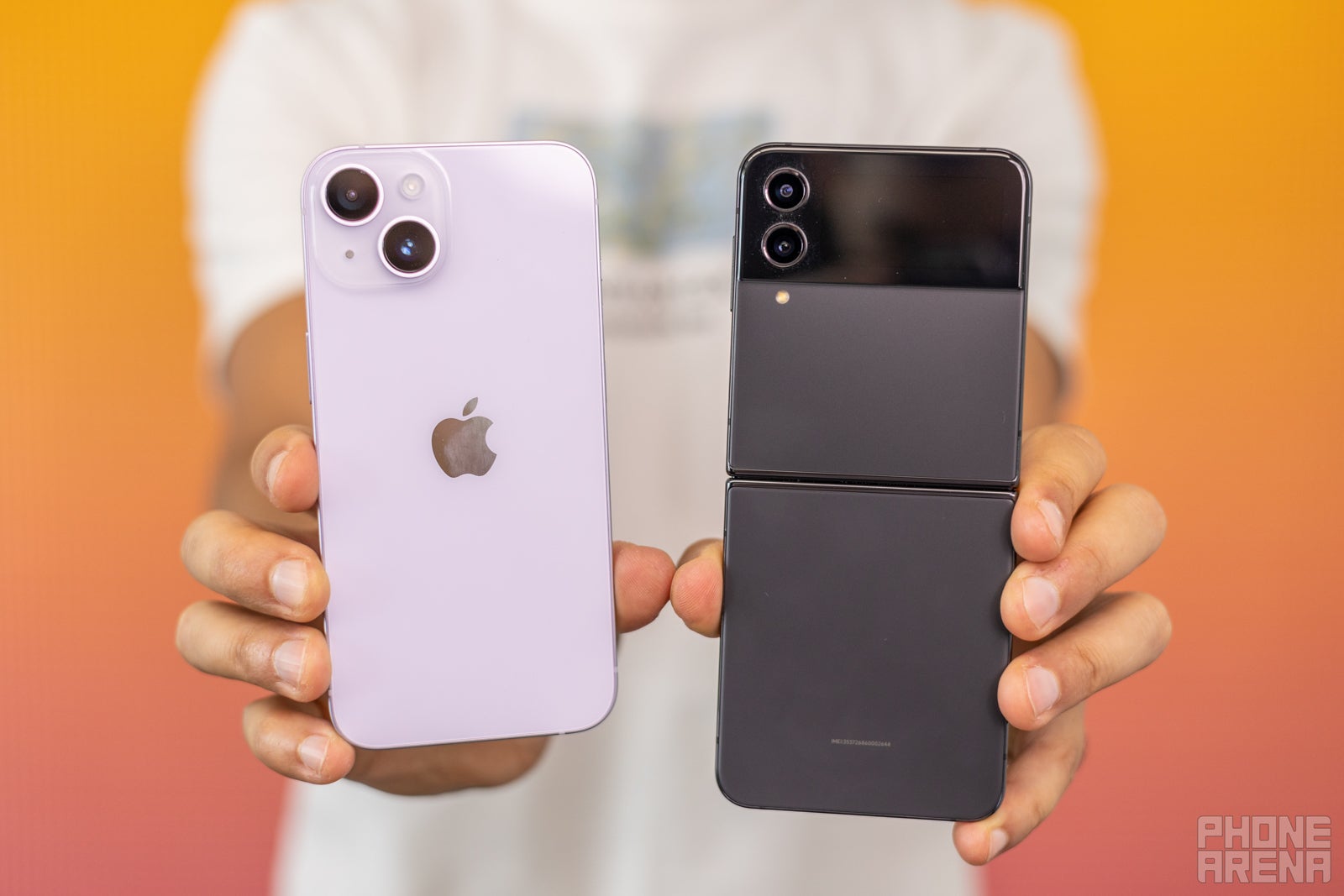 (Image Credit - PhoneArena) iPhone 14 vs Galaxy Z Flip 4
The Galaxy Z Flip 4 went through our battery benchmark test and passed it with flying colors. Well, it seems to chew through its 3,700 mAh cell quite fast when gaming, however, for video streaming or browsing we got about 10 hours of screen-on time.
Apple's iPhones have consistently good battery life, and since the iPhone 14 still only pushes a 60 Hz screen, there's no change here — it's excellent, easily providing 10 hours and more of mixed usage.
A point worth mentioning — iOS is still better at not draining charge in standby, while Samsung's OneUI is merciless, even when your screen is off. It's much more probable that you would get 2-day usage out of the iPhone, with sparing use, than with the Galaxy Z Flip 4.
But, bottom line, "all-day battery" is going to be an applicable tag line for both these phones.
PhoneArena Battery Test Results:
As for charging, the Galaxy Z Flip 4 supports a 25 W Fast Charger — nothing crazy, but it does top the phone up in 90 minutes. Apple is also in no hurry (a-haa!) to upgrade its fast charging, with its latest iPhones supporting 20 W over the wire.
And, of course, both are to support wireless charging — up to 10 W on the Samsung and 15 W on the iPhone (if you use a MagSafe puck). The Galaxy Z Flip 4 has the Reverse Wireless Charging feature, so you can top up your Galaxy Watch or Galaxy Buds with it. Though it's a slow and inefficient method, it can get you out of a pickle. The iPhone has no such feature.
Specs Comparison
The flagship clamshell vs the core experience iPhone — we have a full overview of the (expected) spec comparison between iPhone 14 and Galaxy Z Flip 4. But here is the gist of it:
Specs
iPhone 14
Galaxy Z Flip 4
Dimensions

5.78 x 2.81 x 0.31 inches (146.7 x 71.5 x 7.80 mm)



6.50 x 2.83 x 0.27 inches (165.2 x 71.9 x 6.9 mm)
Folded: 3.34 x 2.83 x 0.67 (84.9 x 71.9 x 17.1 mm)
Weight
6.07 oz (172.0 g)


6.60 oz (187.0 g)
Screen
6.1-inch, OLED, HDR, 60 Hz

6.7-inch, Dynamic AMOLED, HDR, 120 Hz
Processor
Apple A15 Bionic, hexa-core, 5 nm

Qualcomm Snapdragon 8+ Gen 1, octa-core, 4 nm
RAM
4/6 GB


Yet unknown

8 GB
Rear Cameras
12 MP wide
12 MP ultra-wide

12 MP wide; F1.8
12 MP ultra-wide; F2.4
Front Camera
12 MP
10 MP; F2.4
Battery Size
3,279 mAh
3,700 mAh
Charging Speeds
20 W wired, 15 W wireless
25 W wired, 10 W wireless
Price
$829


Unlocked

$999.99
Summary and Expectations
Obviously, we have two different devices here — on one hand, it's the good old Android vs iPhone ordeal. On the other, it's a foldable versus a classic bar.
So, for one, if you are someone in the iPhone camp, wondering whether or not it's worth experimenting with a foldable — specifically the Z Flip 4. Sure — it's a performer, it has that cool factor with the futuristic folding glass, and its cameras are good — they may be better in some aspects.
On the other hand, if you are not in any camp right now and are wondering if you should jump for the novelty of the Flip or bet on the dependable iPhone... Tough choice, really! You definitely save some cash with the iPhone 14, as the Z Flip 4 is a bit more expensive. But if $200 was not the issue and you just wanted to know if the Flip 4 performs on a competitive scale — yes, it does. And it may even be the better choice than a vanilla iPhone 14 for the tech enthusiast.
Recommended Stories