Google Pixel 7 Pro Review: best features
12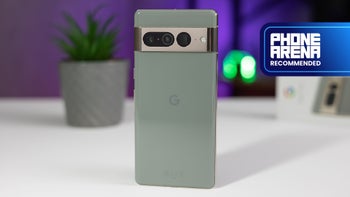 Google Pixel 7 Pro Intro
One year after Google rebooted its smartphone effort, we have the sequel to bring it all back home. This is the Google Pixel 7 Pro, the company's new flagship phone, and while it looks similar to the Pixel 6 Pro, it brings a number of refinements in different areas including performance, the screen, camera and battery life. And good news is that it still comes at a price much lower than other flagship phones.
On paper, the Pixel 7 Pro seems to have it all: a big, 6.7-inch display with a 120Hz refresh rate, a large, 5,000mAh battery inside, a top-tier camera, as well as Google's new Tensor G2 chip that highlights the powerful AI and machine learning capabilities that Google is known for.
But... should you buy it? Are the improvements really noticeable when you compare it against the previous model? And has Google fixed the few annoying bugs of the previous generation? Let's find out!
What's new:
Improved cameras, longer zoom
Faster Tensor G2 chip
5 years of security upgrades
2X optical grade zoom
Cinematic Blur for videos
Macro Focus
Free VPN with Google One
Pixel 7 Pro Specs
New processor, same size
Specs
Pixel 7 Pro
Pixel 7
Size and Weight
162.9 x 76.6 x 8.9 mm, 212g
155.6 x 73.2 x 8.7 mm, 197g
Display
6.7" OLED, 1440p, 10-120Hz
6.3" OLED, 1080p, 90Hz
Processor
Tensor G2
Tensor G2
RAM and Storage
12GB LPDDR5X RAM, 128GB/256GB/512GB storage
8GB RAM, 128GB or 256GB storage
Software
Android 13
Android 13
Cameras
50MP main camera, f/1.85
12MP ultra-wide with AF, f/2.2
48MP 5X telephoto, f/3.5
10.8MP front cam
50MP main camera, f/1.85
12MP ultra-wide, f/2.2
10.8MP front cam
Battery Size
5,000mAh
4,355mAh
Charging Speeds
23W wired
23W wireless
20W wired
20W wireless
Price
starting from $900
starting from $600
The big feature here is the new Tensor G2 chip that powers the show, and also notice the longer-range 5X zoom lens (vs 4X on the previous generation).
But even more importantly for some, the starting price remains the same sweet $900, a few Benjamins than the prices on Galaxies and iPhones. Nice!
Pixel 7 Pro Unboxing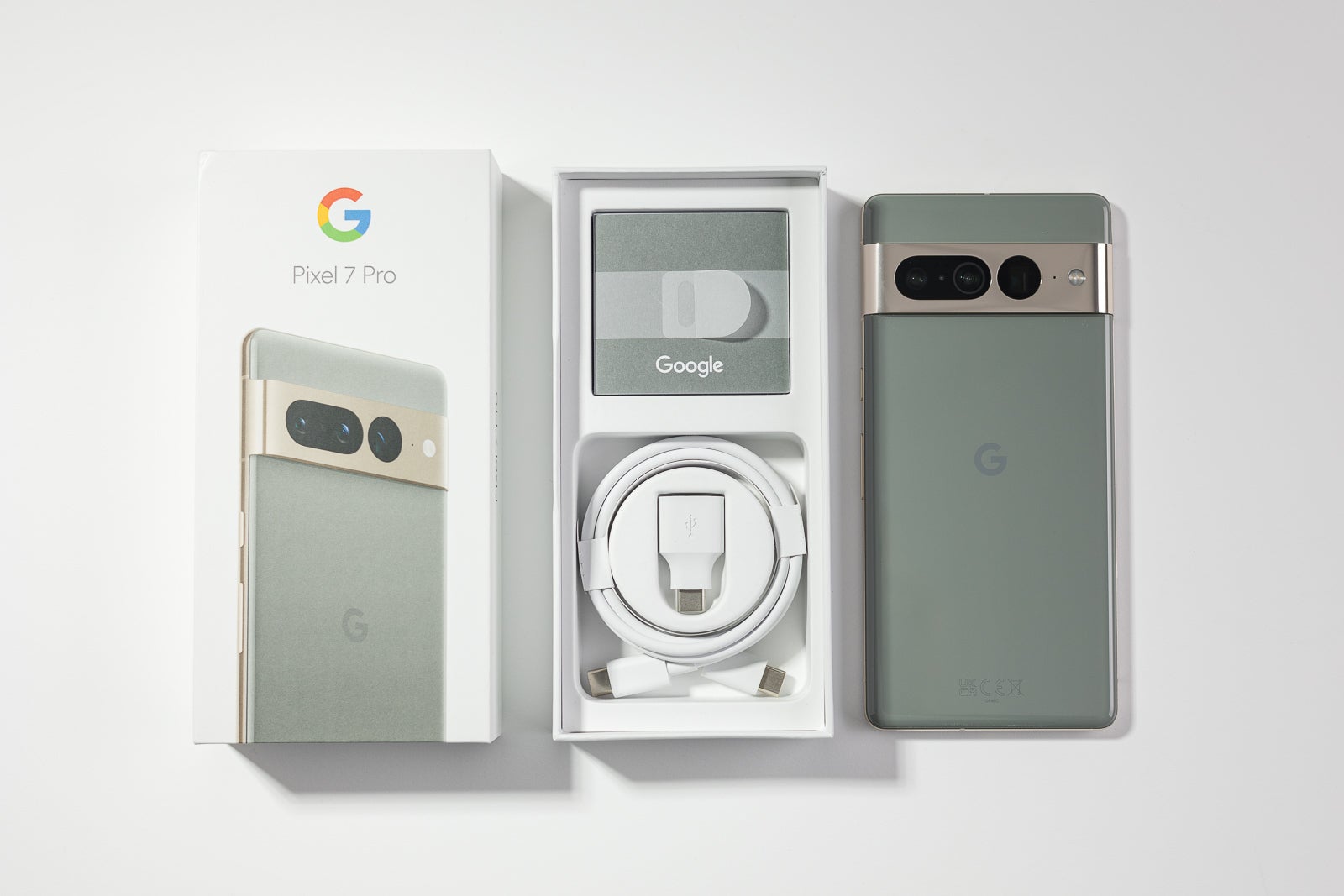 (Image credit - PhoneArena) Pixel 7 Pro box contents
The Pixel 7 Pro comes in a slim box, like most modern phones, and here is what's inside that box:
Pixel 7 Pro
Cable with USB-C connector on both ends
SIM tool
A Quick Switch adapter
Paperwork
There is no charger included in the box, which is kind of expected in 2022. There is also no pre-applied screen protector or a case in the box either.
Pixel 7 Pro Design & Colors
Refined
With a glass black and that signature camera strip across the back, the new Pixel 7 Pro looks a lot like its predecessor, main difference being how the camera system is now visibly separated in two sections.
The phone still features an aluminum frame, the finish is glossy, and new is that camera strip is now an integral part of that frame, so the phone appears to be even sturdier. We did notice the camera bar get some micro scratches very quickly, but apart from that, we like this look.
For the colors, you have three options: a classic black color (Obsidian) as well as a white color option (Snow), and this new gray-ish color with a gold camera bar which is a looker (Hazel).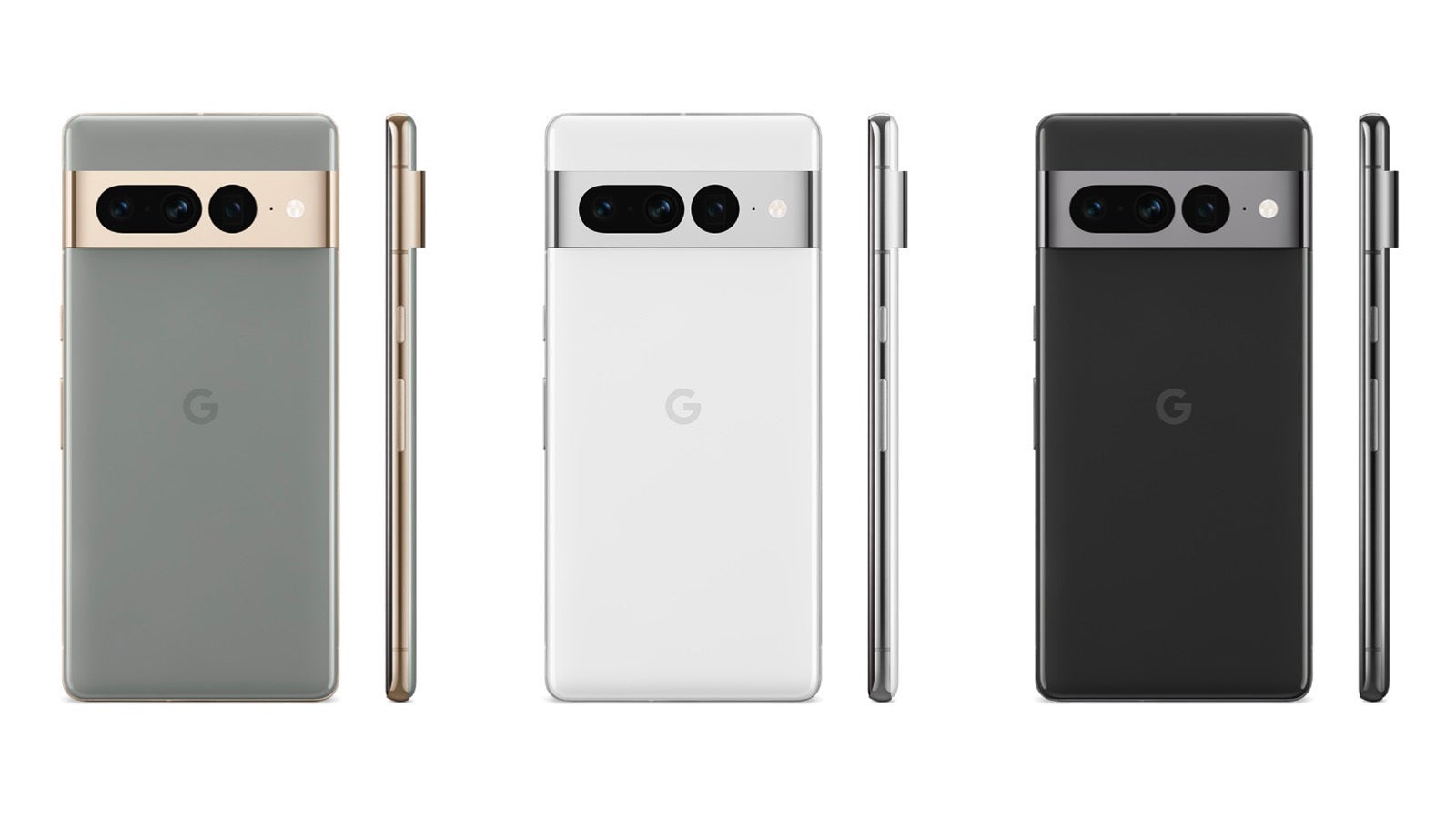 Pixel 7 Pro in Hazel (left), Snow (center), and Obsidian (right)
For all the rest, the dimensions and weight of the Pixel 7 Pro haven't changed from its predecessor, so it's still a larger phone.
We love that Google keeps the weight noticeably lower than that of the Galaxy S22 Ultra and iPhone 14 Pro Max, which makes a huge difference in how comfortable the Pixel feels in a pocket.
Pixel 7 Pro Display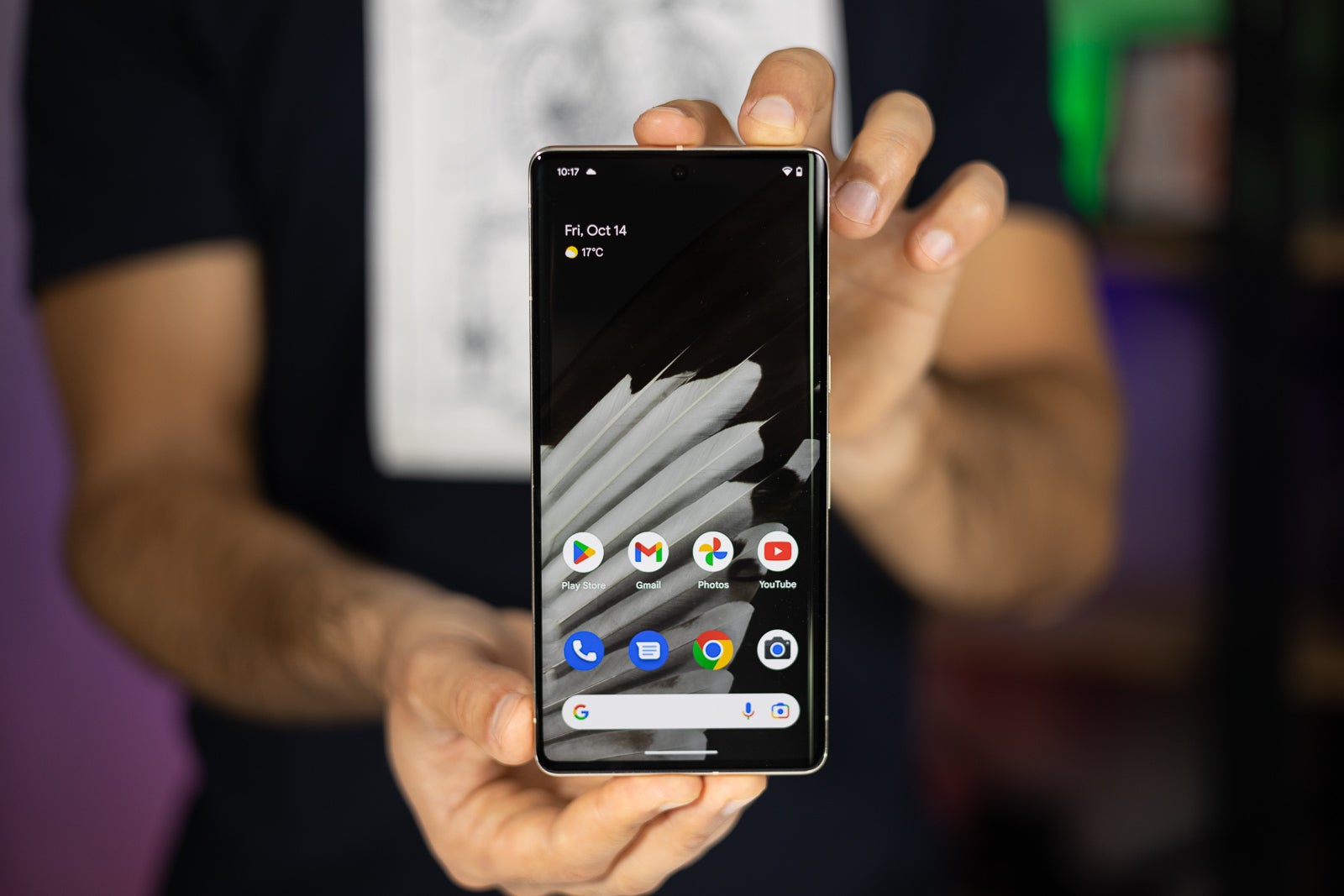 (Image Credit - PhoneArena)
Equipped with a large, 6.7-inch OLED display, the Pixel 7 Pro offers plenty of real estate for your eyes to feast on.
It also supports a 1440p resolution, more than your typical 1080p display, so everything is extra sharp. Just be sure to enable the 1440p resolution in settings, as for some reason, the phone comes pre-set at 1080p. Of course, you also have a 120Hz dynamic refresh rate for buttery smooth scrolling. This is an LTPO display with adaptive refresh rate which varies from as low as 10Hz to the maximum 120Hz.
Google is using Gorilla Glass 7 for screen protection, the latest out there, and the screen can get very bright reaching a maximum of 1,500 nits.
Display Measurements:
We measured a noticeable jump in peak brightness on the Pixel 7 Pro, but it doesn't get quite as bright as the iPhone 14 Pro.
In terms of biometrics, you still have an in-screen fingerprint scanner of the optical kind. This was our biggest complaint against the previous Pixel generation, where the reader was slower and required more force to register. Unfortunately, the new Pixel still feels on the slow side, and if there is a slight improvement in speed, we barely noticed it.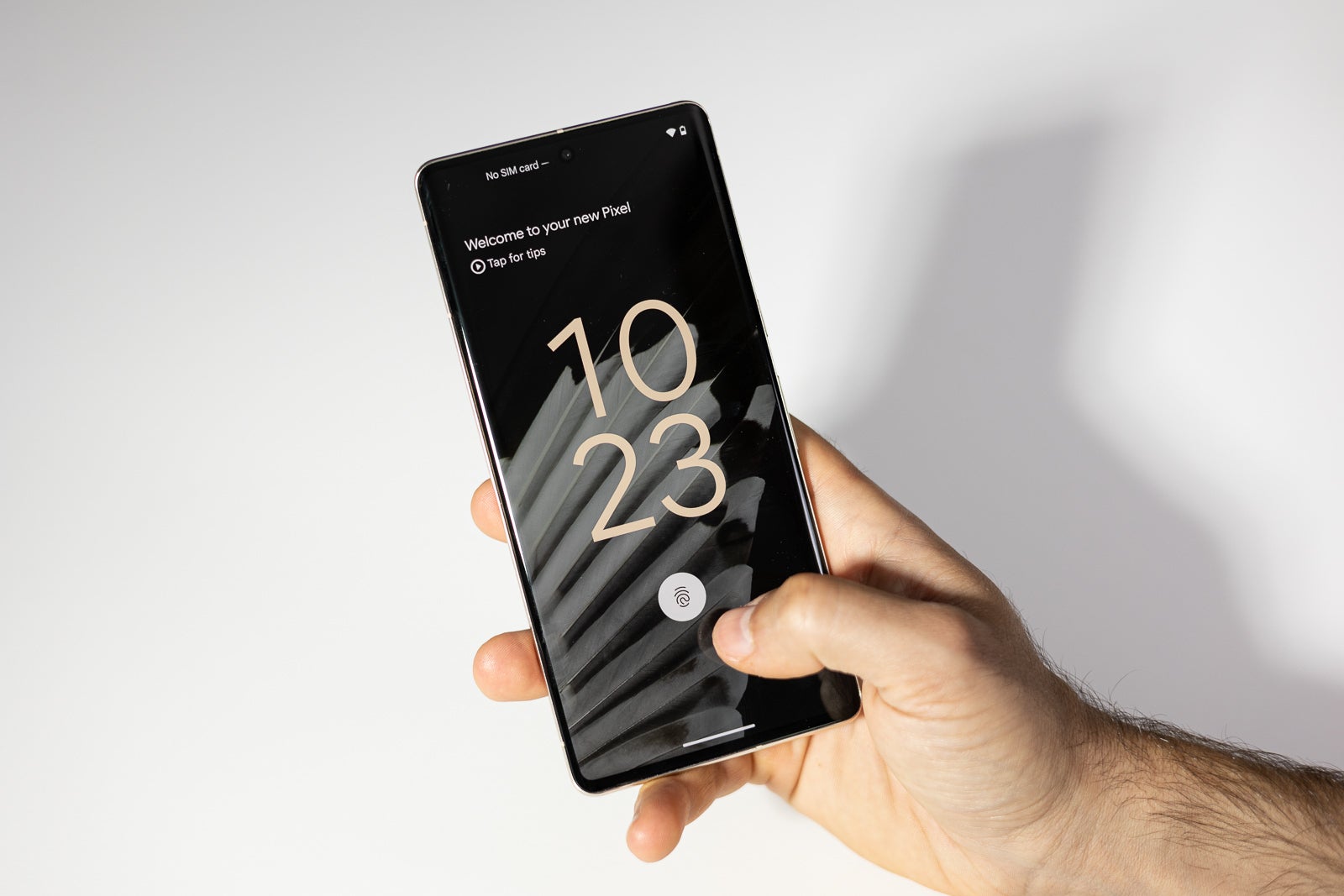 (Image Credit - PhoneArena)
However, you now also have face recognition on board, a feature that was missing on the last year model. The Pixel 7 Pro uses image-based face recognition which is not as secure as the 3D models that the iPhones use, but it's still a welcome feature. It works well during the day, but like most image-based face ID systems, it doesn't work in dim light or with masks. Google also realizes that it is not quite as secure as a fingerprint scan and limits the use of the face identification only to unlocking your phone. For your payment and banking apps, the Pixel 7 Pro would still require a fingerprint scan or your code.
Pixel 7 Pro Camera
Three cameras on the back, longer zoom range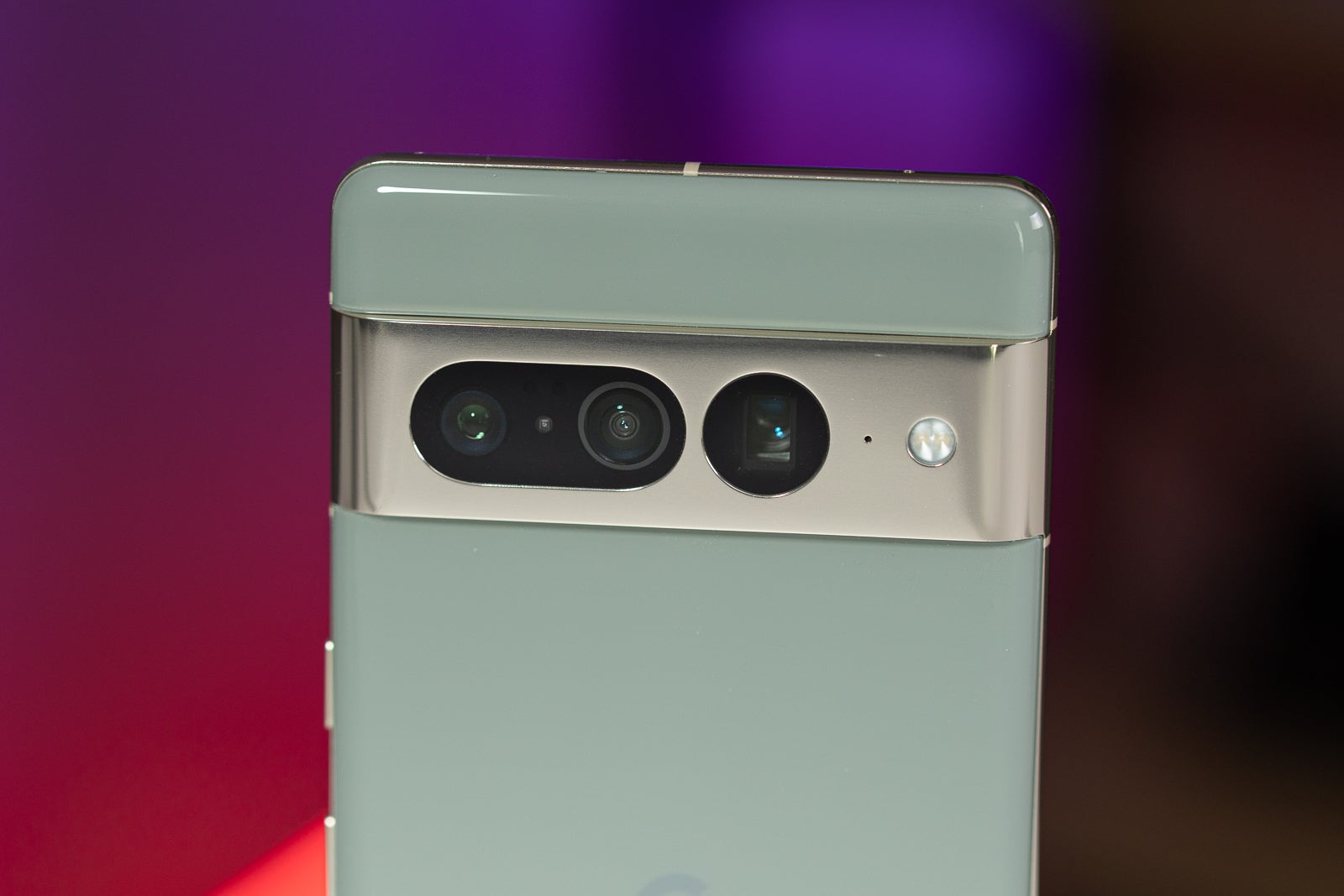 (Image Credit - PhoneArena)
The Pixel 7 Pro has a triple rear camera system consisting of the following:
50MP main camera, f/1.85
12MP ultra-wide, f/2.2
48MP 5X telephoto, f/3.5
The 50MP sensor on the main camera is unchanged from last year, but Google now has found one more use for it: it takes a 12MP center crop of the sensor to give you optical-grade 2X zoom, a really nice touch. The ultra-wide camera has gotten wider this year to match the field of view you get on other flagships. The periscope zoom camera also has undergone a bigger change as it now goes a bit further with 5X zoom compared to only 4X on the predecessor.
Google explains that it applies additional trickery at 10X magnification to give you improved quality. At longer zoom ranges such as 15X, hand motion is a problem for other phones, but again the Pixel 7 Pro comes to the rescue with Zoom Stabilization, which identifies a subject and locks the camera on it.
You can learn all about the Pixel 7 Pro camera in our detailed camera comparison:
Right below, you can find a bunch of pictures taken on the Pixel 7 Pro in various conditions:
We like the detail and the dynamic range out of this camera, but on this already cloudy day, we found a few of the photos were noticeably underexposed and looked even gloomier than in reality. The new ultra-wide camera definitely has a wider field of view, which is noticeable, and so does the selfie camera.
But if we were to name the one big camera change in this new Pixel, that would have to be how low-light photos are captured often twice as quick compared to the previous model! That makes a huge difference, while image quality remains similarly great, if not better. The Pixel remains king of night time photography with clean details and lack of noise, beating Galaxies and iPhones in most cases (but the difference is not huge).
On the topic of the new 2X mode on the Pixel, here is a crop of a 2X photo taken with the Pixel 7 Pro and the older Pixel 6 Pro:
< Pixel 7 Pro 2X (crop)
Pixel 6 Pro 2X (crop) >
Since this is a crop, you might not notice the improvements on a smaller phone screen, but open them on a laptop or a bigger screen, and 2X on the Pixel 7 Pro is definitely the more impressive shot.
< Pixel 7 Pro 2X
Pixel 7 Pro 2X >
And in the above photo, you can notice how the moment you switch from 1.9X to 2X zoom on the Pixel 7 Pro, the quality jumps as that's where the magic happens.
The Pixel also comes with a number of neat software tricks. First is
Magic Eraser
which makes removing unwanted objects from your snaps super easy. We love this feature.
Macro Focus
is another neat feature that allows you to get close-up macro shots with improved quality.
Next up, we have a brand new video feature called
Cinematic Blur
, which well... blurs the background in videos leaving the subject to stand out, much like Apple's Cinematic Mode. Google is playing catch-up with this feature, but while we like having this effect, the Pixel has a way too aggressive background blur and we prefer the clarity on the iPhone or Galaxy.
Video quality overall is improved slightly this year, but the Google still needs a bit of extra push to match the video quality out of the Galaxy S22 Ultra, and an even bigger push to match the industry-leading iPhone. Stabilization on the Pixel 7 Pro is solid and you can use all three cameras for video recording, but colors sometimes are a bit on the dull side and noise creeps in lower light footage.
Pixel 7 Pro Performance & Benchmarks
Tensor G2 brings better AI performance, but can it match Qualcomm chips?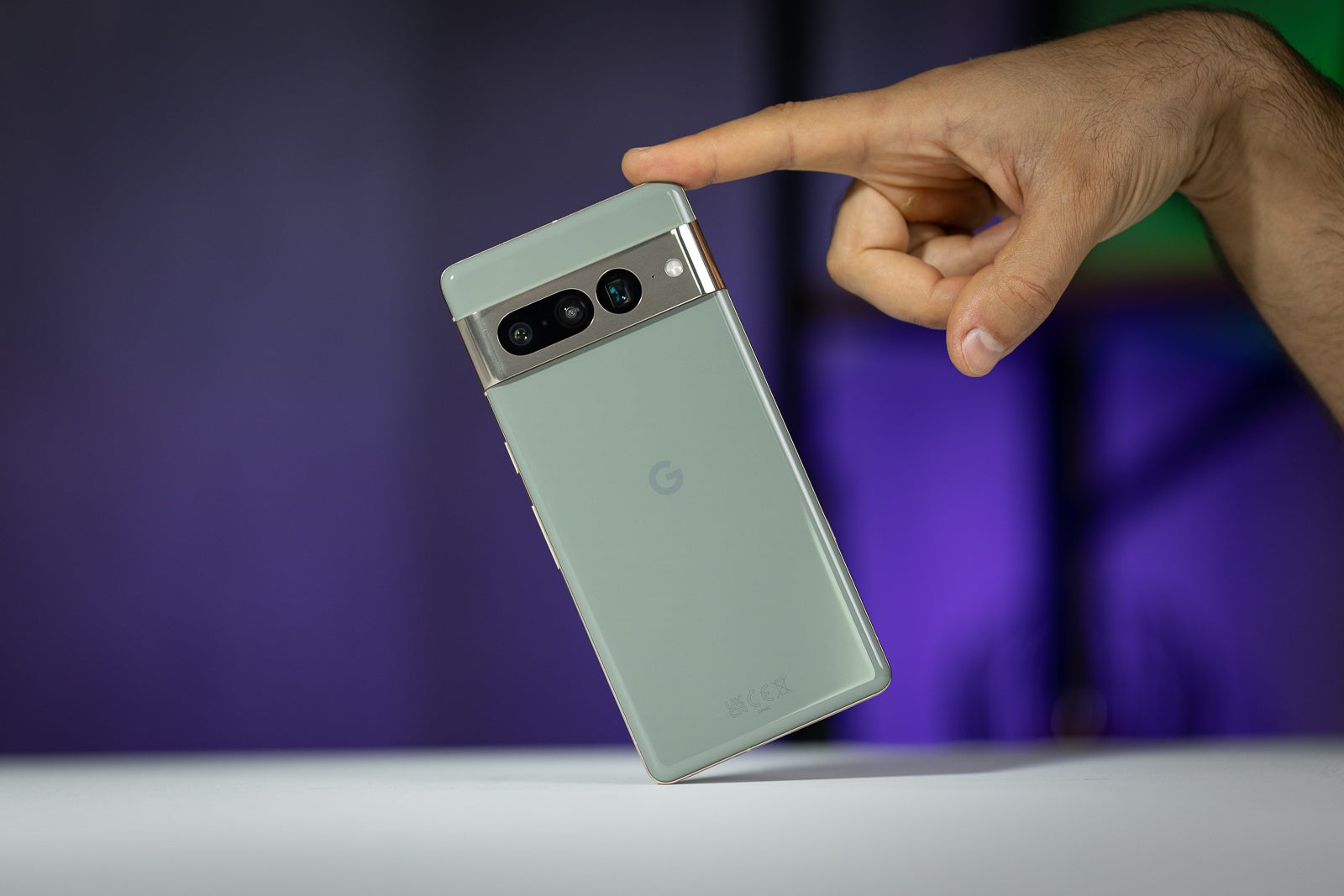 (Image Credit - PhoneArena)
Google's original Tensor chip in the Pixel 6 was a watershed moment for the company. It was their first mobile chip, and while it was not quite as fast as the flagship chips out there in CPU performance, it features stellar Machine Learning (ML) production, which seemed tailor-made for a Pixel.
The new Tensor G2 seems to be a gradual improvement rather than a radical overhaul of the first chip.
This new processor features two high-power Arm Cortex-X1 cores, coupled with two A76 cores, and finally four efficiency A55 cores. It scores a 10 percent improvement in multi-core performance compared to the previous generation, a decent boost.

And this is explained by the more efficient 4nm manufacturing process used for making the chip, as well as the faster X1 cluster and A76 cores.


Performance Benchmarks:
For gaming, the Tensor G2 is paired with a Mali-G710 GPU, which gives it a nice performance boost. Most importantly, this Pixel does not get quite as hot as the previous generation, so you have less thermal throttling while gaming. The Pixel is still not on par with a Galaxy or an iPhone, let alone a dedicated gaming phone, but it is definitely a more capable gaming machine than the Pixel 6 series.

We've also got 12GB of the latest LPDDR5X type RAM, great for speedy multitasking.

When it comes to storage, the Pixel 7 Pro comes in three versions, a base one with 128GB storage, a 256GB version, and a 512GB model.
Pixel 7 Pro Android version
One of the best things about buying a Pixel is the clean Android version that you get, made the way Google itself envisioned it.
This Pixel-ified make of Android is incredibly smooth too, with no hiccups or stutter, and all the animations look very well made.
And here is a quick list of notable Pixel 7 series Android features:
Assistant voice typing will suggest relevant emoji
Phone can transcribe audio messages in the message app
Recorder app getting speaker labels
Pixel Call Assist for phone calls
Call screen automatically speaks to spammers and filters them out
Direct My Call for businesses, list of menu options visible right away
Clear Calling - filters out distracting sounds while enhancing friends voices
But the big advantage is just software updates. The Pixel 7 Pro, like other Pixels, is getting future updates on day one, while other Android devices usually have to wait for a few months to receive an update. Google is also committing to 5 years of security updates on the Pixel 7 Pro.
5,000mAh battery keeps the lights on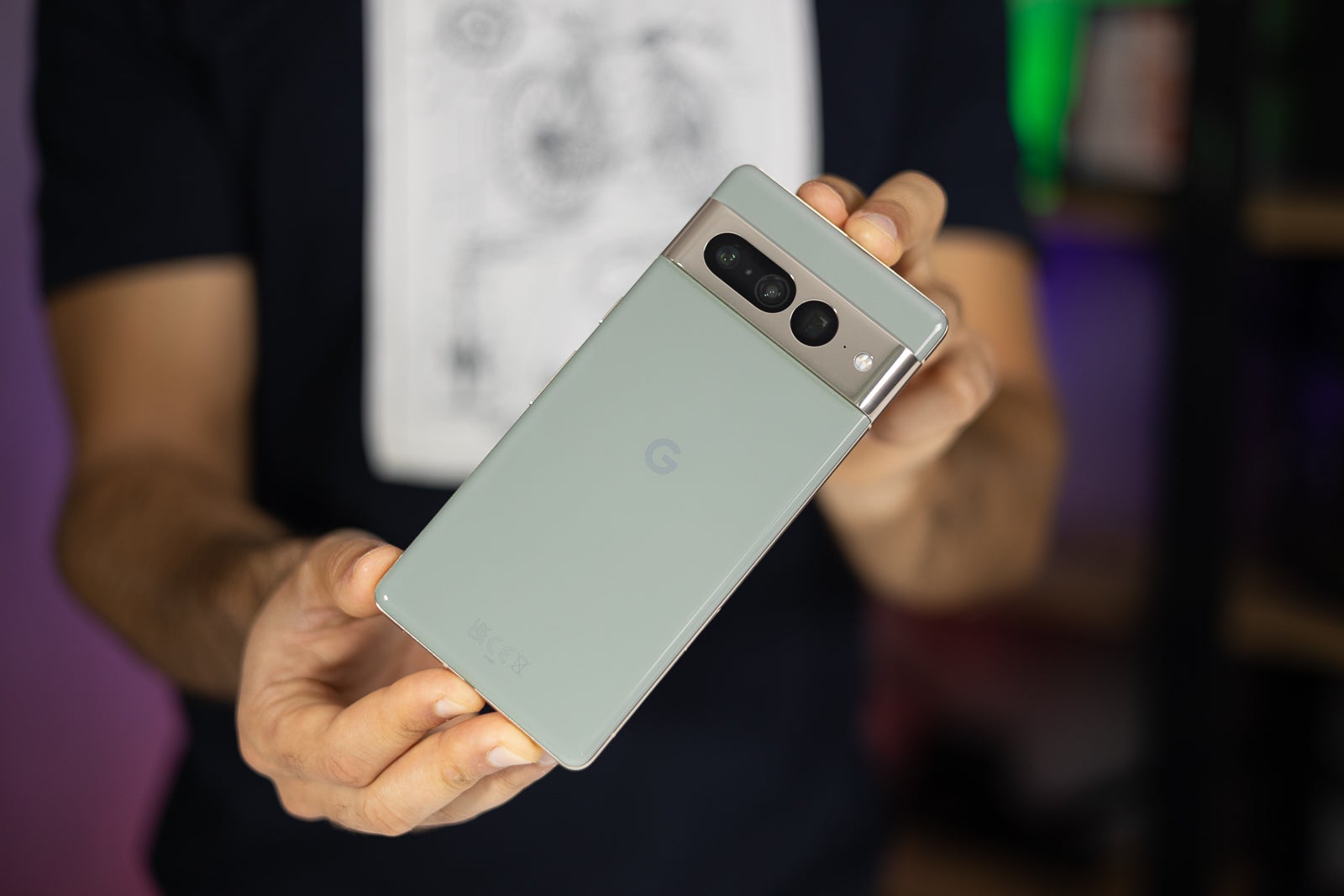 (Image Credit - PhoneArena)
Android flagship phones have kind of settled on a universal form factor these days: a 6.7-inch screen and a 5,000mAh battery, and the Pixel fits the mold perfectly.
And a 5,000mAh battery is certainly good news.
PhoneArena Battery Test Results:
On our independent battery tests, the Pixel 7 Pro scored above the previous-ten model on the web browsing and YouTube video test, a neat improvement.
It was only our intense 3D gaming test where the phone heated up and scored a disastrous 4 hours, about the same as its predecessor. Notice that in real life, the load on the graphics card is not usually quite as high, but it still shows that Google has ways to improve for gaming.
Google also promises up to 72 hours off the charger with the Extreme Battery Saver feature.
Our real-world experience with the Pixel is a bit more than a full day of use on average, but even if you push it a bit more, it will still last the full day, which is reassuring.
Pixel 7 Pro Charging Speeds
There is no change in supported charging speeds on the Pixel 7 Pro.
Google recommends a 30W charger, but actual charging speeds max out at 23W.
Pixel 7 Pro charging time:
in 15 mins — 25%
30 mins — 49%
45 mins — 69%
1 hour — 83%
FULL CHARGE takes 1 hour 37 minutes
Keep in mind that there is no charging brick in the Pixel 7 Pro box, so you'd need to purchase that separately (in case you don't already own one).
The phone also supports wireless charging, which is a neat convenience, and interestingly, at the same 23W speeds (provided you use the Pixel Stand 2nd gen charger, though).
Pixel 7 Pro Audio Quality and Haptics
With a dual speaker setup consisting of a bottom-firing main speaker and a secondary speaker in the earpiece, the Pixel 7 Pro has a decent loudspeaker setup for a phone.
It gets loud enough without sounding too muddy or distorted, and it has a bit of depth to it, and in a direct comparison with the speakers of the Galaxy S22 Ultra, we found the sound from the Pixel more pleasing. Compared to the iPhone 14 series or the best in the industry Asus Ron Phone, however, the Pixel lacked the oomph and the depth to compare. We'd rate its loudspeakers above average, but not quite excellent.
Haptics have also traditionally been excellent on Pixel phones, and there are no major changes this year.
Pixel 7 Pro Competitors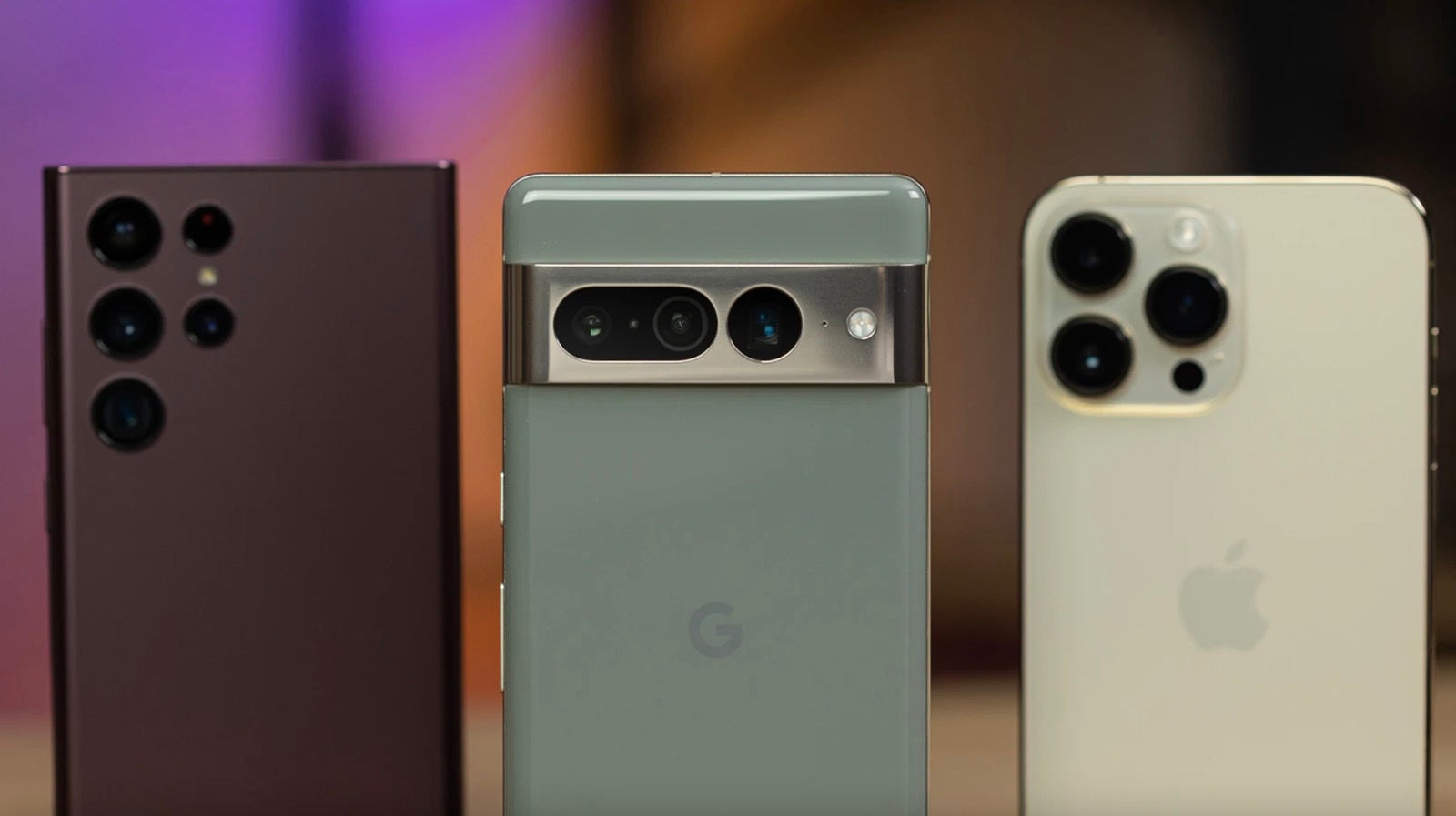 (Image Credit - PhoneArena)
If you are shopping for a flagship smartphone like the Pixel 7 Pro, you have two big contenders in the space, but none is as cheap as the $900 Pixel.
Still, if money is no issue, the $1,200
Samsung Galaxy S22 Ultra
will spoil you with its 10X zoom lens that allows you to zoom even further, and it also has a faster processor, an S Pen, and a few unique features in the Samsung One UI interface. Cons of that model include occasionally jittery performance and slower-to-arrive updates.
On the other side of the fence is the $1,100
iPhone 14 Pro Max
. It's an iPhone with all the pros and cons that come with that, but what is absolutely undeniable is that it has the best battery life among all mainstream flagships, as well as the fastest processor out there.
Finally, we have to mention the previous
Pixel 6 Pro
. Truth be told, there are not that many upgrades in the new model, and if you can find a good deal on the older model, we wouldn't hesitate and get that, if we were looking for a bargain.
Pixel 7 Pro Summary and final verdict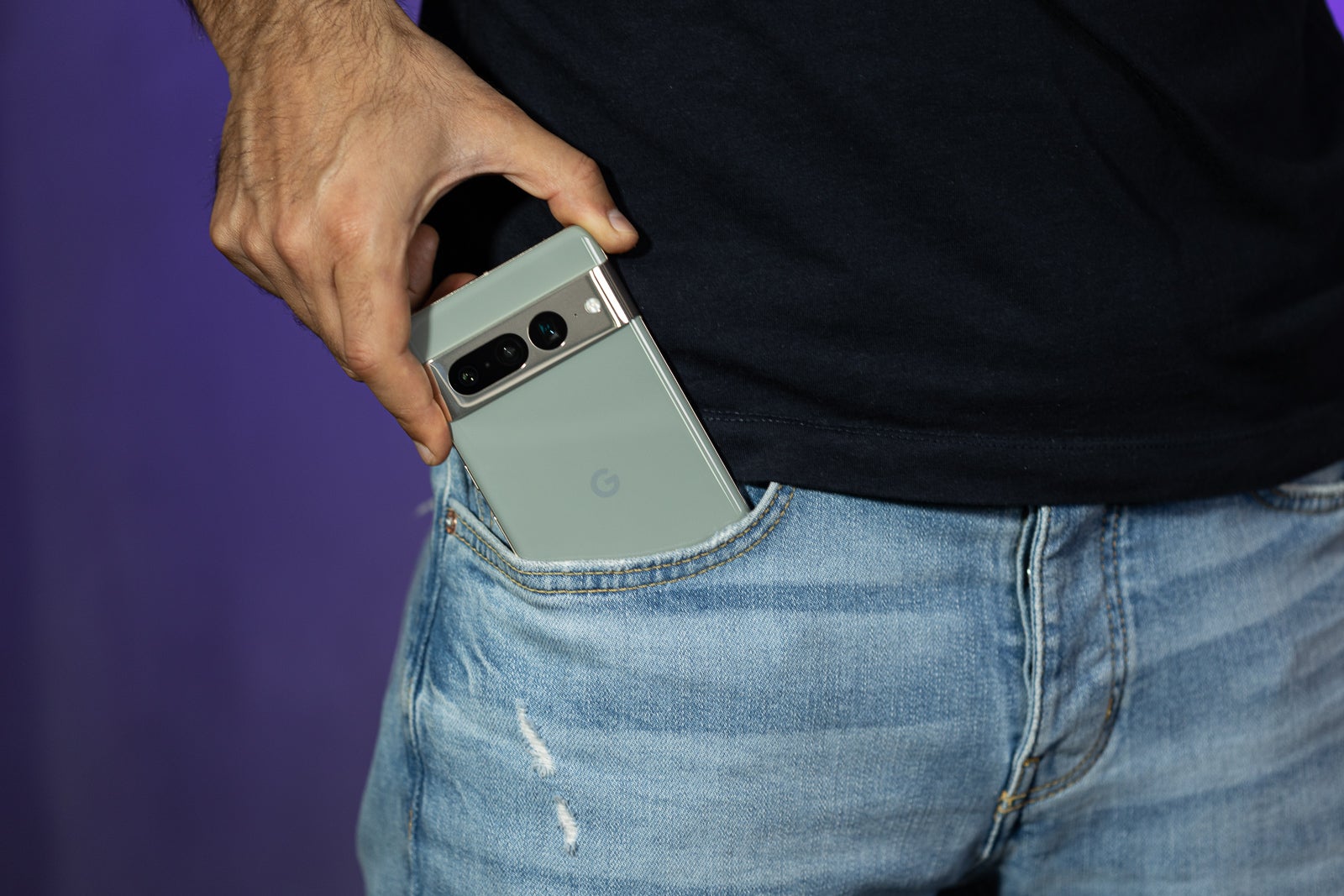 (Image Credit - PhoneArena)
At the end of the day, Google entered the big leagues last year and the Pixel 7 Pro once again shows the company's commitment.
It is a refinement over the previous generation in every way, slightly improved design, brighter screen, better cameras, better video, improved battery life, more nice machine learning and voice recognition feature, but not one major change to really stand out.
But there is one thing that Google really has to nail down if it wants people to love this phone, and that thing is reliability. Pixel phones have suffered from slowdowns, bugs and all sorts of issues in the past, and the Pixel 7 Pro has to prove that Google can make a problem-free device that is not only fast at launch, but that remains fast and reliable after a year or a couple of years of use. In our immediate experience with it, most of the bugs are gone, but only time will tell whether it will hold up long-term.
For all else, the Pixel 7 Pro remains an incredible bargain at its price and it's a joy to use, so it gets our enthusiastic thumbs up.