iPhone 14 Pro Max vs Samsung Galaxy S22 Ultra: comparison
41
We may earn a commission if you make a purchase from the links on this page.
Intro
If you want to own the
best phones
on the market, the Apple iPhone 14 Pro Max and the Samsung Galaxy S22 Ultra will probably be at the top of your list.
Both fit the bill perfectly: they are big, they have huge batteries, they have excellent cameras... but what are the differences?
The iPhone 14 Pro Max offers a new and faster A16 processor, has industry-leading battery life and a host of new features including a never-before seen Dynamic Island concept, plus a few potentially life-saving features like SOS via satellite and Crash Detection. Not to mention a new Always On display, upgraded cameras, the best portrait mode video and all of that spiced up with long software support from Apple.
The Galaxy S22 Ultra, on the other hand, has a built-in S Pen, great for creatives, an unmatched 10X zoom camera, and all the power of Android with features like split screen multitasking.
iPhone 14 Pro Max vs Galaxy S22 Ultra in a nutshell:
Large OLED screens on both with 1-120Hz dynamic refresh rate
iPhone has Face ID, Galaxy uses a fingerprint scanner
Dynamic Island on iPhone is unique
Galaxy has S Pen
Similar main three cameras, but Galaxy also has a unique 10X zoom lens
Galaxy has faster charging
Similar prices
iPhone battery lasts longer
The reservations for the Galaxy S23 are now open! Reserve your Galaxy and get a bonus now:
Design and Display Quality
Do you want a wider phone with an S Pen? Or a narrower one with rounded corners?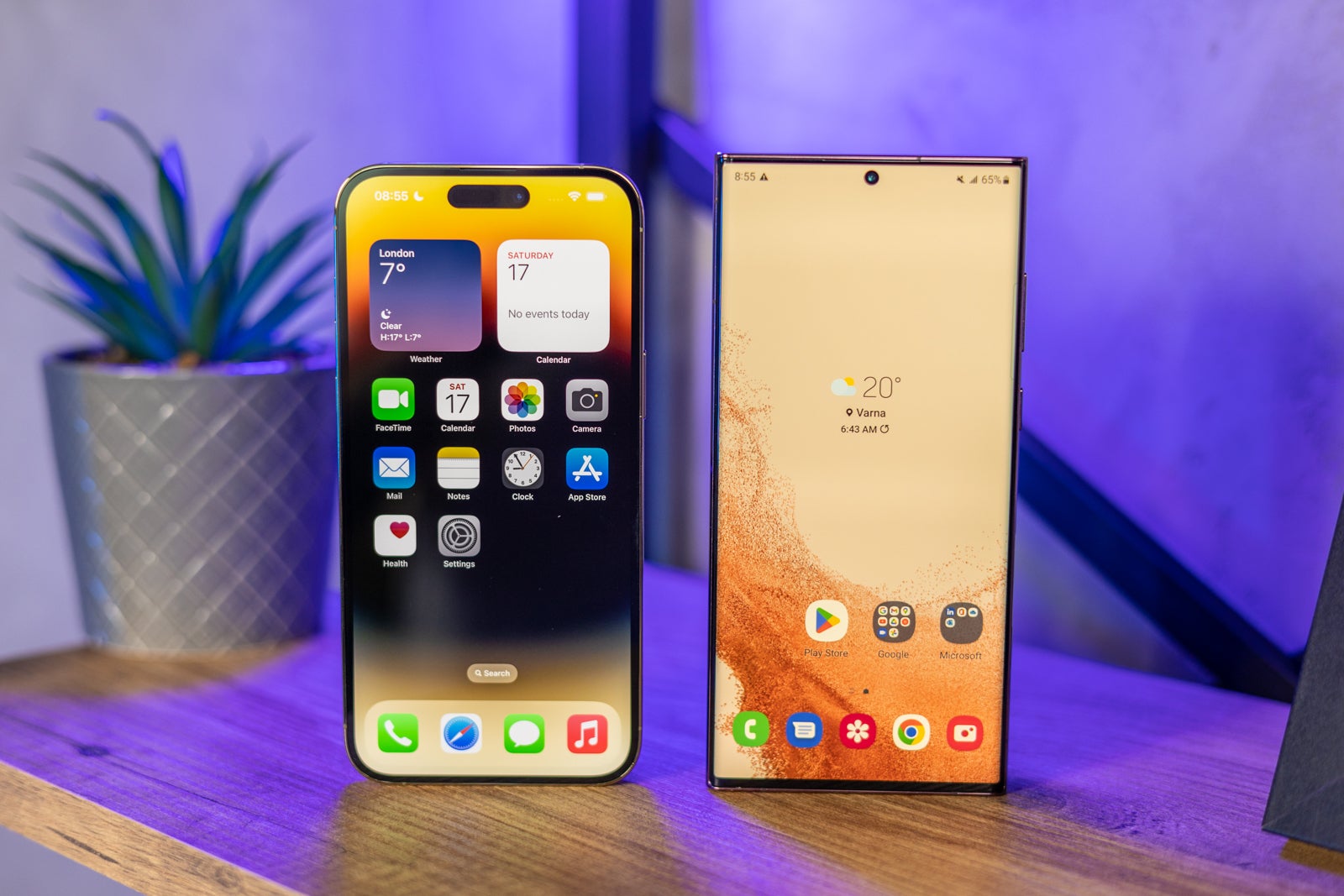 (Image Credit - PhoneArena) iPhone 14 Pro Max vs Galaxy S22 Ultra design
Both the iPhone 14 Pro Max and Galaxy S22 Ultra are premium phones through and through: they are solidly put together, using upscale materials, but there are differences.
The Galaxy has a wider aspect ratio than your average phone and sharp corners which look distinct, but make it a bit less comfortable in a pocket. The iPhone is similarly large but the corners are rounded. Both are a glass and metal sandwich, with an aluminum frame on the Galaxy, while the middle of the iPhone is made out of shiny and more premium stainless steel.
The two are equally protected from the elements with the same IP68 water and dust certification, so you don't have to worry if you get caught in the rain with one of them.
The Galaxy charges via a USB-C port, while the iPhone sticks with its proprietary Apple Lightning connector (the
iPhone 15
, though, is likely to switch to USB-C).
You should also not be surprised by what's in the box, or rather what is NOT in the box. There is no charger on either one, they only ship with charging cable, but not the charging brick that you'd have to buy separately.
You do get a slightly different screen size: 6.7" on the iPhone and 6.8" on the Galaxy, so the S22 Ultra does indeed have a bigger screen area. It also has the slightly higher resolution at 1440p vs 1290p on the iPhone, not a huge difference, but still worth mentioning.
And of course, on the iPhone you have the new Dynamic Island which houses the Face ID system, while the Galaxy goes with a much more mundane punch hole design. The Dynamic Island is incredibly clever, like a little status bar that discreetly notifies you of important events: running low on battery? A tiny warning pops up in the Dynamic Island. Playing music? You can see the waveform and a long-press gives you quick playback controls. Running a navigation app? Again, you get a quick shortcut in the Dynamic Island. After using it for a while we can appreciate how cool it is, even if it's not exactly a game changer of a feature.
In terms of screen tech, the iPhone actually has an advantage as it uses the latest M12 generation OLED panel, while the S22 Ultra has the previous M11 generation. The difference should not be huge, though, and both get super bright and have gorgeous colors.
Display Measurements:
Both screens can modulate refresh rate from 1Hz to 120Hz, which helps save battery.
The 1Hz option is what has allowed Apple to bring an Always On display feature too. Apple is playing catch up here as the Galaxy has had an Always-on option for years, but it's nice to finally see it on an iPhone.
The two phones use different biometrics: the iPhone uses Face ID, a secure 3D form of face recognition, while the Galaxy relies on an ultrasonic fingerprint scanner as its main biometric security means. You can also register your face on the Samsung phone, but that just uses standard picture based recognition that can be spoofed far easier and is definitely not as secure as Face ID.
Don't forget that the Galaxy also comes with an S Pen inside it to quickly jot down notes or draw sketches. It's a great tool for artists, architects and just those who enjoy using it, but on the flip side, it's there even for those users who don't really need it.
Performance and Software
Apple silicon shapes up to remain the fastest in the industry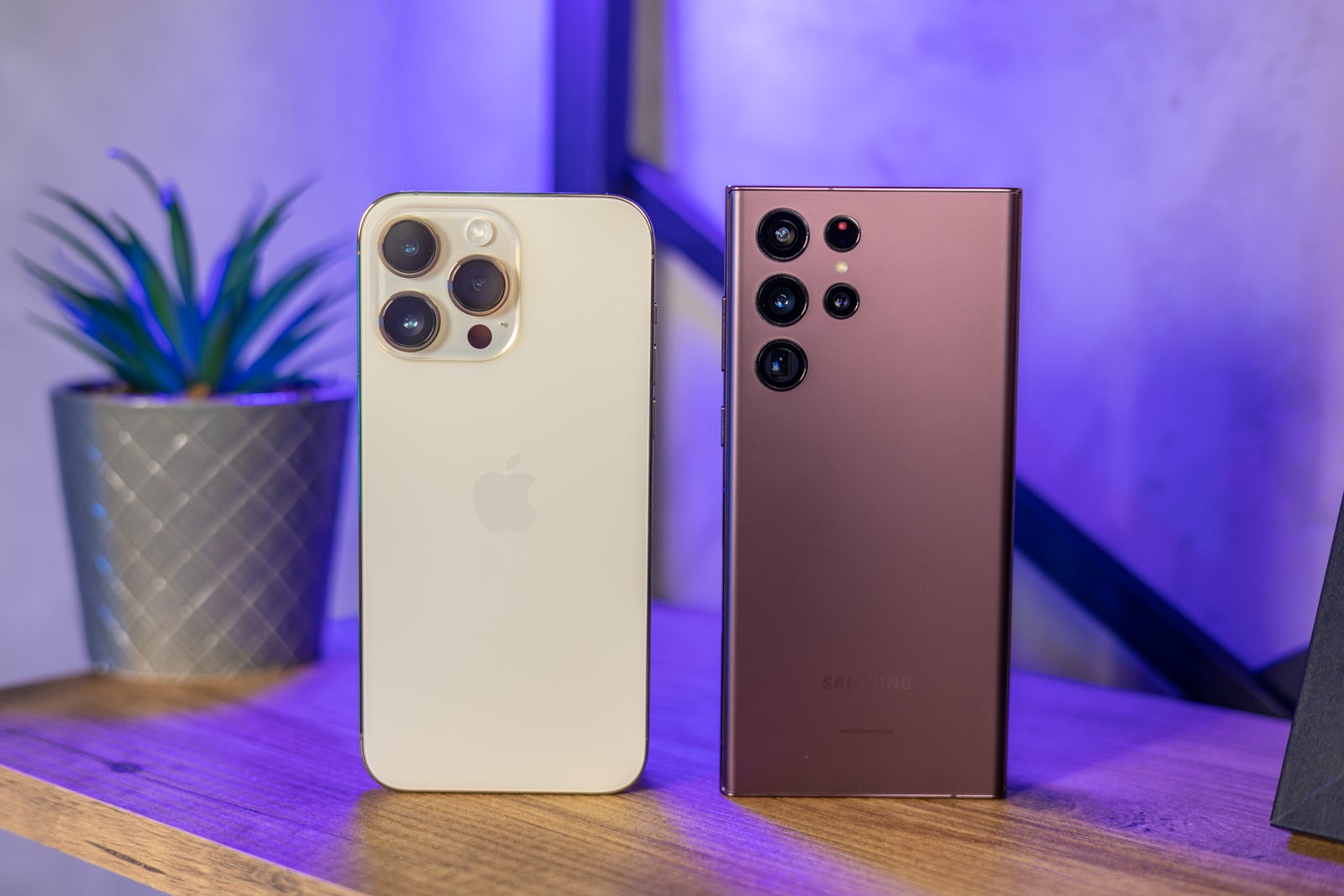 (Image Credit - PhoneArena) iPhone 14 Pro Max vs Galaxy S22 Ultra
Under the hood, the iPhone 14 Pro Max features the Apple A16 Bionic chip built on a new and more advanced, 4nm manufacturing process, while the Galaxy is based on a Qualcomm-made Snapdragon 8 Gen 1 processor (outside of the US, Galaxy models are powered by a different chip, the Samsung-made Exynos 2200).
While both feel zippy in daily use, the Snapdragon chip is simply not on the same level, as you can see in the benchmarks below.
Benchmark Results:
One difference that benchmarks don't explicitly mention is just how fluid the interface of the iPhone feels, while the Galaxy doesn't quite have that level of polish, especially if you use the gesture navigation. That is one of our primary gripes with it and it's not fixed in the latest One UI 5 software either.
The iPhone 14 Pro Max sticks with 6GB of RAM, while the Galaxy is offered with 8GB in the base model, while a souped-up version is also available with 12GB of RAM, so that's great for keeping more apps open in the background.
In terms of storage, both phones start at 128GB, and then you can upscale to 256GB, 512GB and even 1TB for the most demanding users. Neither phone supports expandable storage (no microSD card slot on either one), so keep that in mind.
Camera
The iPhone brings a bigger camera sensor, but has no answer for the 10X zoom on the Galaxy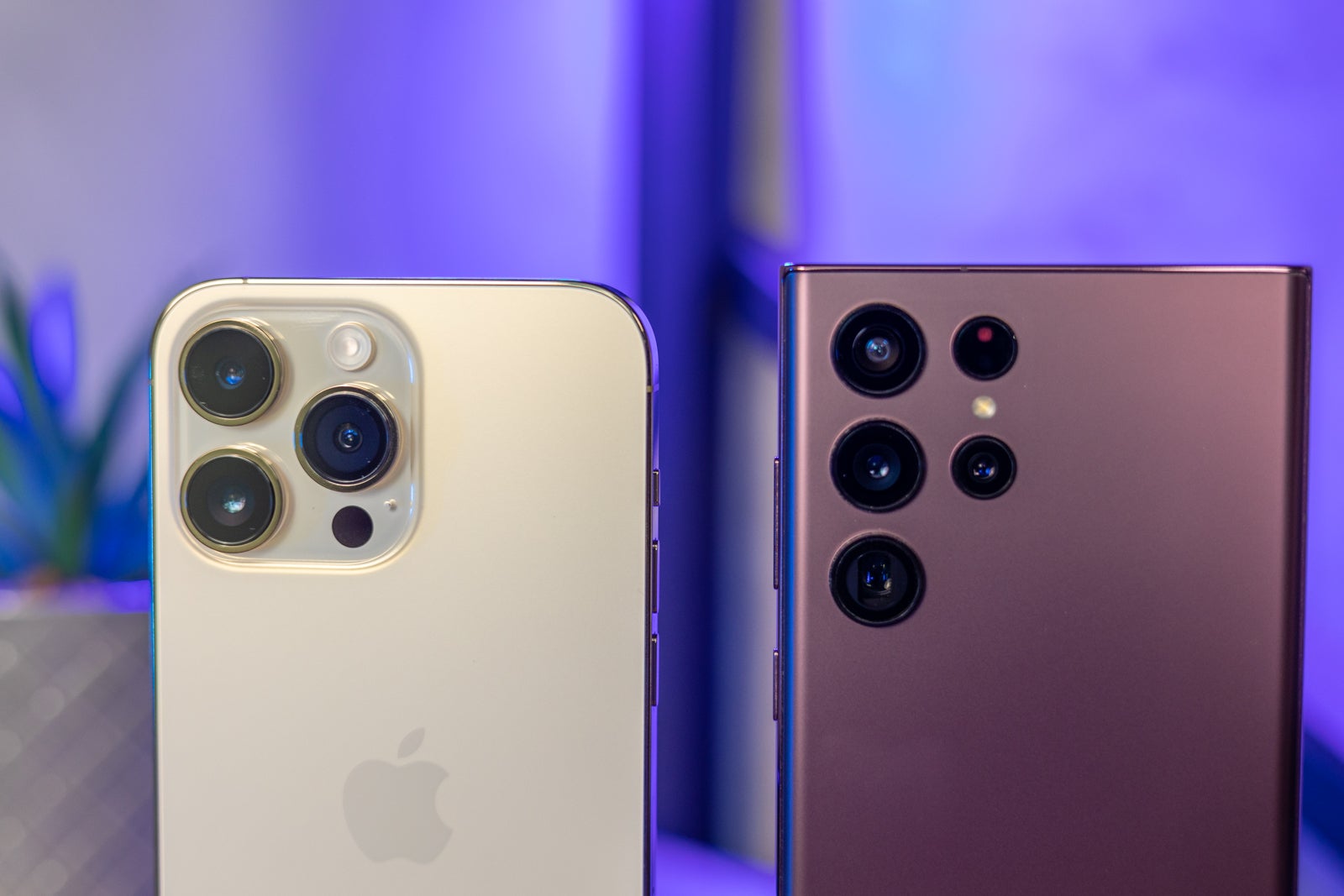 (Image Credit - PhoneArena) iPhone 14 Pro Max vs Galaxy S22 Ultra cameras
The iPhone 14 Pro Max is the first one in years expected to get a higher resolution sensor for the main camera, and that is very exciting. Apple uses a 48-megapixel sensor for the main camera, a change from the current 12MP sensor. On the other hand, the Samsung has been using an even higher-res 108-megapixel sensor for the main camera for a few years now.
However, what Apple has not managed to come close to is the 10X periscope lens on the Galaxy, just perfect for zooming far away. And with digital zoom you can go at up to 100X on the Galaxy, while the iPhone maxes out at 9X digital zoom.
iPhone 14 Pro Max vs Galaxy S22 Ultra camera differences:
48MP vs 108MP main sensor, 24mm lens vs 23mm lens
12MP ultra-wide on both
12MP 3X zoom on iPhone, 10MP 3X zoom on Galaxy
10X zoom only on Galaxy
Apple also has a few stand-out camera features like Photographic Styles that you won't find on the Galaxy.
Main Camera
< iPhone 14 Pro Max 1X
Galaxy S22 Ultra 1X >
The first thing to note about the main cameras on these two phones is that the one on the Galaxy is ever so slightly wider with a 23mm field of view compared to 24mm on the iPhone 14 Pro Max. Of course, this is not an advantage of either one, just the way the lenses are, but where we do see advantages and disadvantages is in the processing.
The iPhone in particular burns out the highlights (notice the building on the left) and crushes the details a bit too much (notice the shrub on the right), while the Galaxy handles both the highlights and the shadows arguably better with a higher dynamic range. But on the other hand detail on the iPhone is much cleaner, so to each one their own.
Ultra-wide
< iPhone 14 Pro Max 0.5X
Galaxy S22 Ultra 0.6X >
Another trend that carries over from the main camera is just the warmer tonality that the Galaxy often picks for photos, while the iPhone is a bit more realistic in our view: the tiles on this shot are closer to the color from the iPhone photo rather than the Galaxy.
We again see the same troubles with dynamic range on the iPhone, though, while the Galaxy has far less of that.
Zoom
< iPhone 14 Pro Max 2X Zoom
Galaxy S22 Ultra 2X Zoom >
Neither the iPhone, nor the Galaxy have a 2X zoom lens, but with some clever processing, the iPhone is able to get a ton of detail out of the main camera, so much so that it calls this new 2X mode optical-grade, and we can only agree with Apple on this, it's clearly the more detailed and better looking shot.
< iPhone 14 Pro Max 3X Zoom
Galaxy S22 Ultra 3X Zoom >
Both the iPhone and the Galaxy sports a native 3X lens, but the actual field of view is a bit different, it's a bit more zoomed in on the iPhone. Both look similarly good, though, and we are having a hard time picking a favorite.
< iPhone 14 Pro Max 10X Zoom
Galaxy S22 Ultra 10X Zoom >
Not so at longer zoom range, though, as this is where the native 10X zoom lens on the Galaxy just crushes the iPhone, which has to rely on digital zoom at this point. You get a lot more detail and quite a bit of natural bokeh on the Galaxy at this distance.
Portrait Mode
Samsung has been the leading phone for portrait mode in the last couple of years, but the iPhone this year has a 2X zoom lens that is also used for Portrait Mode, and is equivalent to about 50mm focal length. This "nifty-fifty" lens is absolutely essential for portrait shots and gives the iPhone the upper hand this year.
For the rest, you can capture a wide 1X portrait and in the case above, the iPhone exposed the subject better, while the Galaxy kept it a bit underexposed. In 3X mode, the close-up view, we prefer the image from the Galaxy which has more accurate white balance and better detail.
Front Camera
With auto focusing on the front camera, the iPhone is able to deliver a noticeable improvement in selfies with cleaner detail and we actually think it surpasses the Galaxy this year. What do you think?
On the video front, the Galaxy has had support for 8K video for several years now, while the iPhone sticks with 4K recording.
Apple instead focuses on things like Cinematic Mode that now works in 4K and can now record in 24fps or 30fps. Samsung was again first to the game here, but late-comer Apple actually has this feature more refined and more useful.
The iPhone also gains new Action Mode gimbal-like stabilization mode, and expect to see a comparison with Samsung's Ultra Steady option soon.
Audio Quality and Haptics
The Galaxy S22 Ultra has decidedly average sounding loudspeakers, and that is one area where Samsung definitely has a lot of room for improvement. The iPhone 14 Pro Max is in a totally different league when it comes to loudspeaker quality: boomy, with much richer lower frequencies, it eclipses the speakers on the Galaxy in every way possible.
Unfortunately, there is no headphone jack on either one of these phones.
When it comes to the haptic feedback, both have a nice and sharp vibration motor, but we'd still give Apple the slight advantage in this one area.
Battery Life and Charging
Both have big batteries, but only one has the longer battery life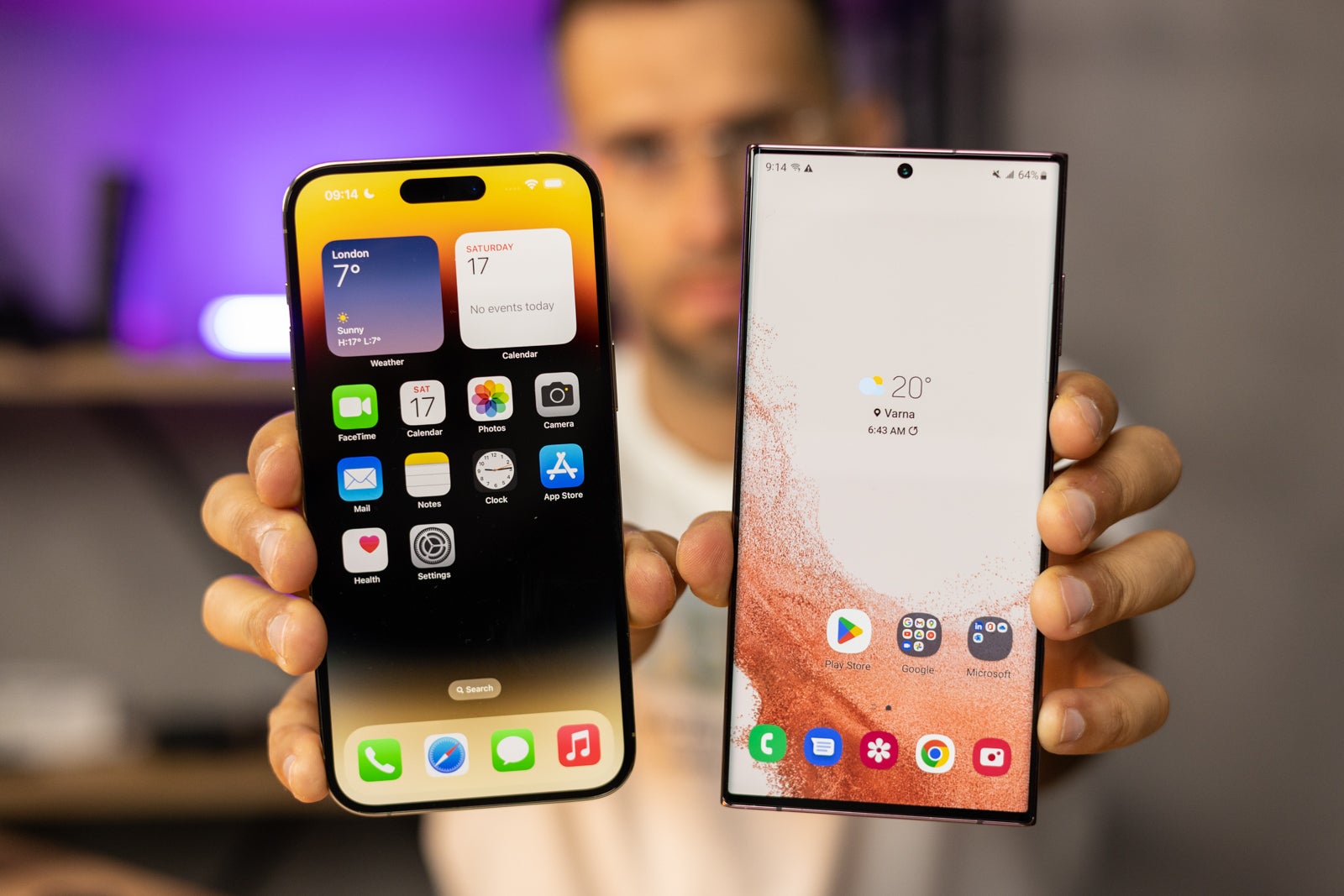 (Image Credit - PhoneArena) iPhone 14 Pro Max vs Galaxy S22 Ultra
With a massive, 5,000mAh battery inside you would expect the Galaxy S22 Ultra to easily outlast iPhone counterparts that don't even reach 4,400mAh capacity. The iPhone 14 Pro Max features a 4,323mAh battery, not the largest indeed. However, battery size might not be the only decisive factor here.
Apple's iOS platform actually does a much better job preventing the phone from excessive use of power and the iPhone indeed has a longer battery life that you can easily stretch into two full days off the charger.
PhoneArena Battery Test Results:
In our independent battery testing, in the video component where we play the same YouTube playlist over a Wi-Fi connection, we see the iPhone score an impressive 11 hours, while the Galaxy only musters about seven hours and a half, a massive difference.
Similarly for web browsing, the iPhone has a nearly 50% advantage, and these results are telling.
Interestingly, in the 3D gaming test, we see the Galaxy outscores the iPhone, but we have some concerns those results were achieved with the game we use not supporting 120Hz on the Galaxy and the test might have run at 60Hz which is much easier on the battery.
On the charging side, however, the Galaxy supports up to 45W speeds, a huge advantage over the iPhone that goes as fast as 27W. And there is indeed a big difference in how fast these two charge as the Galaxy takes just a bit more than an hour for a full top-up, while the iPhone charges in nearly double that time!
Interestingly, the Galaxy also supports reverse wireless charging, a feature missing on the iPhone. Enable the feature, place something like a smartwatch or compatible wireless buds on top of the phone and they will top up miraculously, a trick that the iPhone cannot do.
Specs Comparison
And if you want to see all the differences in a format that is super easy to compare, check out this quick comparison below. Also, do not forget that a similar table with a lot more detail is available as our full iPhone 14 Pro Max vs Galaxy S22 Ultra specs comparison.
Specs
iPhone 14 Pro Max
Galaxy S22 Ultra
Dimensions
160.8 x 78.1 x 7.65 mm
6.43 x 3.07 x 0.35 inches (163.3 x 77.9 x 8.9 mm)
Weight

240g
8.08 oz (229.0 g)
Screen
6.7" OLED 1-120Hz ProMotion
Dynamic Island
19.5:9
6.8" OLED 1-120Hz
punch hole
19.3:9
Processor
A16 Bionic, 4nm
Snapdragon 8 Gen 1
(Exynos 2200 outside the US)
RAM
6GB LPDDR5
8GB or 12GB LPDDR5
Rear Cameras
48MP Main (1X), 24mm f/1.78
12MP Ultra (0.5X), 13mm f/2.2
12MP Tele (3X), 77mm f/2.8

108MP Main (1X), 23mm f/1.8
12MP Ultra (0.6X), 13mm f/2.2
10MP Tele (3X), f/2.4
10MP Tele (10X), f/4.9
Front Camera
12MP with AF, f/1.9
40MP with AF
Battery Size
4,323 mAh
5,000 mAh
Charging speeds
27W wired charging
15W MagSafe wireless
45W wired charging
15W wireless charging
reverse wireless charging
Price
from $1,100 for 128GB
from $1,200 for 128GB
Summary and Final Verdict
So let's summarize! The iPhone has the following advantages: a new and faster chip, cool new moves with the Dynamic Island, potentially life saving satellite connectivity, as well as longer software support and a longer battery life.
The Galaxy, on the other hand, just gives you its fair share of extra features like an S Pen, faster charging, long-range telephoto camera, and all of that on top of its solid basics.
When picking between these two, our advice is to look what you value most in a phone: if it's having an open platform like Android and more versatility, go for the Galaxy; if you are after the ecosystem, battery life and care about longer software updates, then get the iPhone.
So which one would you go for?