Target wins Black Friday with top-notch iPhone 11, Galaxy Note 10+, and Pixel 4 deals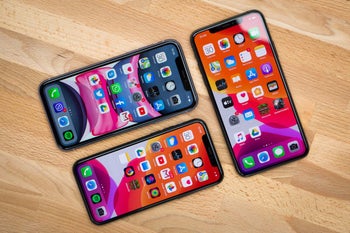 First and foremost, we're seeing some real gems on Target's doorbuster roster, including big discounts on a number of popular smartwatches, tablets, and smart home devices and especially a bunch of very valuable freebies bundled with the world's hottest phones. At the same time, it's definitely worth highlighting that hundreds of these killer deals will be "previewed" this Friday and Saturday.
That means you'll be able to shop for many heavily marked-down items on and offline several weeks early, although we don't have a list of products that will go on sale at their special holiday prices on November 8. If you don't mind waiting, the actual Black Friday deal bonanza is scheduled to kick off on November 28 and run through December 1, even though a few of the top doorbusters will only become available on November 29 (i.e. the actual Black Friday 2019 date).
Without further ado, we'd like to direct your attention to a curated short list of the absolute best Black Friday deals prepared by Target across popular product categories like smartphones, tablets, smart speakers, wearable devices, and mobile accessories. As you'll notice, this is anything but short and, while it's obviously hard to rank these offers by wow factor, we think you'll agree the most compelling ones are listed at the very beginning:
iPhone 11, 11 Pro, and 11 Pro Max - free $200 gift card with qualified activation on Verizon or AT&T
Samsung Galaxy S10, S10+, and Note 10 Plus - free $400 gift card with Verizon or AT&T activation
Google Pixel 4 and Pixel 4 XL - free $300 gift card with Verizon or AT&T activation
Pixel 3 and Pixel 3 XL - free $550 gift card with activation
iPhone XS and XS Max - free $200 gift card with qualified activation on Verizon or AT&T
Beats Solo3 wireless headphones - $130 ($170 off)
Google Home Mini - $19 ($30 off)
JBL Charge 4 Bluetooth wireless speaker - $100 ($80 off)
Ultimate Ears Wonderboom Bluetooth speaker - $40 (50 percent off)
Sony XB41 wireless Bluetooth speaker - $125 (50 percent off)
Amazon Fire TV Stick with all-new Alexa voice remote - $20 ($20 off); 4K model - $25 ($25 off)
Apple iPad 10.2 - $250 and up ($80 off)
Apple Watch Series 3 - $170 and up ($30 off)
Samsung Galaxy Watch - $250 ($80 off)
Fossil Sport - $165 (40 percent off)
Fitbit Inspire HR - $70 ($30 off)
Fitbit Versa 2 - $150 ($50 off)
Apple AirPods with charging case - $145; with wireless charging case - $170
OtterBox Symmetry mobile phone cases - 40 percent off
Fitbit Ace 2 - $50 ($20 off)
Garmin Vivoactive 3 - $130 ($70 off)
Garmin Vivofit Jr. 2 - $50 ($20 off)
Beats Studio3 wireless over-ear noise-cancelling headphones - $280 ($70 off)
Amazon Kindle Paperwhite - $85 ($45 off)
Amazon Fire 7 tablet - $30 ($20 off)
Fire HD 10 - $100 ($50 off)
Fire 7 Kids Edition - $60 ($40 off)
Samsung Galaxy Tab A 10.1 - $160 ($60 off)
Third-gen Amazon Echo - $60 ($40 off)
Amazon Echo Show 5 - $50 ($40 off)
Third-gen Echo Dot - $22 ($28 off)
Google Nest Hub - $79 ($50 off)
Google Home - $49 ($50 off)
Bose SoundSport wireless headphones - $100 ($30 off)
JBL Free X true wireless earbuds - $75 ($75 off)
Skullcandy Indy true wireless earbuds - $50 ($35 off)
urBeats3 earphones with Lightning connector - $40 ($20 off)