Black Friday iPhone 2023 deals: Here are the best offers so far!
We may earn a commission if you make a purchase from the links on this page.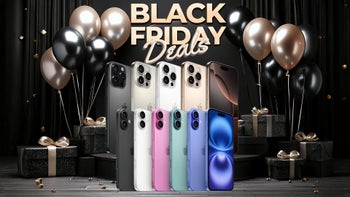 Okay, if you missed your
Black Friday
-given chance to get a new iPhone, then you're lucky that
Cyber Monday
is still going on! So what is that about? It's about the sound of $ going down and % markdowns resonating across all sorts of online retailers.
Don't believe me? You don't have to. We've already done the work and presented you with all of the best offers on iPhones that we could fine. So if you're looking to see what all of this iOS business is all about, all you need to do is check this page and pick a favorite model.

And consider yourself lucky: Apple rarely provides us with so many discounts, so this is truly a treat. We've done the work and hooked you up with the lowest prices, so all you've got to do now is make sure that you're picking out the phone that's best for you.
Top 3 iPhone deals on Black Friday 2023
iPhone 15
There aren't any out-of-this-world price cuts on Apple's latest smartphones right now, but there is a deal over at Best Buy. The offer gives you up to $830 trade-in value for your old phone if you buy an
iPhone 15
or 15 Plus, or up to $1000 trade-in value if you go for a 15 Pro or 15 Pro Max. Plus, get an extra 5% off when you activate with AT&T or
Verizon
.
It's not impossible to see more deals in the coming days over at Walmart, where the Black Friday deals start on November 22. For instance, during last year's Black Friday, Walmart was offering the
iPhone 14 Pro
and
iPhone 14 Pro Max
with a $300 eGift card, which was definitely not a bad offer; however, you had to sign up for a plan from AT&T or
Verizon
to take advantage of the deal. So, it's highly possible for Walmart to do the same this year as well but with the new
iPhone 15
lineup.
iPhone 14
Those wanting a high-end iPhone at a more reasonable price are probably waiting for the Black Friday iPhone specials to get one of the
iPhone 14
models. They may not be Apple's latest and greatest anymore, but the whole
iPhone 14
lineup still delivers amazing performance and is still worth the money. Also, given the fact that they are now an older generation of our beloved iPhone, the
iPhone 14
and its brothers might receive some of the long-awaited Black Friday love in the form of a sweet discount.
For instance,
Verizon
has decided to exit the final quarter of the year with a bang as it introduced an amazing offer for a free
iPhone 14 Plus
with a monthly unlimited 5G data plan subscription at the rather incredible $30/month for each line. Yes, that's for both the phone and the 5G plan subscription and no trade-ins are required.
As nearly every great offer for a free iPhone on an
unlimited 5G plan
, however, this
Verizon
deal is only for new customers. In other words, four new
Verizon
lines on its base
Welcome Unlimited plan
can net four lucky subscribers a free
iPhone 14 Plus
, for a grand total of $120/month on all four lines, so start finding 3 more people to join the party.
At $30/month for a line with a free iPhone, this
Verizon
offer nears some prepaid offers on virtual carriers, yet you get to use America's cell phone network that has the widest coverage with some unlimited 5G sprinkled on top, where available.
However, if you don't feel like waiting until Black Friday, there are sweet deals on a few refurbished
iPhone 14
models right now, allowing you to get a new iPhone at a discounted price as long as you don't mind getting a pre-owned device. For example, Amazon is offering a renewed
iPhone 14
with 256GB of storage space for $81 off its price.
iPhones SE
Now, in case you don't want to spend a lot on a new iPhone and don't need all the bells and whistles that the
iPhone 15
and
iPhone 14
have to offer, you are probably gunning for an
iPhone SE
, Apple's budget-friendly phone. We expect to see one or two nice deals on some of Apple's
iPhone SE
models during Black Friday, but if you want a new
iPhone SE
before that, check out the following deals.
Deals at Apple.com
Apple has launched its own Black Friday event over on its website. As in previous years, instead of a discount, shoppers receive a gift card from $25 up to $200 in value -- the more expensive the item, the greater the gift card value.
The $200 gift card is for those getting a MacBook Air M2 15". If you're shopping for an iPhone, an
iPhone 14
or 14 Plus will come with a $75 gift card in the bag. The
iPhone 13
comes with a $50 gift card. Multiple iPad and Apple Watch models are also part of the promo, and so are accessories like the AirPods and the Apple Pencil.
Where to find the best iPhone deals on Black Friday 2023?
We will have the best Black Friday 2023 iPhone deals right here for you! Just bookmark this page, return when the event starts, and follow as the deals unfold. As for which retailers offer the
best iPhone
deals, currently, that would be Walmart and Amazon, followed by Best Buy. Along with them, all the major carriers also tend to offer attractive Black Friday deals, so we'll pay attention to the likes of AT&T,
T-Mobile
, and
Verizon
, among others.
How good are Black Friday iPhone deals?
Despite Apple itself rarely dropping the prices of its phones, other retailers, as well as the major US carriers do in fact tend to offer great Black Friday discounts and deals on iPhones. Realistically older iPhone models in particular, like the
iPhone 12
,
iPhone 13
, and now the
iPhone 14
, as well as already budget, "special" iPhones like the
iPhone SE
are most likely to get the biggest discounts.
And if you don't mind buying refurbished iPhones, you'll likely be able to net yourself even a high-end Pro or Pro Max model via a solid discount. Last time the renewed
iPhone 12 Pro Max
got a near-$300 discount, too, while the refurbished
iPhone 13 Pro Max
was $100 off at Walmart.
How to find the best iPhone deals on Black Friday?
Walmart and Best Buy, as well as sometimes Amazon, traditionally have some of the most attractive iPhone deals on Black Friday, whether it's for new iPhones, refurbished, or with a contract and monthly payments. Watch this space on the run-up to Black Friday, as we'll have the
best iPhone
deals right here for you!
Can you get an unlocked iPhone on Black Friday?
Yes, you can as Apple and others will sell you even newer iPhones with no contracts, carrier locks, or anything like that. In fact, Apple offers the widest number of carrier network bands, so you can grab one with the full certainty that you can use it everywhere, even if you have to go through the carrier motions to unlock it after a certain amount of time has passed.
And if you're looking for more phone deals:
Recommended Stories