Best Black Friday iPhone deals: recap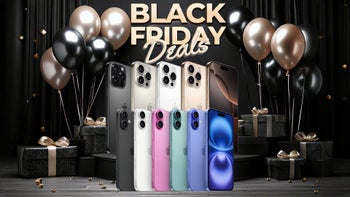 Black Friday may be over, but if you're looking to buy an iPhone for cheaper, worry not, because we now have Black Friday 2023 to look forward to. Bookmark this page and stay tuned for the weeks prior to November 24 for the best early Black Friday 2023 iPhone deals - we'll have them right here for you!
In the meantime, let's recap what went down during the previous Black Friday in terms of
Apple
iPhone deals, so you know exactly what to expect...
What were the best iPhone deals on Black Friday 2022?
Unlike how things go for Samsung phones during Black Friday, we saw pretty tepid (but still welcome) deals on iPhones, including refurbished and carrier-locked ones.
Walmart was offering a $300 eGift card with the latest iPhone 14 Pro Max, with an AT&T or Verizon activation. You could alternatively get a refurbished, older iPhone 11 Pro Max on Amazon for 43% off, so as always - if you're cool with an older flagship iPhone - expect good deals in 2023 too!
Don't like the Pro Max size? Not a problem - last time around, the same offer extended to the iPhone 14 Pro on Verizon or AT&T. To reiterate, that was a $300 eGift card from Walmart. You got all the perks of a Pro-branded iPhone that you would get if you bought the iPhone 14 Pro Max, but just with a slightly more compact size: get flawless performance, an awesome camera system, and the latest from Apple now!
Similar deals went down for older iPhones. For example, Walmart was giving eGift cards worth $400 with the iPhone 13!
If you wanted a small iPhone - you could pick up a $349 iPhone 12 mini! With Walmart being the bastion of prepaid carriers and Straight Talk, in particular, it's little wonder that it offered the iPhone 12 mini for just $349. That's one of the lowest entry points in the Apple iPhone ecosphere and for a fast compact device at that! We can reasonably expected similar offers for the iPhone 13 mini next time around!
Looking for an affordable iPhone? iPhone SE (2nd Generation - 2020) got discounted by 20% last time around. The 2nd-generation iPhone SE was available at Walmart with a great Black Friday 20% discount, which is not too shabby at all. This was the 64GB version, locked to AT&T. If you're looking for a cheaper iPhone that is still getting the latest software updates in a more compact size, this is the iPhone to go for, so stay tuned for Black Friday 2023 and its future deals on this model, and the newer iPhone SE (2022)!
Where to find the best iPhone deals on Black Friday?
We will have the best Black Friday 2023 iPhone deals right here for you! Just bookmark this page, return when the event starts, and follow as the deals unfold. As for which retailers offer the best iPhone deals, currently that would be Walmart and Amazon, followed by Best Buy. Along with them, all the major carriers also tend to offer attractive Black Friday deals, so we'll pay attention to the likes of AT&T, T-Mobile and Verizon, among others.
How good are Black Friday iPhone deals?
Despite Apple itself rarely dropping the prices of its phones, other retailers, as well as the major US carriers do in fact tend to offer great Black Friday discounts and deals on iPhones. Realistically - older iPhone models in particular, like the iPhone 11, iPhone 12, and now the iPhone 13, as well as already budget, "special" iPhones like the iPhone SE - those are most likely to get the biggest discounts.
And if you don't mind buying refurbished iPhones, you'll likely be able to net yourself even a high-end Pro or Pro Max model via a solid discount. Last time the
iPhone 12 Pro Max
got a near-$300 discount, too, while the 13 Pro Max was $100 off at Walmart.
Lastly, if you're cool with contracts, you'll be happy to know that the iPhone 14 and below models can be had for free at Verizon, T-Mobile, or AT&T, while the Pro models go down to just about $3 or $8 per month, which is quite light on the wallet!
How to find the best iPhone deals on Black Friday?
Walmart and Best Buy, as well as sometimes Amazon, traditionally have some of the most attractive iPhone deals on Black Friday, whether it's for new iPhones, refurbished, or with a contract and monthly payments. Watch this space on the runup to Black Friday, as we'll have the best iPhone deals right here for you!
Can you get an unlocked iPhone on Black Friday?
Yes you can! Even newer iPhones can be found discounted for Black Friday, with no contracts, carrier locks or anything like that. In fact, Apple offers the widest number of carrier network bands, so you can grab one with the full certainty that you can use it everywhere, even if you have to go through the carrier motions to unlock it after a certain amount of time has passed.