Best Black Friday 2021 iPhone deals
We may earn a commission if you make a purchase from the links on this page.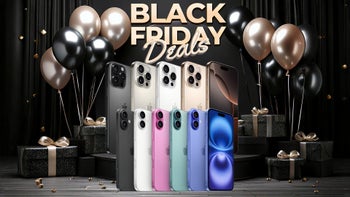 Black Friday – the biggest shopping event of 2021 – is nearing its end! If you're looking to buy a new iPhone for less, now is the time, and this is the place! Here we'll continuously add and update the best iPhone Black Friday deals that are still available for you.
iPhone 13 Pro and iPhone 13 Pro Max Black Friday deals
Just as expected, the major carriers were quick to spill the beans on their November deals. The iPhone 13 Pro series is in the race indeed, although deals around them usually involve trade-ins or entering a contract. If you are up for renewal, now may be the best time to grab yourself an awesome deal on the iPhone 13 Pro and iPhone 13 Pro Max.
This year's iPhone Pro and Pro Max sport huge cameras and huge batteries, add to that a smooth 120 Hz ProMotion display and you get an iPhone 13 Pro truly worth upgrading to, especially if you're coming from an
iPhone 11
or older. Which, of course, you can trade in to get a better price on your new iPhone!
iPhone 13 and iPhone 13 mini Black Friday deals
The iPhone 13 and iPhone 13 mini are also involved in Black Friday deals for the value-hunters. Basically, you can get one for free, provided you sign up for Unlimited and trade in a proper old phone.
The iPhone 13 mini may be your last chance to grab a compact iPhone, as Apple is rumored to be canceling its "mini iPhone" line-up. Reportedly, they weren't selling as well as expected. Beats us, we think the mini is absolutely fantastic for people that want a compact phone that still carries the power and camera performance of a big iPhone.
iPhone 12 Black Friday deals
iPhone SE Black Friday deals
The iPhone SE (2020) is still among the smallest and cheapest Apple iPhones you can grab, featuring a classic design and starting at just $400. Of course, during Black Friday, you can get it for less if you look hard enough, as indeed, it's not the hottest iPhone right now and is even out of stock in many stores and carriers. Here are the best available iPhone SE Black Friday deals we have so far:
iPhone 11 Black Friday deals
The good old iPhone 11 is still around, and we've been able to find it discounted for Black Friday too. It's the last of the modern iPhones to have a curved-side design, so if you are after that one and don't really like Apple's new flat-edge iPhones, get this one while you still have the opportunity!