Best Black Friday iPhone deals: expectations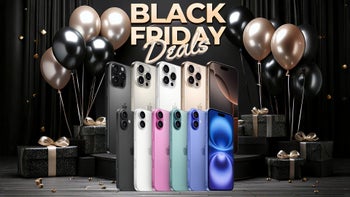 Black Friday is the biggest shopping event of the year, so if you're looking to buy a new iPhone for less, that would be the time to do it, and this is the right place! Here we'll have the best iPhone Black Friday deals for you as soon as the event comes around again. And when will Black Friday 2022 iPhone deals start? Answer: November 25.
Black Friday 2021: what were the best iPhone deals?
During the last Black Friday event we had plenty of solid deals from the major carriers, such as up to $1000 off the iPhone 13 Pro Max (with trade-in and new plan) from AT&T and Verizon.
The iPhone 13 Pro and iPhone 13 were also included in similar deals. In addition, the iPhone 13 was up to its full price off at Target, with trade-in and an eligible AT&T plan.
The Apple iPhone 13 mini was up to its full price off at AT&T, Verizon and Target under similar conditions, and $200 off at BestBuy with a Verizon contract.
Older models like the iPhone 12 and iPhone 12 mini were offered for as little as 3 and 8 dollars per month by the carriers, with the latter also given for free by Verizon with an eligible Unlimited plan.
The iPhone SE 2020 was free at Verizon with a new line, and $150 off at Walmart with AT&T pre-paid.
You could also get the iPhone 11 for $100 off at Walmart, and the iPhone 11 Pro and Pro Max refurbished on Amazon for $210 and $270 off respectively.
Of course, some discounts were fluctuating, so even better deals were available at times.
Are Black Friday iPhone deals still available?
While Black Friday 2021 is long gone and we're preparing for Black Friday 2022, which starts on November 25, there are always unrelated iPhone deals popping up through the year. Check those out here: