Here's how you can get the Razer Phone 2 at only $380 after a $420 total discount
2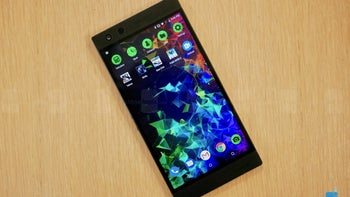 Razer hasn't exactly been in the news for the best of reasons in the last six months or so, delivering a relatively late
Android Pie update
to the company's sophomore smartphone effort, merely
promising the same treatment
for its first-gen handset... eventually, and
signaling a premature exit
from the market that may or
may not happen in the end
.
At the same time, bargain hunters with a passion for mobile gaming relished all the different opportunities to buy the incredibly powerful
Razer Phone 2
at a
substantial discount
, the latest of which brings the 5.7-incher down to a new all-time low price. Technically, the Snapdragon 845 beast is currently available from its manufacturer's official US e-store for $399.99 instead of a $799.99 list price.
That's a massive 50 percent markdown, also going 100 bucks lower than a killer deal kicked off all the way back in February. The $400 discount is a repeat of Amazon's recent Prime Day promotion as well, although you obviously don't need any type of membership to take advantage of the new special offer. Even better, you can save an additional $20 by signing up for email updates on this subsection of Razer's website. All you have to submit is a valid email address, a first name, birth year, and grant Razer permission to send you alerts for new products, e-sports, and/or promotions.
Amazon Prime Day is upon us—and we've picked out the best deals and promotions for you, from Amazon and others, and brought them to our PhoneArena deal hub.
Within just a few minutes, you'll receive a coupon code valid until July 27 on orders exceeding $100. That obviously includes the $400 Razer Phone 2, which means you'll only have to pay 380 bucks all in all. Keep in mind that the "Mirror Black" version is listed as out of stock at the time of this writing, with the
special "Satin Black" edition
dropping from $500 back in April. The bad boy has quite a few nice things going for it in addition to a super-snazzy design, starting with a beautiful 120Hz UltraMotion display.
Powered by a 4,000mAh battery, the Razer Phone 2 also packs a super-generous 8GB RAM, a decent 64 gigs of internal storage space (with microSD support for external expansion), all while supporting wireless charging and resisting water immersion. Not too shabby for a measly $380, eh?
Check out the deal here