Razer Phone 2 gets unprecedented $100 discount for a (very) limited time
1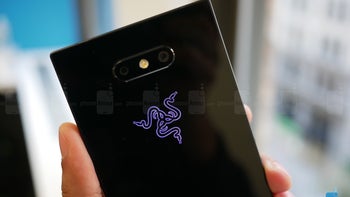 While it was definitely not the deal of a lifetime, that special
Razer Phone 2 bundle from last week
may have gotten a few hardcore mobile gamers off the fence with a couple of decent freebies.
But if you held off in the hope of an actual discount on the
second-generation 120Hz screamer
, we have some great and frankly unexpected news for you today. The Razer Phone 2 is available right now from its manufacturer's official US website at a cool $100 off its list price, but obviously, you don't have a lot of time to make your decision and pull the trigger.

This is a 24-hour-only deal, and the clock presumably started ticking at midnight on December 6. The Mirror Black model is still the only one actually listed in stock and shipping without delay, while the fancy Razer.com-exclusive Satin Black version continues to keep potential buyers waiting.

Of course, the Mirror Black Razer Phone 2 is by no means ugly, what with its shiny glass back, dual front-firing stereo speakers, and especially the fanbase-catering customizable Chroma RGB lighting on the handset's rear cover.

Granted, the boxy overall design language, sharp corners, and massive screen bezels aren't exactly trendy choices, but in a way, that's precisely what makes the Razer Phone 2 special. Well, that and the industry-leading 120Hz refresh rate making this "UltraMotion" 5.7-inch display perfect for long gaming sessions with "zero lag or stuttering."

Your $699.99 will also buy you a hefty 4,000 mAh battery, dual 12MP rear-facing cameras, blazing fast Snapdragon 845 processor, 8GB RAM, 64GB internal storage space, wireless charging functionality, and IP67 water resistance. Let's be honest, this wasn't overpriced at $799.99, and at 100 bucks less, it's truly an irresistible purchase... for a certain target audience.