Razer Phone Review
15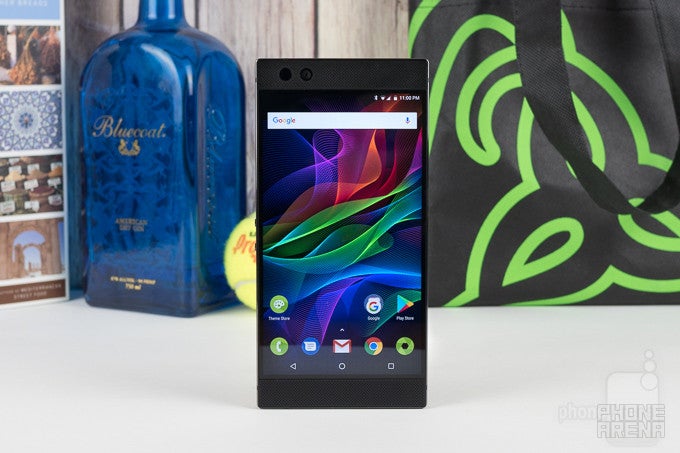 For as reassuring as it is to look forward to the next Samsung Galaxy powerhouse or new iPhone year after year, sometimes it's interesting to see what a little fresh blood can do to shake up our tired old expectations. A couple years back, we were looking forward to just that as we saw Nextbit getting ready to launch its first handset: a model called Robin that offered a colorful, boxy design and an automatic cloud-based storage system promising near-endless space for your apps.
Ultimately, the Robin failed to catch on in any major way, but before we could wait to see what Nextbit's sophomore effort would look like, gaming and peripheral company Razer snatched Nextbit up in an early-2017 acquisition.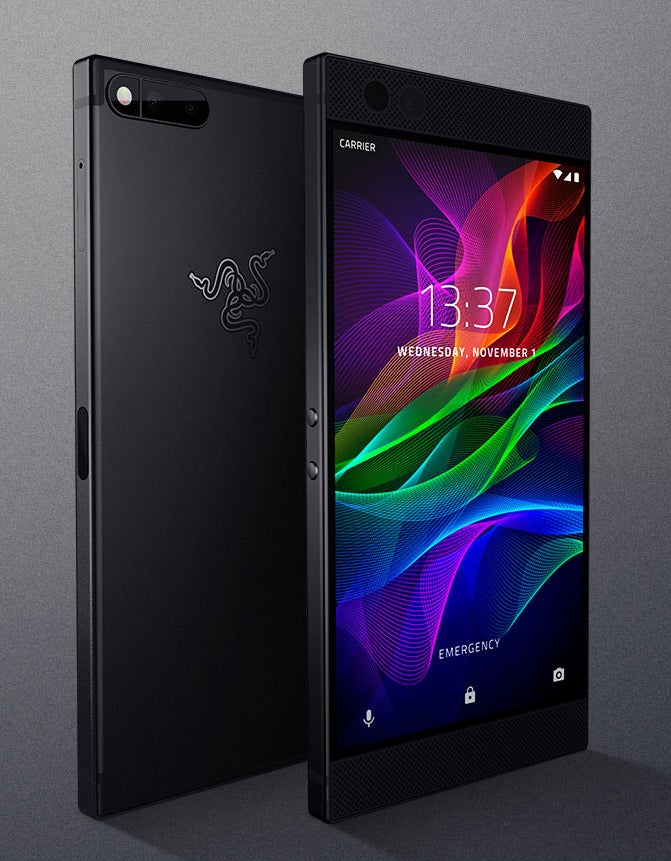 Razer already had some experience with tablets and wearables, but ever since that move, we've been curious to see if a Razer smartphone would be coming down the pike as well. Sure enough, last month we saw the company announce the new
Razer Phone
, with tons of RAM to satiate even the most demanding apps, as well as an extra-high-refresh-rate screen designed to offer some of the smoothest graphics around.
Will the Razer Phone be a hit with mobile gamers? And even if your gaming pursuits don't extend far beyond the occasional crossword, is the Razer Phone well-balanced enough to appeal to your other smartphone needs? Let's take a look.
In the box:
Razer Phone
USB Type-C to Type-C cable
Fast charger
USB headphone adapter
SIM tool
Stickers
Introductory letter
User guide
Design
Like a big Nextbit Robin with a Razer logo stamped on the back – and that's not necessarily a bad thing.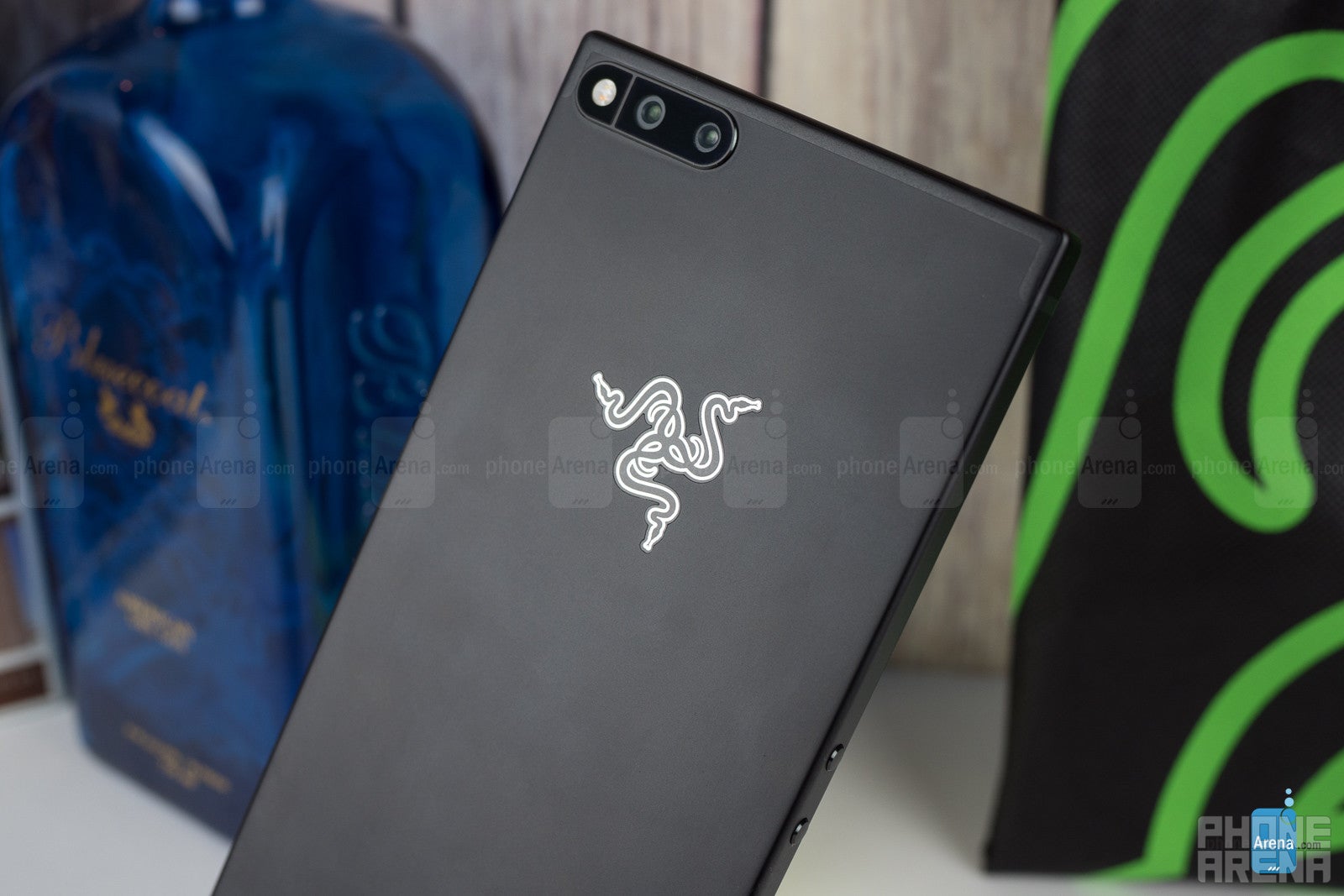 We knew since the Nextbit purchase to expect a fair about of Robin DNA in the Razer Phone, and the design sure doesn't let us down there. While other handsets are trying to curve every surface they can, reducing the look of a smartphone to some sort of amorphous blob, the Razer Phone is unabashedly squared-off, with a clean, rectangular design.
The front of the phone is dominated by a big, 5.7-inch screen, but maybe just as eye-catching are the large speaker grilles flanking the panel's top and bottom, promising some big stereo sound. The top grille is interrupted by various sensors, a status LED, and the front-facing camera. The top edge is free of ports, while the combination SIM and microSD tray lives on the right edge, just above the flush-moutned power button – which also contains the phone's fingerprint scanner.
On the left we have a pair of round volume buttons, which blessedly are mounted near the phone's mid-point – very easy to reach, even one-handed. On the bottom edge, all we find is the USB Type-C port. That all adds up to no analog headphone jack; don't forget to carry around the included adapter if you plan on using your wired earphones.
Around back we've got a prominent Razer logo, and up top a pair of 12MP cameras set next to their LED flash.
As a result of the boxy design and the use of a 5.7-inch screen (in the standard 16:9 ratio, rather than any of these new 18:9 experiments), the Razer Phone does feel a bit large. It's not the chunkiest phablet we've ever carried around, but it's no petite phone by a long shot. Still, smart decisions like those low-mounted volume controls really help with usability.
The side-power-button fingerprint scanner is an oddity, especially after we've seen Sony (another company known for its rectangular phones) refuse to implement the feature on its handsets intended for the US market. While we're happy to see Razer manage to step up and do what Sony wouldn't, the user experience here is a little clunkier than with other fingerprint-unlock systems, forcing you to physically click the button to unlock the phone – simply resting your finger on the scanner isn't enough on its own.
We also miss out on waterproofing, which has quickly become the standard among smartphone flagships. Perhaps Razer wanted to get its bearings as a phonemaker before dealing with the extra headaches a water-tight handsets involves, but it's really disappointing to not see any effort along these lines – even if that meant a rating lest robust than IP67 or IP68.
Display
A screen that does one thing really well – while maybe overlooking a little too much.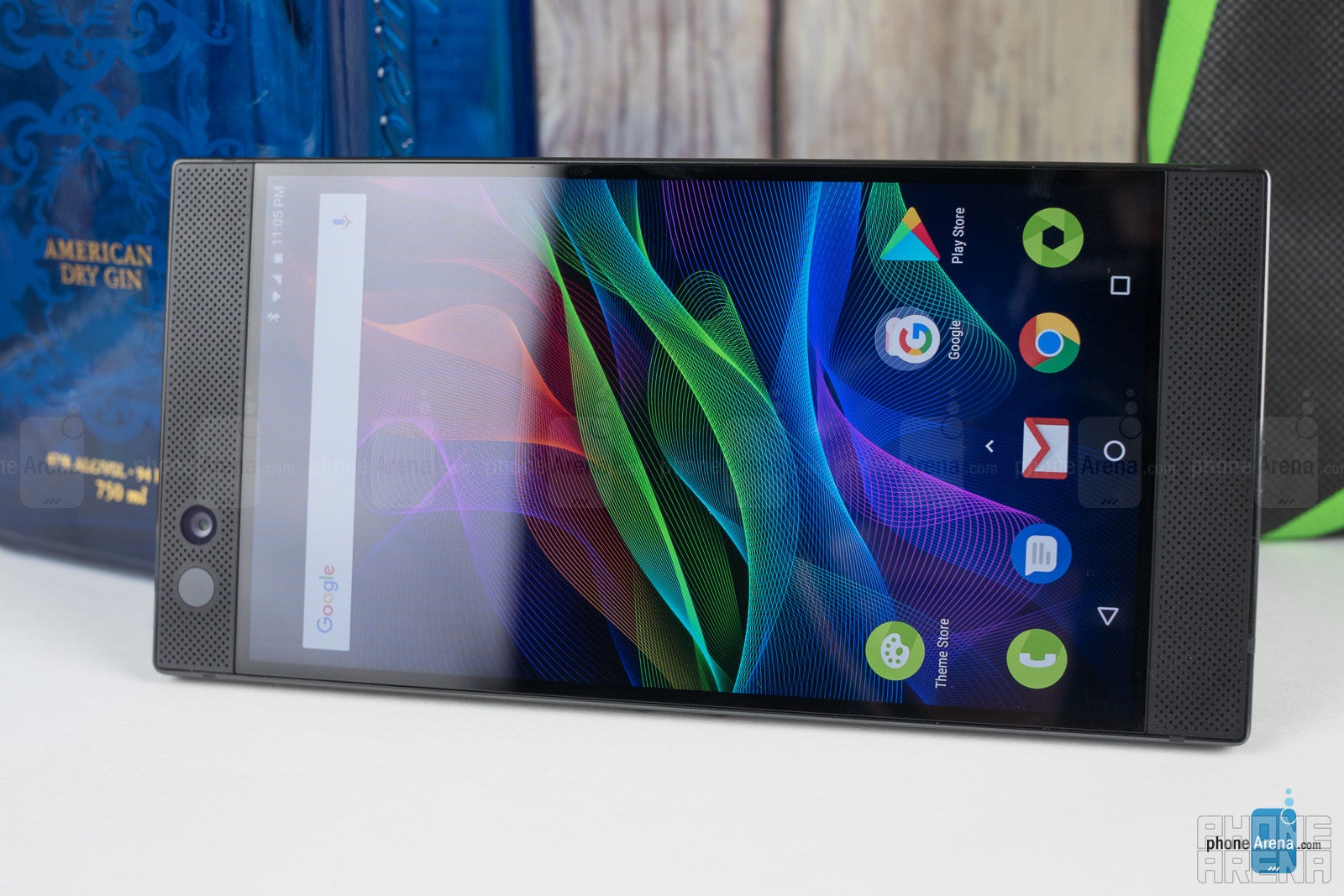 As other smartphones try to make their screens stand out with unusual shapes or ridiculously high 4K resolution, Razer instead attempts to push the envelope in terms of refresh rate. Just like video you shoot at 60fps looks smoother than video recorded at 30fps, the 120Hz screen on the Razer Phone is capable of frame rates twice as high as the 60Hz we normally see on phones.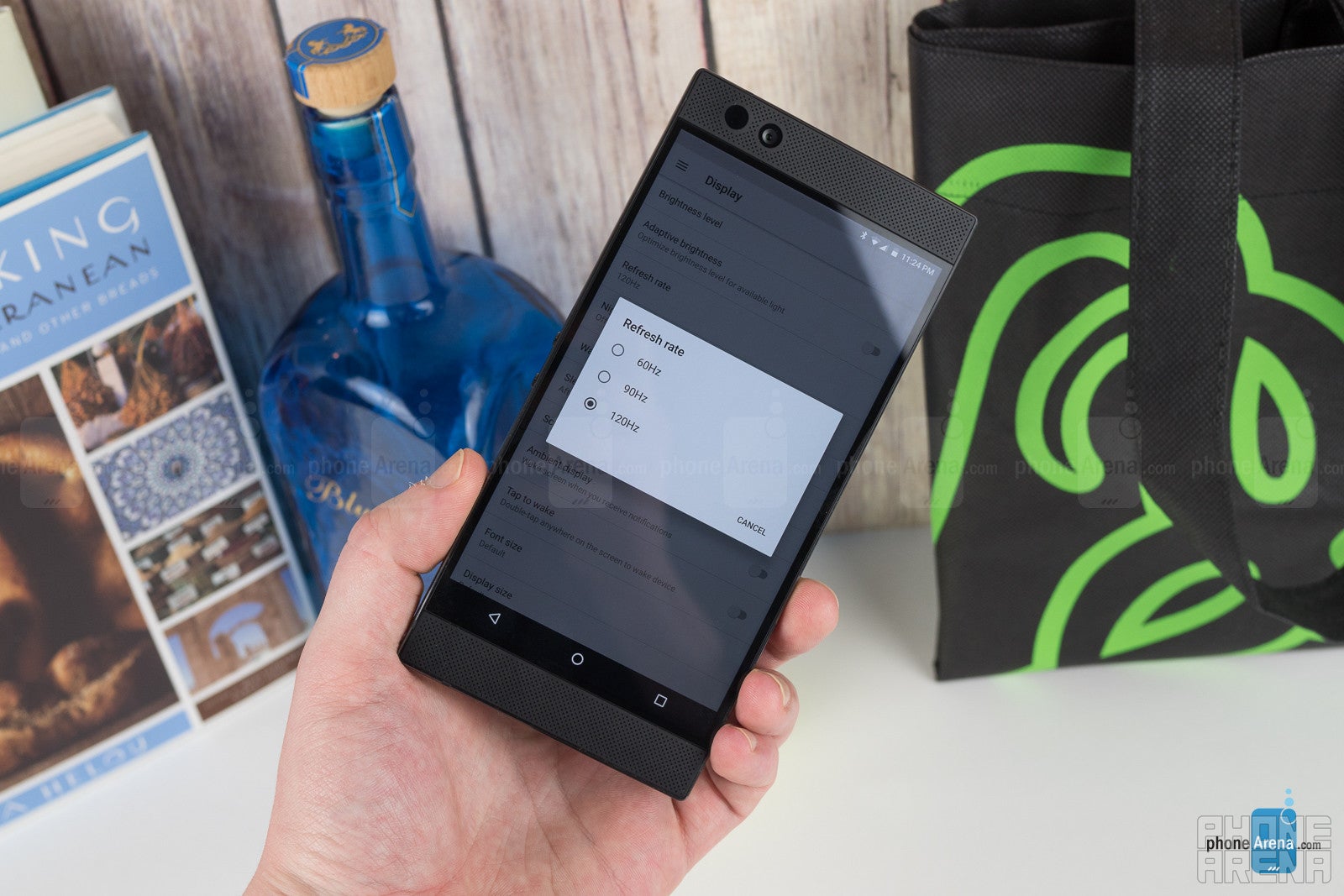 Changing the display's refresh rate
The Razer Phone ships in 90Hz mode instead of the maximum 120Hz mode which would have likely drawn more battery and feels like the same sort of compromise that caused Samsung to ship models like the Galaxy Note 8 with the screen resolution not dialed-up to max by default. But even at 90Hz, the Razer looks beautiful, and the dance of UI elements moving around the screen really shows this off to good effect, moving effortlessly. Cranking that up to 120Hz only further enhances that fluidity.
To be fair, Razer's not the only company doing this – Sharp beat them to the punch a few months back with the launch of the 120Hz Aquos R phone, and Apple's been doing 120Hz with the iPad Pro's screens – but that doesn't make the screen on the Razer Phone any less impressive.
While this 120Hz UltraMotion action is impressive, and something we'd love to see on more phones, it's also something less than an outright game-changer, and though we appreciate the way it pushes limits and moves us closer to that platonic ideal of a "perfect" screen, you're probably not going to be picking up the Razer Phone solely because of this feature.
The 5.7-inch panel has a resolution of 1440 x 2560 (Quad HD), and color reproduction is acceptable, though has a decidedly cooler tint to it. What's a little disappointing is that while we do get screen controls to adjust the UltraMotion refresh rate, there's no corresponding way to tweak color balance.
Brightness is similarly just OK, and output's definitely on the lower end of what we've seen from competing phones – you may do just fine indoors, but outdoor readability has the potential to be problematic.
Display measurements and quality
Interface and Functionality
There's a fine line between "simple" and "lazy", and we're not quite sure where the Razer falls.
Razer keeps things simple with its phone software, and the experience you'll find here is pretty close to "stock" Android. The phone ships running 7.1.1, and while an Oreo update is in the works, we won't be seeing it until sometime in the first few months of the new year.
One little extra we do get is the presence of a theme store, containing a good number of alternate looks for the Razer Phone's software. There are a lot of free options in here, so if you're up for digging around a little, it shouldn't prove problematic to keep your phone's software looking fresh.
While the software's fine, other aspects of the phone's interface could use a little more refinement. Take the notification LED, for instance: it's so tiny, and embedded deep in one of the top speaker's grille holes, that it's nearly impossible to see unless looking at the phone head-on. And while the LEDs on other phones either stay illuminated or smoothly pulse, the LED on the Razer Phone instead cycles through a handful of brightness levels with abrupt transitions between them. It's a minor thing, admittedly, but is just the sort of little design element that we might find done really well on something like an iPhone – here it feels careless and rushed.
Processor, Memory, and Gaming
Out there with the top of the pack, but not really pushing past anyone.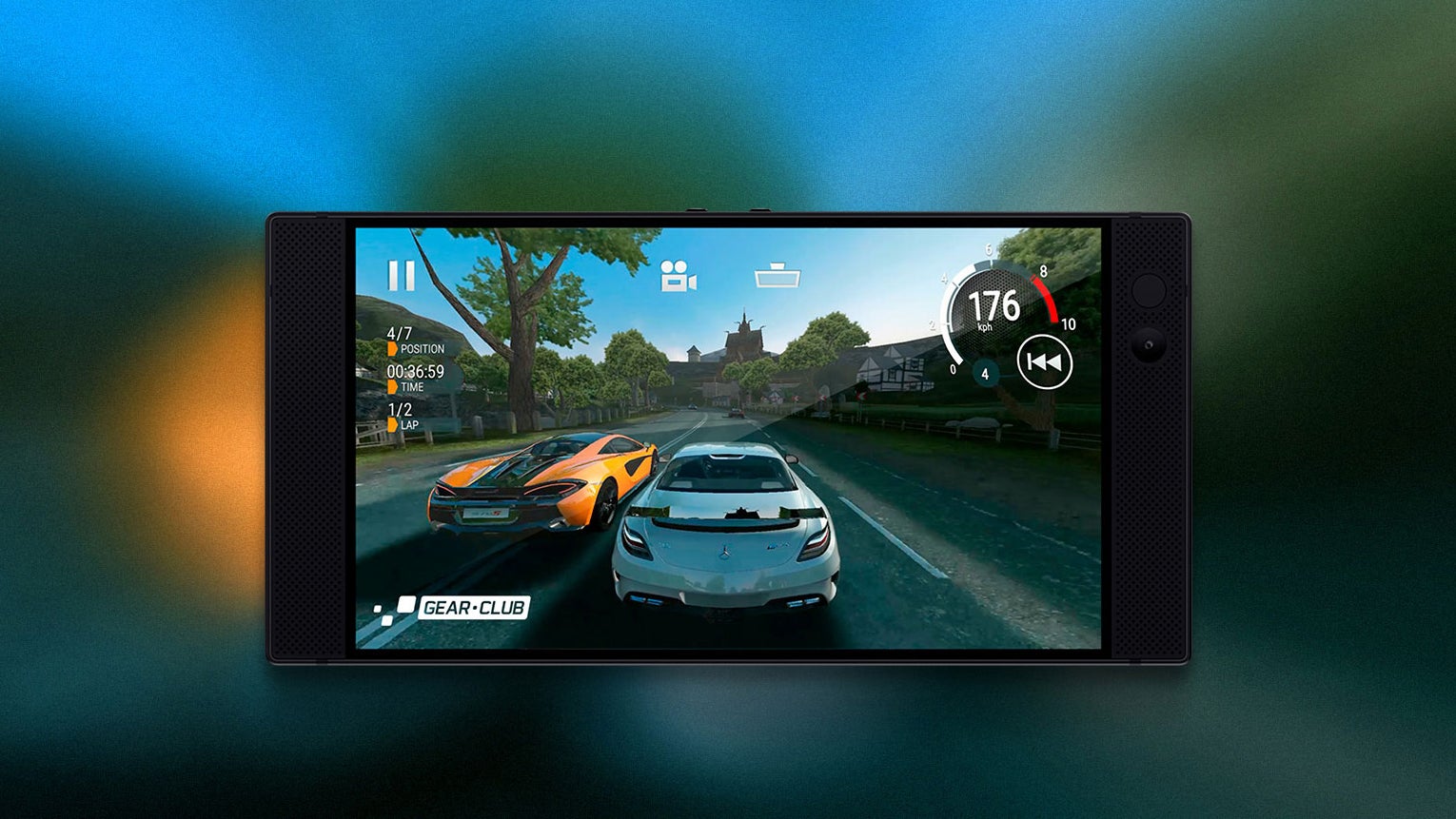 Even a flagship that's not explicitly designed with smartphone gaming in mind is going to pack some pretty powerful silicon, and the Razer Phone doesn't disappoint with its Snapdragon 835. But rather than pair that with the 4GB or 6GB of system memory we see with most phones, Razer gives its inaugural handset the flexibility of a hefty 8GB of RAM. Honestly, though, that feels more like future-proofing than anything, and our benchmarks didn't see the Razer Phone performing significantly better than the rest of the crop of 835-equipped Androids.
We love to see ample storage in our handsets, and the Razer Phone does not disappoint with not just 64GB internal storage, but also the option for microSD expansion.
One nice feature is the ability to set up individual performance profiles for specific apps. This mode is billed as a Game Booster, but will really work for any software you have installed. There, you can set limits on CPU speed, dial down the screen resolution, or choose between refresh rates ranging from a battery-saving 40Hz up to the full 120Hz. There's also an option for anti-aliasing graphics, though that comes with such a performance hit that it's disabled for all pre-configured Game Booster modes.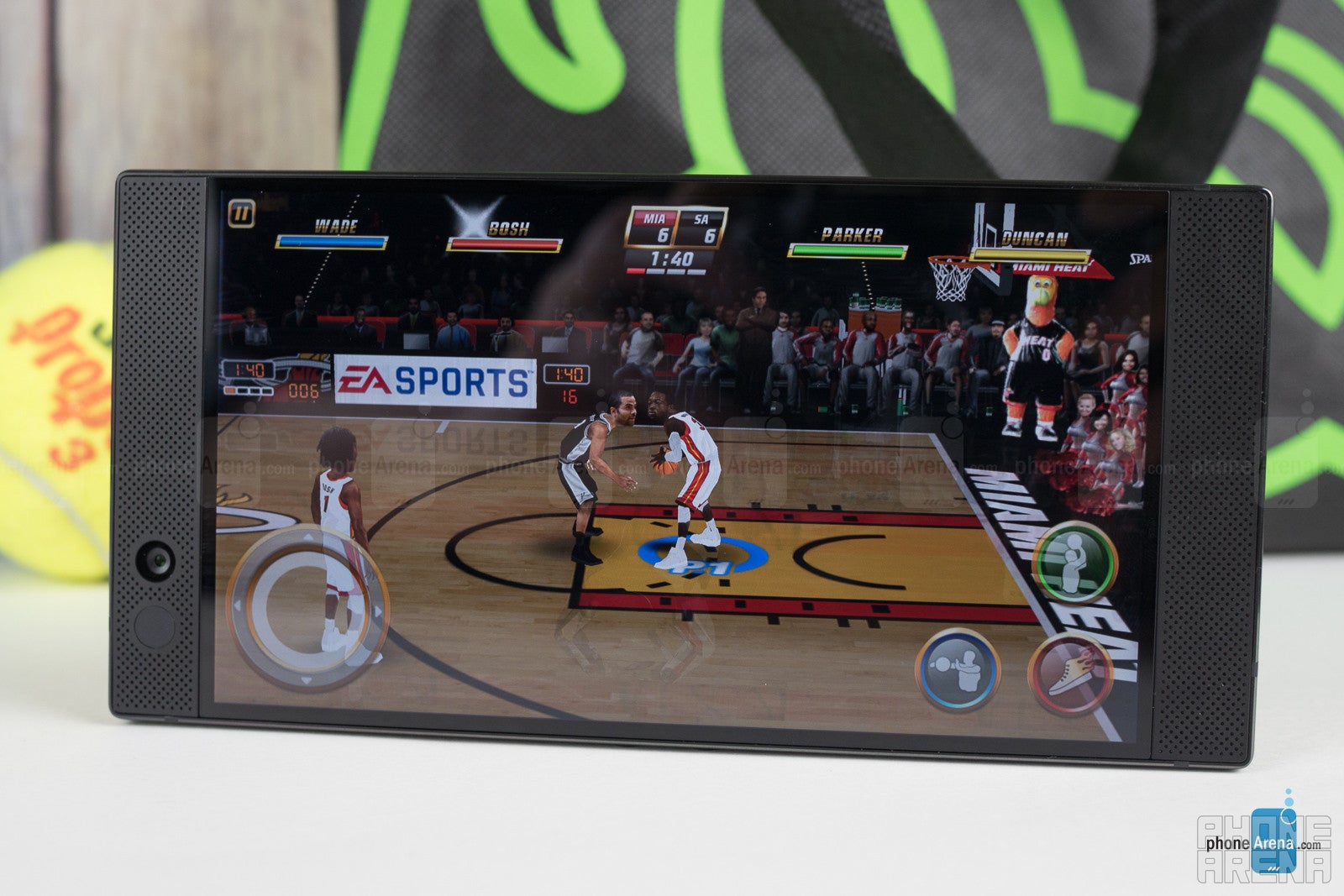 What's it like cranking those up and putting Game Booster – to say nothing of the UltraMotion screen – to the test? We threw a few games at the Razer Phone, and while the results were really nice, it's clear there's still some work to do. Arcade title NBA Jam shouldn't be especially taxing on a system like Razer's, but even with the CPU set to max performance, and the screen configured for 120Hz operation, frame rates tended to stay in the mid-60s, only occasionally going as high as 75fps. Minecraft appeared to take better advantage of phone resources, giving us a smooth 90fps.
What we're likely seeing with both these games is that developers coded in some frame-rate ceilings, not expecting mobile hardware to even offer the sort of insane refresh rate the Razer's screen is capable of. As Minecraft demonstrates, that ceiling's not always going to be at the expected 60fps, so even if few games might take full advantage of UltraMotion tech, some do seem willing to meet Razer half-way. The extra RAM also doesn't necessarily make a big difference on games not programmed to tap into it.
Also keep in mind that this is a metal phone with a powerful processor and a hefty heat pipe – so when you play intensive games for even just a few minutes, the handset's going to get hot. Not uncomfortably so in any of our tests, but it's very noticeable. That might put off some users, but all that heat has to go somewhere, and better you feel it than it stays locked inside, cooking the phone's delicate components.
Connectivity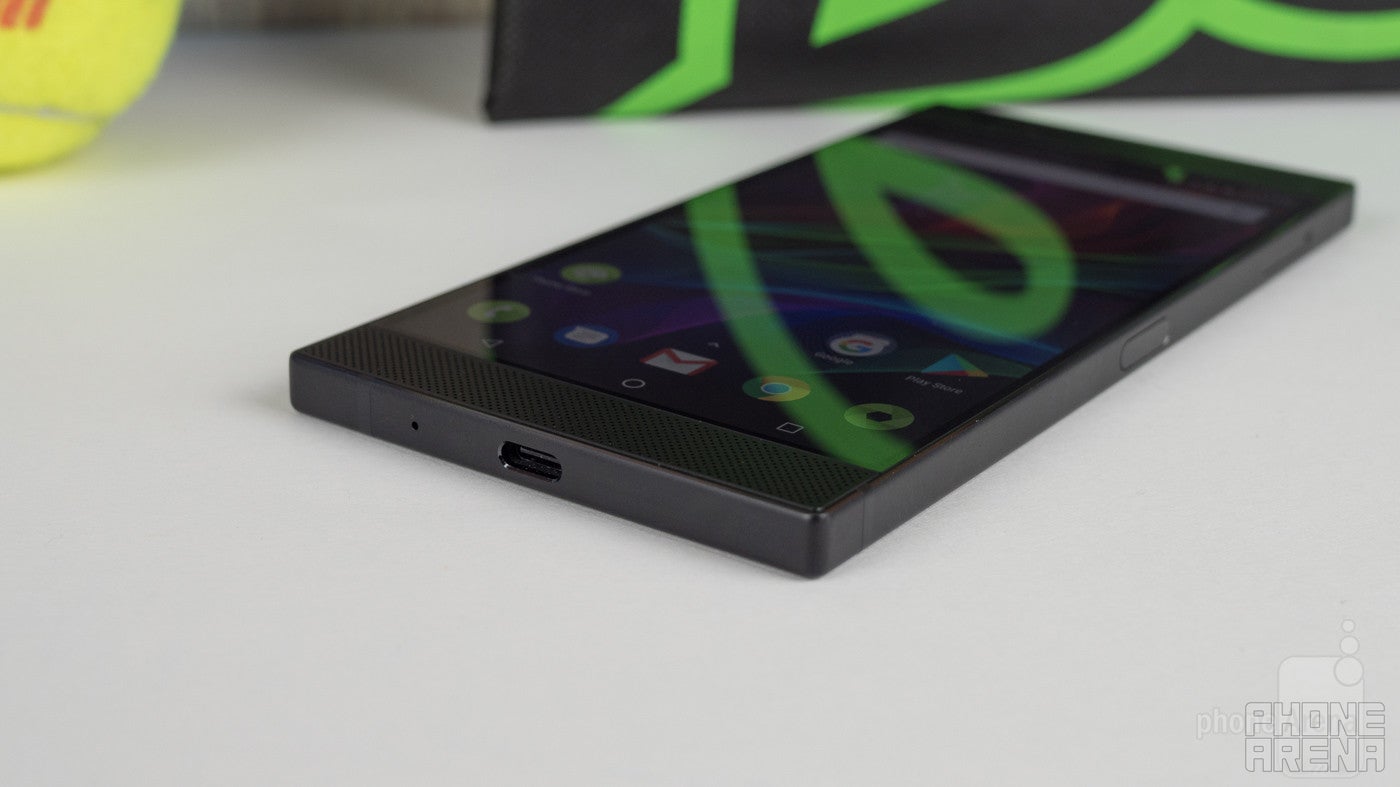 Razer's equipped its smartphone with decent cellular support, offering compatibility with a dozen-and-a-half popular LTE bands. What we don't get, though, is any CDMA support, which threatens to cause trouble for users on networks like Verizon and Sprint.
On the wired front, all we've got is the sole USB Type-C port. We'll talk more about the functionality there as we discuss multimedia and battery life in just a few moments.
Camera
Should we excuse a gaming-focused phone for a camera that feels like an afterthought? Absolutely not.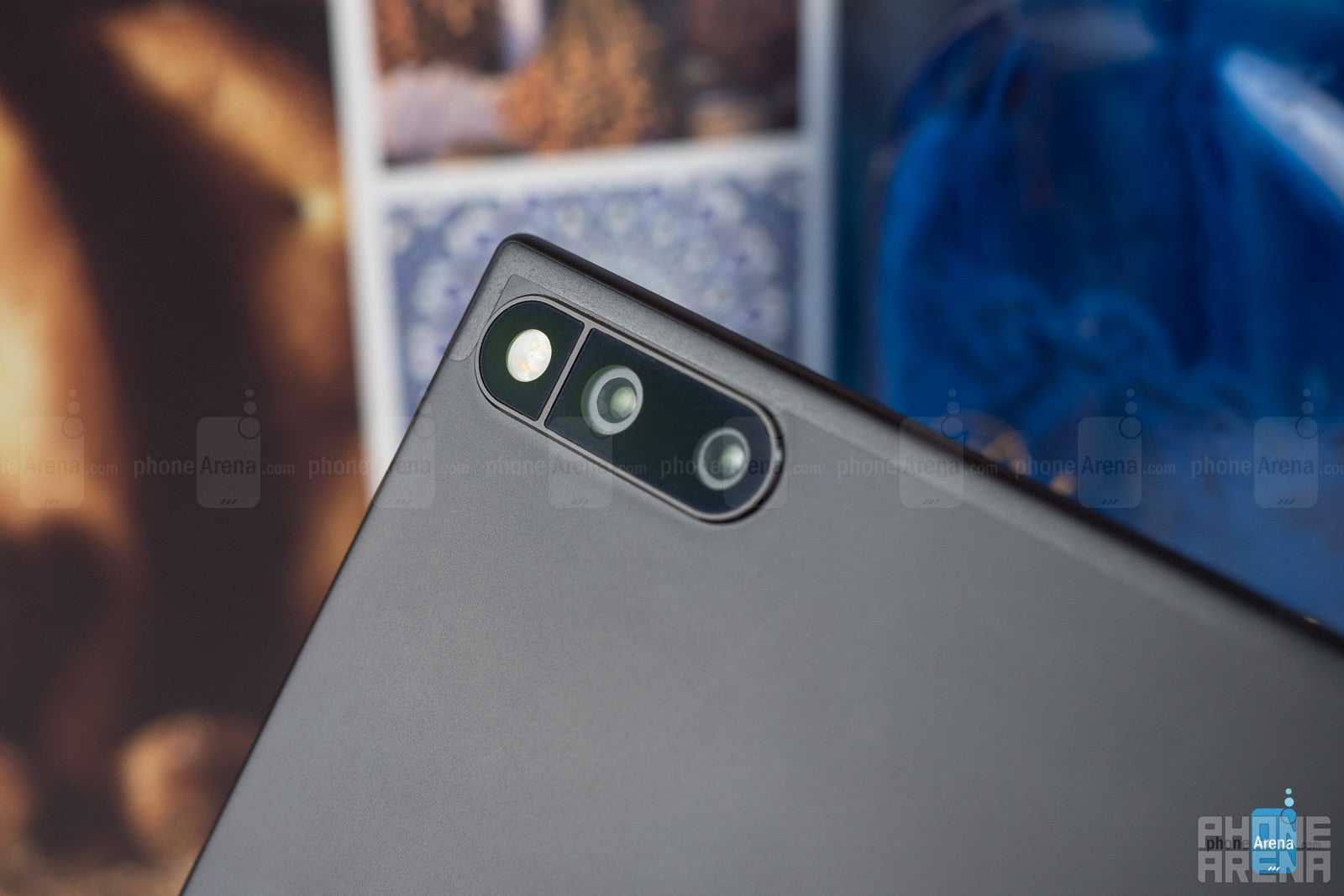 It feels like everyone's building smartphones with both a standard and a complementary camera of some kind, and on the Razer Phone, the secondary one is a 12MP telephoto shooter for more clarity when zooming. We've got a big, f/1.75 aperture on the main camera, while the telephoto lens gives us a more conservative f/2.6. And while there's dual-pixel autofocus, we miss out on extras like laser-assisted focus, to say nothing of the lack of optical stabilization.
While there are clearly a few compromises here, do we still have enough to take some decent shots?
Camera interface and image quality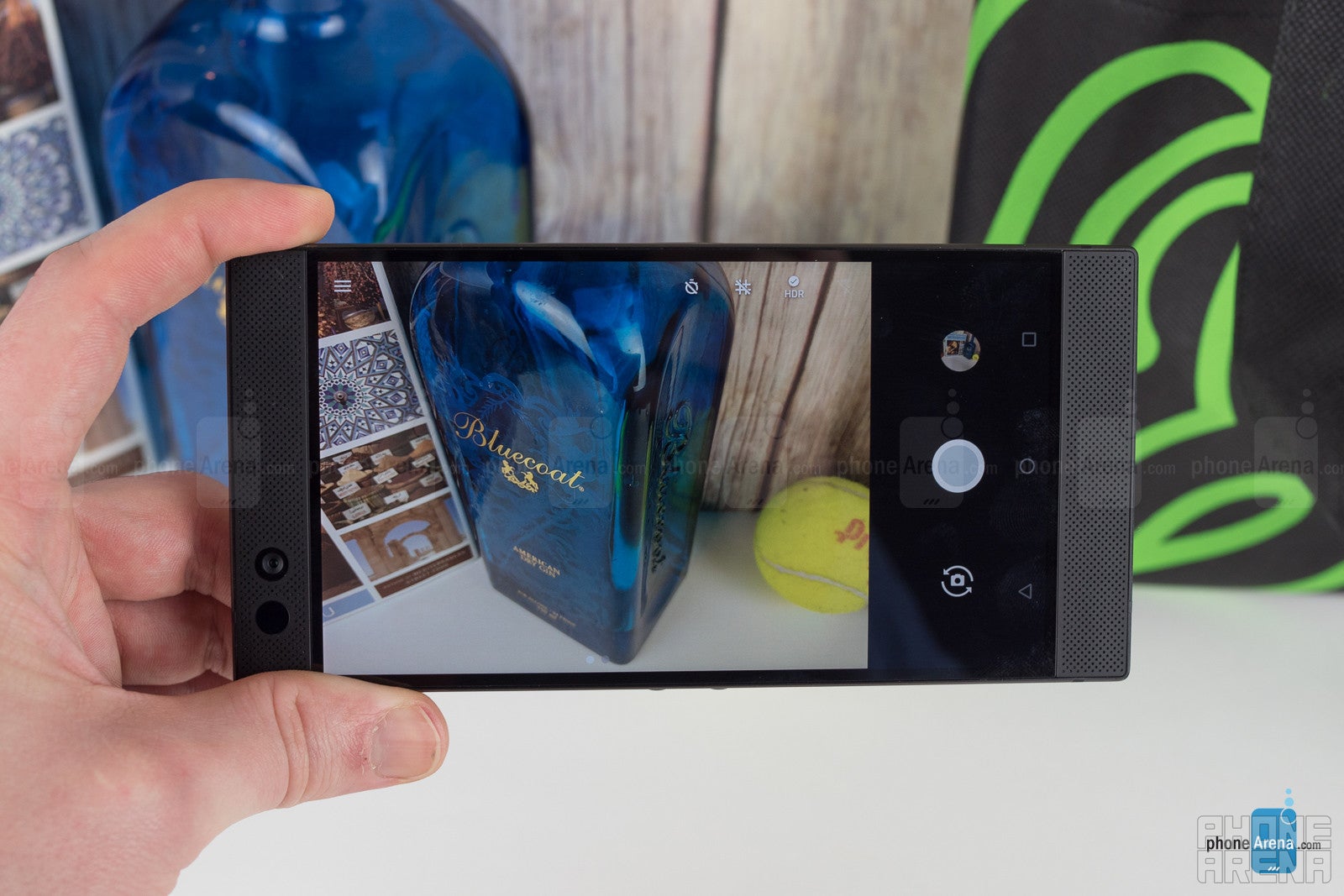 Well, the above is a tricky question, and one where we absolutely have to spend some time talking about the camera software. In a nutshell: it's bad. Not unusable-bad, but probably the weakest camera experience we've crossed on a mainstream phone in a long while.
Calling the interface spartan would be a compliment, as it's positively barren. We have controls for grid lines, flash, HDR, and a timer: that's it. And when shooting video, that's pared down to just lines and flash. A hamburger menu in the upper-left promises more variety, but tapping it reveals only a settings icon. Think about that for a moment: hamburger menus are supposed to expand to offer multiple options. Here we get but a single one. So why not remove the hamburger entirely and just put the settings icon in its place? This is the sort of confusing decision that really defines the Razer Phone's camera software.
We'd love to have an HDR-auto mode, but here it's either on or off. And though we'd prefer to just leave it on, post-shot processing times extend above four seconds per photo, making it a real hassle to use.
What about those dual cameras? Did we forget those? No, but it sure feels like Razer did. There's no option in the camera UI to jump between sensors, switching between wide and zoom. You can always pinch to zoom, but there's absolutely zero on-screen indication of which camera you're using at the moment, so you're almost inevitably going to be mixing in a bit of digital zoom as you pinch, defeating the point of clear, full-res zoom shots that this hardware otherwise promises.
It's. A. Mess.
Now, we've heard that some major camera software updates are coming soon, addressing those problems with zoom controls among other much-needed fixes. That will be great to see, but right now the camera interface on the Razer Phone is nothing short of embarrassing.
That's all a huge blemish on the phone's camera, but what about the actual pics? Do they at least look alright? Well, yes they do, and while you won't feel like you're very much in control of how the final results turn out, for the most part you should still be reasonably satisfied. They're not the best we've seen – exposure could be better, and motion blur caused by shaky hands is more evident than with other, similarly priced phones – but the camera here ultimately gets the job done. Further weak spots include low-light performance, but that's among the list of fixes anticipated for a forthcoming software update.
Video recording
The story of video on the Razer Phone mirrors that of still photography: incredibly basic software with little in the way of control, yet the point-and-shoot mechanics are still robust enough to get the job done. Here we get filming options ranging from 720p to 4K resolutions, but that's about it: no high-frame-rate filming or options for stabilization. As a result, hand-held recording can be a little jerky.
For all the software lacks, at least the video quality is solid, and even audio recorded alongside video is loud and clear. But we'd kill for even a smattering of the simplest extra features, like the option to jump between the two cameras.
Multimedia
Stereo speakers sound great, but this no-headphone game is getting annoying
The Razer Phone's got a nice big pair of stereo front-facing speakers, boasting Dolby ATMOS audio. OK, that's a very solid start, but how do they actually sound?
Probably the best thing here is the degree of stereo separation. That's helped out by the sheer size of the phone, and you really do get a strong stereo effect. In general, the sound quality is also quite nice, with crisp, bright output. That can be a bit of a loaded term when we're talking audio, though, as some of that brightness comes at the cost of satisfying bass. There's still decent mid-range and bass reproduction, but nothing overly impressive, and the best output only occurs at higher volume levels.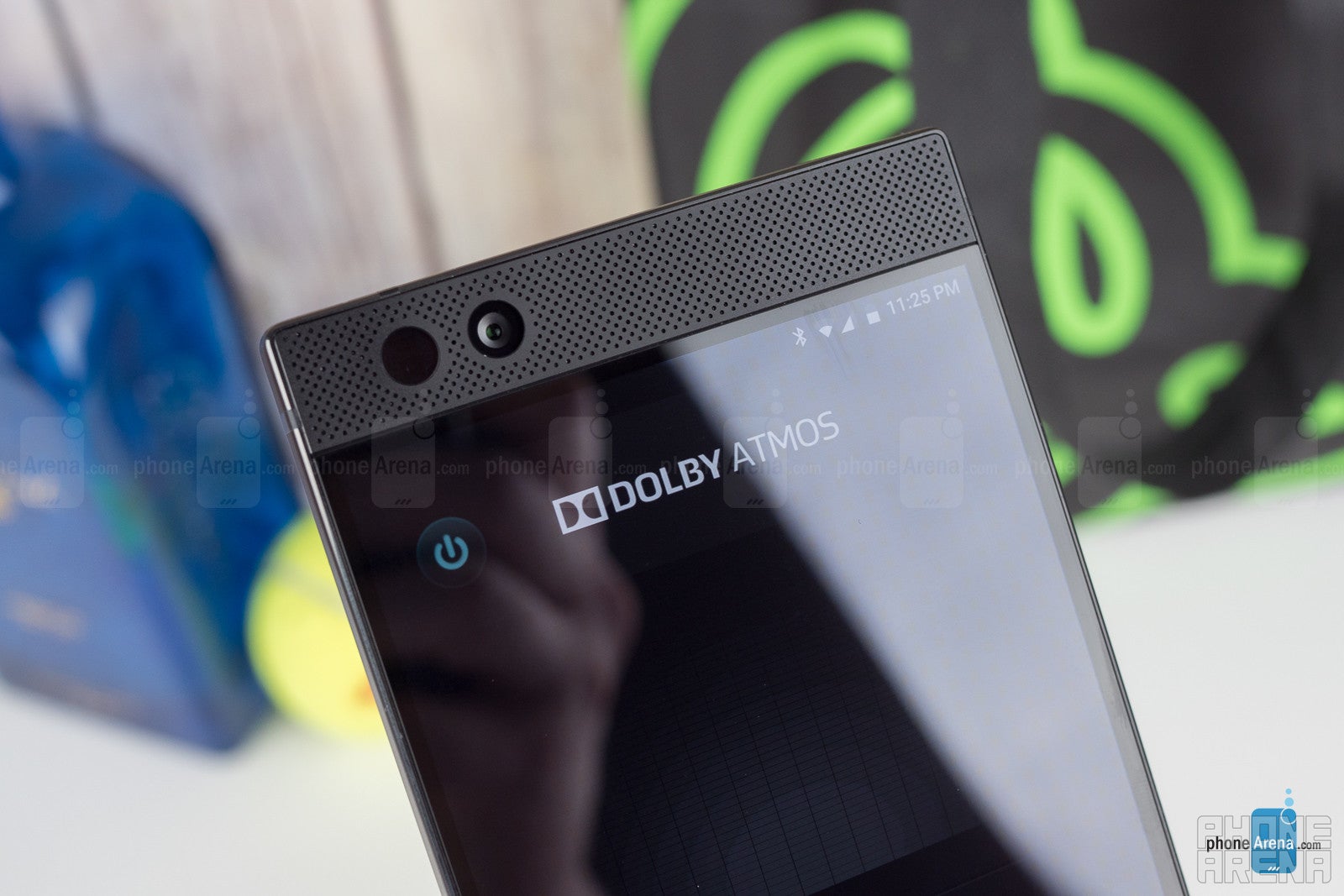 Dolby ATMOS software lets you tweak output further, but it's a bit of a pain to use, existing as a clunky app rather than something streamlined and integrated into system settings, and making it difficult to hear the impact of the changes you make as you dial them in.
The Razer Phone lacks an analog headphone jack, but the handset does ship with a USB headphone adapter. The unit feels slightly higher in quality than those we've picked up with other phones, featuring a neatly braided cable. The audio quality leaves us without any complaints, even if we wish we didn't have to carry around an adapter in the first place.
What we don't get, though, are any bundled USB headphones. Razer is happy to sell you a pair when you buy the phone – for an extra eighty dollars.
Call Quality
There are no major problems with audio quality on voice calls. Our connections were clean and easy to hear, and the only thing really working against the Razer Phone being used to make voice calls is the handset's size – users with anything south of giant hands may find the phone feeling a bit large.
Battery Life
Competitive longevity, but a battery this big should last even longer
On the short list of Razer Phone features listen in the company's advertising you'll find things like the 120Hz screen, its stereo speakers, and a massive 4,000mAh battery. That spells the potential for some epic battery life, but all this other high-end hardware could add up to causing some serious power drain. And just as adding pixels to a screen tends to up its power consumption, will this high-refresh-rate display similarly consume extra juice?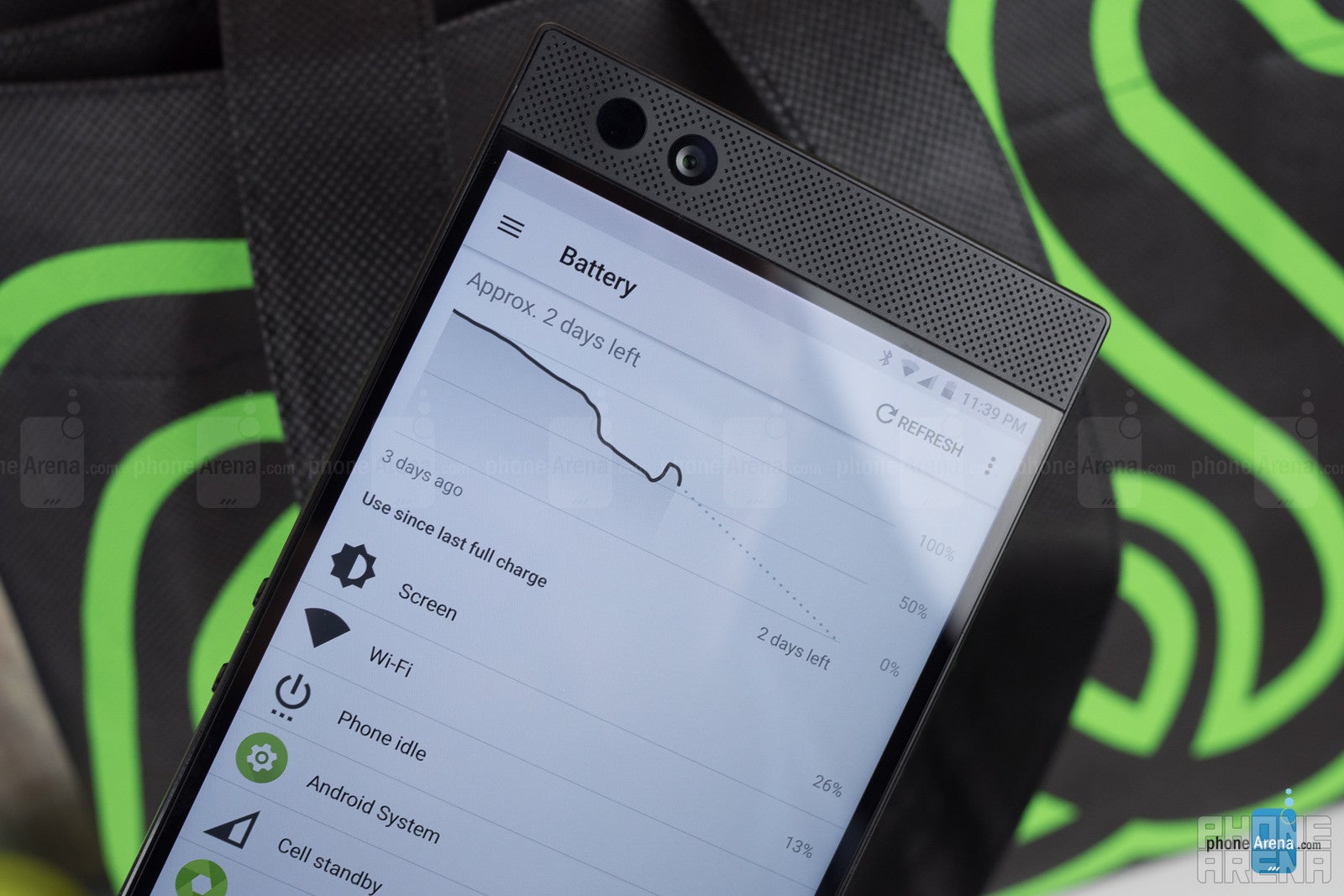 We ran our tests at the Razer's default 90Hz screen setting, and ended up seeing just under nine hours of screen-on time – right in the same ballpark as other recent handsets like the iPhone X or Pixel 2 XL. That's not great efficiency news for Razer, though, as its phone sports a much larger battery than those competitors.
That Pixel 2 comparison is also relevant when we talk about charging, as the Razer similarly features a power adapter with a USB Type-C port right on the charger – just like the Pixel, and unlike the vast majority of phones our there. Recharge times are only on the OK side of things, coming in at over two hours – though given the sheer size of the battery here, perhaps that couldn't be avoided.
Conclusion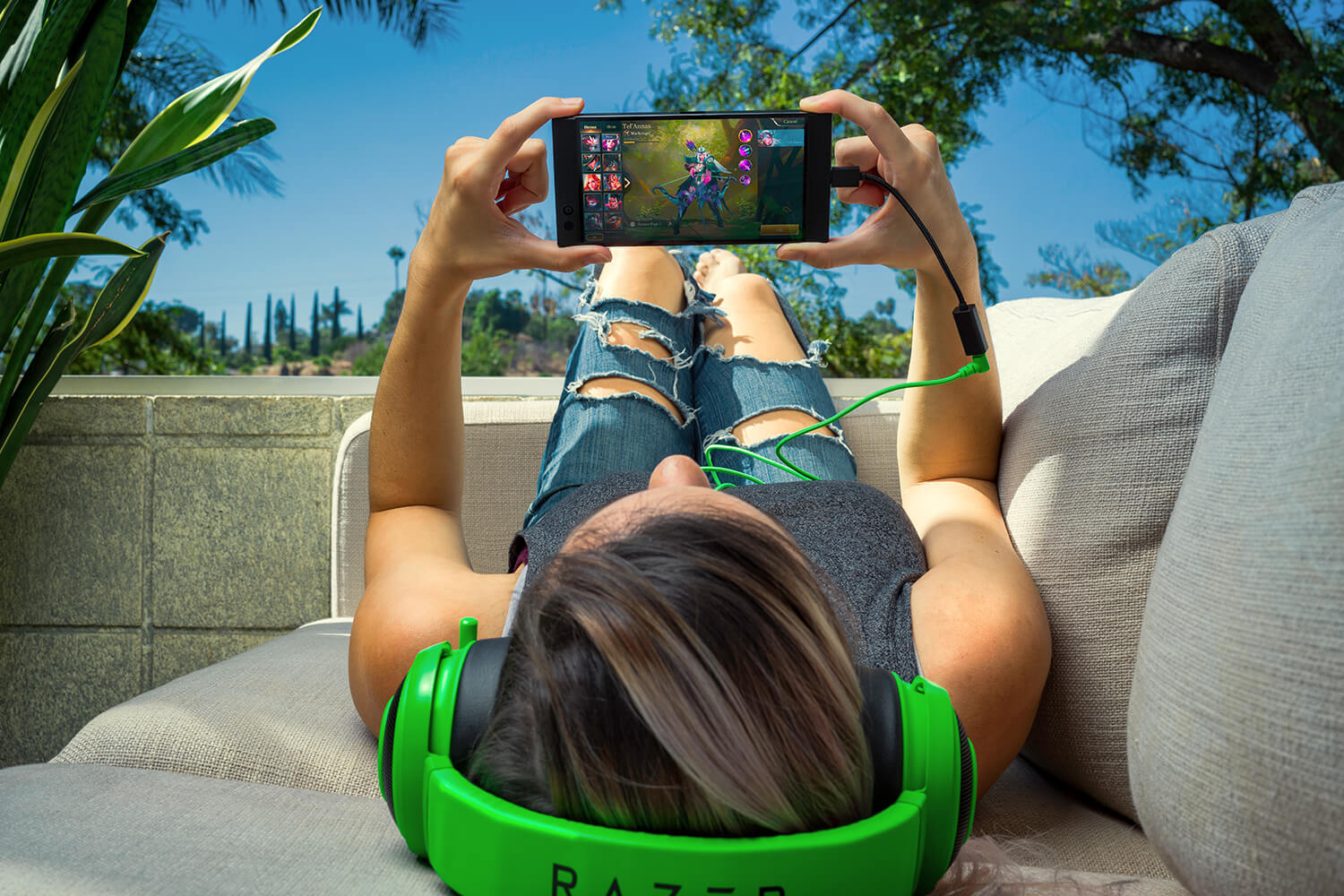 For all the hype, the
Razer Phone
really does deliver when it comes to gaming. While performance isn't a huge leap beyond anything we've seen to date, the high-refresh-rate screen makes even familiar games look all the more impressive, and the very configurable Game Booster easily allows users to tweak advanced settings to strike some informed performance/battery life trade-offs.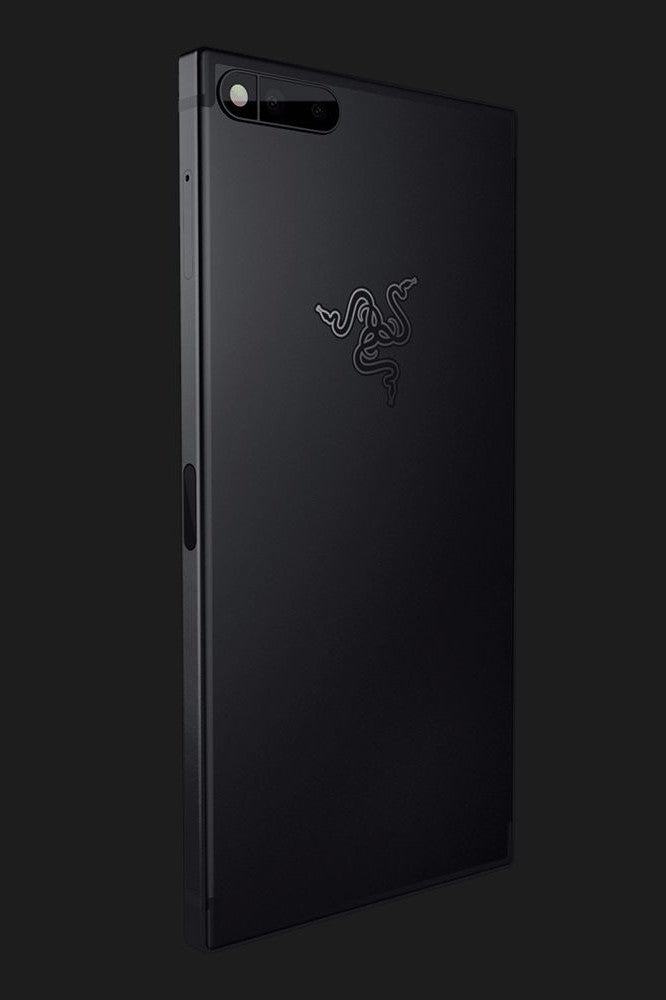 The idea of a powerful, no-nonsense smartphone running nearly stock Android sounds like an appealing one, and it would be were it not for a number of missteps. We seriously can't get over how poorly executed the phone's camera is. And for as aware we are that a litany of fixes and improvements are in the works, it's somewhere between embarrassing and insulting that a $700 phone actually shipped with this sorry excuse for a camera experience.
We're also a little sore about what's missing here. Building a flagship smartphone at this stage without even a hint of waterproofing is just tone-deaf. And while a growing number of smartphones are ditching analog headphone jacks for various reasons, that such a traditionally designed, to say nothing of physically large phone decides to skip the feature feels less like "we're doing this to deliver the best audio experience possible" and more like "please buy our $80 USB headphones."
Right now, the Razer Phone just isn't worth it. It's got some great ideas in there, but even the smoothest display in the world couldn't make up for all the other loose ends scattered about. Will software updates landing in the next few months transform the Razer Phone into one that's finally worthy recommending? We're optimistic, but $700 is a big price to pay for being a beta tester, and if you buy the Razer Phone now, that's exactly what you'll feel like.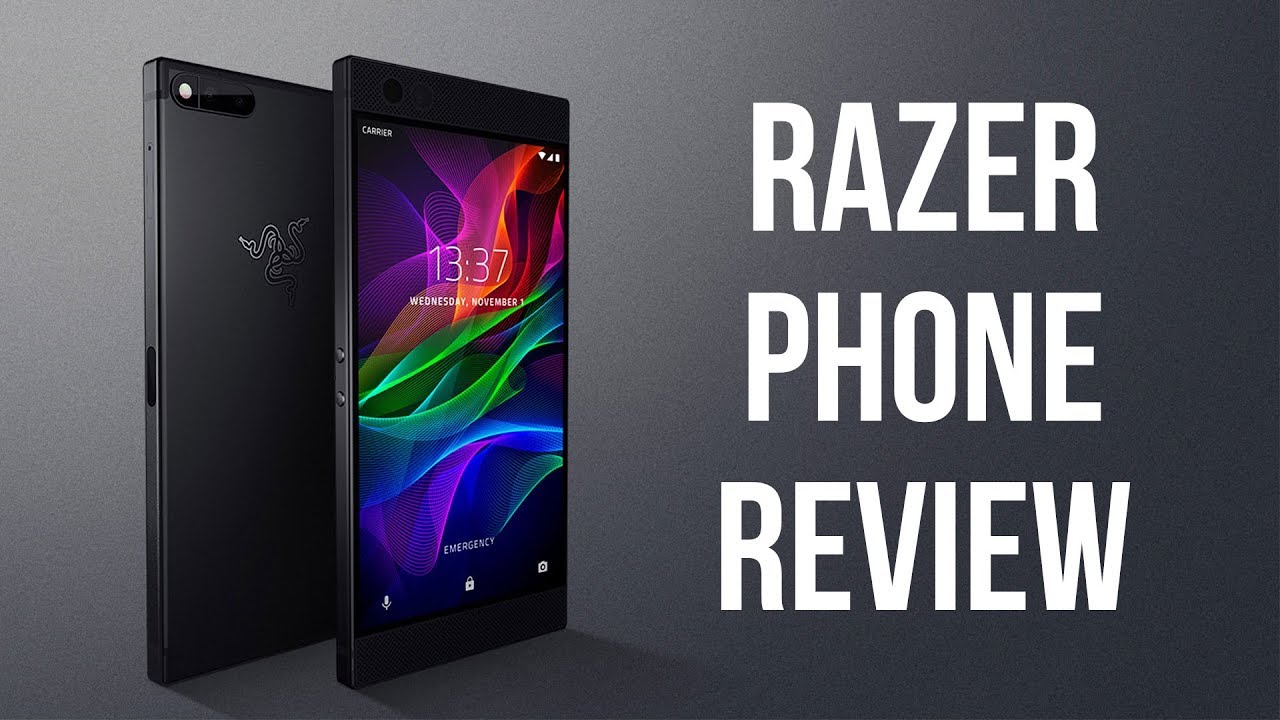 Recommended Stories