The LG G8 ThinQ is free with AT&T installments at Best Buy in truly unbeatable deal
1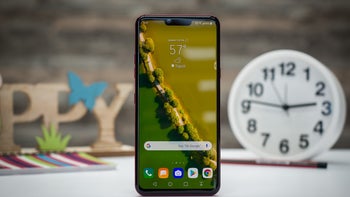 AT&T customers are unlikely to be pleased with the changes the nation's second-largest wireless service provider is cooking up for its
installment plan structure
, but for the time being, you can still get the best smartphones in the world on both 24 and 30-month "Ma Bell" agreements.
You're looking at saving a grand total of $830 here, or the full retail price of the G8 ThinQ, of which Best Buy will give you a $150 instant discount, with the rest of the money returned to you in the form of bill credits ($28.34 a month on a Next Every Year agreement or $22.67 a month if you choose to go with a "regular" AT&T Next "contract").
Either way, you will be getting a gratis 6.1-inch phone at the end of the
day
24 or 30 months, available in "platinum gray" and "aurora black" paint jobs, with 6GB RAM, 128GB internal storage, a 3,500mAh battery, dual 12 + 16MP rear-facing cameras, Crystal Sound OLED speaker technology, Air Motion gestures, Android 9.0 Pie software, and a premium water-resistant build.
The only "catch" is you need to be a new AT&T subscriber or activate the ultra-high-end device on an existing account with a new line of wireless service to be eligible for the massive $830 discount. Upgrading customers have to pay significantly more, even compared to Sprint users, who can still purchase the
LG G8 at an affordable total of $240
with their own installment plans.
Check out the deal here
Recommended Stories