Believe it or not, the LG G8 ThinQ is on sale for as little as $240 (with installments)
7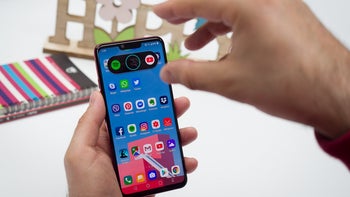 While it's (physically) impossible to beat an
introductory LG G8 ThinQ deal
from a few months back that allowed AT&T customers to pick up the brand-new
Snapdragon 855 phone
completely free of charge, Best Buy and Sprint have officially joined forces to offer pretty much the next best thing in terms of discounts.
Both new and existing Sprint subscribers can save a whopping $600 right now, including a $120 Best Buy instant discount and monthly bill credits totaling a massive 480 bucks. Thus, you'll end up paying $10 instead of $35 a month for two years, amounting to an incredibly affordable $240, down from a list price of $840. There are no strings attached (besides the obvious requirement of activating this handset on a new or existing Sprint account), mind you, no trade-ins involved, and no hoops to jump through.
Although the
LG G8
is not exactly the best-reviewed high-end phone of 2019, the 6.1-incher certainly delivers more than enough bang for your 240 bucks, starting with the aforementioned state-of-the-art Qualcomm processor. You also get a generous 6 gigs of memory and 128 gigs of internal storage space, while the rear-facing camera system is comprised of a competent 12MP primary shooter with F1.5 aperture and an excellent 16MP super wide-angle lens.
Made from a premium combination of glass and aluminum, the LG G8 ThinQ is not the prettiest new Android flagship either, sporting a boring old notch instead of a trendy hole punch or pop-up selfie camera. On the bright side, even though they're not particularly useful or well-executed, you have to appreciate the originality of the handset's Crystal Sound OLED speaker, aka Sound on Display technology, as well as the Hand ID feature and Air Motion gestures.
By the way, the G8 is still
on sale for Verizon subscribers at Best Buy
too, scoring a humbler $350 discount than on Sprint however with similar monthly installment arrangements. Finally, the unlocked variant can be purchased for as little as $600 with upfront Sprint activation.
Check out the deal here