AT&T's new Next Up installment plan is a ripoff for customers and reps alike
12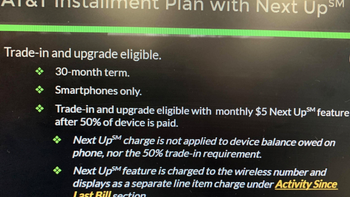 AT&T is reacting to the fact that people keep their phones longer in a weird way that, however, makes perfect business sense. Study after study show that folks buy a brand new phone every three instead of two years now on average, plateauing the industry growth in the last two years or so.
The factors behind this statistic are many, but two really stand out. First, even midrange phones now do a good enough job to be kept for years on end, and second, the removal of subsidies and jacking up phones' retail prices made people squeeze every last mileage out of their current handsets before they swap.
So, what's a carrier to do? Well, just as predicted, AT&T will be
revamping
the Next installment plans option, adding AT&T Installment Plan and Installment Plan with Next Up to its carrier mix on July 9th. What's the difference?
Well, we were sent a rep training manual detailing the changes and, sadly, both are 30-month options, no two-year contracts here. If you choose Next Up, you will have the privilege to pay $5 more per month to ensure that you can upgrade early once 50% of the phone's price is paid off.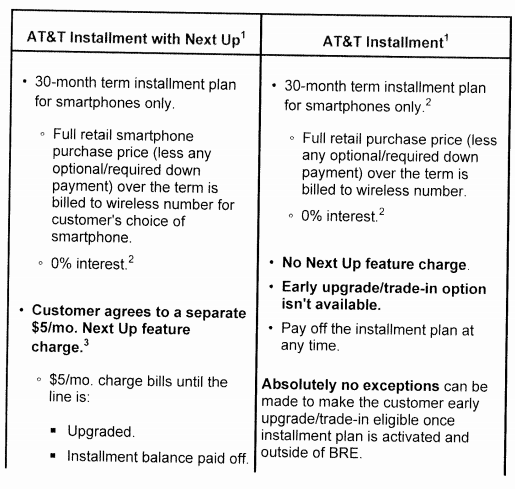 The sad part is that these two puppies will may be replacing the current Next and Next Every Year plans, taking the 24-month installment option off the market. That's what our tipster says, whereas in the document itself AT&T just states that, "
starting July 9, AT&T's introducing 2 new Installment plans
."
Needless to say, the $5 extra for Next Up don't go towards the balance of the phone, so it will add up to at least $75 until you have the right to upgrade on the new AT&T Installment Plan with the fresh Next Up option after 15 months. Needless to say again, customer service reps are fuming about the reduced commission potential, too. Bummer, but apparently that's what we get for keeping our expensive phones longer.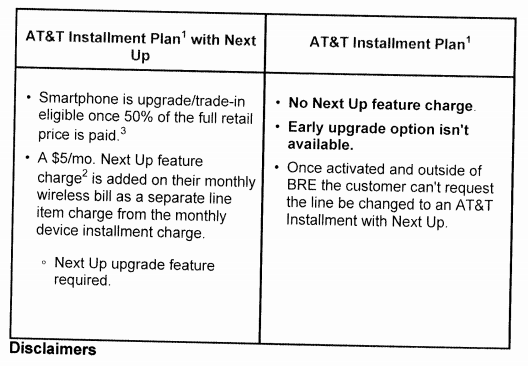 Thanks for the tips!